Cute Small Towns From Every State
Every state has at least a few small towns that look like they come straight out of a movie. Some of them might make a great vacation spot, but all of them are worth a visit. We've tracked down the coolest small towns from all 50 states and we'd like to show them to you today. Do you need a little hideaway vacation spot? Well, we can all use one, and maybe you'll find yours in this article! Let's get started!
Port Isabel, Texas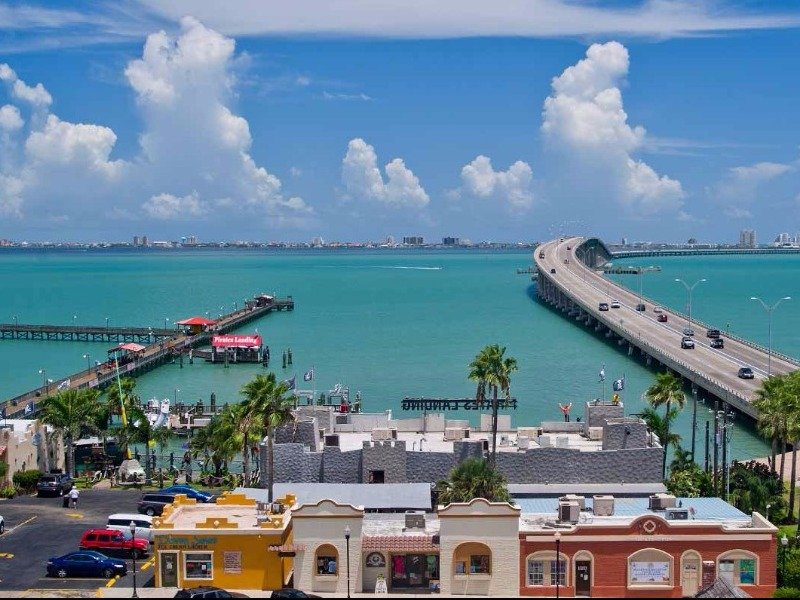 Port Isabel is a town on the Gulf Coast of Texas. It's famous for its beaches, and it's close to South Padre Island if you want your trip to get a bit wilder. There's also a bit of history here because Port Isabel was one of the first towns in Texas. There are tons of outdoor attractions including surfing, fishing, and more!
Shepherdstown, West Virginia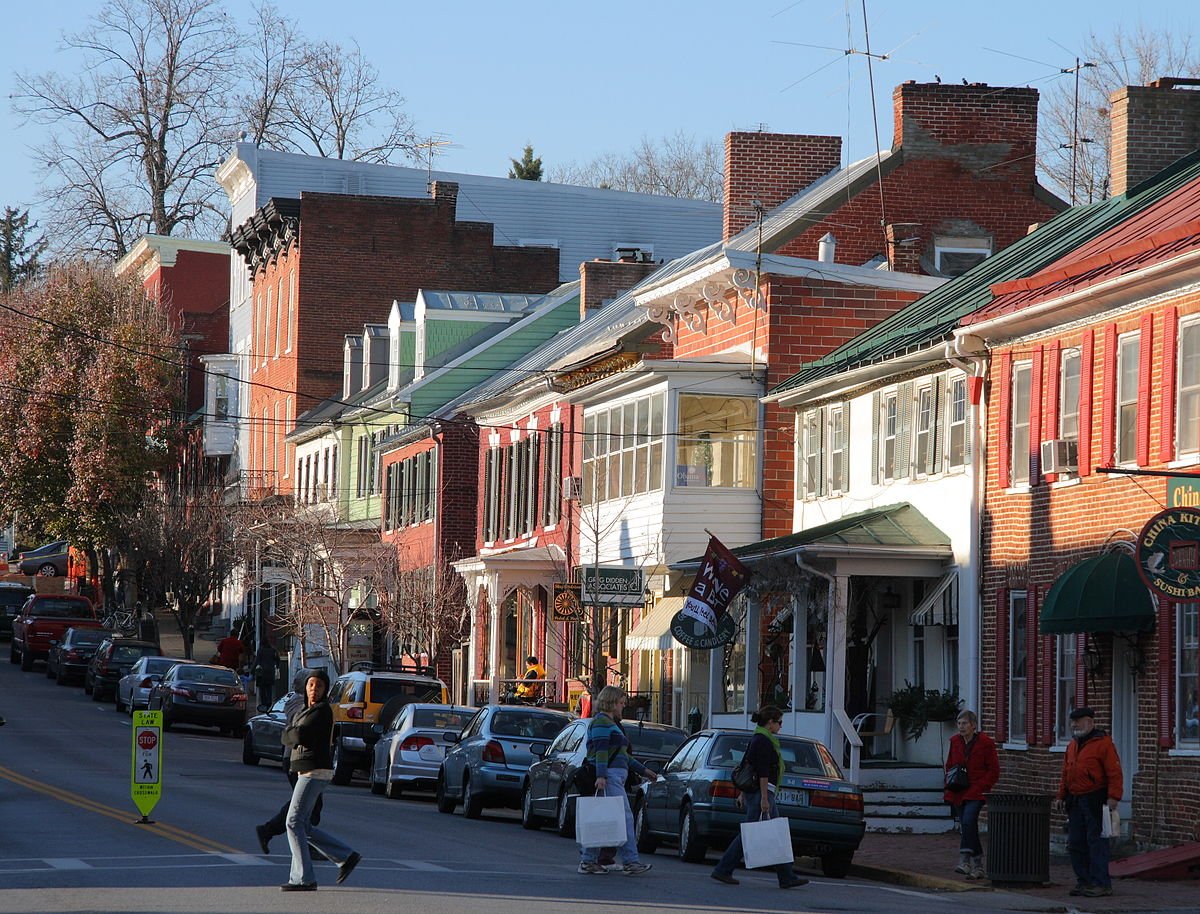 West Virginia has its fair share of charming small towns, and Shepherdstown is one of the most friendly and accessible. Most towns in Virginia and West Virginia have some sort of connection to the Civil War, and Shepherdstown is no exception. They run re-enactments all year round, and you can visit the site of the Battle Of Antietam. There is also quite a bit of good food in Shepherdstown, and it's home to the Blue Moon Cafe, one of the most famous restaurants in the area.
Kennebunkport, Maine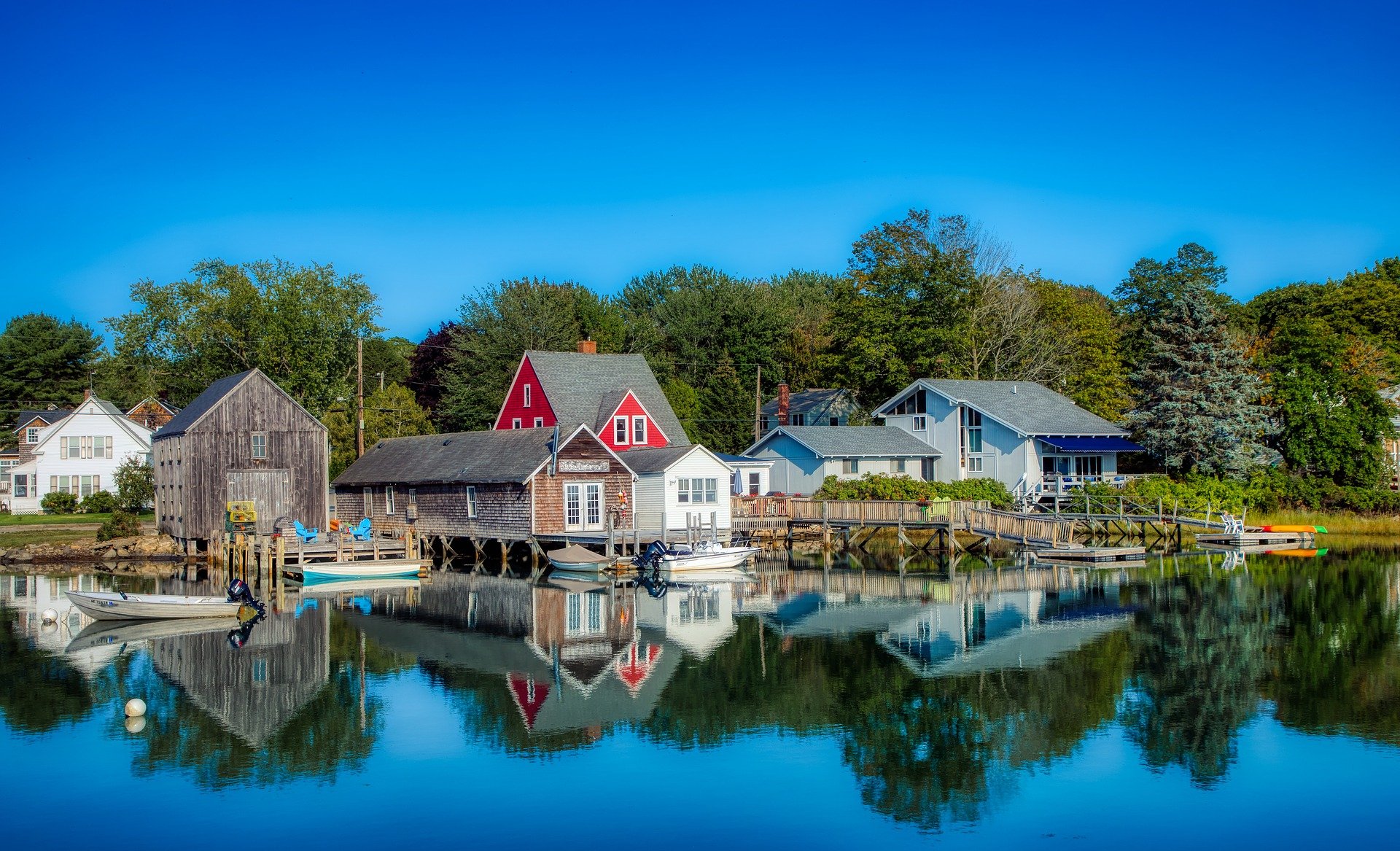 The summer home of the Bush family, Kennebunkport, Maine, is also just a really cool place to visit. It's a bit like an idealized version of a New England shipbuilding town from the last century. There's an area called Dock Square that is more "touristy" but the boating and fishing are some of the best in the Northeast. You can also visit an even smaller town called Cape Porpoise if you want to get away from it all even more!
Essex, Connecticut
Essex, Connecticut's town motto is "the best small town in America" and it's easy to see why. It's full of "gingerbread houses", galleries, and small shops. Fun fact: Essex is one of the only cities in the US to ever be attacked by another country. That happened during the War Of 1812. The town has a parade on the second Saturday in May to commemorate the occasion.
New Castle, Delaware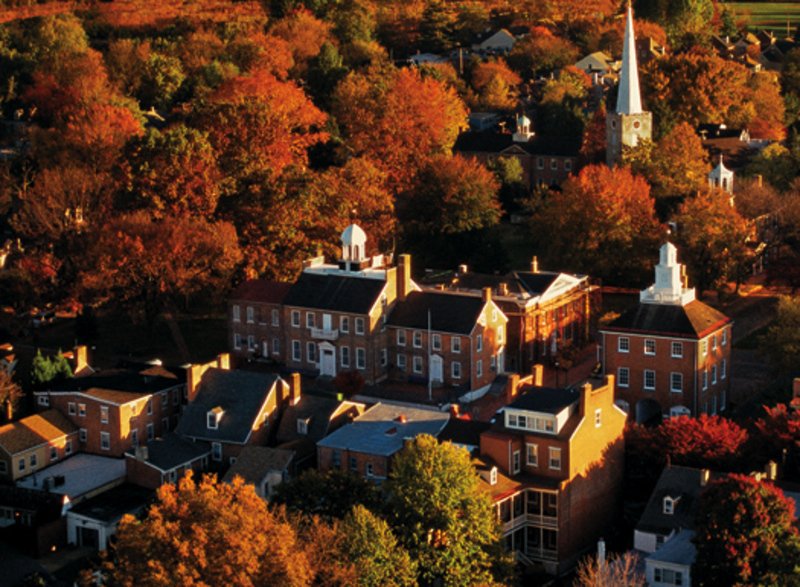 As is the case with many of the small towns in this article, New Castle, Delaware is rich with history. It's where William Penn first landed, and the town dates back to 1651. The New Castle Historic District is located in the center of the town and has buildings dating from the 1700s. It's a National Historic Landmark!
Skagway, Alaska
Skagway, Alaska is a bit of a trip but it's worth it. It's located inside Alaska's Inside Passage, and it's been around since the 1800s. A lot of the buildings that you see in this picture are "false fronts". That means that the buildings aren't actually historical, but made to look that way. However, there are a lot of real ones too. Some of them date back to the Klondike Gold Rush. It's a great place for hikers and history buffs alike.
Durango, Colorado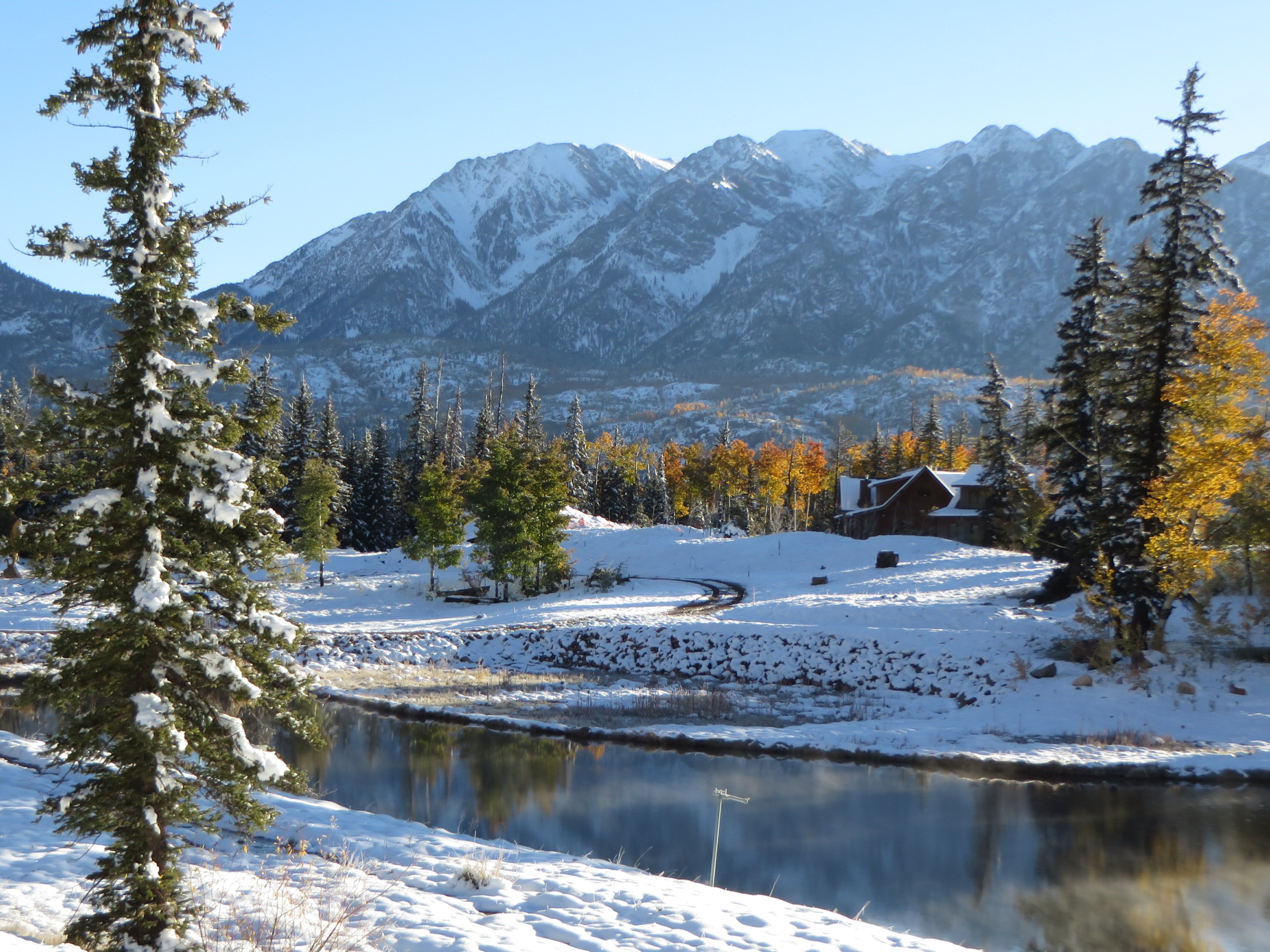 Just look at the picture and tell us that you don't want to visit this place. If you love the outdoors, Durango, Colorado is a special place. It's great in the wintertime for its skiing and great in the summertime for its AMAZING hiking and fishing. You can take a real steam-powered train on the Durango & Silverton Narrow Gauge Railroad, which takes you on a tour of the mountains. The kids will love it!
Thurmont, Maryland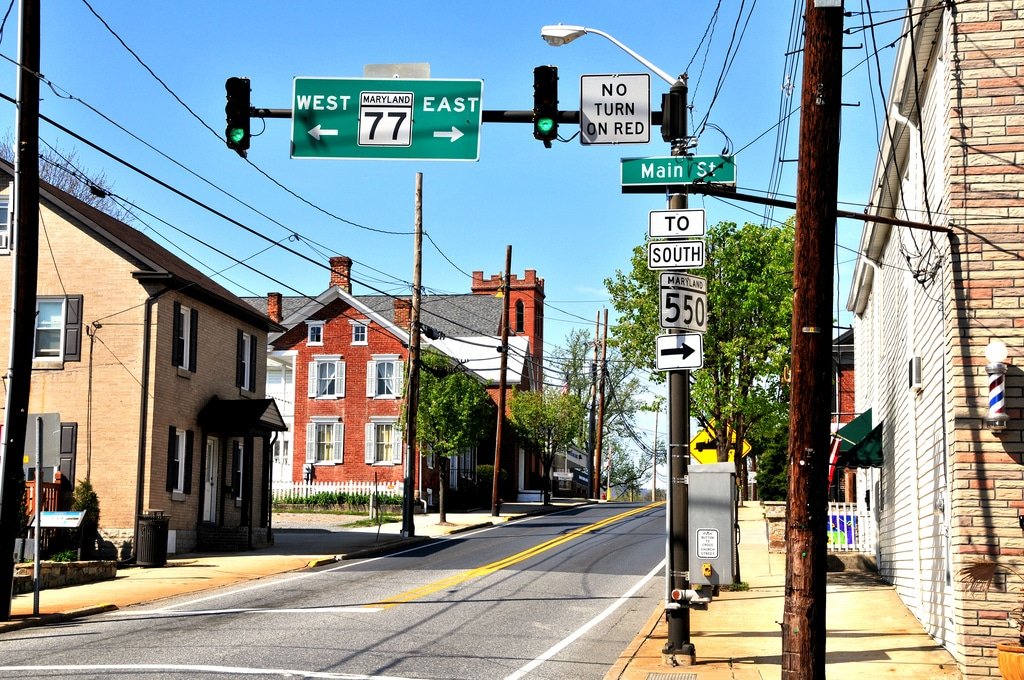 There are so many cool small towns in Maryland that the state actually has a designated program for them. The Main Street In Maryland Community program has a whole bunch of them listed. Thurmont is a good choice because it typifies everything that you'd want to see in a small Maryland town. The crab cakes are pretty delicious here too!
Breaux Bridge, Louisiana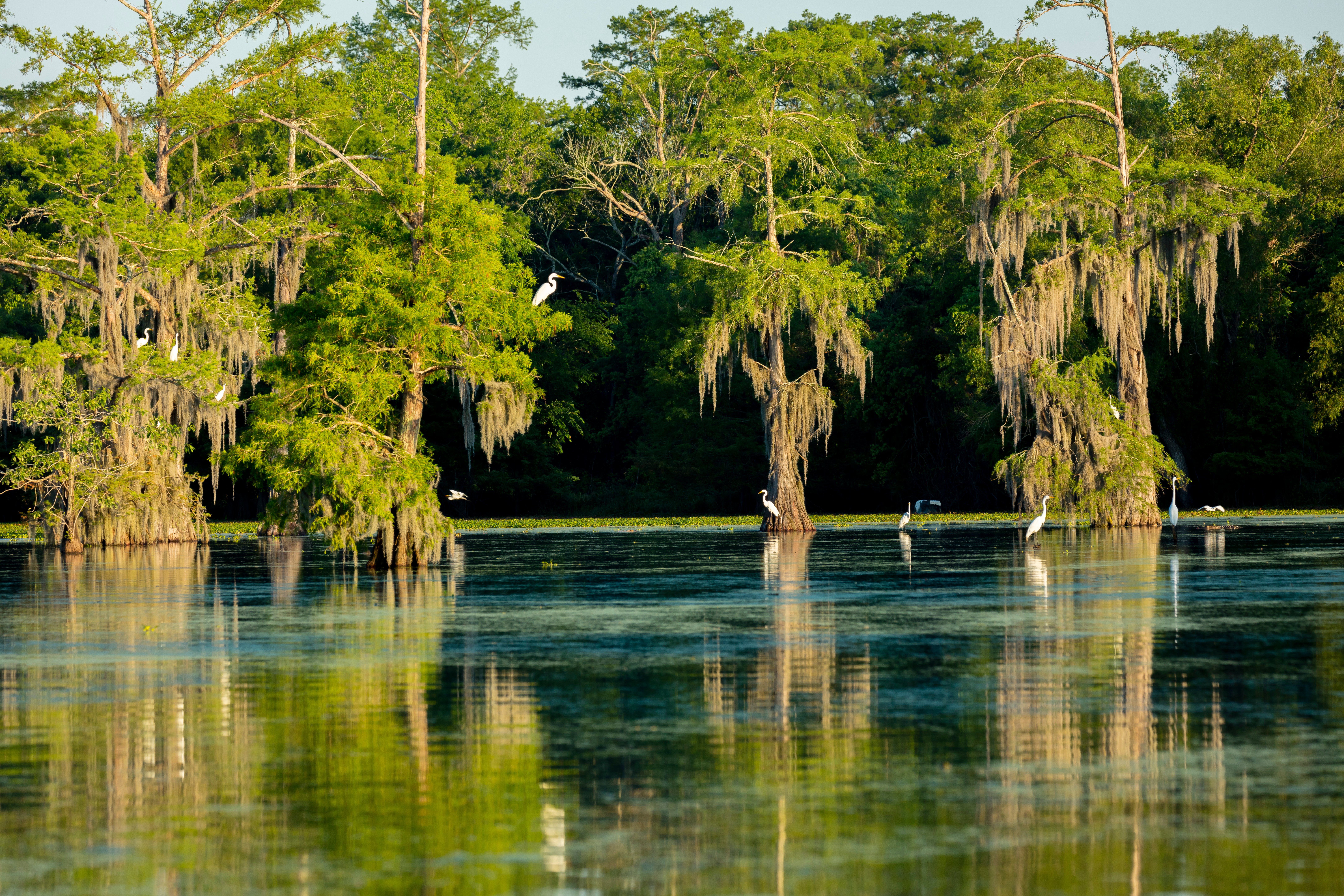 If you're going to Lousiana and you want some Cajun hospitality, Breaux Bridge might be the place you're looking for! They call themselves the "crawfish capital of the world" and the hold their annual festival every May. The whole town is considered bilingual in French too, which is pretty unique in the US. They have events all year round too, including gator watching!
Ketchum, Idaho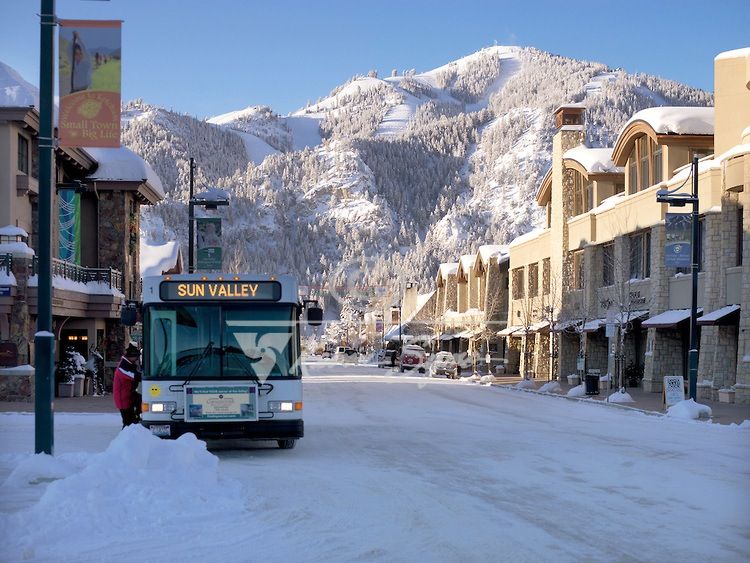 Ketchum, Idaho  was founded as a mountain town, but now it's a beautiful little town all to itself. If you like stargazing, Ketchum is a Dark Sky Community, as designated by the Dark Sky Association of America, so the stars really come out at night. The town also holds the largest non-motorized parade in the US, the Wagon Days Parade, over Labor Day weekend.
Na'alehu, Hawaii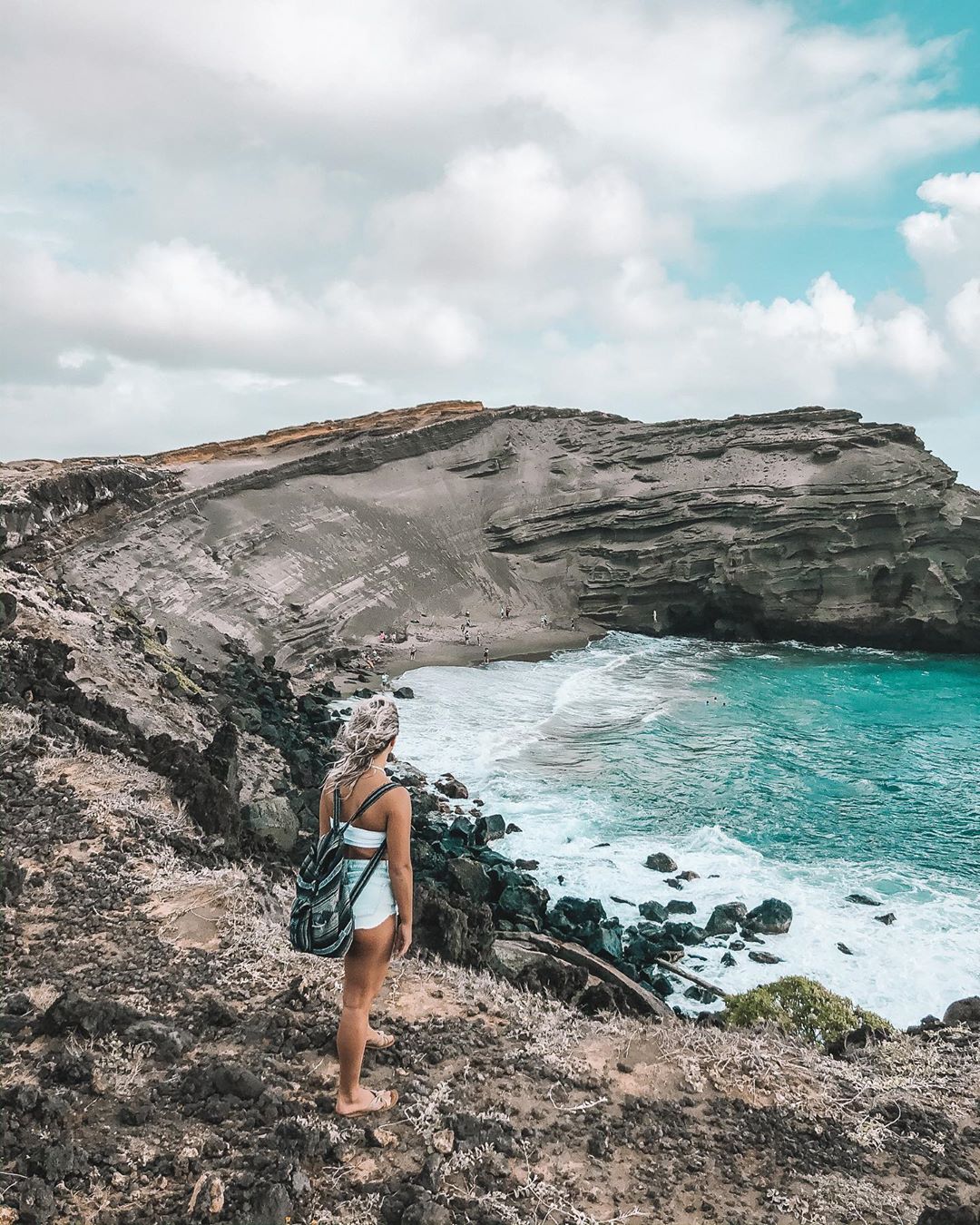 As you might expect, a small town in Hawaii is going to be full of beautiful beaches. Na'alehu, on the big island, is no different! It's supposed to be the most southern town in the US, and geographically, it is. It also has one of the most famous beaches in Hawaii, the Punalu'u Black Sand Beach. The name of the town means "volcanic ashes" in native Hawaiian, and the beach is made from them!
Virginia City, Nevada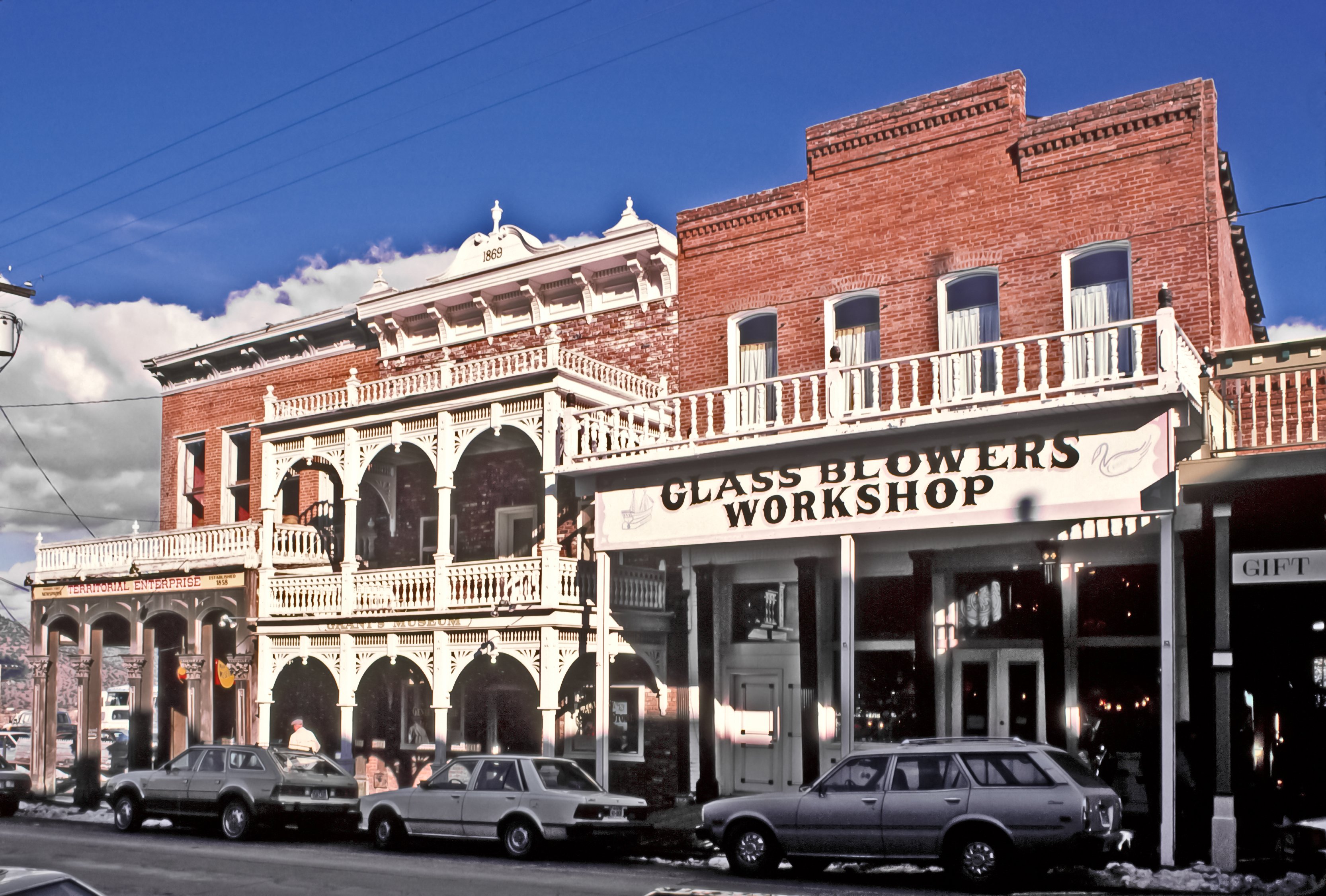 Sure, there are a lot of tourist areas to go to in Nevada, but this might be a good place to try if you want to see a different side of the state. Virginia City was built as a mining town during the Silver Rush of 1859, and it still looks like one. If you've wondered what a 19th-century mining town might have looked like - complete with a saloon - Virginia City is a great place to visit.
Mill Valley, California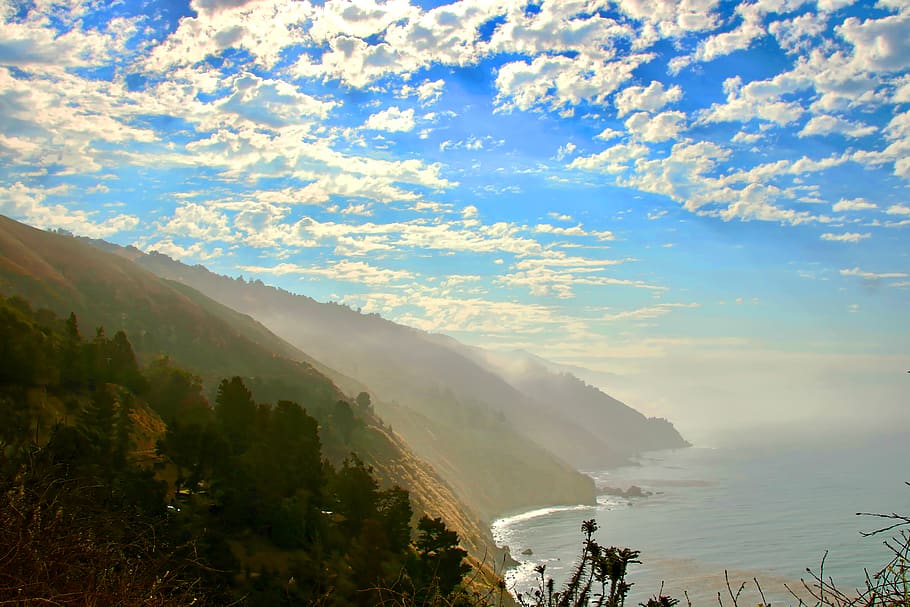 Located on one side of the Golden Gate Bridge, directly opposite San Francisco, lies the town of Mill Valley. If you like a great music scene, Mill Valley is a great destination. You can visit the Sweetwater Saloon, which is a famous club where Jerry Garcia and Bonnie Raitt both played. Even better, Mill Valley was where jazz guitarist Django Reinhardt lived for many years, so they hold a festival in his honor.
Oxford, Mississippi
This is a little bit of a cheat because Oxford is the home of the University Of Mississippi, but it's a cute town all to itself. There are a lot of famous writers and scholars from Oxford, including William Faulkner and John Grisham. If you're really lucky, you might run into NFL Quarterback Eli Manning. He played football at Ole Miss, and still lives in the town in the offseason!
Choteau, Montana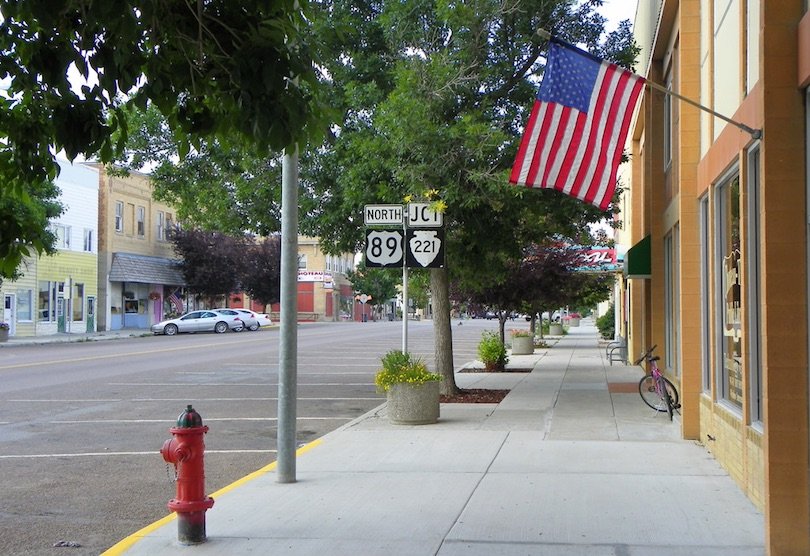 The county seat of Teton County, Choteau is accessible from Glacier National Park. The main street of Choteau leads right up to it, so there are tons of hiking trails, lakes, and mountains to explore. The most famous attraction in Choteau is actually a road: Going-To-The-Sun Road to be precise. It's the only road that leads directly to the park, and it's 50 miles of spectacular views!
Bainbridge Island, Washington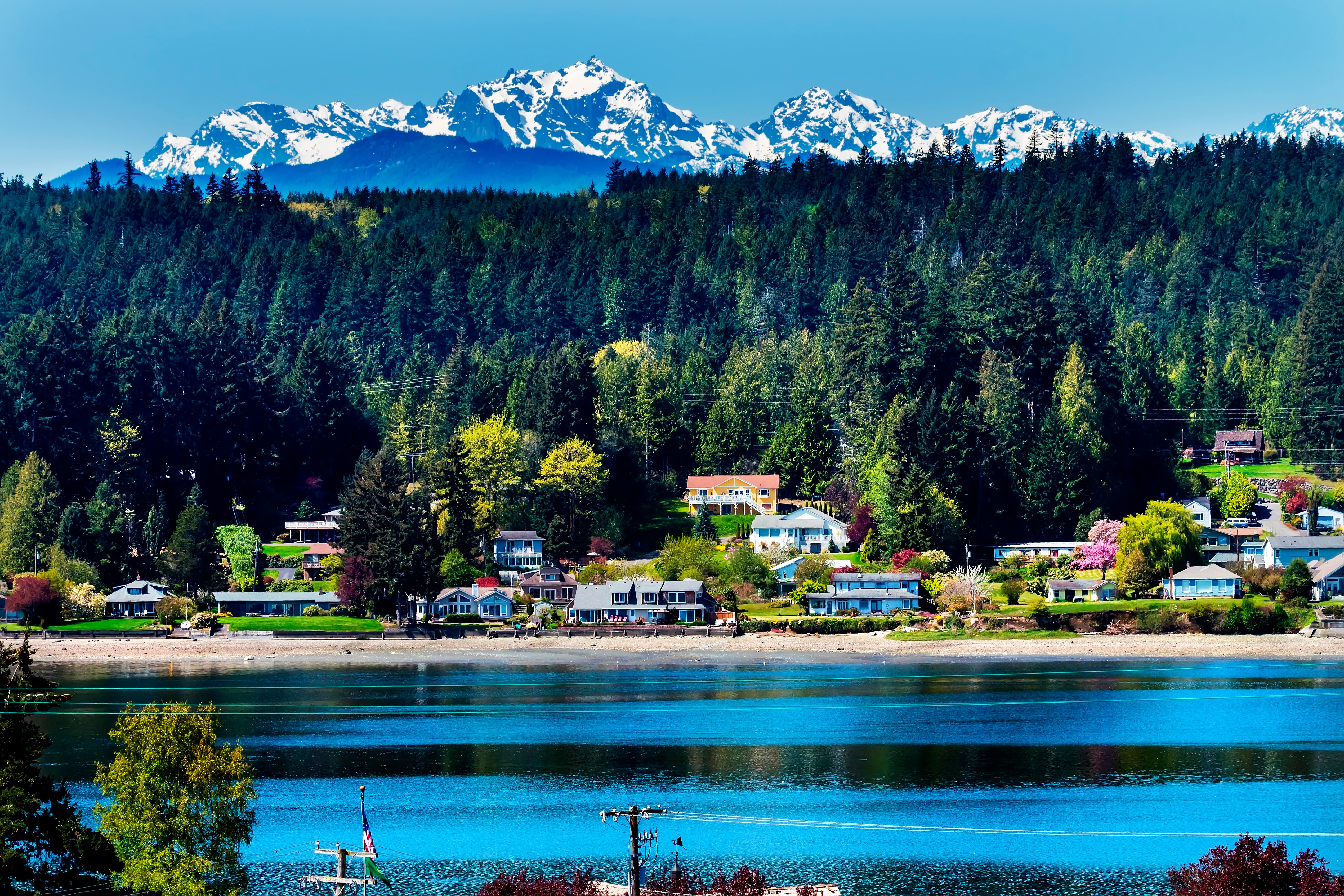 Over the last fifteen years, Bainbridge Island, Washington has become famous because it's the exterior location for Meredith Grey's house on the show Grey's Anatomy. That being said, it's well worth checking out for other reasons too! It's a beautiful seaside town, full of parks and trails. For the adults, there are SEVEN different wineries in Bainbridge Island too!
Nauvoo, Illinois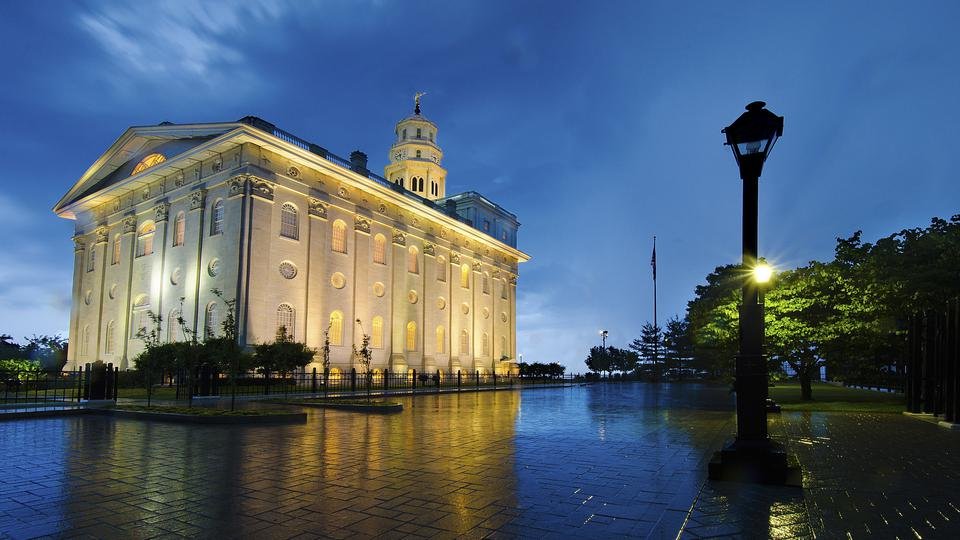 Nauvoo, Illinois is a town rich in history. The town has long been associated with the Latter-Day Saint religious movement, and you can see the house where its founder, Joseph Smith, lived in the 1840s. The church also runs a visitor's center there that is a National Historic Landmark. The visitors' center has a recreated 1840s version of the town complete with real people playing roles. If you're interested in pioneer history, this is a great place to start!
Bloomington, Indiana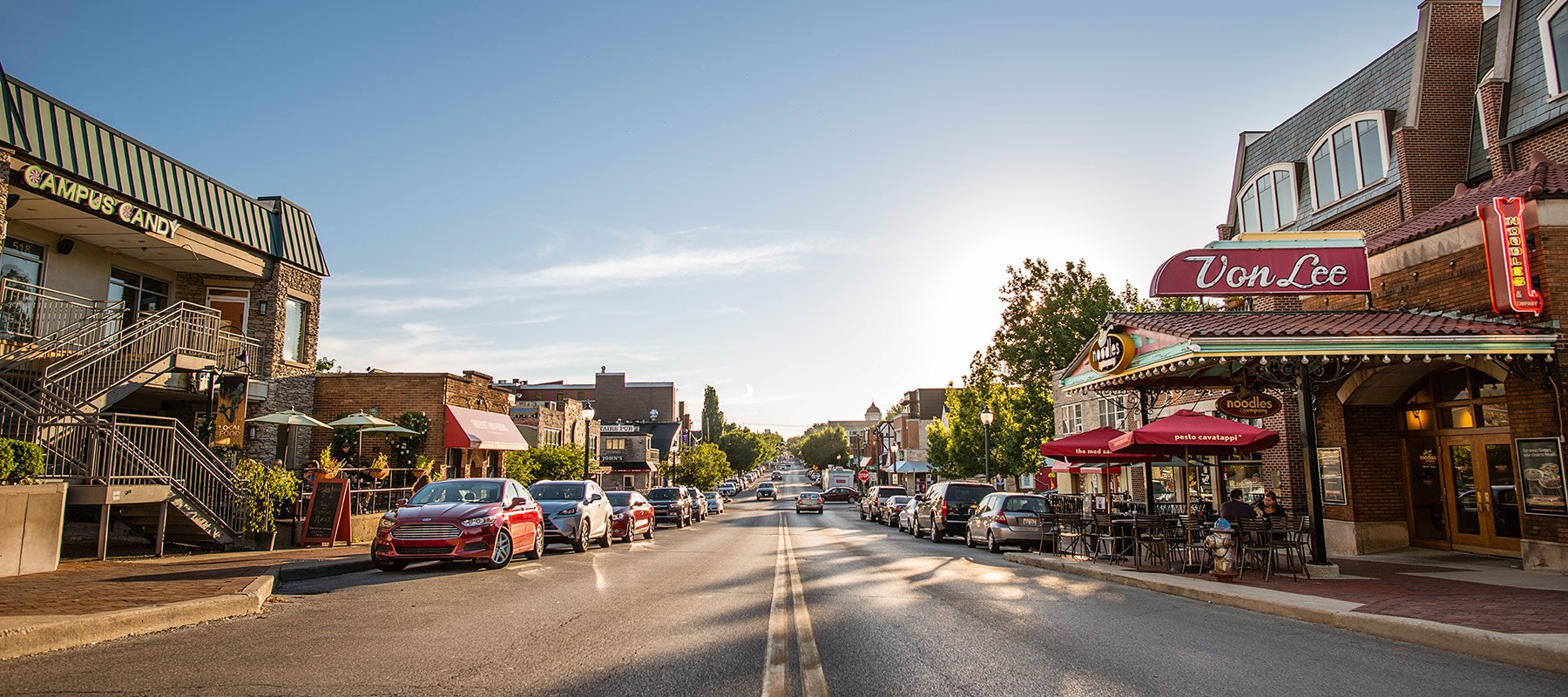 Bloomington, Indiana is the home of Indiana University, and it's a cultural mecca in southern Indiana. Between concerts at the prestigious Jacobs School Of Music, basketball games at Assembly Hall, or the amazing Kirkwood Avenue, everyone can find something to do in Bloomington. It's the best college town in America!
Cookeville, Tennessee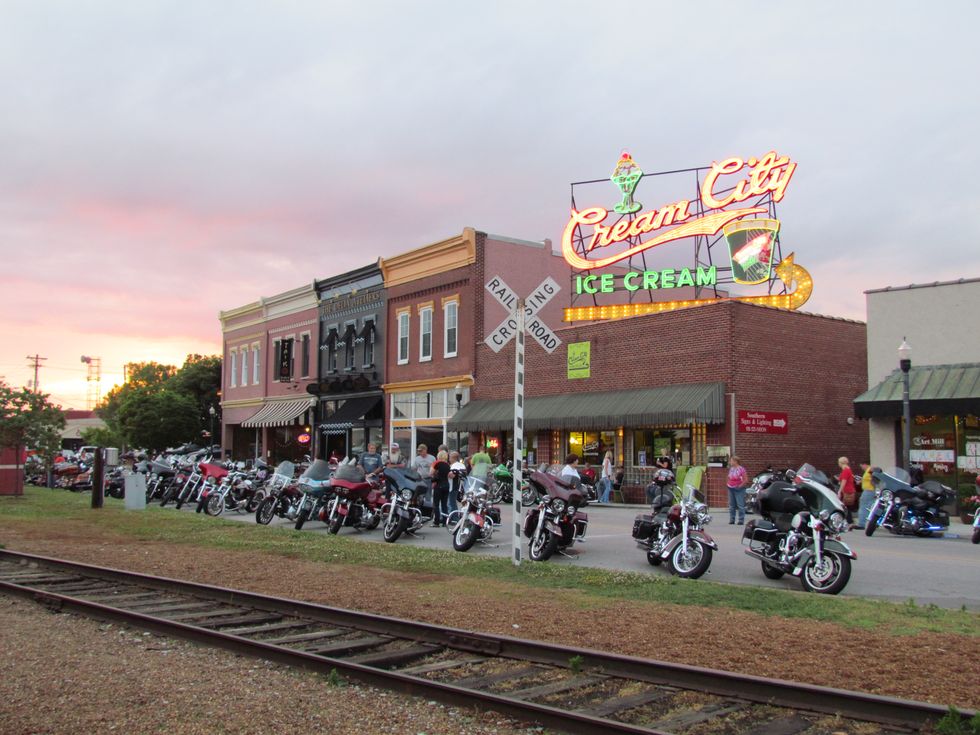 Tennessee is known for its music scene, but there is more to the state than just Nashville. Cookeville is a cute small town that is home to Tennessee Tech University. They also have a symphony orchestra that attracts visitors from all around, and it's close to the Appalachian Center For Craft. Ever want to learn to make clay pots or do beadwork? It's all right there!
Eureka Springs, Arkansas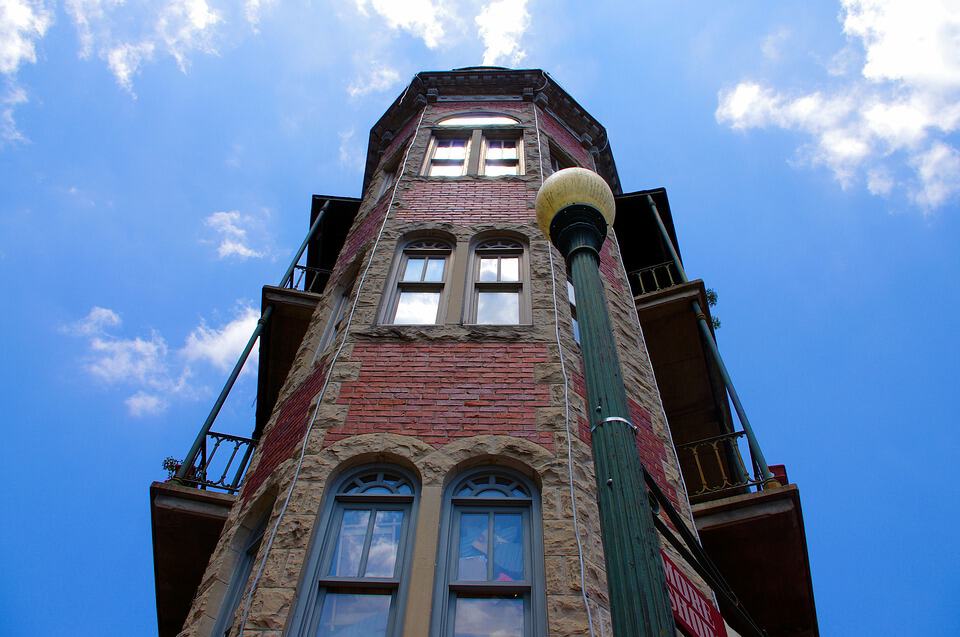 Eureka Springs is located in the Ozark Mountains of Arkansas, near the border with Missouri. It's a true tourist destination with over 100 shops. There are also two spas, a wildlife refuge, and a ton of other natural and historical sites to see there. The downtown is on the National Register Of Historic Places, so there is plenty of old-time charm!
Ottumwa, Iowa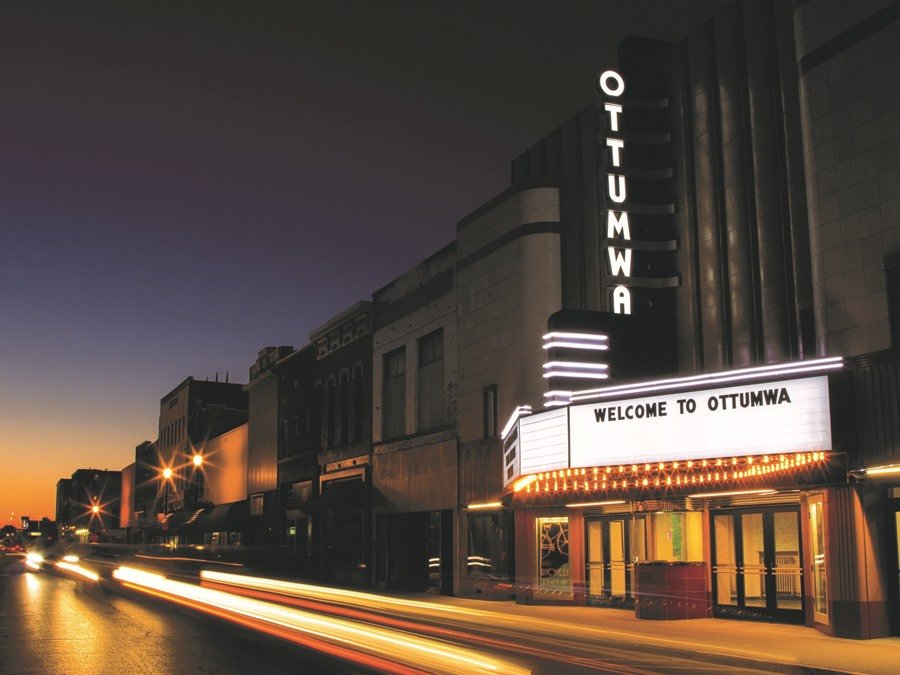 Ottumwa, Iowa used to be known as the Video Game Capital Of The World. Twin Galaxies, which is the organization that keeps track of video game world records is based there and grew out of an arcade owned by Walter Day. The arcade is long gone, but you can still visit the Interactive Museum there to learn all about the history of video games!
Medora, North Dakota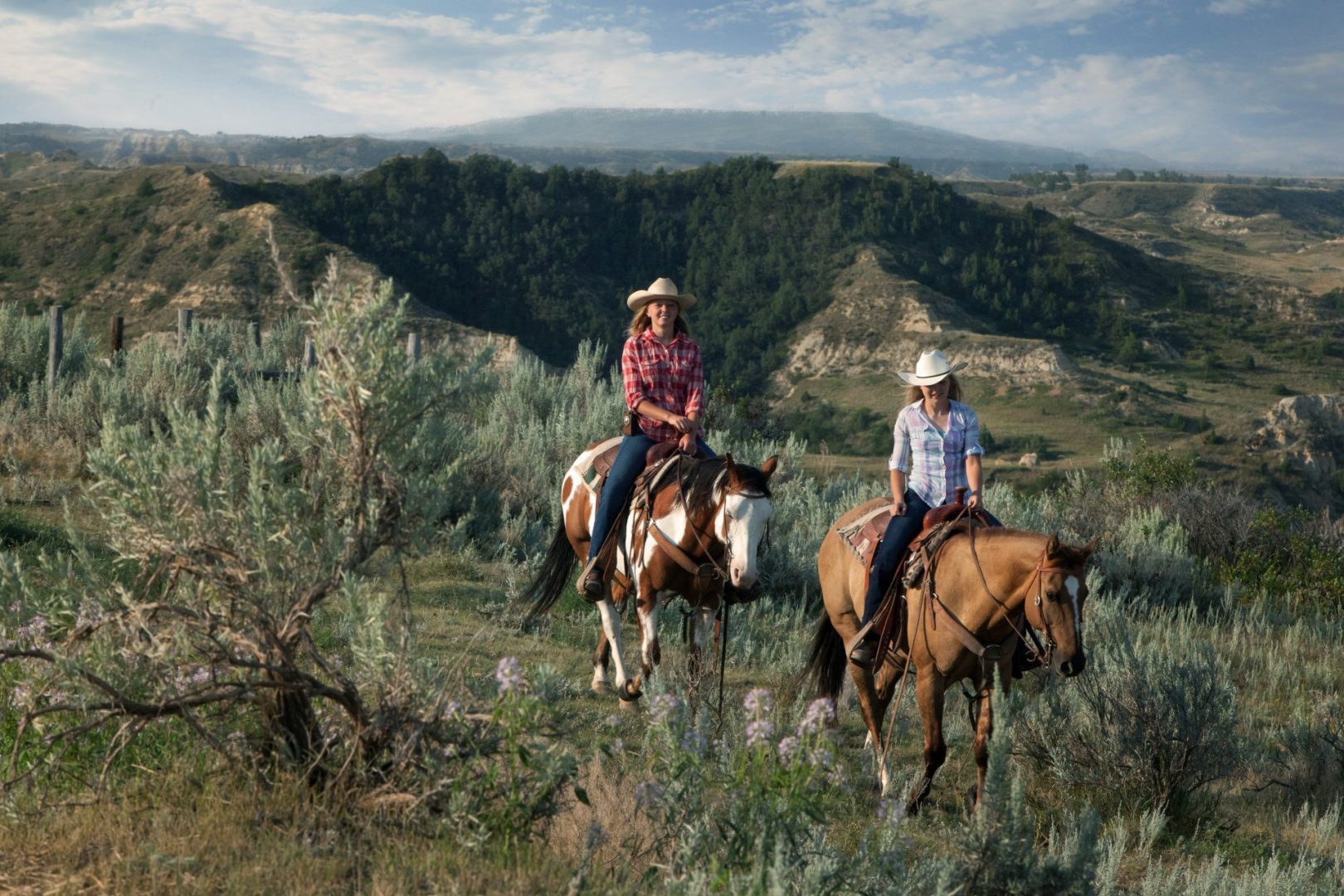 There isn't a lot to visit in North Dakota, but if you find yourself there, Medora is a great place to see. It's home to the North Dakota Cowboy Hall Of Fame and Theodore Roosevelt National Park. In fact, the entire town is part of Roosevelt National Park, so there is always something to see or do there. There's horseback riding, hiking, and more!
Dodge City, Kansas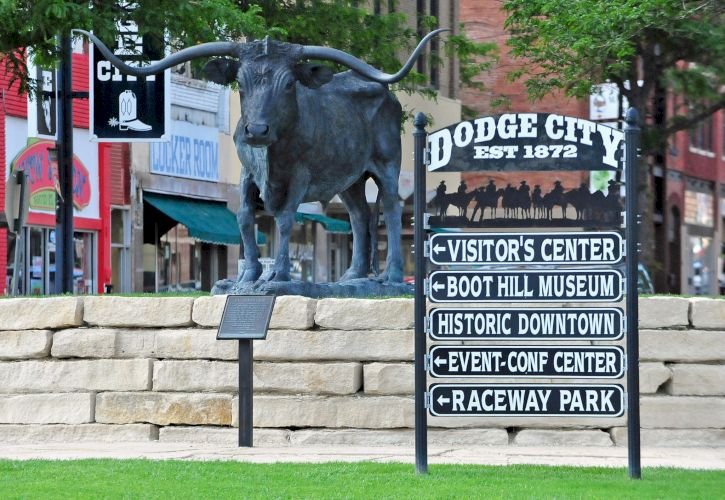 Dodge City, Kansas is a really cool place to visit if you're into the Old West. Famously, Wyatt Earp was once the sheriff here and Boot Hill is located here too. The TV show Gunsmoke took place in Dodge City, and there are various tributes to that show too. Dodge City is kind of out in the middle of nowhere, but it's well worth it if you're into Wild West history.
Naples, Florida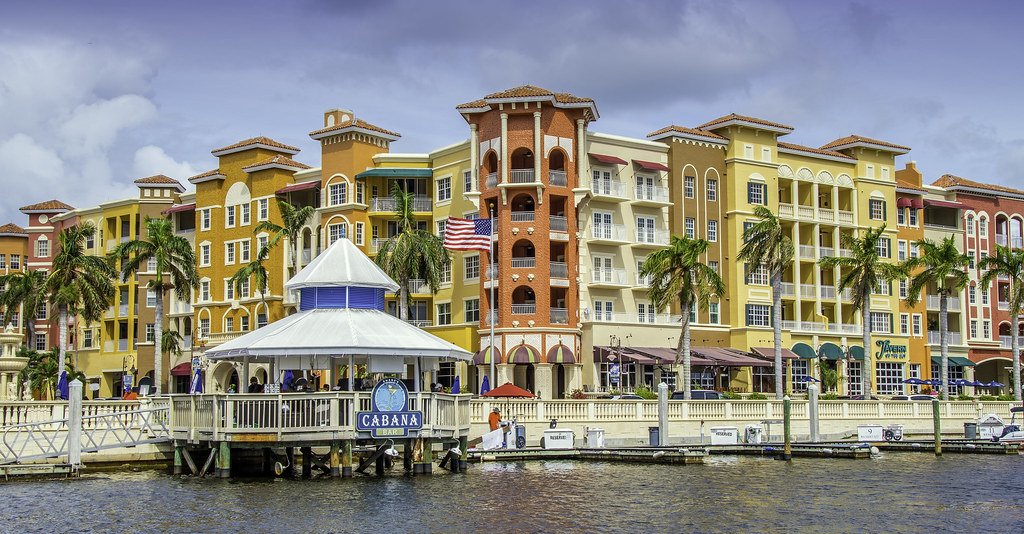 Obviously, there are a lot of tourist areas in Florida. All of the Disney parks, Universal Studios, and all sorts of wild beaches. Naples is a bit calmer, although there's still a lot to do there. There's a zoo, a great Philharmonic Orchestra, and the Naples Museum Of Art. Of course, you also get beaches as a bonus!
Chinle, Arizona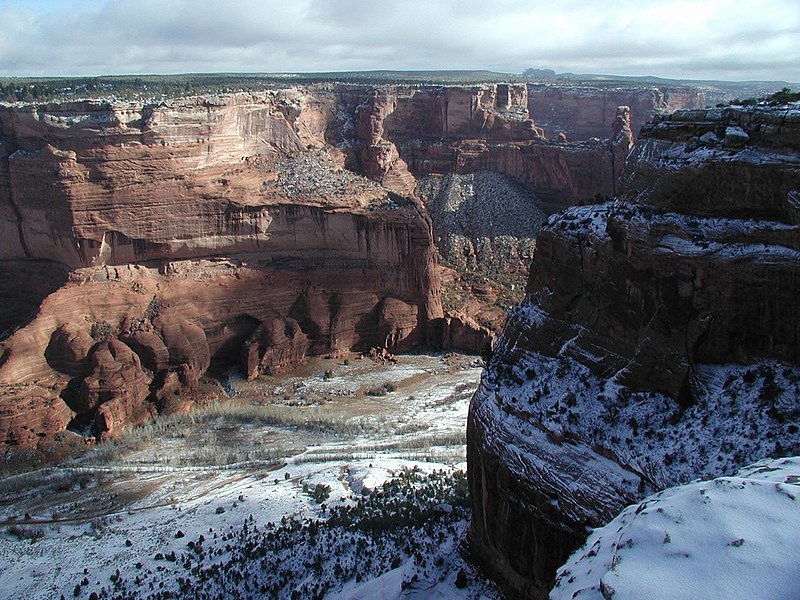 Chinle, Arizona is the home of Canyon De Chelly, which is a sacred place for the Navajo Nation. It's located in the Navajo reservation near the Four Corners region of Arizona. The canyon itself is smaller than a place like Grand Canyon, which makes it ideal for hiking. You can also see a lot of Navajo history as well, including the famous White House ruins located at the bottom of the canyon.
Rabbit Hash, Kentucky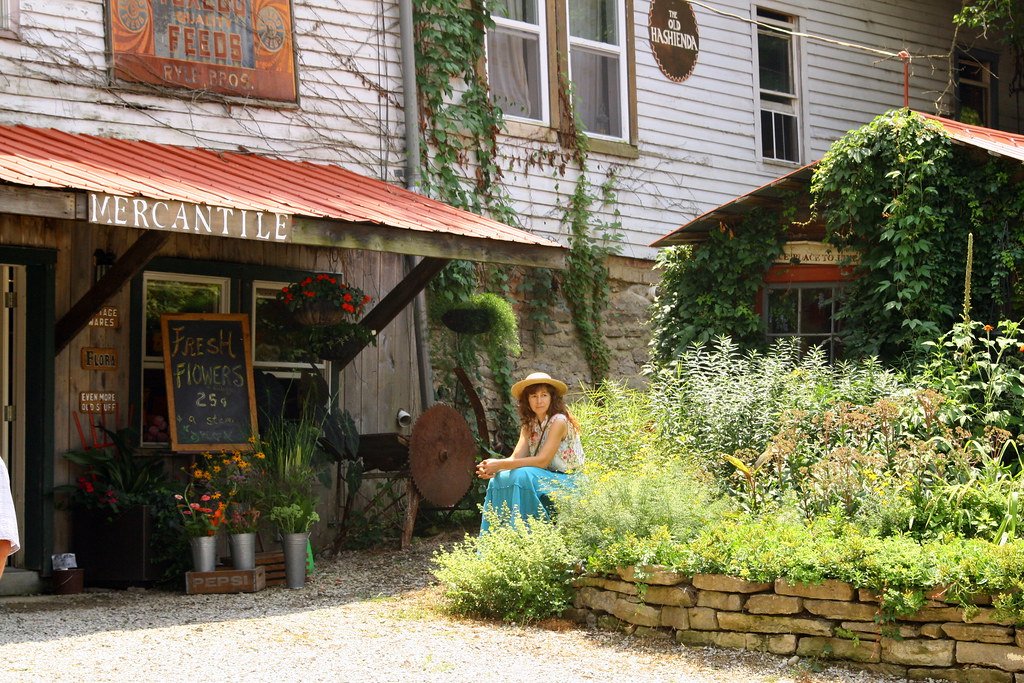 Kentucky is a state known for being pretty "country" anyway, so why not visit one of the "countriest" towns there is...the town of Rabbit Hash. They still have a General Store in Rabbit Hash, and it's an extremely small, close town. The General Store actually burned down in 2016, but the residents considered it iconic and rebuilt it. It seems like a small town with big character!
Rockport, Massachusetts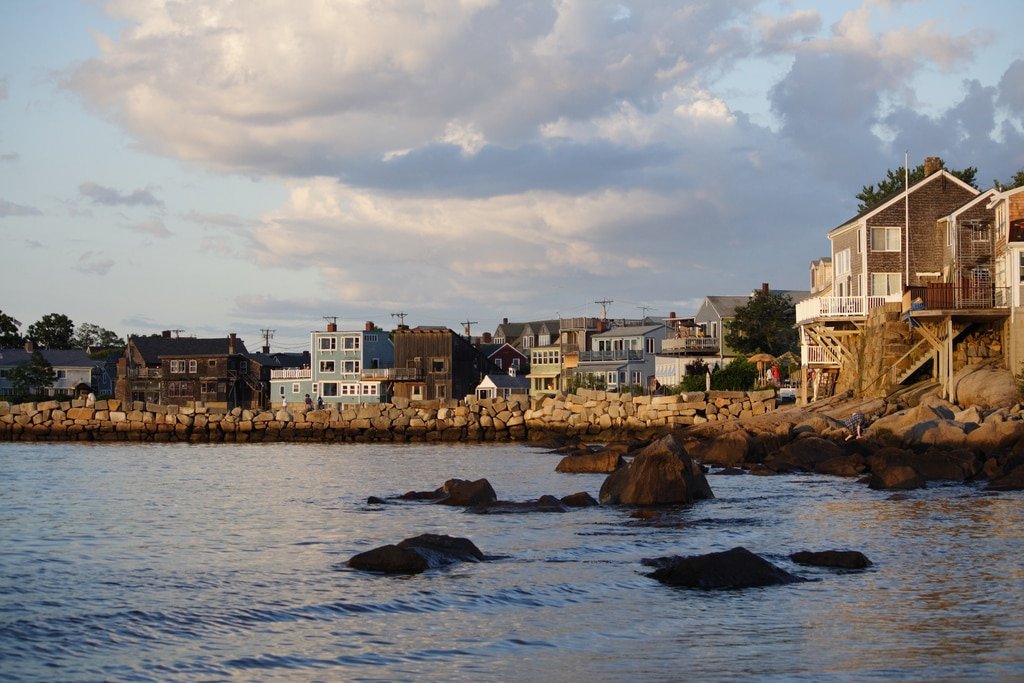 If you want to avoid the hustle and bustle of Massachusetts urban areas in Boston, you're probably going to go to one of the capes. Rockport, off of Cape Ann, offers famous beaches made from rocky pebbles and a much quieter time. You can also see the fishing shack called "Motif Number 1", which is one of the most photographed shacks in the world.
Clare, Michigan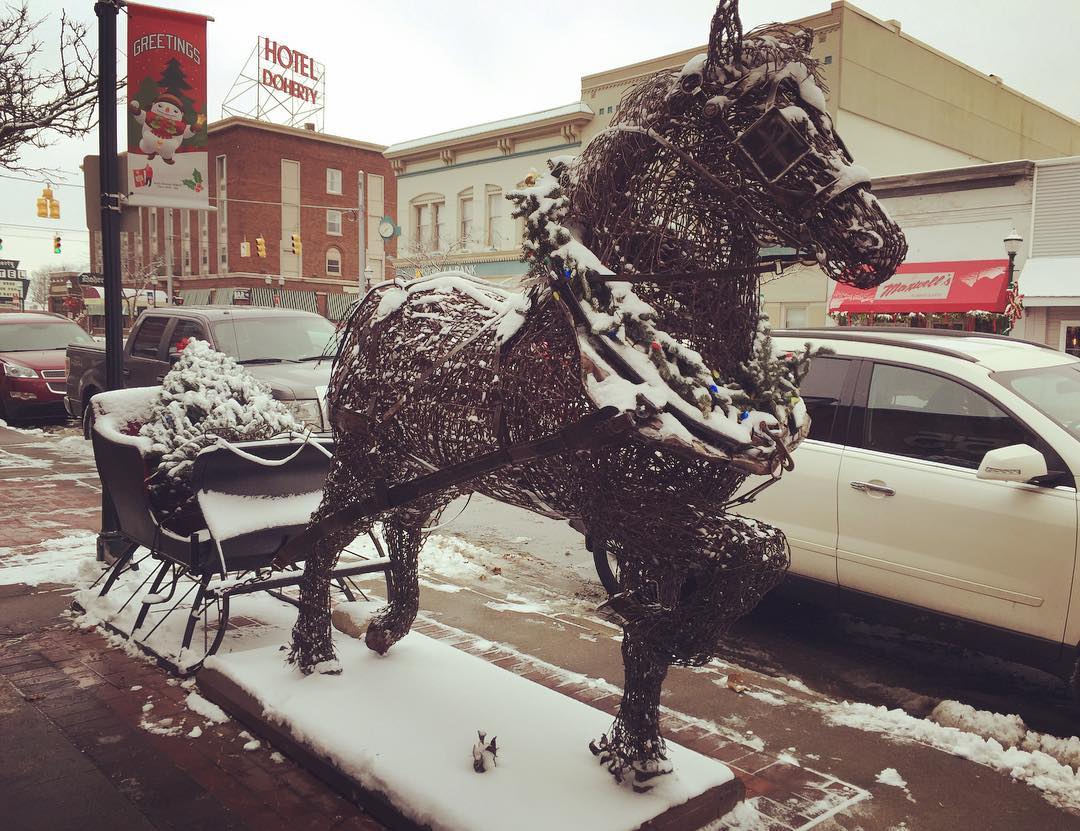 A lot of people don't know that Michigan is home to a large Amish population. Well, it is, and Clare is one of the Amish towns. It's known for its auctions, which take place in early spring and early summer. These are well-worth seeing because they have over 500 vendors a piece, so if you like handmade goods, this is the place to go!
Excelsior, Minnesota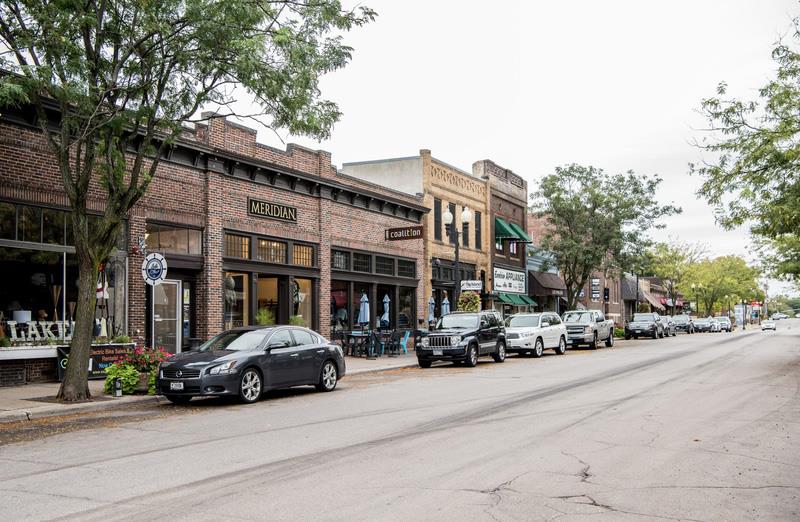 Minnesota has quite a few small towns. Excelsior stands out because it has made an effort to really appeal to a hipper, younger crowd than some of the others. The world-famous Excelsior Brewing Company is located here, and it's right near Lake Minnetonka too. So, you can grab some delicious frosty beverages and head straight down to the lake for fishing!
Custer, South Dakota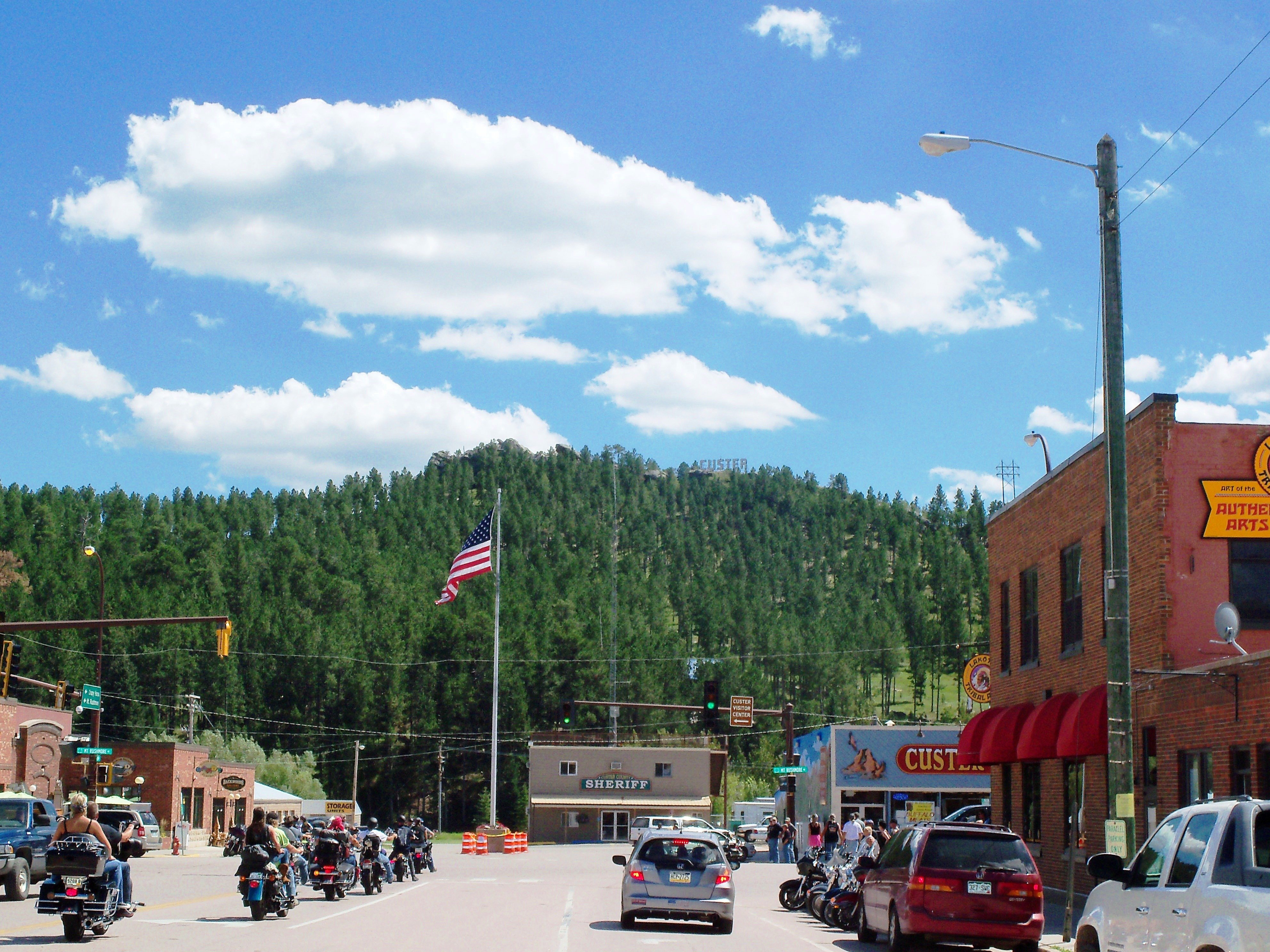 If you're going to South Dakota, you'll probably want to see the Black Hills and Mount Rushmore. Custer is not far from Rushmore, and it's a charming little town all by itself.  It's not quite as "touristy" as some neighboring towns, but gives tourists just enough that they'll feel welcome. It has another excellent attraction all on its own too: Custer State Park, where you can walk around and pet free-roaming buffalo!
Exeter, New Hampshire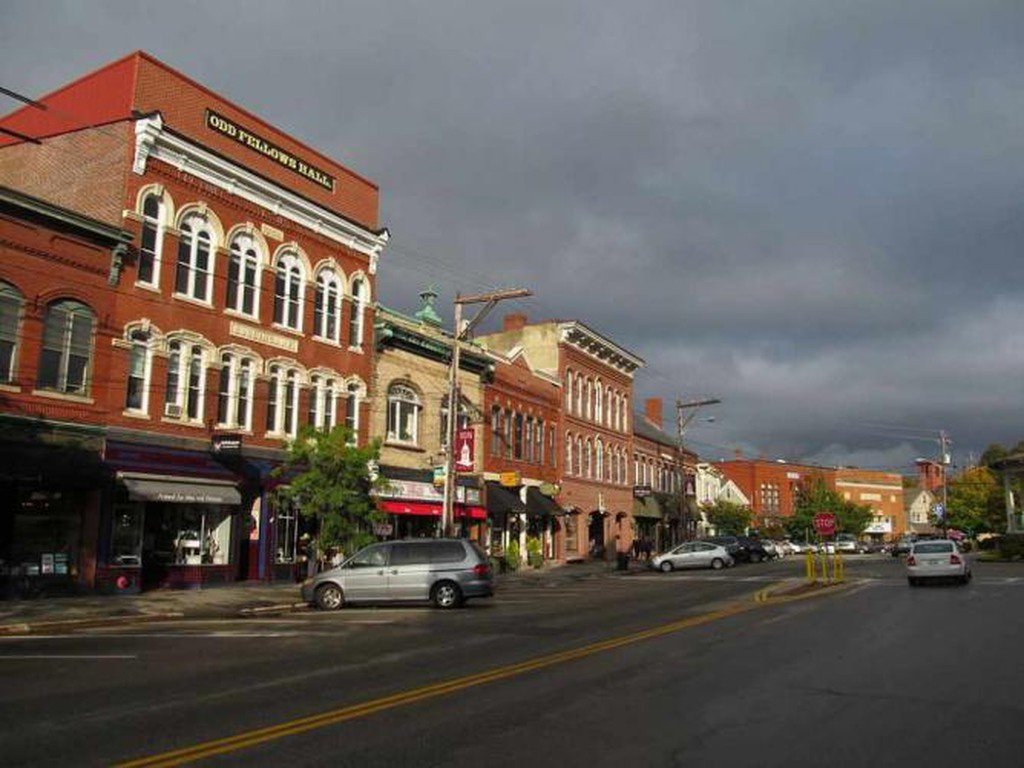 Exeter is one of the oldest towns in New Hampshire. Like a lot of small towns, the downtown area is on the National Register of Historic Places and you'll find a nice assortment of shops and restaurants there. Exeter is also home to a large number of historic homes to tour, including the Ladd-Gillmann house. That house now houses the American Freedom Museum.
Culpeper, Virginia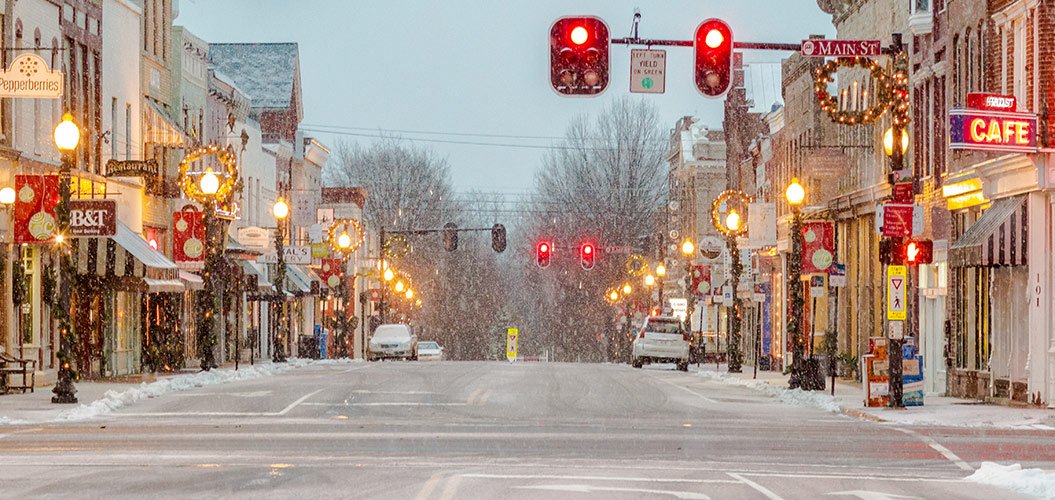 Everyone can find a little bit to do in Culpeper. They always seem to have some sort of festival happening there! The main street is full of historic shops and restaurants, and some have been open since the 1800s. Since it's in Virginia, there is a lot of history from the American Revolution to the Civil War and more. They have a traditional Farmer's Market on Saturday mornings, and it's just a short drive from Richmond, Washington DC, and Fredericksburg.
Galisteo, New Mexico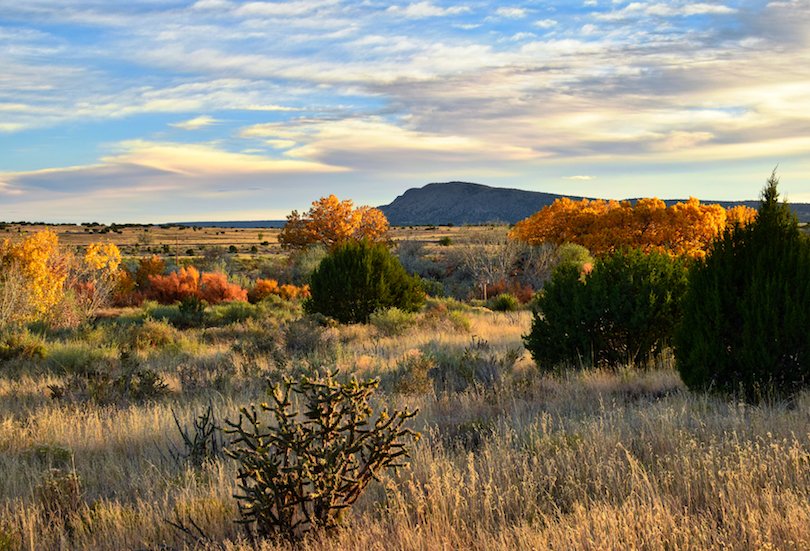 There doesn't look like there's much "town" in the town of Galisteo, but it has been the background of all sorts of movies and TV shows, If you have a picture of a rugged southwest environment in yPinehurstour head, you're probably thinking of Galisteo. Even Thor made a stop here; it's where they filmed outside locations for that movie too.
Cedar City, Utah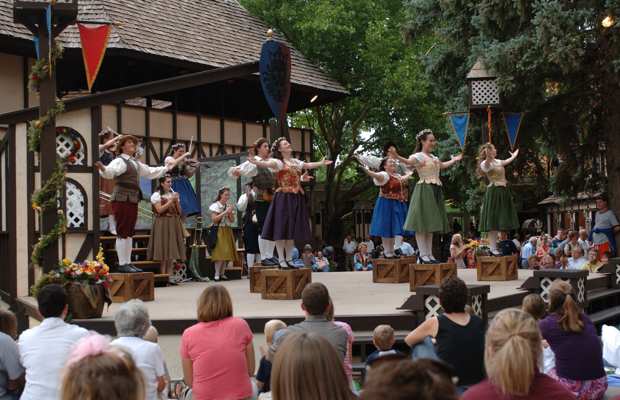 Cedar City, Utah is the home of Southern Utah University. Without a doubt, the number one thing to do in Cedar City is the annual Utah Shakespeare Festival. This festival has been running since 1962, and it's the most literate party you'll ever go to! Plays take place in a replica of Shakespeare's original Globe Theatre, and the festival takes in about 100,000 visitors every summer. Some people have gone nearly every year of its existence and they have the badges to prove it!
Woodstock, New York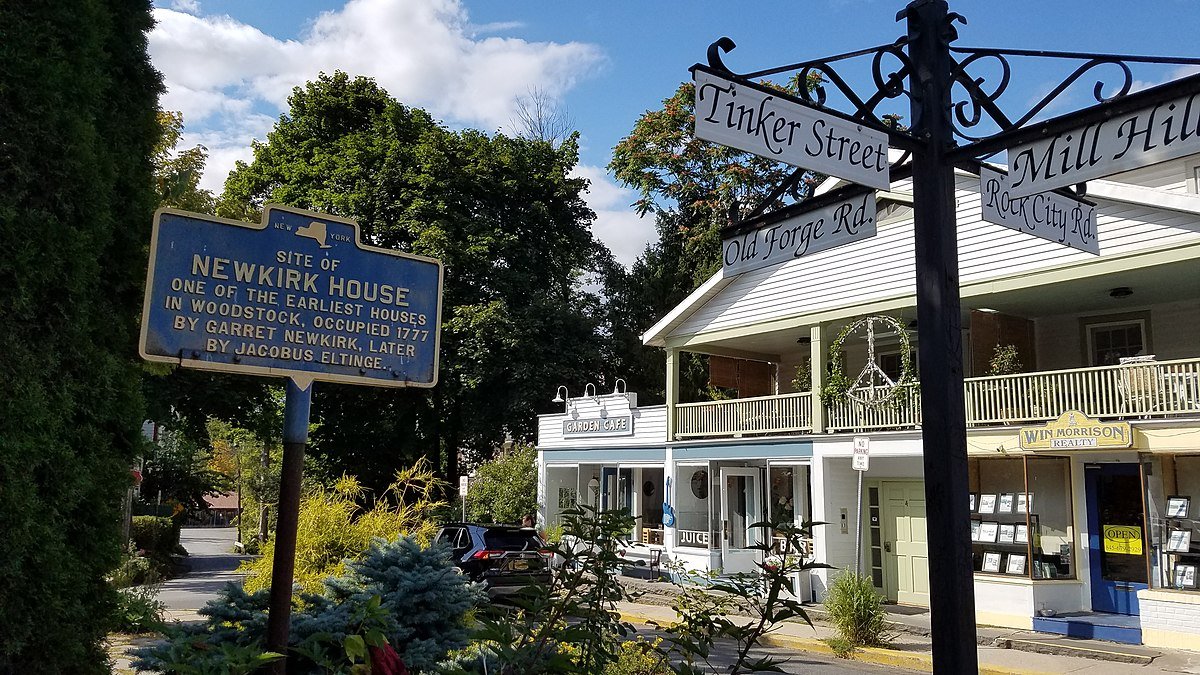 Woodstock is famous as the site of the 1969 music festival, and even though that event ACTUALLY took place in Bethel, the town of Woodstock has tried to keep the spirit alive. There's an amazing arts scene in Woodstock, and you can see some very unique shops and take in some history too. 
Covington, Georgia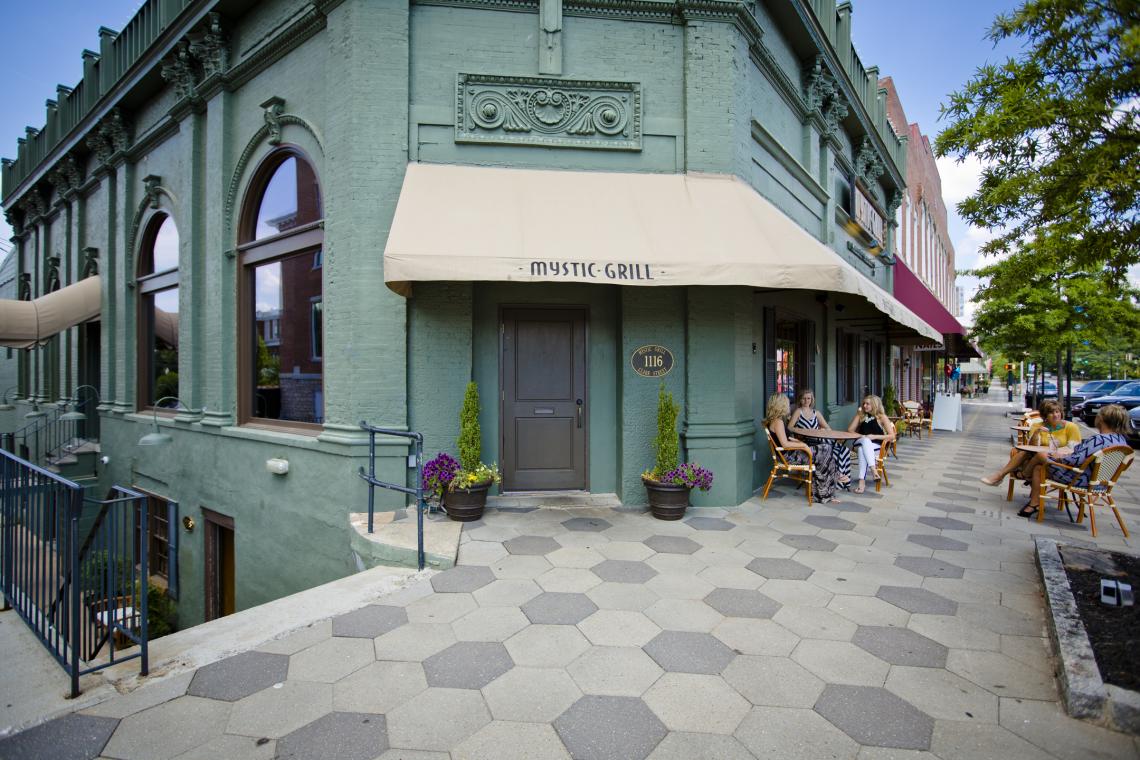 Are you a fan of the TV show Vampire Diaries? If you are, this downtown should look familiar to you. Covington, Georgia was used as the model for Mystic Falls in the series, and the show was partially shot there too. It's actually been used to shoot a lot of TV shows and movies, so when you think of a small southern town, you'll probably picture this one.
Medicine Park, Oklahoma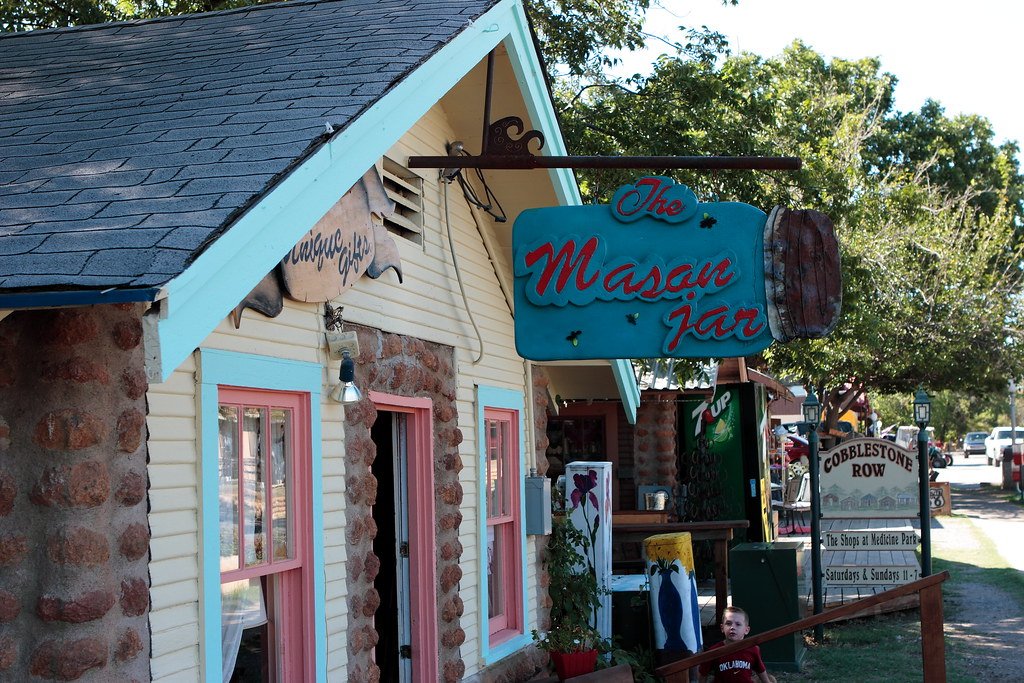 Medicine Park is one of the oldest towns in Oklahoma. It's a very unique place, with cobblestone streets and all sorts of unique architecture and natural wonders. It's near the Bath Lake Fishing Hole, which is one of the most popular (and cool) attractions in Oklahoma. This place isn't exactly a well-kept secret either. People from all over the midwest enjoy visiting it.
Cannon Beach, Oregon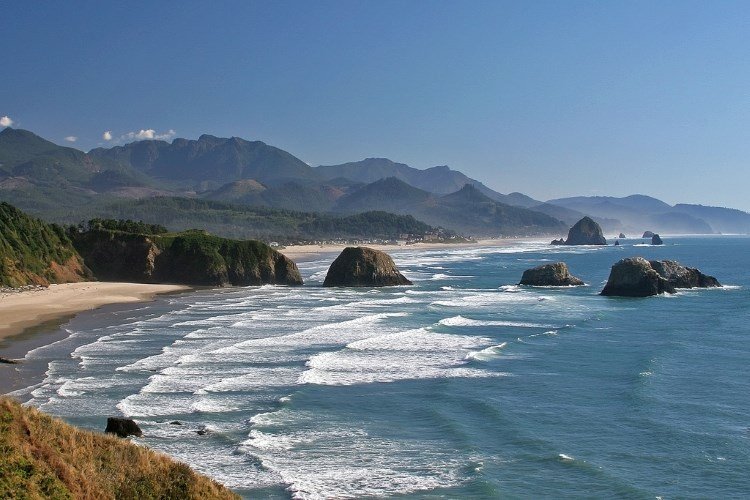 Cannon Beach is one of the Top Ten Beaches In The World, according to National Geographic Magazine.  Tourists flock to the beach every year, especially to its signature attraction, Haystack Rock. The town is great too! There are very few chain stores in Cannon Beach because the town has tried to stay as "small-town" as possible while still drawing large numbers of tourists.
New Hope, Pennsylvania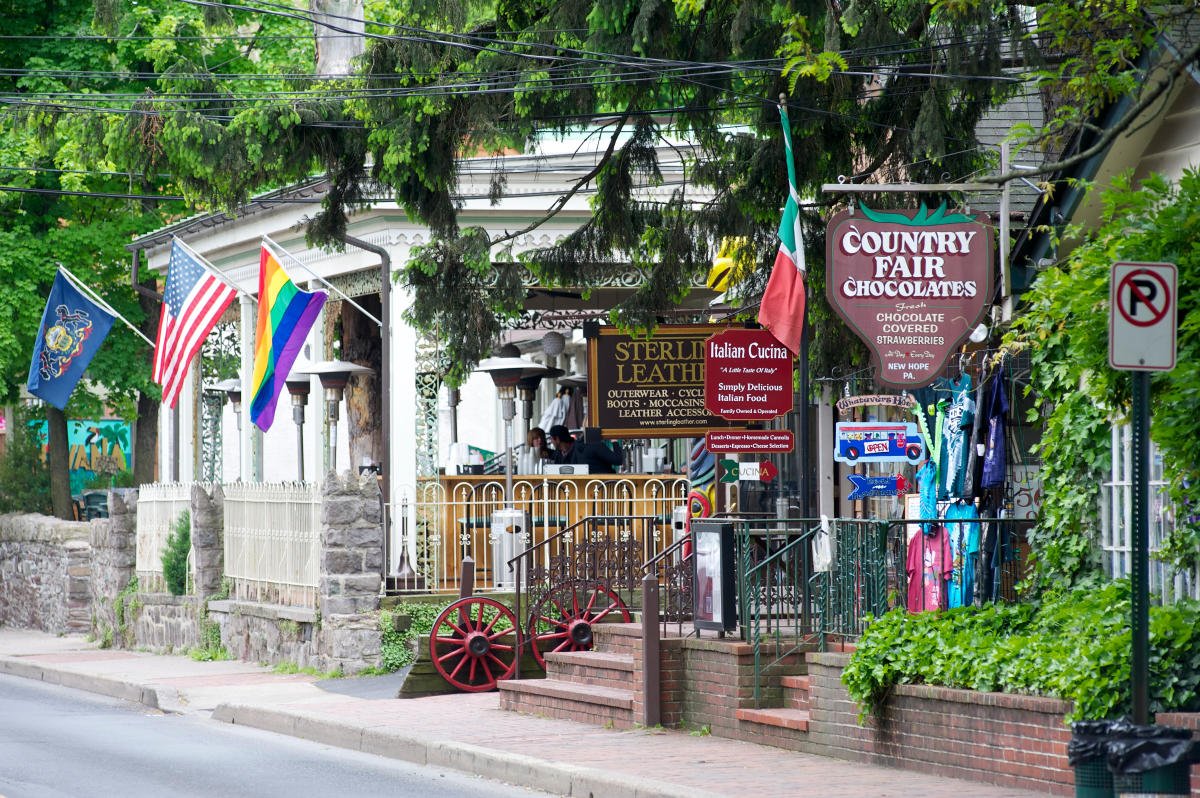 New Hope, Pennsylvania is one of the best-kept secrets in Pennsylvania. There are a lot of quaint Amish communities there, but New Hope stands out. It's home to the area's only AAA Four Diamond-rated bed and breakfast. There's also a large children's' museum for the little ones. In addition, the town is famous for being LGBTQ+ friendly, and the Bucks County Pride Parade is hosted there every year in May.
Jamestown, Rhode Island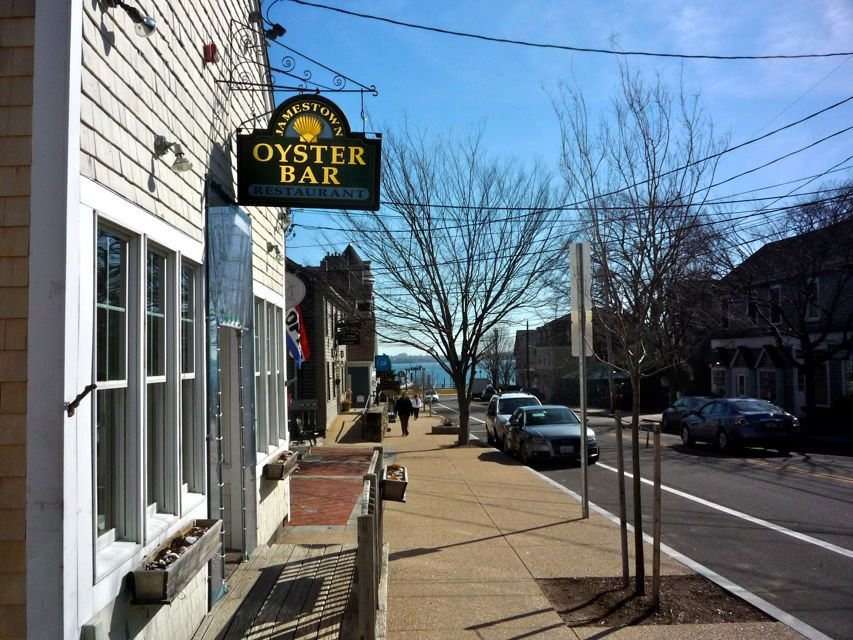 Rhode Island is small geographically, but they have a huge amount of small towns to visit! Jamestown is a good one because it's quiet, unassuming, and everything that a small New England town should be. There are beautiful views of the water, and plenty of fresh seafood restaurants. The Jamestown Oyster Bar is especially famous because they pull the oysters right out of the ocean to serve!
Edisto Island, South Carolina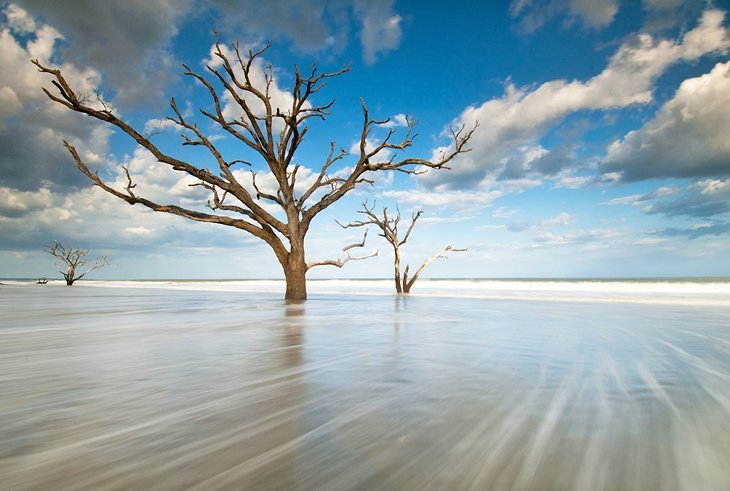 Another fabulous small beach town is located in South Carolina. The big draw here is Edisto Beach, which has trails for hiking and miles of great beaches. There are even furnished cabins to rent right on the beach itself. Botany Bay is located just off of Edisto Island, so there's also incredible boating and "eco-tours" too. If you're into fishing, this is also a fantastic place, and they hold fishing competitions throughout the year.
Gallatin, Missouri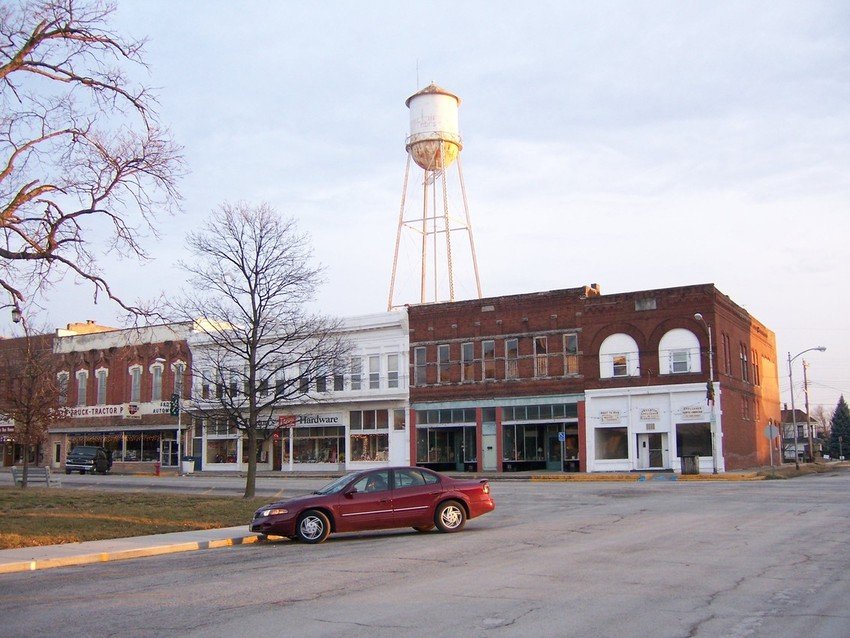 Gallatin, Missouri is a very small town in the Northeast part of the state. If you want to see a pure small town, Gallatin is one of the best places to see it. It only has a population of 1,796 people, but there is plenty of charm. There is a lot of Missouri state history here, especially relating to the Latter-Day Saint movement of the 19th century. Well worth the trip for the history alone!
Granville, Ohio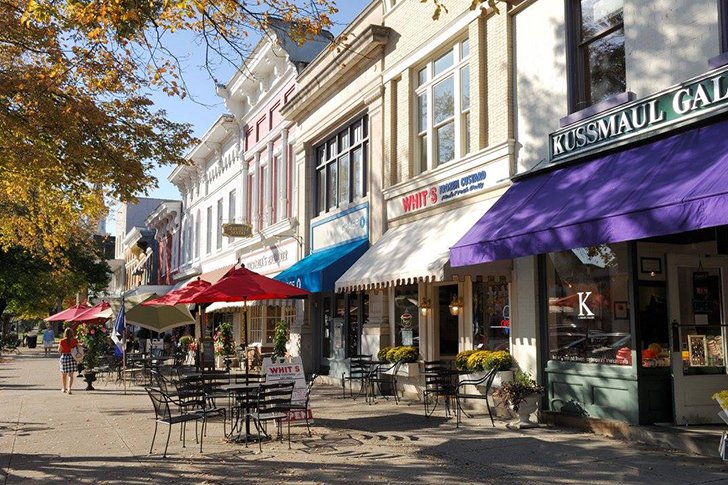 Granville is just the town that you would expect from a small town in Ohio. They have their fair share of attractions and historic sites, but the downtown is really what makes the place stand out. It looks just like what you would expect Main Street USA to look like, complete with ice cream stores and candy shops. Granville is only 30 minutes east of Columbus, so well worth the trip!
Hartford, Vermont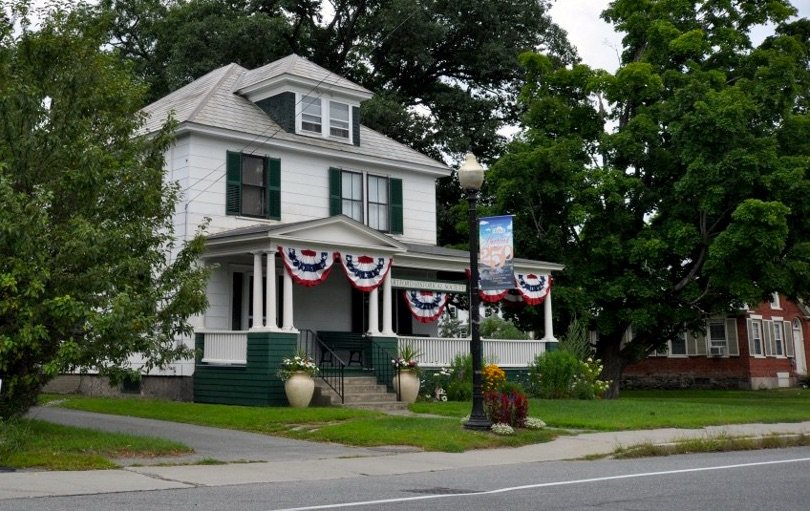 Vermont is almost all small towns, one cuter than the next. Hartford is a good representative for the state because it's a little more of a modern take on small-town life. It has some cool shops and the Main Street Museum, plus it's connected to New York City. That means you can have it both ways in Hartford: you can travel to the city for some excitement, and come back to the town for a bit of peace and quiet.
Pinehurst, North Carolina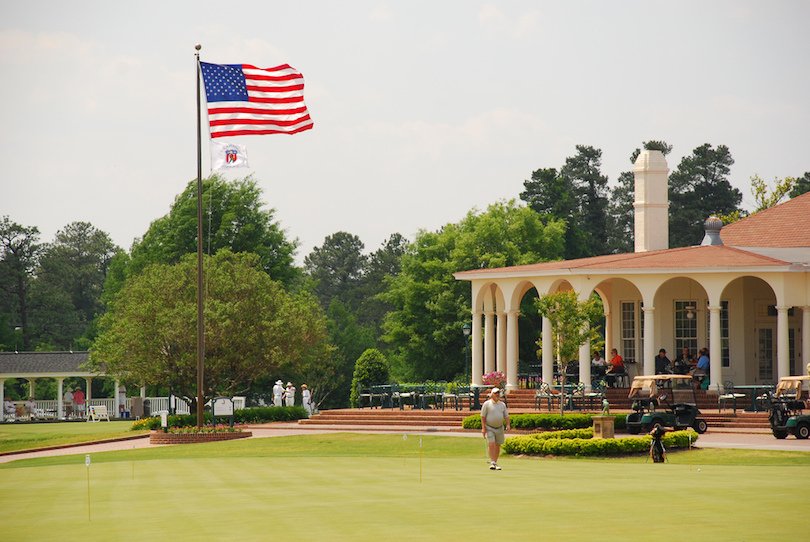 There's more to Pinehurst than just golf, but let's face it, golf is the main attraction here. Pinehurst Resort Golf Club is located here, and it's one of the most famous golf courses in the US. If you aren't into golf, there's still plenty to do. The Sandhills Horticultural Gardens, which is a beautiful botanical garden, complete with an English formal garden space.
Red Bank, New Jersey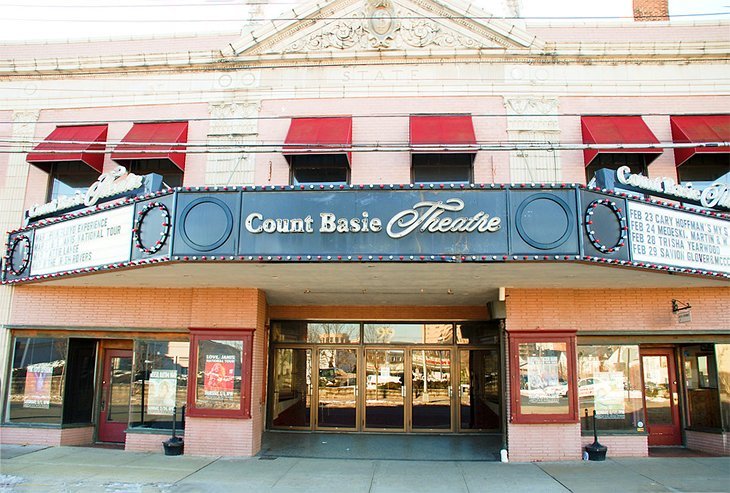 New Jersey is probably not one of your top destinations if you're a jazz fan. There is one exception though: Red Bank! If the name "Red Bank" sounds familiar, it's because "The Kid From Red Bank", Count Basie, was from this little town. It's home to the above-pictured Count Basie Center For The Arts, which is a unique theatre that hosts world-class musicians of all types. Jon Bon Jovi also maintains a presence in Red Bank, where his foundation runs the JBJ Soul Kitchen. It's a unique community restaurant!
Taylor, Nebraska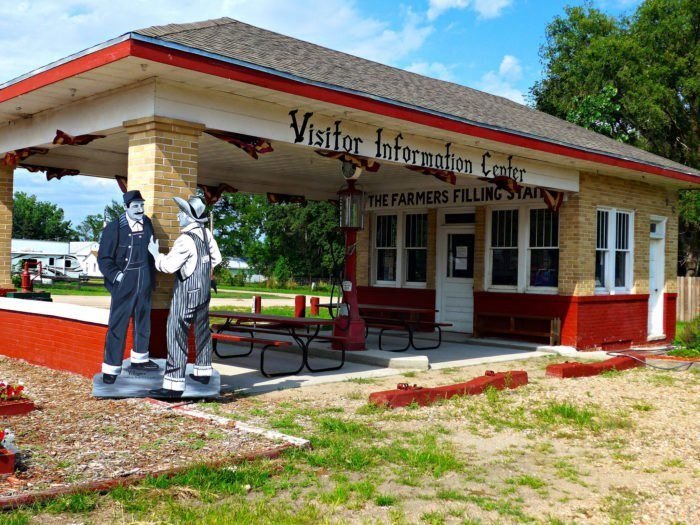 Taylor is an interesting and somewhat eccentric little town in Nebraska. It has a cute little main street and there all sorts of little shops to visit. There are also "The Villagers", who are wooden statues that the city has put up to represent various times in the town's history. They are wooden statues that might be confused for real people at first glance.
Tuscumbia, Alabama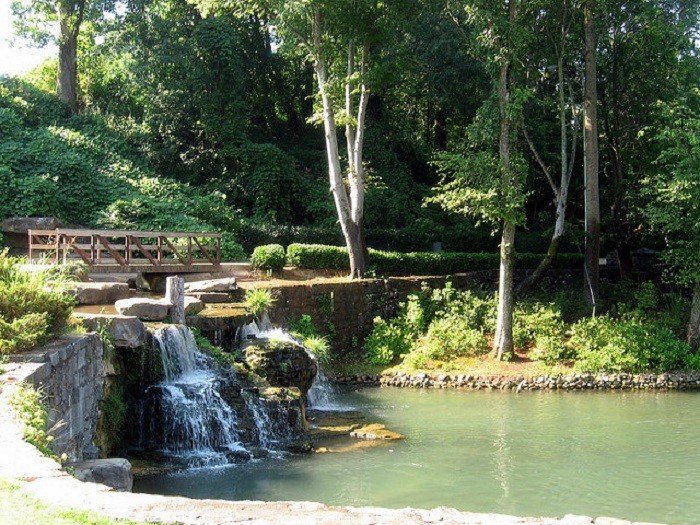 Tuscumbia is our pick for Alabama. It's near hot springs, called Spring Park, and is also the birthplace of Helen Keller. The town also hosts the Alabama Music Hall of Fame and it's near the Appalachian Mountains too, so you can go hiking of climbing. They have a beautiful downtown and a relaxed Southern atmosphere
Chippewa Falls, Wisconsin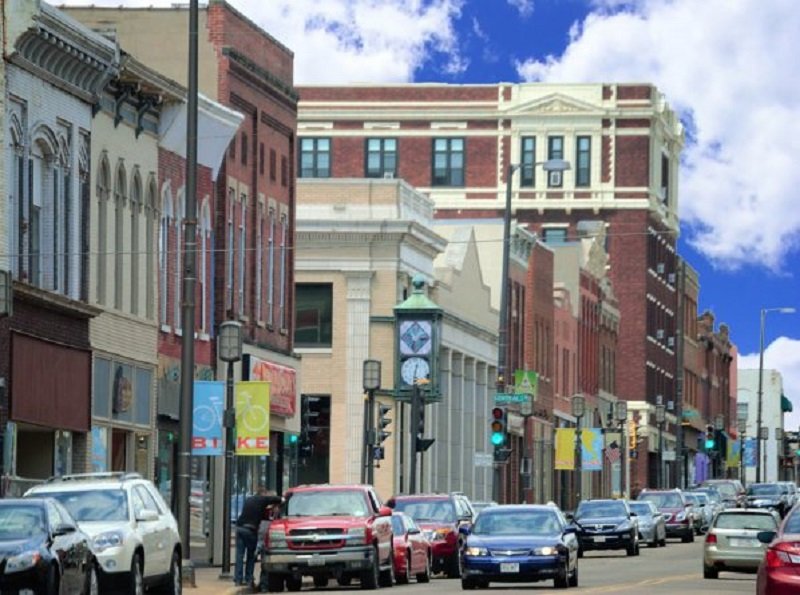 Wisconsin is known for two types of food/beverage. The food is cheese and the beverage is beer. Chippewa Falls has plenty of both of those. It's a small town that is home to the Leinenkugels brewery, which is one of the oldest in the US, founded in 1867. It's also very close to Lake Hallie, which is great for watersports and fishing. 
Cody, Wyoming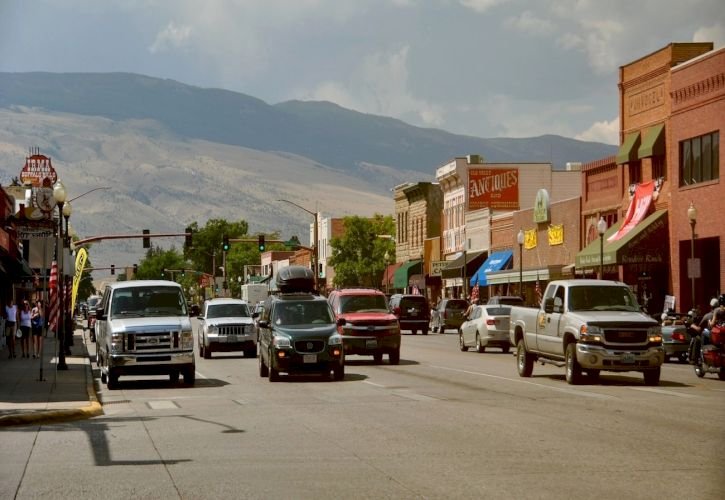 Do you like cowboys? Well, Cody, Wyoming has them! Named for Buffalo Bill Cody, this town is the Rodeo Capital Of The World and the Cody Stampede Rodeo is held there every year, which is one of the largest in the country. It's also very close to Yellowstone National Park, and you can see a recreation of Old West buildings at the Old Town Trail. It's a very cool little town that has a lot to offer!
These are some of the most charming small towns in the US. We hope you found a place that you would like to visit, or maybe a place where you'd like to live in! If you like visiting towns off the beaten path, these towns are for you. If you enjoyed this story, please share it with your friends. Thanks for reading!
Sources: Architectural Digest, House Beautiful, Attractions Of America, Crazy Tourist, Only In Your State, Planetware