The Most Historic Photos Ever Captured
Photography holds a distinct power in history. They separate what stories are told and forgotten, and which ones remain in history to be talked out and studied. Some of the most historic images have some of the best stories and fascinating facts behind their origin that many people don't know of or never even considered. Let's take a look at them!
Lunch Atop A Skyscraper (1932)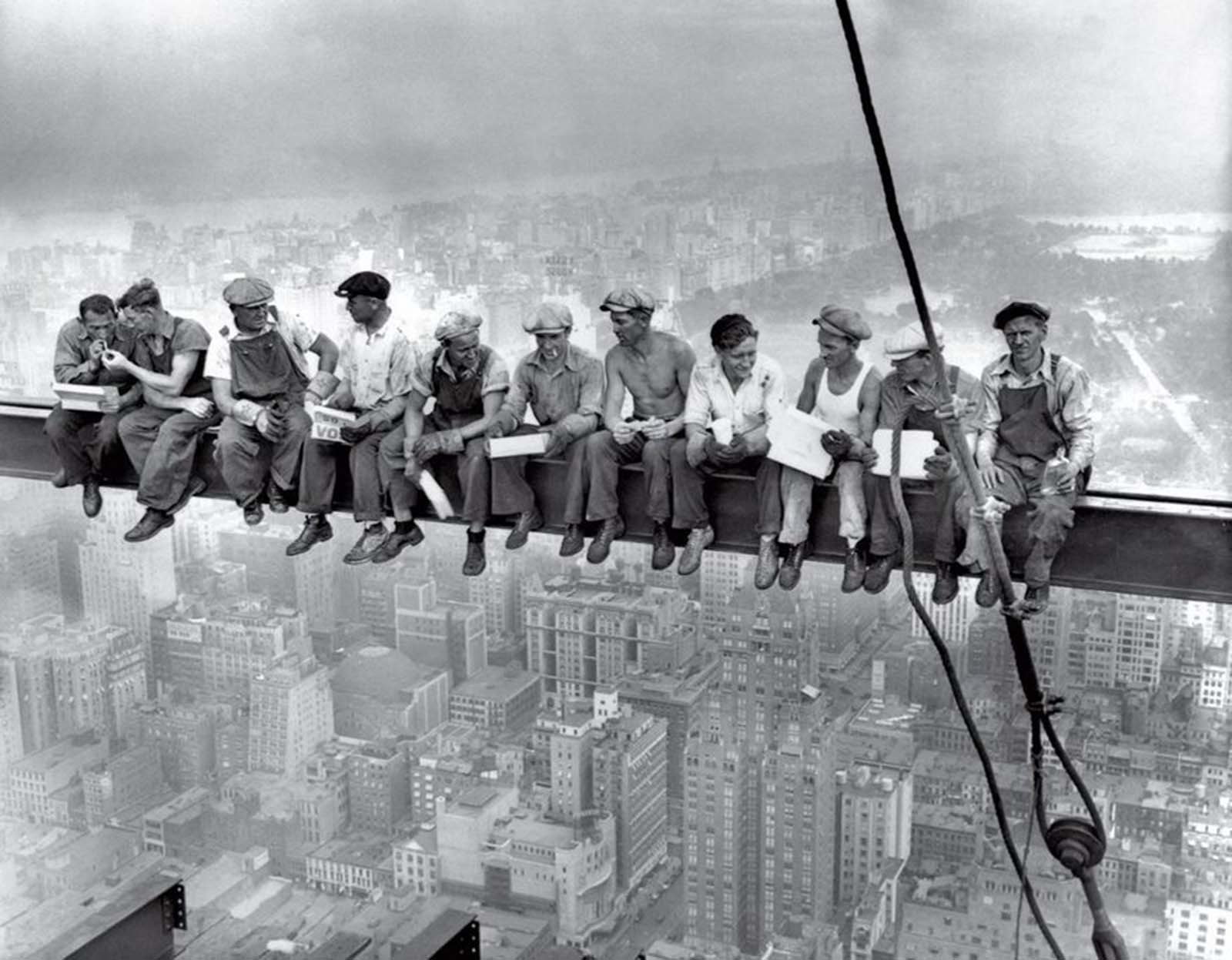 Lunch breaks were never the same after this picture. It involves 11 men suspended 840-feet above Manhattan ground level on nothing but a steel beam. Taken during the construction of the Rockefeller center in 1932, this is one of the most recognizable and quirkiest images captured to date. The mystery of this image lies behind who the photographer was. There have been rumors that it was between photographers Charles C. Ebbets, Thomas Kelley, and William Leftwich who were all present on a picture-perfect day.
Betty Grable (1943)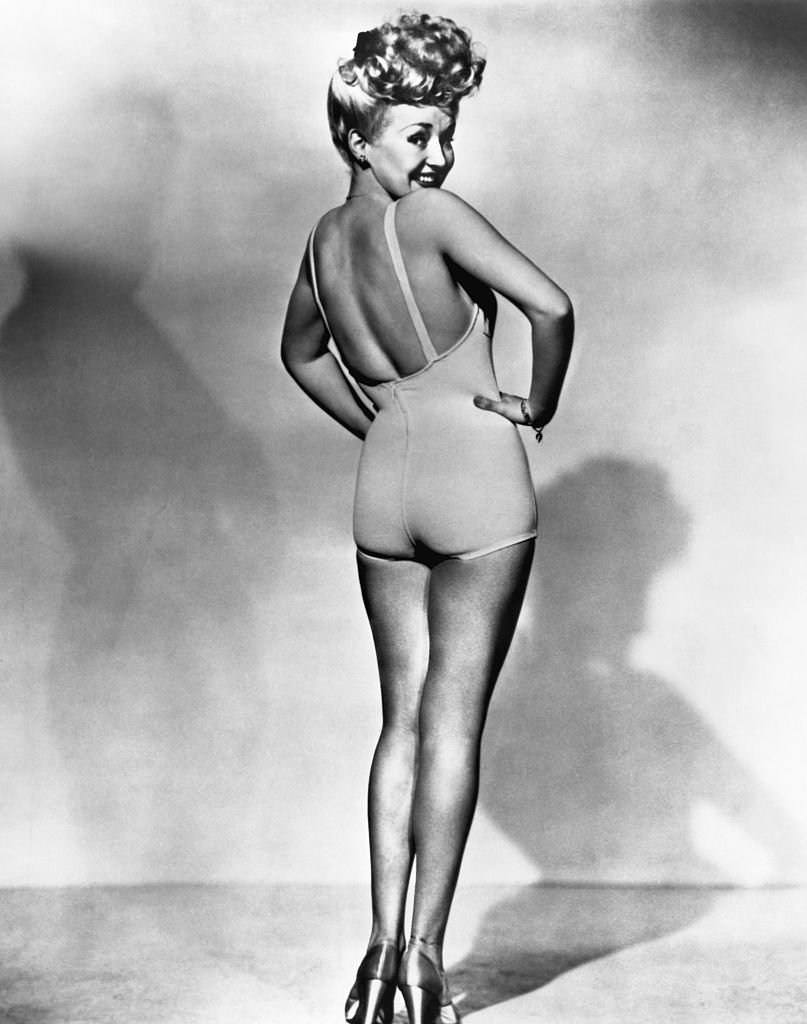 Betty Grable was living breathing artwork. That platinum blond, blue-eyed Hollywood dropped the jaws of American soldiers, sailors, airmen, and Marines serving around the world. Photographer for 20th Century Fox, Frank Powolny, took publicity pictures of the actress for the 1943 film Sweet Rosie O'Grady, and he asked for a profile of her back to cover his basis with the requests from the studio. The image became a promotional poster for the film and in no time at all troops were requesting 50,000 copies every month. It still resides on bedroom walls and murals across Hollywood today.
V-J Day In Times Square (1945)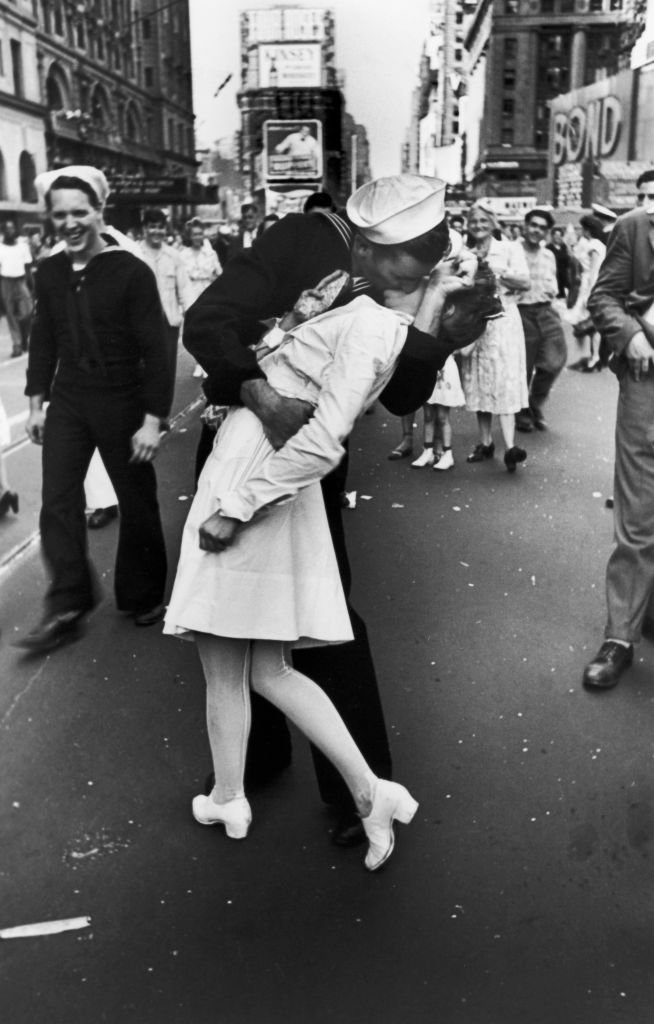 Photographer of this legendary piece Albert Eisenstaedt stated that "People tell me that when I'm in heaven, they will remember this picture."  this was way back in the year 1945, and truer words have never been said. Somebody somewhere has seen this image or an iteration of it in murals and paintings. It conveys unbridled affection to the fullest between a solider and a dental nurse, and it was taken post World War II.
Gandhi and the Spinning Wheel (1946)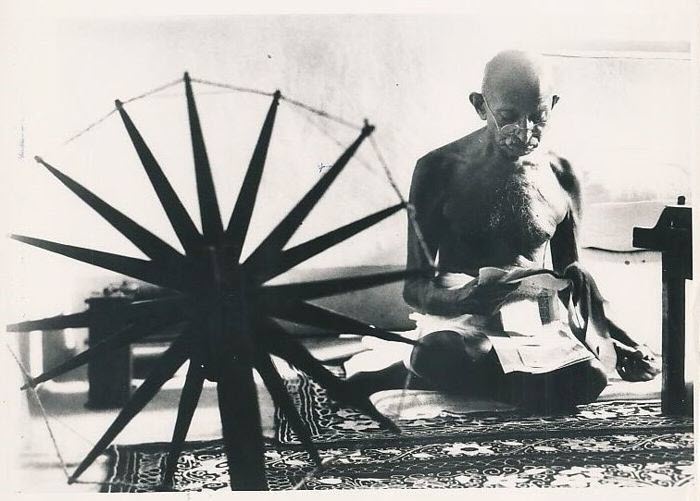 This image of civil rights activist Mahatma Gandhi is as serene as it is memorable. It gives a quick insight into the taciturn nature of its subject who was a prophet of peace in the 1940s. This image, many don't know, was taken by LIFE Magazine's first female photographer Margaret Bourke-White following two rejected attempts to meet with the icon. 
Guerillero Heroico (1960)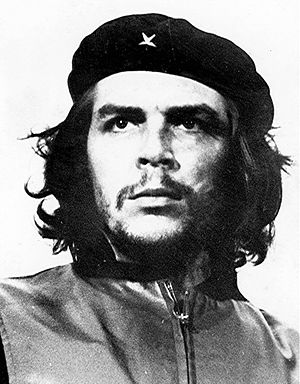 This was taken during Fidel Castro's impassioned oration following events that occurred in Havana Harbor. This image of Che Guevara was captured and stored away for 7 years. It only resurfaced after the events of the guerrilla movement. It became a symbol of empowerment and rebellion which was waved during the riots in Bolivia. Now appearing in protest art and murals, it's immortalized in history through politics and culture.
The Serenade At The Sphinx (1961)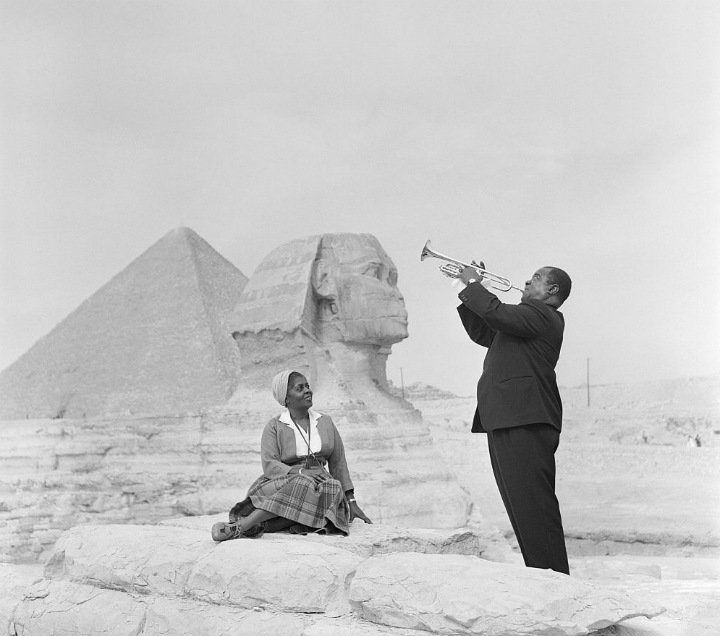 When you put the Great Sphinx, pyramids, a trumpet, and the great Louie Armstrong together, they don't make sense in isolation. In a composed picture together and you have a seriously beautiful image. It was taken while Armstrong was sent to spread American culture abroad through his music. While visiting with wife Lucille, she was serenaded by her Louie in Egypt. Very few images cannot be imitated. This is one of them. A true once in a lifetime moment.
The Pillow Fight (1964)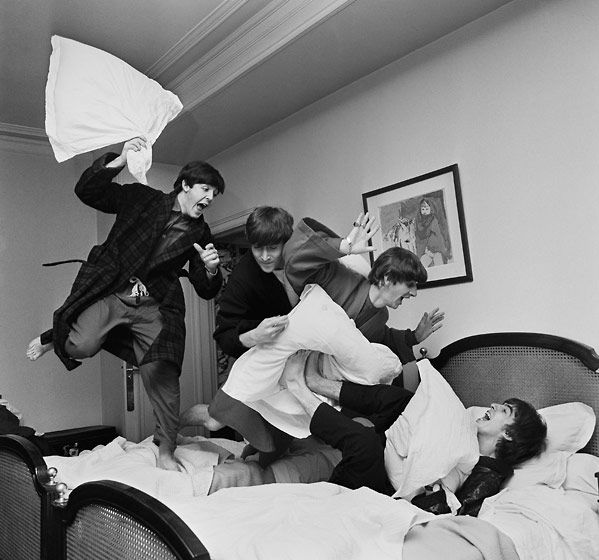 This joyful image of The Beatles is the perfect equilibrium of fun and greatness. This pillow fight was taken on the night the band found out that their song "I Want To Hold Your Hand" landed the #1 spot on the U.S Billboard 100 chart--the first of many. This was before the band burst into global stardom. It captures them at their best; young, wild, and happy to be together. It's as infectious with good spirits, as it is iconic in music.
Ali vs. Liston (1965)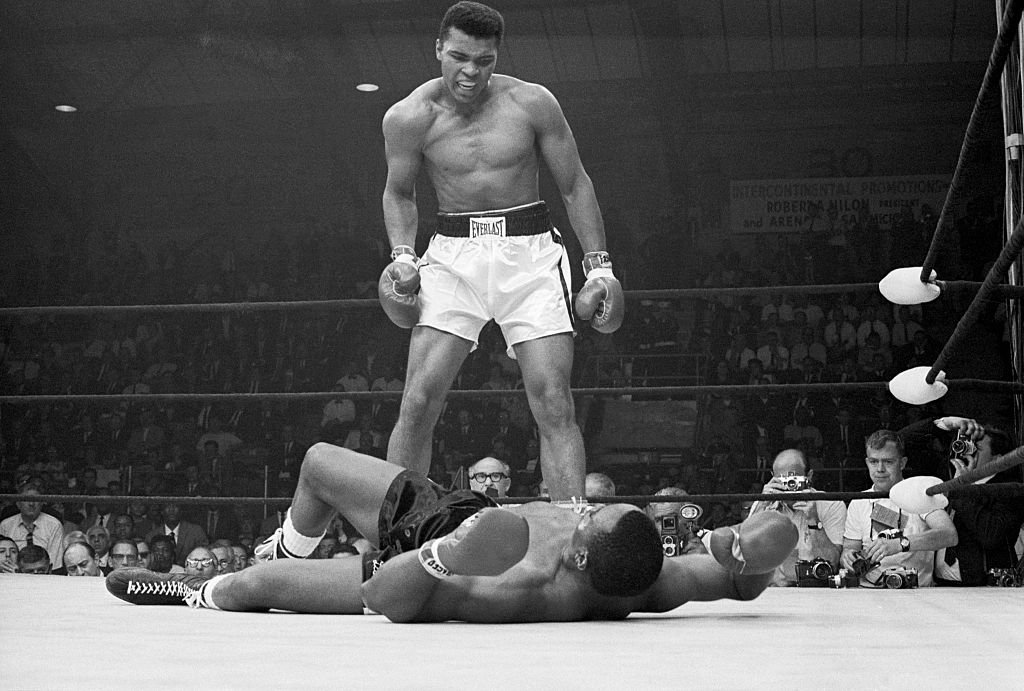 Float like a butterfly, sting like a bee, much like Armstrong's words, these too are etched in immortality. When Ali took the stage, in interviews or the ring, photographers never wanted to miss a beat. The legendary photographer behind this, Neil Leifer, stated that "I was obviously in the right seat, but what matters is I didn't miss". Taken just one-minute and 44 seconds after the first round bell had rung, the most polarizing of athletes delivered a moment that echoed in sports, culture, and photography.
Earth Rising (1968)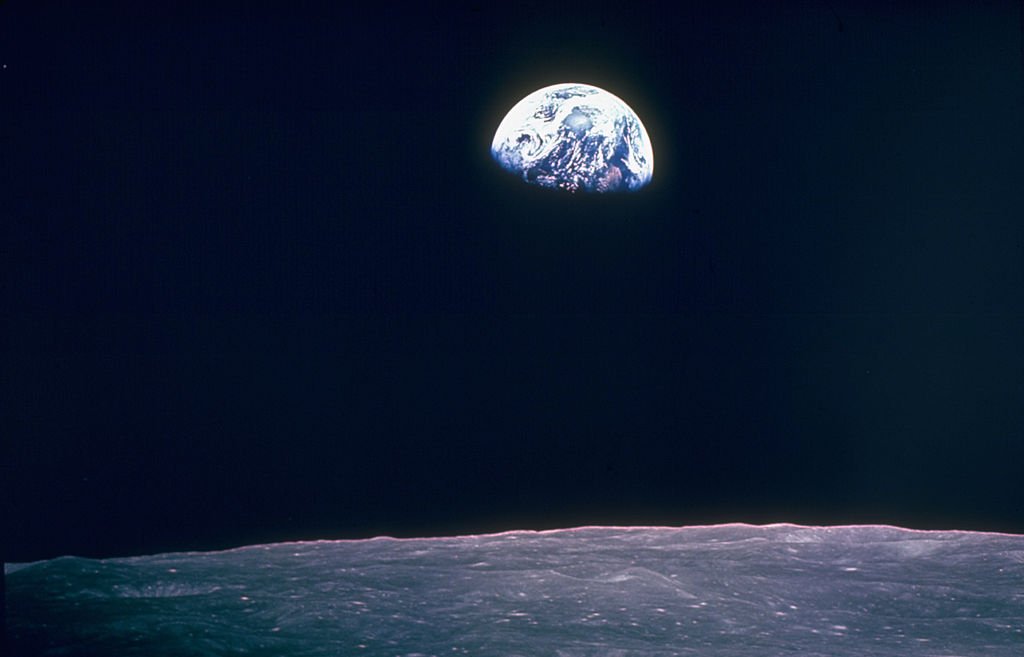 When we think of our planet, we think of it is this bright blue orbiting marble that's larger than the imagination can fathom. This cosmopolitan of color wasn't seen until December 1968 Astronauts Frank Borman, Jim Lovell, and Bill Anders gave us the first-ever full-color view of our planet from the far side of the moon. Amid the darkness and the chaos ensuing during the Vietnam War, it was encouraging to finally see part of ourselves in a beautiful blue light.
The Power Salute (1968)
Some pictures don't have to be deeply studied to hear the message within them. This image represented a statement during the 1968 Olympics in New Mexico. This was taken moments before 'The Star-Spangled Banner' cued for gold medallist Tommie Smith and bronze winner John Carlos who stood on their respective podiums.  They raised their fists in the hair in a protest against the state of treatment experienced in their own country. It's now an emblem not of defiance or for victory, but a show of courage in the face of divide.
The First Men (1969)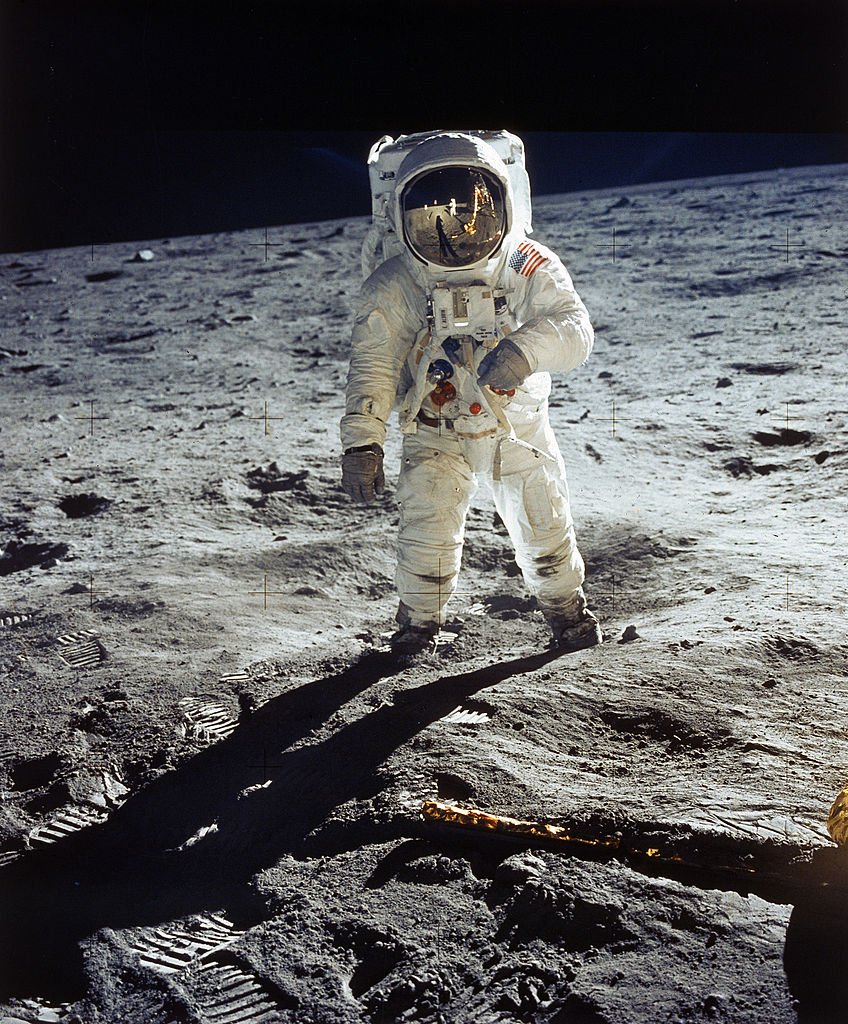 "One small step for man, one giant leap for mankind" may just be the finest quote delivered in real life and in real-time in our history. The quote and the moment don't exist without the other. The immortality of the moment belongs to America in their victory lap during the great Space Race with Russia. But the moment was to live long in history with the photograph taken by Buzz Aldrin of Neil as the first man on the moon. Providing irrefutable proof of man's ability to shoot for the moon and still make it.
Michael Jordan (1984)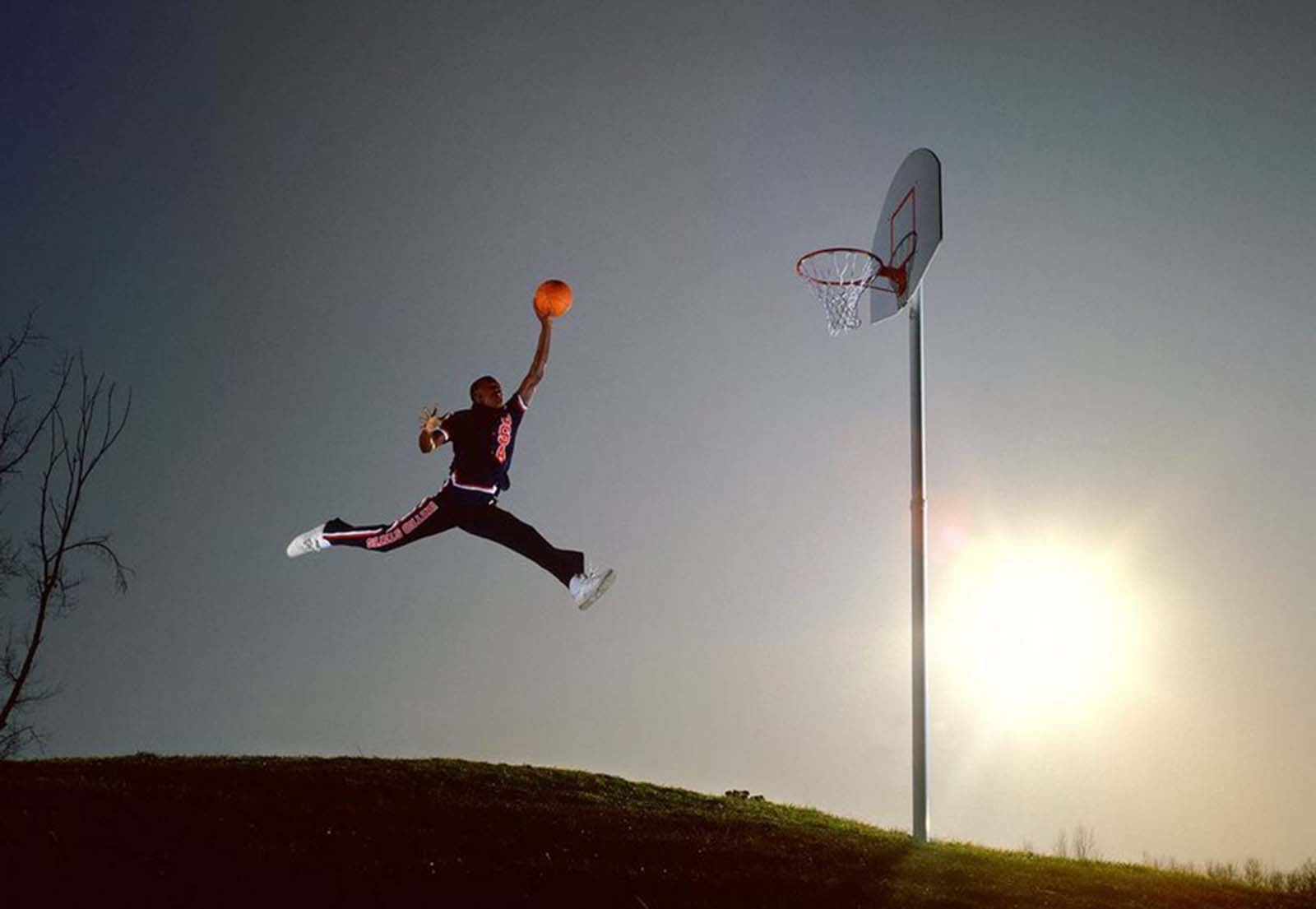 Think of the most iconic brands in the world. Most of them (Adidas, Reebok, Facebook) are software designs. Few brand logos get their origins from filmed imagery. Jordan—legs split, left arm stretched and high in the air careening to dunk a basketball, became the NBA's centerpiece for its history and ambition. The photo which was taken for LIFE Magazine by Jacobus "Co" Rentmeester was turned into a symbol by Nike itself and has since morphed the most renowned figure in sports to a renowned global symbol.
The Birth of the Camera Phone (1997)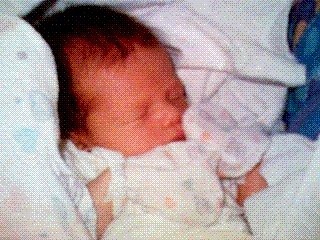 The first image ever taken with a cell-phone was take by software developer Phillippe Kahn. The birth of the concept was aptly created to capture the face of Phillipe's new-born baby in a maternity ward. Phillipe wanted to send a photo of little Sophie to friends and family.  The setup was crudely built. It wasn't refined or finished: it was a digital camera connected to his flip-top cell phone, synched by lines of code composed on his laptop. Since then, generations of instant image capturing came from this, as we know.
The Situation Room (2011)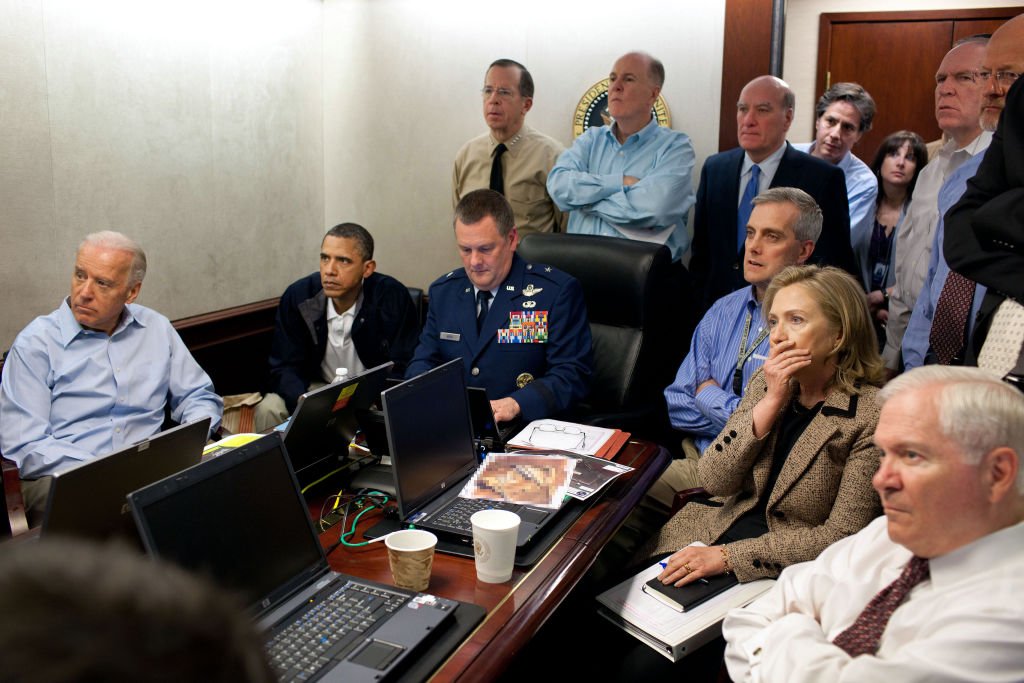 On May 1st, 2011, America received a sense of closure. This image, captured on Bin Laden's final day, is as captivating as the search itself. Very rarely are photographers let into the White House with such access. But what resulted from this, led to the world seeing the intense climax of the country's greatest manhunt to date. Katheryn Bigelow herself couldn't have captured the essence and the emotion of the room herself in a 2-hour film. And every time we take a look at it, it draws us in at every corner.
The Oscars Selfie (2014)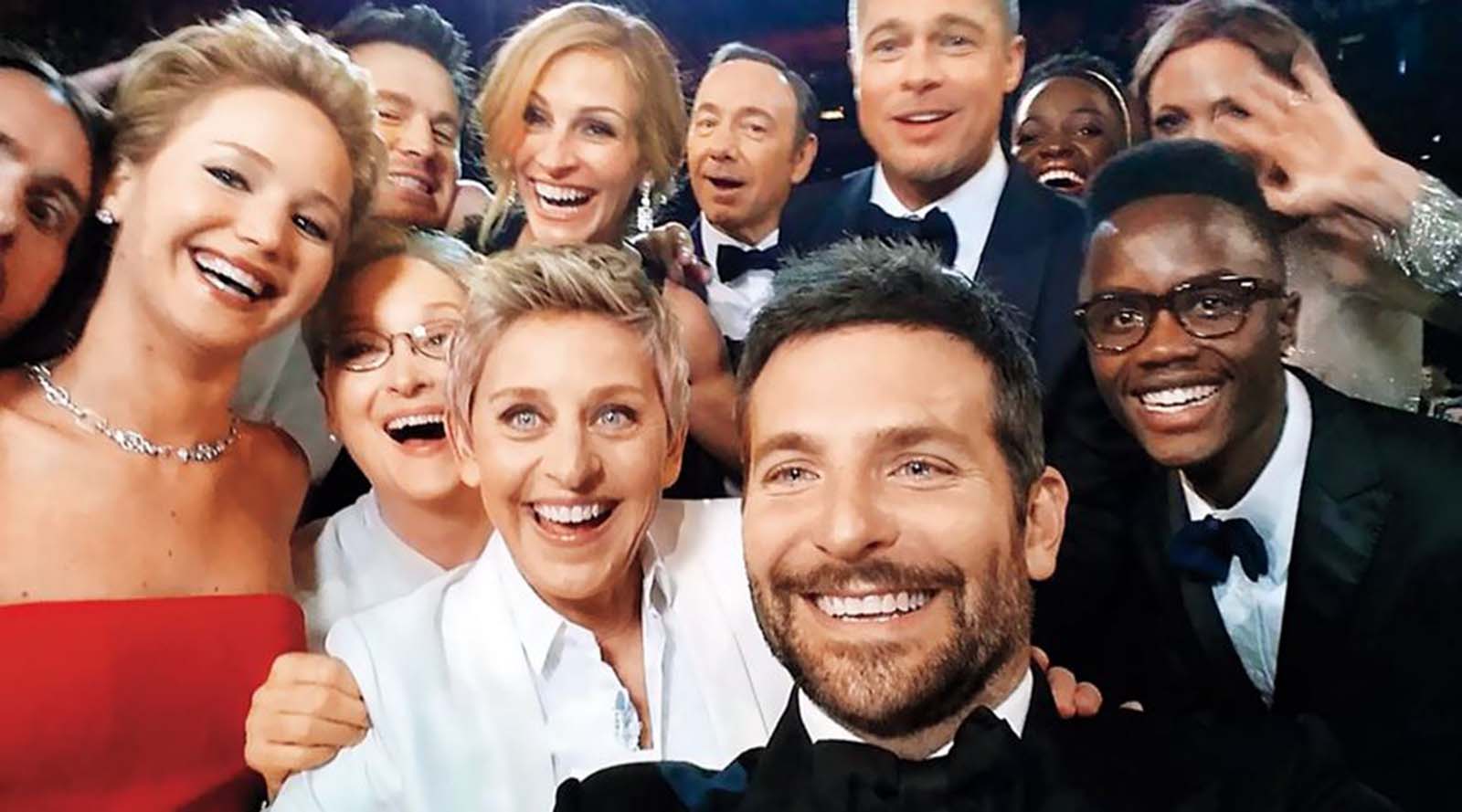 In a 3-hour showpiece, the Oscars are a glorying Hollywood mainstay for the biggest artists on the planet to come together to celebrate cinema on the most glamorous stage. It's most viral moment, alongside the La La Land/Moonlight mishap, may have been host Ellen DeGeneres' allegedly impromptu celeb selfie that resulted in the most retweeted image in Twitter's history which occurred in February 2014. It may not hold the same historic weight as the other images, but in the age of social media, it's a cultural touchstone for a new generation of people.
Some of the best photos remain imprinted on our minds. Billions have been taken and recorded, but not all of them stand the test of time or define a moment in time quite like some of these. And don't get us wrong, there are several others. What are some of the most memorable history-defining images to you? And why did they have a stunning effect on you as the years have gone by?
Sources: Rare Historical Photos, Directexpose, Open Democracy, IMDb, Biography.com, Smithsonian Magazine, History, NY Times, National Geographic, 100photos, The Atlantic, Digital Photo Mentor, The Telegraph