Oldest Active Gymnast In The World
As many people struggle to keep fit even at their young age, one woman makes sure she leads by example and keeps on practicing her sport despite her senior age. And she certainly is no amateur. Johanna Quaas is the oldest practicing gymnast in the world, and she has the moves to show it.
Who Is Johanna?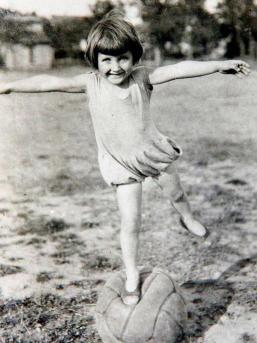 Johanna Quaas was born in 1925 in Germany, and she fell in love with gymnastics right away. Even her earliest photos show how much she was drawn to balancing on things and keeping active. Little did Johanna know she would go on to become a legend worldwide.
Johanna's Story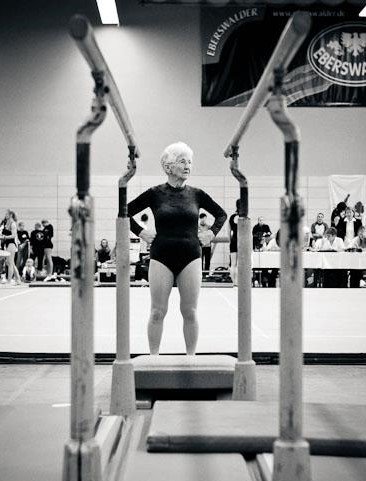 Johanna's first official competition that didn't take place in her own backyard was in 1934. After that, she realized she was a fierce competitor with a thirst for performing, and she kept doing so for years to come. In 1945, Johanna became a gymnastics coach as well, hoping to not only keep working on her own fitness but teaching the new generation too. But she was soon denied that privilege.
The Unfortunate Ban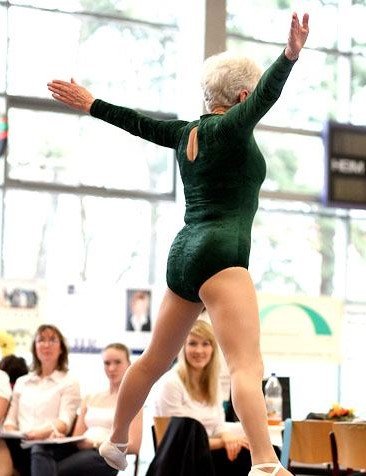 During World War II, gymnastics was banned by the Allied Control Council. For a few years, Johanna couldn't practice nor compete in the sport she loved most, so she had to look elsewhere to satisfy her fitness needs. She turned to handball, but her love for gymnastics was still prevalent. Finally, when the ban was lifted in 1947, Johanna was able to get back on track. And her training got even more intense. 
Training Without A Break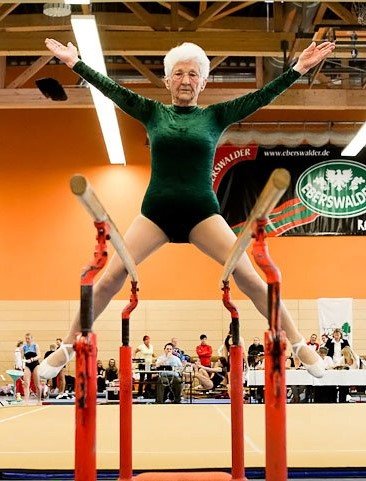 Johanna's training after the ban took on a new form. She was as determined as ever to make it in the gymnastic world, and she was prepared to give it all she had. She was competing, but also coaching vigorously, and she went on winning first places even as her age increased. But gymnastics was not all she was concerned with.
Family Matters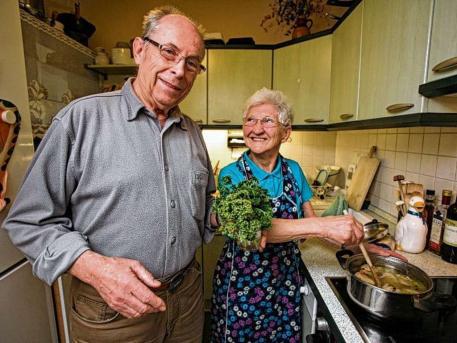 The life of a gymnast is not an easy one, and Johanna knew that. Her non-stop practice and her many international competitions meant family life was difficult to maintain but vital for her wellbeing. But Johanna managed to juggle it all, and she married in 1963, to none other than a gymnast coach. And her life kept getting more interesting by the minute.
A Colorful Life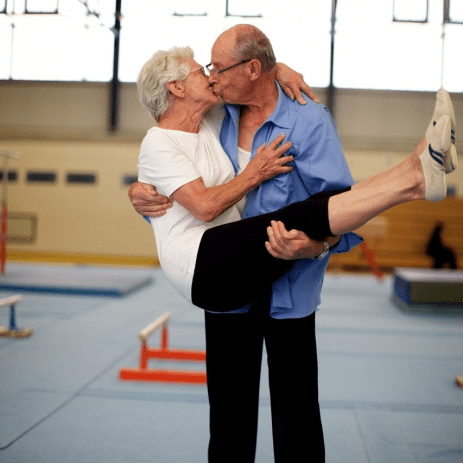 To this day, Johanna has competed in more than 500 competitions and has performed moves such as arm stands on parallel bars or cartwheels without a flinch of the eye. Despite her old age, Johanna is as fit as ever, but it took one video to catapult her from being a relatively unknown gymnast to an international superstar.
The Viral Video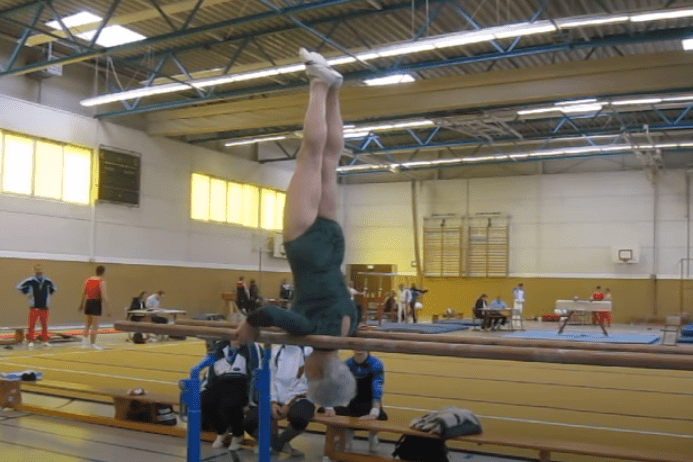 In 2012, a video of Johanna surfaced. At the time, Johanna was 86 years old, and the video showed her performance at the Turnier der Meister competition in Cottbus. What she was able to do in the body of an older woman blew the world away. It was a viral hit with millions of views. And then the media craze began.
The Media Takes Notice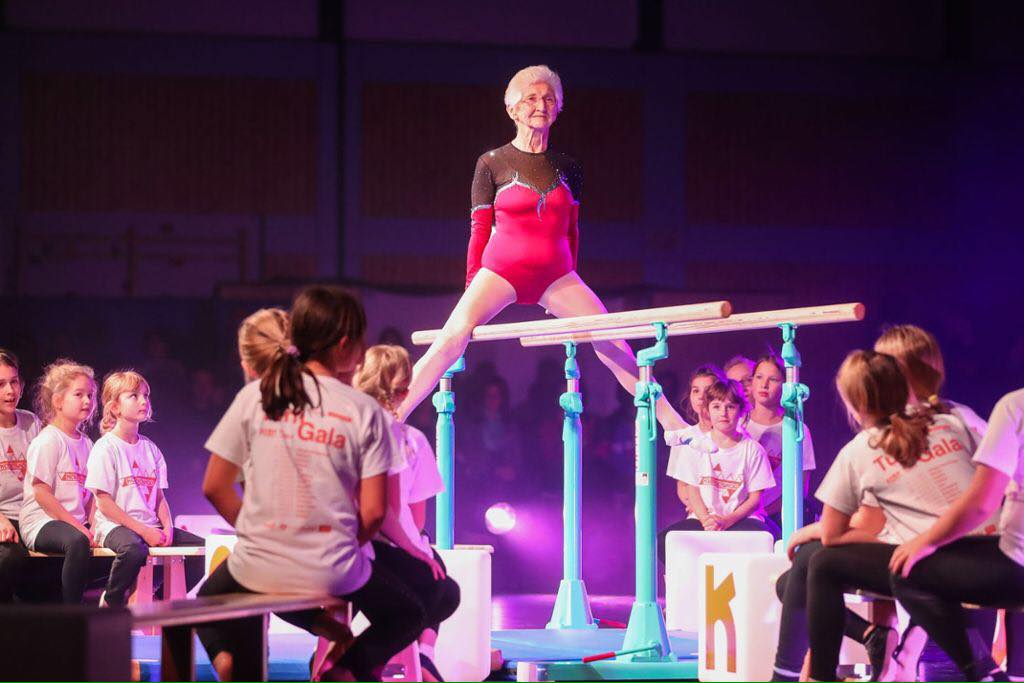 Naturally, the media immediately took notice of Johanna. Her video was flying around the world at incredible speed, and people loved her abilities, just as much as they admired her spirit. Johanna was suddenly on TV shows and the covers of newspapers and magazines. She even got to impress one start-studded athlete. 
Outstanding Performance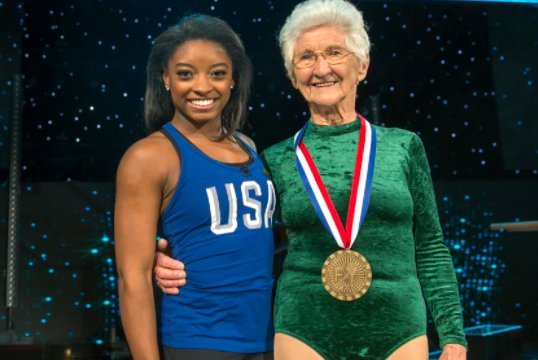 Johanna appeared on NBC's "Little Big Shots: Forever Young," showcasing her parallel bars abilities and floor routines, much to the surprise of the Olympic champion and five-time medalist Simone Biles. Johanna was 91 years old, and her younger colleague could not help but be in awe by her performance. It wasn't long before Johanna got the honor she deserved.
An Honor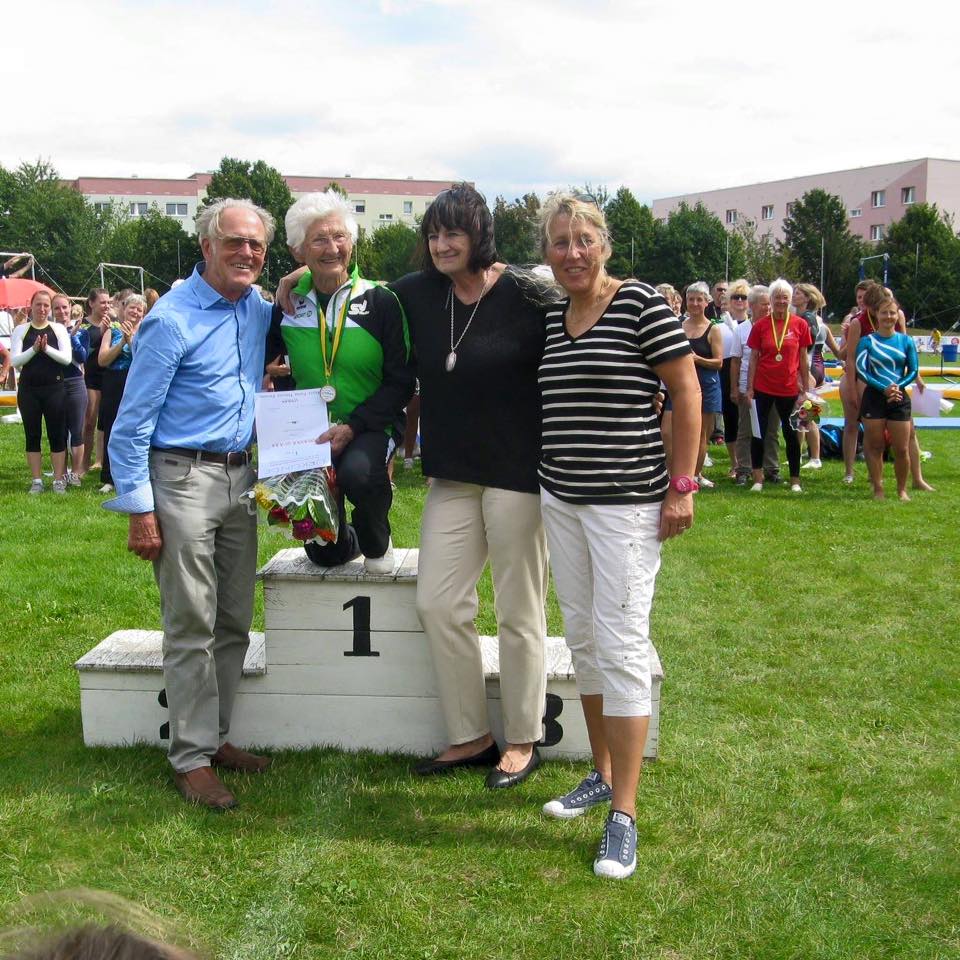 On September 13, 2012, the Guinness Book of Records announced that Johanna would be featured as the oldest gymnast in the world. And so, in 2013, she became a Guinness Record holder, something which a girl from Germany with high ambitions could never even have dreamed of. And the performance she put on for Guinness was quite something too. 
Her Guinness Performance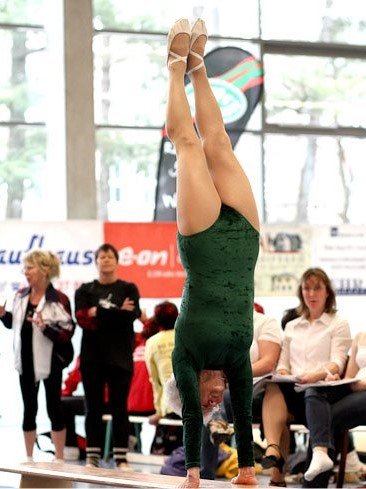 To become certified for the Guinness Book of Records, Johanna had to perform a routine. Naturally, this posed no problem for her, and she happily went on, displaying her abilities in front of the whole world. Her floor-and-beam set solidified her place in the hall of fame for decades to come. And Johanna was more than happy about it.
Johanna's Reaction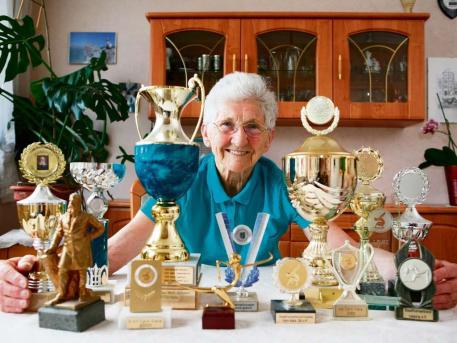 The media had many questions to ask Johanna after she was entered into the Guinness Book of Records, but what everyone wanted to know more than anything was how she felt about her achievement. Johanna was very vocal about how grateful she was for being recognized, and her hope was that her performance serves as an inspiration to others. But that was not the last time Johanna was as encouraging as can be.
Showing Up
For years, Johanna has been traveling the world, making appearances at international sports symposiums. There, she is sharing not only her knowledge but also her will for progress and lust for life. At one symposium, she presented her view in front of 150 professional guests, asserting the need for a regular physical practice, even in old age. She became a true pioneer of fitness. Next stop- a Gala show.
The Gala Performance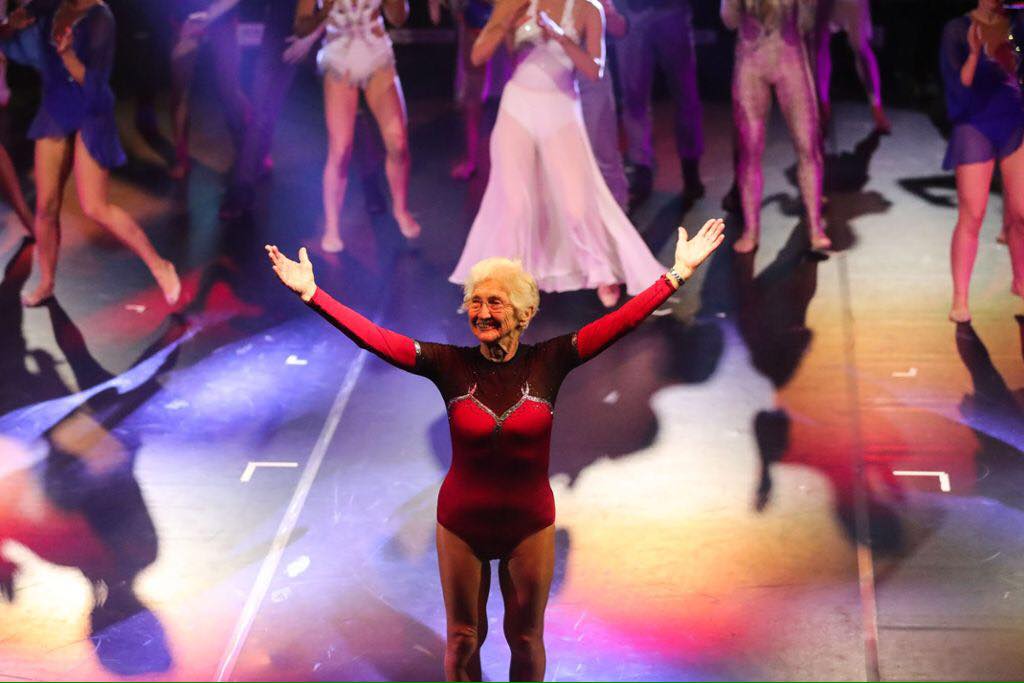 With her new-found fame, Johanna saw an opportunity to inspire even more. She now had a platform, and a voice people would listen to, so she made use of it as best she could. She embarked on a Gala tour, which spanned three weeks and 15 cities. Johanna was spreading the positive message of doing sports at any age, and people loved it. So she began making instructional videos. 
Fit With Johanna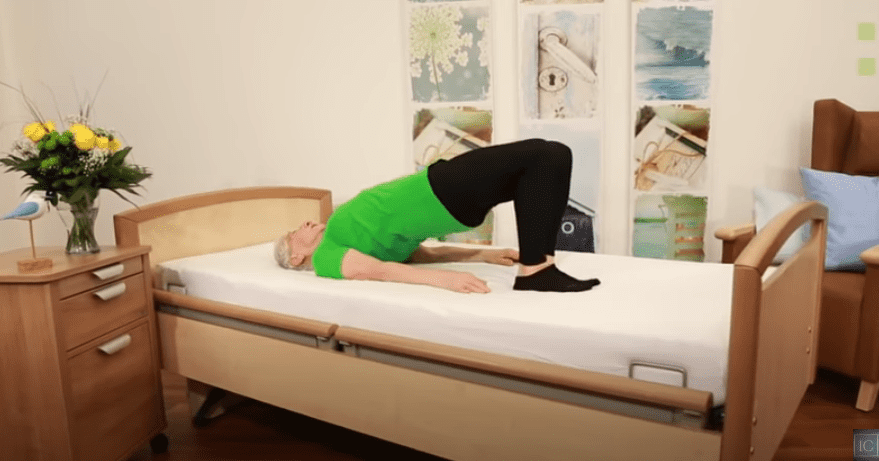 Johanna's aim is to reach as many people as possible with her message. She is a firm believer that fitness is not the prerogative of the young, and she hopes that more and more seniors will take up physical activity because of her. She released the Fit With Johanna bed gymnastics video, which allows older people to practice out of their bed. 
Johanna's story is inspirational on so many levels. Not only did she become a distinguished athlete and coach, continuing her competing as she aged, but she has also taken it upon herself to educate the world about the benefits of physical practice, even in old age. She is an icon through and through. 
Sources: Fanbuzz, Washington Post, Olympics, YouTube, Purpose2Play, Web Archive, Gymmedia, Wi-Bo