Time Stands Still With These Photograph Recreations
A father holding their adult daughter is a lot different than when he first brought her home from the hospital. Parents always miss how small their children used to be and when they could hold them close. Do you remember being this small and would you ever want to recreate that magical moment from the past? Let's see some photos!
Pigs In The House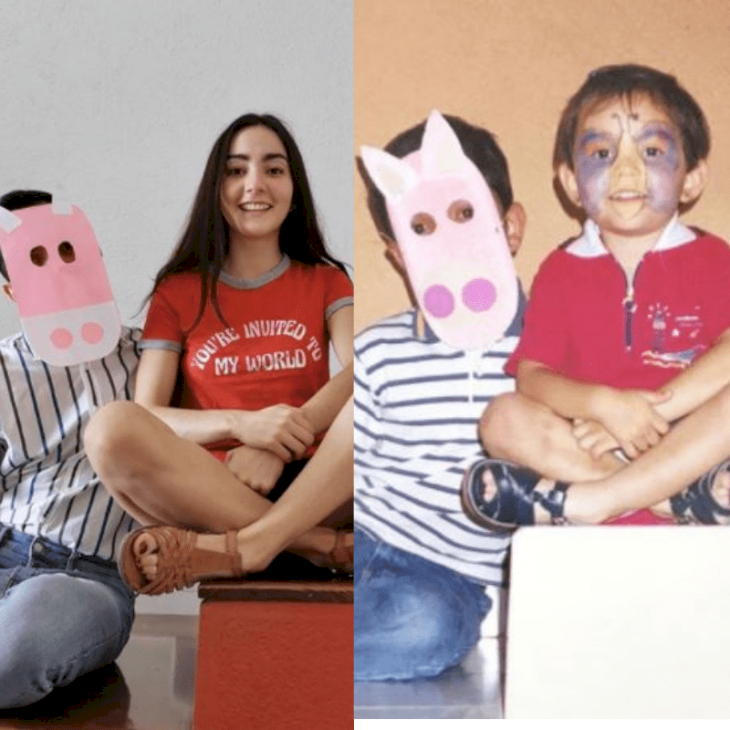 Looks like this little piggy had to go school while their little sister stayed home. Being silly with your big brother is a special memory and with everyone have busy schedules you might not get these moments anymore. We wish we could see behind the mask and look at how different he looks too!
Did The Lawn Change?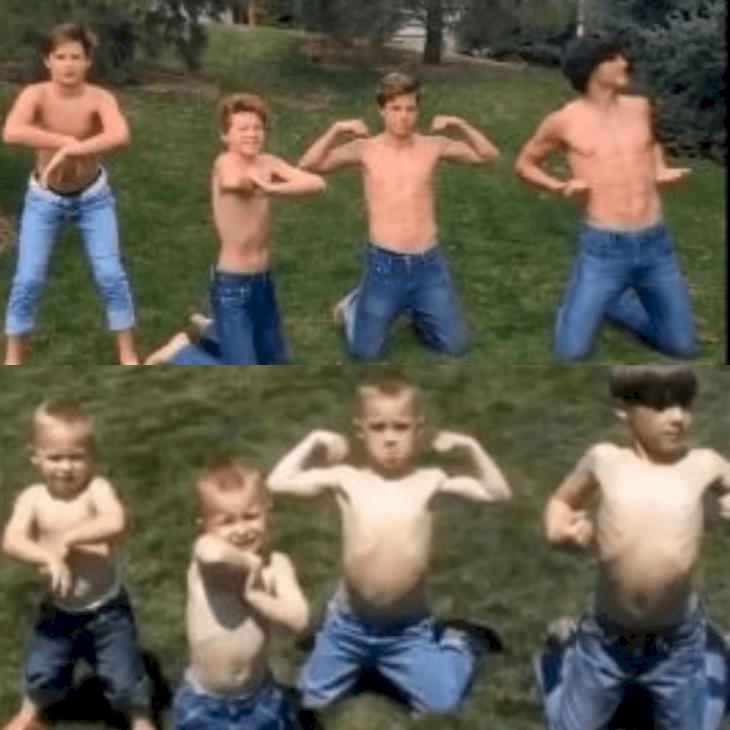 These brothers were having a silly day on the lawn and look like they still have a similar sense of humor. From this angle, we can't tell who's gotten taller but at least we know they still have the same childhood bond. It looks like one brother even kept the same haircut! Can you spot which one?
Timeless Friendship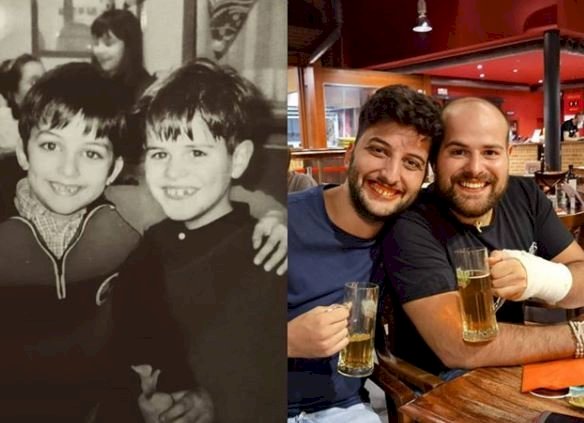 Best friends since childhood they've shared a lot of experiences. From playing cards and starting school, these boys have always been there for each other. Now they're finding each other at restaurants to talk about university instead of sandbox gossip!
My How Big Your Ears Are!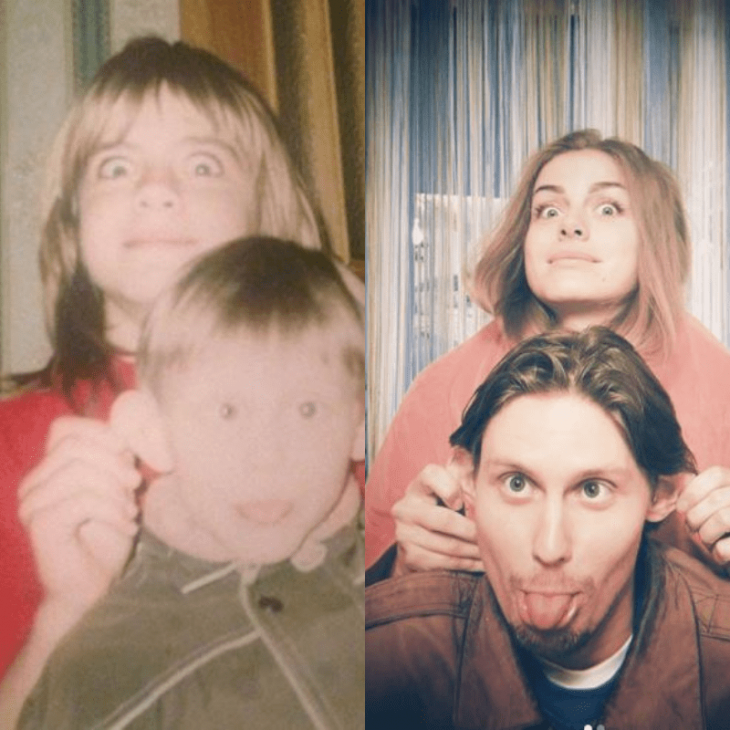 When this picture was originally taken we bet the photographer just wanted the kids to stop clowning around! How many takes do you think it took for them to stop making silly faces and smile? As adults, we're so happy they can still take silly pictures with each other and have the same bond from when they were kids to now!
This Leaf Stole The Show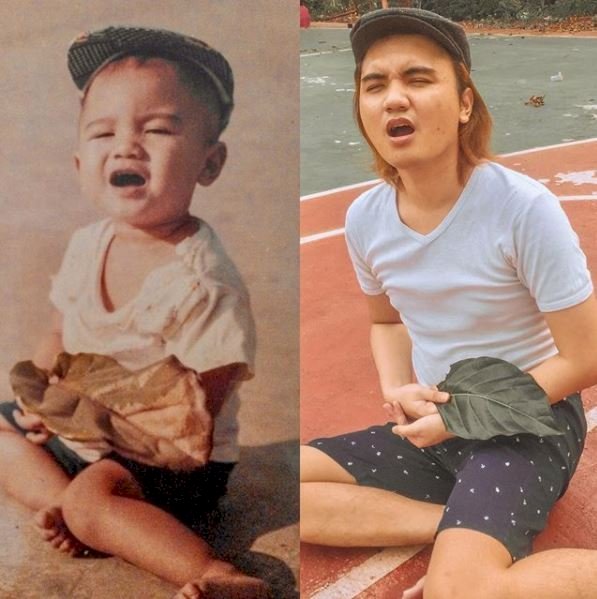 One thing we can agree on, past or present that is a massive leaf!! Top marks to this model for keeping the fashion, it even looks like the same hat! We wonder what was so upsetting that day or if he was screaming from the excitement of his nature find? I guess we'll never know the magic behind the lens!
Fifteen Years Strong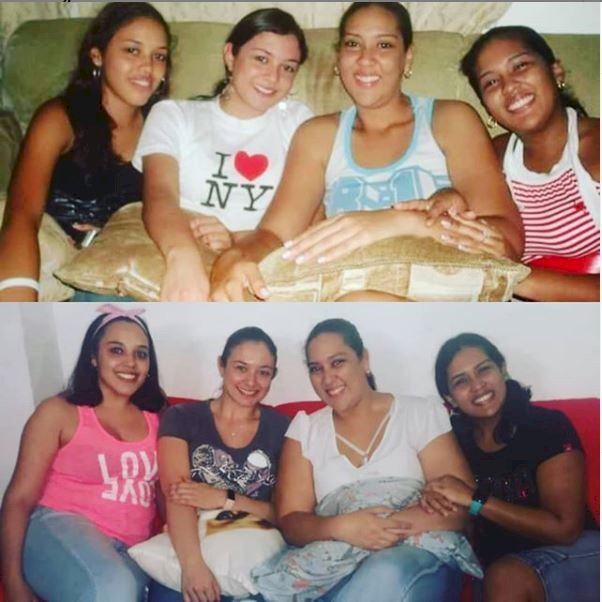 A recreation of best friends and family over the course of fifteen years. Looks like the couch and fashion changed the most out of the frame as these women kept their youthful appearance! A throwback picture is always a great way to celebrate long time friendship and bonds! If you've got it, we say flaunt it!
Mr. Fix It Genetics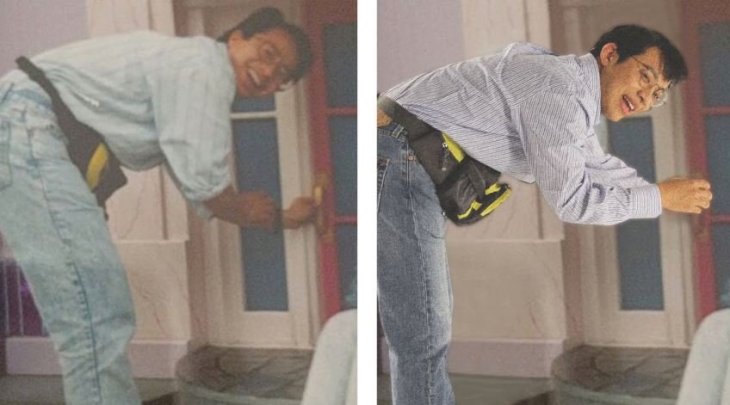 This son found an old picture of his dad and got every detail down to a toolbelt to recreate. The sweet story behind this picture is Chris's father immigrated from Hong Kong to give his son a better life. We think getting into his father's shoes is the best way to understand the numerous sacrifices he would have done. 
A Beautiful Past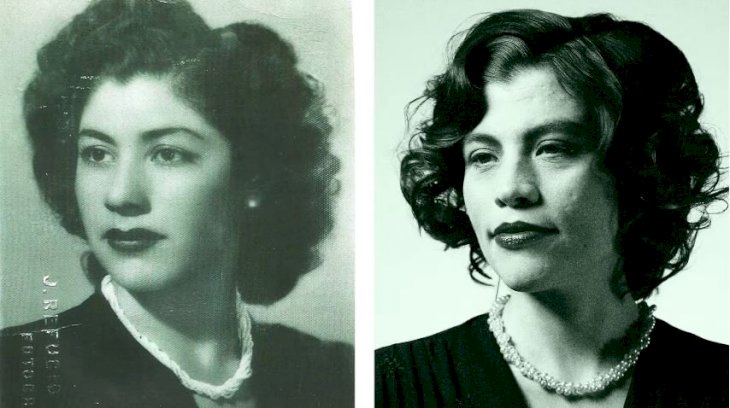 Her grandmother left behind all her family in Mexico to follow her husband to the states. What's difficult is while recreating this photograph and understanding the stress our grandparents were under that we never saw. Times were much different then and thankfully we never had to leave our family to create a better future. 
Walking In Her Footsteps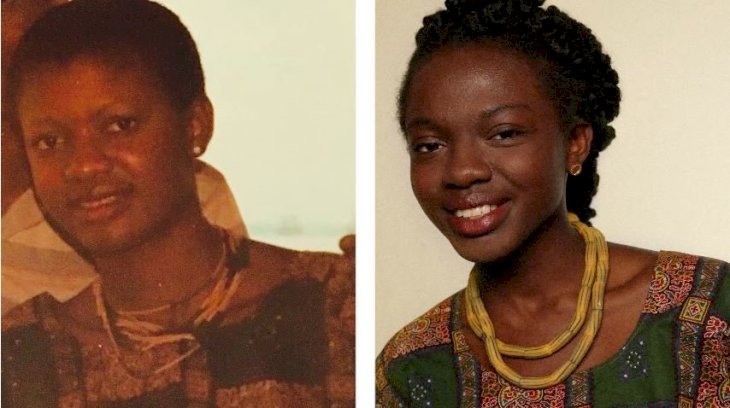 This picture has an even more special meaning because the grandaughter recreating the frame never met her grandmother. Her grandmother passed away before she was born and this photograph feels like bringing the past into the present. Our loved ones are always in our hearts and especially our similar beautiful smiles. 
Honoring Sacred Vows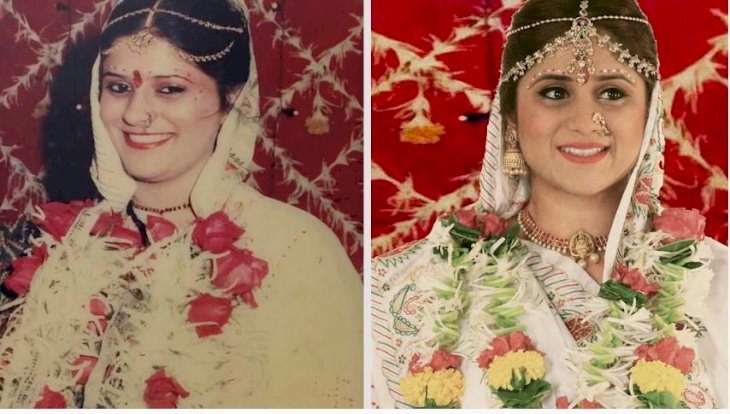 On your wedding day, you have no idea what the future holds but you are so excited to create a happy family and home. In this touching tribute, these daughters recreated their mother's exact wedding day looks even using the same dresses and similar makeup and accessories. It's a perfect mix of traveling back through time while celebrating everything you love. 
Praise Parvati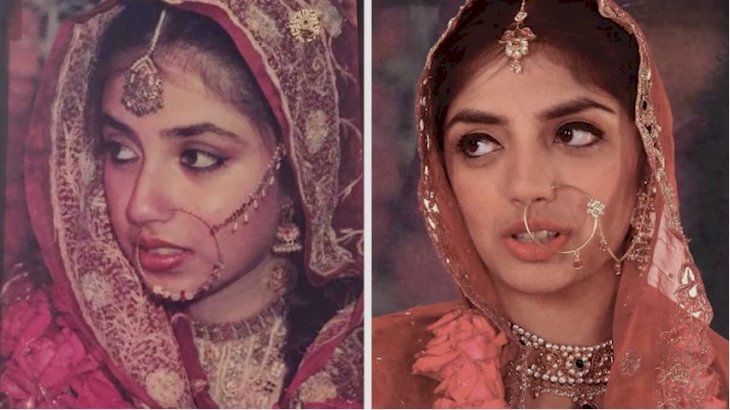 We cannot get over the similarities from mother and daughter even with decades between them. The nose ring has a special significance in the Hindu culture on the wedding day. It symbolizes that a woman is no longer single and also thanks to the goddess Parvati. This goddess was the wife of Shiva and mother of Ganesha.
Lady In Red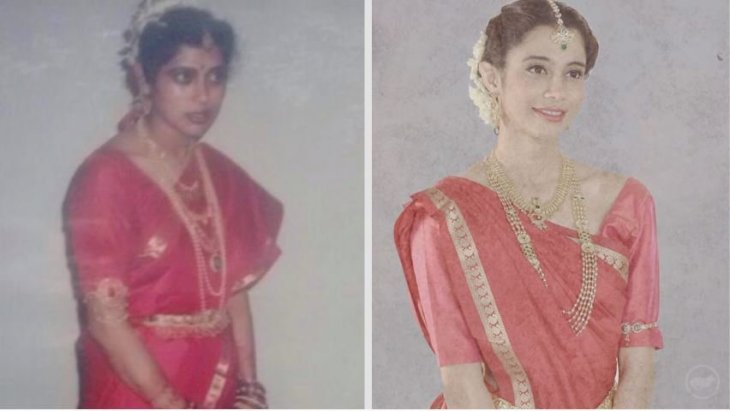 Wearing a red wedding dress goes against a lot of North American traditions but the meaning is revealed while the daughters go through their makeover. For cultural purposes, red signifies prosperity and fertility two important things you'll want for your new future with your husband. It is a color also commonly used to represent love.
I'm Just A Kid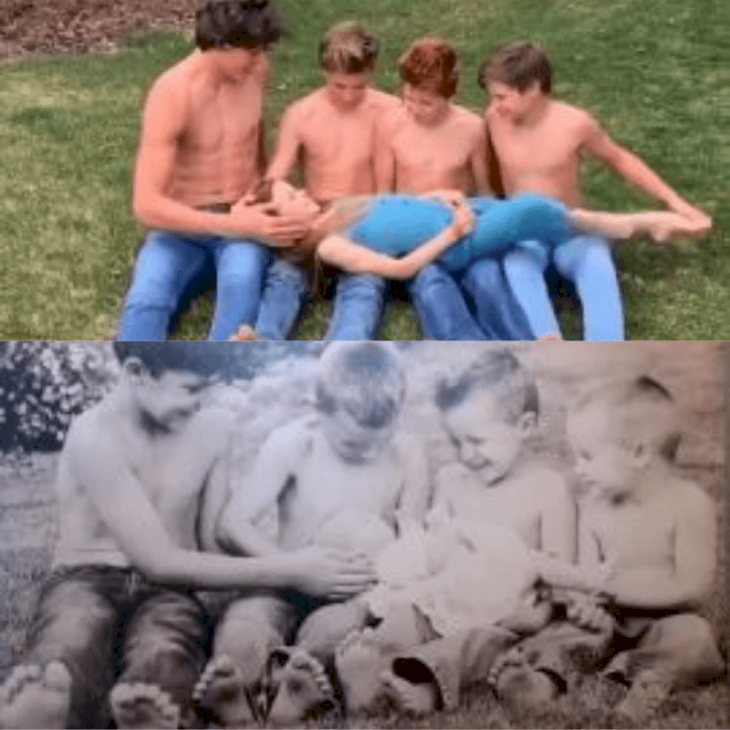 On Tik Tok, a challenge we love is called "I'm Just A Kid" and has people recreate their favorite family photos, while the Simple Plan song plays in the background. This little lady has four big brothers who love and will protect her until the end of time! We can't wait to see when they recreate this in another ten years. 
Driving Into The Future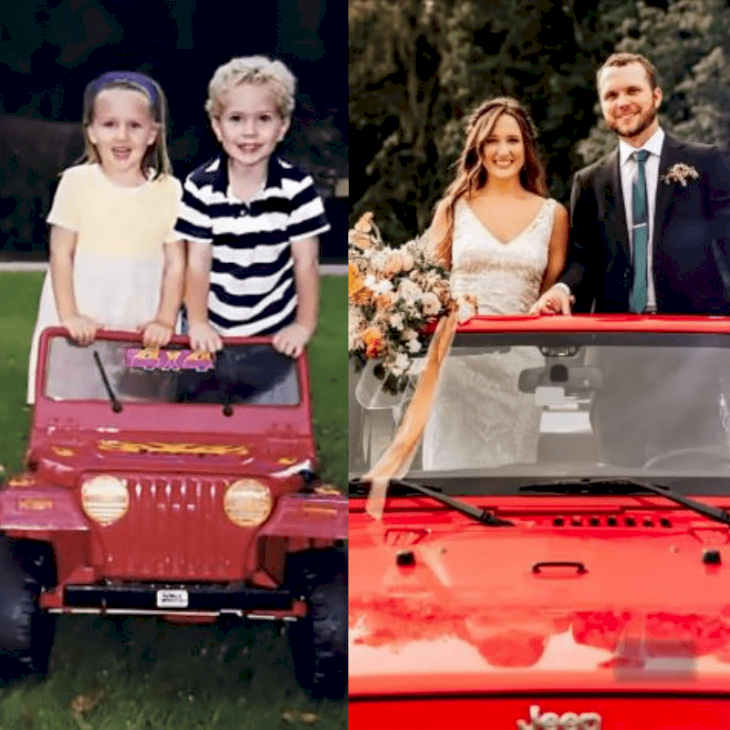 Can you imagine marrying your childhood best friend? For this lucky couple, they had a million photographs to choose from after already growing up together but we like how they chose the Jeep to grow old from the past with them. We can't wait to see what they post on their ten-year wedding celebration. 
Furbaby And My Baby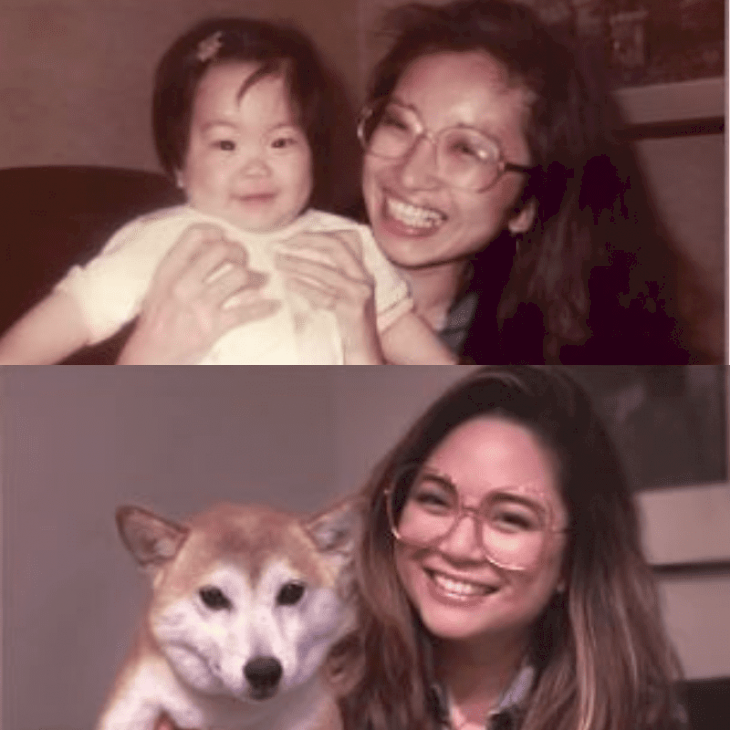 This collage represents how different life is from one generation to the next. On top is the original photograph of the mom holding her daughter. Below, the daughter is holding their child or their four-legged furbaby. Although both kids are adorable, it goes to show that when we are our parent's age our values and goals are slightly different. 
Technology Closes The Gap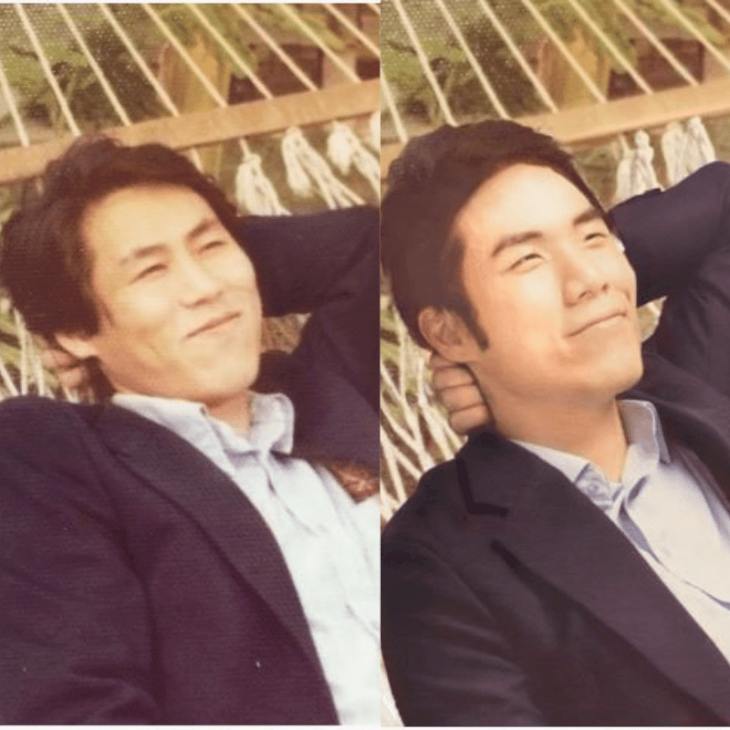 This final recreation photograph uses technology to achieve its goal. Eugene Lee Yang is one of the four 'Try Guys' who attempt different YouTube or viral challenges. In this photograph, Eugene recreates an exact image of his own father on vacation in a hammock. The background was edited to perfect the nostalgia but the suit and hair are both real! We wouldn't have known it was two different people or generations apart if they hadn't told us. 
Have you and your family attempted the 'I'm Just A Kid' viral challenge? Besides getting some quality time with your parents, grandparents, or siblings these photos really are a special walk down memory lane. It's amazing to see how much of a resemblance everyone has to their family members that they probably don't notice until they're next to each other. Share with your friends and recreate your own magical memories by leaving us a comment below!