Outlander's Jamie Fraser: Best On-Screen Moments And Behind-The-Scenes Details
What does Sam Heughan dislike most about filming Outlander? Have you heard the real secret behind his steamy scenes? And which unexpected details did he expose about the show's sets - that left fans devastated? Get ready for this and more fun Outlander Behind the Scenes secrets!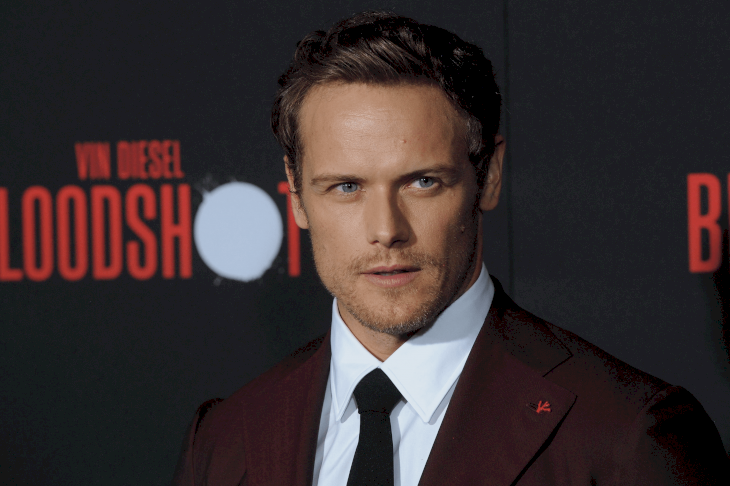 ---
SAM'S PERSONAL FAVORITE SCENES 
When you think of all Jamie's moments over the seasons, it's tough to pick favorites! Well, Sam Heughan has identified a few personal favorites. In Season 5, it wasn't only Claire who underwent a traumatic experience. Jamie also had to confront something tragic.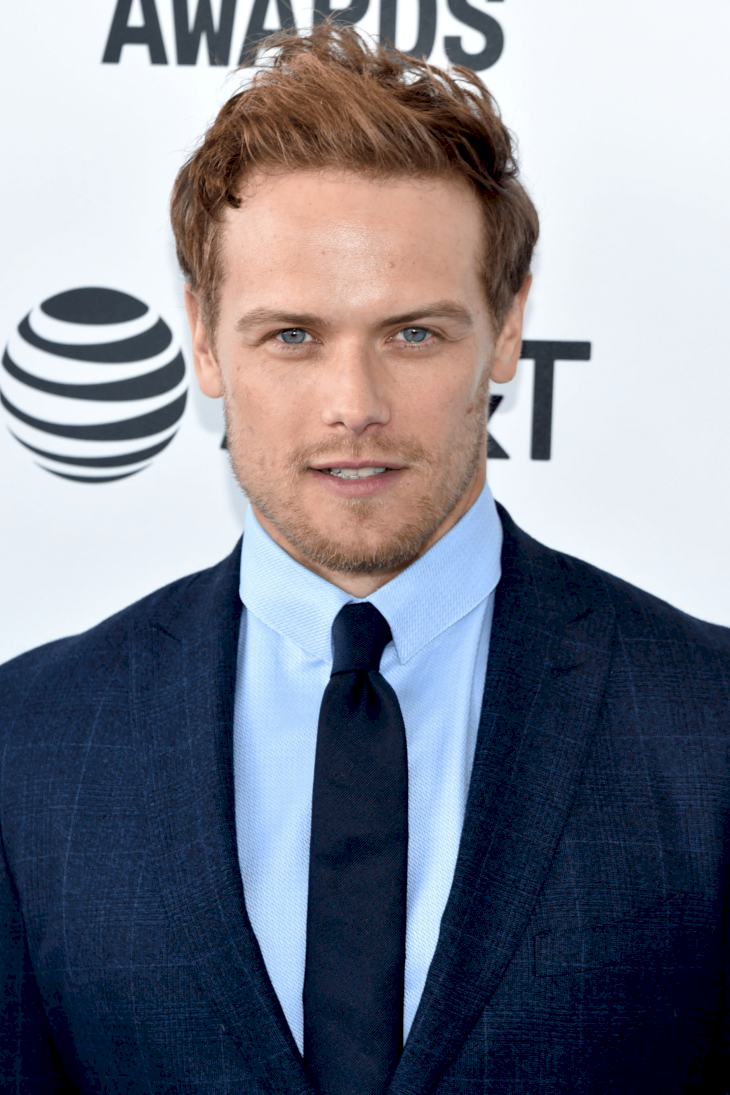 ---
On top of being unable to protect Claire, his beloved godfather died, while trying to save his life. The Murtagh storyline wasn't in Diana Gabaldon's books, but the fans loved the character so much that they kept him in! Heughan told Parade this was one of the strongest storylines they've had for Jamie for a while.
---
"Jamie is a man of honor, and Murtagh's of his blood, so Jamie's losing a part of himself, he's losing his father figure and someone who has been there from the beginning."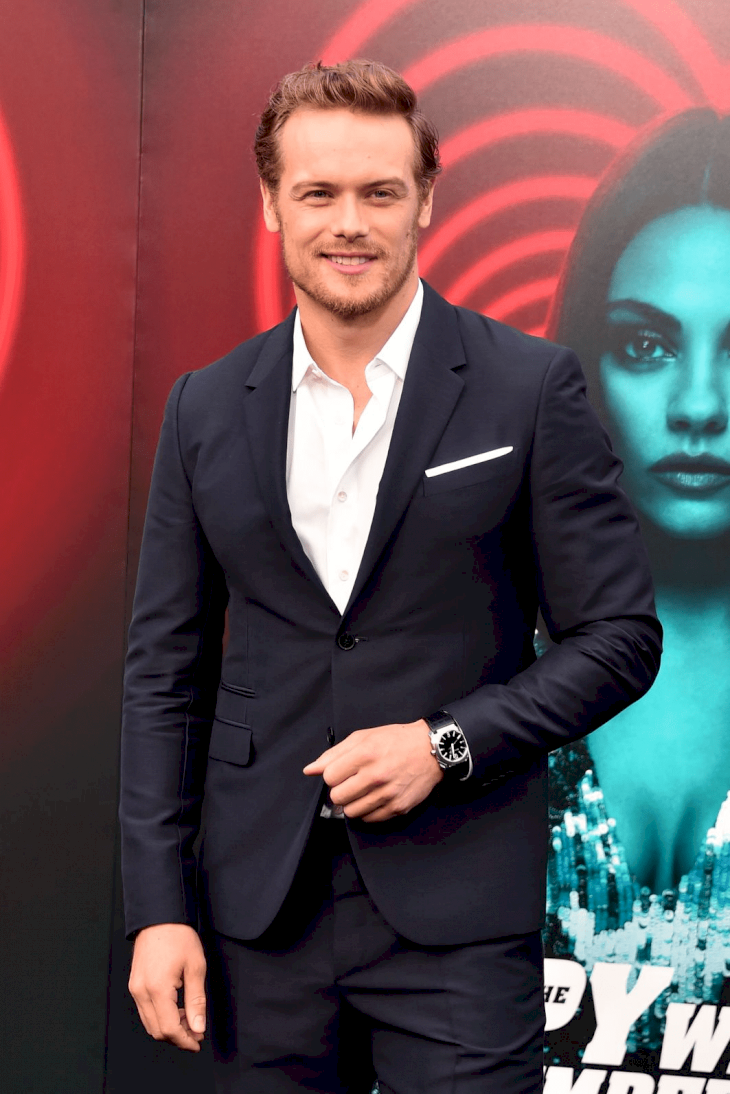 ---
The scene was undoubtedly one of Sam's best - showcasing his acting talent. On to another favorite! On DirectTV, Sam jokes that the most eye-opening confession any man ever made to a woman is probably the one Jamie made to Claire. In case you forgot! It was about him being a virgin.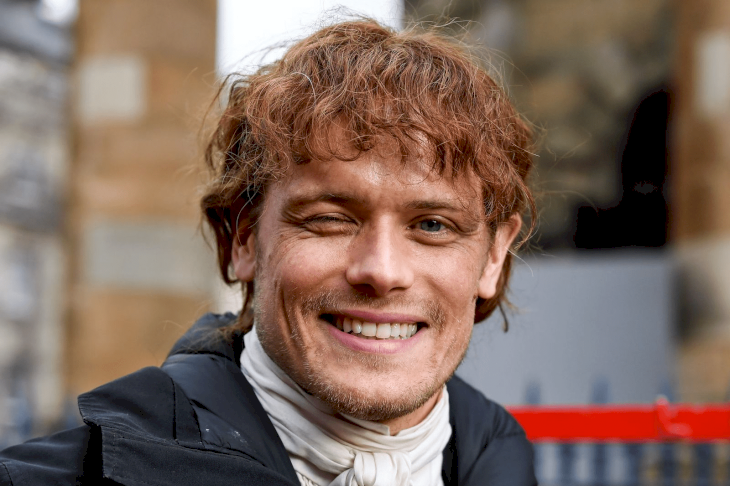 ---
We reckon one of us should know what they're doing. Heughan even took a valuable piece of advice from the scene. Guys, true men have no need to lie to a lady. The truth is quite the aphrodisiac. That said, our favorite Scottish actor remembers a few other moments with fondness.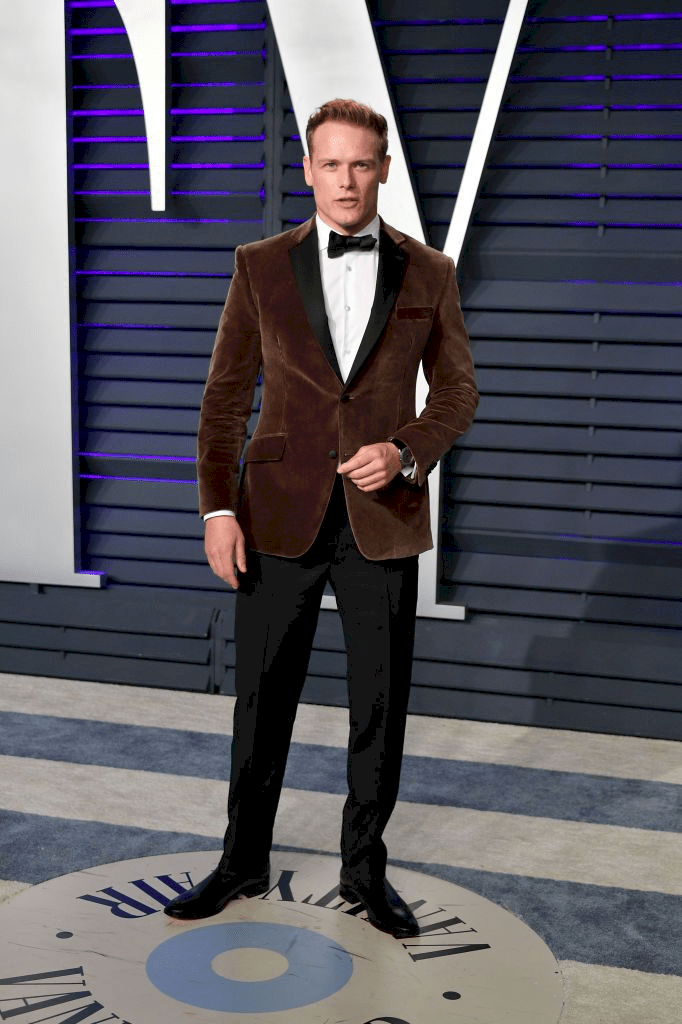 ---
One is the fiery river fight after he'd first rescued Claire. Aaaand he couldn't help adding the print shop reunion to his list. On a funny note, Sam told The Wrap that the heartbreaking moment when Jamie leaves Claire at the stones wasn't as serious behind the scenes! "I tripped over a stone and Caitriona was left in hysterics."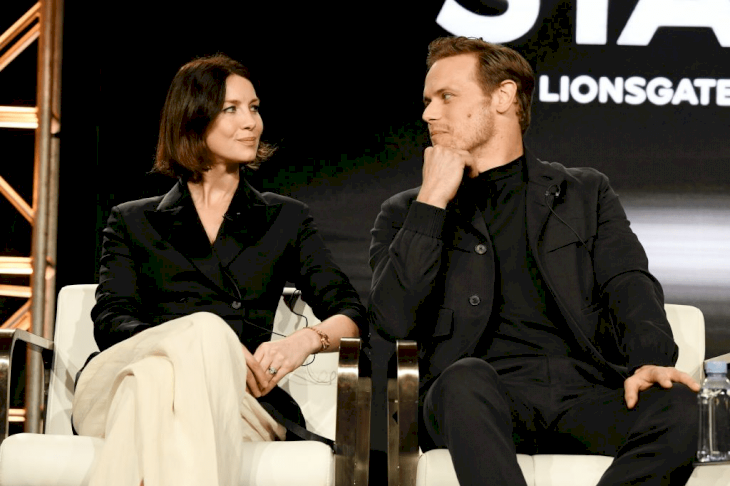 ---
THE OUTLANDER BRAWL
In addition, he says he simply cannot help but smile whenever Claire was left speechless. Remember the pub brawl that broke out over an insult directed at her? When Murtagh pointed out that she was the excuse for the fight, she was uncharacteristically dumbfounded.
---
It was both touching and hilarious when he explained that they can insult her, but God help any other man that does! Highlanders are tough, but they'll defend the honor of their ladies to death. But, as you might expect ... Outlander wasn't always all moonshine and roses!
---
HIS LEAST FAVORITE PARTS OF OUTLANDER  
Yes, this beautiful show also has its thorns! Heughan identifies the location work as being the toughest challenge of all. Speaking to IMDB, he said Outlander isn't filmed in a studio, so the actors are out there every day. And it's Scotland, so it's mostly cold and wet!
---
In addition to the elements, the show also spans different countries and eras, so the look changes all the time. When asked what is something he's learned as an actor, and what Outlander's taught him, he was ready with a spitfire answer.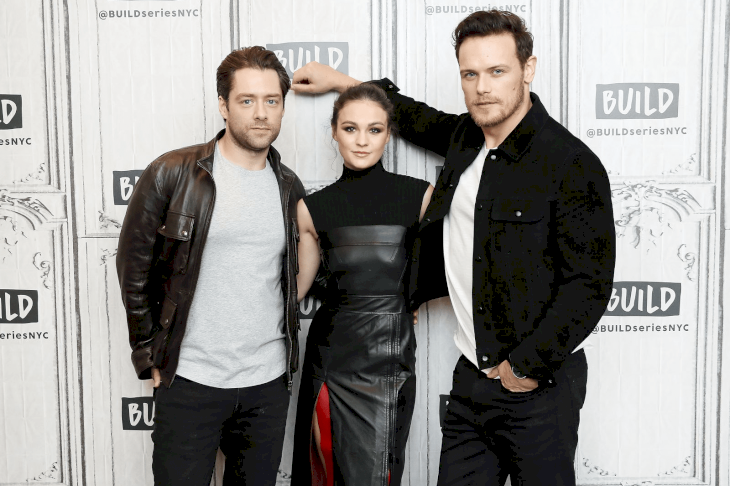 ---
IT'S NOT ALL IS FUN AND GAMES ON OUTLANDER 
Continuous working days suck, lunch breaks should be longer, and shooting schedules should be shorter. He's not the only one who's mentioned the tough filming schedule; co-star Caitriona also has! Can you guess what the one item is he wished he'd never met on the set? We'll tell you!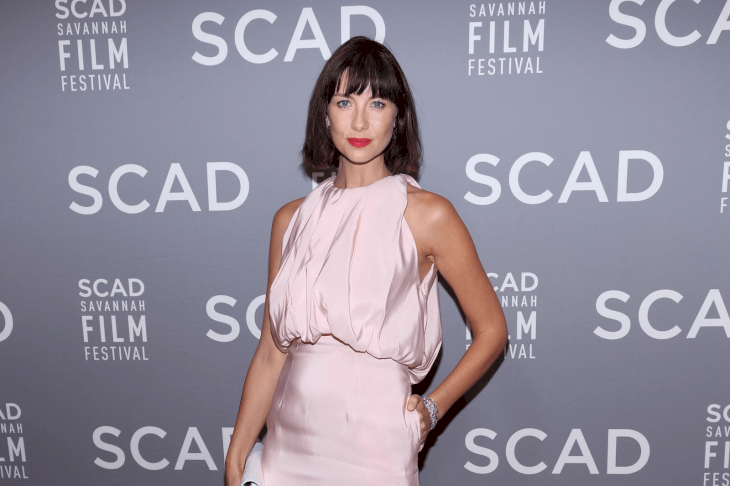 ---
It's the modesty pouch used for intimate scenes, and it's not the first time this item has come under scrutiny. Cait once complained about the patch she had to wear, saying it doesn't protect anything, much less your dignity. Sam gave Elle a quick lesson in modesty pouches.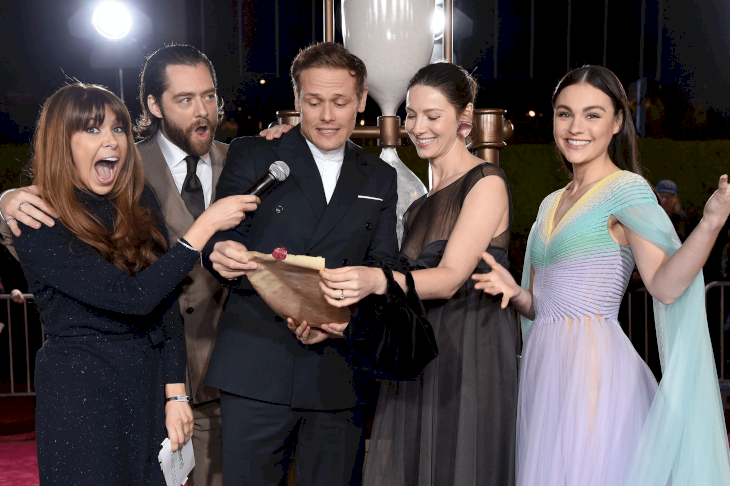 ---
"It's like a sock, but you've got to tie it on and you want it to be pretty tight. To be honest, the tighter it is, the better. It reduces any chances of enjoying yourself too much." Well, after his pouch once fell into the urinal between takes - and it had to be announced over the set intercom for all to hear that "Sam's lost his modesty pouch."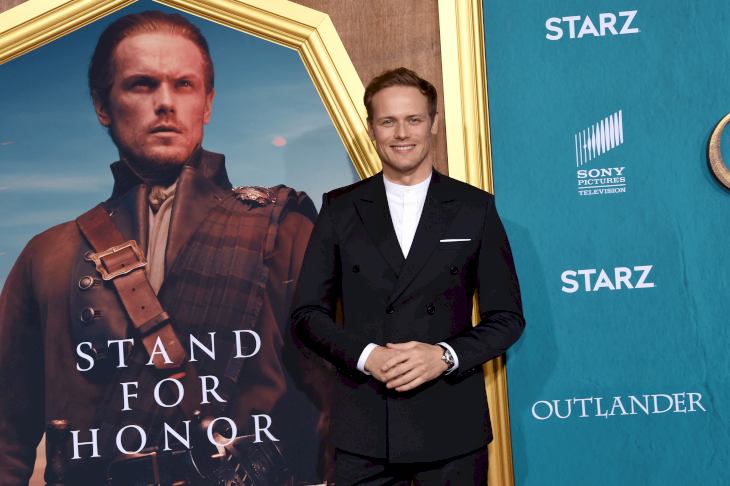 ---
THE STEAMY SCENES
Talking about uncomfortable moments, the steamy scenes are actually on Sam's list of his least favorite things! The famous wedding night scene took five days to film and was unbelievably technical. Director Anna Foerster explained.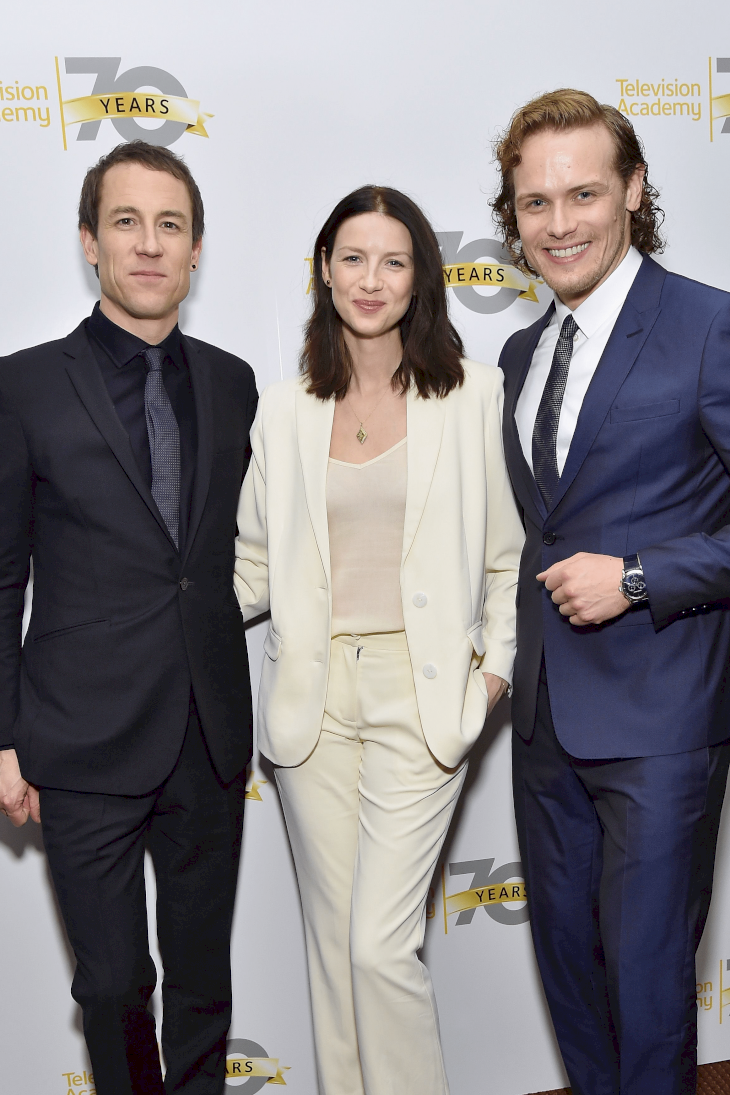 ---
"We taped out the floor plan of the wedding chamber, and went through a very specific choreography, movement by movement."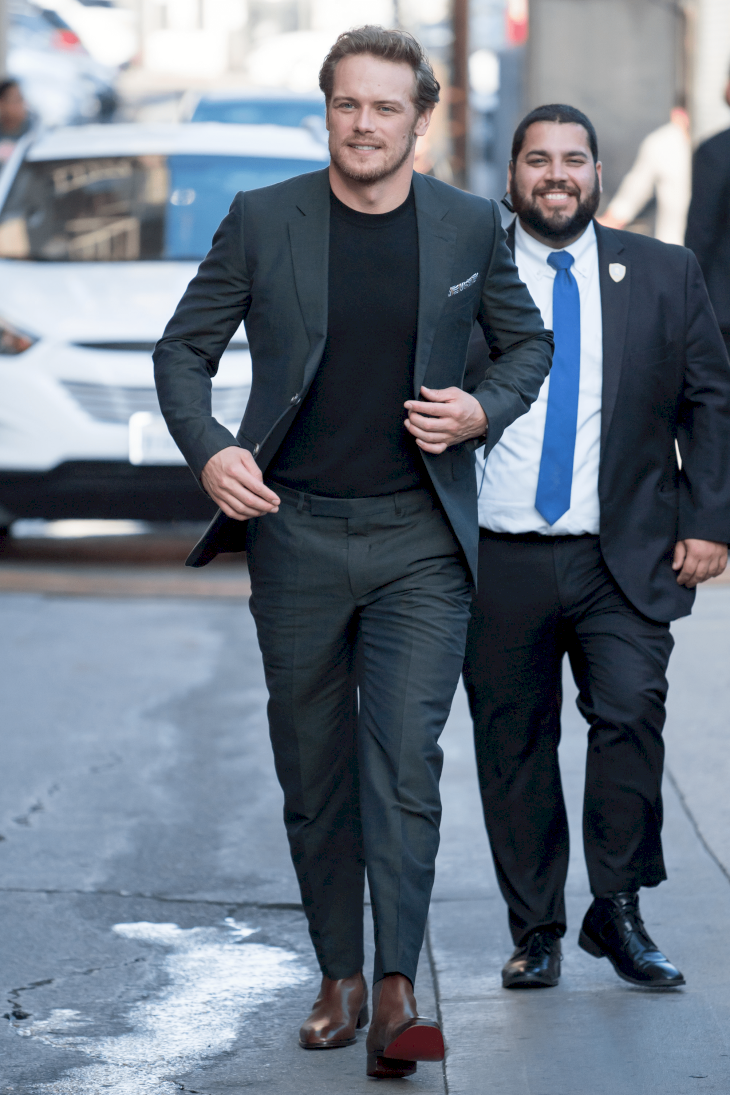 ---
But apart from the hard work component, it's just: Awkward. It's just very awkward when there's a cameraman standing right behind you when you're doing those scenes. He manages to see a lot more of me than I think anyone ever has. On The Love/Hate Club podcast, Sam once said.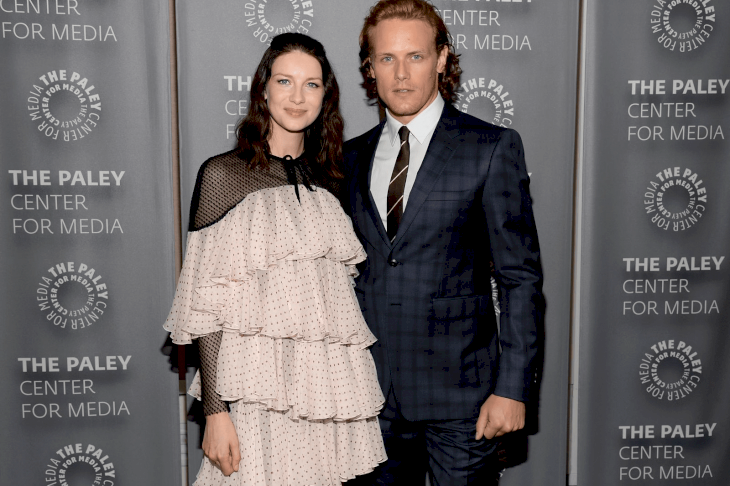 ---
"[Cait's] like my sister… Those scenes where we bash our bodies together, they are never that pleasant … But we've done all kinds of things together to get into those scenes and sometimes it's a wee bit of Dutch courage," Sam said.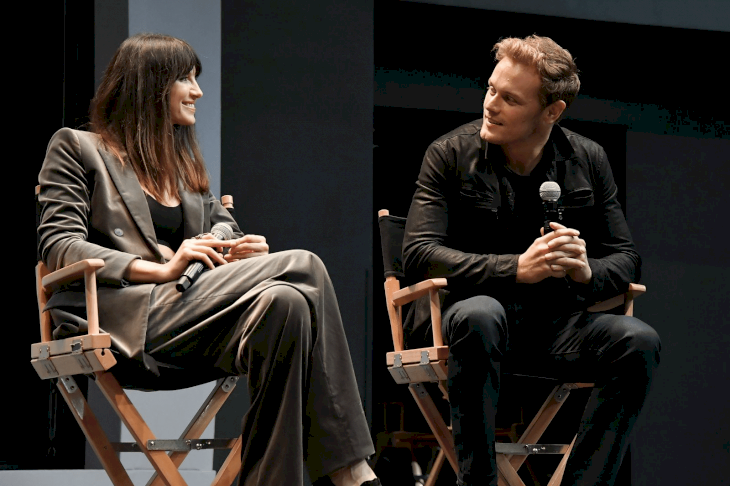 Now it's time to reveal the big secret behind making Jamie look appropriately sweaty for the steamy scenes! Don't worry, we won't wait - it's none other than the humble pot of Vaseline! Heughan joked that they got all Vaselined up and that water spray was used to create droplets.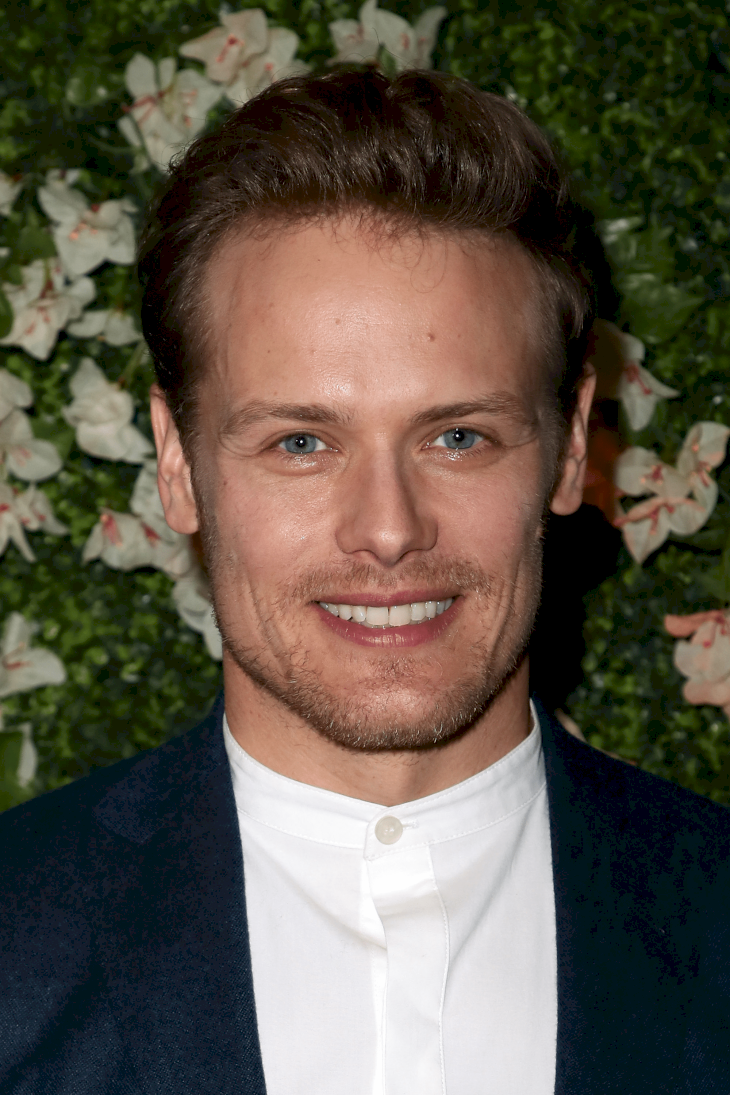 ---
HOW DID PLAYING JAMIE FRASER CHANGE HIM? 
Did you know that, when the show first launched, heated online discussions were doing the rounds about whether Sam was "Jamie Fraser" enough?! Yup, impossible to believe, but true! "Yeah, I think I was an inch too short. And obviously, I'm not a ginger, really. So there's a problem."Caitriona had the same problem.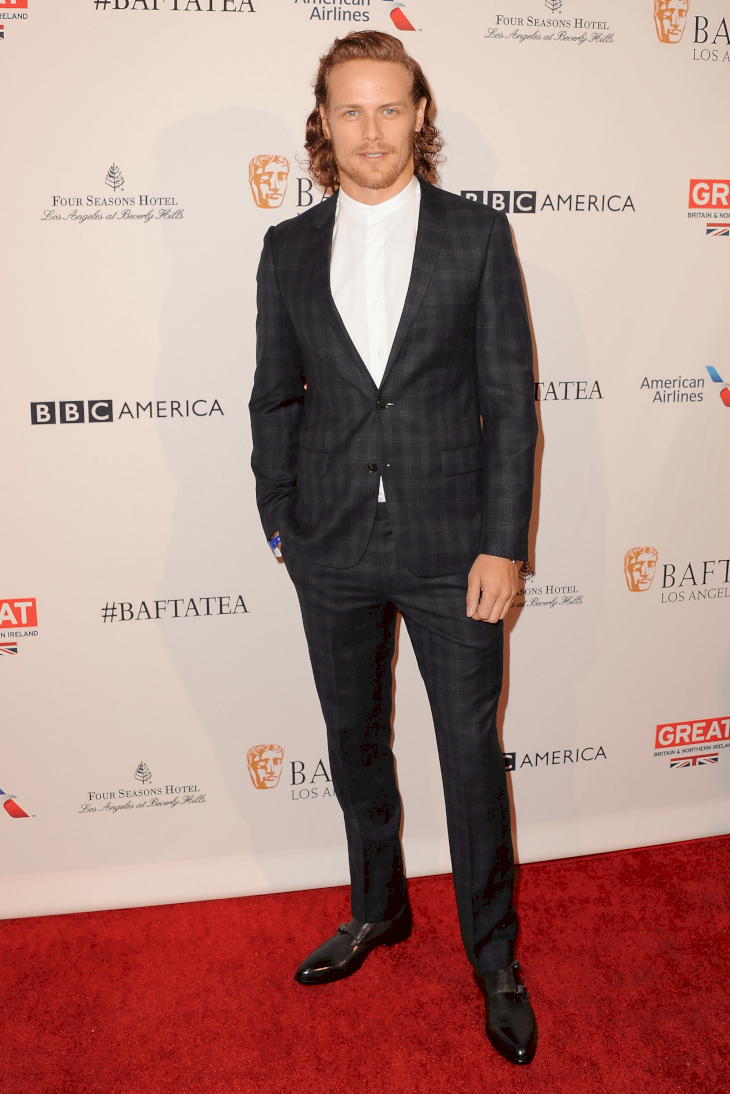 ---
Her eyes weren't the right color. Now that's what we'd call splitting hairs! Quite literally! By now, you probably know about writer Gabaldon's temporary lapse in judgment, thinking he was grotesque. That was just based on his limited collection of photos at the time, though, being mostly unknown back then.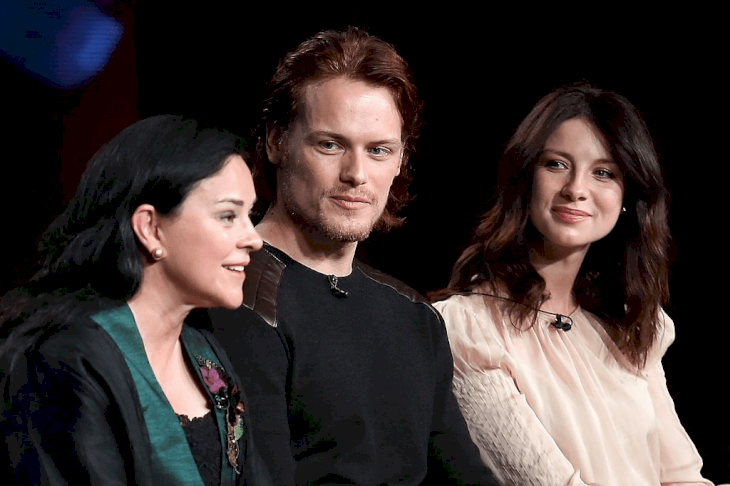 ---
She quickly got to her senses when she interviewed him! So, while playing Jamie certainly didn't change Sam's height or hair color, it did affect him in other ways. Let's start this by saying that, in real life, Heughan is painfully shy in person!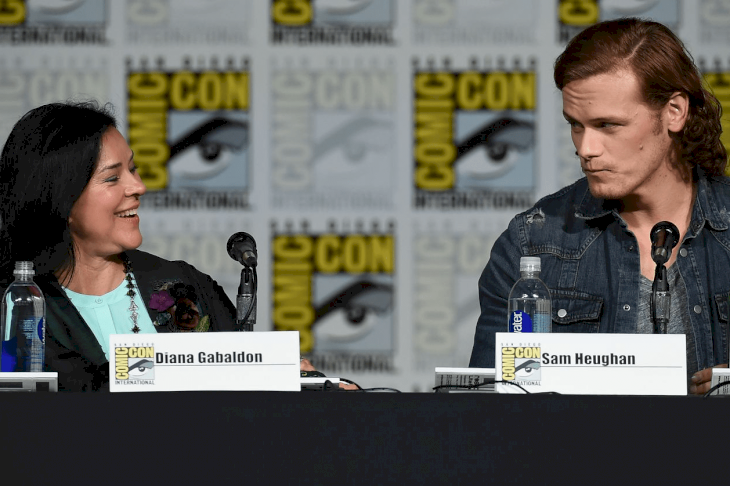 ---
THE SHY VERSION OF SAM 
Of course, we haven't met him, but this is according to Dispatch - and if you look closely next time you watch him in interviews, it's not that hard to tell. He's always very courteous and professional, but it's easy to see that he doesn't love being the centre of attention in interview or panel situations.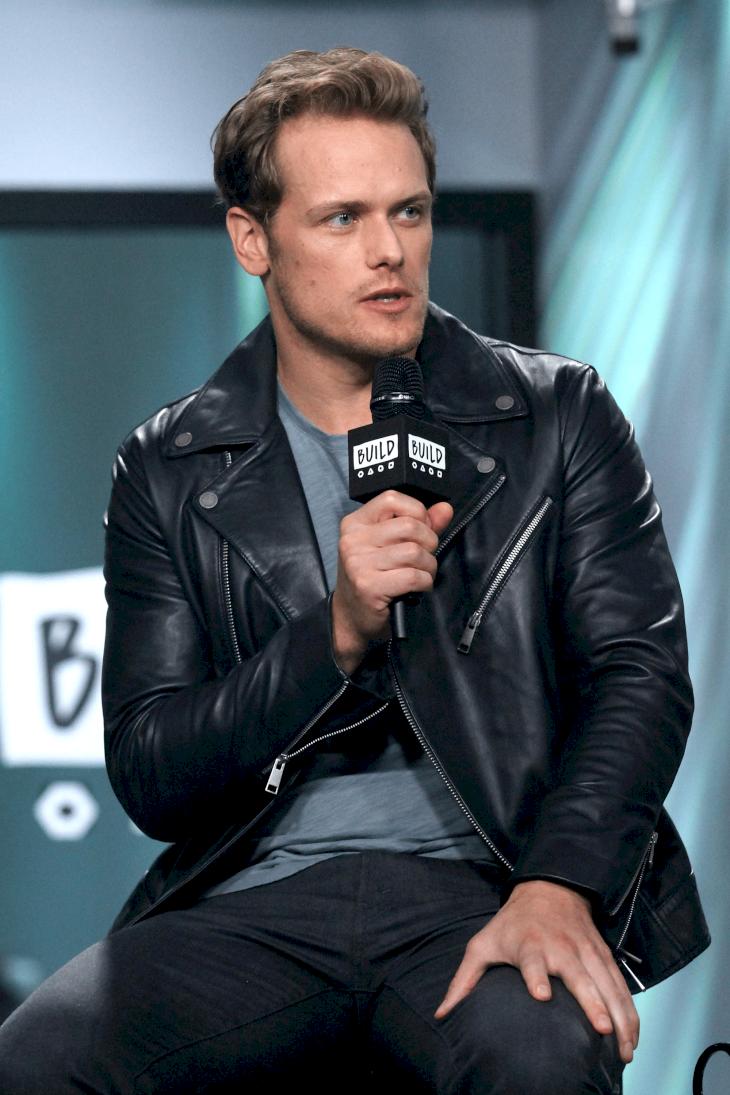 ---
To Cap Hollywood, he's confirmed that he has little interest in the celebrity side or people knowing who he is. His priority is the characters he portrays: "And you can hide behind them. I'd much rather be someone different and Outlander is wonderful... But it happens with each character. You take on board their life to live like they do."
---
THE FAMOUS PERSONA 
Well, whether he likes it or not, today he is famous and loved by millions of fans worldwide! Of course, we can't neglect to say that he's also become a sex symbol for many. While the majority of the Outlander fandom is sweet and caring, there are always a few odd ones who can end up making life unbearable for cast members.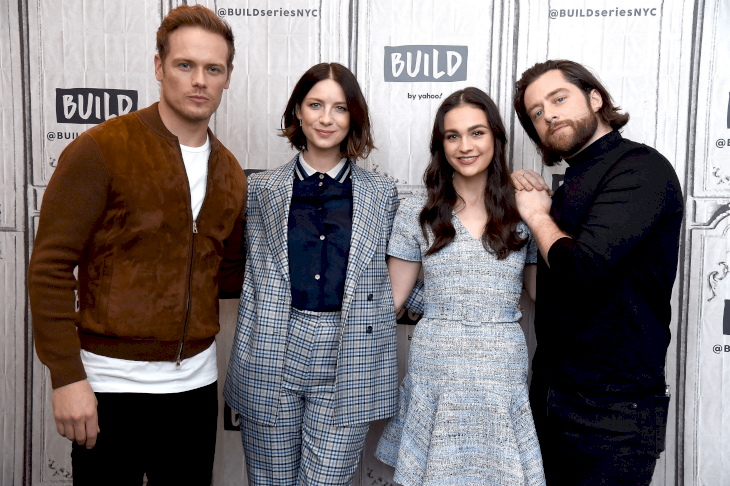 ---
In Heughan's case, this was taken to a whole different level! In April of this year, he spoke out on Twitter about six years of "stalking, and false narrative." No one deserves such treatment, and least of all Sam, who is also kind, humble, and doing amazing work for his chosen charities.
---
All his co-stars, as well as the producers, backed him following this revelation, but we're pretty sure that this has been psychologically upsetting for the actor! And will probably continue to be. Hopefully, these troublemakers will leave him alone!
---
When asked how the show influenced him, Heughan told IMDB that it changed his life and gave him amazing opportunities, like working with charities. Clearly, this humble actor is able to take the good with the bad.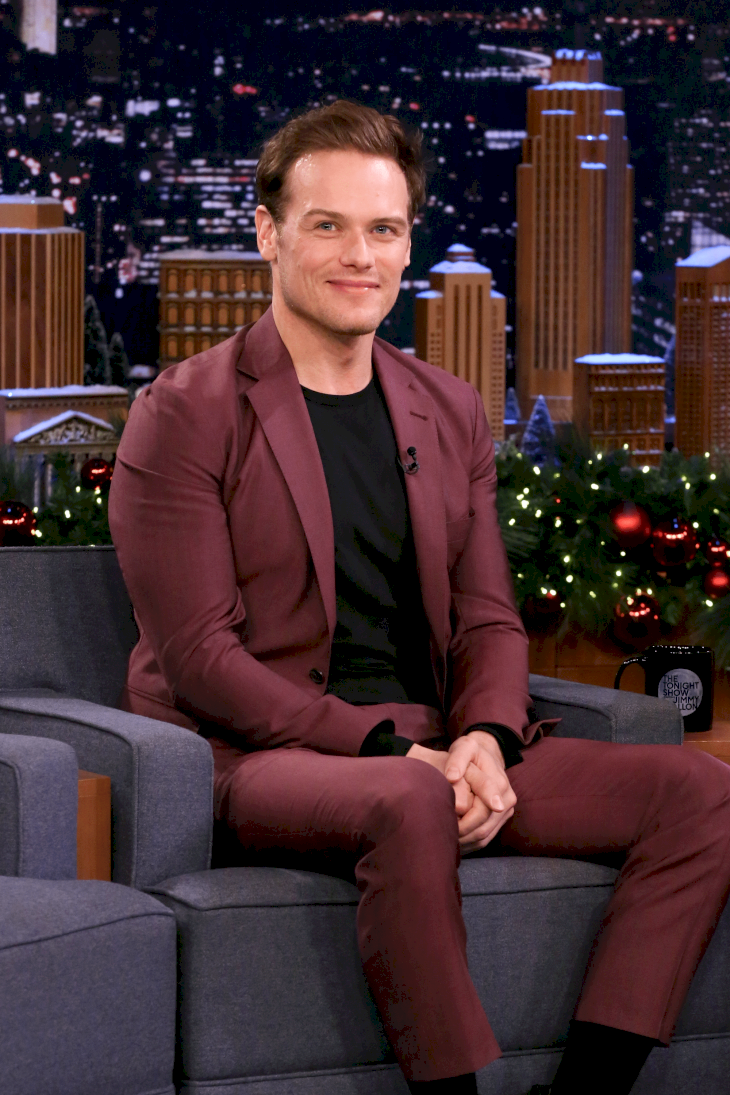 ---
Just like Jamie, he's grown into a more mature version of himself. And he clearly hasn't lost his great sense of humor! We love Sam putting the sexy back in the most unsexy phrase out there. I don't like to brag, but I've got the world's largest collection of Crocs. Just before we spill a major backstage secret, you've gotta hear this!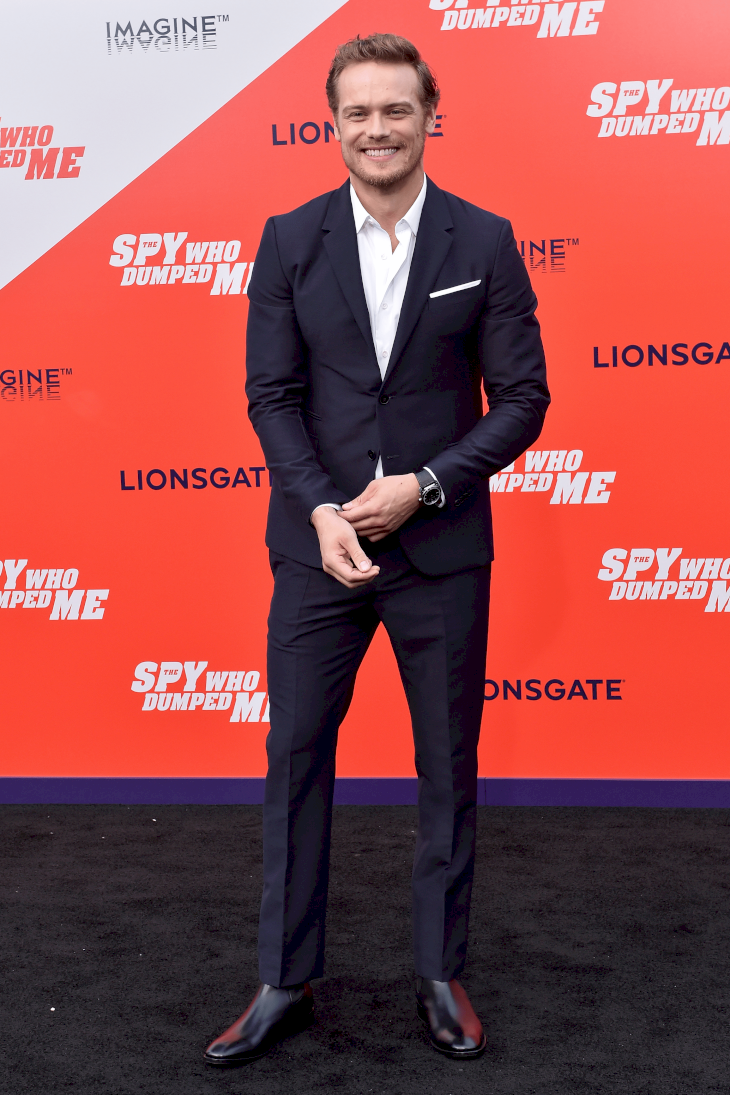 ---
HIS EMBARASSING CHILDHOOD MEMORY
Wanna hear his most mortifying childhood memory? Apparently, there were many, but one stands out. Well, the one he chose to share with Elle was about his first romantic date. At the time he was 17 and totally infatuated with a girl in his school.
---
After a lot of pursuing, she finally agreed to go out with him. The two arranged to meet outside a Burger King - he was really impressed with the classy choice! Anyways, he arrived on time, then ended up waiting outside in the rain for at least two hours before he went home.
---
What happened the next day at school? She was angry at him because she waited for more than an hour! Turns out it was a case of crossed lines since there were two Burger Kings on the same road. Talk about love interference! Now it's time for a more serious story.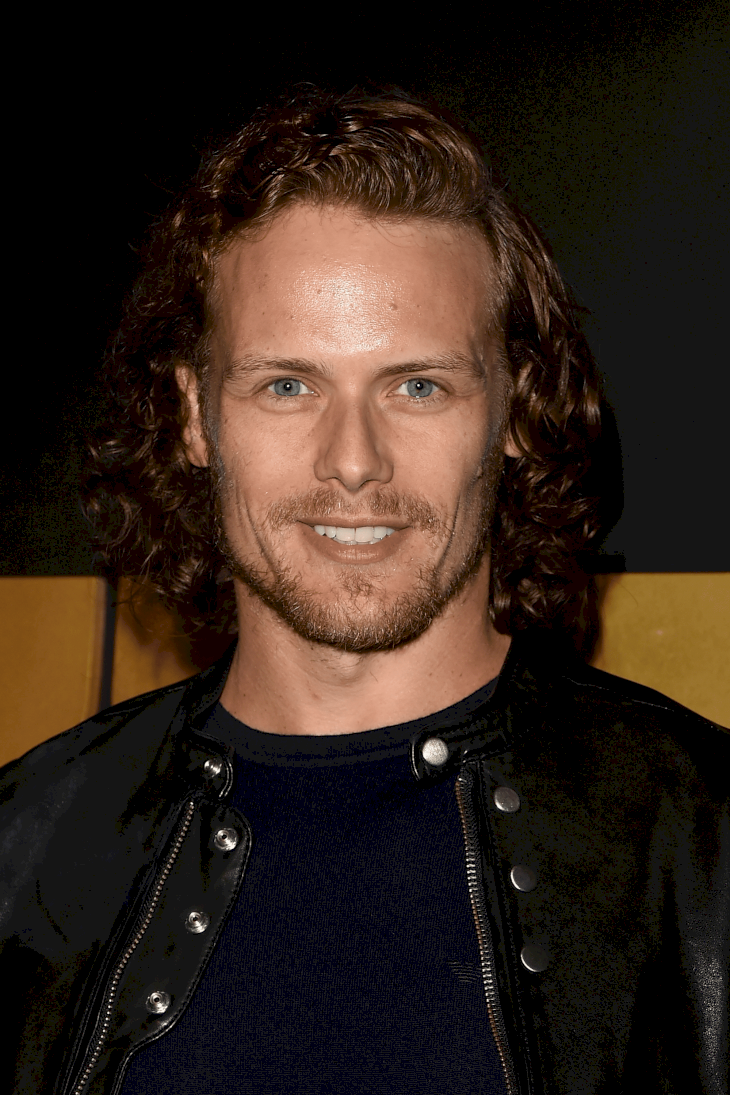 ---
THE KIND OF DAMAGE THAT CAN'T BE UNDONE?!
As you know, Outlander follows Claire and Jamie across Scotland, France, the Caribbean and North America. So it's not surprising that a lot of work and expertise goes into making the sets look realistic. Since the show began in 2014, set designer Jon Gary Steele has been the one to thank for the authentic details.
---
HIS FAVORITE SET ON OUTLANDER 
The Jamie Fraser actor's favorite set is the Great Hall at Castle Leoch from Season 1. He remembers it like yesterday because he was new coming into a show of this scale and was endlessly impressed by the dedication Gary had put into the set.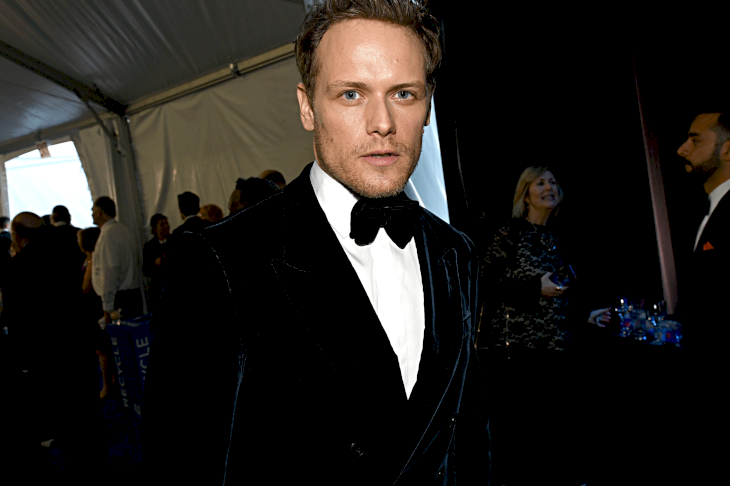 ---
"He had taken castings I believe from the local castle and then recreated this hall and chandeliers with stag's heads and there were just so many amazing little details," Sam said. It's now been reported that Gary is stepping down from his role after five seasons.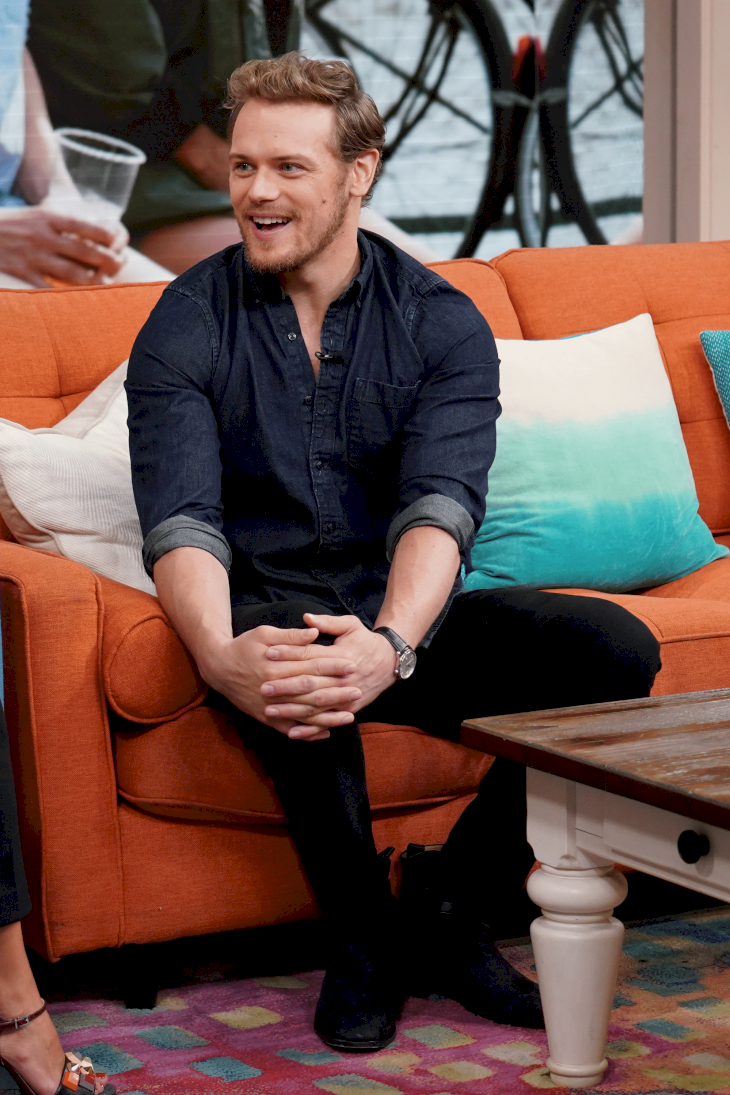 ---
About this loss, Heughan said Gary increased the bar and outdid himself every single time. "He's going to be an incredible loss but he was a remarkable man to work with." While this is sad news indeed, fans are more upset by another revelation!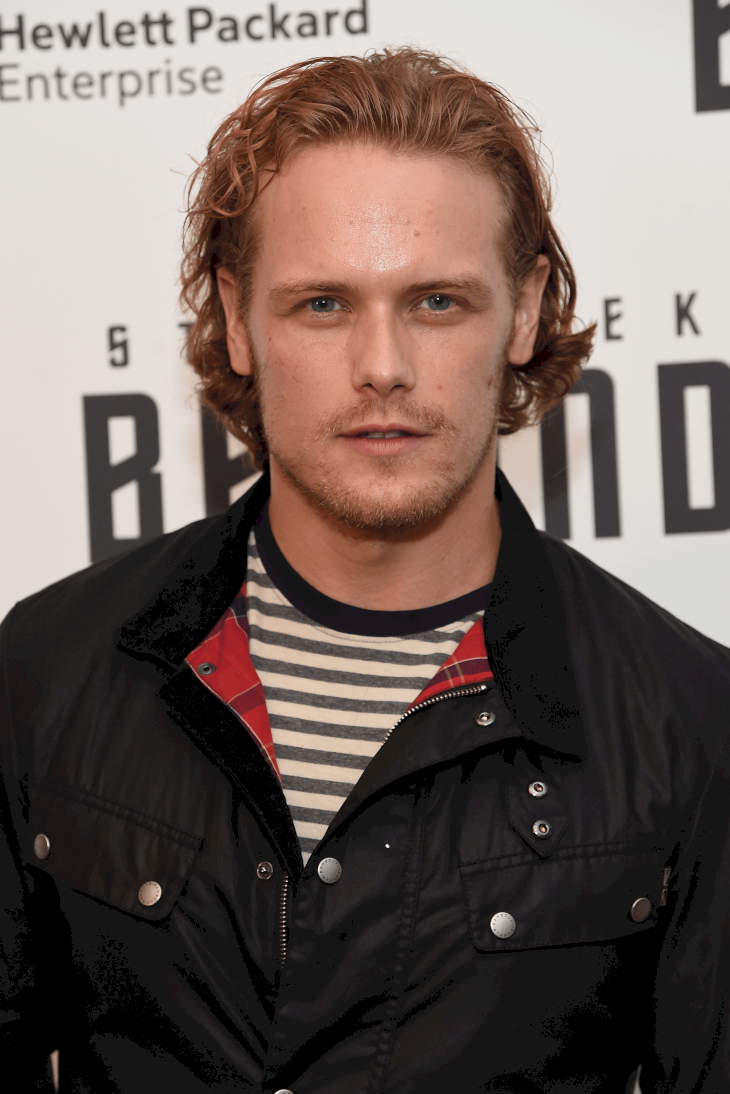 ---
Sam brought to light that not all the sets survive. As he explained, everything usually gets destroyed after four weeks of filming. While this is a hard pill for him and fans to swallow, we're sure there are logistical and environmental reasons behind this? What are your thoughts on the matter?! Well, that's almost a wrap!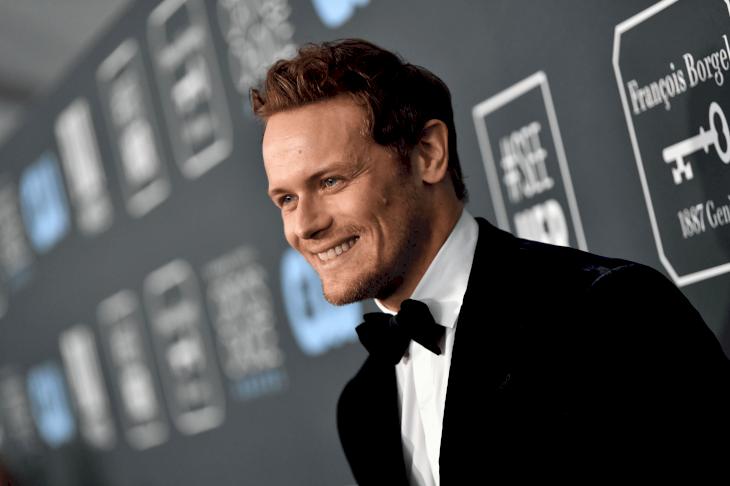 Sam's words about what Outlander's meant to him over the years summarize the show, and his experience of it, best."I think the great thing about Outlander is that we have these huge emotional arcs. Each season, it seems to get more complicated and more involved. It's a gift to us, from the writers and from Diana."
But over to you! Which fact surprised you most? Let us know in the comments!