Hilarious News Anchor Fails
From pronouncing the wrong word on a live TV broadcast to getting caught making faces while the camera is still rolling, these news anchors have faced some of the most unthinkable live fails ever! If you've done something embarrassing, just take a look at this incredible collection of news anchor fails, and you'll feel a lot much better…!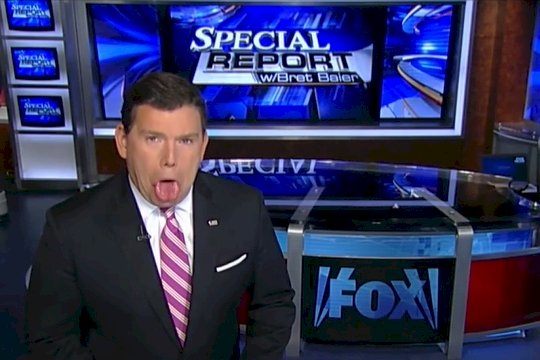 ---
This Is Why You Should Always Pay Attention!
Does she seem like a familiar face? Well, she's ABC newsreader Natasha Exelby who made heads turn for not paying attention while the camera just rolled in on her all of a sudden. Not only did she miss her cue on TV, but her dramatic reaction went viral for all the wrong reasons. Alas! Only if she'd paid a little attention! Sigh…!
---
No Comments!
We're not sure if what has been claimed about this newsreader is true! But after watching this, maybe even we're able to come to a conclusion why she's impeccably part of our fails compilation! Guess whatever she claimed on the live broadcast went on air without any edits.
---
No, It's Not "Behind The Scenes" From Any Angle!
While these anchors are seated this way, viewers might've been confused about what all this is about. Well, if you ask us, we don't think it's happening behind the scenes either. Don't their props give us a weird feeling now?! Unfortunately, little did these three news anchors know that their funny tantrums are being aired LIVE!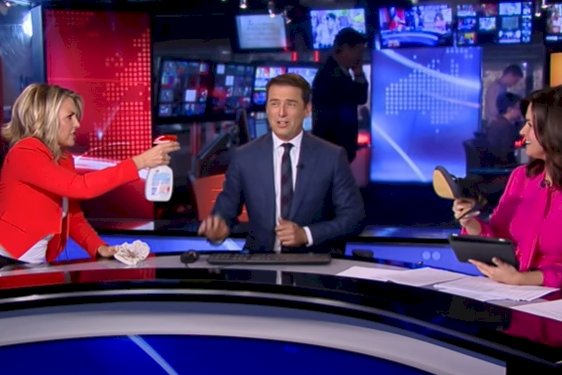 ---
She Meant The Plane (By The Way!!!)
A single joke can leave you in splits, no matter how silly or absurd it may sound. When this news anchor threw a weird joke about the size of a plane, she deliberately took it off on a whole new meaning. In the end, her out-of-the-world unintentional joke left the whole crew in pure splits. And guess what, it's a live report!
---
The Squeaky Chair
While some of us might still have that little stage fear, we're pretty jealous about these news anchors who're able to pull it off like pros in live broadcasts. And what more— they have millions of viewers across the globe— good enough to stay popular 24/7! But when news anchor Lisa Wilkinson's chair squeaked on a live news broadcast, her co-anchor Karl Stefanovic grew suspicious, and so did the "millions of viewers!"
---
"Swinging" In The Air!
You got to watch this one completely to read their expressions! Guess meteorologist Jordan Witzel's confusion took a toll not only on him but also on the other two anchors who were left with giggles live on-air! Apart from being funny, this clip is urging us to rethink the extent of on-air failures! 
---
Interrupted!
What would you do when you're distracted by something strange when you're busy on a live broadcast? Well, CBC Montreal reporter Alex Leduc tried to get through his live promo when he did this! If you're skeptical about what led him to react like this, then take a look!
---
An Unexpected Distraction
We really wonder about all those behind the scenes rehearsals this BBC News anchor had been doing before actually interviewing Professor Robert Kelly. On the big day, while everything seemingly took off well, there was this small interruption in the background that no one expected! However, we're glad that it didn't mess up the whole live broadcast for the anchor!
---
Spooked…!
Are you scared of spiders? Imagine a black widow or even a tarantula right now! We're getting goosebumps ourselves, and we're able to relate how this meteorologist would've felt like when he ran into a spider. His reaction has been caught on live camera, only to bring him to our hilarious fails compilation!
---
What Happens When Karl Stefanovic Takes On Grumpy Cat???
We're pretty sad that Grumpy Cat isn't with us. However, news anchor Karl Stefanovic has taken the privilege of sharing a few vital moments with Grumpy, like this one! But the only hilarious part apart from the cat's grumped up expression is the way the anchor laughs through it all! Take a look!
---
Shark Attack!
Today host Karl Stefanovic stood frozen when he saw a clip that had a shark! Yes, a real shark out and about and back into the water! Well, his expressions depicted his speechless state, and millions of viewers were able to crack that look owing to the live stream he was part of that day! 
---
When Artichoke Dip Goes Terribly Wrong On-Air!
How we wish to taste that artichoke dip! But after seeing the co-anchors' reactions, we might as well stay assured that we didn't get a bite from that! Guess Global News' Leslie Horton's favorite treat turned out to unleash some uncontrollable reactions from her co-anchors, Jordan Witzel and Scott Fee on the live broadcast. 
---
What To Expect When You're Not Expecting?!
When KTLA news reporter Wendy Burch was in the middle of reporting on live TV, she didn't expect that this would happen to her. In the end, she just freaked out and lost her senses to some spine-chilling laughter while the whole act was caught and aired on the live broadcast! Any guesses? Well, take a look & you'll know what we're talking about!
His face when she gets scared lmao😂😂😂 pic.twitter.com/BVCvjMi4PB

— News Reporter Fails (@News_Bloopers) November 30, 2015
---
Doggo-Interrupted!
How cool is a doggo to help in foretelling a weather forecast on live TV? Well, when this Canadian meteorologist tried to bring in a dog into action and help him with the forecast, he didn't expect that his schedule would turn into an unforgettable nightmare on air. We still wonder how a doggo helps predict the weather. Can we add a thinking face emoji here, please?!
---
Try Pronouncing It!
When Channel 4 News weatherman Liam Dutton pronounced Llanfairpwllgwyngyllgogerychwyrndrobwllllantysiliogogogoch, he nailed it! And sure enough, that day, the northwest Wales region turned out to be the warmest in the whole of the UK! We've seen this video a couple of times but are still unable to hit at the level of pronunciation mastered by the weatherman!  
---
Kinkajou Goes Live!
When GMA's Josh Elliot welcomed a kinkajou to his live newsroom, he seemed focused on his news reading business. Sure enough, he dealt with the situation like a pro with the furry mammal journeying all over him. But in the end, whatever happened in a fraction of a few seconds left the entire crew in pure splits.
---
Er…What?
A weather forecast like this on live TV is going to be hard enough to get rid of, especially when you have millions of viewers waiting to see what the weather would be like. Though it appears to be a technical glitch, guess not many people are going to forgive the weatherman who's unaware of what's being displayed on the screen!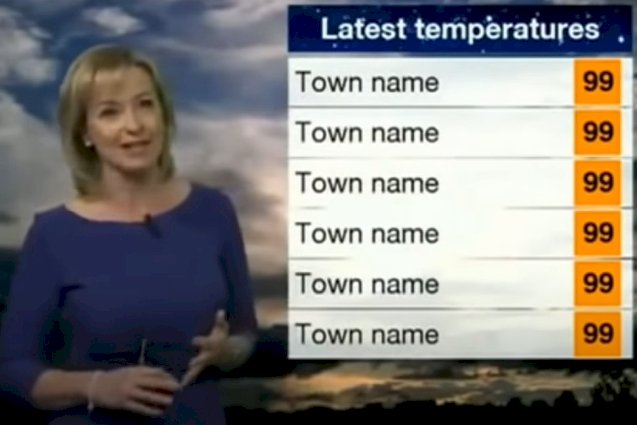 ---
Ruined & Live
Guess not one or two, but all the three of them gave in to some hearty laughter in the middle of some serious news broadcast. We really wonder how they're able to walk off after putting up such hilarious stints on a live TV channel. Sigh…!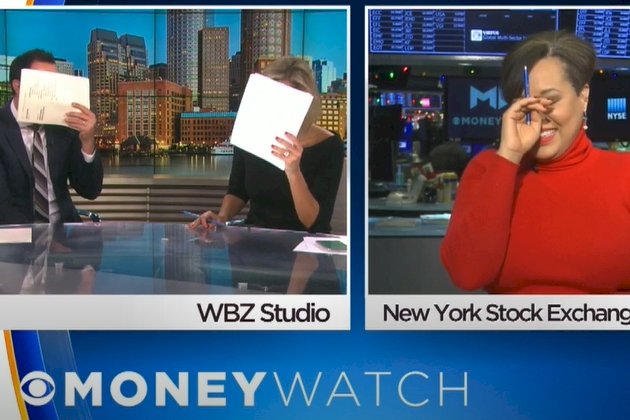 ---
The Furry Scurry
When MSNBC's co-host Mika Brzezinski learned about what exactly "furry" is, she couldn't help roll out with laughter on the desk. Eventually, she was accompanied by her co-anchors who tried dealing with the situation by masking their laughter. Still, their act was broadcast live on a million TV sets that aired the Morning Joe!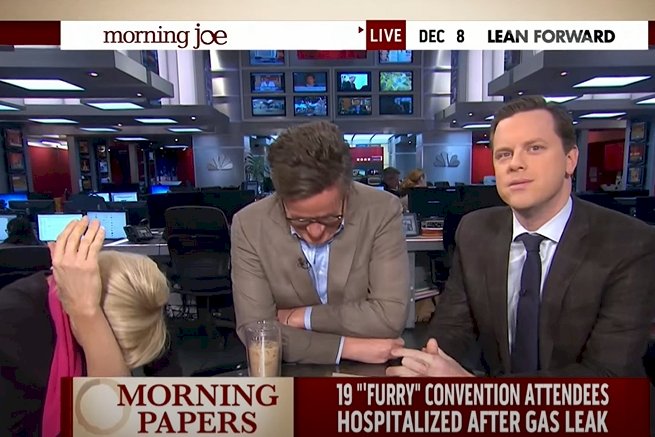 ---
Yaa-aaa-aaa-wwwnnn!
NDTV is serious business when it comes to making even the pettiest matters reachable to the people! In that case, its newsreaders are supposedly energetic at all times. Well, not really! Don't you see how tired this news anchor really is? Her wide-mouthed yawn on-air is making us literally sleepy now!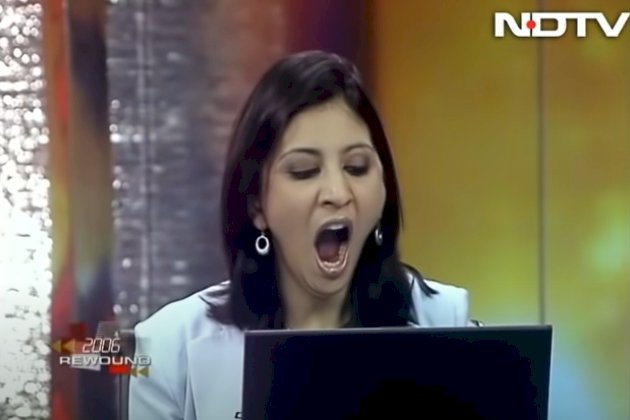 ---
Is He Throwing Up?!
Not really! This is just a part of all that he's done while the camera rolled live. Guess Fox News Channel's host Bret Baier often carries a great deal of humor sense with him to his live broadcasts. Though this stint is a part of the behind the scenes, we only hope such expressions don't go live again!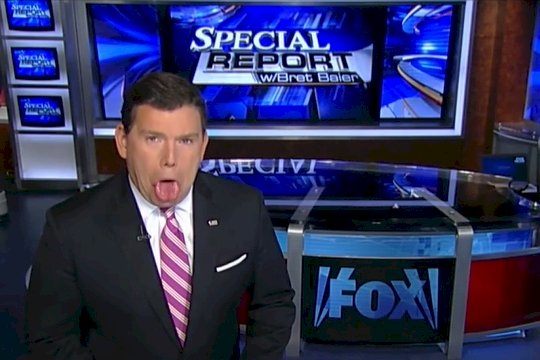 ---
The Untimely Laughter
If you're wondering whether there's been a laughing gas mishap in this weather forecast studio, then we're wondering about the same thing! Getting down to the news business, weather forecasts make a pivotal part of the entire schedule apart from the rest. Guess this weatherman doesn't mind laughing while the shot is still on! 
---
The Moment You Realize You Have A Hanger In Your Suit!
What would you do if you're on live TV and you realize that you're wearing your blazer with the hanger on? Well, only Steve Frazier from Fox 9 News can get away with a mishap like that! And guess what— it was a live broadcast, and we wonder whether this part was edited or not!
---
Seriously?!
Now, this trio joined forces to pick on other local TV stations that melodramatize the chances of rain. In the end, none of the three were able to hold on to their laughter while the whole thing was caught on live camera. Now, don't you think this one makes for an "entertaining" weather forecast?! 
---
The Joke Got His Nose Running!
When you laugh, you cannot predict your expressions. Sometimes, people fall holding their stomachs when they laugh loudly. For some, they just collapse on their bed and get teary-eyed with laughter. But for this KTLA 5 news anchor, his nose started running in the middle of a live broadcast! Thank goodness he had some tissue, though!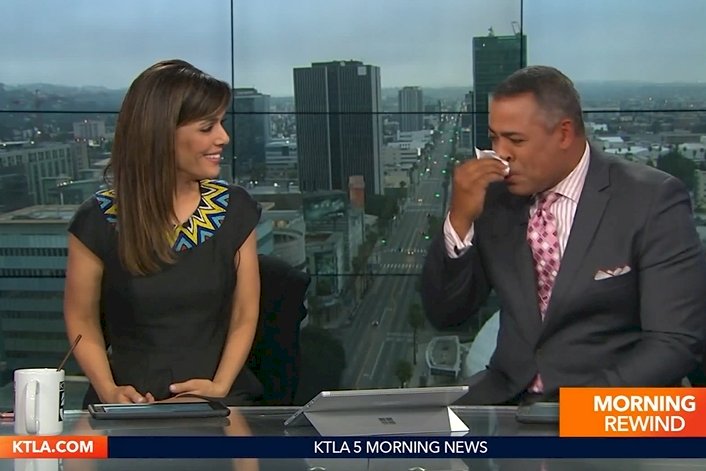 ---
Another Mishap During The Weather Forecast!
We really wonder what's getting into these weather foretellers, especially when they have been handed the duty of alerting the regions with accurate weather reports! Well, looks like this weatherman has gotten himself into a mini-disaster owing to his untimely laughter amidst some serious weather broadcast!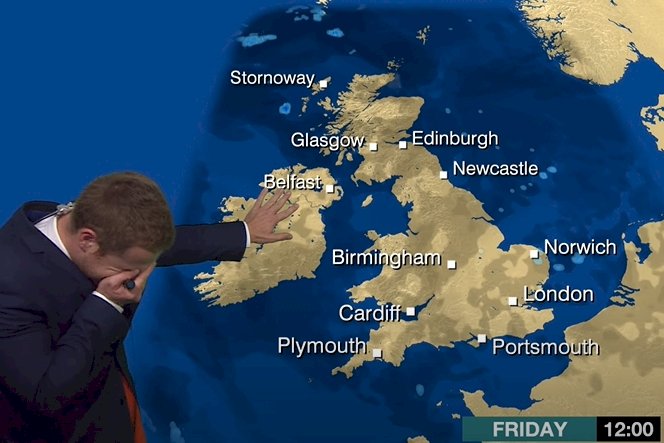 ---
Pretend Like You Didn't Notice
BBC News' Martine Croxall was about to begin her 9 pm live broadcast. While everything seemed pretty fine, it was after her little walk to the camera that she realized she was facing the wrong camera! Of course, she got away with the situation by asking her viewers to pretend they never noticed anything!
---
Someone Tell Him That He's LIVE NOW…!
Guess BBC's Huw Edwards had a tough time waiting, waiting, and yeah— waiting for his live broadcast to go on-air! He sat there in the studio, as serious as ever, hoping that the streaming would start anytime soon. However, he didn't know that he was already live! The moment even had Twitterati tweet that he is on air!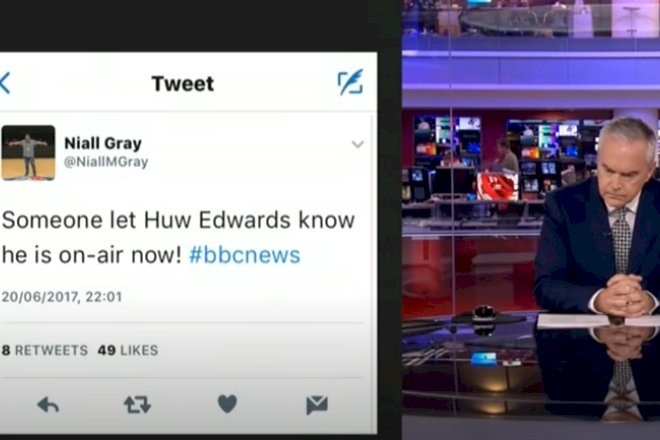 ---
Find Out What's Missing!
A picture speaks a thousand words, right? But this picture is giving us the aftermath of work-from-home hassle. Well, not hassle literally! Maybe, we can term it as "comfort!" Guess this Good Morning America reporter who's caught on live broadcast reporting from his home is working comfortably in his shorts while still being aired on national television!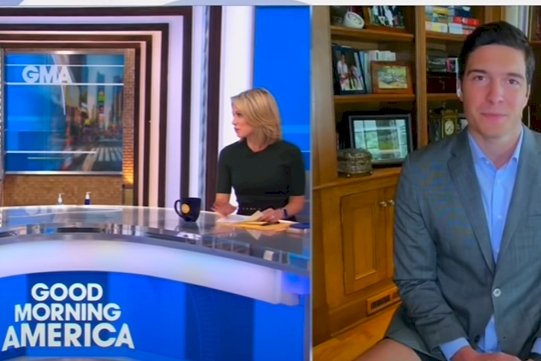 ---
The Look-Through Glass!
Sigh…! How we wish this news anchor knew that she's propped with a crystal-clear glass table! While everything about this live broadcast falls in a perfect place, viewers didn't take that long to notice how the glass table is exhibiting the anchor's undies from beneath! Guess rolling cameras, especially in news studios never miss a thing!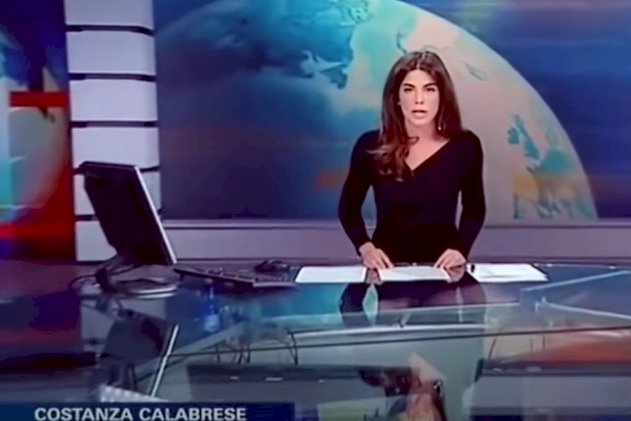 ---
The Ultimate Photobomb Ever!
When Denver7 weatherman Lisa was in the middle of foretelling what the climate would be like in the region, she got spooked by a bird that ran into the live camera. The incident left her in a state of shock, and the whole act was aired live, with a million viewers amusing over the crow's and the anchor's funny mimics!
---
Breaking Out Some Epic Moves
Guess Fox 5's Walter Morris couldn't wait to take a break from his live schedule and indulge in some epic dance moves on the road! Though it was a commercial break, or that's what he supposedly thought, his act was caught on camera, only to give viewers a glimpse of the epic dancer in him!
---
Is This What They Call "Rising" Temperature?!
Did you see that? The temperature reported by this weatherman is likely to belong to the planet that's closest to the Sun! My goodness— how did Cave Creek survive 2960 degrees Celsius??? Well, it's just a technical glitch, but the weatherman hasn't been spared yet for being a part of a live weathercast like this one!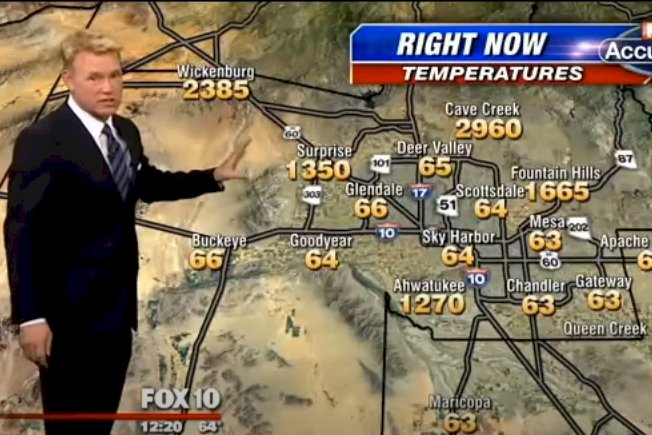 ---
More Camera Issues Coming Up!
When it comes to discovering some serious information about what's going on in the other corner of the world, you cannot forgo BBC News! But it's the same newsroom that has seen and even aired some of the most hilarious mishaps ever. Maybe these news anchors haven't gotten enough of making the mistake of facing the wrong camera on a live broadcast!  
---
He's Shocked, Just Like Us!
Well, this is another classic tale of weather just soaring to thousands of degrees. With a rise in temperature like that, guess even the rocks would've melted in that region, right?! We pity this weatherman who's already scooped up by a storm of shockwaves after seeing that temperature reading on a live broadcast!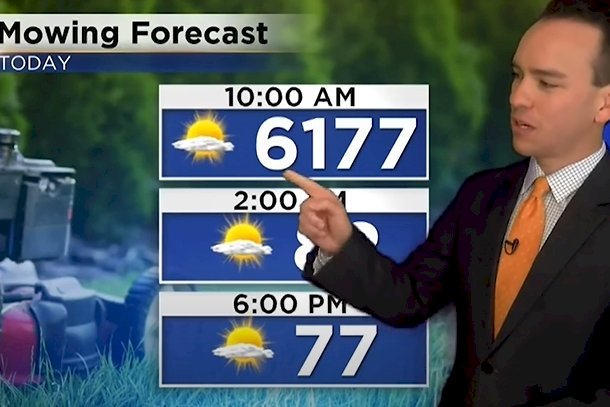 ---
Did He Have To Do That By The Way?!
Sometimes, news reporters have to roll up their sleeves and be prepared to make the best out of their interviews. But for this BBC reporter, things took an unexpected "dive" when he accidentally plunged into the pool during a live interview. Not only did this scene get caught on camera, but it also had viewers worry about his microphone!
---
And She Tumbled Down!
Finland's MTV3 news anchor landed on the floor after missing her chair! Yes, she fell on a live news reading session. Though she immediately got up and laughed her heart out over the entire incident, it still made its way onto a million TV sets, and eventually gave viewers a glimpse of the "whatnot" that can happen in live news studios!
---
He's Bugged…!
No matter how seriously these news reporters get down to business, some moments have given them the creeps. Take this Fox 5 reporter for example! He got the scare of his life when a bug ran into him in the middle of a live stream. Guess he's going to be a lot more careful the next time he's on a beach doing his next report!
---
Someone Please…My Baby Is Here!
Looks like this news anchor will not consider bringing her son to the news studio again! With a live stream being watched across the globe, this little blunder has made this momma react with nothing more than a confused smile! Well, with live TV saddling on your back, you cannot do anything more than get away with the situation in the easiest possible way!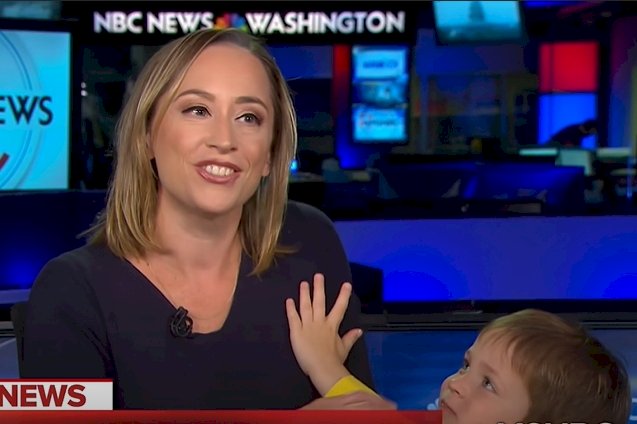 ---
A Single Letter Can Make A Huge Difference!
When this news anchor made a small (well, not really!) mistake during his news reading session, all he could do was laugh over the situation and pretend he didn't say it. But another news station was smart enough to air his blunder on their news channel, calling it a hilarious slip-up! Sometimes, a single letter can make a huge difference, and guess this news anchor learned this the hard way! 
---
Just Dancin' In The Middle Of The Broadcast
What happens when you're caught red-handed in the middle of something? Well, looks like this news anchor has taken some time off his schedule to choreograph this while the camera caught it right away for the viewers! Guess he would've stopped doing this only if he had known the cameraman is still capturing the whole thing live!
This guy is doing Drake's elevator music proud😂😂😂 pic.twitter.com/7XzMMq8d6S

— News Reporter Fails (@News_Bloopers) December 27, 2015
---
When You Can't Cut Laughing
The news business is some serious business, and you can't afford to lose out on your reputation doing the "otherwise" on the camera. For these anchors, they've just gotten enough with their not-so-controllable laughter and had to spill out in front of their guests. Yeah right— it's broadcast live and seen by millions of viewers! 
😂😂😂 pic.twitter.com/B8RLYtFXok

— News Reporter Fails (@News_Bloopers) December 22, 2015
---
A Good Day At Work, Huh?!
What happens when you're a news anchor reporting a live rainstorm in the city? Well, in that case, you got to be prepared to embrace it all from (Ahem…!) all the sides. Looks like this news reporter mistook the weather despite having that king-size umbrella that only ended up upturning his live broadcast.
When you're having a bad day at work but you're still trying to keep it together😂😂 pic.twitter.com/6ACbSArwEr

— News Reporter Fails (@News_Bloopers) December 7, 2015
---
Mobbed!
Reporting animal count hasn't been this troublesome! Guess BBC News reporter Alex Dunlop landed in mobbed trouble after giving in to these lemurs in the middle of a live broadcast. Well, maybe he'll think twice before he nods again on taking up the animal census task at Banham Zoo in Norfolk! 
Guess the news anchor fails here are good enough to put back the little blunders we've made! Honestly, these fails aren't just hilarious, they might give the creeps just in case some of you are looking forward to pursuing a career in front of the camera in the newsroom! Have you noticed a live TV blunder like this anytime? Share a bit about it with us! Please stay in touch with us through your valuable comments, and don't forget to share this article with your friends and family!