Why Rupert Grint Is Staying Away from Hollywood
Do you remember Rupert Grint? He's the guy who played Ron Weasley in the Harry Potter series. Harry Potter fans can certainly recall his name, but everyone else will probably have a problem with it. The thing is, his role in Harry Potter was the biggest one yet for the actor. Although Grint's performance was perfect, he never managed to replicate his success. 
---
WHAT WENT WRONG?
What happened to him? What unexpected career path did Rupert Grint want to pursue when he was a child? Why can't he watch Harry Potter past the third film? And what almost made him quit acting after the franchise was over? Find out all the answers in this article!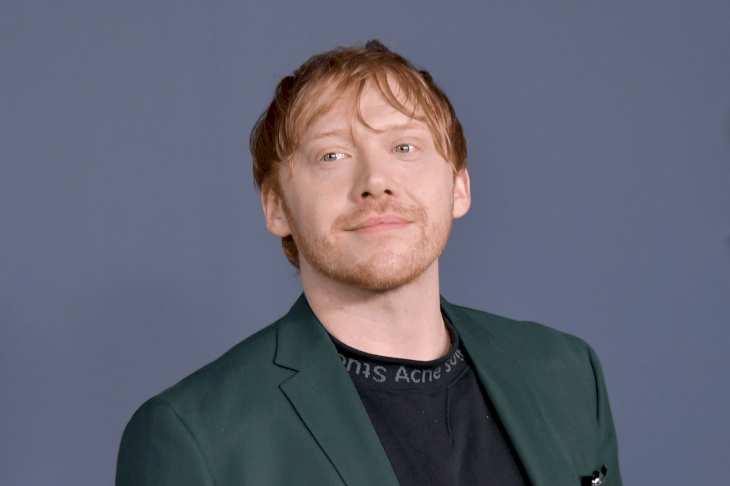 ---
EVERYTHING STARTS WITH SOMETHING 
Born in Essex, Grint comes from a huge family. He is the eldest of five siblings. Unlike Ron Weasley, whom we all know and love, Rupert was a well-behaved child, and he never caused any trouble for his parents or school teachers.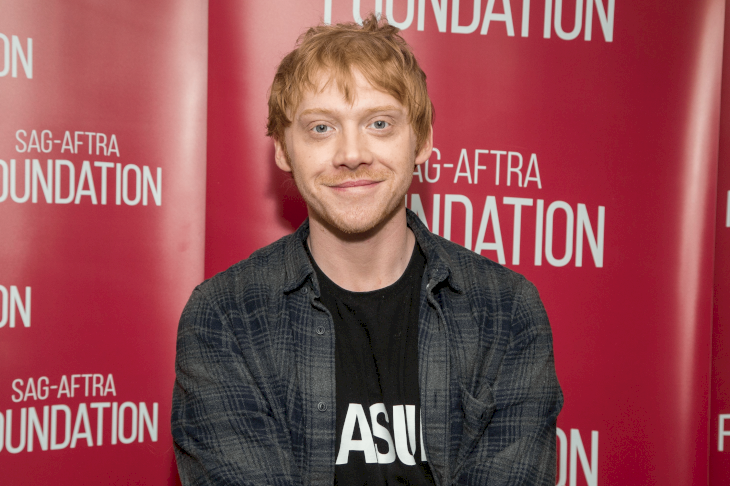 ---
The actor once recalled,
Probably the worst thing I did was steal a hairbrush and a Billy Goats Gruff book from a local shop.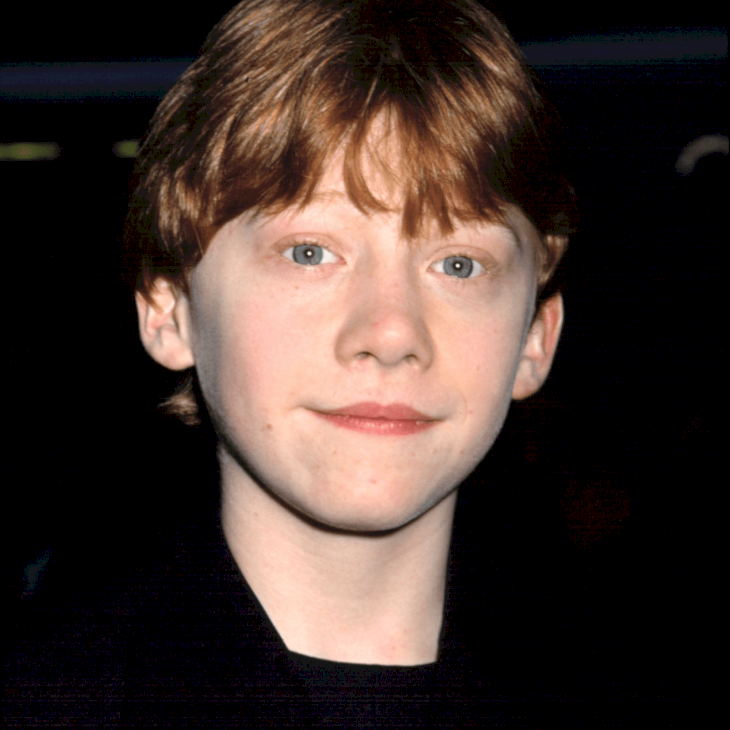 ---
I bet his parents were happy to have such a well-behaved son! At school, Grint gained a lot of attention due to his mop of unruly red hair. His nickname was Ginge, which is short for ginger, and his great-grandfather lovingly called him Copper Knob. Who knew that this exact mop would bring Rupert the role of a lifetime!
---
RUPERT DIDN'T EVEN WANT TO BE AN ACTOR
His dream was to… become an ice-cream man! Grint once explained that it "always seemed like a really cool job." Well, it probably is because you get to eat so much ice-cream on a daily basis! But life had other plans for Rupert, and he soon followed his actual calling.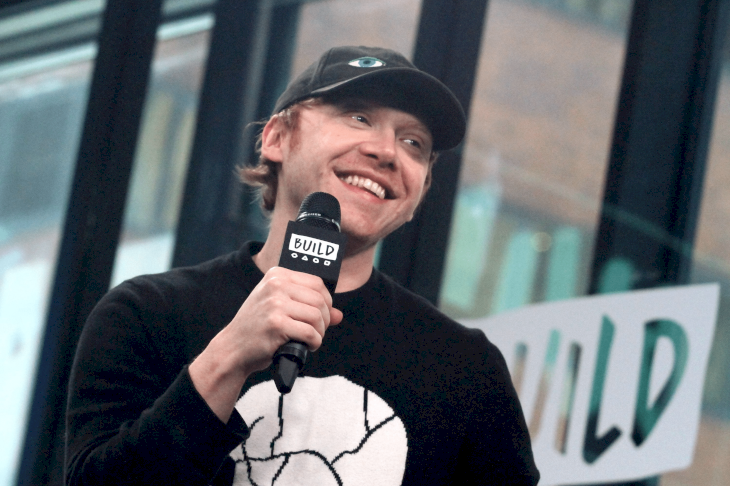 ---
At school, he took an avid interest in acting and had a lot of roles in school plays. Among others, he played a fish in Noah's Ark and a donkey in another play. I'm sure that they were hilarious! But he never studied acting or even acted professionally… when he landed the role we all know him for.
---
RUPERT HAS ALWAYS BEEN AN AVID HARRY POTTER FAN
So, it's no wonder that as soon as he learned that there was going to be a movie about the young wizard, he just knew that he had to be in it. And he knew that the best role for him would be the protagonist's best friend, Ron. After all, he also had his mop of hair going for him!!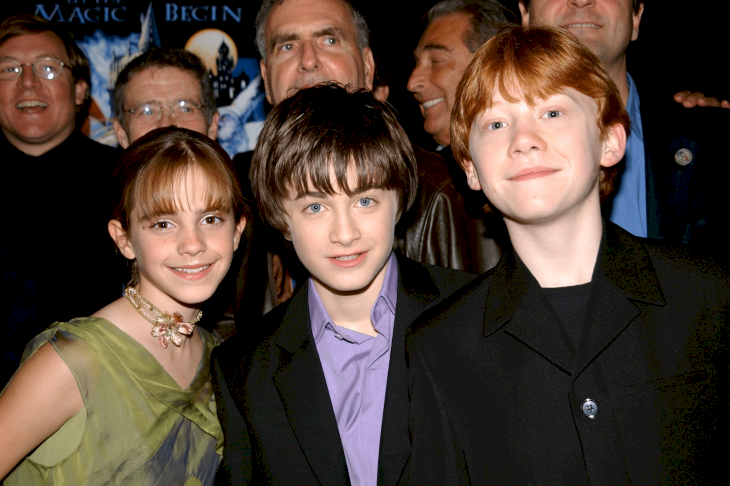 ---
So to get the role, Rupert sent in an application. But when he didn't hear back, he decided that it was time to make one more attempt and show how talented and creative he was. He sent in a video, where he… rapped about how much he wanted to get the role! The actor later elaborated on how unique his video was.
---
The actor shared,
My video was in three parts. There was a rap about myself; I dressed up as a woman and did a little sketch in the character of my drama teacher, then I read some Ron Weasley dialogue.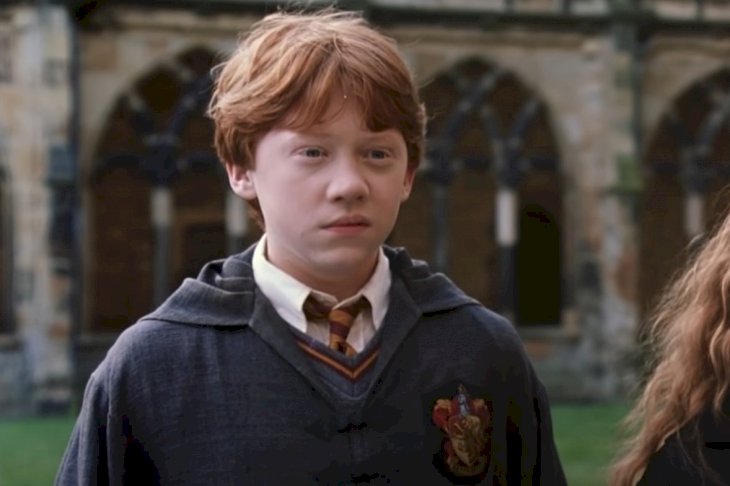 ---
I'm pretty sure that when J.K. Rowling and the casting crew saw the tape, they realized that they didn't have to look for a better actor for Ron! That's how ten-year-old Rupert Grint landed the role that became the envy of redheads all over the world. And then… the magic began! Rupert's first day on set was fantastic and literally magical. 
---
"Walking into the Great Hall for the first time was absolutely incredible," the young actor recalled. Just imagine this picture for yourself: candles floating in the air, delicious food on the tables, everything is lit… "It was the most amazing thing I've ever seen in my life," Rupert said. 
---
And it was only the beginning because when the first movie came out, it was a huge hit, breaking box-office records. Rupert instantly became the star of his school. He even recalled how he came back to school after filming the first movie, and everyone cheered and clapped as he walked in.
---
The actor said that it was the strangest moment ever for him! And how would you react if you were him? The franchise brought Rupert Grint fame, money, awards, and, of course, new friends. The guy was living the dream!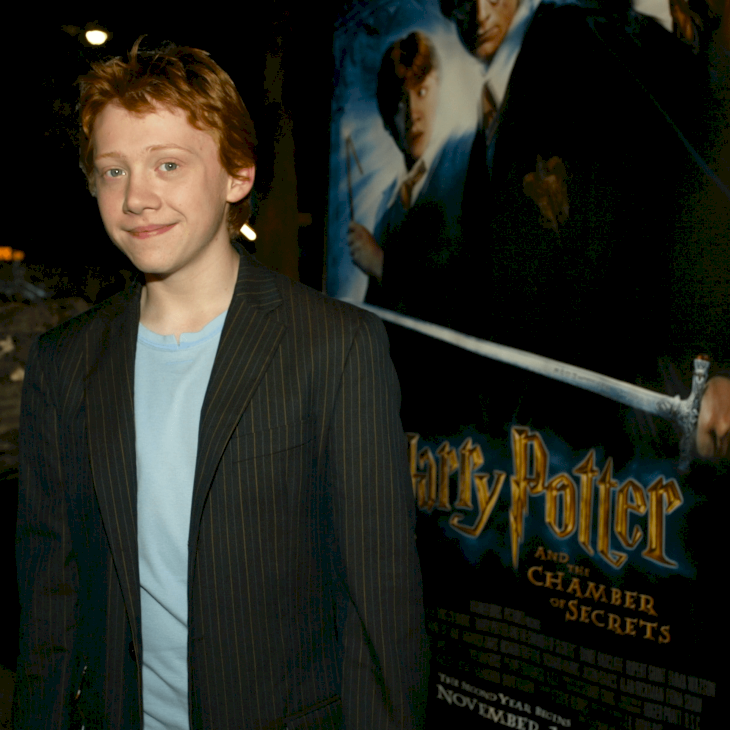 ---
RUPERT'S TIME IN THE POTTERVERSE STOPPED BEING SO MAGICAL
Starring in one of the most monumental film series had its difficulties. And as the actor confessed to The Guardian, there were times when he even thought about leaving the franchise.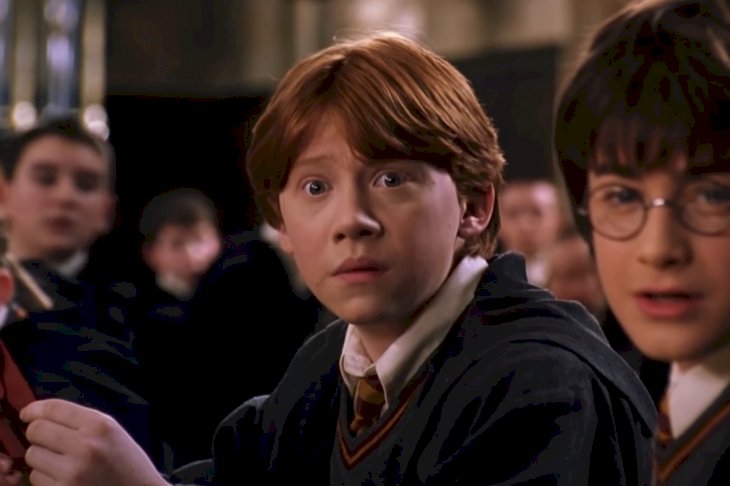 ---
"Filming Harry Potter was a massive sacrifice," Grint said, "working from such a young age for such long periods and I definitely remember thinking during one extended break, 'This whole thing is so all consuming, do I really want to go back?'"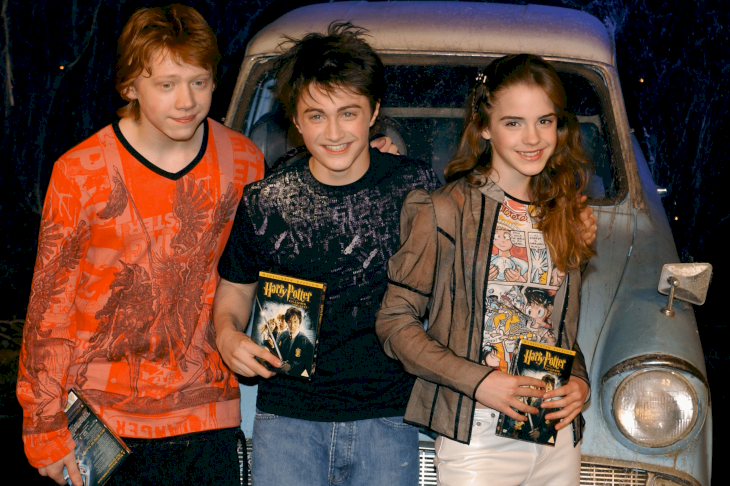 ---
And when the franchise got to the third or fourth movie, things started changing for Rupert. Instead of feeling all the magic, he began seeing the vast responsibility that came from the immense success of the films. "The whole press and red carpet thing was an attack on the senses. I don't excel in that kind of environment," the actor admitted.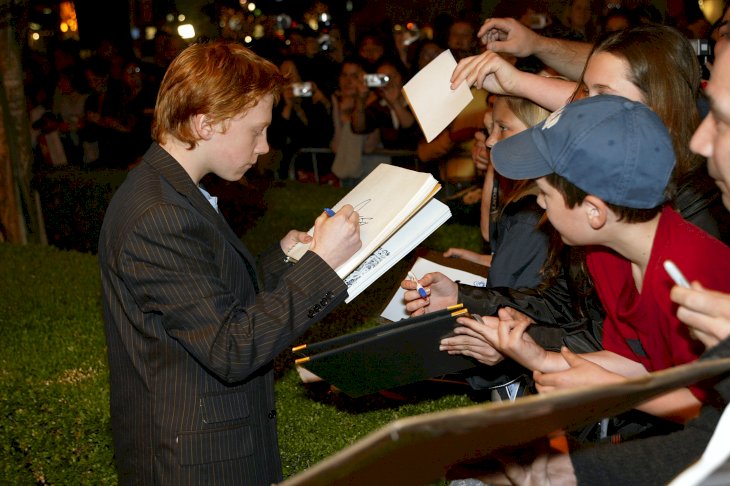 ---
What's more, at some point, it became difficult for Rupert to separate himself from Ron because the line between the actor and his character became so thin. It got so hard for Rupert that even now he refuses to watch the franchise past the third film.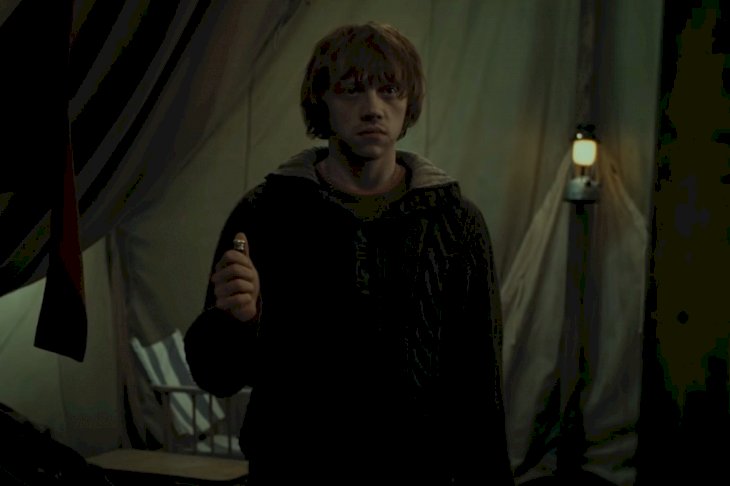 ---
Plus, when Grint's popularity was at its peak, he also felt like people were expecting something from him. Like, to get involved in a massive scandal or something else that is so typical of Hollywood teenagers. But it wasn't going to happen.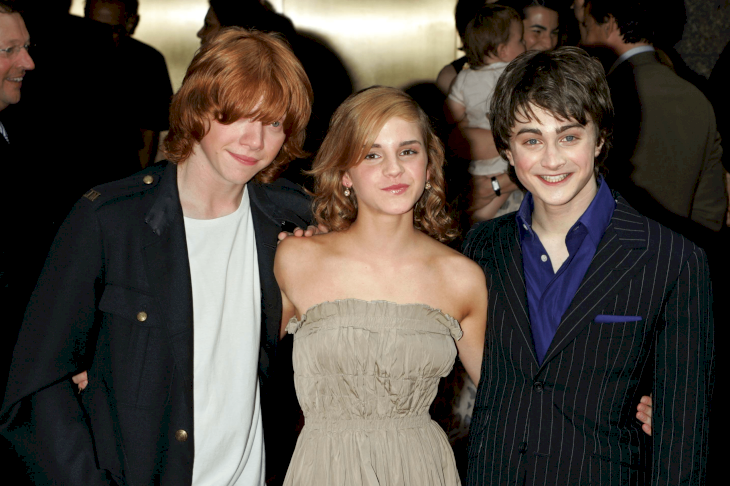 ---
"We filmed the whole thing in this very intense bubble in Watford not Hollywood, so we didn't have the chance to discover drugs or anything like that," Rupert said. So, it seems like for the audience that's so used to the scandalous stories that involve tumultuous affairs, and rock-n-roll, he was too dull in a way.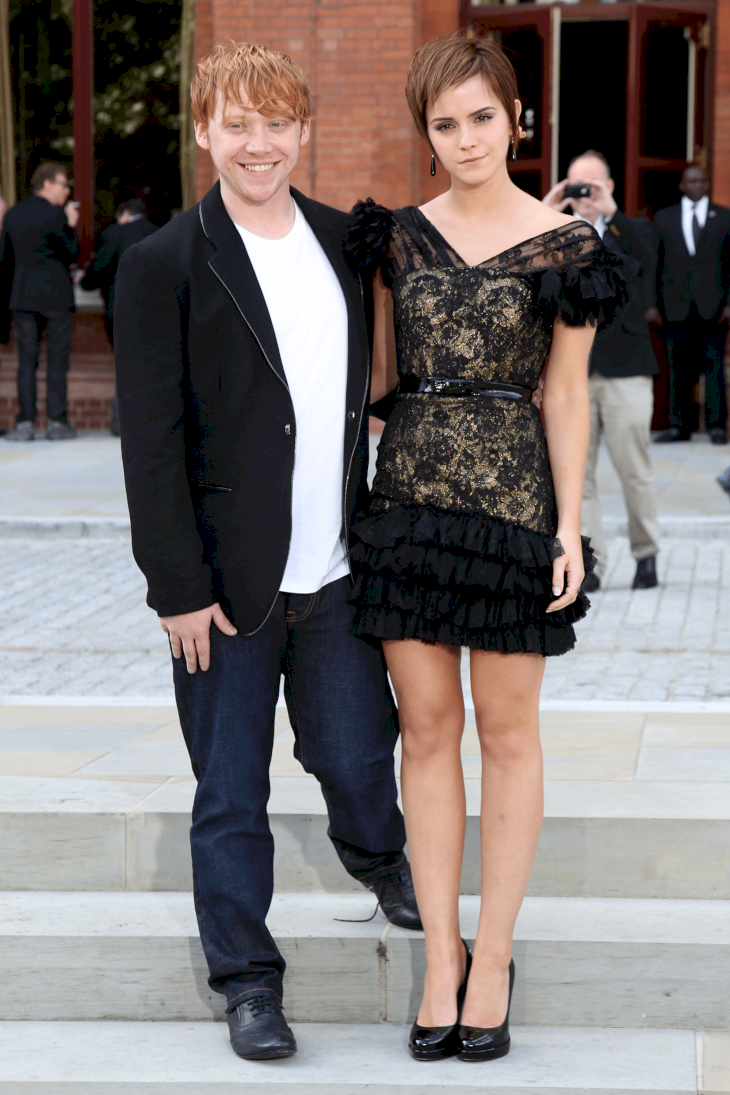 ---
HIS POST-POTTER MOVIES DIDN'T FASCINATE THE GENERAL VIEWER
While Grint's former colleagues, Daniel Radcliffe, and Emma Watson, went on to play a variety of roles in blockbusters and successful Hollywood movies, Rupert took up a different path. Well, in fact, initially, he didn't want to take any path in acting. As he explained it, he never really wanted to be a famous actor.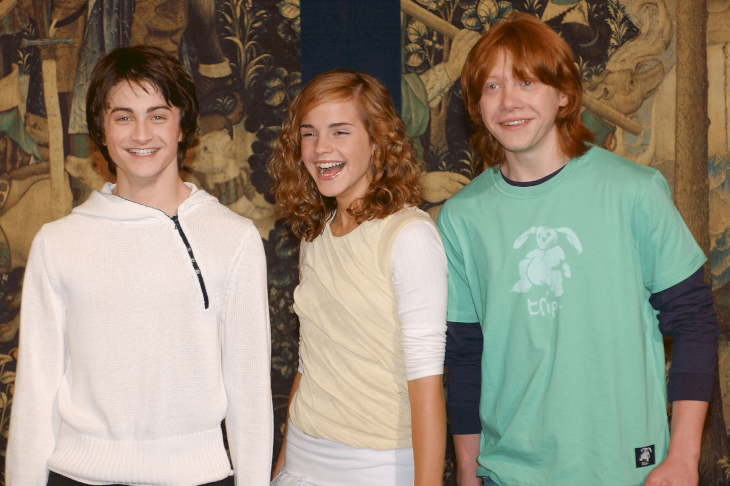 ---
He said,
I did acting with school plays and stuff like that. But it was never something that I actively dreamed of. I mean, I fell in love with it while I was doing it.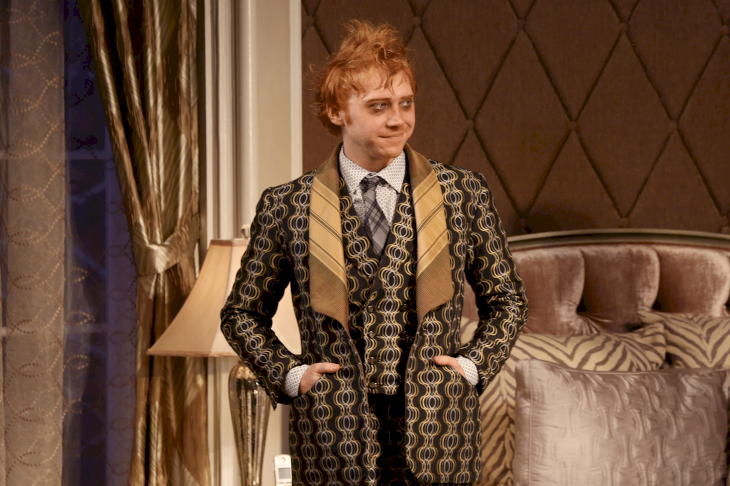 ---
So when the franchise ended, Rupert had to ask himself whether acting was something that he wanted to do or not. But eventually, he realized that it was his calling, and he kept on appearing here and there. He even did a few movies while he was still portraying Ron Weasley. 
---
Among other films, he appeared in a comedy Thunderpants and a coming-of-age tale Driving Lessons, which he called his first grown-up film. And after the franchise ended, Rupert continued acting. He landed roles in movies, played on the stage, and also found himself on TV like the 2017 show, Crackle. 
---
The actor is currently starring in a British black comedy TV series Sick Note alongside Nick Frost. And he's also one of the main stars in a psychological horror series, Servant that received quite favorable reviews from the critics. Both of the shows were renewed for second seasons.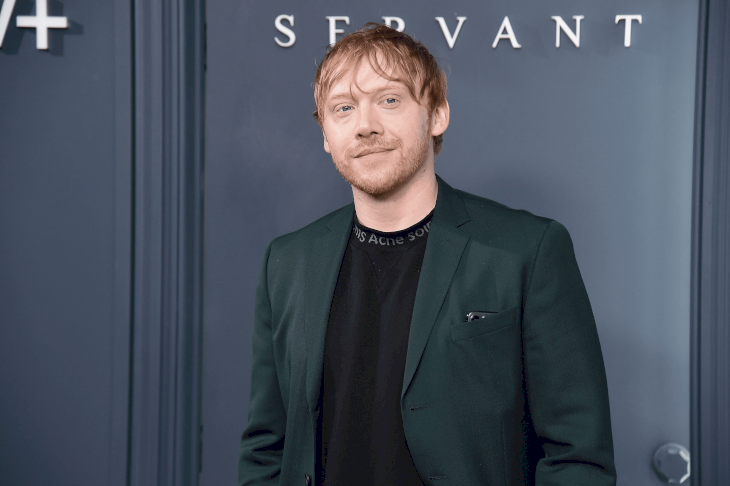 ---
STILL ENJOYING THE HARRY POTTER FAME
But playing a part in the biggest magical franchise does have it perks. So, what if Grint hasn't done any major Hollywood hits yet. He is still famous. This was proven when the red-haired actor finally opened a social media account.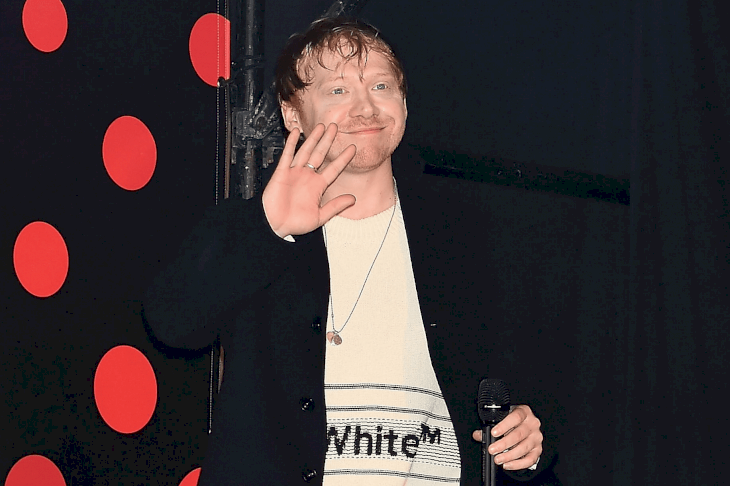 ---
Previously, Sir David Attenborough and Jennifer Aniston had broken the Internet by joining Instagram. But looks like Grint has beaten their record and entered Guinness World Records. On November 10th, he finally opened and posted his first Instagram photo. And it happened to be the first time he also revealed his daughter's name - Wednesday! Looks like a win-win situation.
---
And in four hours and one minute, the Harry Potter actor amassed 1 million followers! And his very first post with his daughter got more than 3 million likes. Among the fans and celebrities to welcome him, was none other than Tom Felton! The actor who played Ron's nemesis, Malfoy, commented, "Welcome Weasley, it's about time. Love to Wednesday xx."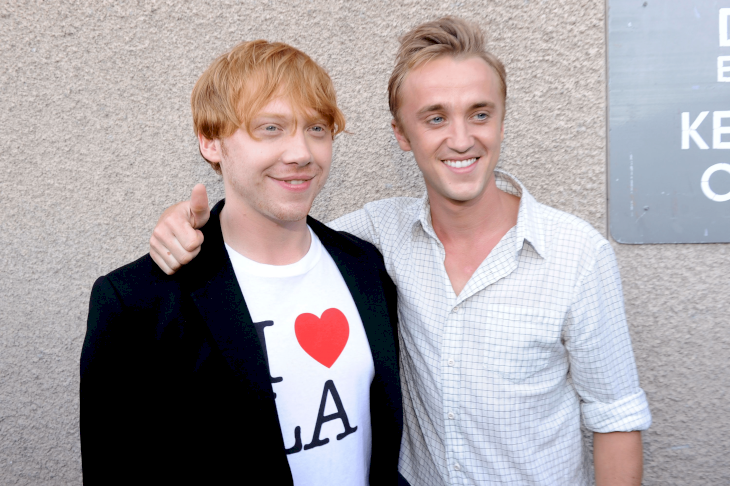 ---
STILL FRIENDS
Looks like Felton and Grint are the total opposite of their Harry Potter counterparts. Last year, Rupert and Tom reunited to bring Hogwarts magic to a children's hospital for the Christmas holidays. The actors delivered gifts in person, handed them out to the kids, and even spent some time with them.
---
Other than being charitable together, the two also constantly prank each other. One of the most adorable moments was when Grint wore an I 'Heart' Tom Felton t-shirt to Felton's premiere. And Felton returned the favor by wearing a black wig to disguise himself at Grint's event. Isn't that adorable?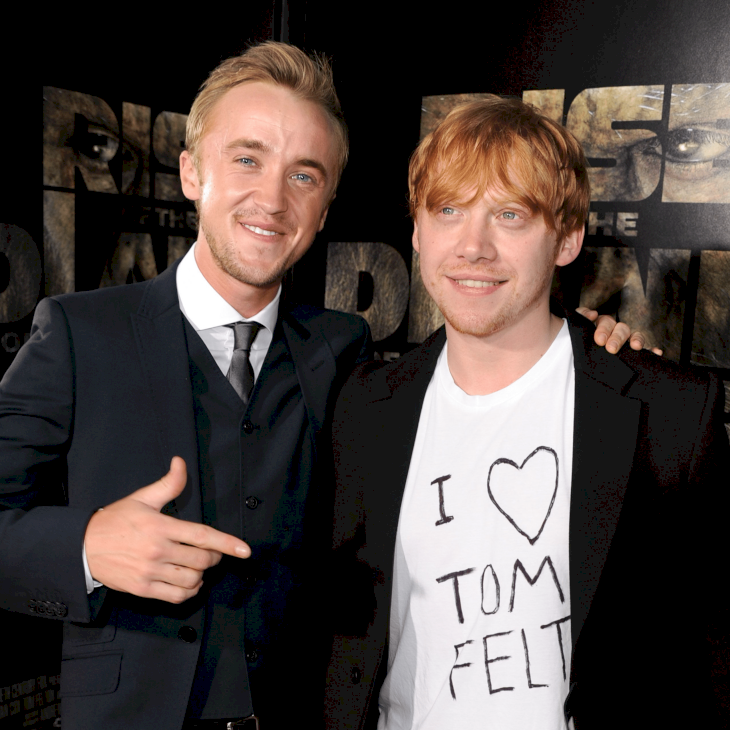 ---
While Hermione and Ron were destined for each other, it was a different story for Emma Watson and Rupert Grint. They practically grew up together, which is why they see each other as siblings. The thing they remembered the most about filming was that Grint always missed his mark, making her laugh.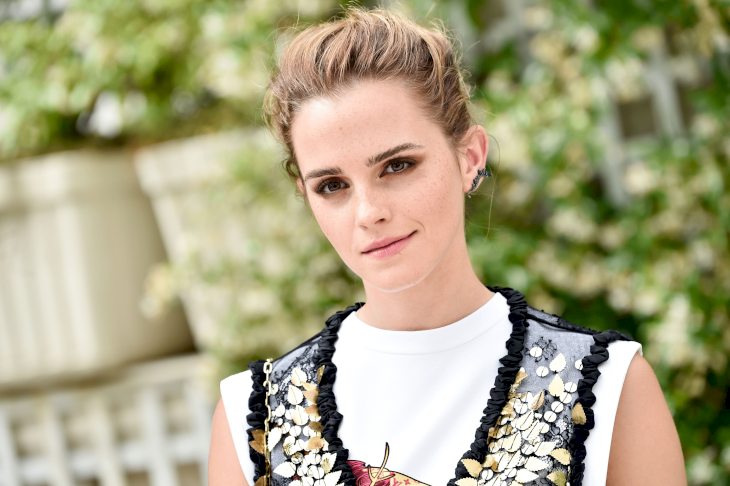 ---
They also shared how the production made something for their broom. "They made this little seat for me, they kinda took a mould of my chair area." "He had a bum cast. I also had a bum cast," Watson elaborated.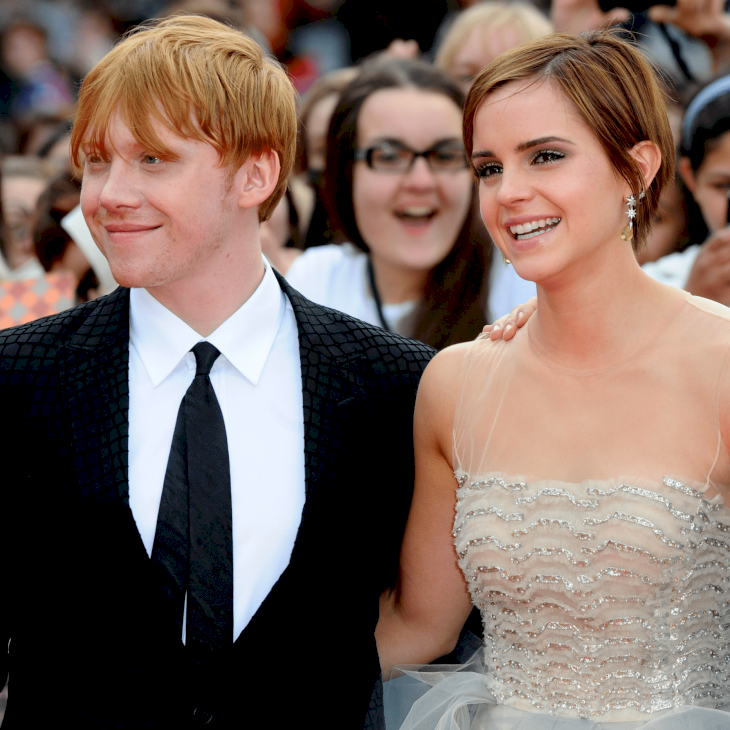 ---
And of course, who can forget Ron's kiss with Hermione in the final Harry Potter film. Behind the scenes, both the actors were dreading it. "Believe me, we both wanted it to be over equally as much as the other," Watson said. "We just got through it by laughing a lot. It was good, he's a nice kisser."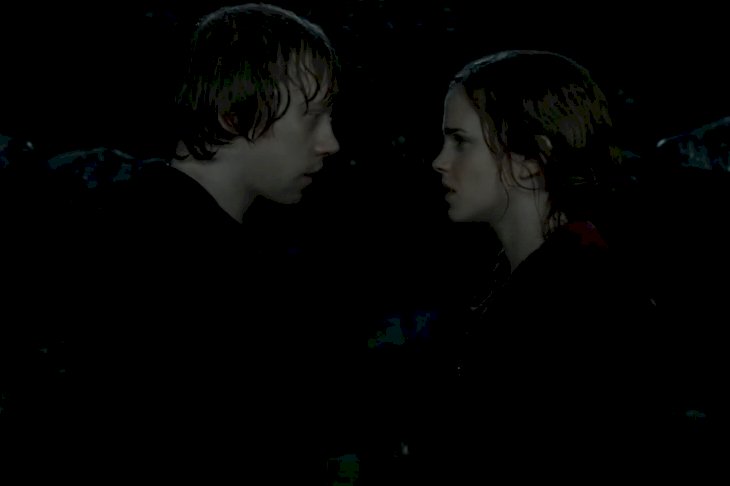 ---
What about him and Harry Potter's main star though? While we all love to think that Daniel Radcliffe and Grint are equally close, sadly that's not the reality. Rupert, for example, once described their friendship like that of distant cousins. And similarly, they only really get together for the important stuff. Like, when Rupert's first kid was born this May.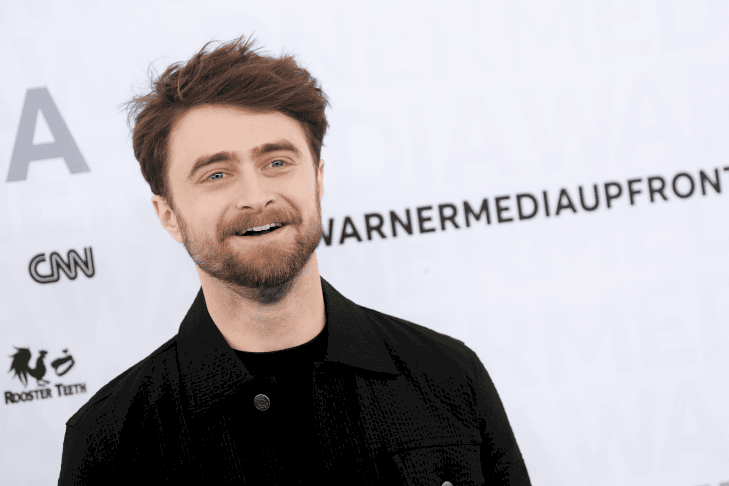 ---
"I mean it is still crazy for me that we are now on the stage where we have children and I am sure it is a fact that makes the rest of the world feel really old," Daniel said and added that he's sure that Rupert is going to be an amazing father. 
---
RUPERT NEVER BECAME A HOLLYWOOD STAR
Let's see what prevented him from that! On the one hand, we can blame the weak movies he chose to play in after the Potter series. His war film, Into the White was called predictable and bland. Moonwalkers, as critics said, was a fake comedy. 
---
And the psychological dramedy, Charlie Countryman, was even called a "catastrophe of a movie" by the New York Times. But ultimately, staying away from Hollywood was the actor's own decision. First of all, he loves England and isn't going to leave his motherland for good.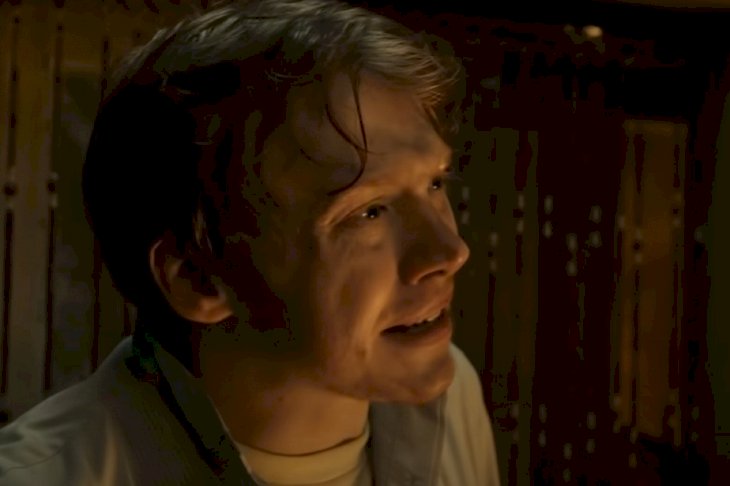 ---
Well, he also has a wife and a kid there now – so why would he leave? Secondly, the famous redhead doesn't want to be a fixed member of a particular club – the Harry Potter franchise was a sufficient experience for him in that. What's more, he likes to come across as a free spirit.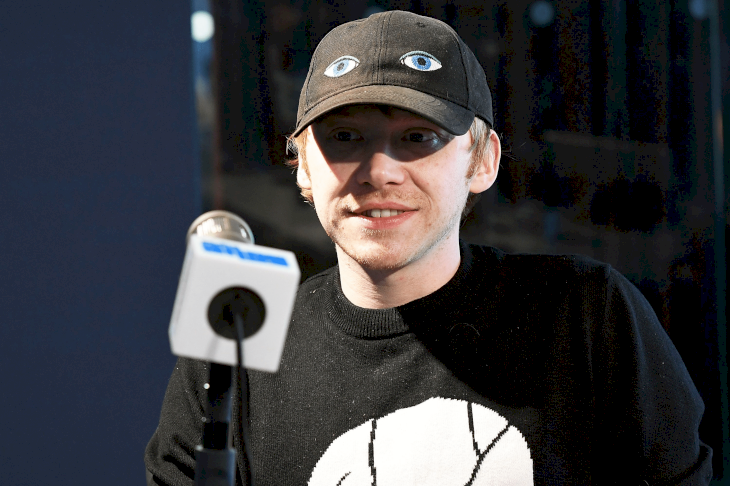 ---
The actor explained to Entertainment Weekly,
Being in that adult environment from such an early age, it was nice to just be away from it and not have any kind of commitments at all, and just be a bit free.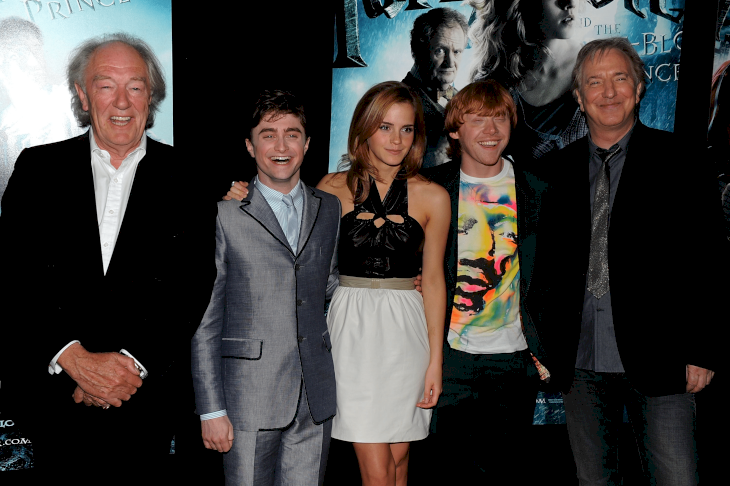 ---
He wanted to do everything he missed out on so much that, at some point, he even decided to realize his childhood dream and become an ice-cream man!  That's right – Rupert bought himself an ice-cream truck six years ago!  And fans find it super adorable and totally something Ron would do.
---
He said about his daily life back then,
I'm perfectly happy tootling around town in my ice-cream van, haring up the motorway in my Audi, or messing around on my hovercraft in the back garden.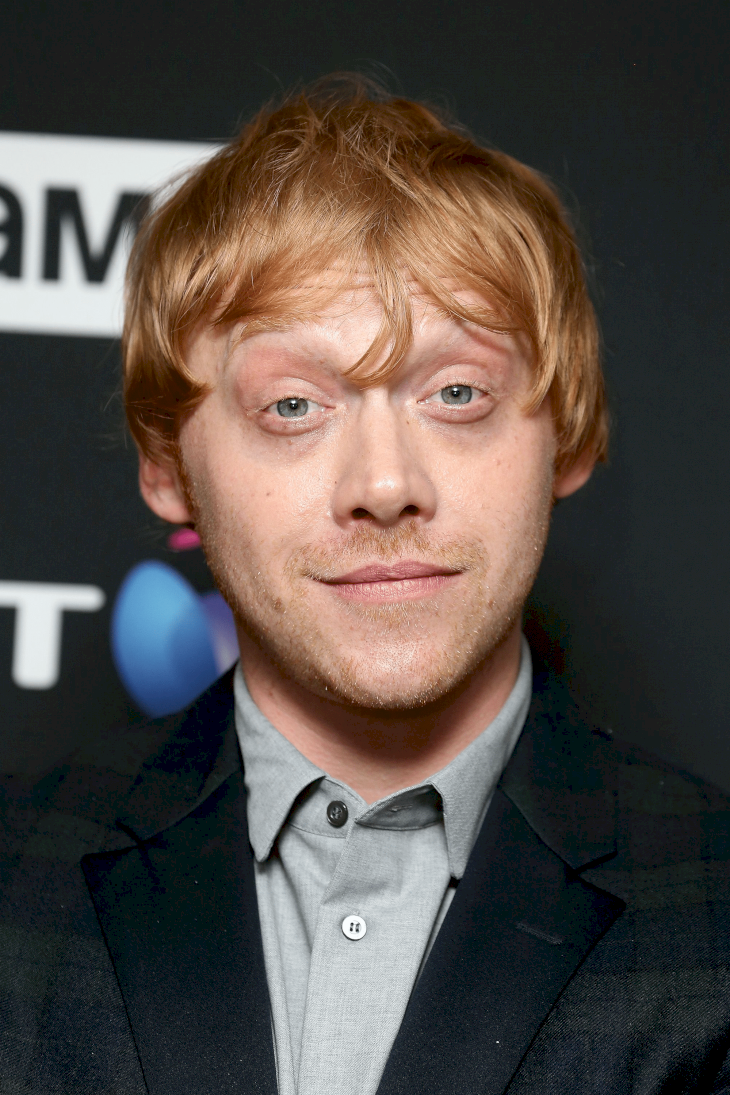 ---
Besides, Grint is still thinking about changing careers, and if he does, we might see animated films drawn by him! "I'd like to go into animation one day," he once revealed to the Mirror. "I draw a lot, a lot of disturbing cartoons – it helps me unwind." Well, that might be funny!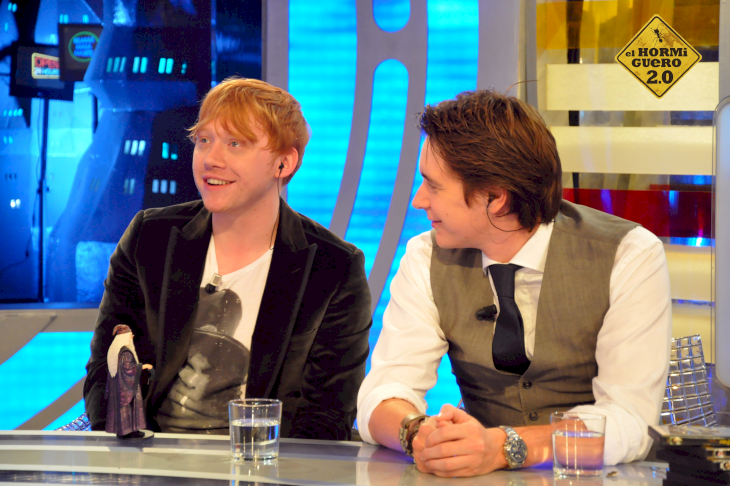 ---
And one more thing – very soon after the Harry Potter series, Rupert realized, and we must admit that he's probably right, that he'll never manage to replicate its success. But, as the actor said to The Guardian, he doesn't mind that. He likes the challenge and wants to surprise people with his new roles.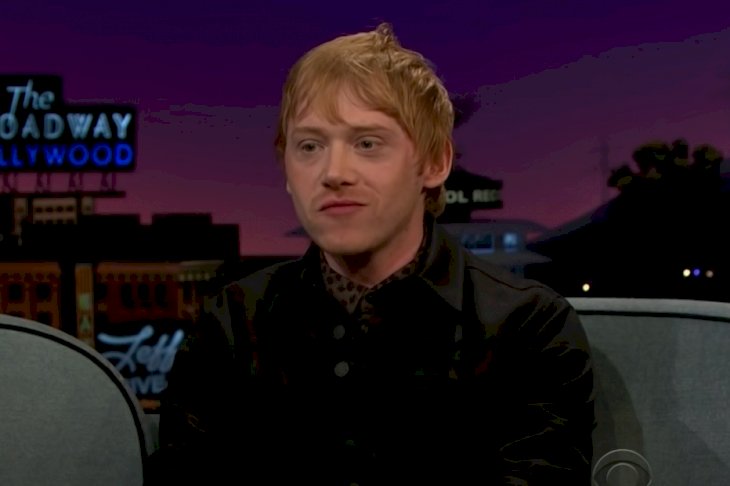 ---
He said, 
I don't know what the future holds. I'm just going to go with the flow, keep playing interesting characters and see what happens.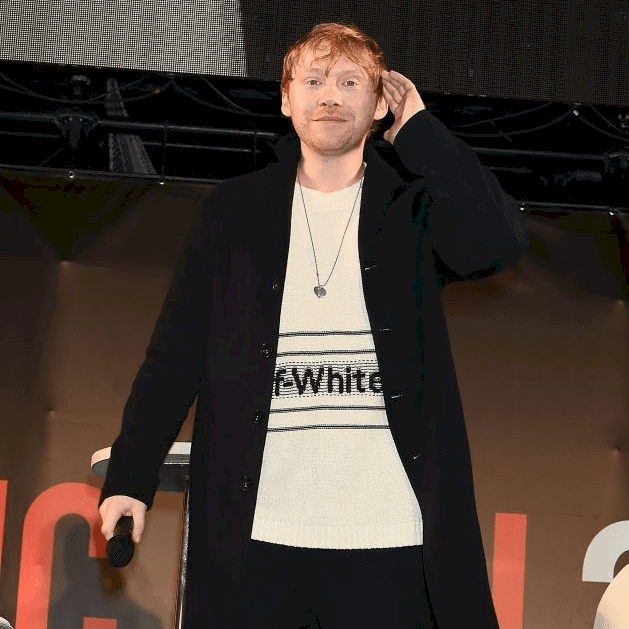 ---
I like that attitude! And what do you think about Rupert Grint? Do you believe that his fame days are over? Let us know.