Ridiculous Photos On The Road
Driving can be a frustrating experience, especially if you are stuck in traffic. However, if God takes something from you, he also gives something back (that's what they told me). So even if you are having a long exhausting road trip, or just stuck in traffic, there are always sceneries to keep you amused - and not in an ordinary sense. Here we compiled a list of things people see on the road, and boy, aren't they fun.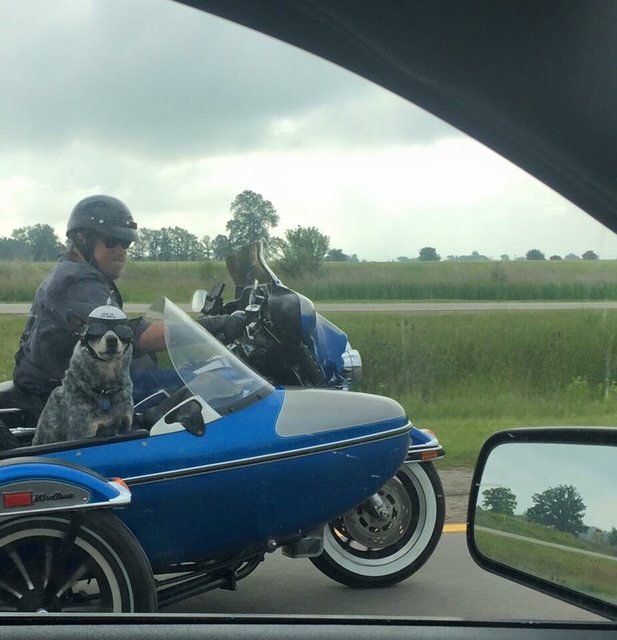 ---
LOOK, MOM! NO HANDS!
Moving furniture around is a daunting task - while normally that involves a truck, or a car at least, this person decided he does not need any of that. I sincerely hope he did not crash, cause that is some circus level stunt. I also get to wonder - did he do that to protect the environment?
---
SNAKE!
People leaving their pets in the car is not an uncommon sight - although it is something we do not suggest, as it can lead to suffocation. However, usually, there are doggos, maybe cats...but a snake? Seeing a snake in the car by itself is strange enough, but a snake roaming freely? We suspect that the snake might not be a pet, but simply sneaked into the car...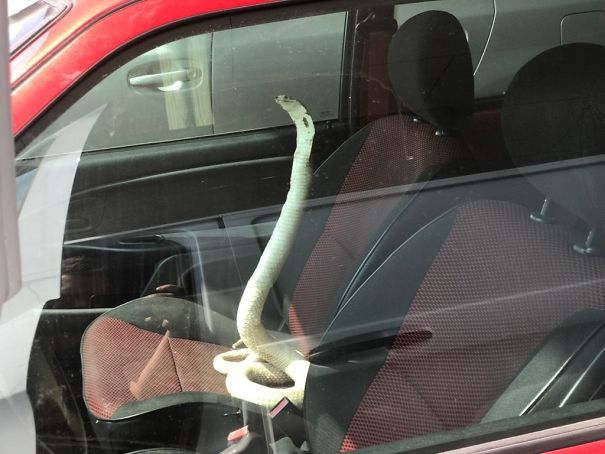 ---
CAPTAIN AMERICA
Now, cosplaying is getting common these days - wearing a costume to Comic-Con is a great way to have fun.  However, normally it is limited to the costume only - yet this man took it to a different level with a matching motorbike. I wonder if he rode it into the venue as well.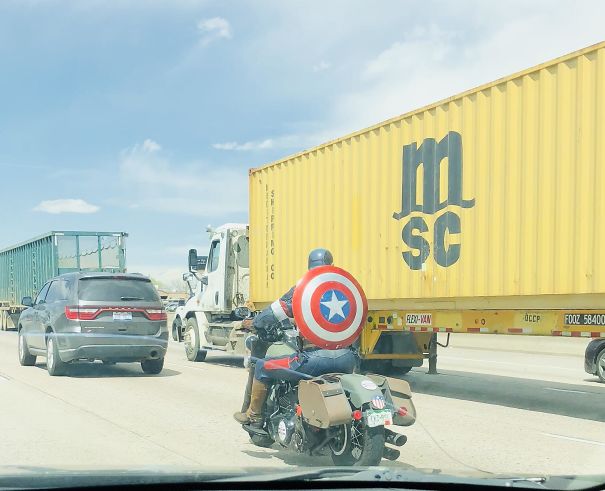 ---
ROCKET?
Despite the fact that Rocket from The Guardian of The Galaxy keeps insisting he is not a raccoon, I personally think he actually is...or was. Here on earth, a raccoon is having a comfy ride with a man on a truck, or van...looking happy and all...perhaps this is what Rocket really needs in life, to be cuddled.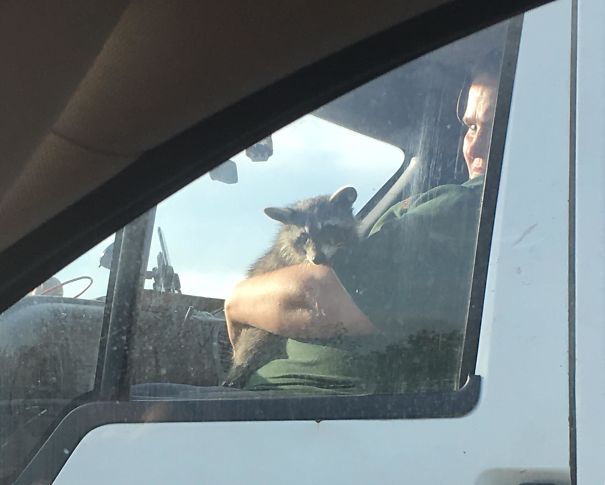 ---
A CHRISTMAS CAROL
The holidays make people experience so many feelings, and often bring the best in them. But they also make people do some weird things. It seems like the Grinch and Rudolph are some of these people. Definitely, these guys definitely helped to spread the festive spirit.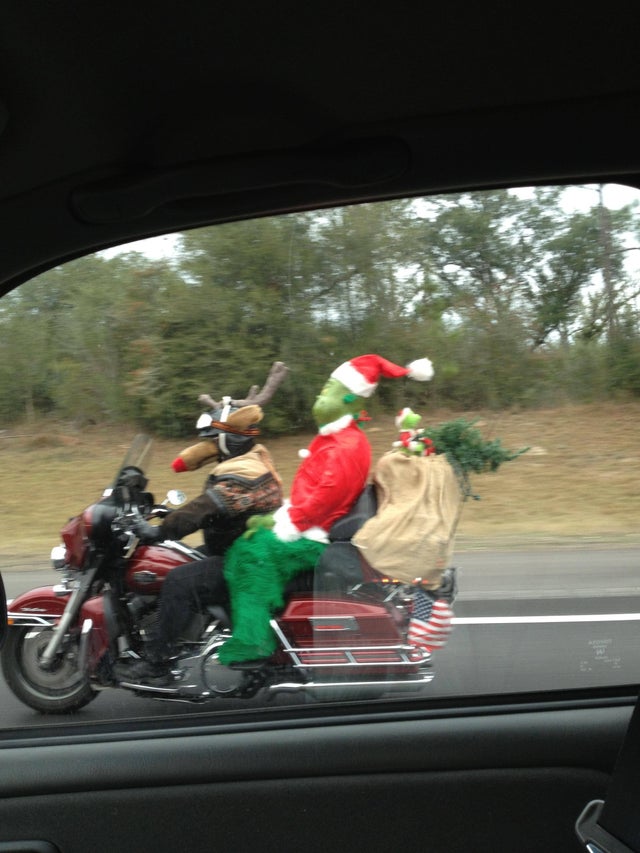 ---
THIS TRUCK WILL ROCK YOU
There are only a few songs that everybody knows. One of them is definitely Queen's iconic song 'We Will Rock You.' Why not write your favorite song's lyrics in the back of your truck? It's even funnier if your job is to transport rocks!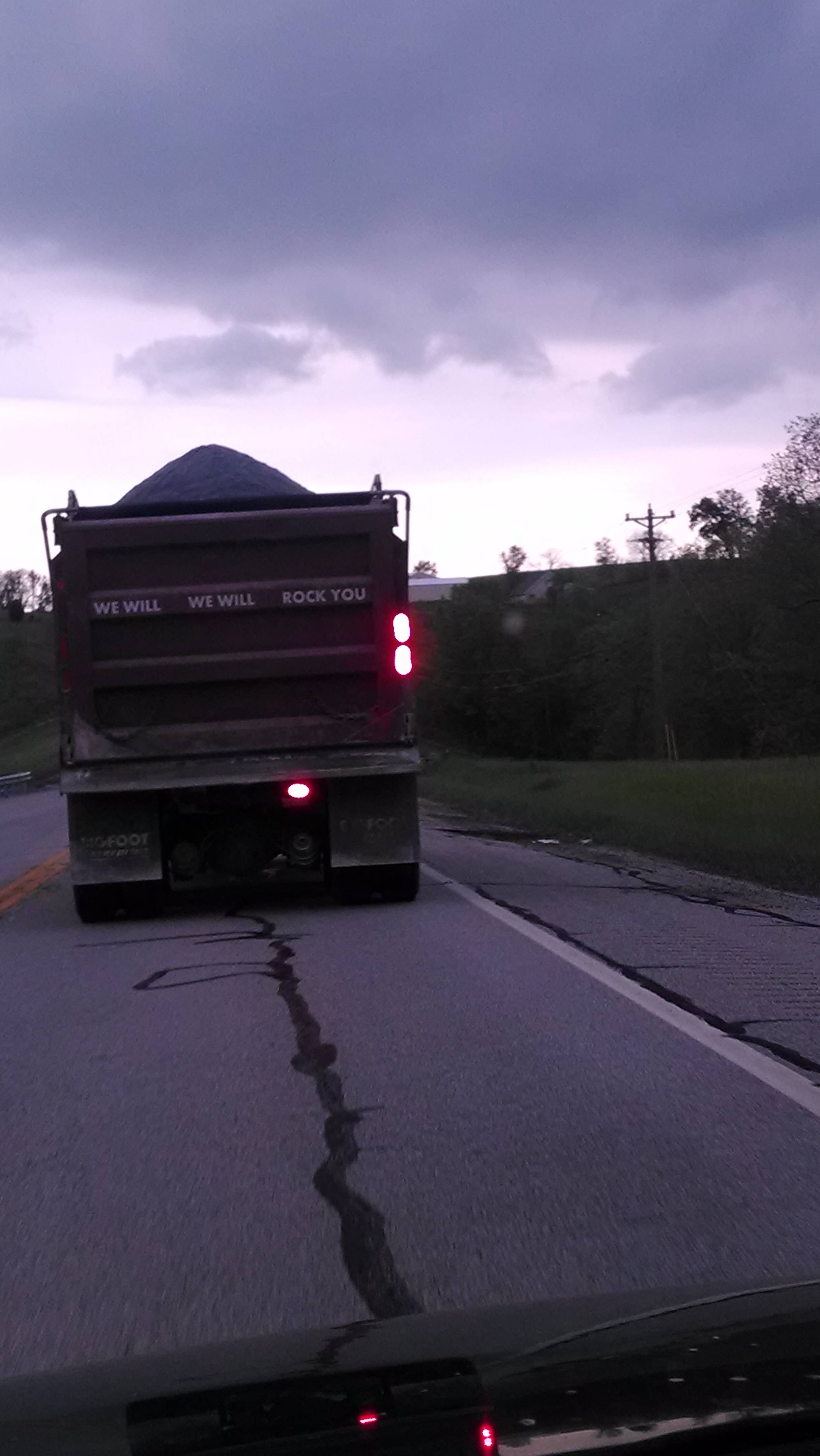 ---
DRIVER, THE VAMPIRE SLAYER
A jeep that is carrying tons of sharp, very thin logs has been spotted on a freeway. It was weird enough to see this amount of stakes in one place. But the funniest thing about it is the message under it. The text below says 'Vampire Slayer For Hire'.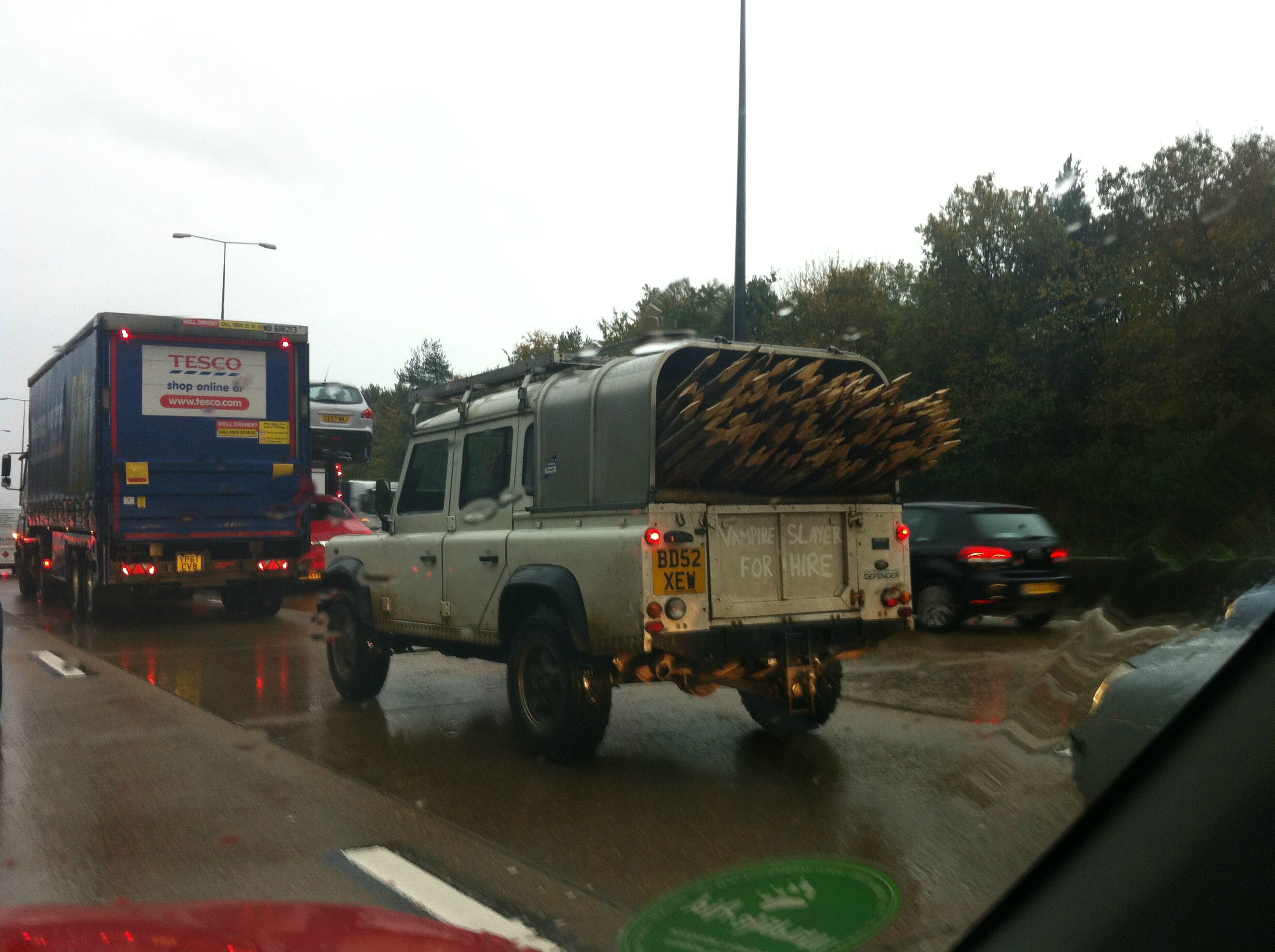 ---
ROMAN EMPIRE?
At first glance, we can be confused and think that we were transported straight back to the Roman empire. But we weren't, it's just a super creative vehicle. If we look more closely, we will see that it is a bike with a very unique design.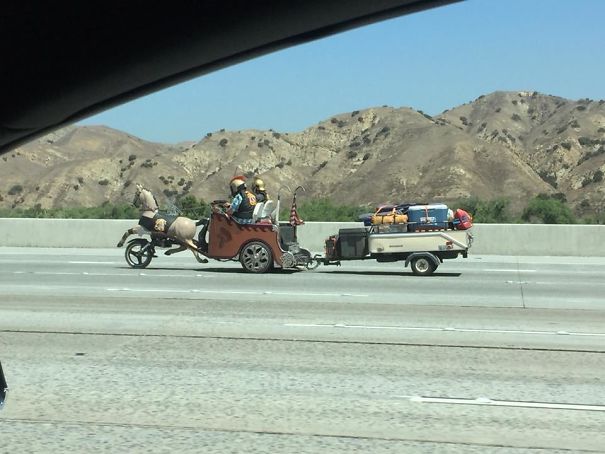 ---
ONE AND A HALF CAR
Everyone knows that anyone who has a convertible loves to show it around. But who doesn't have a car like that? But have you ever thought that you can have a convertible and a half? This driver decided it would be even more incredible. That was the result.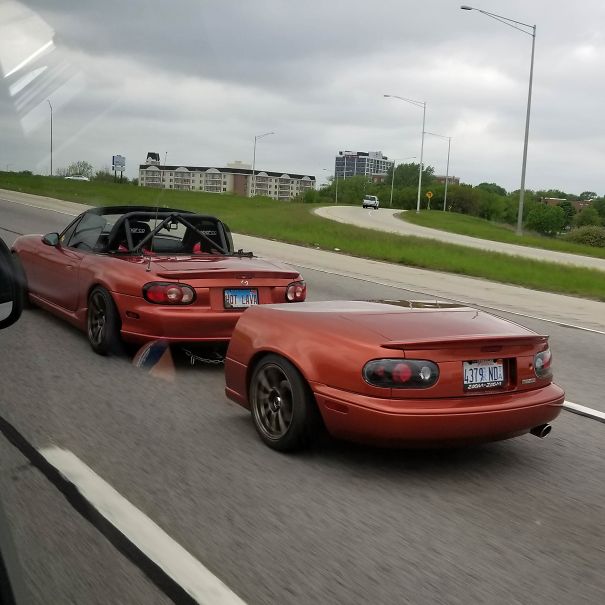 ---
CATS WILL RULE THE WORLD
At first, your focus may be directed to the enormous cat playset attached to the top of the car. It definitely seems like a lot of fun for a cat. But where is the cat? Oh, wait... the cat is behind the wheels! We all know that cats are smart, but driving is just too much!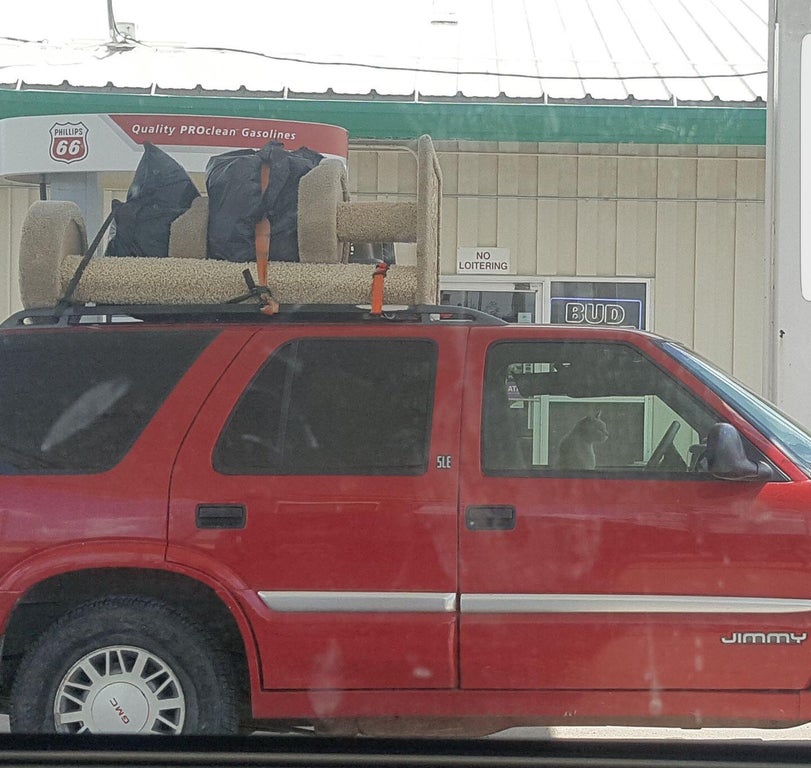 ---
SILLY ROAD PUNS
Most puns make you laugh, even if they are bad. There is just something about them that is so funny. And this one found in Utah is just hilarious and will make every road trip better. Texting behind the wheel? Cell no. Don't text and drive!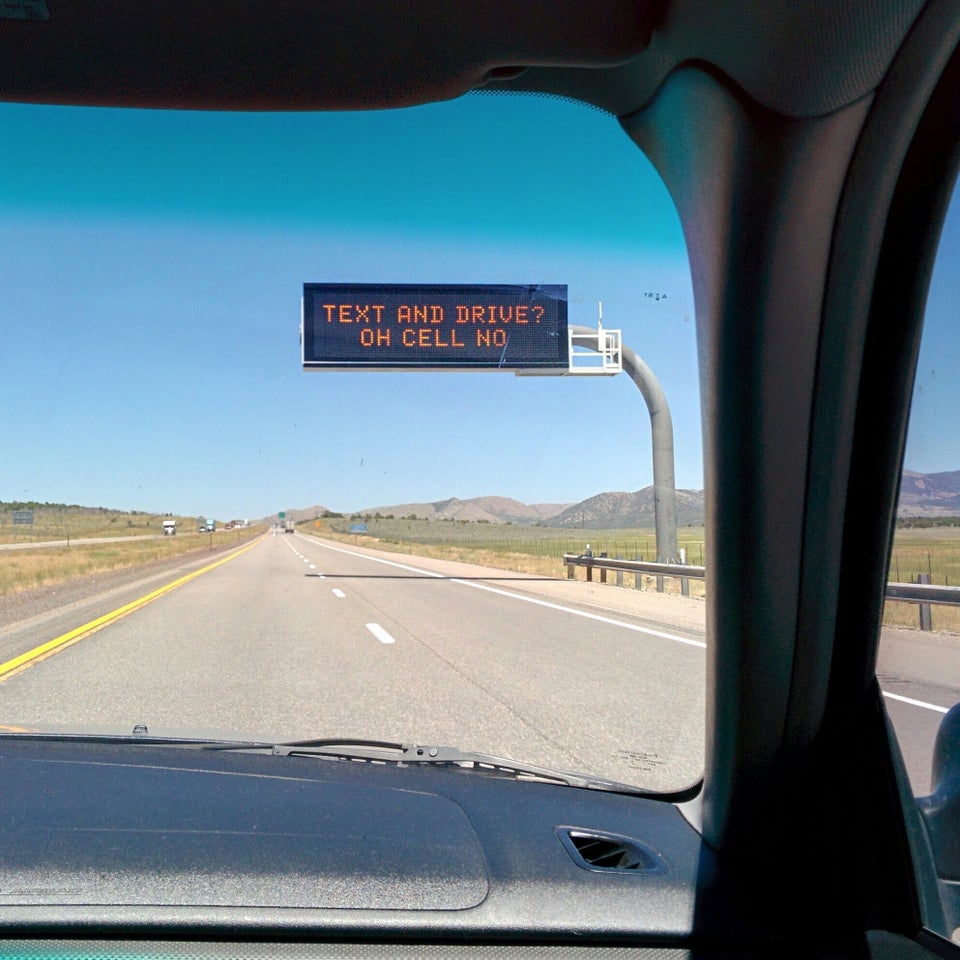 ---
REAL-LIFE TOY STORY
This driver managed to bring one of the most iconic kids' movies of all times to life. Buzz Lightyear and Woody, the two protagonists of the Toy Story movies are also the protagonists of this amazing car accessory. Sometimes life really imitates the movies!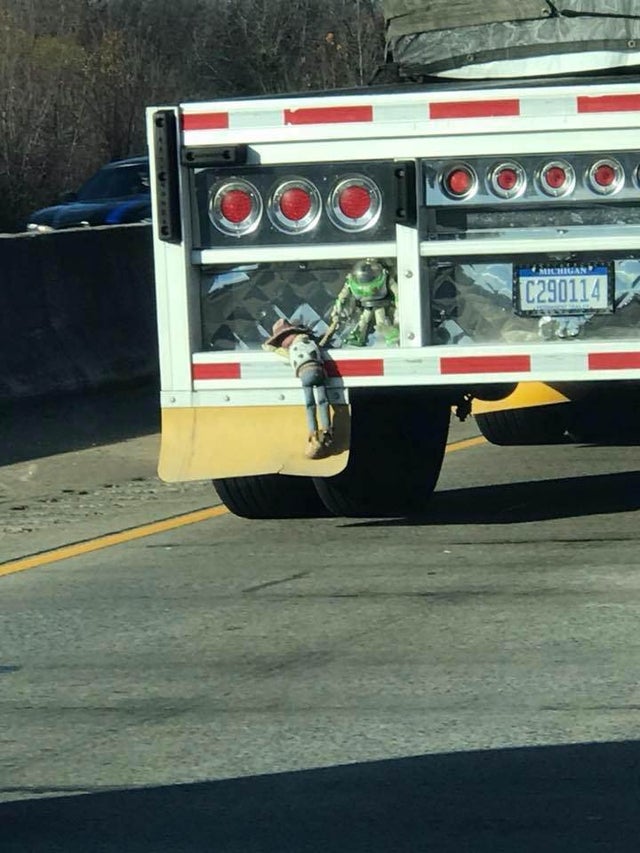 ---
TOO MUCH FURNITURE 
Was that person serious when they filled this truck with...sofas? It seems like a scene straight out of a cartoon, just before things go sideways. We can't even count how many sofas are on this vehicle. Just make sure you don't drive behind it.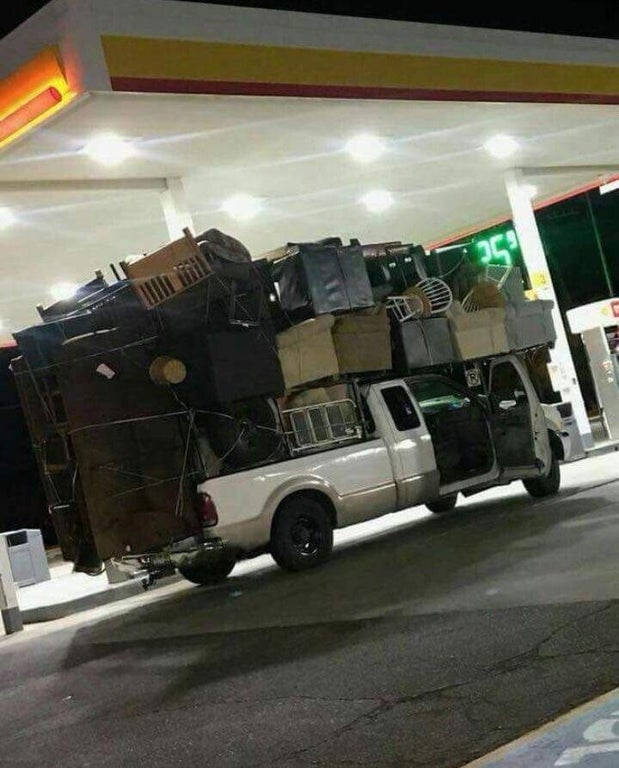 ---
HANGING WITH FRIENDS
An Instagram user posted this funny scene that happened in a Nigerian highway. To have four men quietly seated at a dinner table in the back of a pickup truck is definitely one of the weirdest scenes that can happen on a road. But believe it or not, it's not that uncommon.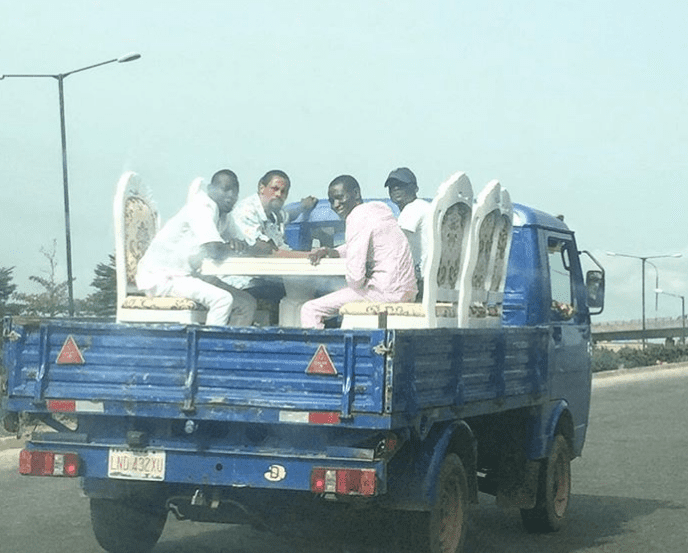 ---
FORGETFUL DRIVER
Apparently, this driver forgot to close the hood of his car after a checkup. But the real question is, how did he continue to drive after that scene? We hope it hasn't caused an accident. Maybe the driver has x-ray vision.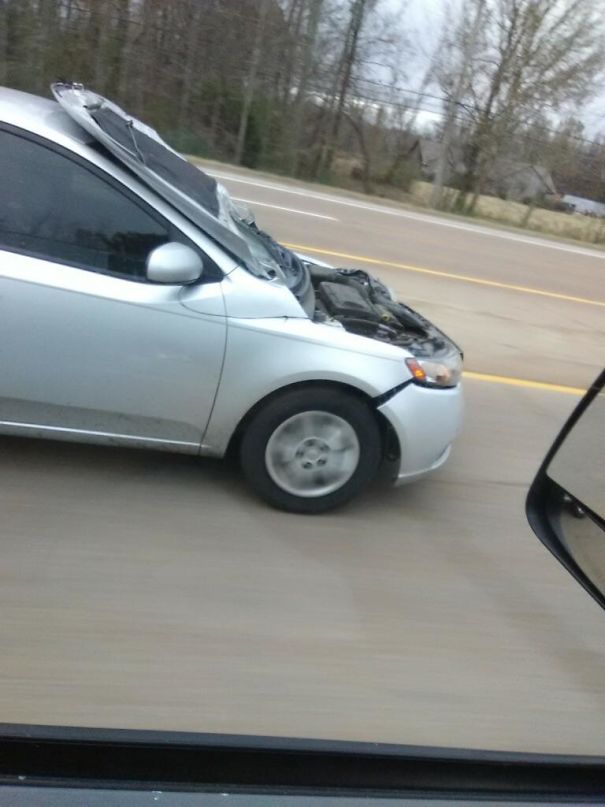 ---
BATMAN, LICENCE AND REGISTRATION!
Roads can be dangerous, especially on long journeys. But you would certainly feel safer if a superhero is by your side, wouldn't you? This person managed to travel with Batman. Was he on his way to save the world? Unfortunately, he was still pulled over by the cops.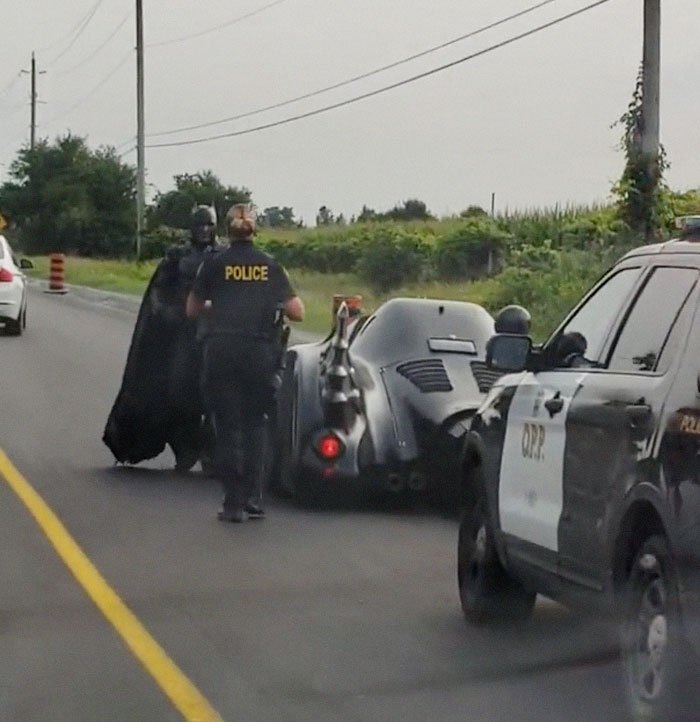 ---
MESSY ACCIDENT
According to the workers on the road, they were on a 5 lane road where two lanes are blocked off and this lady runs over 3 barrels, drove on the very right lane here, and runs it all the way down until her car completely sinks into the wet concrete. And the funniest part is that all of these happened while every single one of the guys was screaming "STOP!"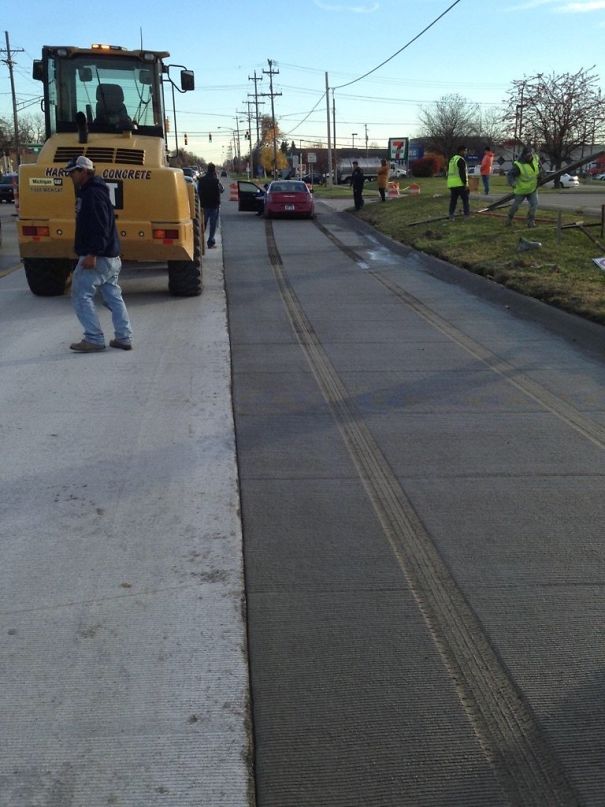 ---
HANGING BABUSHKA 
Although this tram has a ladder at the back, we believe that the intended use is probably not what is happening in this photo. What is this babushka doing hanging there in the middle of the traffic? We might never know!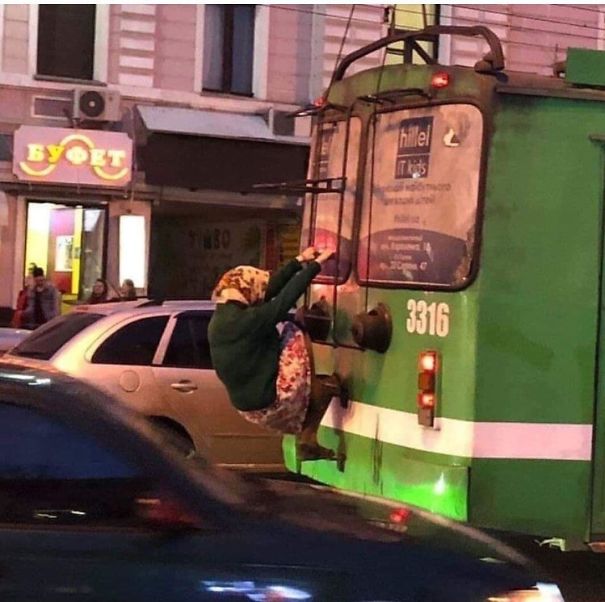 ---
WEIRD PASSENGER 
Your trip can be stressful, but it will never be as stressful as that of those who are carrying a wild feline as a passenger. But if you look closely, it seems to be well behaved in her seat. The animal just forgot the seatbelt!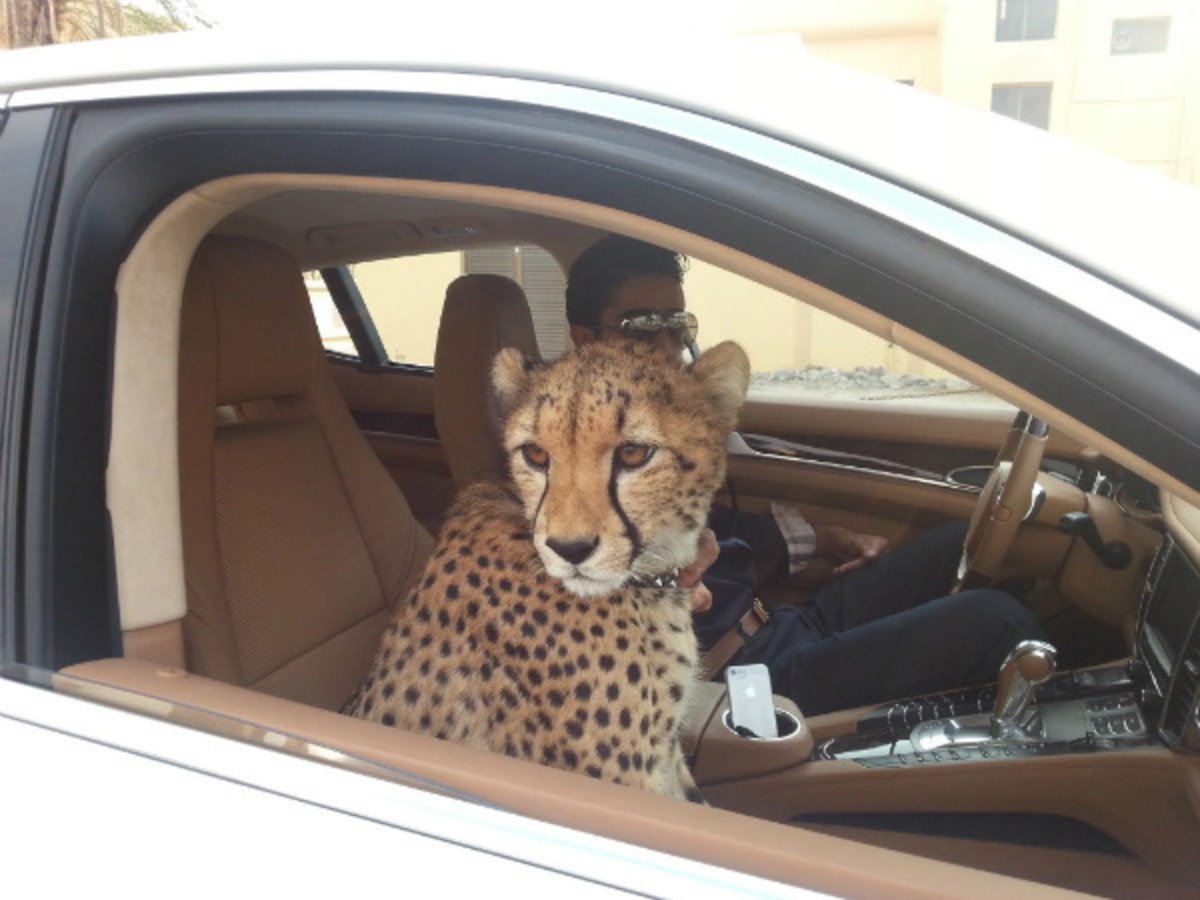 ---
THE TICKLER
This person thought sitting and putting her foot out of the window of a car would be a pleasant idea. But something that she didn't expect happened. A biker riding alongside the vehicle had a brilliant idea: he decided to tickle her! And the thing was so hilarious she had to record it.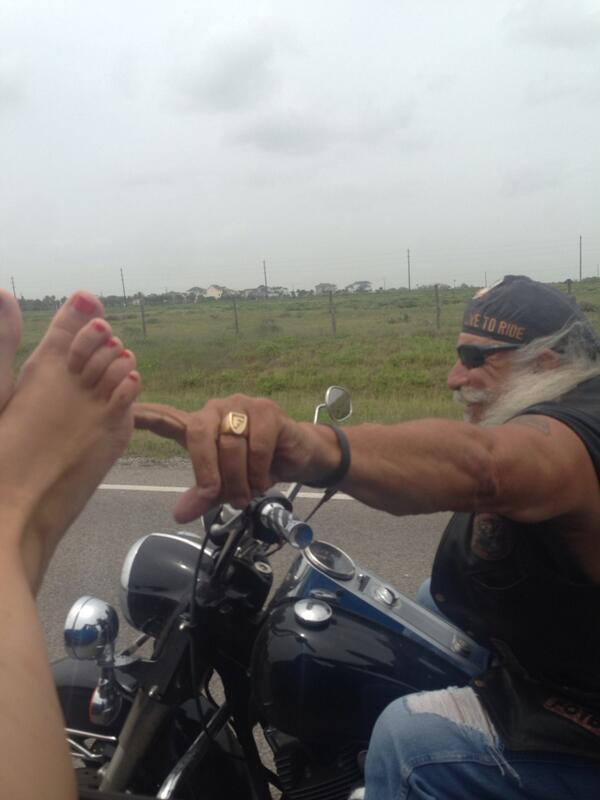 ---
ALIEN INVASION
This mysterious moving vehicle was captured on the road and even had a license plate. Alien invasion? Nothing like that! But certainly, the driver and the two passages are "aliens". Let's hope that this is not the start of an alien invasion!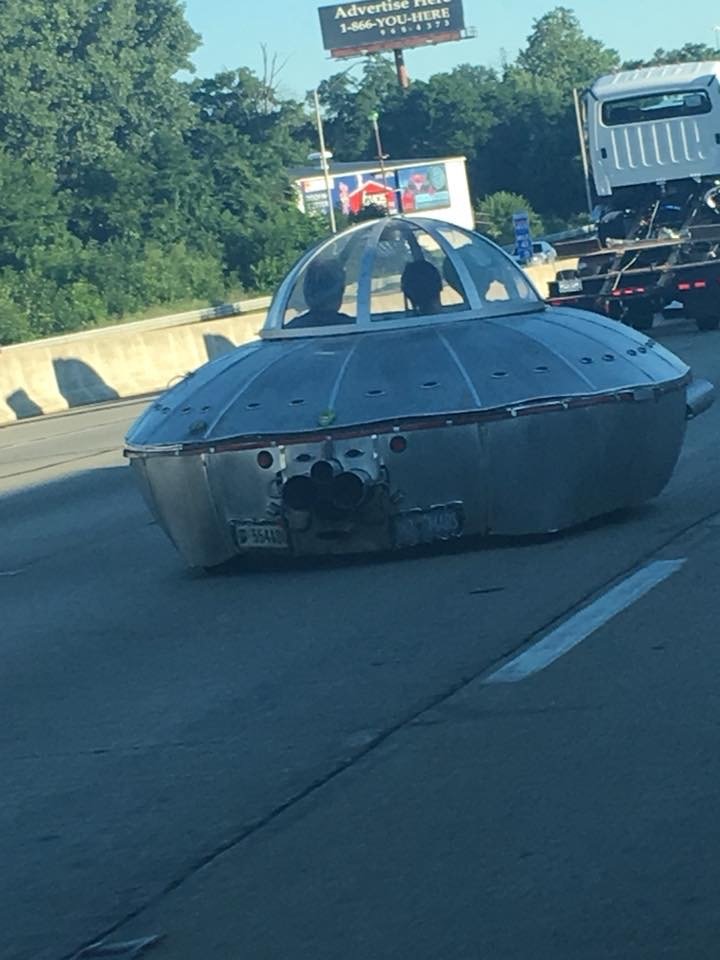 ---
IMPOSSIBLE CHOICE
Driving is hard sometimes, and some things, like these two trucks, make it even harder. The truck on the left says 'Do not follow', but the one the right asks people to 'keep left'. This seems like an impossible decision! Maybe it's better to just park the car and give up driving altogether.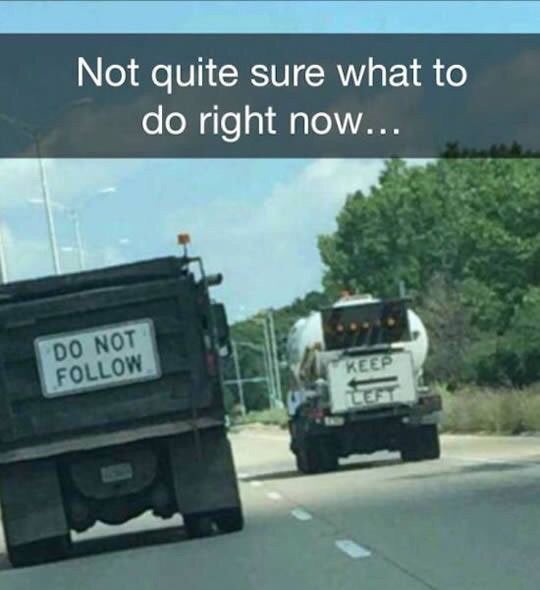 ---
WINGS
At first sight, I thought this is in Eastern Europe - as I have witnessed plenty of similar things in that part of the world. As it turned out it was in Pennsylvania. While normally the ladder would be attached to the luggage rack on the top.
Since there's none on this car, the driver simply slid it over the backseat. Too long? No problem - will let the doors open. This is the time when the line between genius and stupidity gets very blurry.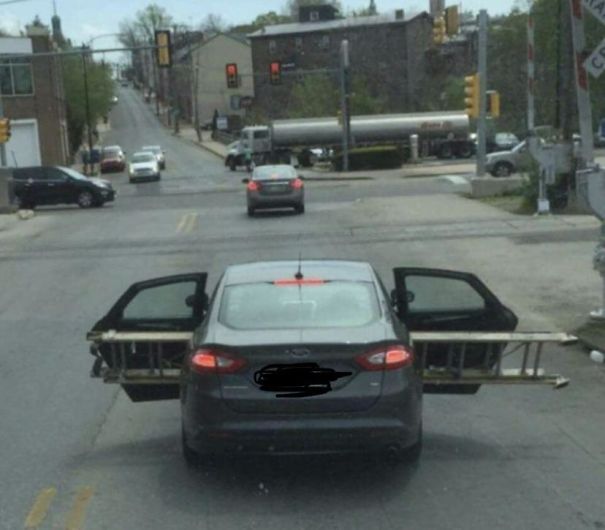 ---
DESPICABLE HIM
If you aren't convinced that the minions are trying to rule the world with Gru, you should think again after seeing this picture. In Dublin, this big minion chose to lie down in the middle of a road making the traffic go crazy. Despicable him!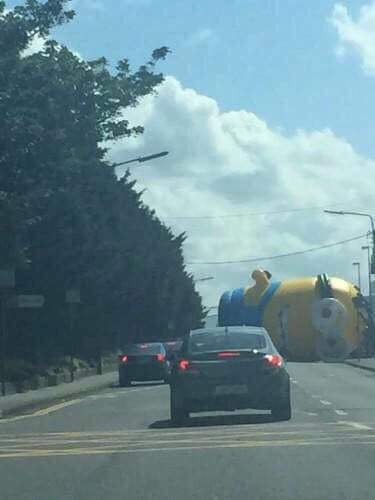 ---
THE NATURE CALLS
Sometimes mother nature needs to act, even if that means to take a whole lane of the road for it. This mother decided it was time to publicly nurse her babies. However, she should have chosen a better spot.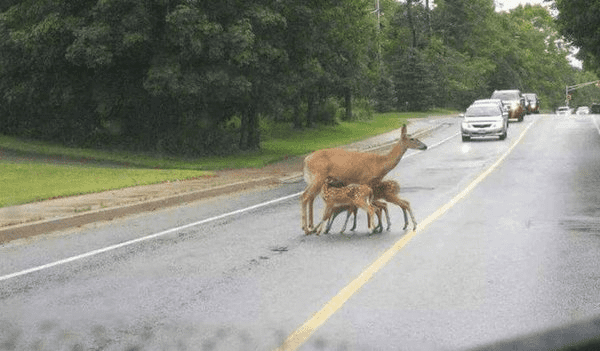 ---
SUPERFAN
Some people love decorating their cars with things they like. But there are some drivers that go way too far when it comes to customization. This driver is obviously a huge fan of Spongebob as we can see by his Patrick tires.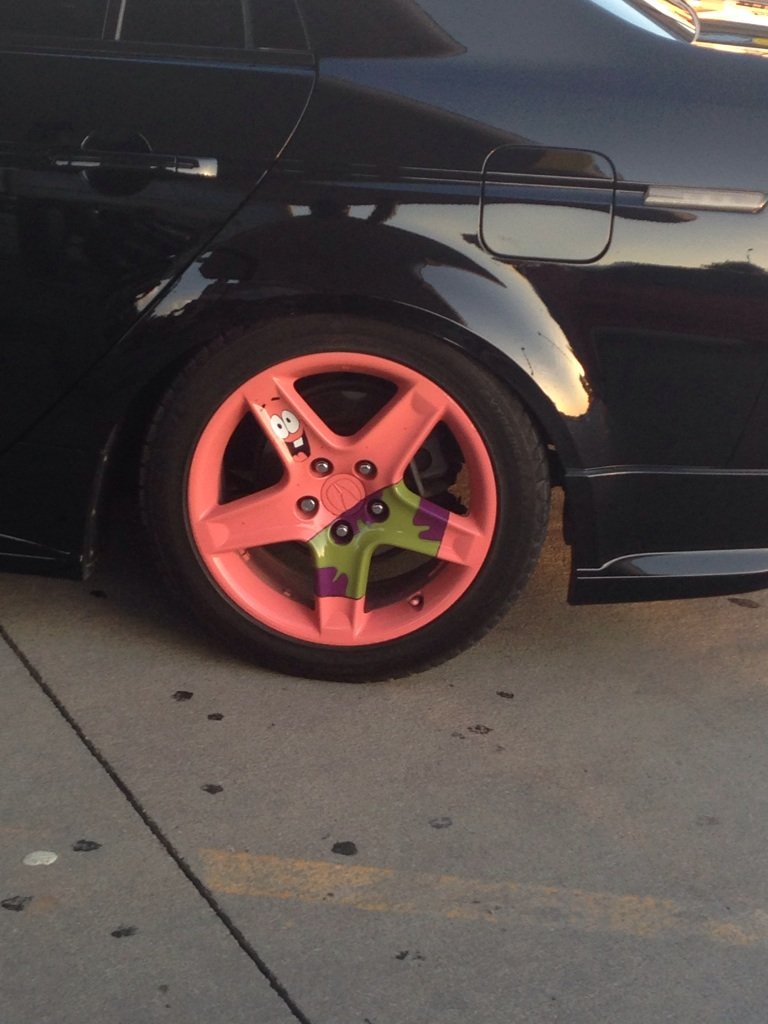 ---
PLEASE FUR-GIVE HIM
We all know that accidents happen. But sometimes it's the driver's fault. In this specific case, it's im-"paw"-ssible to believe that this adorable driver was guilty. Obviously, he will pay for all the damage, it's the "leash" he can do.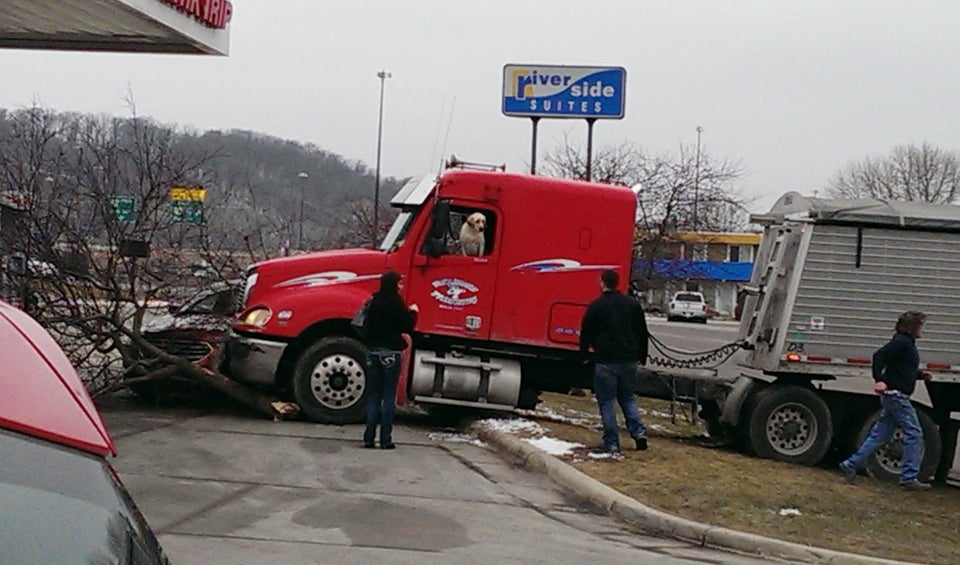 ---
THE COLD NEVER BOTHERED ME ANYWAY
The feeling of driving a convertible in the summer is amazing. Yet, in the winter, with heavy winds and snow, it's not that fun. However, this driver in the picture clearly didn't seem to mind the cold. He just likes to enjoy his car all year.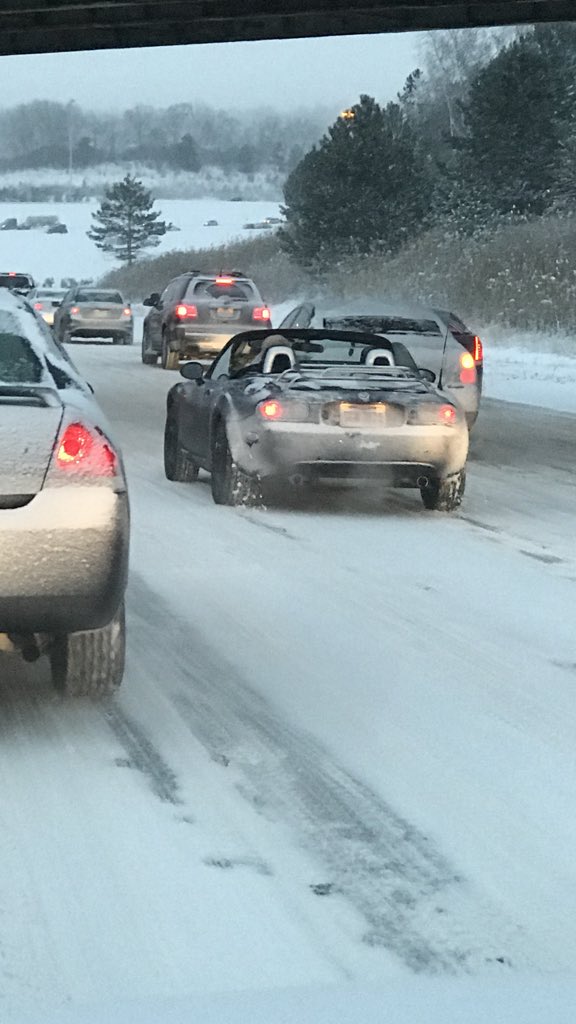 ---
TRANSPORTING METAL BARS
Transporting metal bars can be tricky without the right equipment. They are long and are dangerous for those driving behind. So you have to be careful. But this driver managed to improvise a solution. Will it work? Probably not.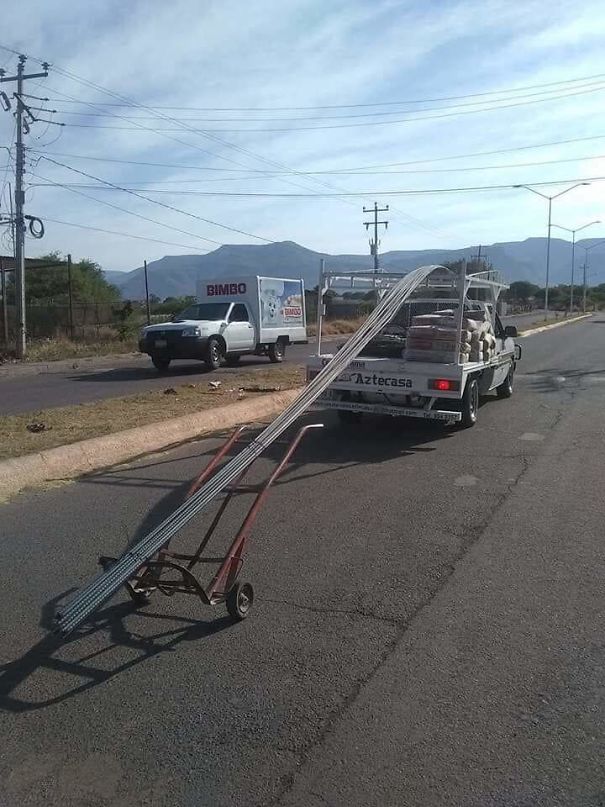 ---
MORE INCORRECT TRANSPORTATION
Other incorrect ways to transport objects on the road, and we find this image. Doesn't this driver know that this is the worst possible way to transport it? Please, someone, tell him it is wrong!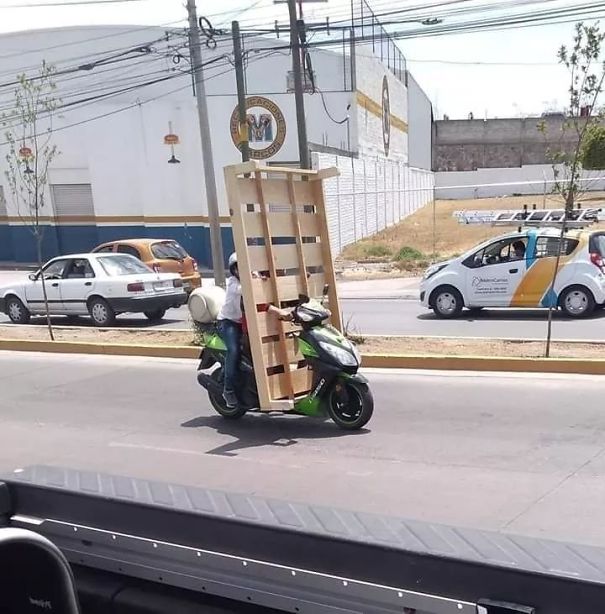 ---
BEWARE THE WILD ANIMALS
When we are on the road, we always find signs that we must be careful with wild animals, such as deer. But would you imagine finding them alive in the back seat of a convertible? Hilarious and unexpected, to say the least.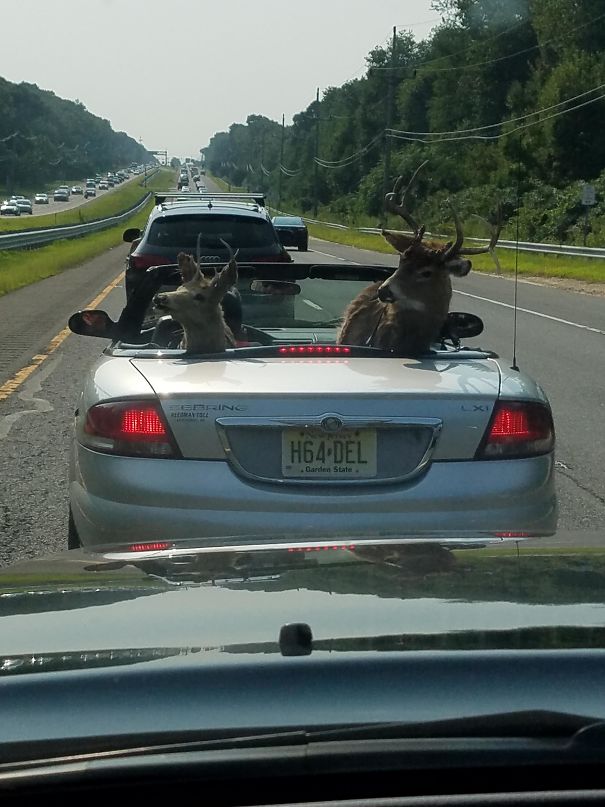 ---
SOMETHING IS WRONG
Did this driver decide it was a good idea to drive without his wheels or did something just happen along the way? Either way, it might be a good idea to make a stop. And, obviously, call and ask for some help.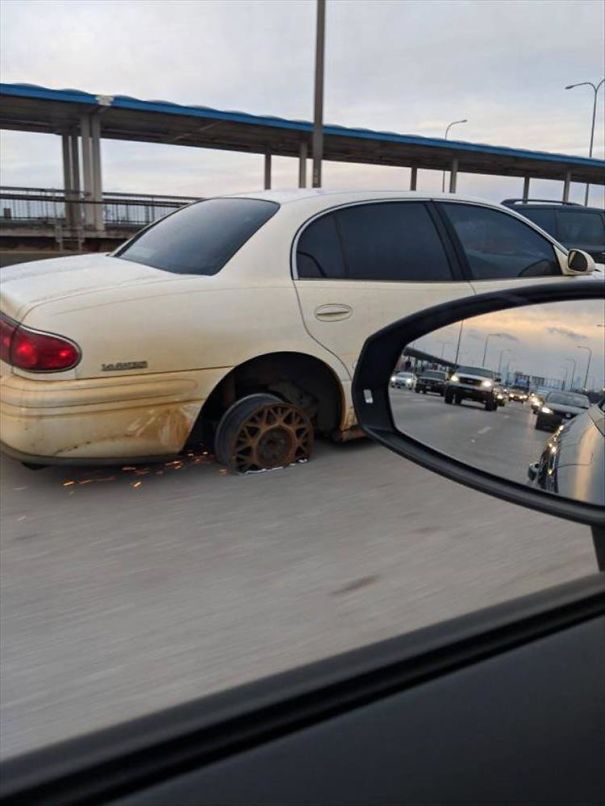 ---
CAR FUSION
Well, when a car and a truck love each other very much...their baby turns up like this. Not great. Who thought the combination of a truck and a car was a good idea is completely wrong. It even looks photoshopped. But believe it or not, this weird car is real.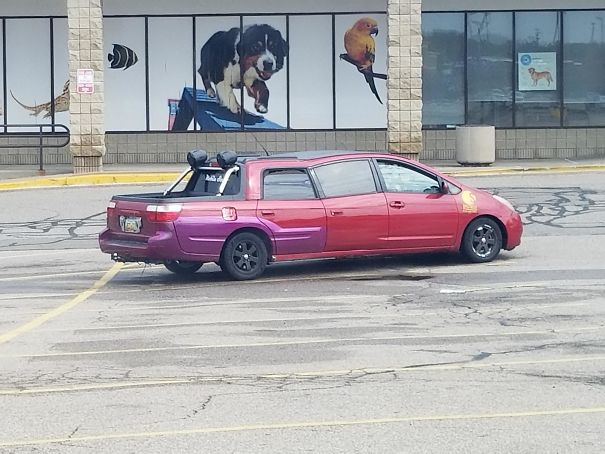 ---
ADORABLE EVIL PASSENGER 
Road trips are boring sometimes. But some things can really spice them up. This particular passenger with a really cool helmet is one of those things. And the best part? The helmet had a sticker on it which said: "Bad to the bone."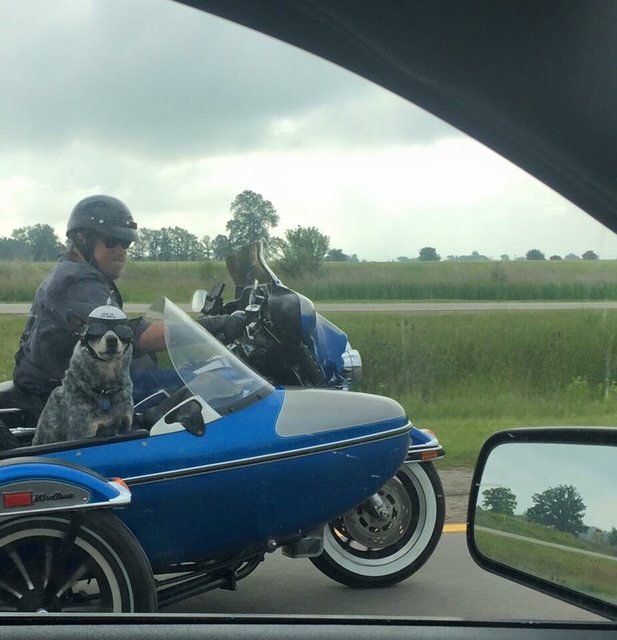 ---
DOGE
Perspective is all that matters - the same thing can be said about life, or simply about this picture. Since it is technically not possible for a dog to legally obtain a driving license, I suppose the driver was actually behind the wheel - he/she simply leaned back while this doggo is peeking out, getting some fresh air. (You can insert any meme or puns if you want to)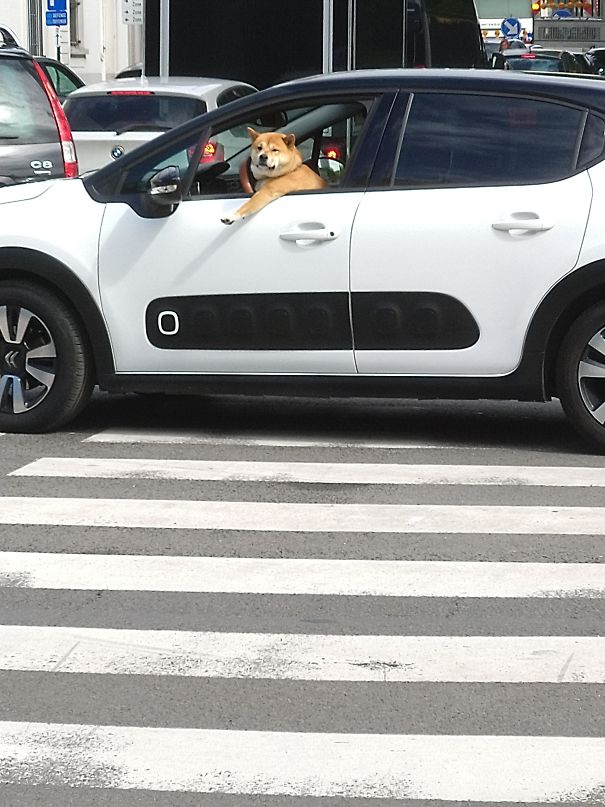 ---
THE SNAIL
This honestly looks like a terrible idea - however, I have personally witnessed things of this sort in Asia...but this one takes the cake. While technically this is a truck... this is a different kind of truck, ones that are not designed to carry this kind of cargo, in this way. But as the motto goes in Asia, if it works, it works...I guess.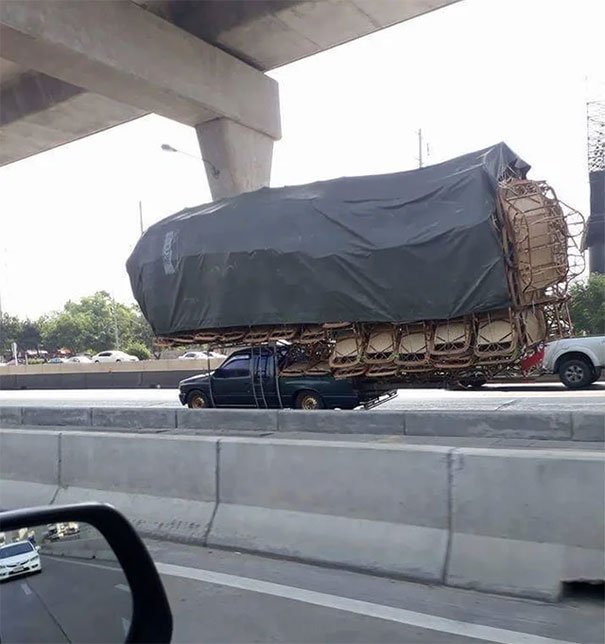 ---
CAR INCEPTION
This beautifully designed van was noticed by an individual driving down the road. This person may have once dreamed of owning a race car, but a van was all he could afford. So they decided to get a pretty clever paint job to make their dreams come true.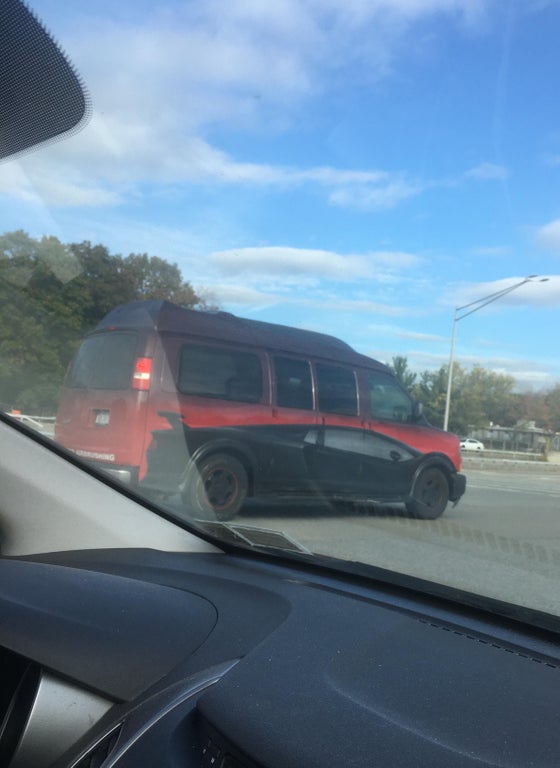 ---
ADULTS ON BOARD
Everybody knows car stickers and signs about the 'baby on board, right? Babies are wonderful and they're also a great excuse to get people to be more careful on roads. But these people want everyone to drive carefully, even if there is no baby on board.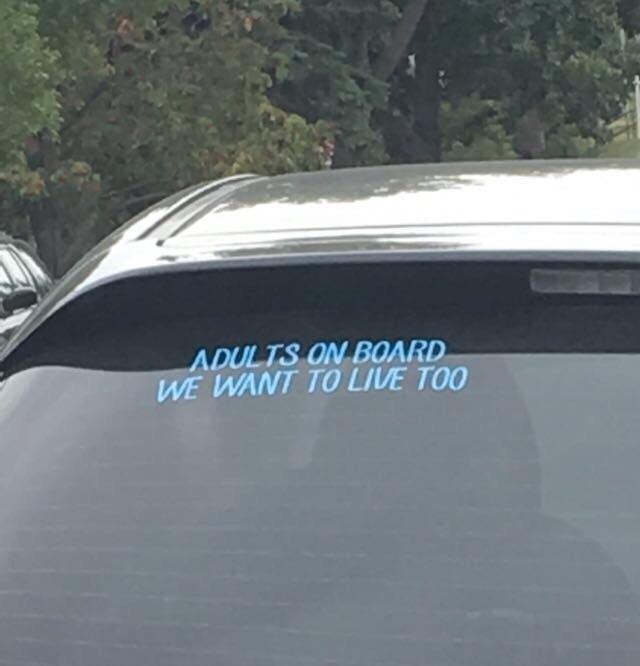 ---
LIVE ROAD CONE
Is that a road cone walking away in two legs? No, wait, that's just a person almost dressed like one. He is probably cosplaying. We wonder if he has any idea that he looks like part of the traffic. Not the best choice of outfit!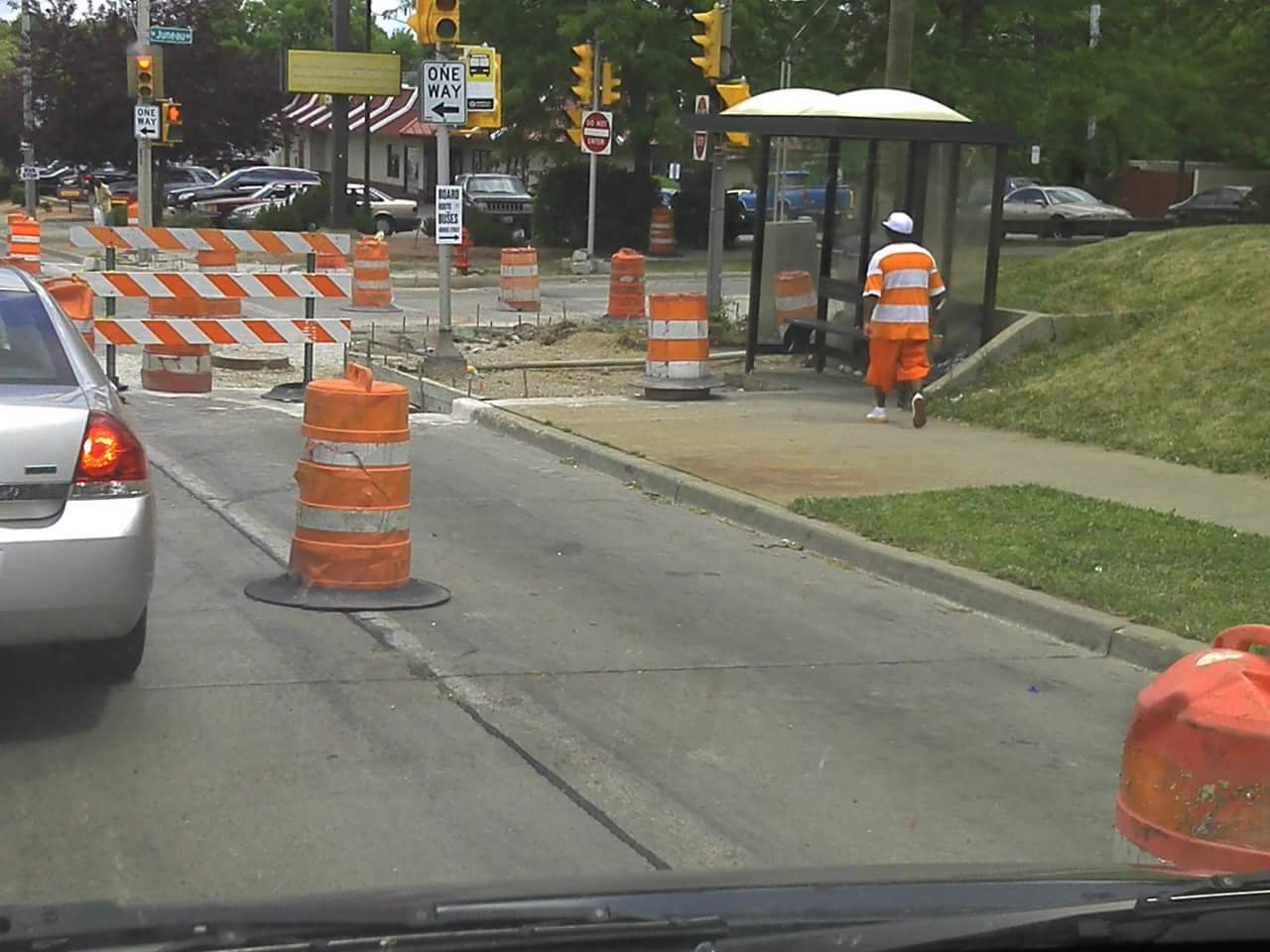 ---
THERE IS SOMETHING LEAKING 
For the guy who was driving this paint truck, it is probably his worst day at his job. It looks like he has failed to shut the paint pipe and a huge golden path is now down the lane. At least it looks like it was made by a superhero or a gold racing car.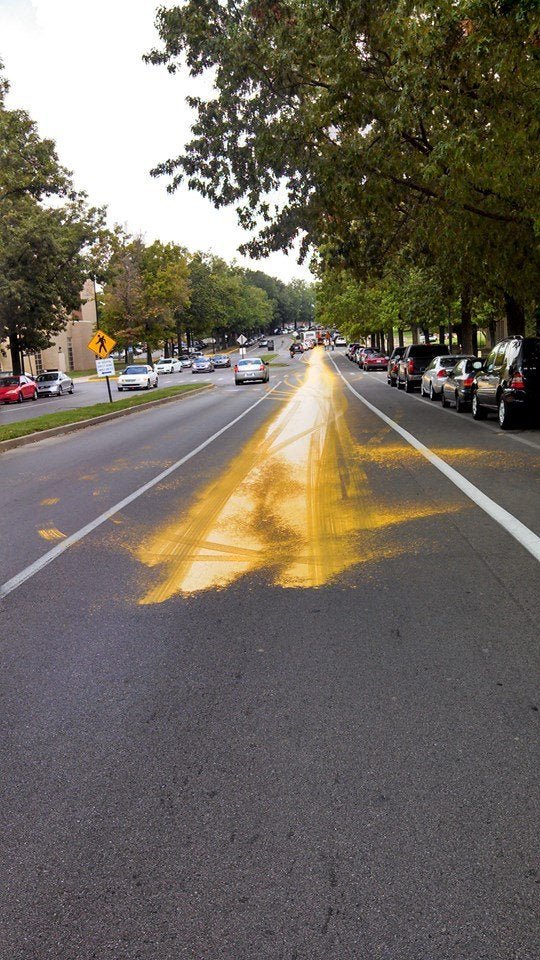 ---
MOTORIZED PIKACHU
Pokemon is one of the most successful franchises ever. And one of its most famous characters is Pikachu. Everyone loves him! But some people take this love a bit too far, such as this car owner who turned his car into one. But it's adorable, right?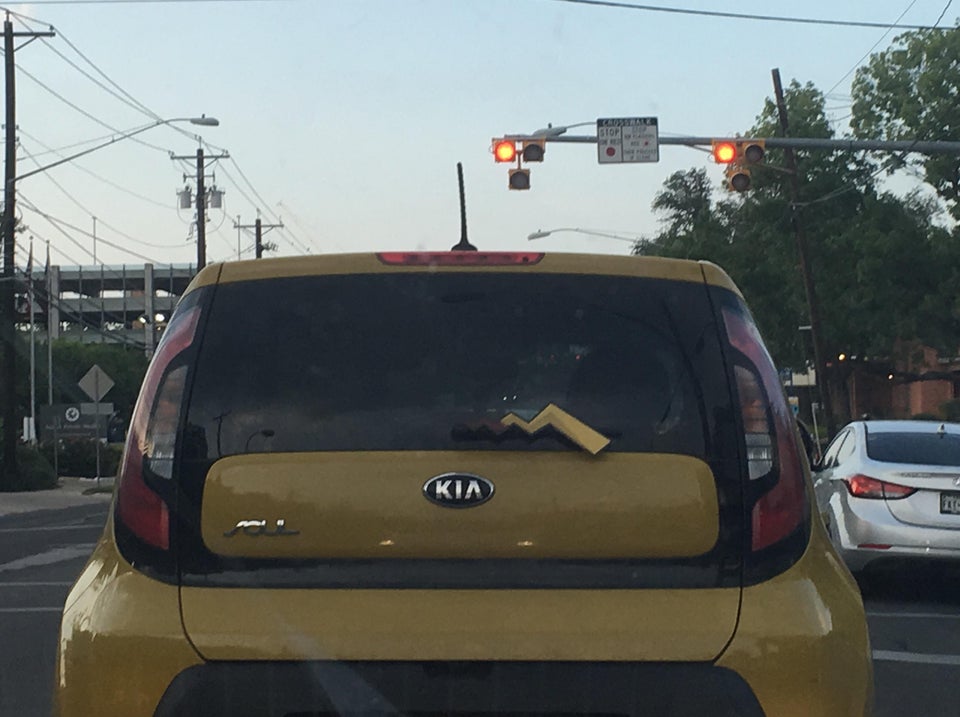 ---
NOT SITED FOR ROBBERIES
Clearly, this truck company has a wonderful sense of humor. They wanted to make sure everyone understood it wasn't the perfect situation for burglaries. They only have fifty bucks and you probably don't want to see them naked.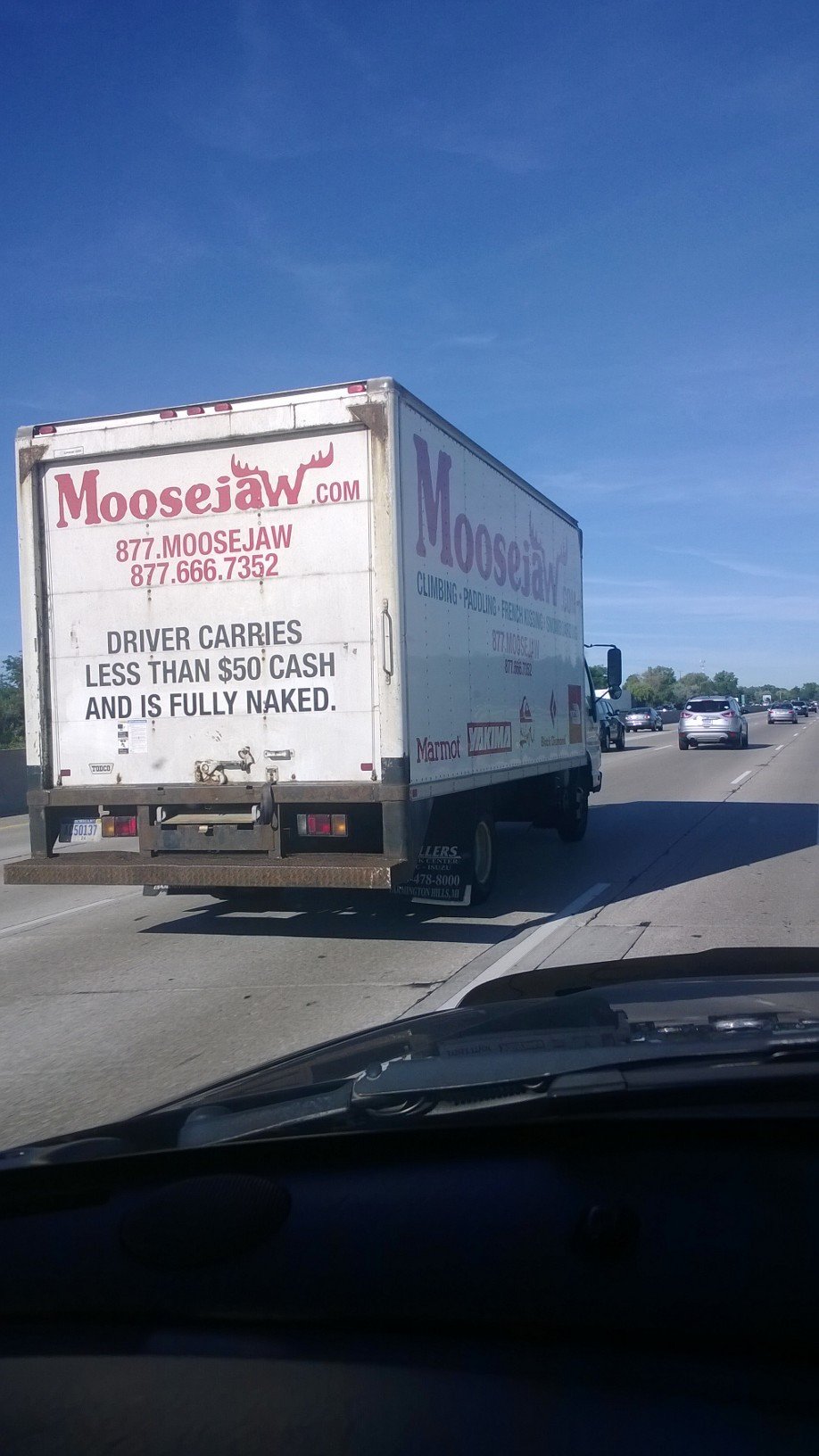 ---
REMINDER FOR THE DRIVERS
It appears that people have forgotten everything they learned during their driving course these days. And, as a fun and supportive reminder, this driver decided to give everyone a little reminder to help refresh their memories.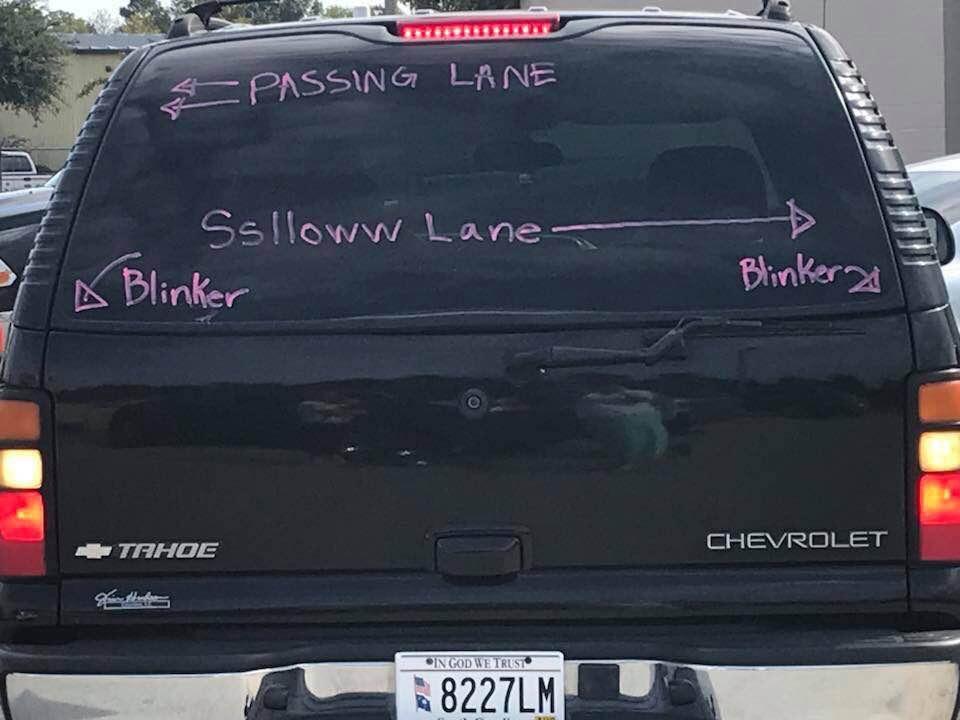 ---
FUTURISTIC BAT MOBILE
The Bat Mobile already has a super modern and technological design. However, this car looks like an even more futuristic and modern version of the vehicle. Where are the windows, glass, and doors? Only Batman knows.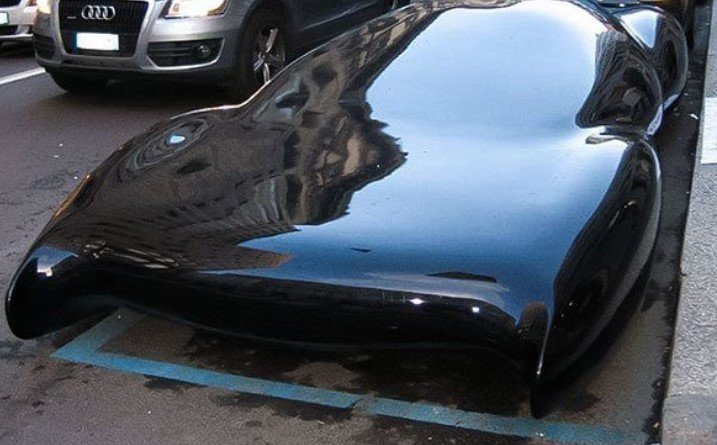 ---
DAMAGE MADE BY GODS
This driver seems to have stressed Thor in traffic, enough for him to deal some serious damage. You can't know if it was really a fight with the gods or the person simply wanted to hide the damage in the car in a really funny way.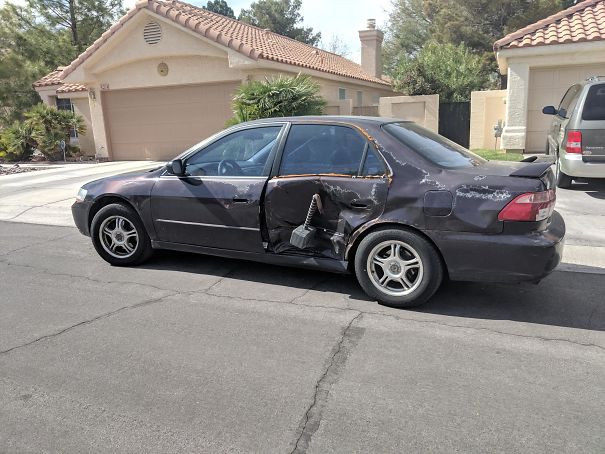 ---
TRUCK FACEPALM
We all know that someone only does a facepalm when they are very ashamed of something they did. So the question remains: what did this truck do wrong? We have no idea. But a truck version facepalm is very funny regardless.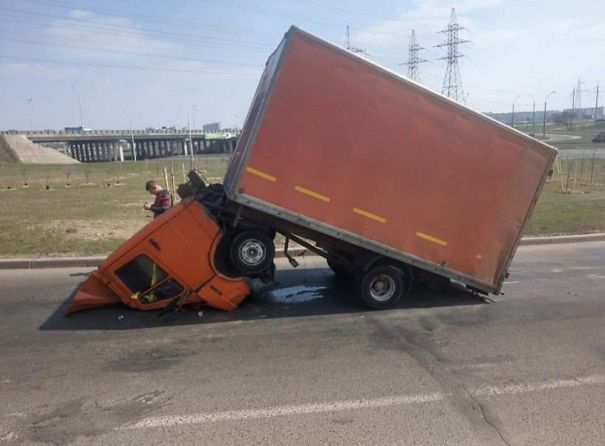 ---
DON'T TALK TO ME OR MY SON EVER AGAIN
Roadtripping is so much much fun sometimes. Especially when you see interesting things along the way. For example, the person who saw this funny scene definitely had a good laugh about it. A tiny truck attached to a big one. It looks adorable!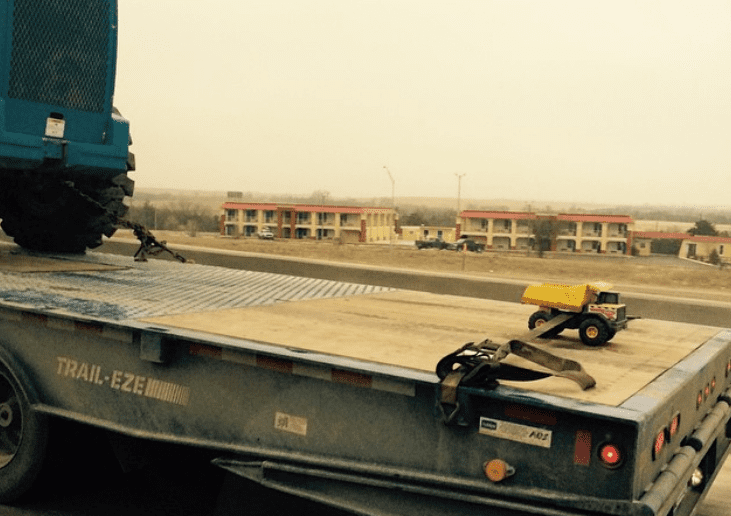 ---
WEIRDLY SCULPTED VEHICLE
Upon finding this car on the road, the person who took the photo was certainly very confused. Is this a vehicle, a historic monument, or a sculpted rock? It certainly looks like a lost relic from the ancient time. Bizarre, for sure.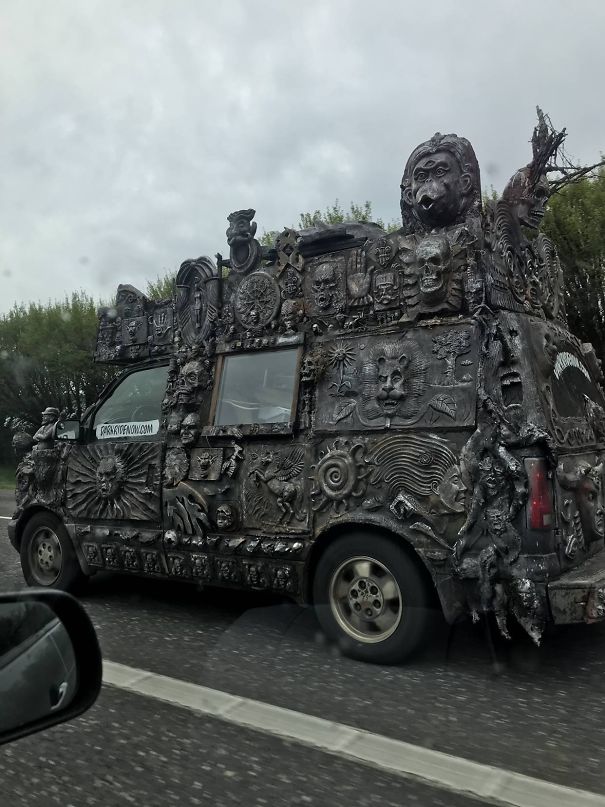 ---
TOO MUCH SNOW
Okay, we all know that cleaning snow from your car is not easy. Sometimes when we are in a hurry, we leave more snow than necessary. But this driver crossed the line, as we can see in the photo. How could he even back up?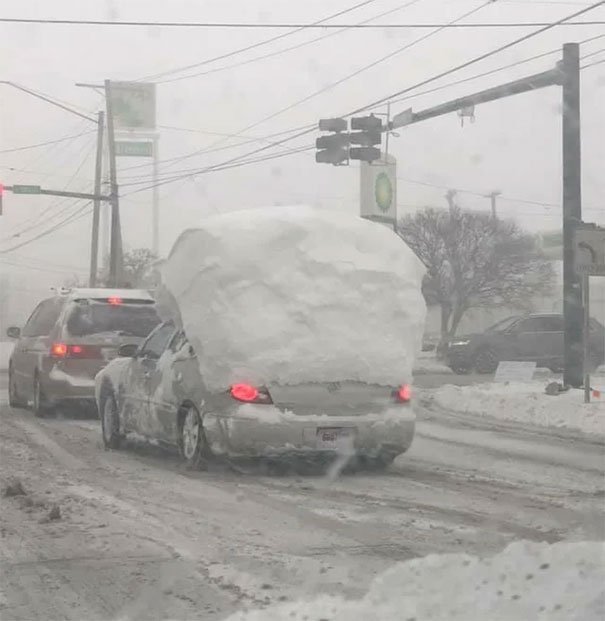 ---
THOR LOST HIS HAMMER, AGAIN
This other driver decided to move Thor's hammer. But apparently, the size is a little bigger than we think. Well, but maybe he's right. It is a hammer of a god, after all. But did you realize that this may not be the best way to transport this?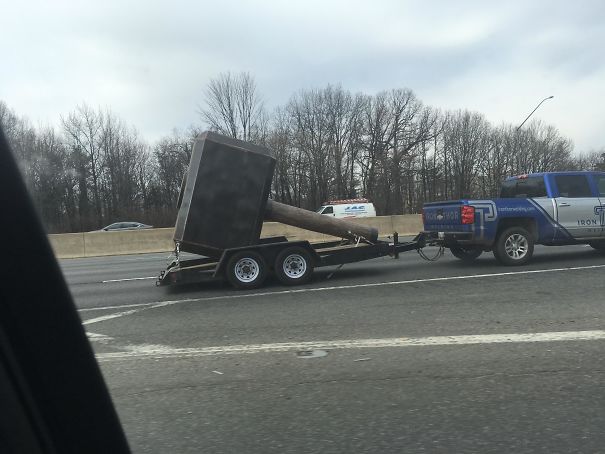 ---
SKATER CAR
For most skaters, riding a skateboard is life. But sometimes they go overboard with it, pun intended. This skateboarder apparently mistook his car for a skateboard and decided to make a radical maneuver. The result is hilarious.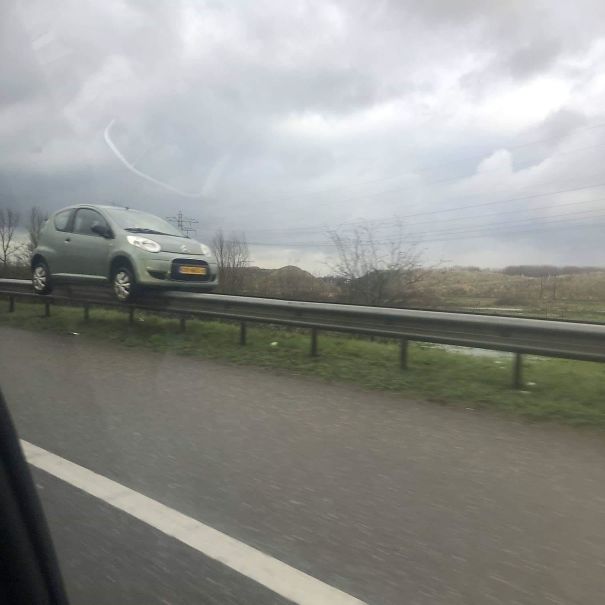 ---
MISPLACED HYDRANT
Is this driver saving his own hydrant just in case? Or worse, did this object end up between the wheels of his truck by accident? We will never know what happened on that road. But we wonder how this person will fix it.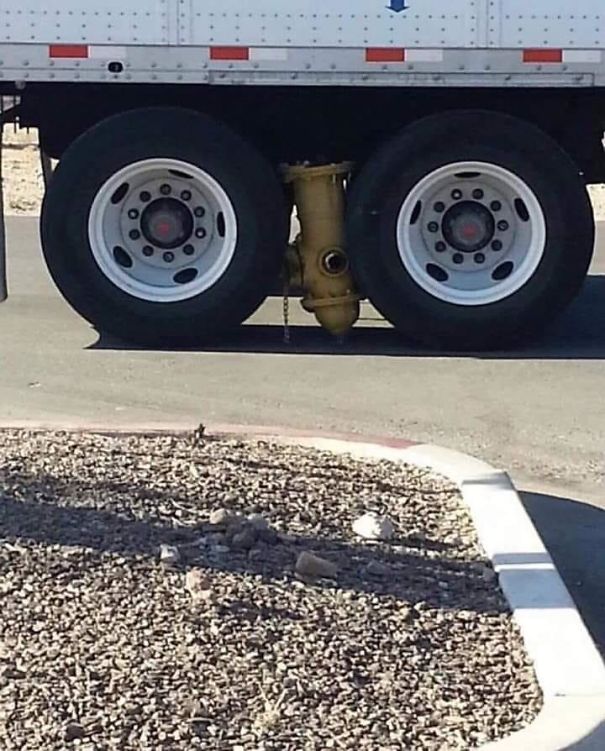 ---
OVERLOADED CAR
Too much cargo and not enough space? Usually, we take on more trips. But this driver thought the best option was to take everything at once. In a small truck. It certainly didn't work.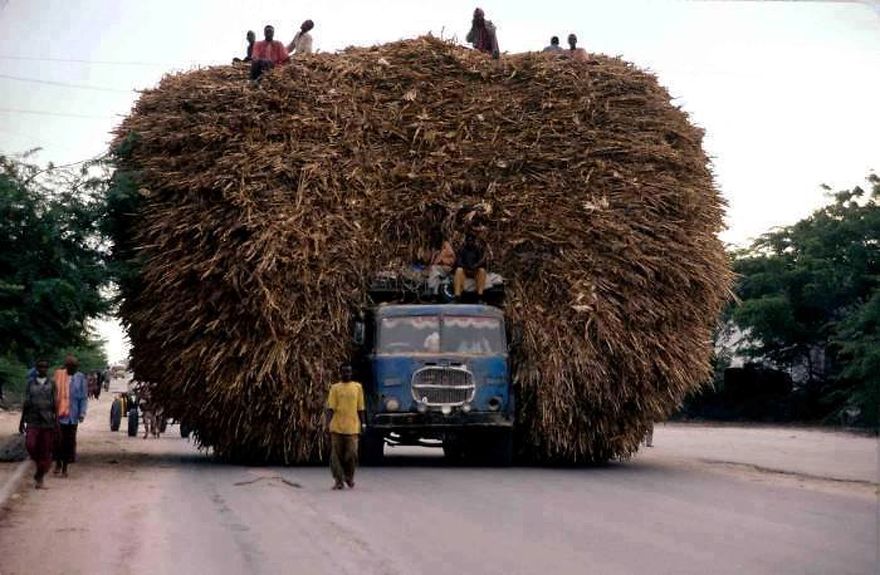 ---
UNUSUAL MOD
This driver decided to increase the speed of his car and improve the aerodynamics by making some modifications. However, he ended up with a vehicle that is, bizarre, to say the least. Was it worth it? We hope so!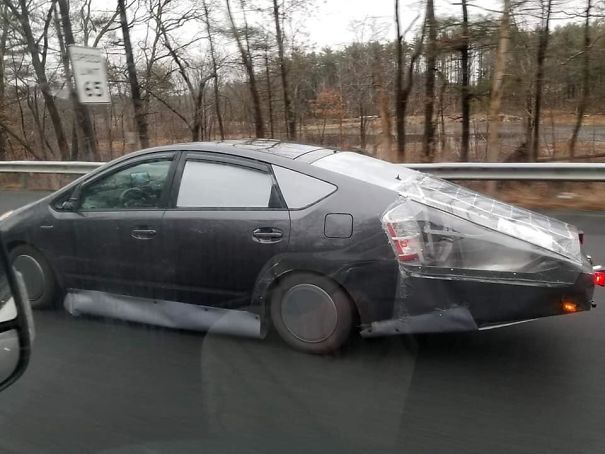 ---
WHAT IS THAT?
We have no idea what went into the driver's mind when he decided that the best option was to modify his vehicle like this. But what is certain is that the result is quite bizarre. But at least the colors match, don't you think?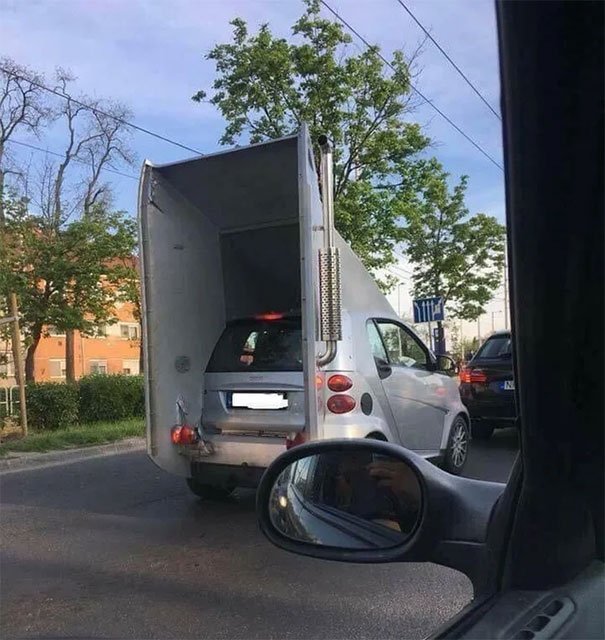 ---
BANANA CAR
Sometimes, if you love a fruit you want to put it in everything you do. Who can blame you? Banana cake, banana pancakes, banana bread, and so on. They are all delicious and always a good idea! But what do you think of a banana car? Perhaps this man has gone too far.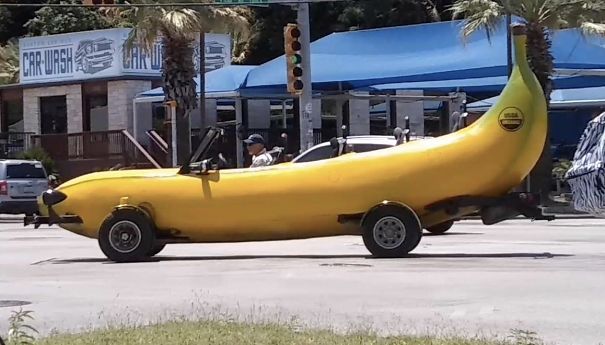 ---
UNSAFE DRIVER
As shared by this Reddit user, "He was holding his cell phone in his left hand, and a magnifying glass in his right hand so he could read his cell phone.. while driving.. with headphones in both ears." Definitely not the safest way to drive!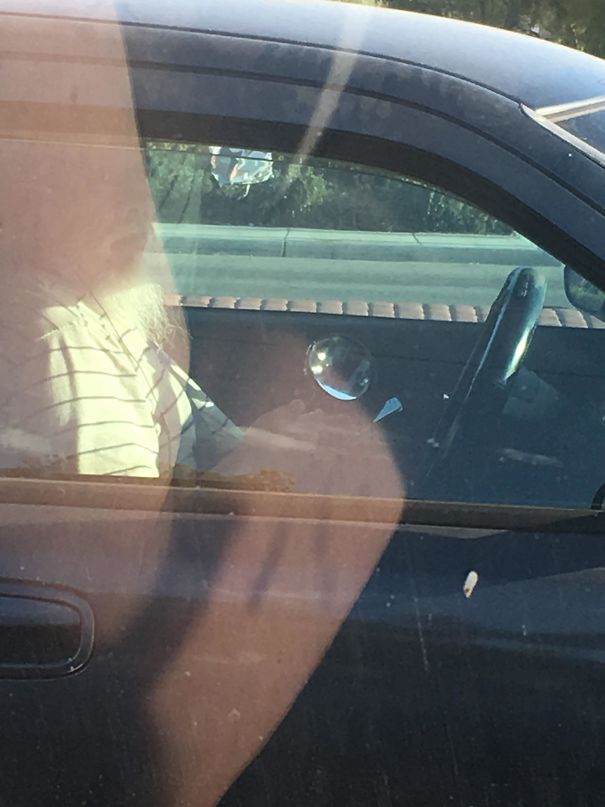 ---
LICENCE AND REDISTRATION
The number one request when your vehicle is pulled over by the cops is "license and registration, please." This guy wanted to place a funny sticker on the window of his vehicle to make a joke about it. And apparently, even the cop who saw the picture found it funny!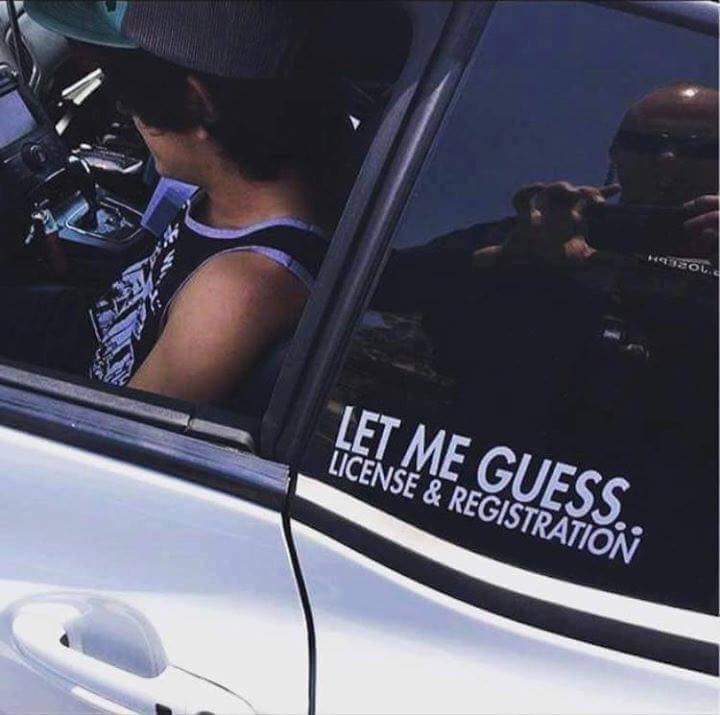 ---
MOVING POLL DECK
Cars, motorbikes, overloaded trucks, and even bananas can be found on the road. But would you imagine finding a pool deck on the street? Believe it or not, that object was at an incredible 70 miles per hour.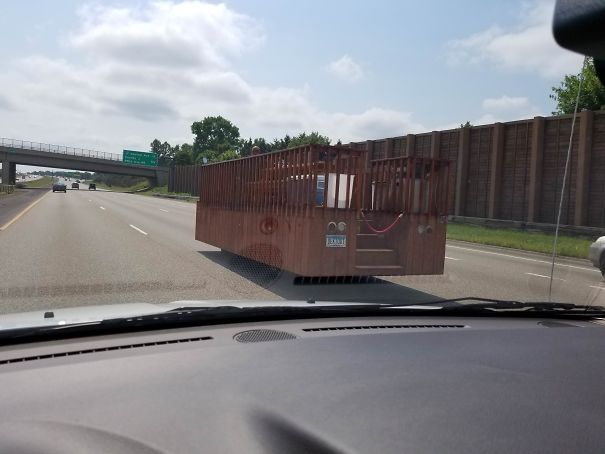 ---
UNIQUE BIKE
Nothing unusual about carrying your bike in the back of your car, is it? But this driver has a somewhat ... unique bike. Well, at least the bike rack worked anyway. However, one question still remains unanswered: how does he ride it?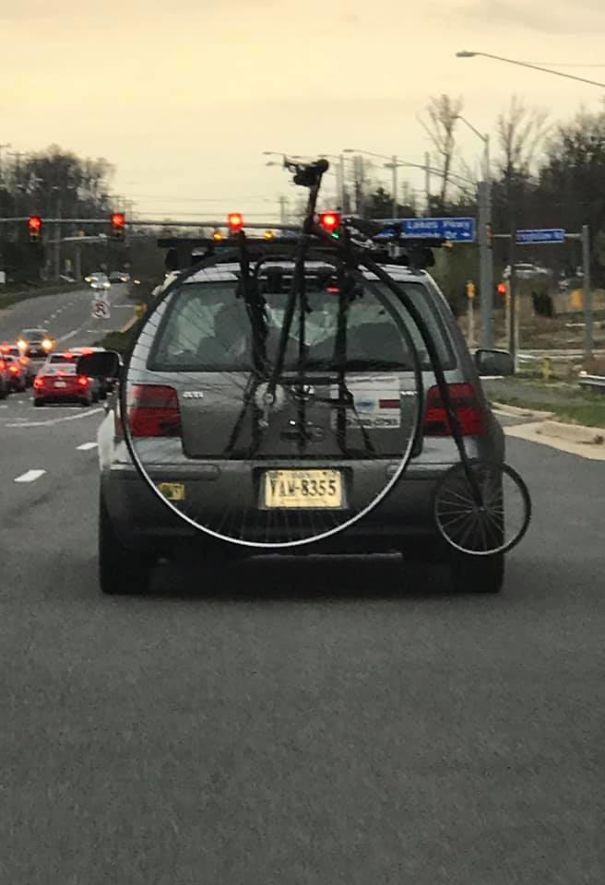 ---
OVER THE SPEED LIMIT
No one is above the law, no matter who you are. Having said that, this adorable driver was pulled over by a police officer on the road. Was he going too fast? Well, it depends on the plastic car speed limit on that street. One thing is for sure: their interaction is just too cute!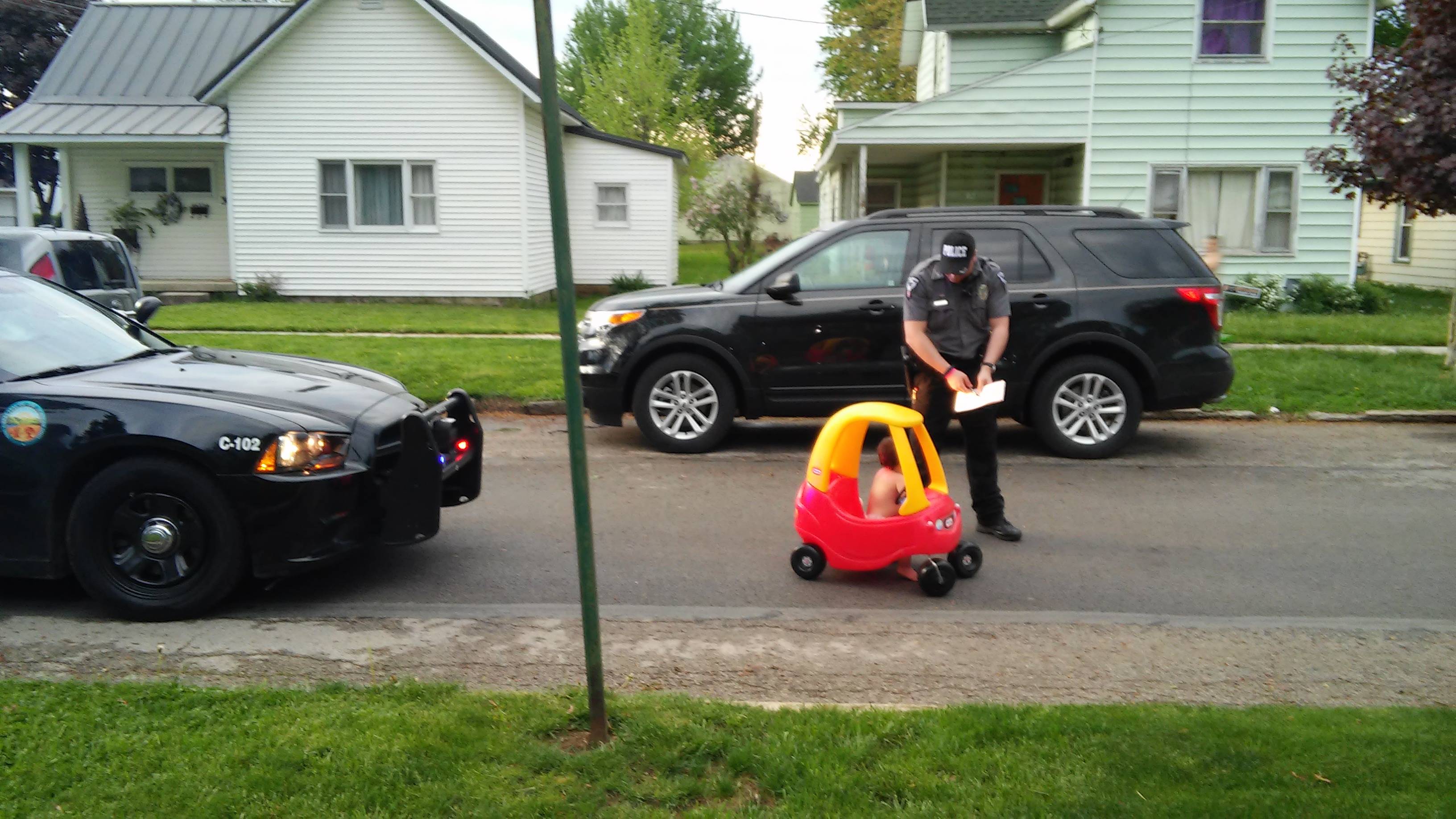 ---
A SHARK BUS CHASING A BURGER
"
You're gonna need a bigger boat
," or in this case, you are gonna need a bigger bus. While it might not be uncommon to see cars with advertisements all over it, a shark one is still a unique choice. And having another one decorated as a burger? That just added to the entire hilariousness of the photo.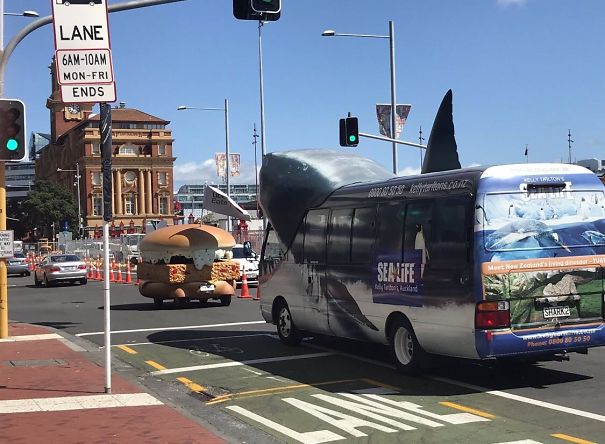 ---
HUMBLE-22
Humble is a tricky word - as it is one that can never be said about yourself. It's a little bit like the Catch-22 paradox, if you said you are humble, then the act of saying that proves you are not - which is kind of like this, in the picture. I am not sure putting a plate saying Humble on a golden Bentley is a good idea to say you are humble. Sarcasm perhaps?
---
POOR JUDGEMENT
Poor judgments can go a long way - or the opposite, literally. In this case, the car is now stuck on a footbridge due to some very poor judgment. However, so many questions left unanswered - why did the car think this is an overpass? Why did the driver think it is normal to drive over the grass to reach an overpass? How does it even resemble an overpass? Too many questions.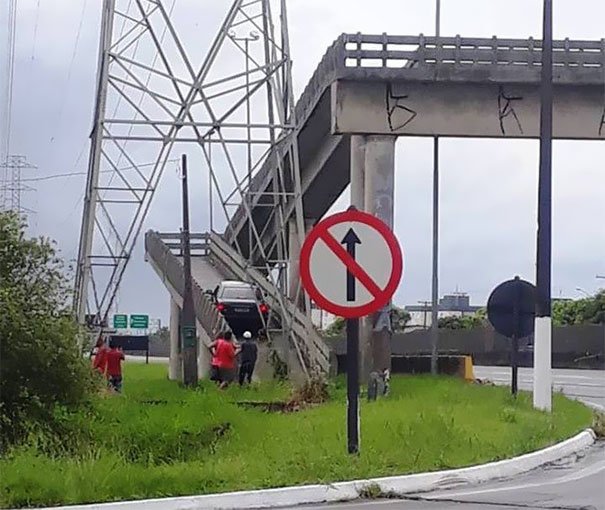 ---
MOCKING PLATE
Often times a customized license plate costs a huge sum but in certain situations, paying the price is worth it. This picture is a good example of a funny plate that worth your money. You'll have a good laugh riding this devilish red car with the plate teasing other drivers on the road.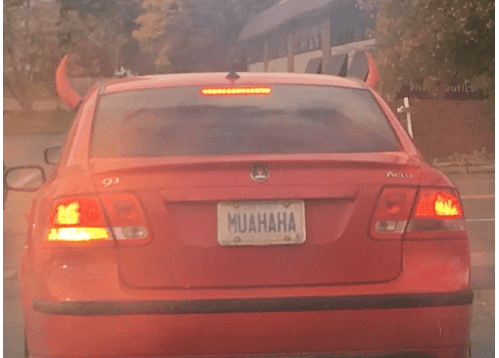 ---
I TURNED MYSELF INTO A CARGO MORTY!
It seems that here on Earth C-69, Rick has turned himself as a cargo - intentionally or intentionally, that doesn't matter. What matters is that he is now a cargo, with a questionable pose. And perhaps Morty is turned to a truck? If this paragraph does not make any sense to you - go watch Rick and Morty.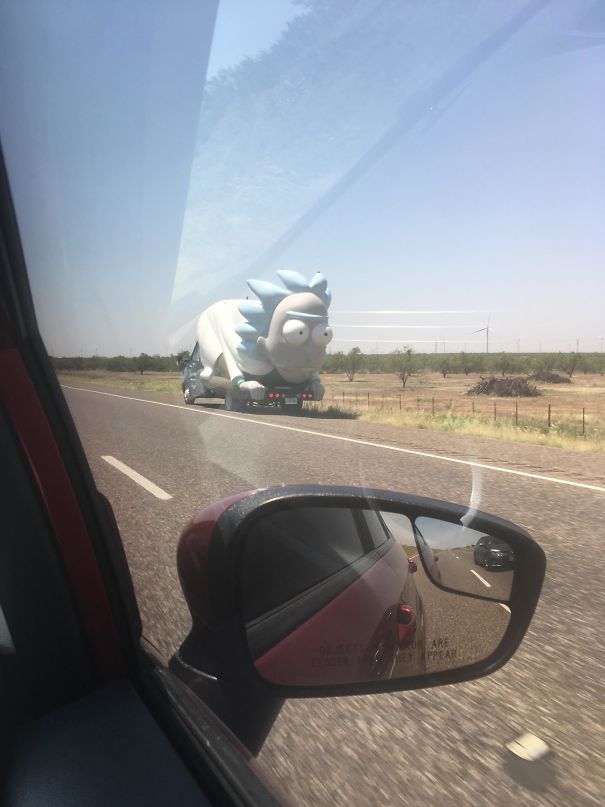 ---
UNDERCOVER TAXI
This sheriff has decided to take the 'undercover' part of his job way too seriously. The car's rear side is just like a taxi! Anyone driving behind this vehicle would have no idea that this vehicle really belonged to the police. Be careful when cutting off the taxis on the road!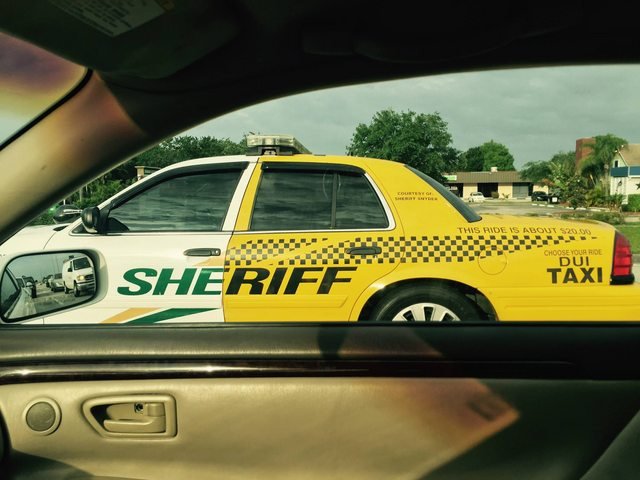 ---
I'M A TRAIN
It is nice to find a bit of humor in least expected places, right? That's the case with this picture. This funny bus driver definitely made some people laugh because of the LED board on the vehicle. And it reads "Choo Choo. I am a train!"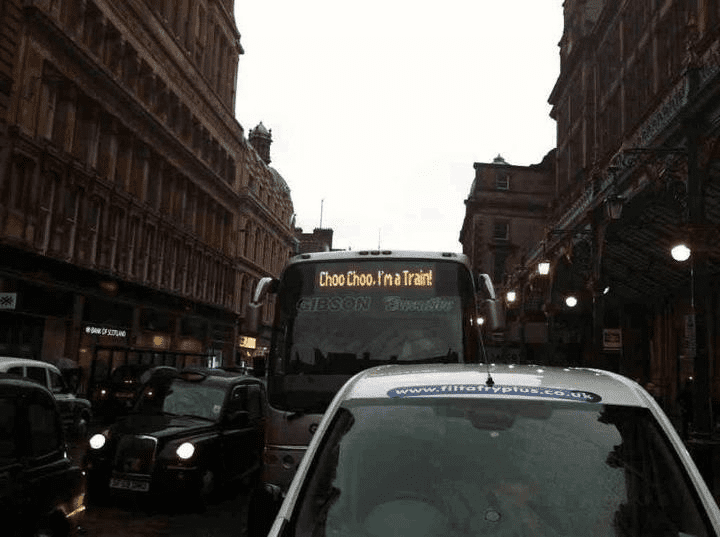 ---
SKIN CARE IN TRAFFIC
Anyone who works as a taxi driver usually has a busy routine, driving all day. Sometimes, drivers don't even have time to take care of their skin. This man decided to solve his problem. He decided it was a good idea to wear his face mask in traffic. Unfortunately, he ended up suspended.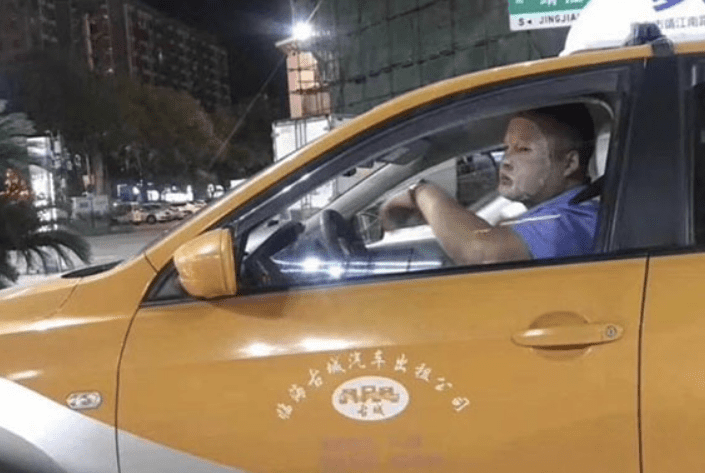 ---
RELAXING DRIVE
Here are some of the weird things seen on the road. What do you think? Have you seen something similar? Or perhaps even weirder? If you enjoyed road trips, why not share it with your friends? There might have been some pleasant surprise that you missed!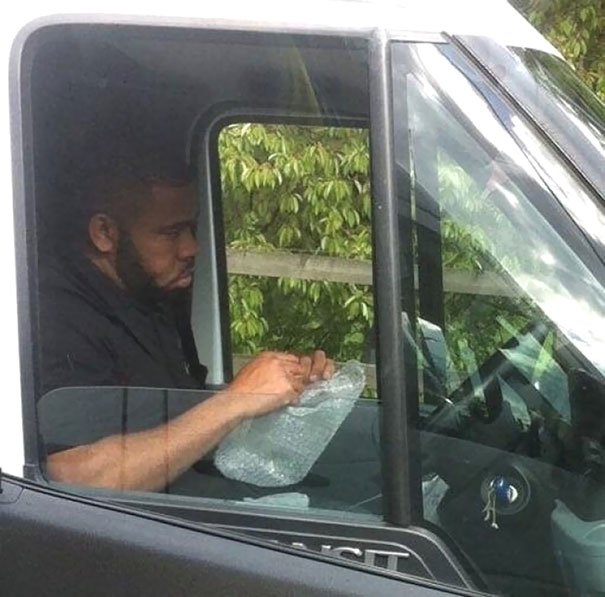 Staying in traffic for hours can be stressful, especially when you are not moving. This driver found an incredible solution for the rush hours. Unfortunately, it doesn't seem to have made him any happier, even though this activity is proven to be super satisfying. Maybe he'll be better after popping some bubbles!
Source: Reddit, Bored Panda, Twitter, Imgur, NST, India Times.