Innovative Hacks For Working From Home
Thanks to the current lockdown, a lot of us are working from home. While it was fun in the beginning, it can get a little arduous as time passes by. From a cluttered workspace to just plain procrastination, we are here to help you. Here are some tips and tricks on how to make it work.
---
CHOOSE THE RIGHT OFFICE SPACE
If you have to work at home, carve out space just for your office work. Try settling near a window or somewhere with a lamp. There should be some plug points nearby so that you can easily charge your devices. If you live with other people, try to stay as far away as you can from the noise.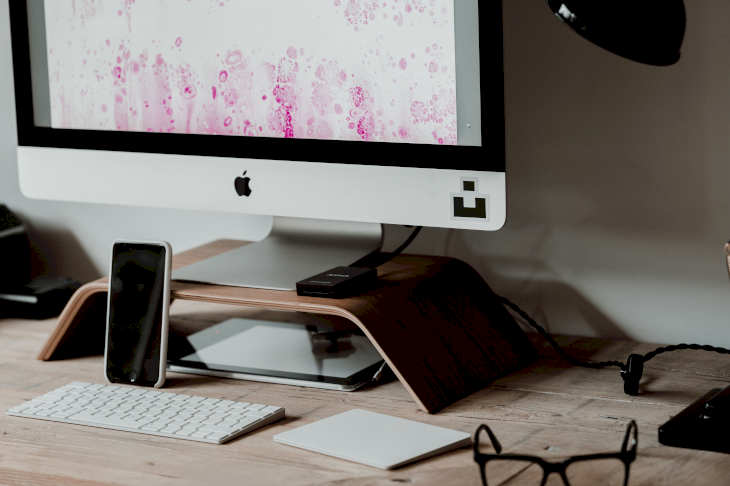 ---
CREATE YOUR OWN INSPIRATION
Everyone needs a little motivation now and again. So, what inspires you to stop moping and giving your all? Even if it is something abstract, collect items related to it, and create a mood board. Hang it somewhere nearby so you can look at it when you feel down.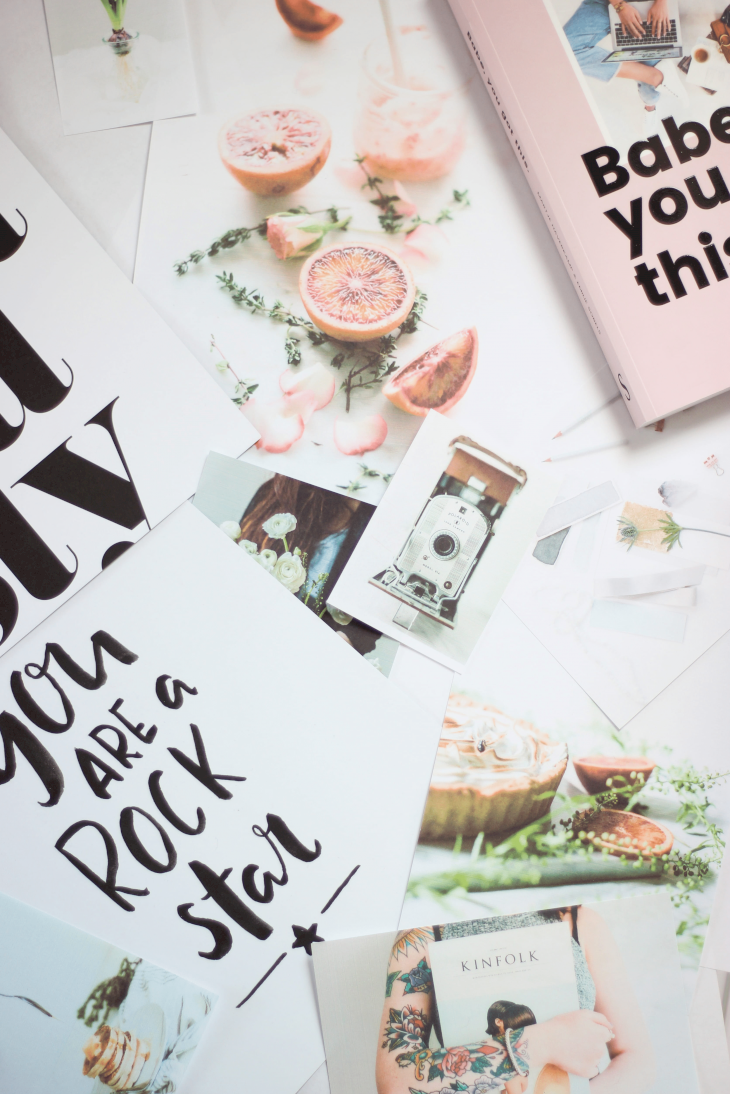 ---
A FLOATING MONITOR
We all stack a bunch of random books and boxes to get our computer monitor to our preferred heights. But again, it doesn't leave too much room for your other "office" supplies. According to Whitney Leigh Morris, "Try securing a shelf to the monitor's backside. This platform can hold an external hard drive, a portable scanner, and USB keys."
---
ORGANIZE YOUR WIRES
Nothing says messy like a bunch of tangled wires fencing your desk. There are multiple ways of keeping them organized, from actual accessories to DIY methods. Cable sleeves work well if you are into aesthetics. It bundles up all your wires so that you can hide them under your table. Otherwise, you can just use zip ties or paper clips to keep them neat.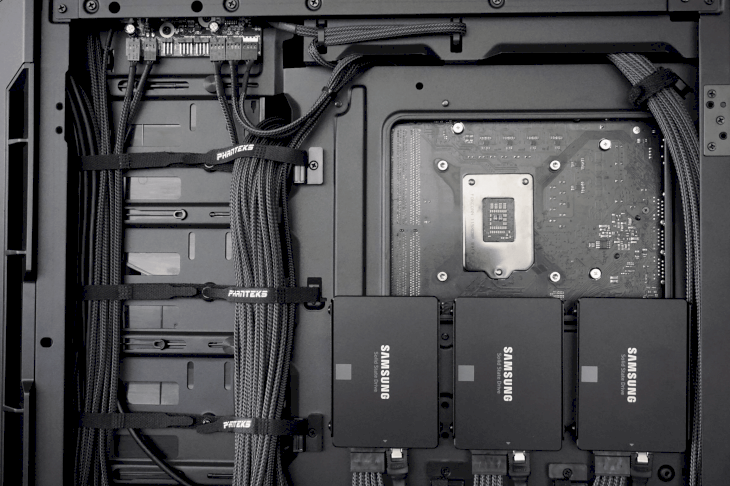 ---
HOW ABOUT A PORTABLE DESK
Sometimes, one needs a change of scenery. If you work on a laptop, get a portable desk. With enough space that holds your laptop, wires, and notes, it's the best investment ever. Bored of looking at the white wall in front of you when you're thinking? Just carry your work table and sit near a window!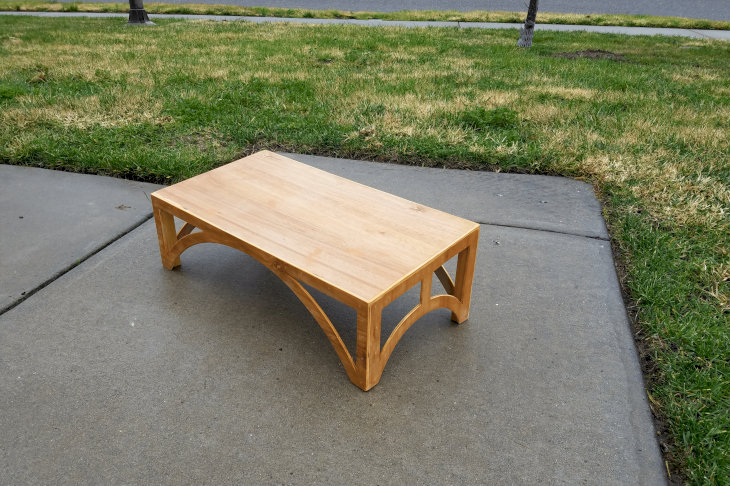 ---
A DULL WORKSPACE LEADS TO A DULL ATTITUDE
It's true. If your workspace is untidy or unattractive, you mentally won't feel like working. It may also give you a reason to procrastinate by cleaning or looking up cute office décor online. So why not beautify your table? Organize the clutter. Get a pretty pencil holder or a fancy clock. And try to match these accessories with the rest of your house.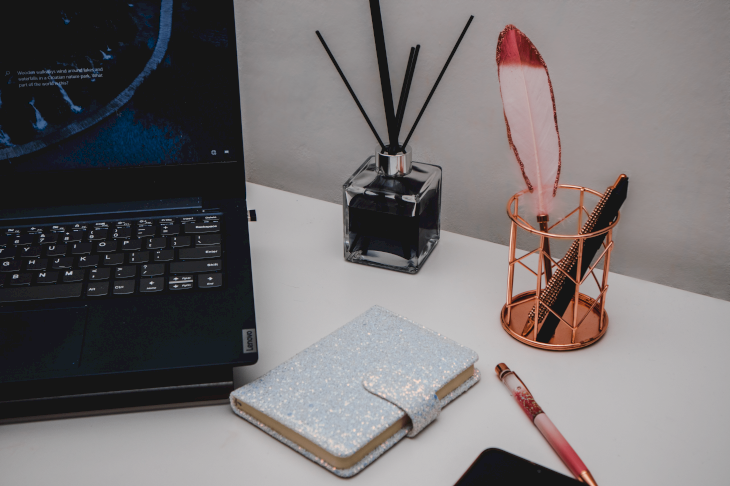 ---
BUILT-IN STORAGE
There is nothing like too much space. Replace the legs of your desks with two sets of drawers and voila! It works as desk legs as well as storage for all your office supplies and papers. Why clutter your table when you can file them away while still keeping them at an arm's length?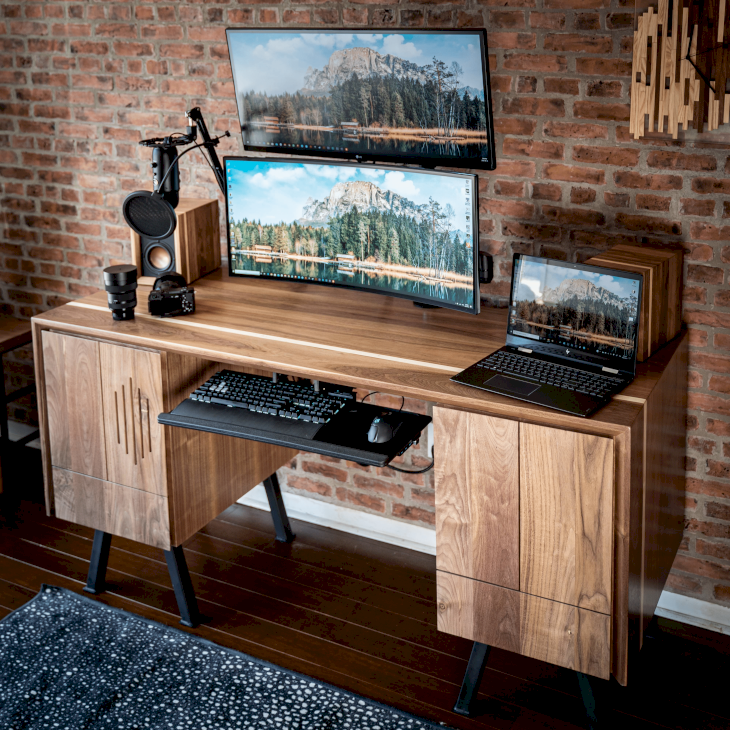 ---
HIDE THE WIRES
If you don't want a single wire on your desk at all, that is possible too. Just run the cables and computer wires along the legs of your desk. If you want to secure them in place, tape them or use a large stapler to fix them.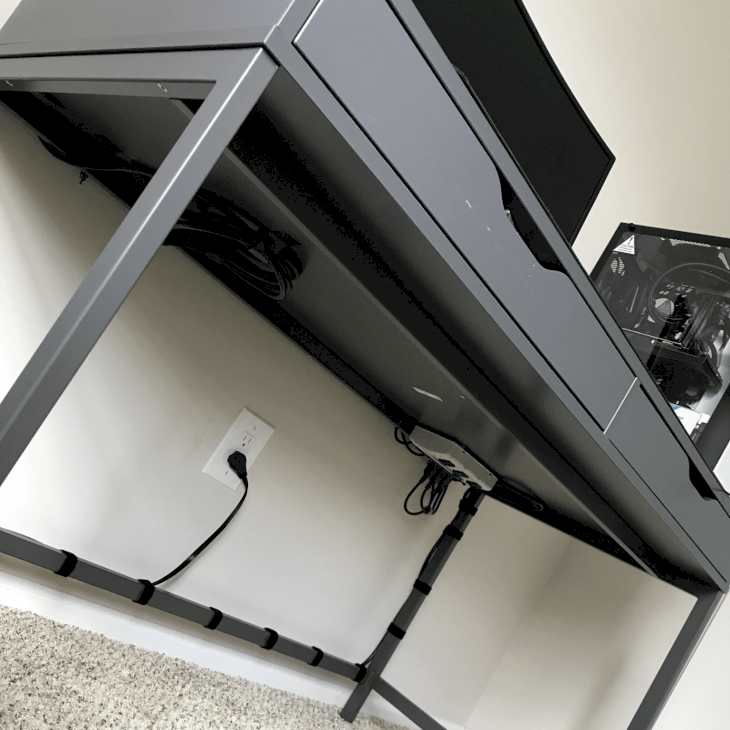 ---
A COMPACT HOLDER
We obviously require multiple things like a pen or a stapler at hand while we are working. But having them strewn on the desk just doesn't work out. Nor does having separate holders for each of these items. Either get an all-in-one stationery holder or just make one if you're feeling crafty. An empty toilet paper roll or a shoebox would do the trick.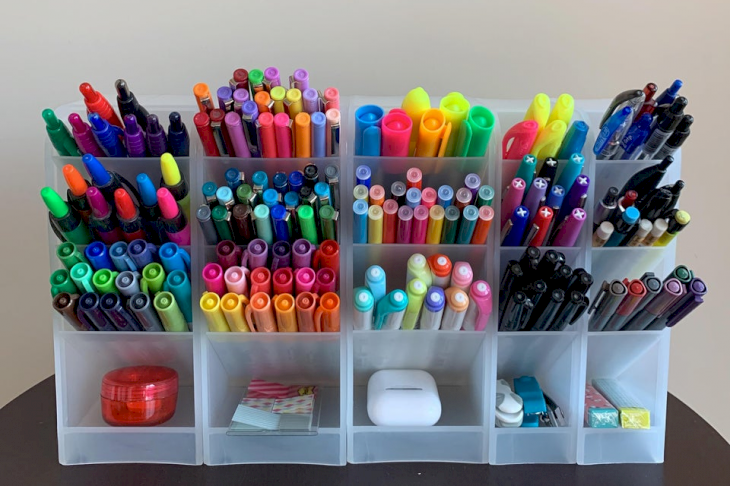 ---
A WALL ORGANIZER
We all need reminders now and then. A phone or a laptop isn't enough. Go old-school with paper. But even better, hang a rope across the wall with pegs for those notes. That way, the reminders are right in front of you. If you like to color-coordinate, assign different colored pegs for different reminders.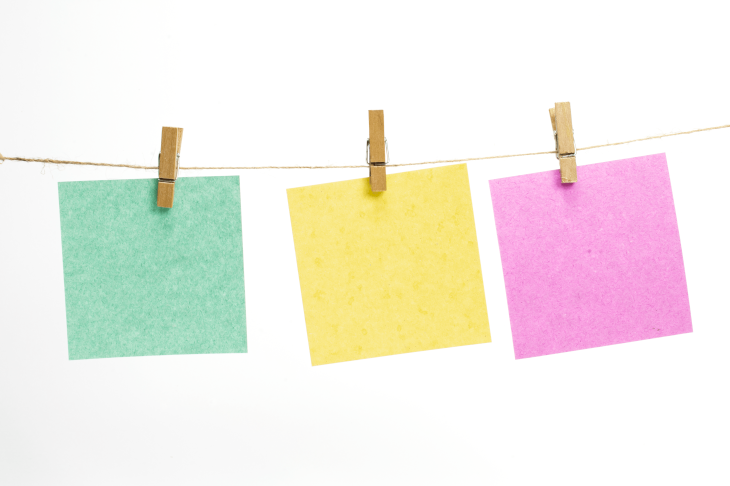 ---
GET A CHALKBOARD
Paint one side of your cabinet or wall with chalkboard paint. That way you can brainstorm or just jot down something important in a second. You can also use it as an organizer if you're someone whose tasks change daily. It also doubles up as your doodling space when you're taking a break.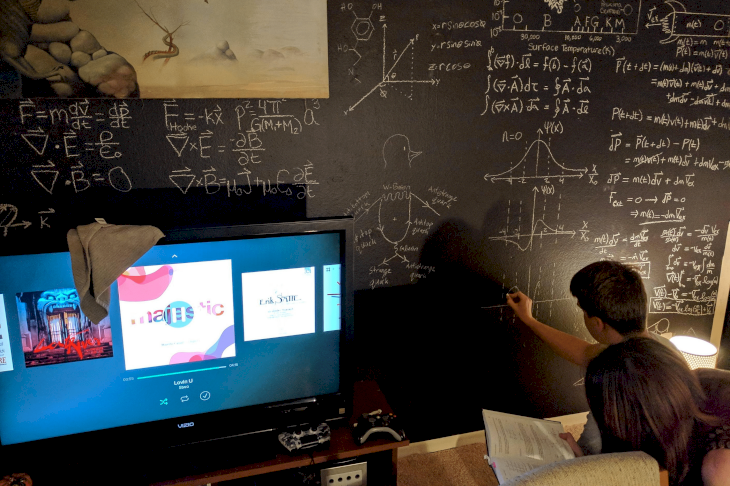 ---
DON'T SIT FOR TOO LONG
From shortening your life span to simply causing leg cramps, it isn't advisable to sit in one place for too long. Try using a yoga ball as a chair if you want to catch up on your workout. Otherwise, simply walk every 20 minutes and stretch before resuming work.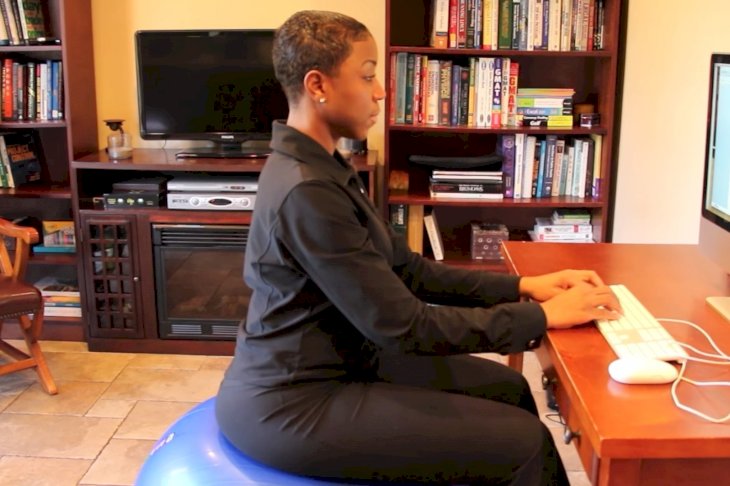 ---
THROW OUT THOSE CHIPS
Many of us actually weren't allowed to snack when we worked in the office. But now that we are home, we are bound to snack on all kinds of things from chips to cookies. But it also makes sense since our work hours have become flexible. So, why not try out some healthy snacks. Nuts and fruits keep you healthy while also averting your hunger.
---
DRESS UP
Pretty sure that 99% of us work in our pajamas. And while we should dress for success, we should also take advantage of our work from home routine. So, why not compromise? We recommend a nice shirt while opting for something comfortable from the waist down. That way, you are also ready if there's an impromptu video call.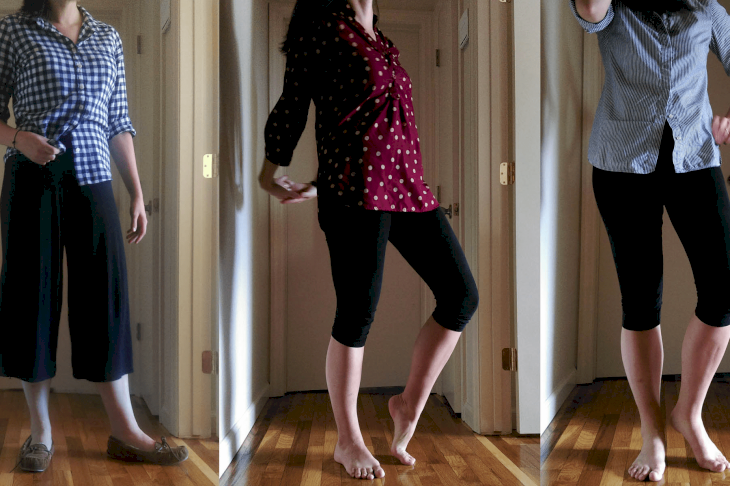 ---
INCLUDE A WORKOUT ROUTINE
A lot of us have been sitting at home for months now. Not only will it affect our shape for those who like to cut a good figure, but it's also not good for our health. Whether it's before or after work, introduce a short workout routine that includes stretches as well as cardio.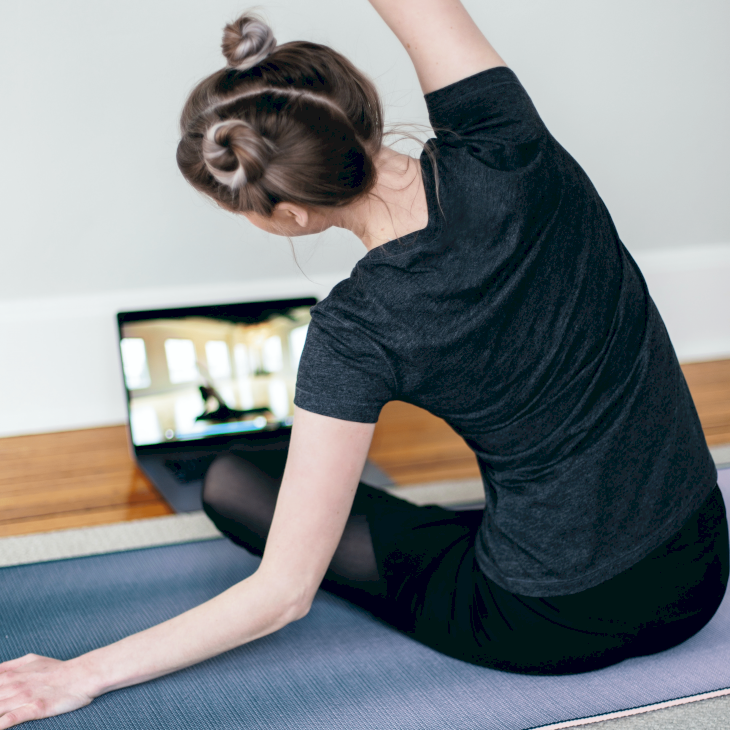 ---
GET OFF THE COUCH
Yes, yes, couches can be very comfortable. But sitting in that position with a laptop on your leg for hours can be injurious. It can affect your posture which in turn can cause neck and back pain. Alexis Tingan says, "If you have better posture, you have more energy and are more productive." Always make sure that your joints are at 90-degree angles.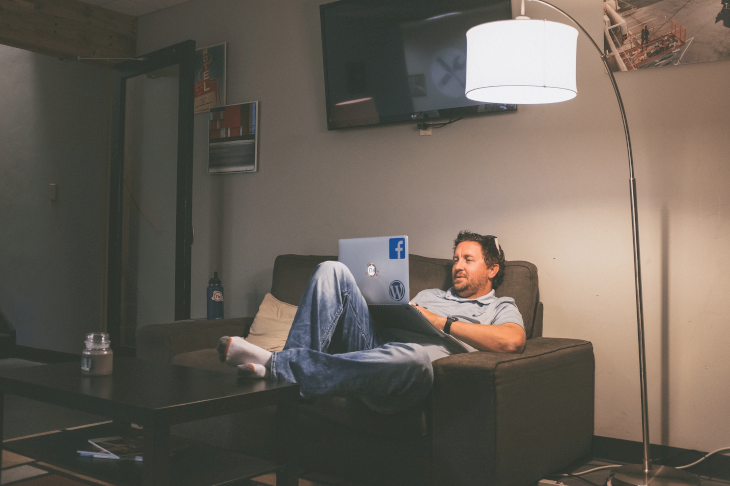 ---
GET THE PERFECT DESK CHAIR
If you are going to be parked in one space for 8-10 hours daily, your chair should be optimal. According to Allison Sevillano, "It should offer good lumbar support, have an adjustable back rest, and arm rests that adjust both up and down and in and out…The seat depth should be two inches shorter than the distance between the back of your knees and the chair."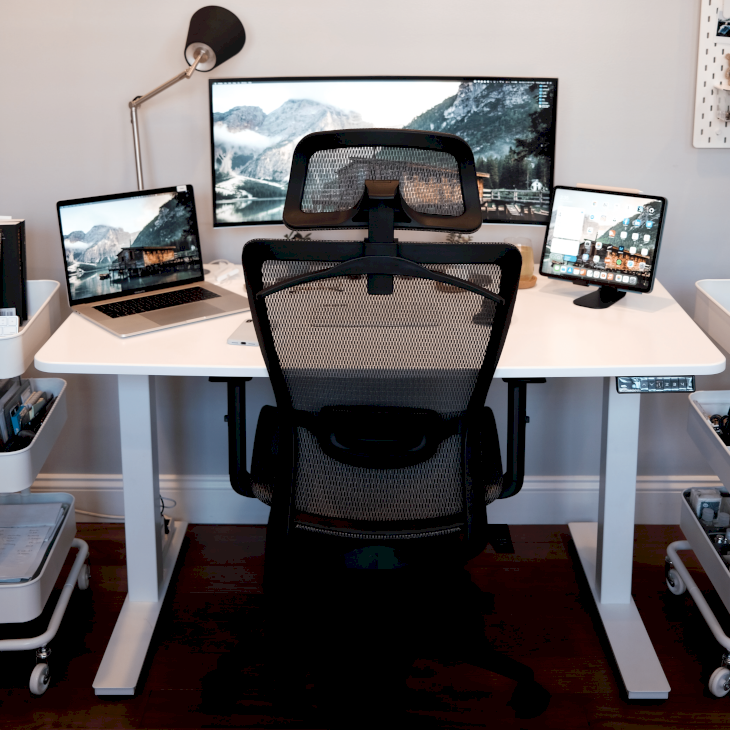 ---
MODIFY YOUR CURRENT CHAIR
If you don't want to get a new chair, work on your current chair so that it is comfortable. Keep a small pillow at the small of your back. You can also add a cushion to the seat to raise the height if it's too low for you. And if your feet don't touch the ground, get a footstool or even a container will do.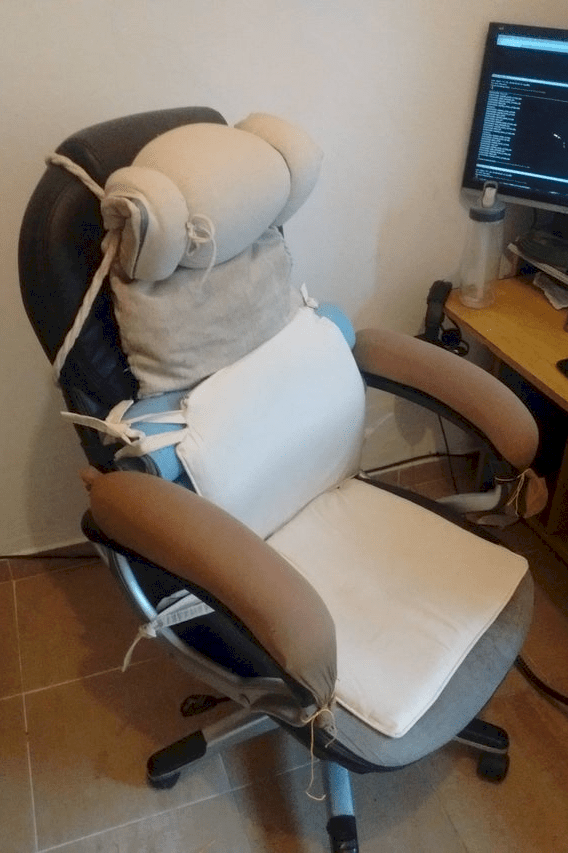 ---
EYE LEVEL IS A MUST
The screen of your monitor or your laptop should be so that "the upper third of the screen is at eye level so you don't look up or down too much," says Tingan. It should also be at an arm's length away. And if you have glasses, make sure that it is just right for the computer's distance.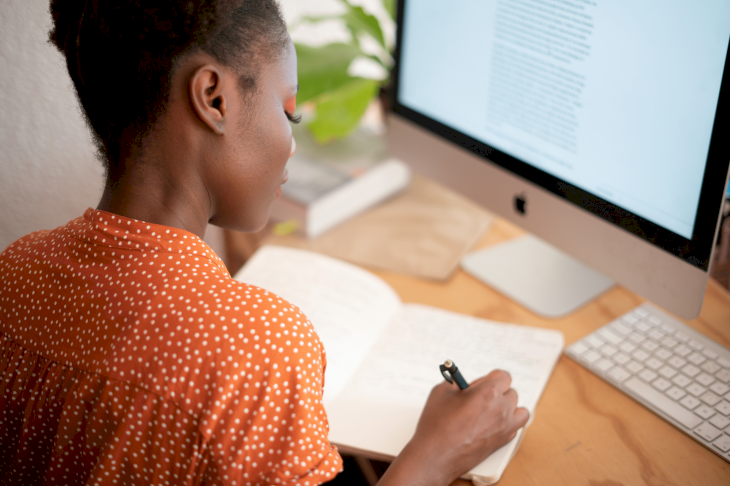 ---
MANAGING TWO SCREENS
Using two monitors can be exhausting, but it might be necessary at times. So make sure that the gap between the two monitors should be positioned in line with your nose. And both the screens should be angled your way slightly.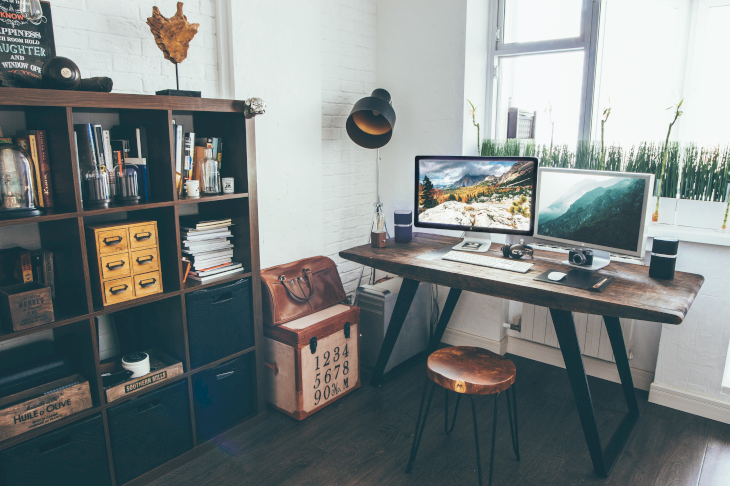 ---
THE RIGHT MOUSE AND KEYBOARD
Moving your arms and wrists constantly can cause stress. So, Sevillano recommends a mouse that allows you to move the cursor with just your thumb instead of the usual trackpad. You also should make sure that your keyboard is completely flat or at least downward sloping. A keyboard tray also helps keep the pressure off your wrists.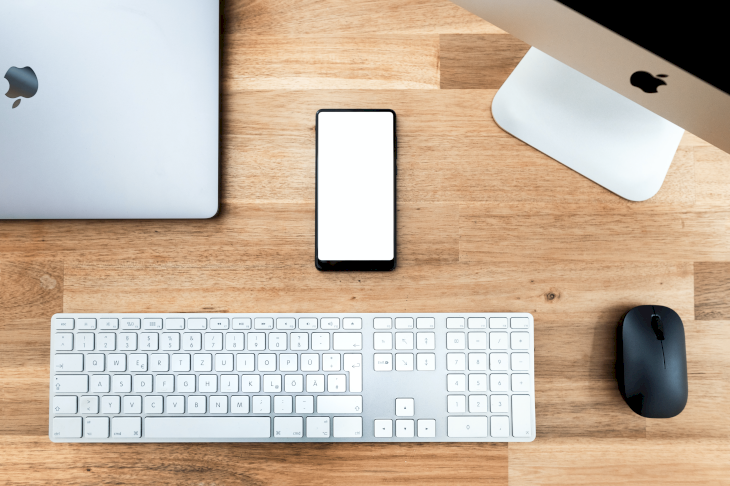 ---
ALTERNATE BETWEEN STANDING AND SITTING
Tingan says, "Humans only in the last 200 or years or so have really been sitting for long periods." Remember, we mostly used to hunt or squat while farming. So, one should alternate between standing and sitting while working. If you don't have a countertop to stand and work at, get one because it will help realign your posture.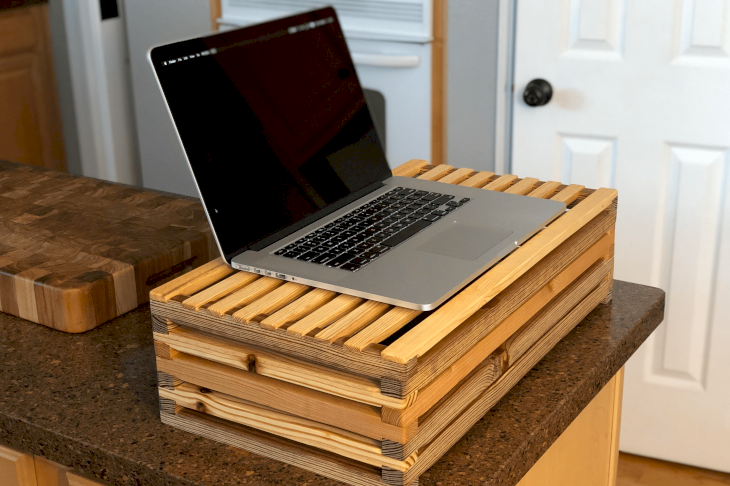 ---
DON'T JUST STARE
Continuous staring at the computer screen can cause dry eye syndrome, headaches, and other side effects. Experts say that we should look at something that is "20 feet away for 20 seconds every 20 minutes." Daydreaming and just simply gazing outside can make you more productive! Who knew?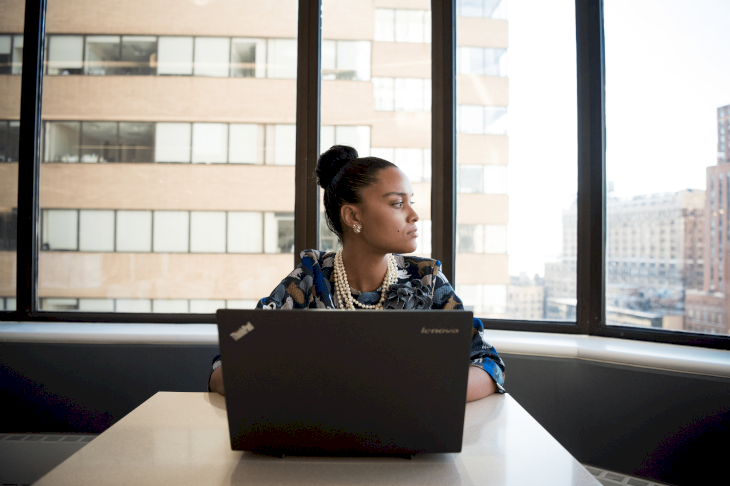 ---
PLANTS ARE YOUR NEW CO-WORKERS
Houseplants can actually create an ambience, but they aren't just there for aesthetic pleasure. They provide oxygen, which your brain needs when you're working non-stop. They also take care of all the toxins that the plastics around you emit. Look for rubber plants, English Ivy, Spider plants, or Aloe Vera.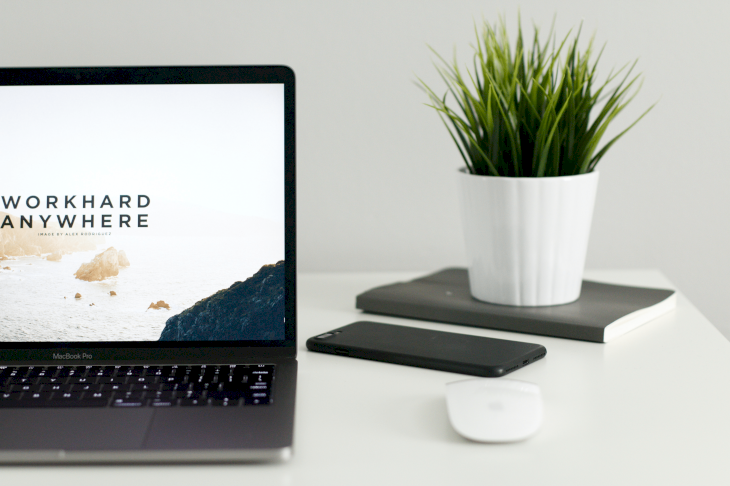 ---
DON'T CHEAP OUT ON THE WIFI
WiFi has become an integral part of our lives. But it isn't just for your HD streaming. Since you have to work online now, you need a high-speed broadband connection. How embarrassing would it be if your internet gave out while video calling your boss? Also, get a signal booster that can enhance your network wherever it's weak.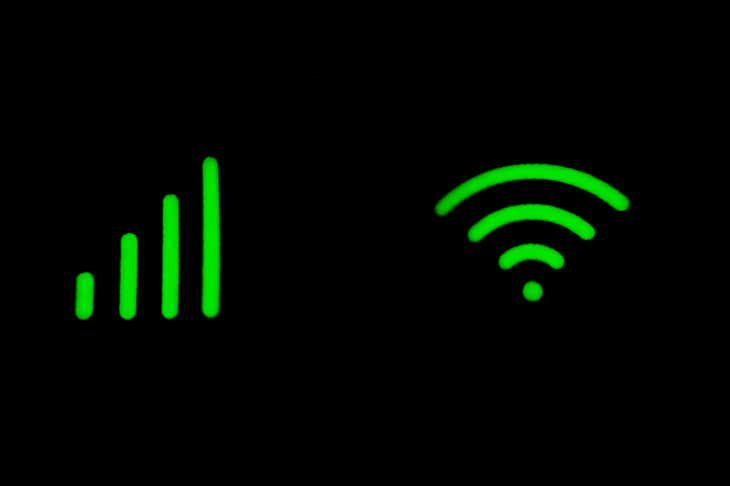 ---
GET A SCANNER
Your house can get a little too cluttered with the numerous receipts, records, and documents. And there is no technology for simply searching among the hard copies for what you need. So, instead, just scan everything and throw or file away the papers. That way everything is at the tip of your fingers and your room is cleaner!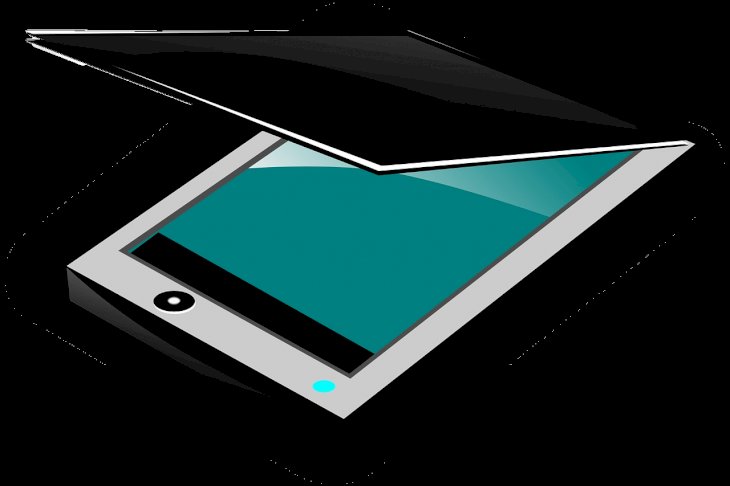 ---
INVEST IN A WIRELESS PRINTER
If you really, really do need to print something, get a wireless printer. Printers are usually bulky and take up a lot of your desk space. With a wireless printer, you can just store it away in a drawer or a cupboard till you actually need it. It also frees up your limited plug points!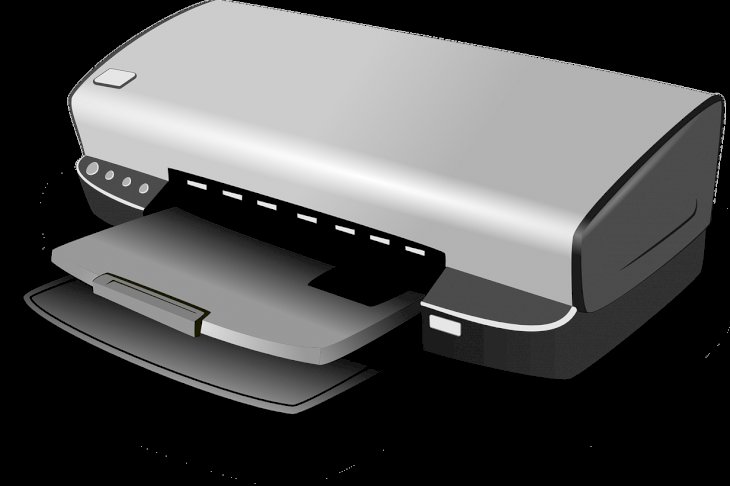 ---
NO NEED FOR A SHREDDER
While we do have to convert our rooms into a semi-office for some time, you don't need to give up all of your space. There is no need to get a shredder and keep it by your side at all times. For the occasional bill, just trash it. And if you do have a stack of files, there are office supply centers open that allow bulk shredding.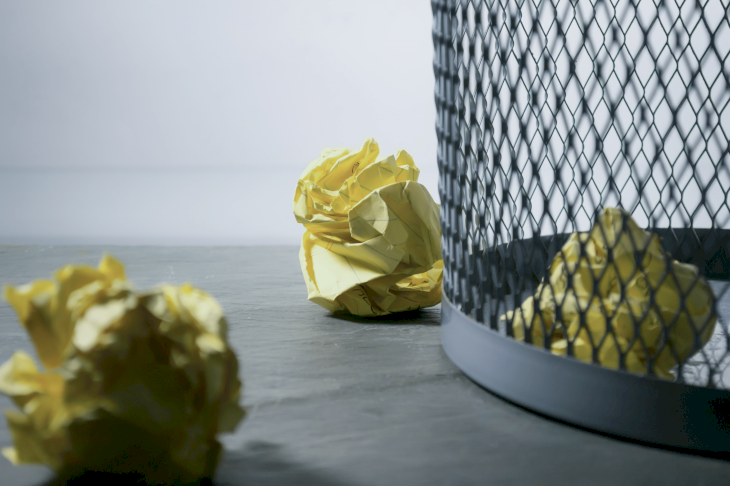 ---
NO DISTRACTIONS
There can be several distractions when you're home. While you of course have to cater to your familial duties, you need a distraction-free zone when you have an urgent task. Set a routine so that you can finish your domestic chores before you start working. And try to work with your back to the room so that you're not tempted by any remaining chores.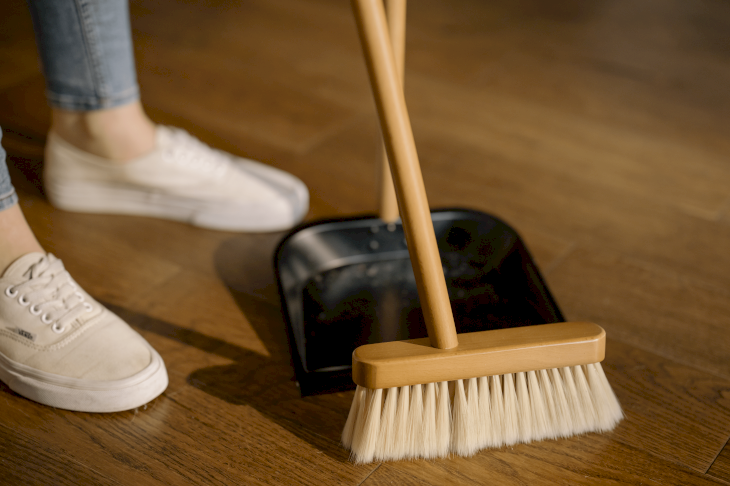 ---
COLORED INSPIRATION
A lot of studies have shown that shades of blue inspire the mind and help in logical tasks. For emotional-based or creative work, surround yourself in shades of yellow or vibrant orange. Patterns or murals that appeal to you can also help when you're stuck in a rut or mentally tired.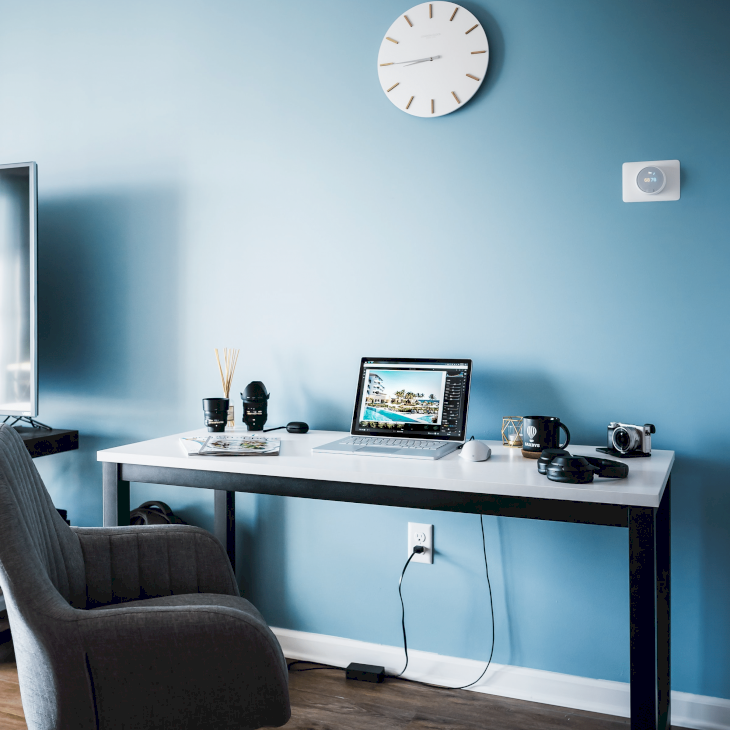 ---
IT'S ALL ABOUT THE LIGHTING
Abundant or natural light raises anyone's mood. Opening up a window can also make you feel a part of the world outside. But don't let the actual rays of the sun right in your face or distort your vision of the screen. Adjust the light with your screen's brightness to reduce any strain on the eyes.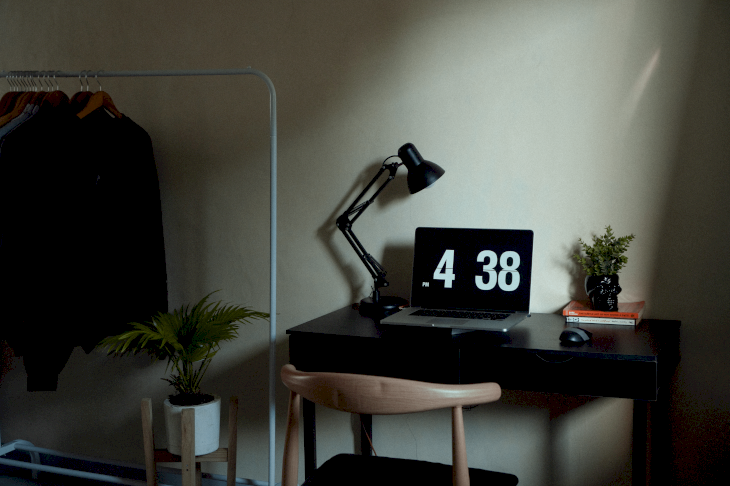 ---
REDUCE YOUR ELECTRIC BILL
Our light bills are bound to go up now that we are home 24x7. It doesn't help that we need to work on computers or devices that need to be charged regularly. One way that you can cut down costs is by locating your workspace near a window. That way you don't need to use a lamp till evening. Also, unplug devices that you do not use while working.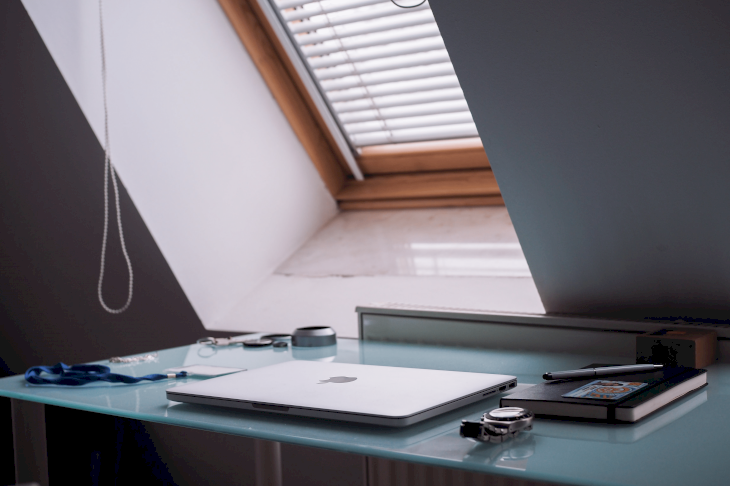 ---
LITERALLY, CARVE OUT A WORKSPACE
If you're living with family or roommates, it is difficult to focus on work. But there is one way that you can point out that you're busy and should not be disturbed. If you work in a shared space, use masking tape on the floor to mark out your workspace. Or if you have a room, put a note or a sign as to when you are working and when you aren't.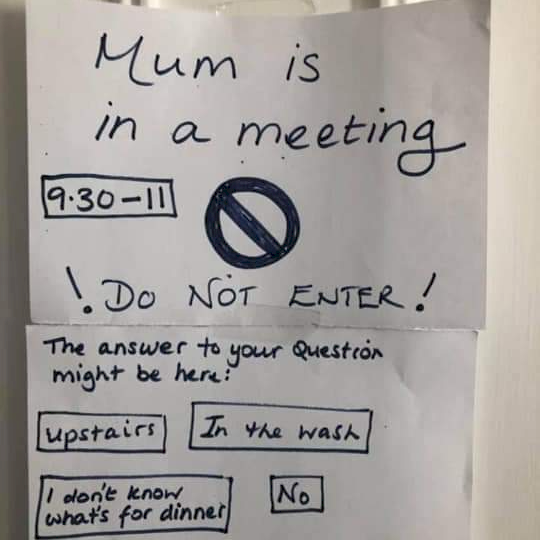 ---
SWIVEL CHAIRS ARE FUN AND ERGONOMICAL
Swivel chairs are actually way more useful than to just dramatically turn and face your employee. Instead of straining your body to take something that is beyond your reach, just roll to it. And if you need to take a break, just roll around in your chair for fun!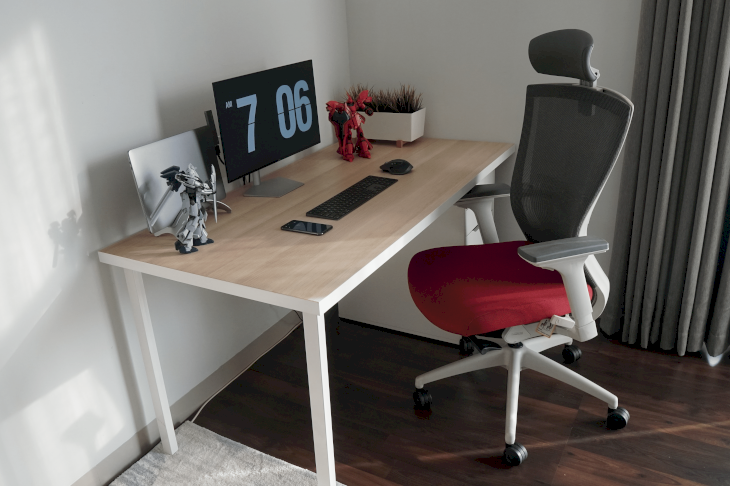 ---
KEEP AN EYE ON YOUR POSTURE
Try not to slouch. Get a chair with a backrest that is at a 100-degree angle away from your legs. Your elbows should be close to your body and your wrists should be straight to minimize typing pain. And however hard the work is, tense shoulders will not help. Relax and roll them whenever you remember.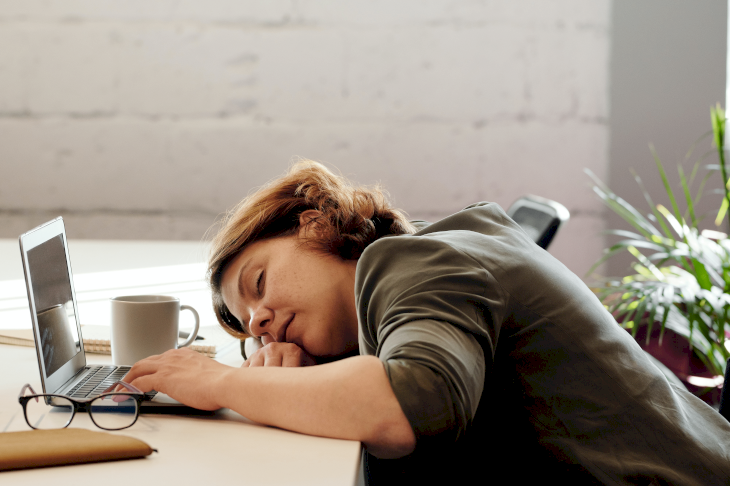 ---
LIGHTEN YOUR KEYBOARD
Not all keyboards have built-in LED lights. And if you work way into the night with your lights off, this hack is for you. You obviously need to see what you're typing. So, get those LED fairy lights and surround your desk and keyboard so that you can see your letters.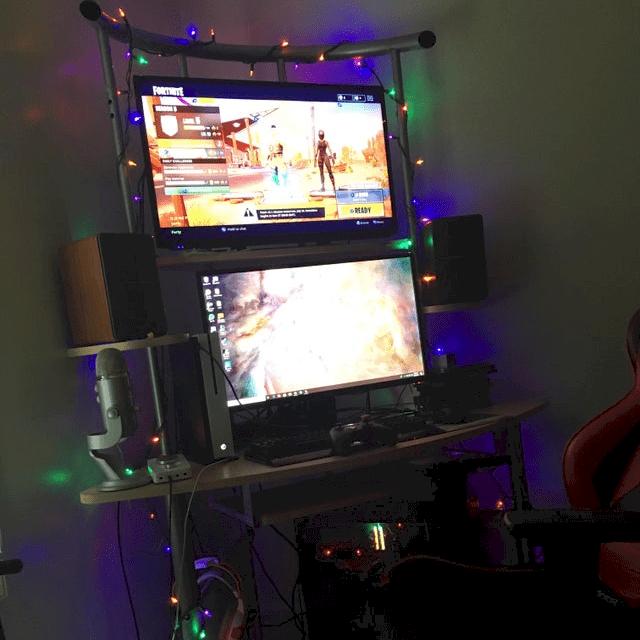 ---
DIY PHONE HOLDERS
Sometimes a pop socket or a mount is not enough for you to see your phone screen clearly. So, here's a pretty quirky DIY. It is safe to say that if you're working, you're old enough to know what a cassette is and might even have some lying around. Take a case and simply prop your phone in it. Done!
---
DON'T FORGET YOUR WIRES
If you're like me and forget which wire is for what, I have finally found a solution! Color code them with tape or thin strips of post-its. If you still don't remember, you can also write on them to remember the purpose of each wire.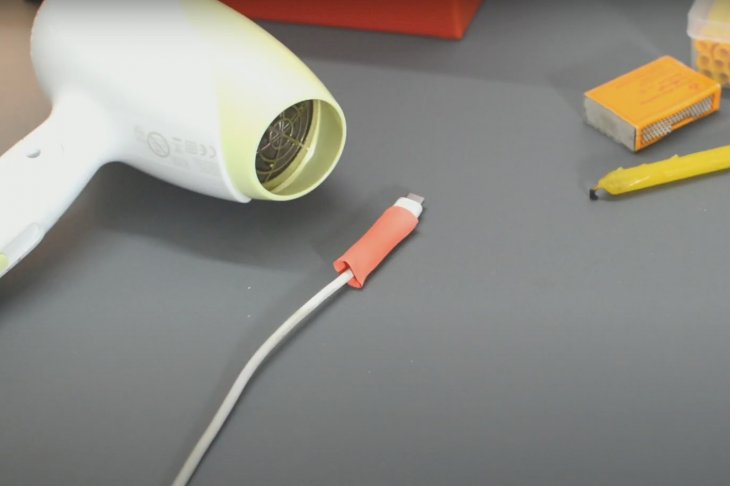 ---
STAY HYDRATED
When you're in a trance, you're bound to forget to drink water. Or even take a shower! Remember to stick to your routine. Keep an alarm if you need to but drink your 8 glasses of water and please do shower. If you're not physically fit, how will you be able to give your all mentally?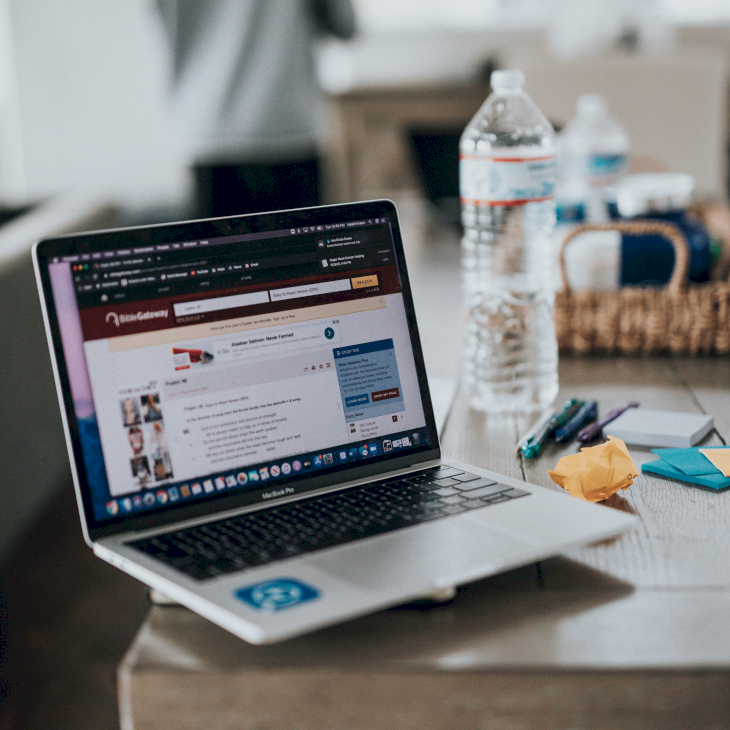 ---
LIGHT A SCENTED CANDLE
Scented candles and oil diffusers can actually improve your focus. There' are a large variety of scents nowadays on the market with some also being helpfully categorized as energizing scents. According to Krista Karstens, "When you use it every day, it reminds your brain of past productivity, and signals at the start of each day that it's time to work."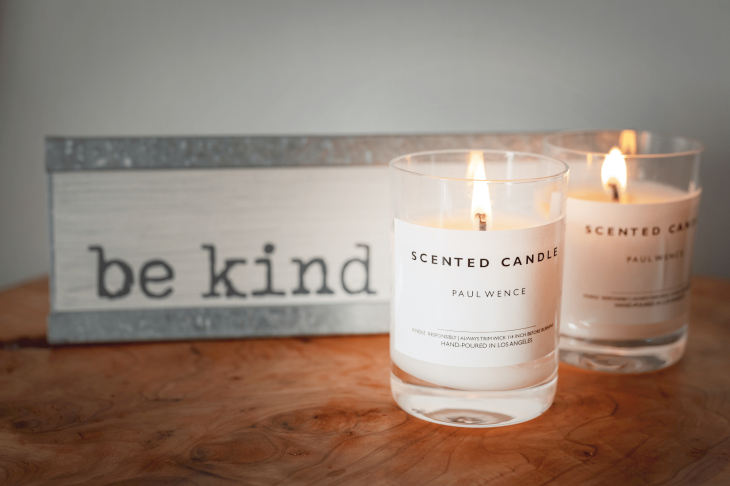 ---
CLEAR OUT THE VIRTUAL CLUTTER
Having too many tabs open can cause stress and also divide your attention. Instead, keep the website or tab you're currently working on open and minimize the rest of the windows. You should also keep your cell phone aside while working on a task. Tom Marino believes, "Limiting distractions will allow you to get more done in a shorter time."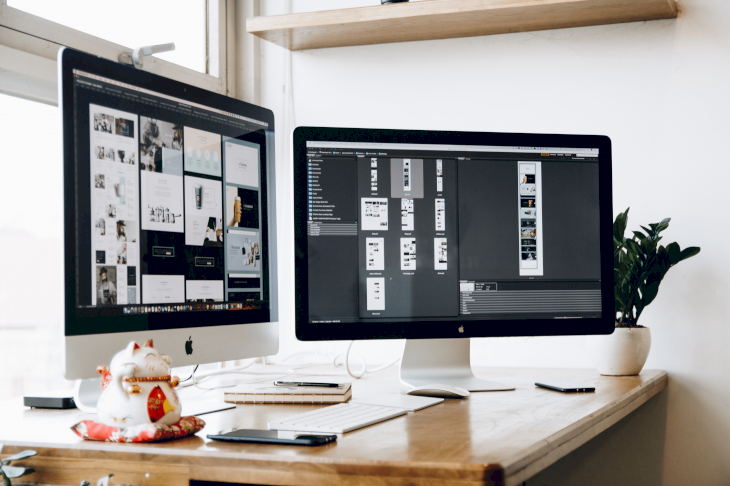 ---
GET A HANG OF THE ONLINE WORK SOFTWARES
Working online means no actual meetings. But you do need to stay in touch with your colleagues to stay updated. Websites like Slack, Google Meet and Zoom are being widely used to share work-related documents and host meetings. Learn how to use them in advance so that you do not slow down the rest of your team during the meeting.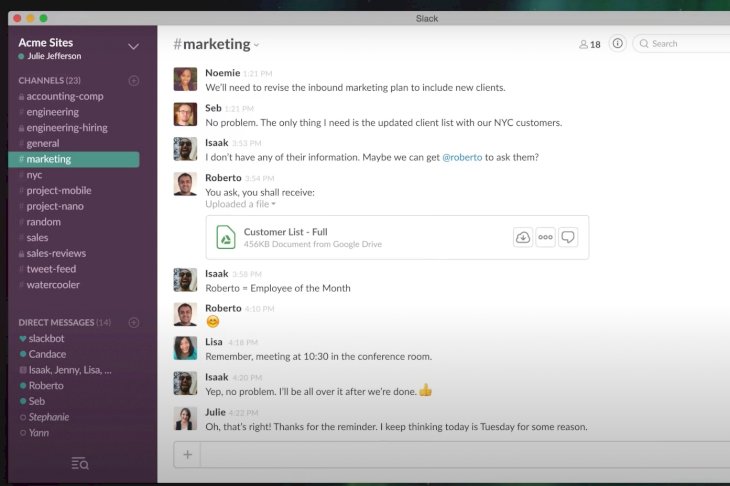 ---
ZOOM: THE MOST USED APP
Pretty much everyone's using Zoom for virtual meetings. And there's a good reason for it. From being able to change your background to creating virtual name tags, it is very useful. You can hold down the spacebar to temporarily unmute yourself. It also has breakout rooms which you can use to chat with your colleague on the side.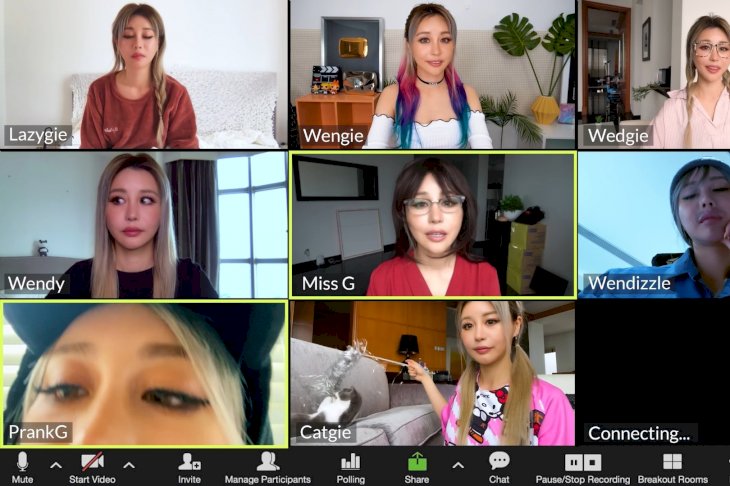 ---
TAKE ADVANTAGE OF THE BEAUTY FILTER
If you have a puffy face or just don't want to touch up your face, Zoom's Touch Up My Appearance is perfect. It smooths out your face so your appearance looks soft and dewy. For reference, it works the same way as the beauty mode of your phone's selfie camera. You can also change your background if your room happens to be messy!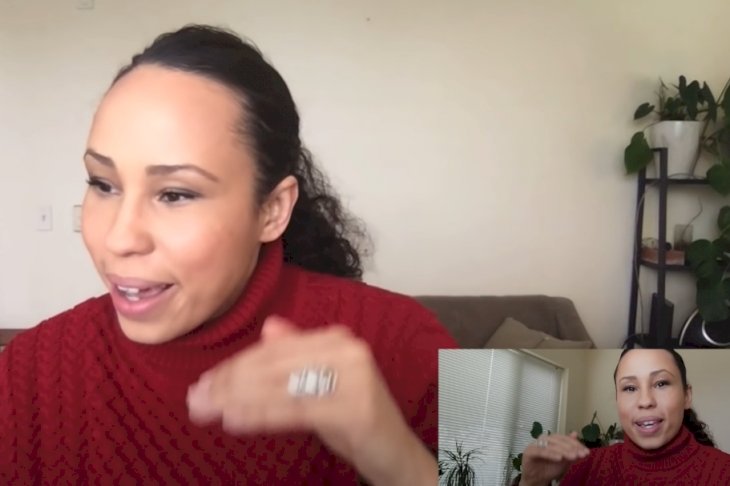 ---
Hopefully, these tips aid you in making the most of working at home. From using a yoga ball chair to taking a break every 20 minutes, some of these tricks are pretty ingenious. Which one of these helped you the most? Let us know.
ⓘ The information in this article is not intended or implied to be a substitute for professional medical advice, diagnosis or treatment. All content, including text, and images contained on, or available through this FINTREAT.COM is for general information purposes only. FINTREAT.COM does not take responsibility for any action taken as a result of reading this article. Before undertaking any course of treatment please consult with your healthcare provider.
ⓘ We at FINTREAT.COM do our best to give you the most updated news regarding the COVID-19 pandemic, but the situation is constantly changing. We encourage readers to refer to the online updates from CDС, WHO, or Local Health Departments to stay updated. Take care!