Nicole Kidman's Love Life: Meet Her Husband, Exes, And 4 Kids
Nicole Kidman has had quite the journey in love. She was one half of an iconic power couple with Tom Cruise during the 90s, she dated the rockstar Lenny Kravitz and ultimately Nicole Kidman married country singer, Keith Urban in a beautiful wedding in Sydney. Today, she's happier than ever but how did she get to her happily ever after? Dig in to find out!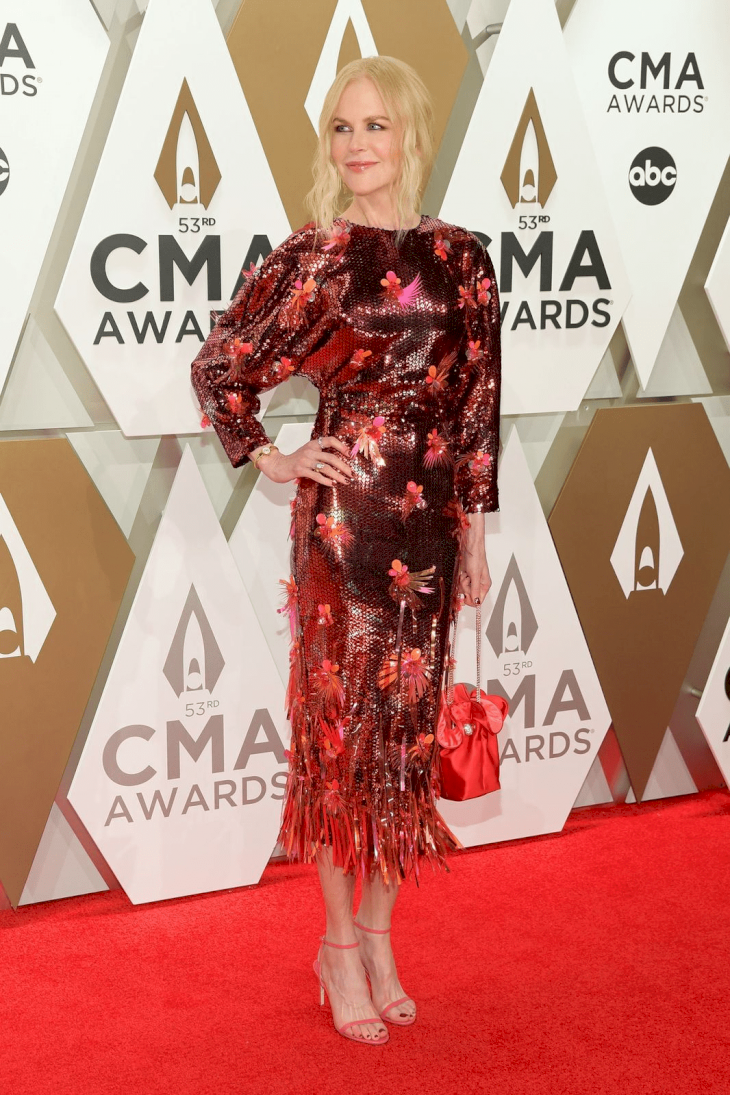 ---
JUST CRUISING
Nicole Kidman was just 22 when she met Tom Cruise when she auditioned for Days of Thunder at the end of 1989. Cruise's marriage to older actress Mimi Rogers was already ending and he'd been impressed by Kidman's performance in her previous movie, Dead Calm. One sighting of Cruise's killer smile was all it took for Kidman to fall… and who can blame her?!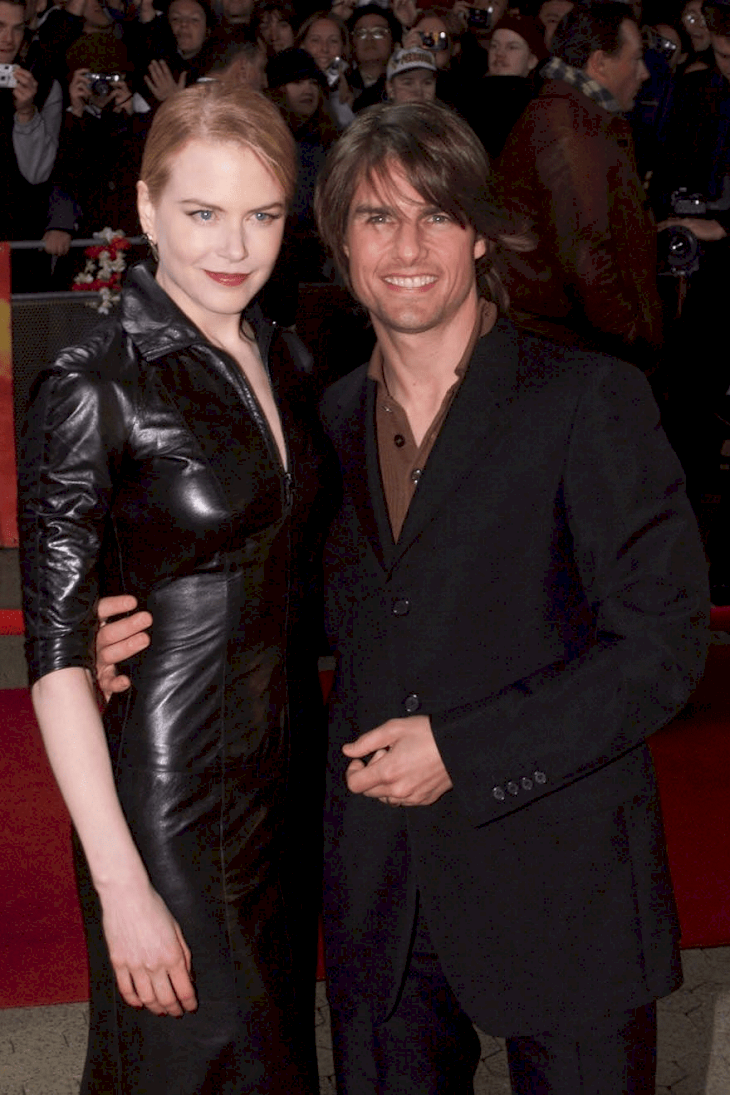 ---
She's often spoken of how she fell, "madly, passionately in love." "I remember being so nervous and seeing Tom Cruise drive up in a Porsche," she told Vanity Fair, speaking of their first meeting. "He got out of the car and walked through the door, and I was like, 'Ah.' My jaw dropped."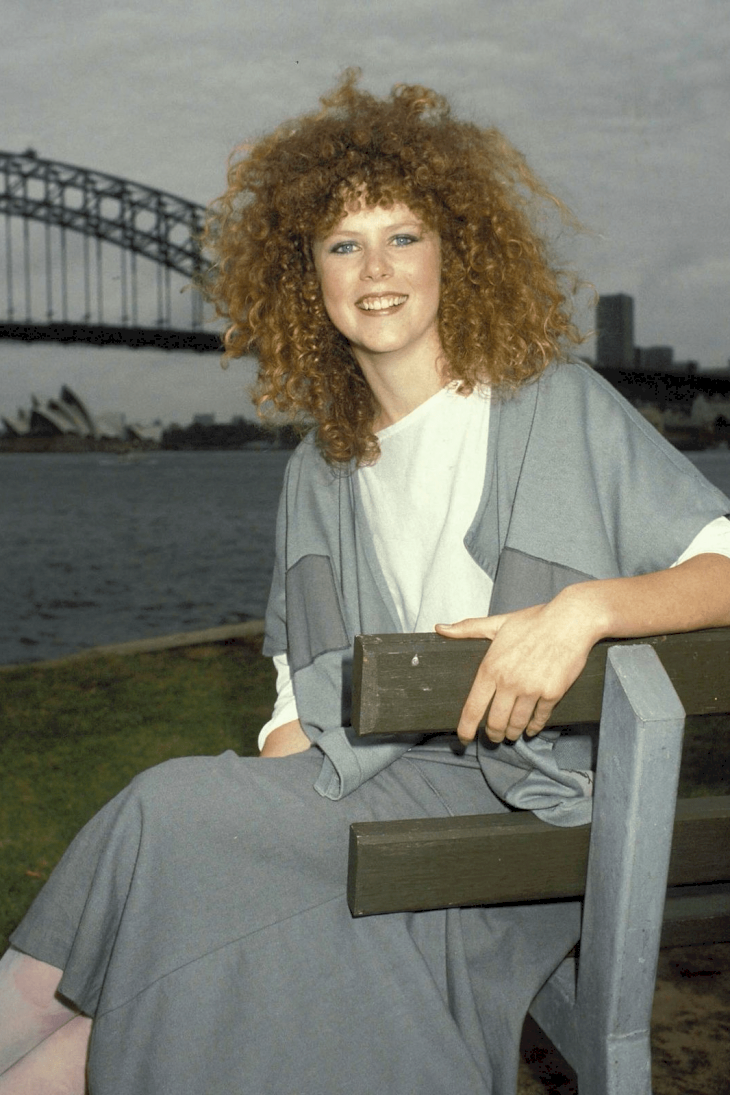 ---
The actress regularly mentioned the electricity she felt with the actor and the way he swept her off her feet. Before Cruise, Australian-born Kidman had dated men who shared her background. She was linked to former Aussie teenage heartthrob, Marcus Graham, and Canadian-Australian actor and singer, Tom Burlinson who she acted within Windrider.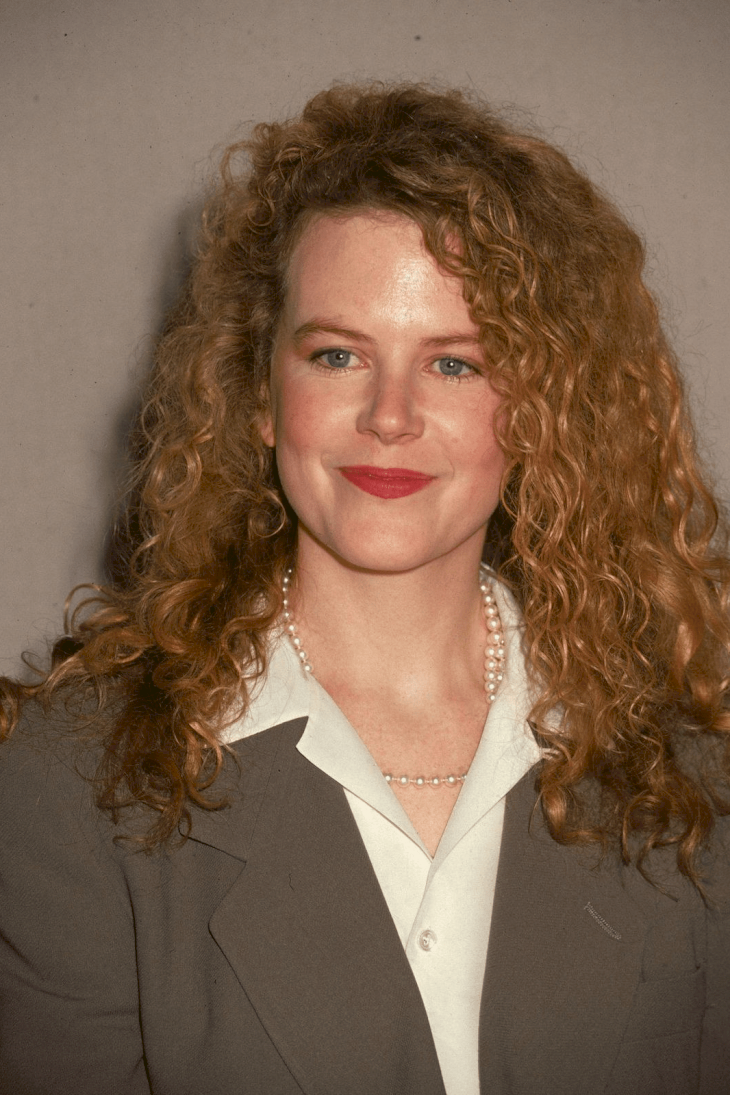 ---
But with Cruise, she knew she'd found the one. The actress, who'd reportedly sworn off marriage, wed Cruise just a year after they met. "As happens when you fall in love, my whole plan in terms of what I wanted for my life — I was like, 'Forget it. This is it.' I was consumed by it, willingly," she admitted. Together they became the biggest celebrity power couple of the 90s.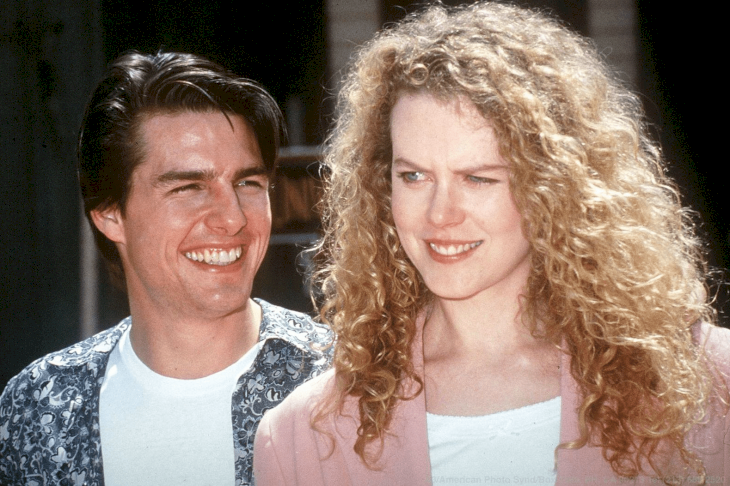 ---
BABY BLUES 
Yet behind closed doors, things weren't always easy. Soon after she and Cruise got married, Kidman had an ectopic pregnancy and lost her unborn child. Saddened, the two eventually moved on and ultimately adopted two children, a newborn baby girl they named Isabella and, three years later, a four-month-old baby boy called Connor.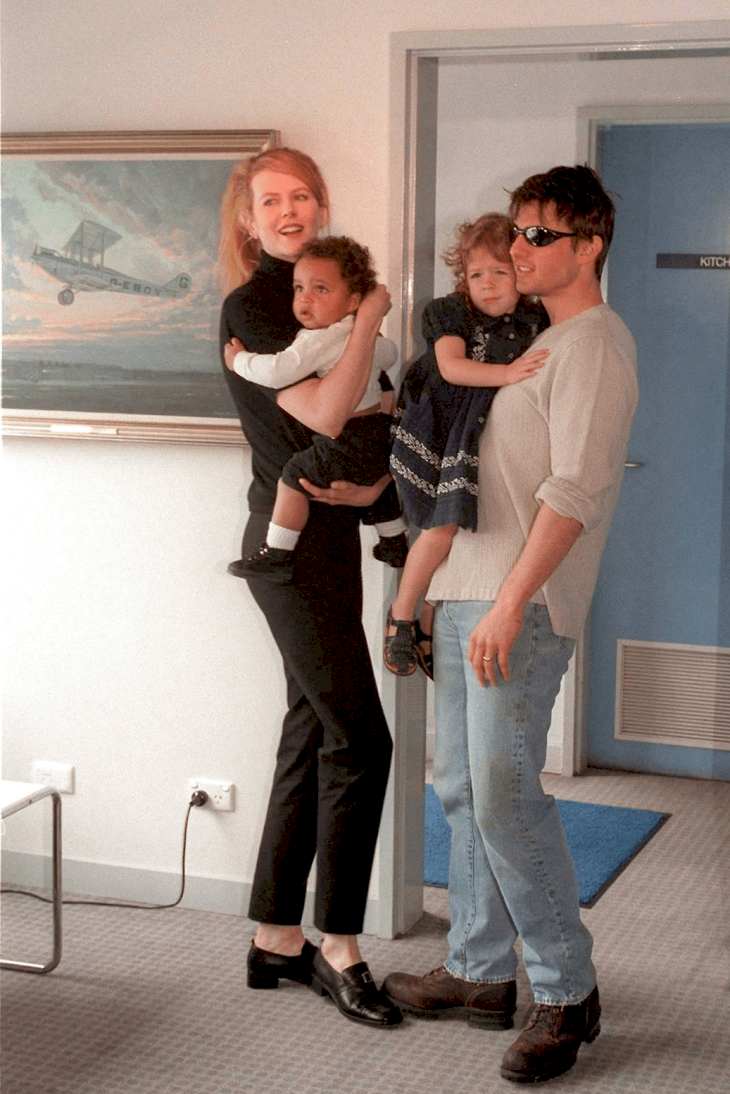 ---
"From the minute Tom and I were married, I wanted to have babies," she later told Marie Claire. "And we lost a baby early on... And that's when it came that we would adopt Bella...My mother has an adopted sister, so it's been part of our family and I knew it would probably play out somewhere in mine. I didn't think it would happen so early but it did."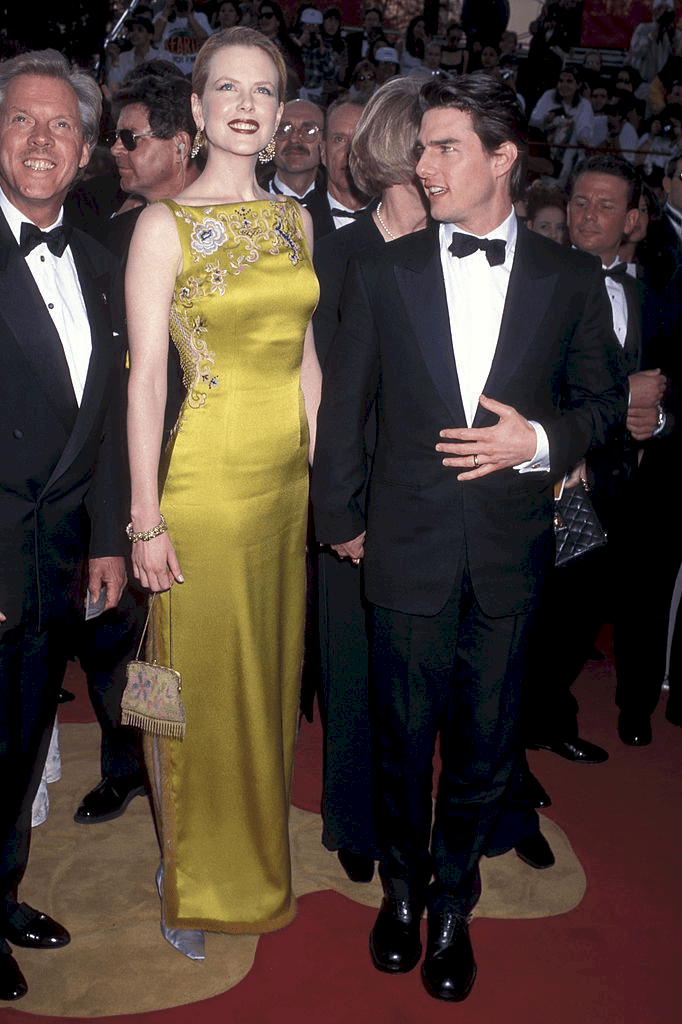 ---
EYES WIDE SHUT 
After over a decade of love, loss, healing, and joy, Kidman and Cruise shocked fans by separating in 2001. The two had recently filmed Stanley Kubrick's intense, erotic, psychological drama Eyes Wide Shut, which many claimed took a toll on their marriage.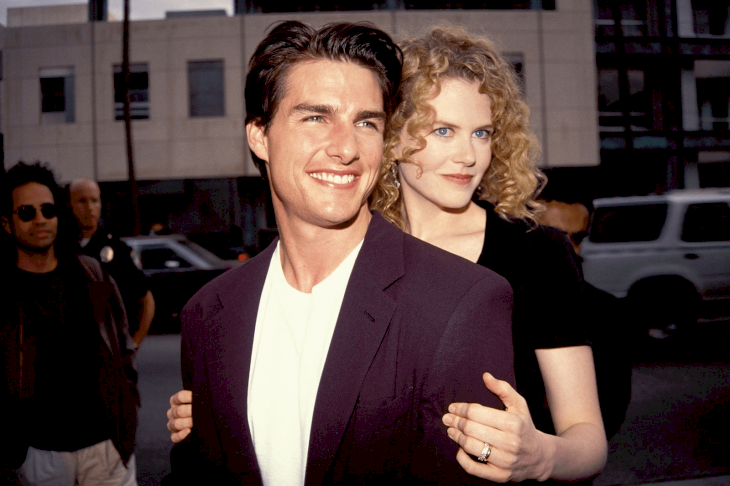 ---
Yet Kidman recently denied this in an interview with The New York Times, saying they were happily married throughout the filming process. Speaking of the way Kubrick made his stars immerse themselves in a fictional troubled marriage, Kidman denied that any part of that was weird.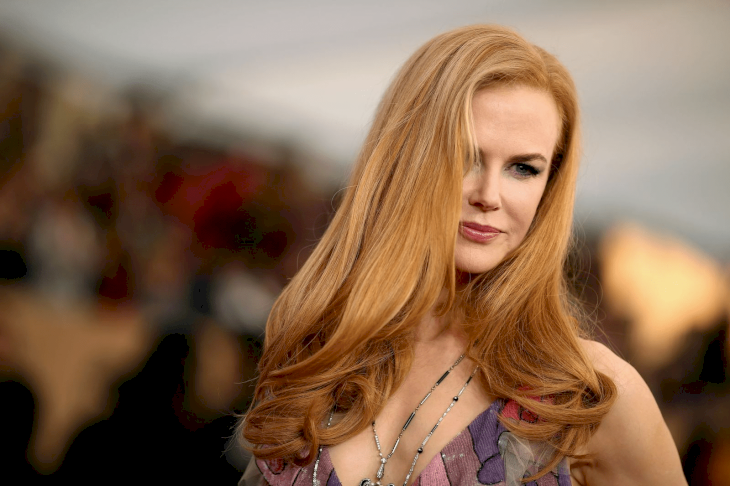 ---
"This is where the fallacy is: We loved working with him. We shot that for two years. We had two kids and were living in a trailer on the lot primarily...We were working with the greatest filmmaker and learning about our lives and enjoying our lives on set." She and Cruise would apparently rent out a track and go go-kart racing at 3 am after filming difficult scenes.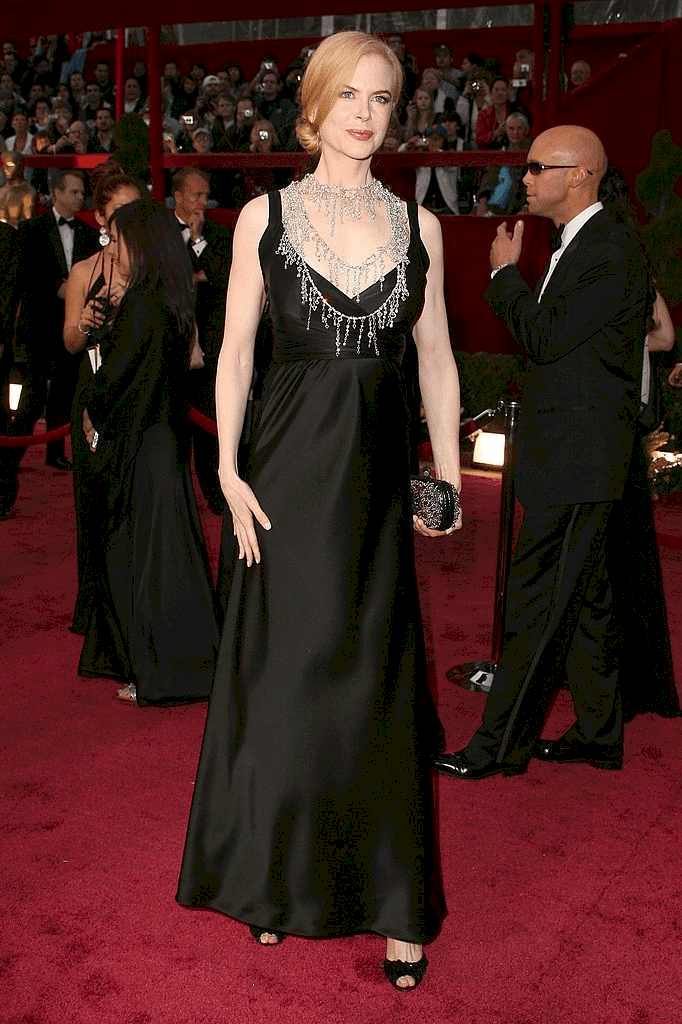 ---
While Kidman has spoken about her marriage to Cruise, there are things she won't reveal. "I want to honor that marriage for what it was, and there is nothing I would go into about that," she once said. "I have never discussed the intricacies of it and I never will." So what really caused their split?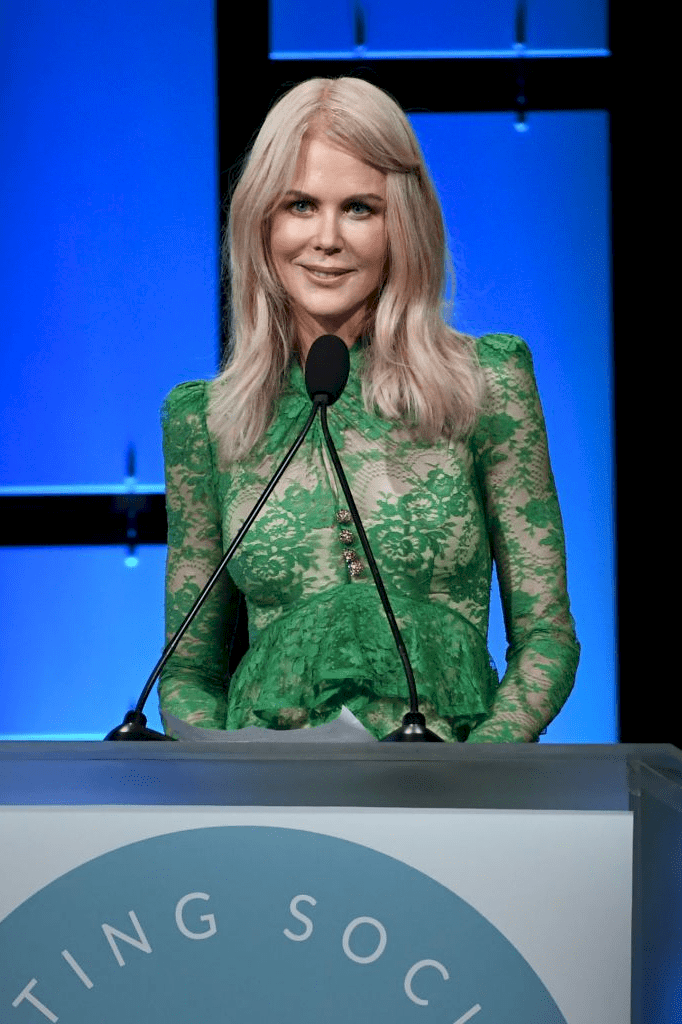 ---
Kidman was reportedly blindsided when Cruise officially ended the marriage citing "irreconcilable differences." Aside from the rumors surrounding Eyes Wide Shut, many also claimed that Cruise's love of Scientology also tore them apart. Kidman's late father was a psychologist, which is something the Church of Scientology is strictly against.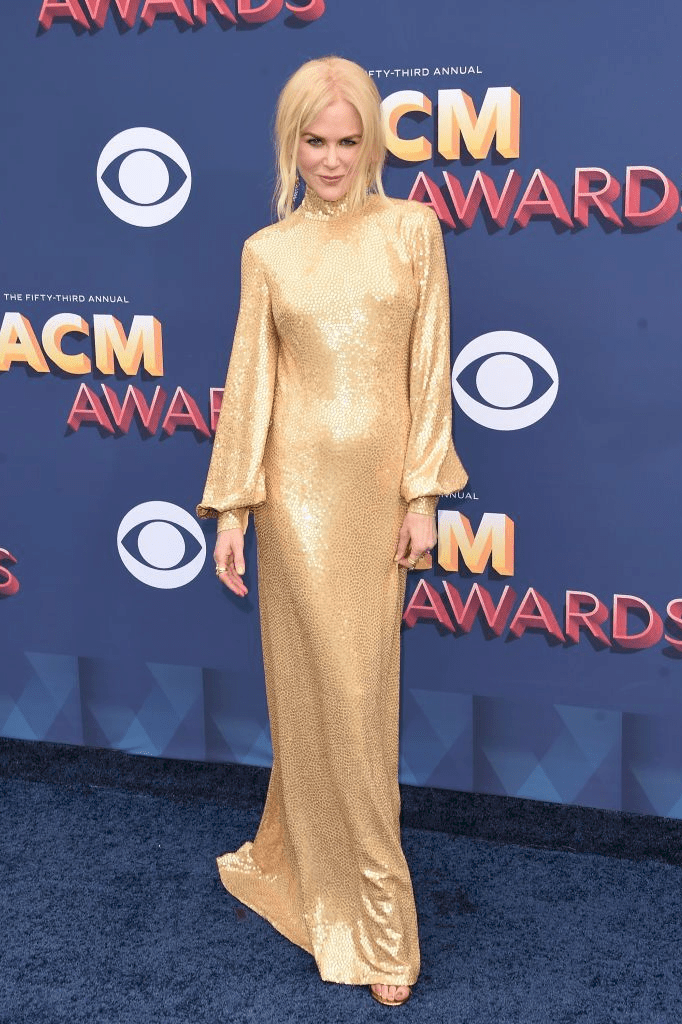 ---
The Church of Scientology reportedly wanted to break up the couple because Kidman wasn't a believer and they wanted Cruise to further their mission. But there was more to the end of their marriage, Kidman suggested. She claimed that they were living in a bubble and issues like fame, youth and growing responsibilities all led to their breakup.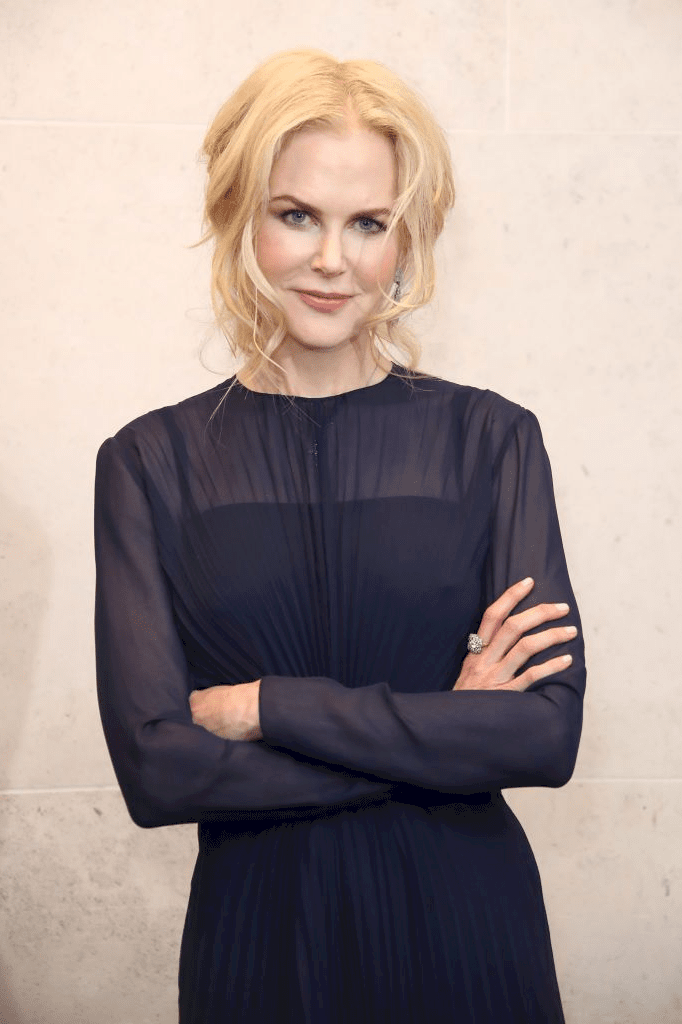 ---
"Our life together was perfect. It took me a very long time to heal," she said. "It was a shock to my system. That was a great relationship. I think it ran its course. I was really damaged and not sure whether [love and marriage] was ever going to happen again to me."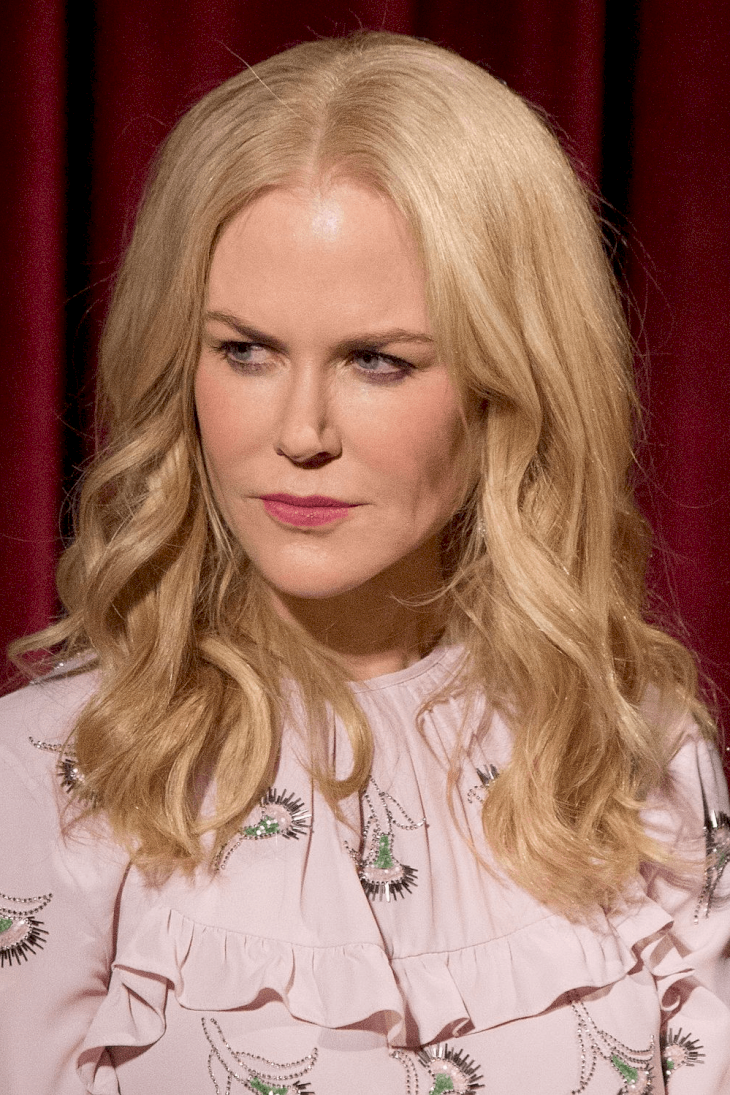 ---
NEW LOVE, NEW LIFE 
Yet Kidman did eventually find love again. From 2003 to 2004 she dated musician, Lenny Kravitz. Funnily enough, over a decade later, she acted alongside his daughter Zoë in Big Little Lies. The two women have a warm relationship and Lenny said he thought it was "beautiful that they got to know each other as adults."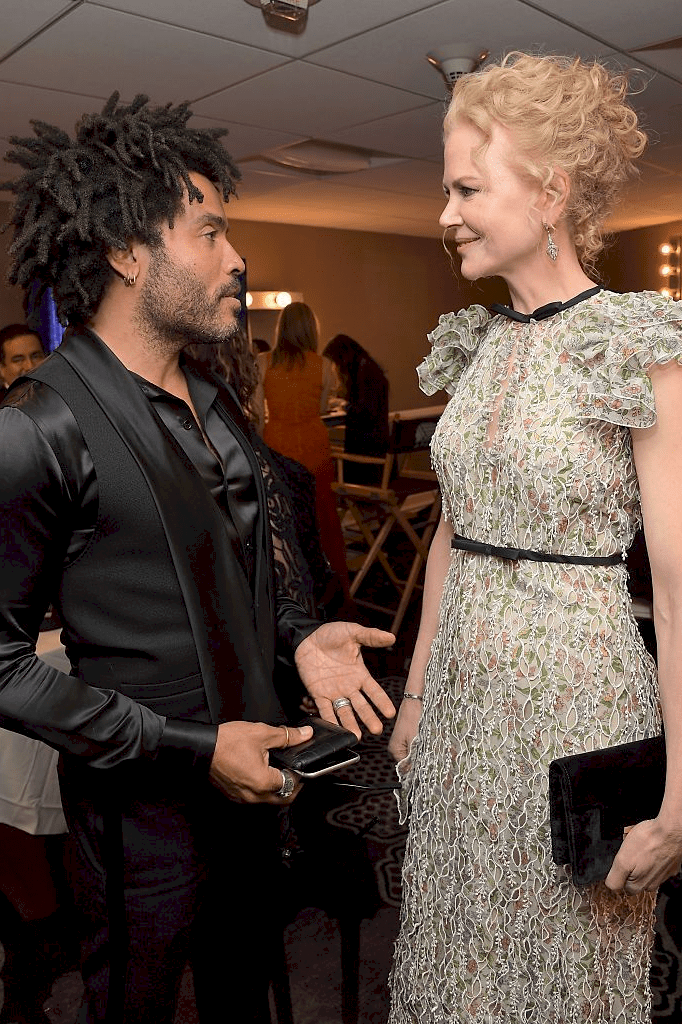 ---
Kidman went on to have short-lived romances with rapper Q-Tip and British pop star Robbie Williams. In 2005 she met country singer Keith Urban at G'Day LA, an event honoring Australians. Born in New Zealand, Urban grew up in Australia and so the two bonded over their shared roots.
---
He and Kidman returned to Australia when they married in a breathtaking cliff-top church ceremony in Sydney in June 2006. At the wedding, Urban serenaded his new wife with his number one single, "Making Memories of Us". Talk about romantic! Over 14 years later, they're together and happier than ever.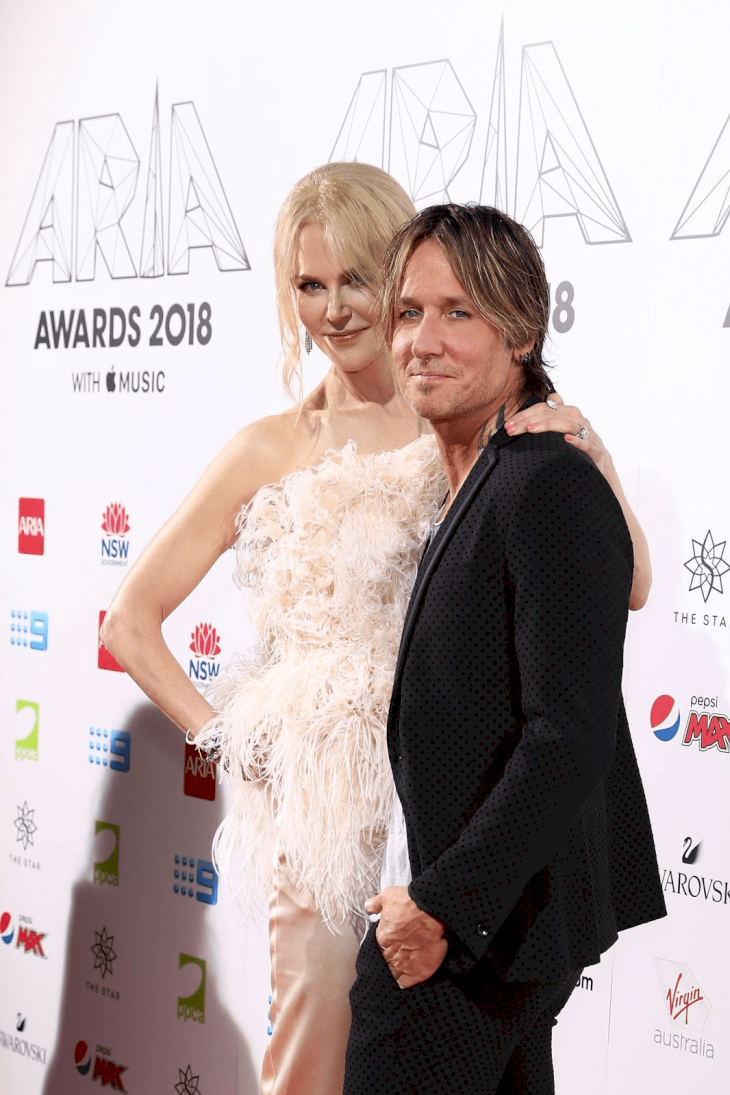 ---
"He just came along and protected me," she said. "He's loved me, given me confidence, and made me so much more comfortable. He knows who I am, and he's opened me up. We have an interesting balance because I'm an introvert, and he's an extrovert."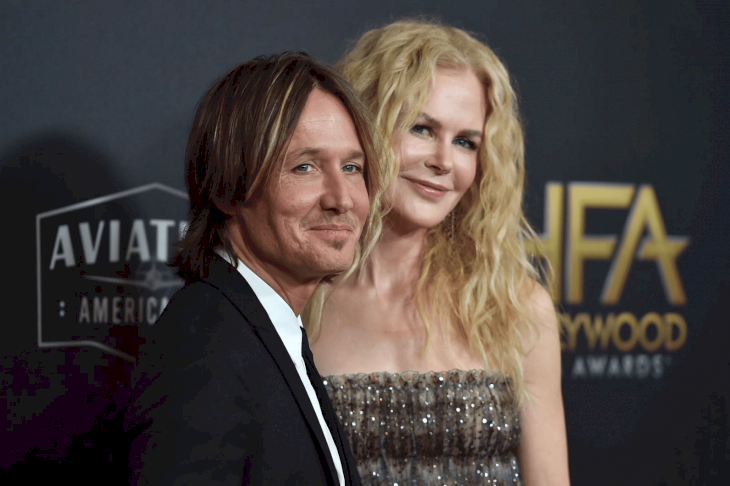 Yet it hasn't all been smooth sailing. Urban has recovered from some bad habits. Just months after he married Kidman, he suffered a relapse. "I deeply regret the hurt this has caused Nicole and the ones who love and support me," he said at the time. "One can never let one's guard down on recovery, and I'm afraid that I have."
---
Yet, together the pair overcame his problems, using something that could have torn them apart to come closer together. Urban told Oprah that Nicole's support helped get him through. "To see love in action to that degree, at that time, in that way - I had never experienced anything like that," he said.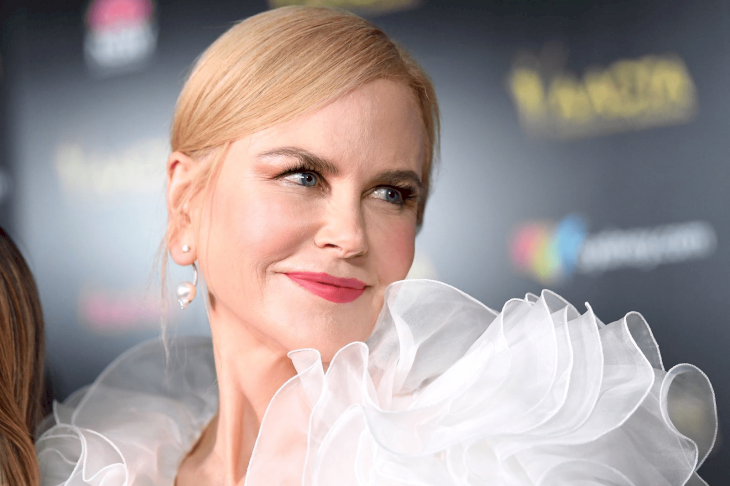 About a year after Urban's recovery, at the age of 40, Kidman gave birth to the couple's first child, a daughter named Sunday Rose. In 2010, Kidman and Urban welcomed a second daughter, Faith Margaret, via gestational surrogacy. "I'm married to a really good man," Kidman said recently. "And the kids have a great father and that's a very beautiful thing to be able to say."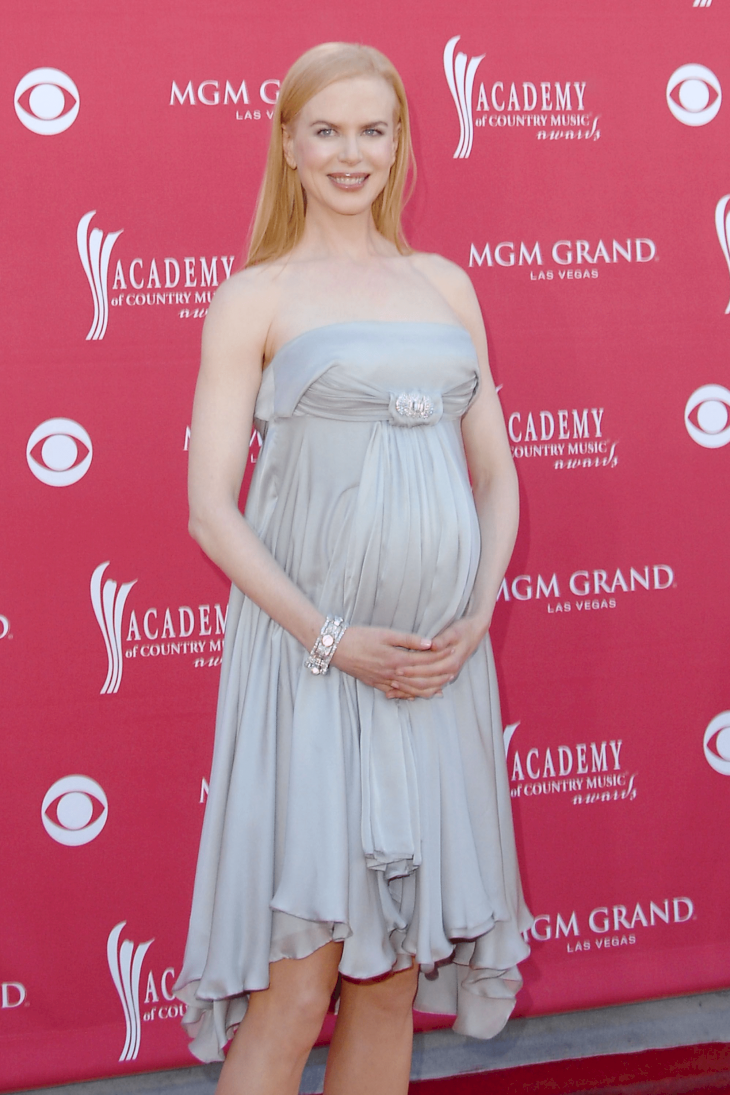 ---
The two are obviously still very happy together as was clear in their recent lockdown Instagram videos aimed at spreading joy during difficult times. In the videos, Urban performs while Kidman, his biggest fan, dances around to his music. "I'm happy to be your backup singer, your groupie," she tells her husband. "Whatever you need me to be."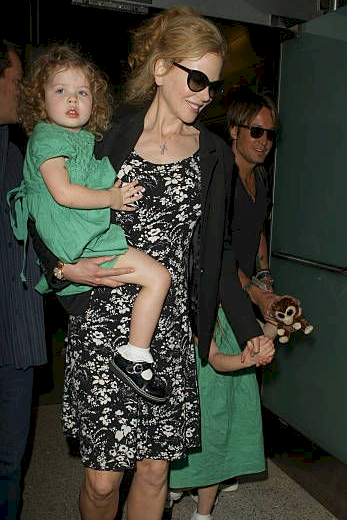 ---
After her 2001 split from Cruise, Kidman's career also reached new heights as she gained confidence. While she said being married to a powerful Hollywood star protected her from industry negativity as it also held her back. "I became famous very young. I became very famous because I was the wife of somebody. I felt I became a star only by association," she said.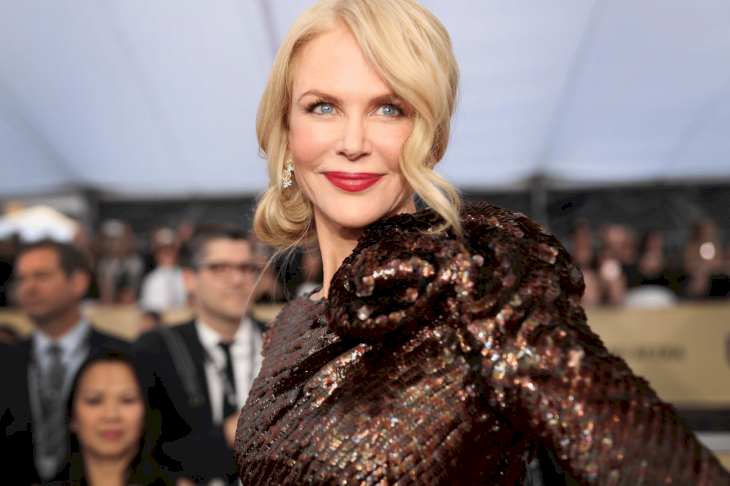 ---
Yet in the years following her split from Cruise, Kidman gained wide acclaim and even won the Best Actress Oscar for her role in The Hours in 2003. Today she's one of the most powerful women in Hollywood, ruling film and TV and managing many projects through her production company, Blossom Films.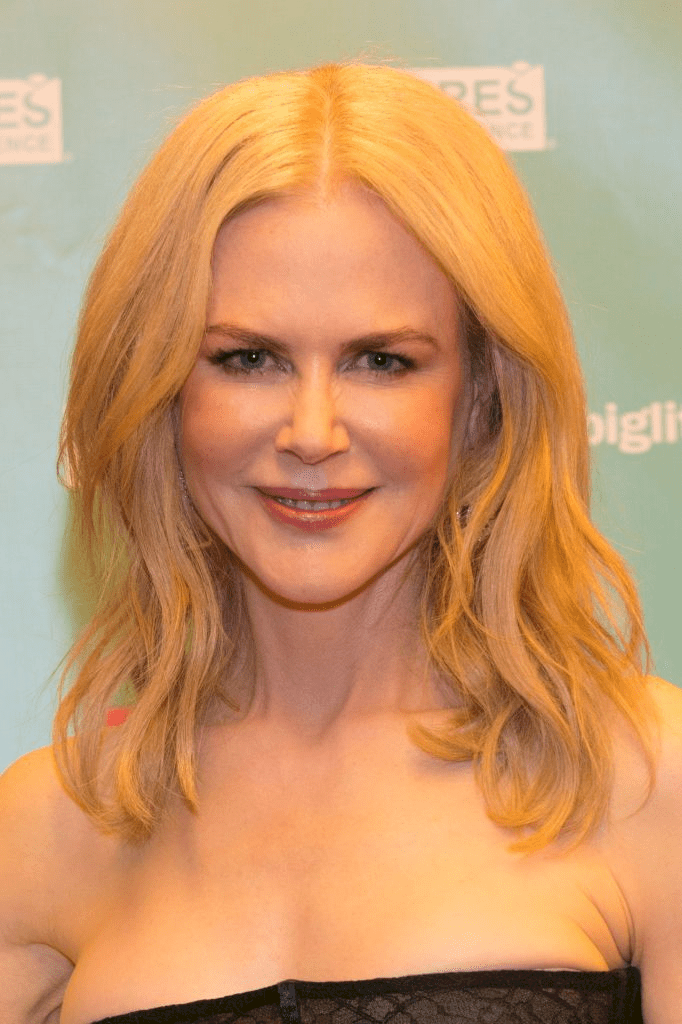 ---
KIDMAN AND HER KIDS 
Kidman and Urban's marriage was undoubtedly strengthened through their children. Giving birth to her first child after having two pregnancy losses was a miracle that Kidman didn't take for granted. "The flipside of going through so much yearning and pain to get there is the feeling of "Ahhhh!" when you have the child," she once said.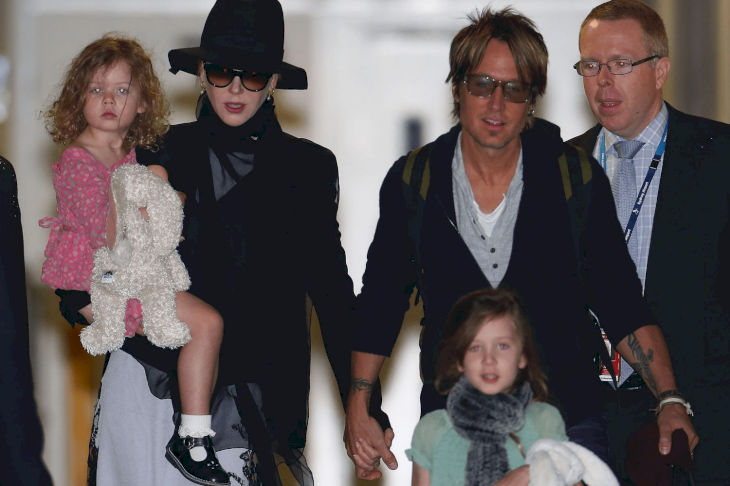 ---
Speaking of her family with Urban and their simple, happy life, she told Hello: "I love being in the kitchen in the morning so that when my kids come down, there's noise and there's joy in the home. That's really important to me." Kidman's relationship with her now grown-up kids with Cruise has been the subject of much scrutiny.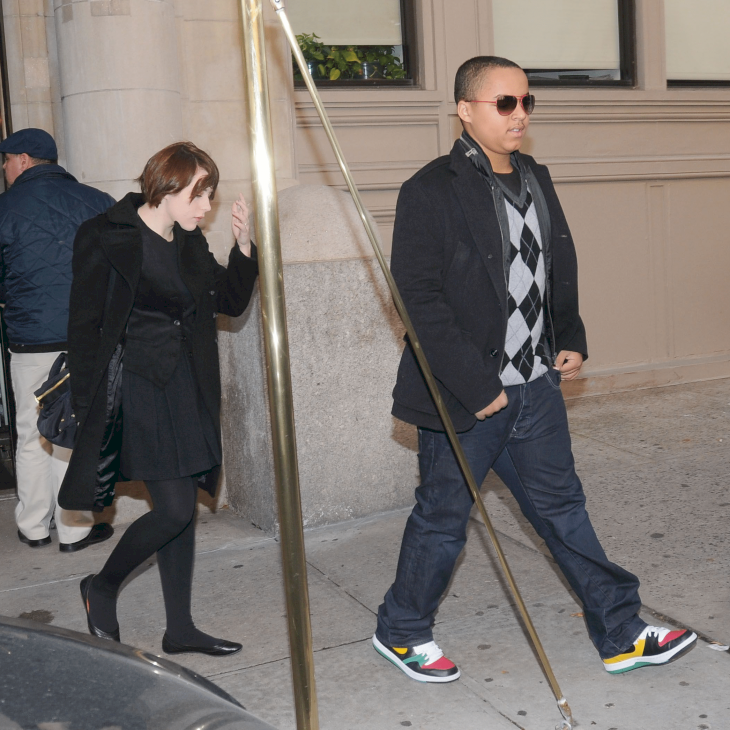 ---
The two are both Scientologists which has apparently created a rift with their mother. They were reportedly estranged from Kidman for many years after the church declared her a "suppressive person." Yet the actress is very protective of her kids with Cruise even though she doesn't echo their beliefs.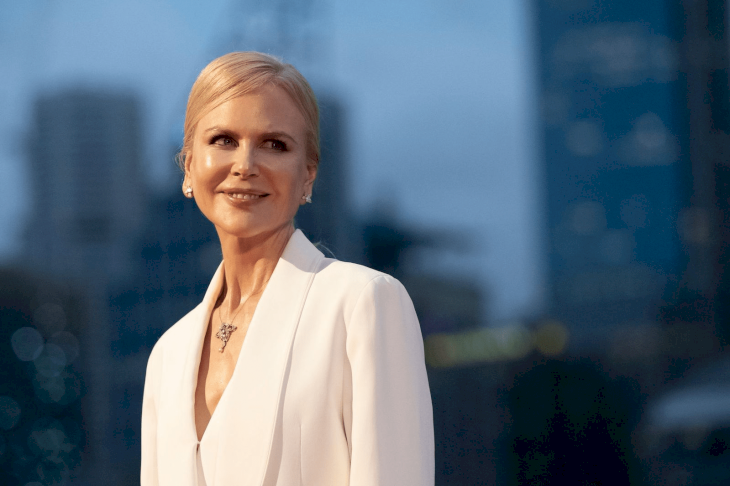 ---
"They are adults," she said. "They are able to make their own decisions. They have made choices to be Scientologists and as a mother, it's my job to love them...So that's our job as a parent, to always offer unconditional love." In recent years, Connor and Isabella have reportedly grown closer to Kidman.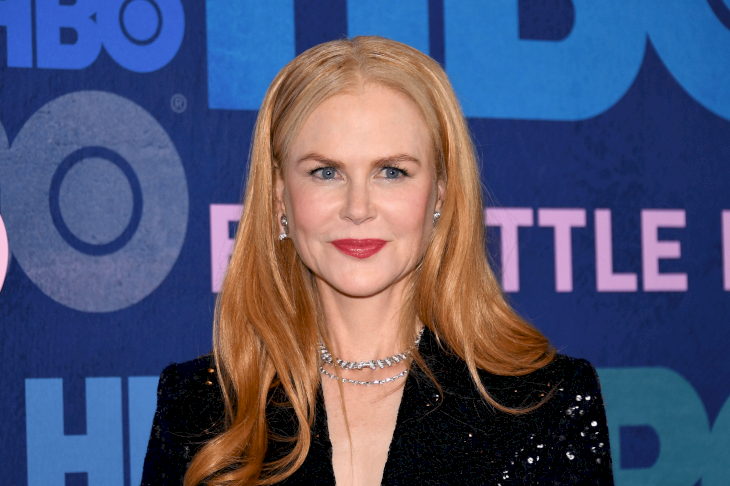 ---
As for her and Cruise? They also still have a lot of love for each other. In a 2005 interview, Cruise said he loved Kidman very much and just wished her happiness. A year later Kidman reciprocated. "He was huge; still is," she told Ladies Home Journal. "To me, he was just Tom, but to everybody else, he is huge. But he was lovely to me and I loved him. I still love him."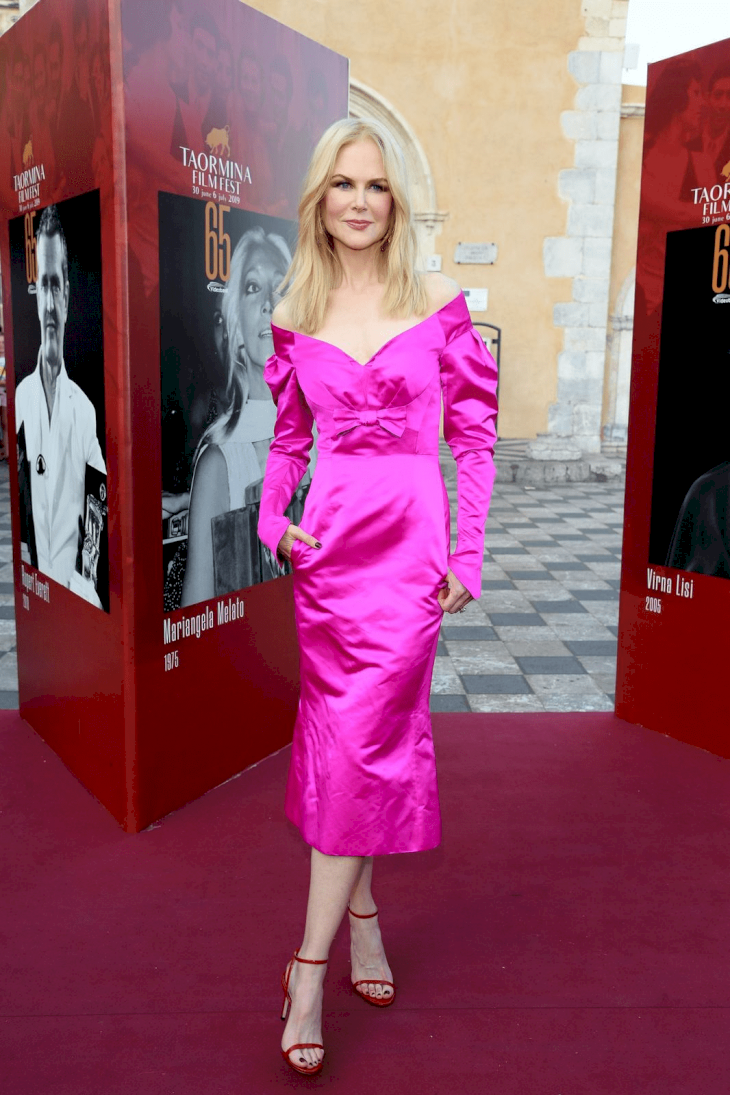 ---
NICOLE KIDMAN AND KEITH URBAN'S PARENTING RULES
We may all know Nicole Kidman and Keith Urban as being the gorgeously modern-minded celebrities but it seems that they are still pretty old-fashioned when it comes to their parenting style. Which family philosophy makes Kidman 'unpopular' with her kids? And why do people think she has favorites amongst her children? We're giving you the latest lowdown on the Kidman-Urban household!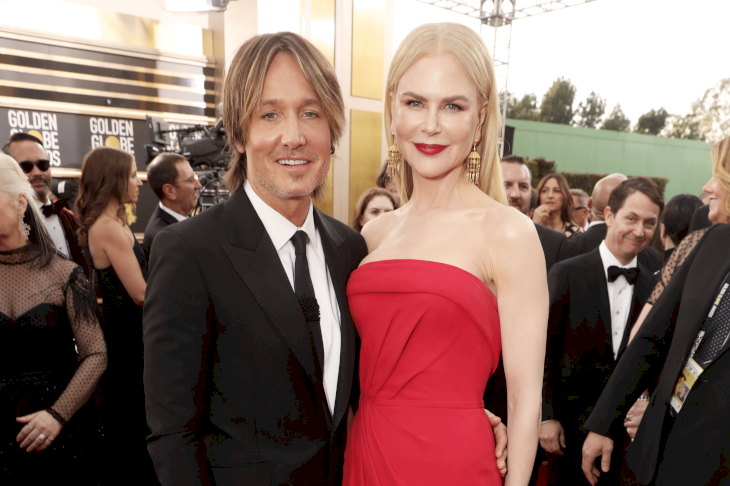 ---
1. THE ONE RULE THAT KEEPS THEIR FAMILY INTACT
The notoriously private actress and her country singer husband Keith Urban can often be seen jet-setting across the globe, so it's easy to assume that their jobs will pull them away from their two daughters Sunday Rose and Faith Margaret.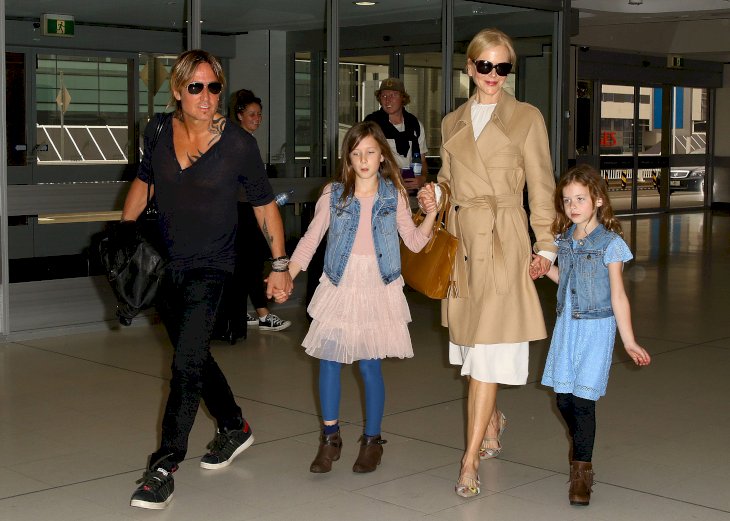 ---
But that isn't the case thanks to this one specific family rule: hugging! Yes, hugging. The Big Little Lies actress told InStyle Magazine that hugging has helped keep their family unit intact. Speaking about this family rule, Kidman was quoted as saying: 
---

"I go home to hug my kids! They'll always be waiting up. I'll hug my husband too … It just keeps you connected" the actress said.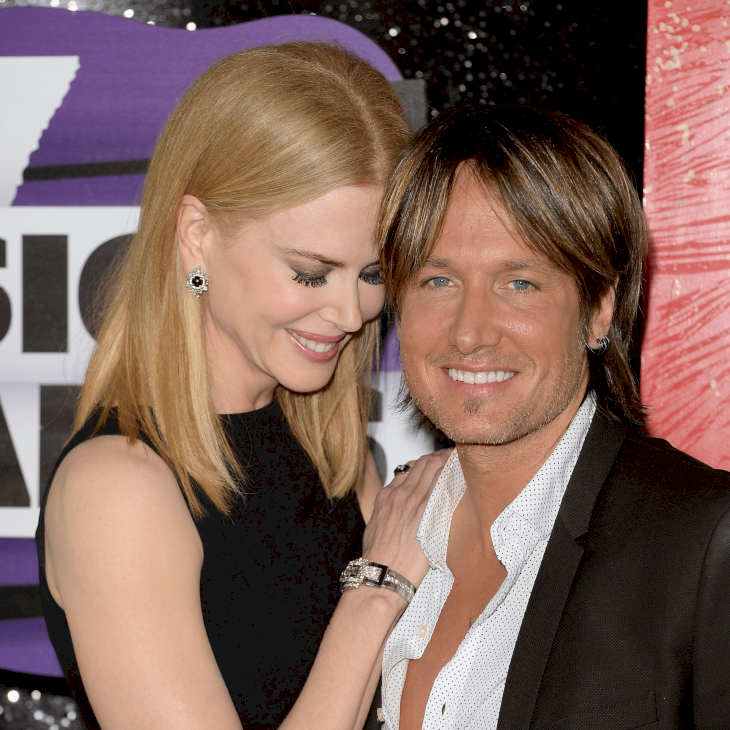 ---
So how did the star come up with this evening ritual? Well, with the help of their family priest who told the power couple, in the beginning stages of their marriage, that they should always kiss hello and kiss goodbye! And it seems that they're passing the rule down to their children!
---
2. NO MORE THAN 7 DAYS APART RULE
While distance may make the heart grow fonder, Kidman admittedly prefers to keep the distance to a minimum. Yes, even with Nicole starring in the HBO hit series Big Little Lies and Keith Urban living his best rock-star life, many would assume that this family of four is used to spending a lot of time apart.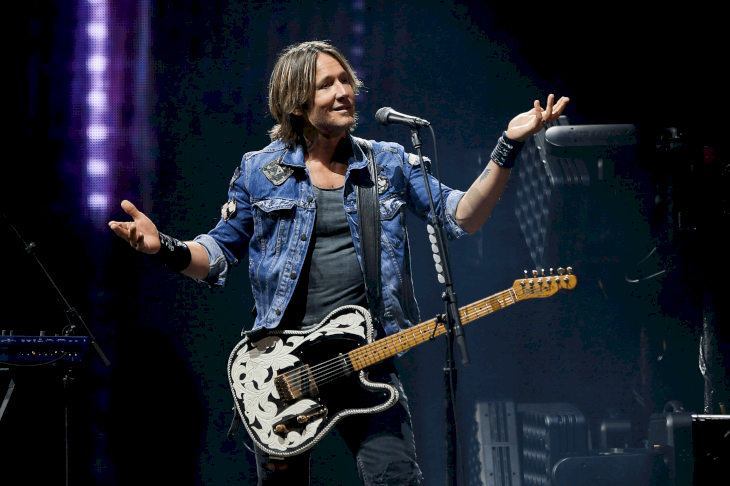 ---
But even with jobs that take them all over the world, the parents have a "no more than seven days apart" rule. The tight-knit family is said to prefer being in each other's company and therefore opt to have their children travel with them whenever possible.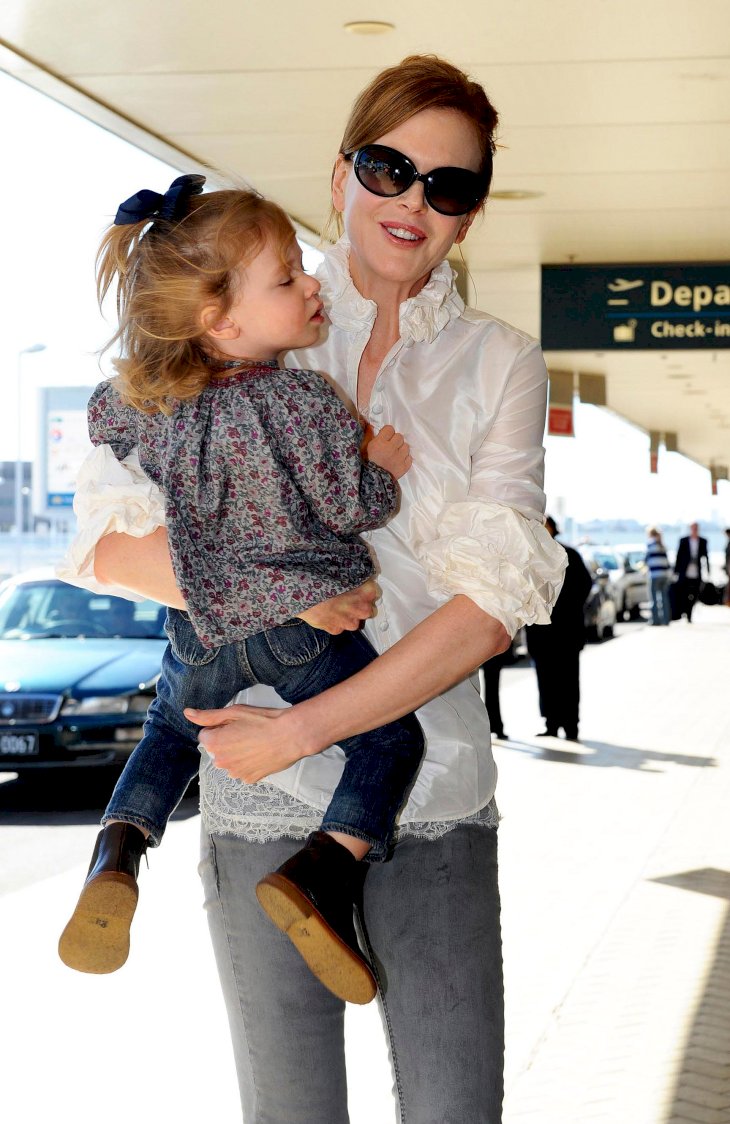 ---
The star went on to admit that her family becomes a little anxious if they are separated for more than two days, so going more than seven days without seeing each other just isn't an option! But you may be surprised to find out that the power couple has had this rule for a very long time.
---
True fans of the Kidman-Urban love story will recall how Keith famously got onto a 10-hour flight to see Nicole because he hated the distance. Chatting about the moment to People, Nicole said: "He flew 10 hours to come and be with me for the night, and then he flew back and did a gig. That for me is love in action." And so the "no more than seven days apart" rule was born!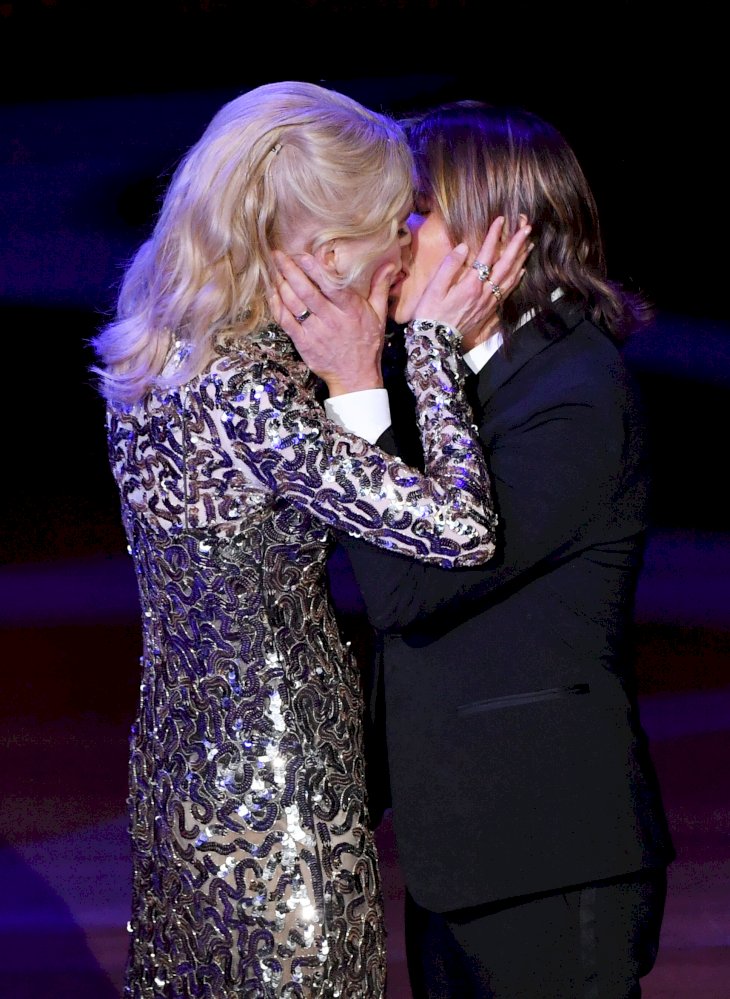 ---
3. THE 'NO-DEVICES' PHILOSOPHY
Despite being famous celebrity parents, Nicole and Keith have still managed to be those "unpopular" parents as Nicole puts it. And it's all courtesy of this one household rule: No devices!
---
While we often see Nicole treating her 7 million followers to all the behind-the-scenes content they could ever dream of, her kids don't exactly have the same luxury as her children have to follow a strict 'no devices' philosophy at home. So what exactly does this mean?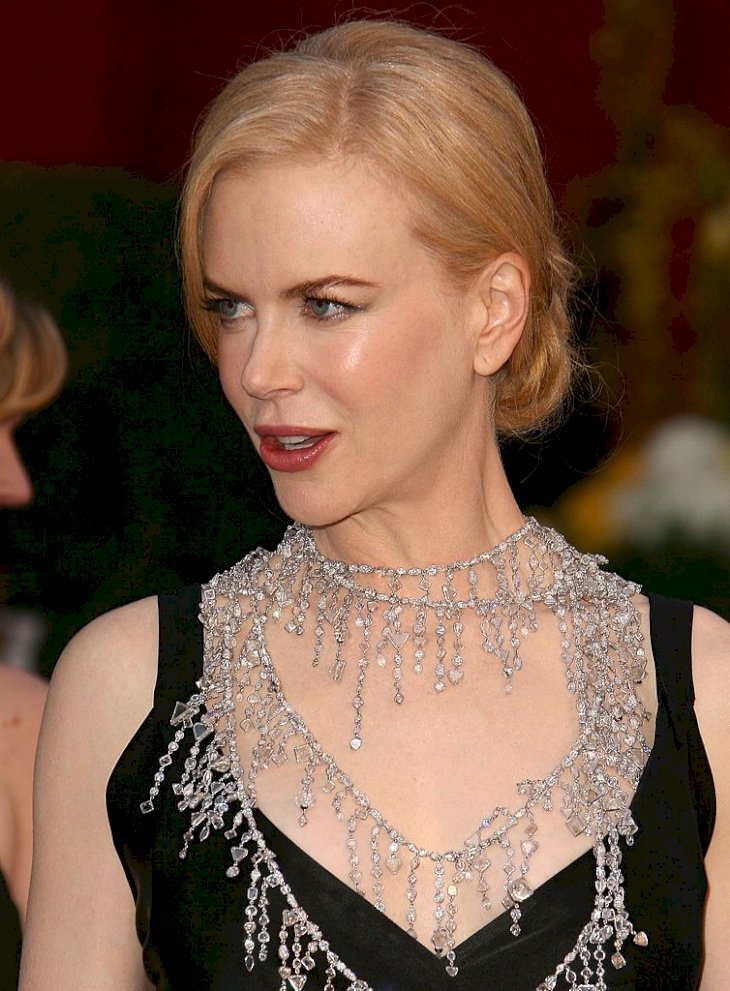 ---
Well, it means that while many celebrity families may enjoy sharing various parts of their lives with the world, the Kidman-Urban household will be keeping their private lives private. Nicole shares that this philosophy keeps her family present, focused, and attentive. 
---
Even if it doesn't make her 'popular' with her daughters! But just to make sure that the girls abide by this rule, Nicole and Keith refuse to give their daughters phones. In an interview with The Guardian, Kidman told readers: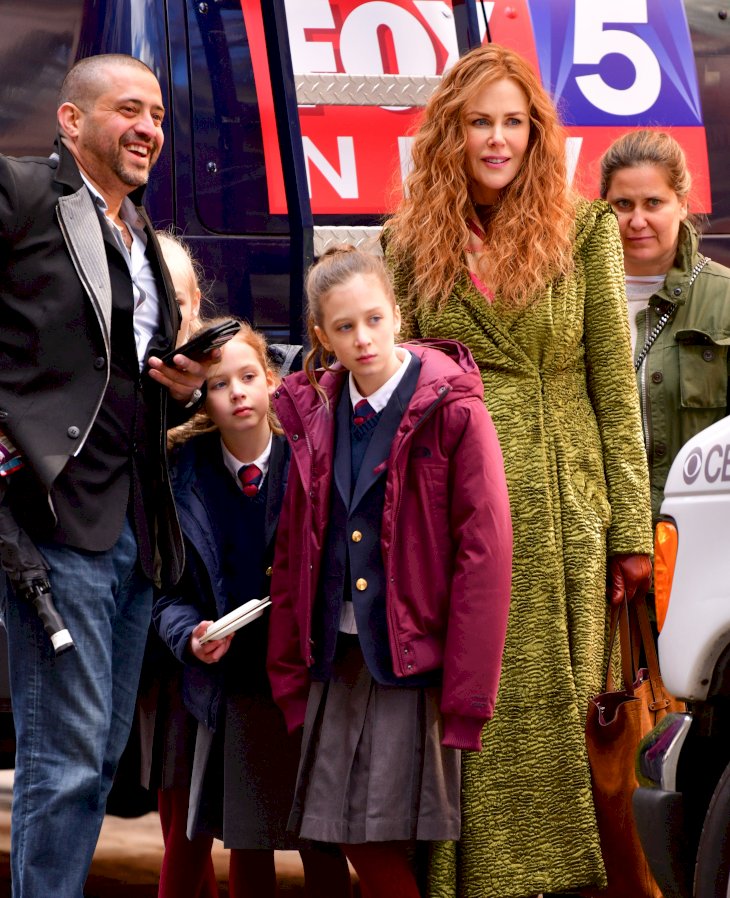 ---

"They don't have a phone and I don't allow them to have an Instagram. I try to keep some sort of boundaries." 
---
But don't think that this rule is just for the kids because it extends to their children's friends too with Nicole saying: "We have a no-devices house. Their friends can't bring devices over either." At home, Nicole and Keith have also both banned having a television in their bedroom and have a 'no computers in bed' rule.
---

The star shared that: "We're pretty strict with the boundaries on what we allow in terms of work into our home."
---
So how do their kids Sunday and Faith keep entertained? With their treehouse! Sitting down with USA Today Nicole said: "My kids right now, they're not on social media. There's no need. My kids literally have a treehouse and play in the backyard". 
---
The actress later goes on to explain that the treehouse has been instrumental in keeping their daughters playing outside. And with access to a large open garden and a fabulous treehouse in the middle of Nashville Tennessee, it's easy to see why the girls love the great outdoors!
---
4. WHY THEY CAN'T LIVE A "NORMAL" LIFE
Alright, if we are being completely honest, Nicole Kidman's daughters Sunday Rose and Faith Margaret will probably never live a normal life. They have full-blown celebrity parents! Which means that even at their young age they've already reached Hollywood royalty status.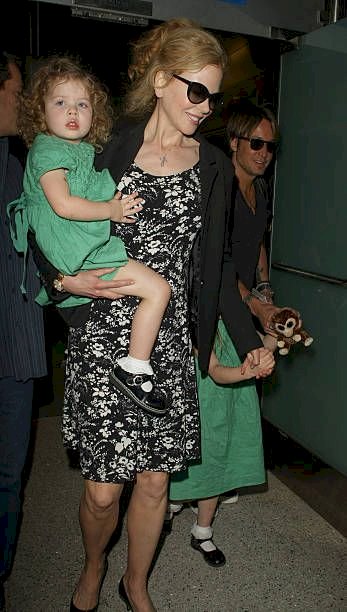 ---
But even after getting used to having their parent's famous celebrity friends around, or having personal bodyguards and access to a rather large bank account there is one thing that keeps them from living a "normal" celebrity kid life: They have to live on the road.
---
Unlike most celebrity kids that retreat to their famous homes, the Kidman's kids aren't exactly used to that as they are always traveling. Keith had previously explained the family's busy lifestyle during an interview with The Times, admitting that no day is the same.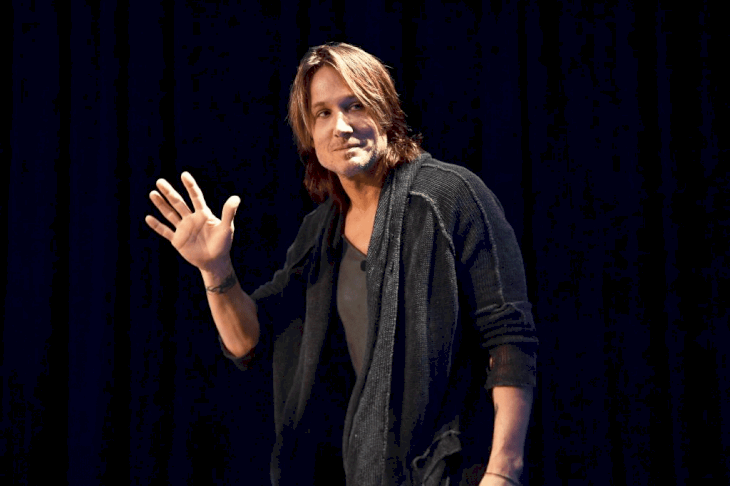 ---

"We live in different places – between Nashville and London – so we're just used to not having a particular structure. It's based on whether Nic's working, whether I'm working," he said.
---
So while the family may be used to their fast-paced jet-setter lifestyles, the recent lockdown period has definitely changed things. And let's just say that it's been quite an adjustment for the family of four. In an interview with Hello! Magazine Nicole shared that: 
---

"Staying home, doing school from home and all of those things that everyone has been doing is a completely different life for us."
---
Despite the drastic change, Nicole says that she has never been happier. "I love being in the kitchen in the morning so that when my kids come down, there's noise and there's joy in the home. That's really important to me," she said. 
And any quick glimpse at her Instagram page will prove just how much the family is easing into life off the road.
---
5. CHURCH IS A MUST
Growing up in a rather strict Catholic home, it's unsurprising that religion would become a rather significant part of Nicole Kidman's parenting approach. Sitting down with The Observer the actress shared that she regularly takes her kids to church to either attend the service or just to listen to the gospel singing.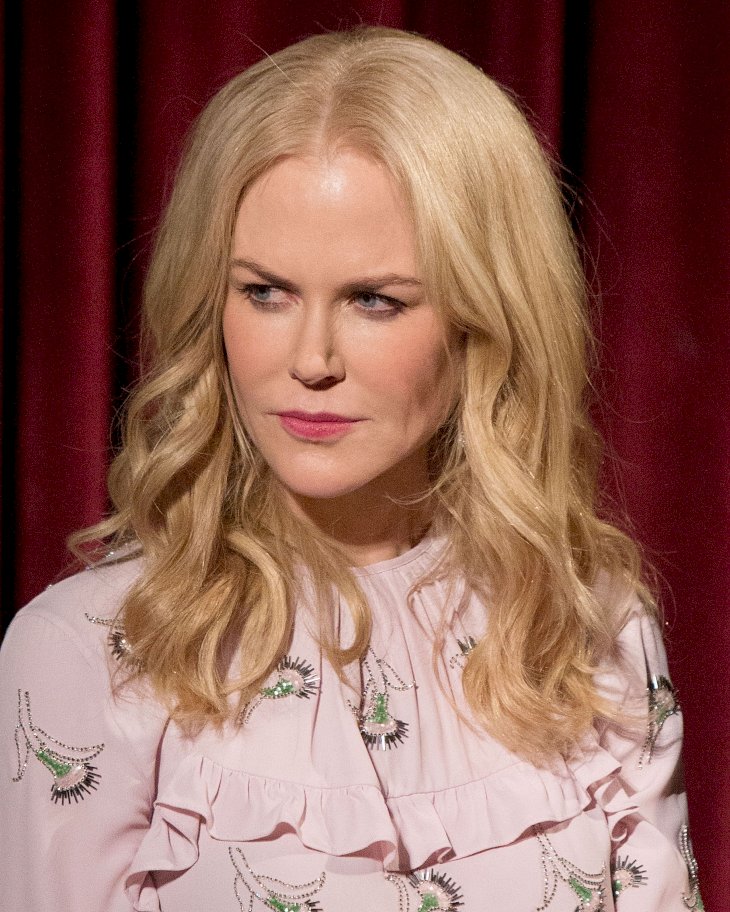 ---

"We go to Catholic church, or sometimes we will go to a gospel church for the music. That singing and joy is so wonderful," she told The Observer.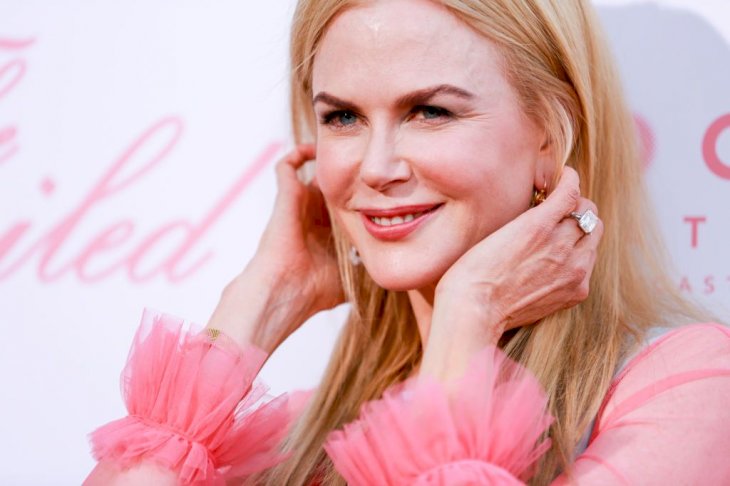 ---
Kidman often talks about her Catholic grandmother who raised her and how their relationship had a major impact on she would go on to raise her own children. And even though husband Keith has his own beliefs, the two have decided that they would be raising their children in the church and Keith will be a beacon of tolerance and zero judgement for their kids.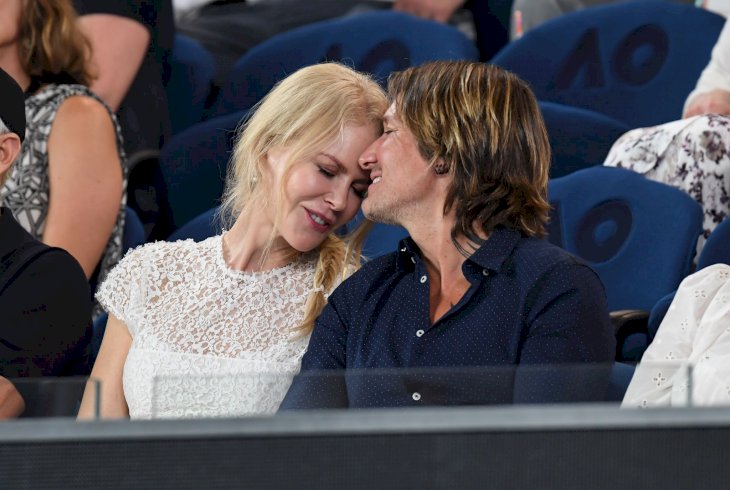 ---
6. EVERYONE IS EQUAL
It's no surprise that the celebrity world is filled with many blended families, with the likes of Alicia Keys and Swizz Beats to Lisa Bonet and Jason Momoa bringing together children from previous marriages.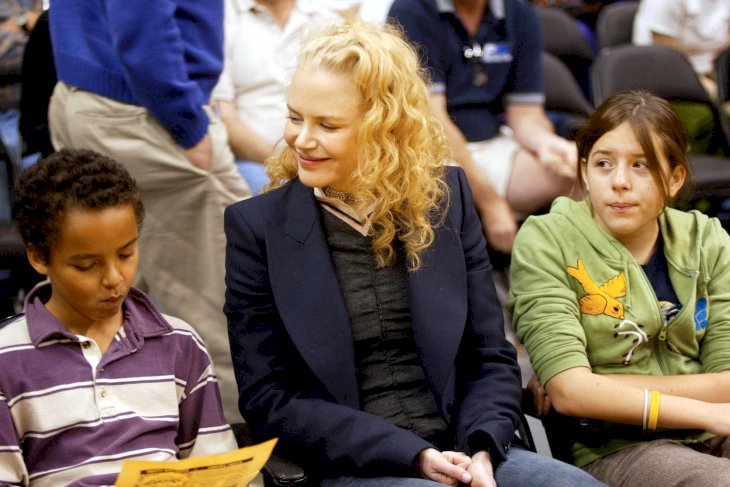 ---
And the Kidman's family is no different. Did you know that prior to having daughters Sunday and Faith, Kidman adopted two children with then-husband Tom Cruise? That's right! Kidman is also mother to 27-year-old Isabella and 25-year-old Connor.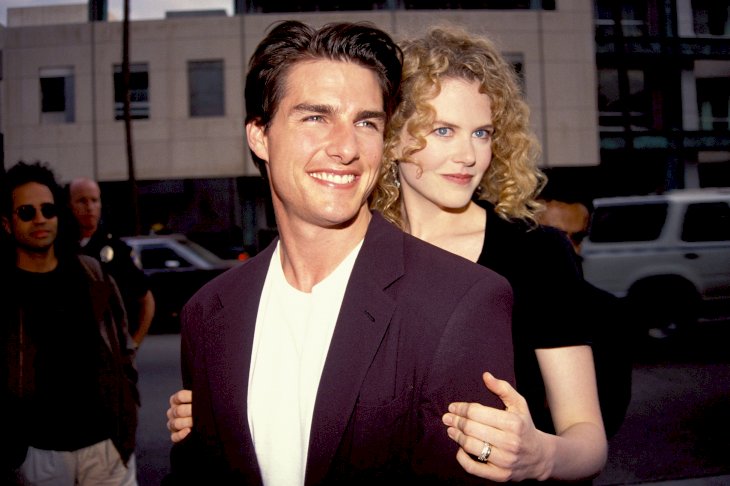 ---
And while the two may be older now, many have cited that it seems that the star favours her two biological children a little more. So what led to this controversial rumour? Her failure to mention them during her acceptance speech at the 2018 Golden Globes Awards.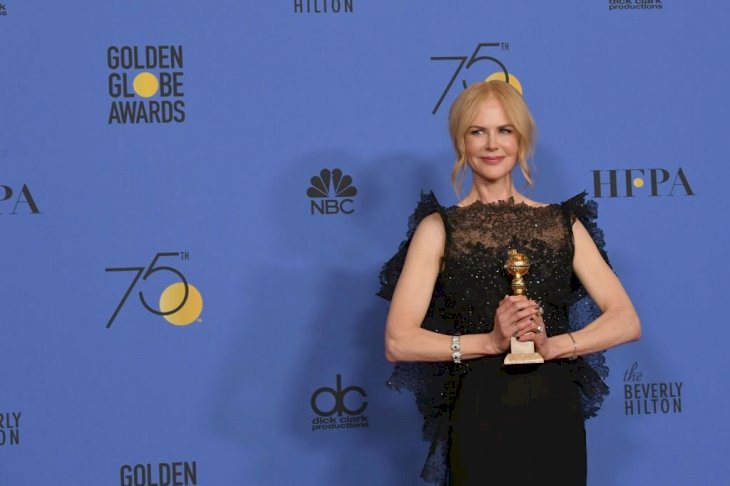 ---
While Kidman had thanked her two youngest children in her speech, many questioned why she had failed to mention her two oldest children Isabella and Connor. This led many to believe that the Big Little Lies actress favors her two biological kids more. But the star quickly addressed the rumors and the alleged rift when she told Who Magazine: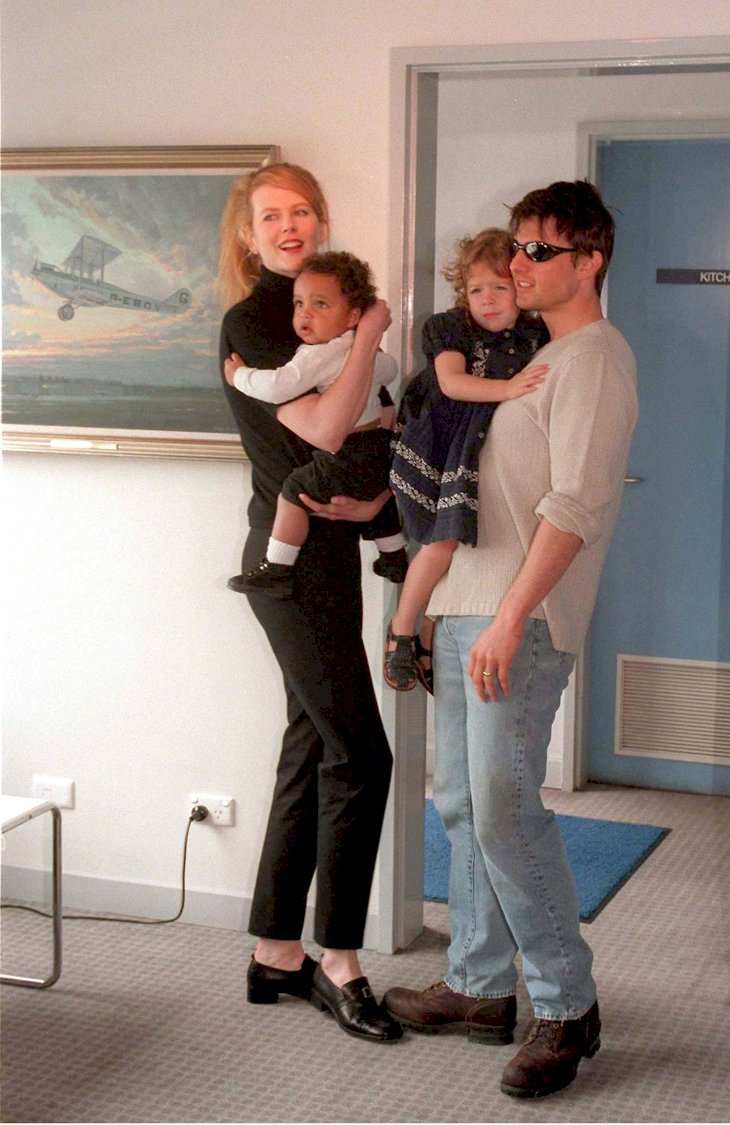 ---

"I'm very private about all that. I have to protect all those relationships. I know 150 per cent that I would give up my life for my children because it's what my purpose is".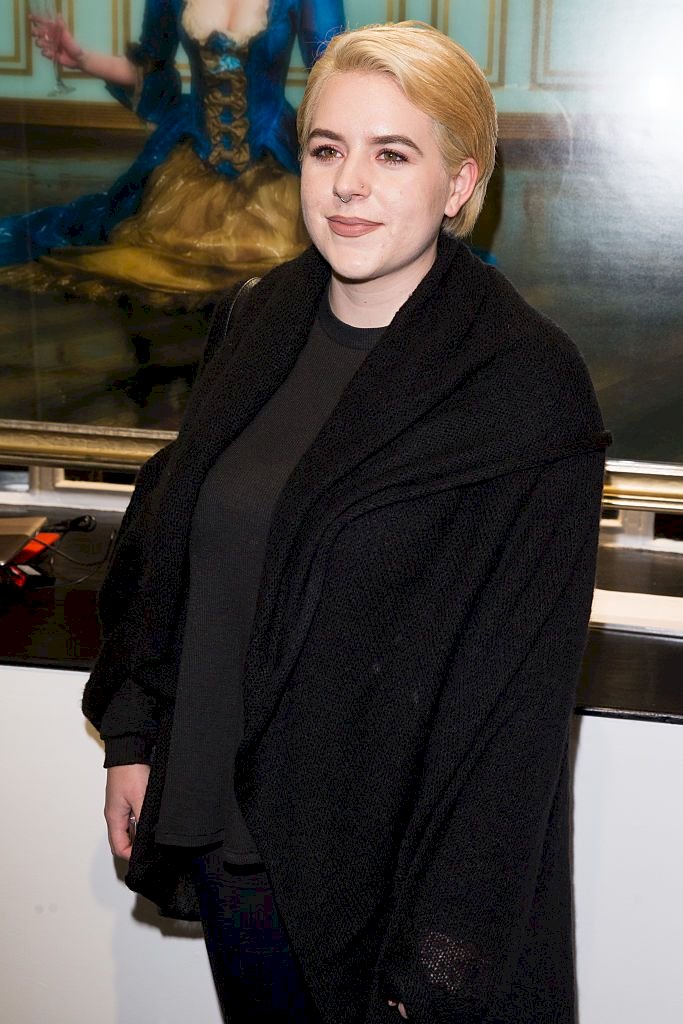 ---
Although both Bella and Connor live relatively quiet lives - Bella lives in London with her husband Max Parker and Connor works around the world as a DJ - they have both responded to the rumors in the past telling publications they are still close to their mother and love her very much.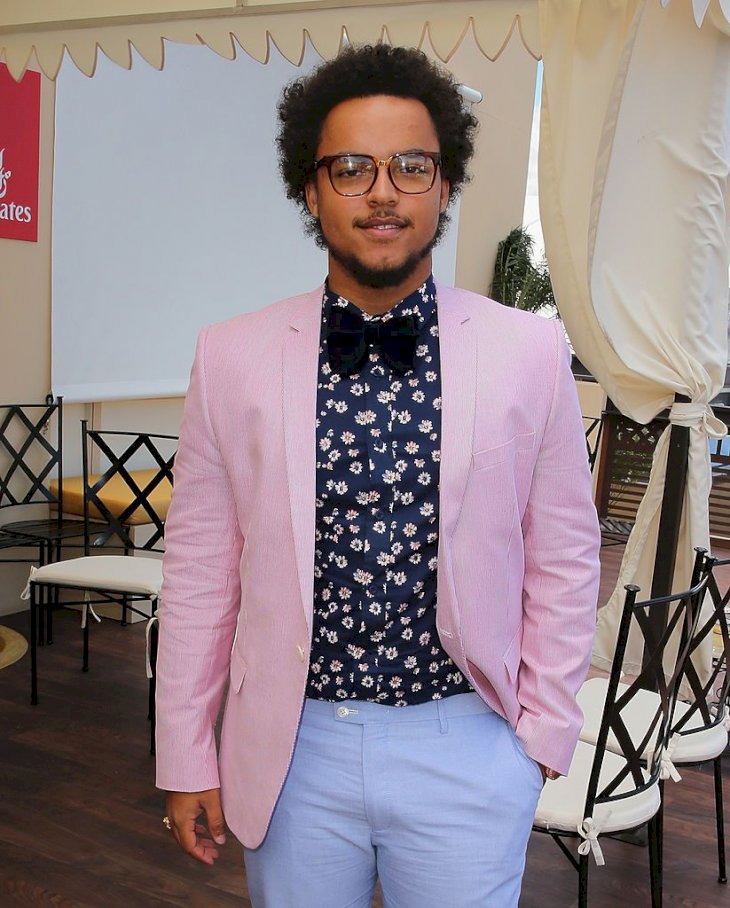 ---
7. THEY DON'T HAVE TO FOLLOW IN THEIR PARENT'S FOOTSTEPS
While we would all enjoy seeing the Kidman-Urban kids follow in their parent's creative career paths, it seems the parents aren't as pushy on the idea. When chatting about how she chooses to raise her kids, Nicole told fans that she and Urban try not to steer their daughters into music or acting saying:
---

"You can't really get kids into anything, I've realized. You can push them a bit, but motivation is a really hard thing. I mean, nobody motivated me to be an actor; if anything they tried to deter me." 
But it seems that the two are already rather artistically and musically gifted! During the annual Elle Women in Hollywood Celebration, Kidman explained daughter Sunday's career plans with the audience.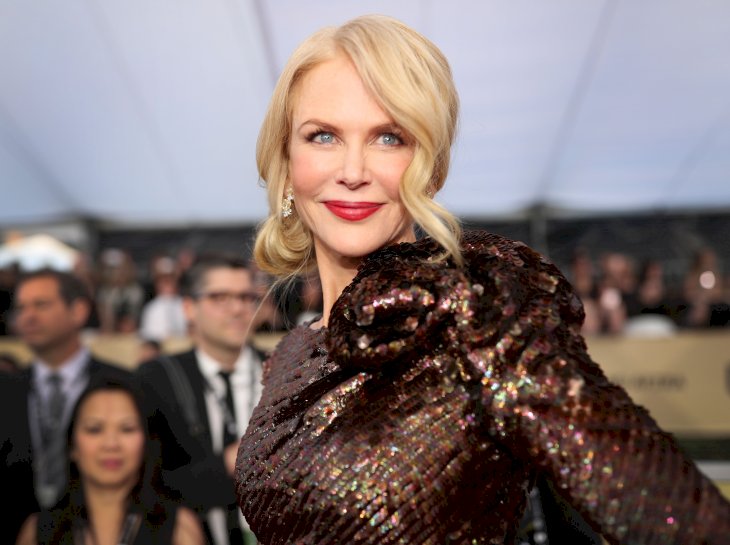 ---
She recalls her daughter confidently saying: "I want to be a director. And I'm pretty sure I can make that happen." And it seems her sister Faith is just as creative as she can be spotted in not one, but two, episodes of Big Little Lies playing the classmate of Celeste Wright's twin boys.
---
8. THE KIDS TEACH THE PARENTS
Both Kidman and Urban may be the sources of authority in their home but that doesn't mean they aren't open to the girls teaching them too! Talking about this parenting dynamic, Kidman said: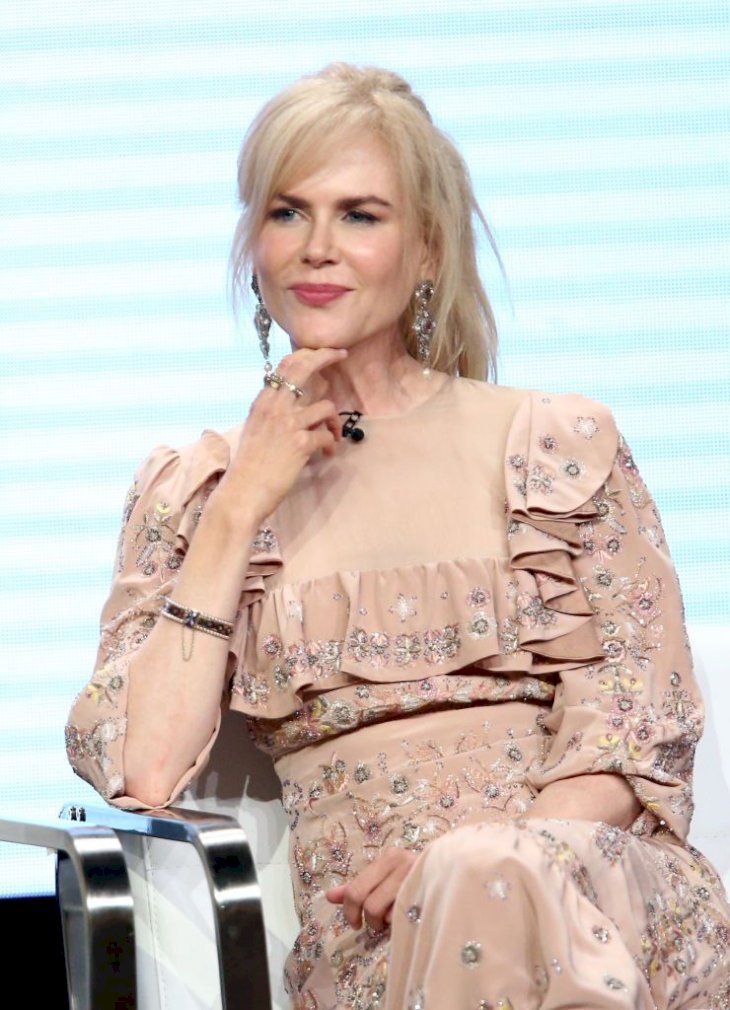 ---

"I'm constantly learning from them. They teach me about me. Parenting is about learning who they are, not making them what you want them to be, and letting them find their way and then supporting them."