Mind-Melting Green Screen Photos That Expose How Hollywood Really Works
Hollywood has not stopped blowing our mind with high tech movies, irresistible action movies, and sitcom comedy series. Thanks to technological advancement in CGI and green screens that have empowered the movie industry in entertaining the world through the big screen. Without computer-generated imagery and green displays, Movies, TV shows, and Comedies would hardly capture our imaginations. The effect produced using these technology tools goes a long way in attracting people and making them enjoy sitting in front of the screen.
Watching films with incredible effects have a way of transporting us to a different place through imagination, but have you ever wondered the real situation of things in the actual filming of such scenes? Well, we always knew CGI and green screens were used to transform Hulk, but it is a different thing if you see that with your own eyes what goes behind the screen. Want to see some of the Holywood behind-the-scene photos, we have a number of them here. We are sure you will laugh hard at how ridiculous the actors look. 
Harry Potter And The Order Of The Phoenix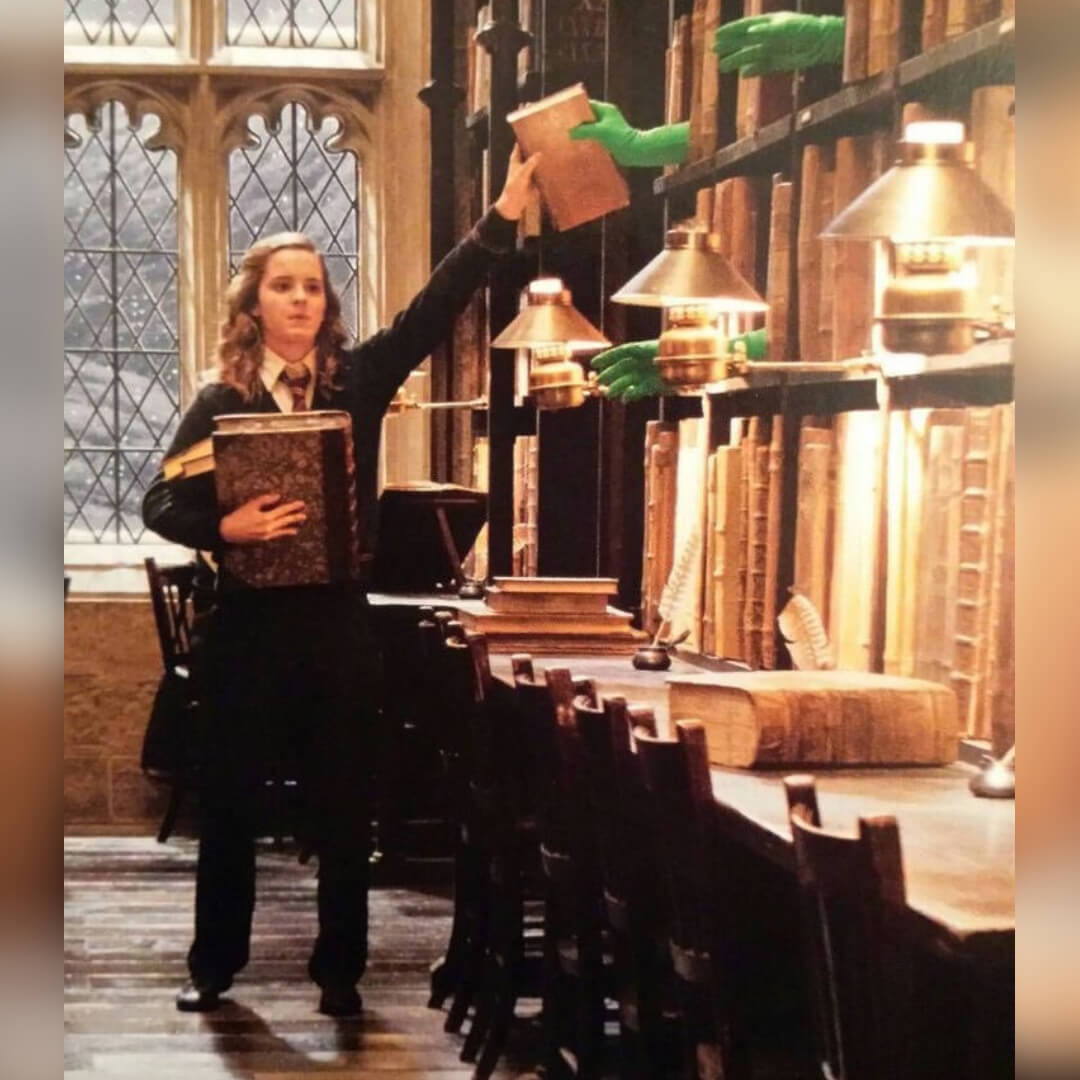 Could this photo be real? It's just difficult to accept because I had always believed that the wizardry world of Harry Potter was a real place. And I wasn't invited because my letter to Hogwarts got lost when Voldemort destroyed the Ministry of Magic's records. Perhaps, some magical creatures live in this library, and these green hands are theirs.
Game of Thrones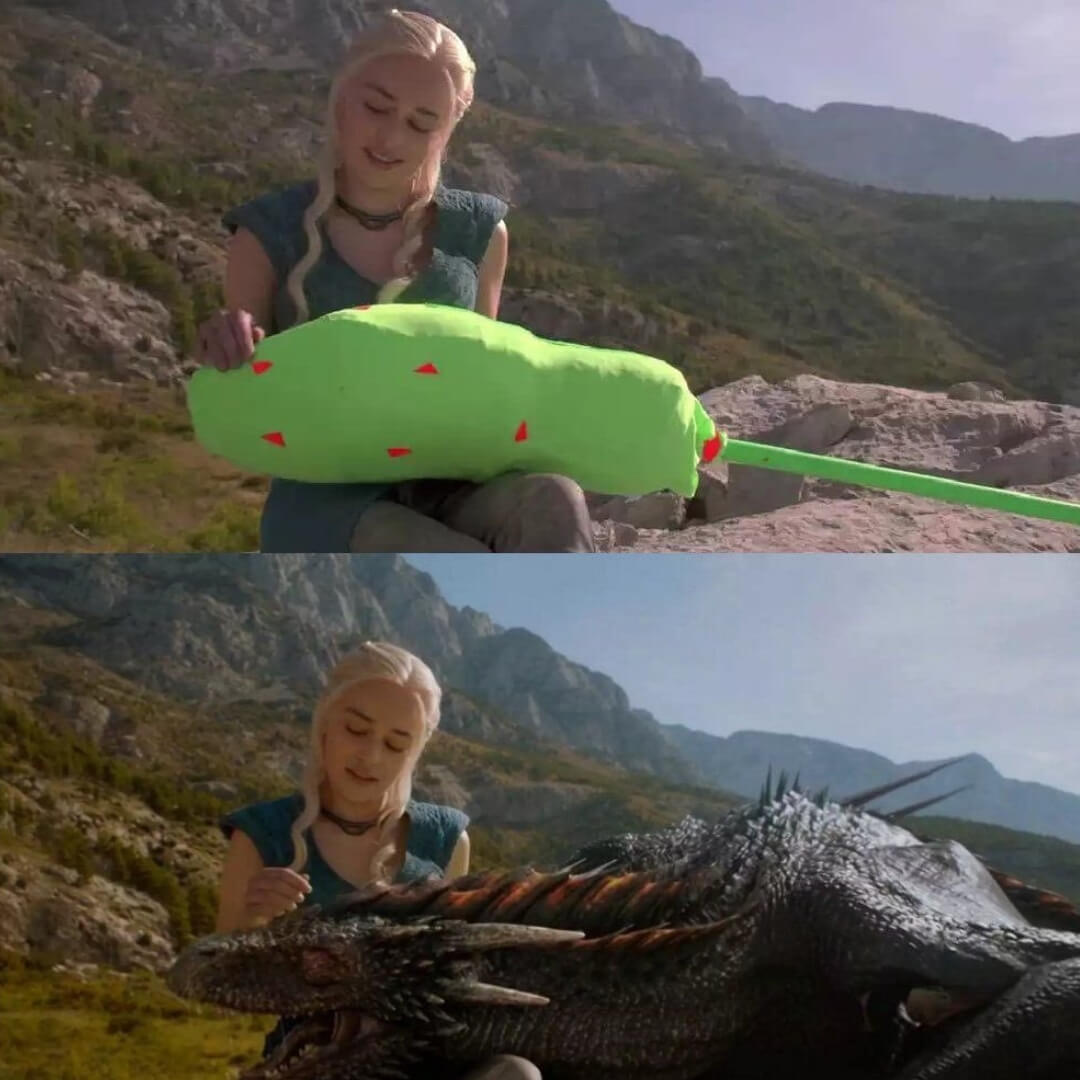 Daenerys (Emilia Clarke) seems to be caressing a wrapping of fabrics around a stick. But that was the huge dragon we saw in Game of Thrones. But then, I was expecting something a bit more intimidating to be a dragon even though CGI and green screen would do the magic. I know dragons are huge and terrifying, but this piece of fabrics around a stick is what we see as either Drogon, Rhaegal, or Viserion.
 Beauty And The Beast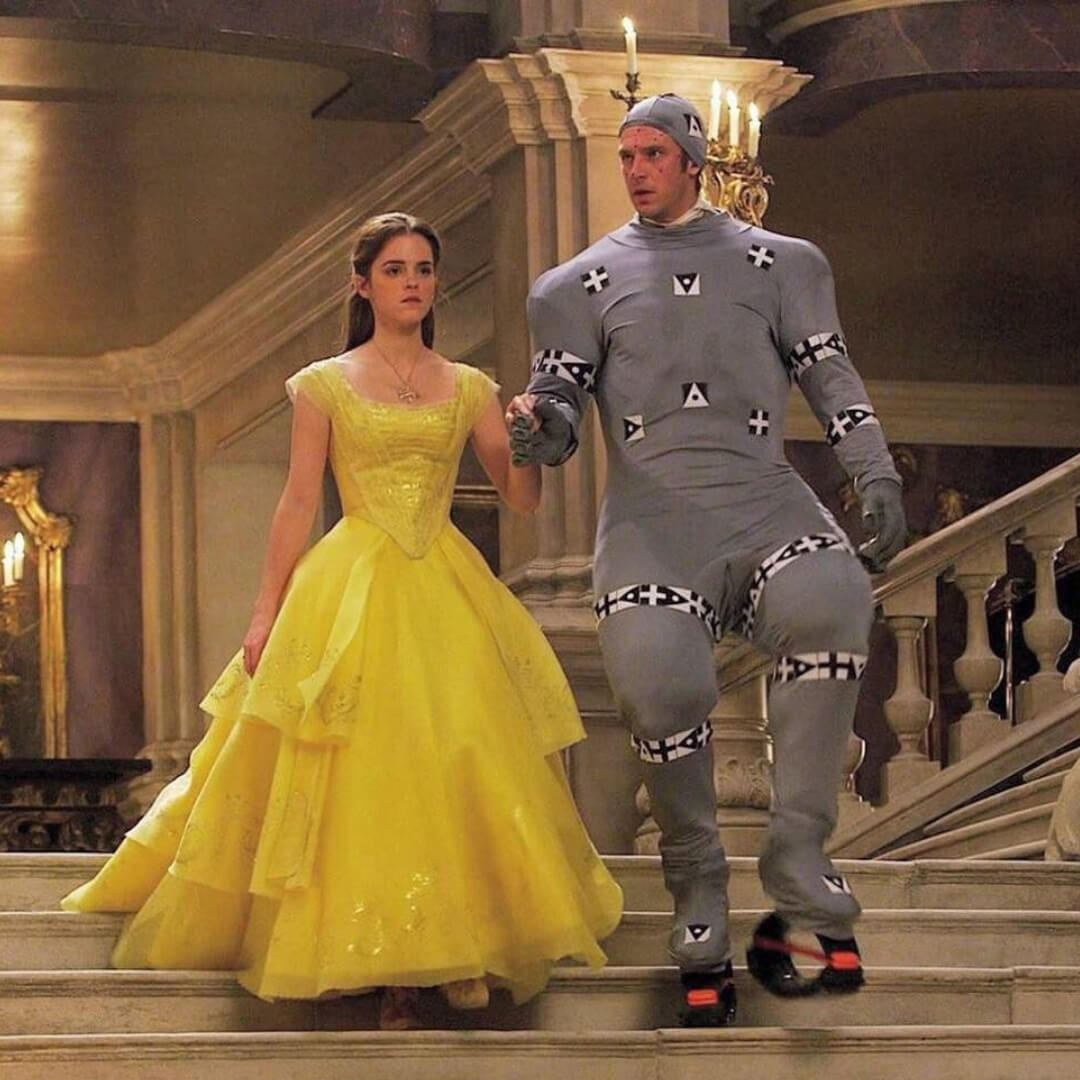 Here is Emma Watson and Dan Stevens in Beauty And The Beast. You likely remember this scene if you have seen the movie. But this is how it looked like behind the scene. Dan Steven is putting on a padded suit with stilts, and he's walking around with Emma Watson. Watson didn't crack a smile even though Stevens danced with her in that suit. Her ability to take Stevens seriously in that scene deserves an Oscar nomination. 
Life Of Pi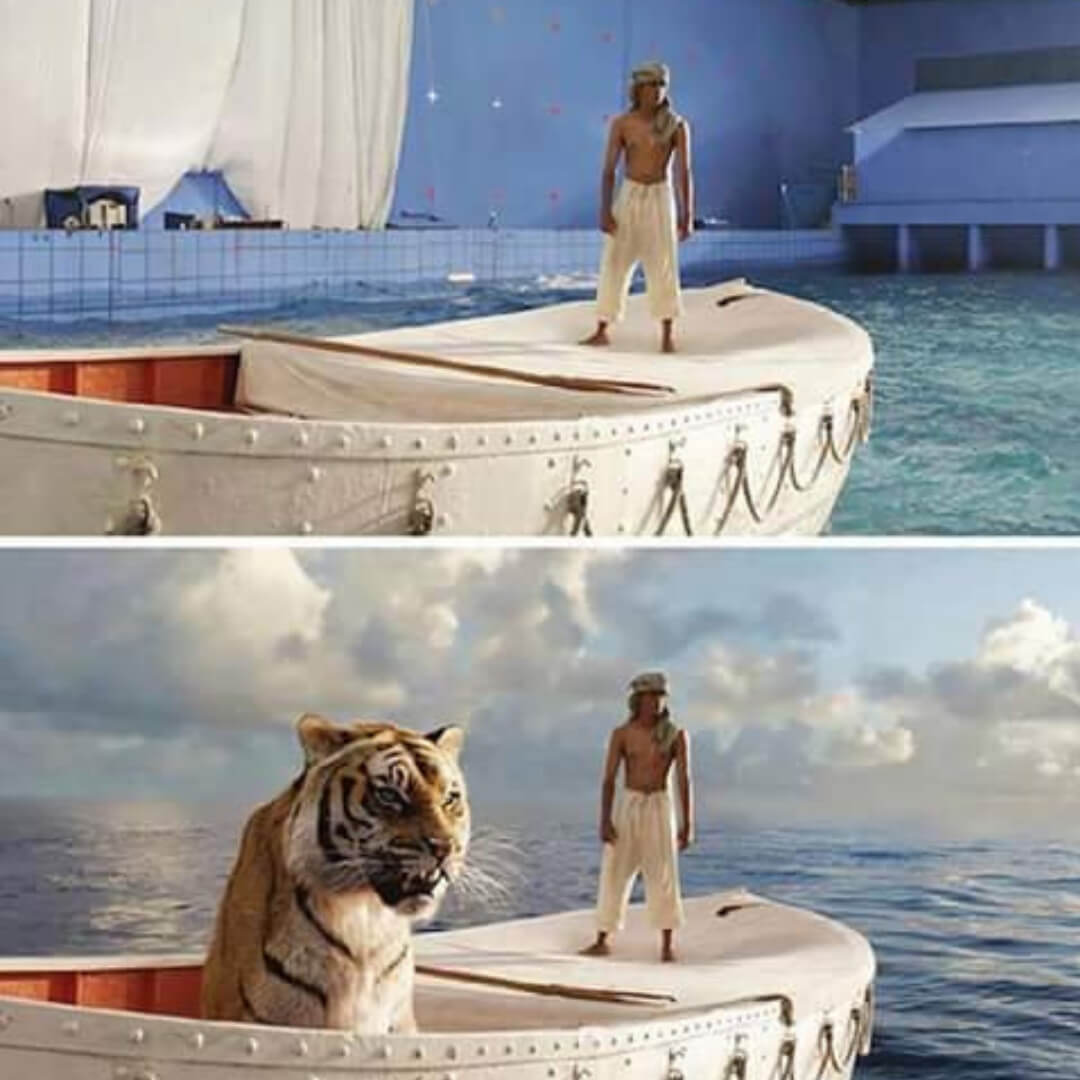 In reality, we never thought of the tiger in Life of Pi as a real one, but it is disheartening to know the truth. It's funny how we see a piece of stick transform into a live tiger. But then, thanks to CGI and the special effects that the directors employed in the making Suraj Sharma float on water. It's a cool scene. 
Space Jam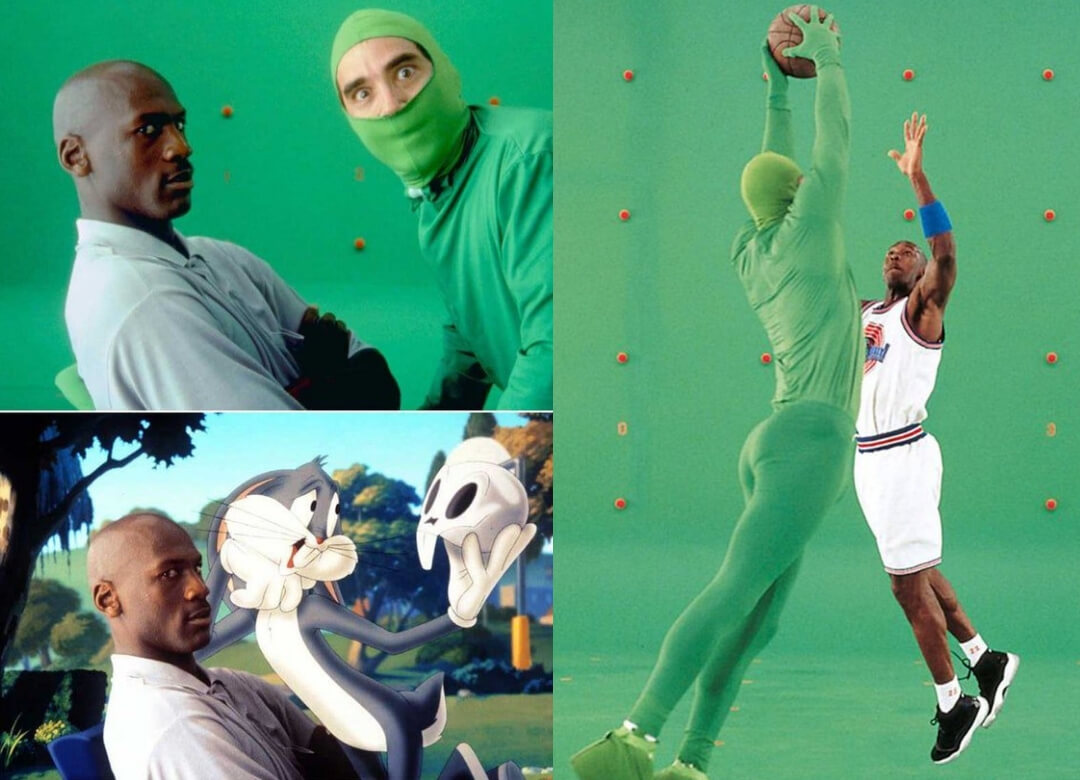 If you had thought Michael Jordan was acting with cartoon characters, welcome to the greatest disappointment of your childhood. It sounds incredible that Jordan was playing with a Tom (cartoon), but I feel this is just too much for you to take. The picture does prove that Michael Jordan is the most underrated actor of a generation.
Titanic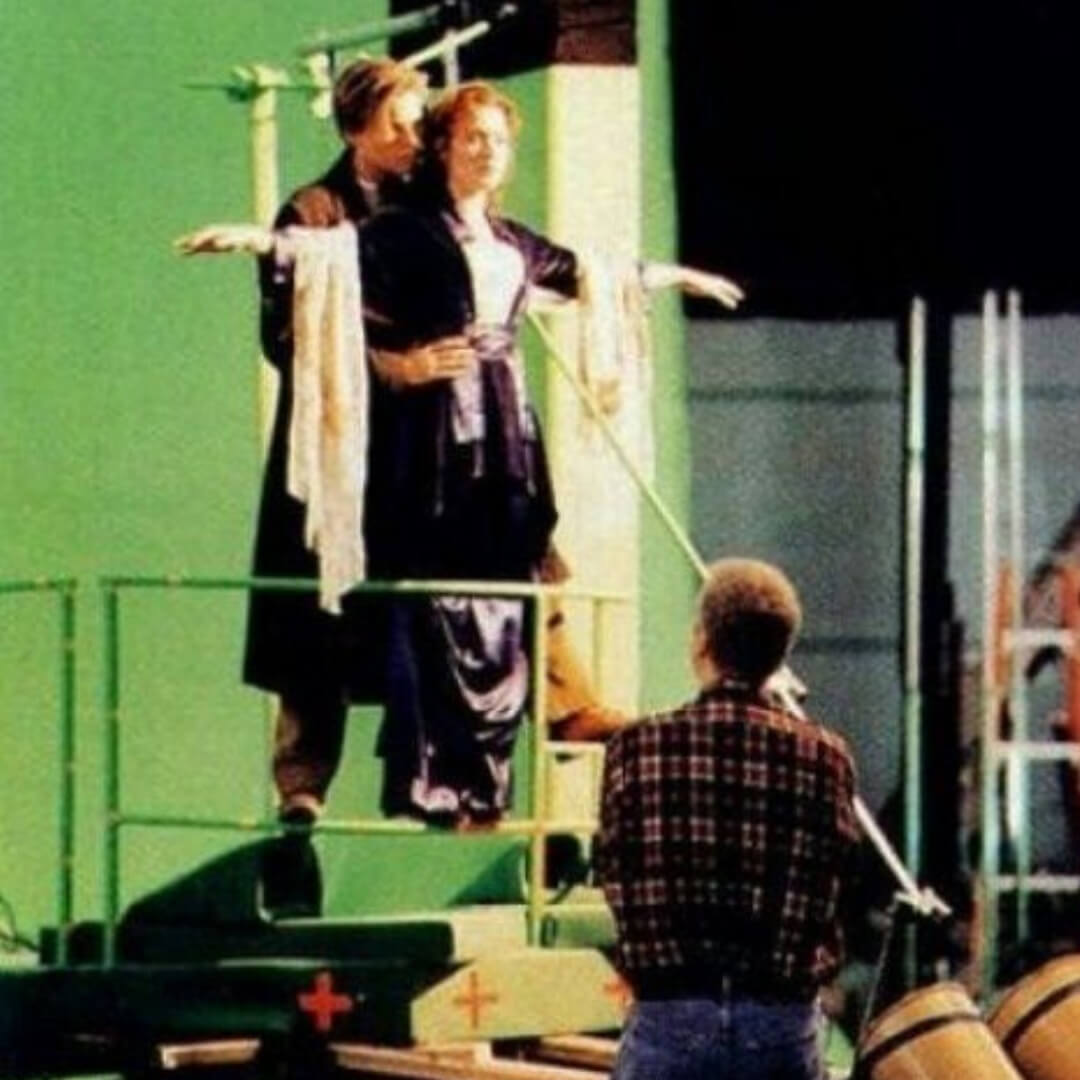 There are many scenes in Titanic that required a green screen to put up. But as much as other scenes in Titanic needed green screen more than this one, the romantic couple scene standing on a huge ship is one a lot of people knew wasn't real. A large ocean liner s not needed to get this done. All that is needed is a smaller boat to recreate this scene. Here we found a room even though Rose says there isn't on the door. 
The Avengers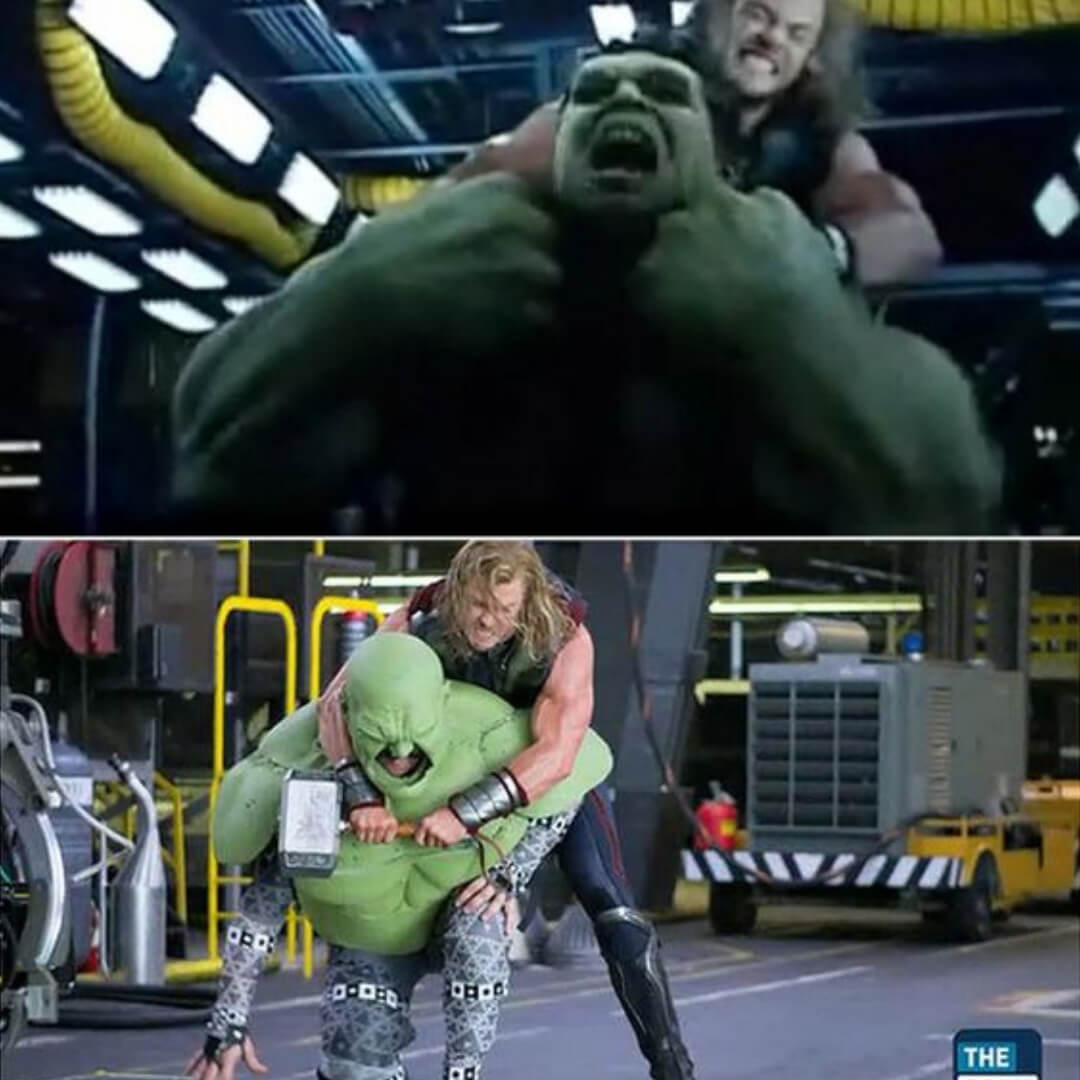 The Avengers franchise is full of incredible scenes, and the role of Mark Ruffalo as Bruce Banner in the movie is one that catches the attention of many. Don't forget he's also the man behind the computer-generated imagery of Hulk too. Once there was a CGI transformation of Banner's outfit, he was always equipped to take on Chris Harmsworth like it was nobody's business. 
Mad Max: Fury Road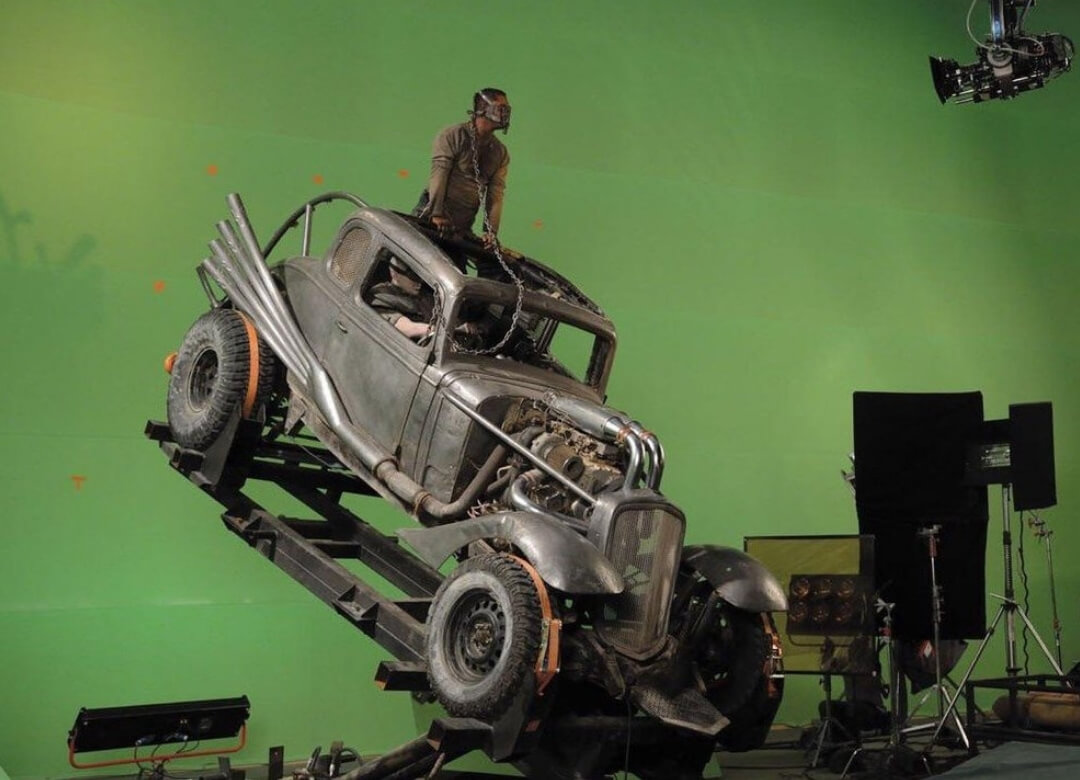 Many touted Mad Max: Fury as one of the best movies of the decade; it's not hard to see that the unique effect of the film played a big part in that notion. Yes, the cars might be real, but the explosions, dystopian desert, and the flips are not real. CGI or not, the actions scenes of this movie are miles ahead of the original movie scene. 
Game of Thrones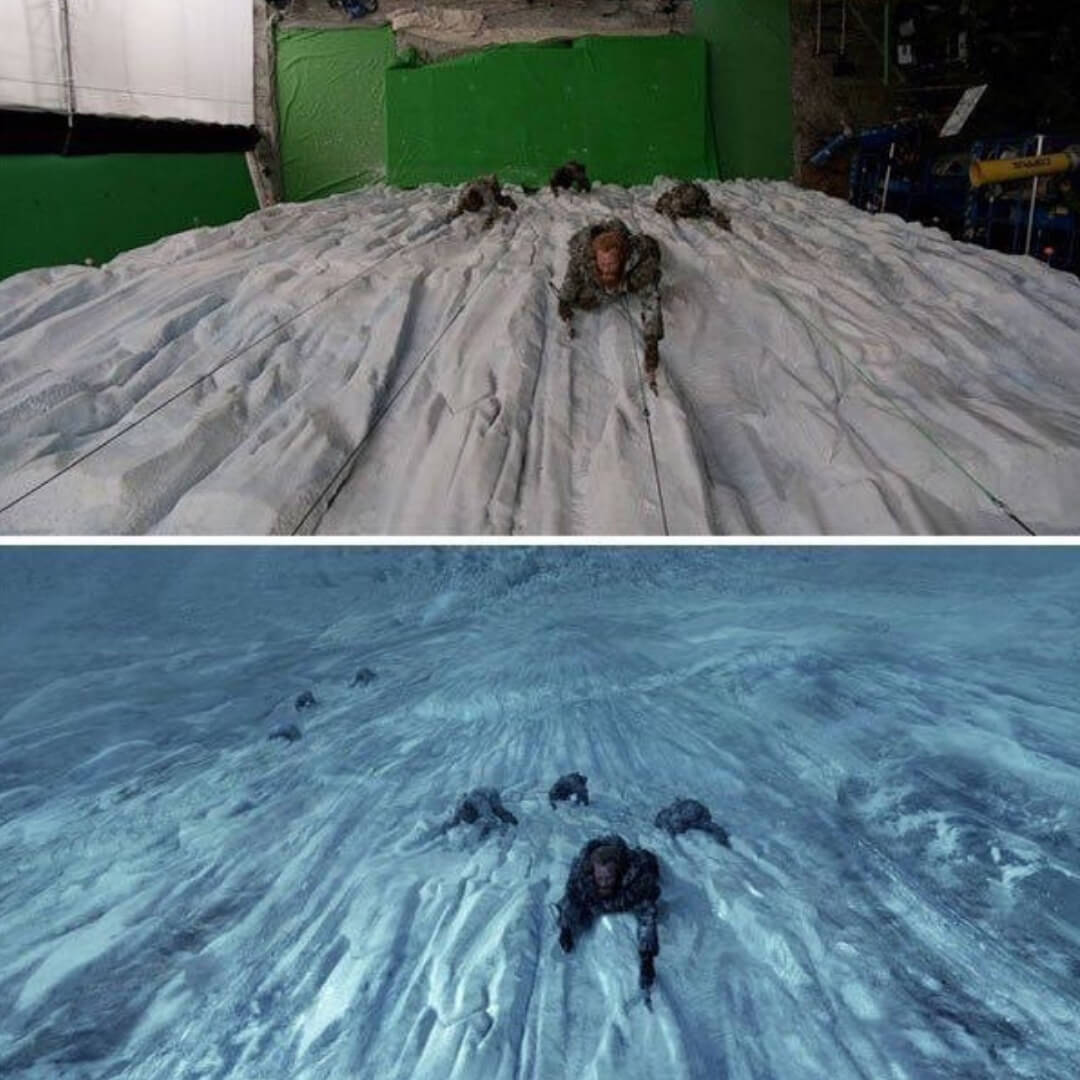 If we are to pick three scenes of Game of Thrones that absolutely require a green screen, the dragons, and walls at Winterfell would probably be the first choice. We saw Jon Snow and the Wildling girl climb the wall first in season three. It looks like HBO actually used a vertical wall for this scene, but the top was probably only 30 feet above the ground level and not 300.
Pirates Of The Caribbean: Dead Man's Chest
Here is the real face of Bill Nighy who portrayed the role of captain Davy Jones in Pirates of the Caribbean: Dead Man's Chest. One would have thought there would be some prosthetics or big wigs on his head, but no, this photo shows what we saw in the movie is 1000% CGI.
I Am Legend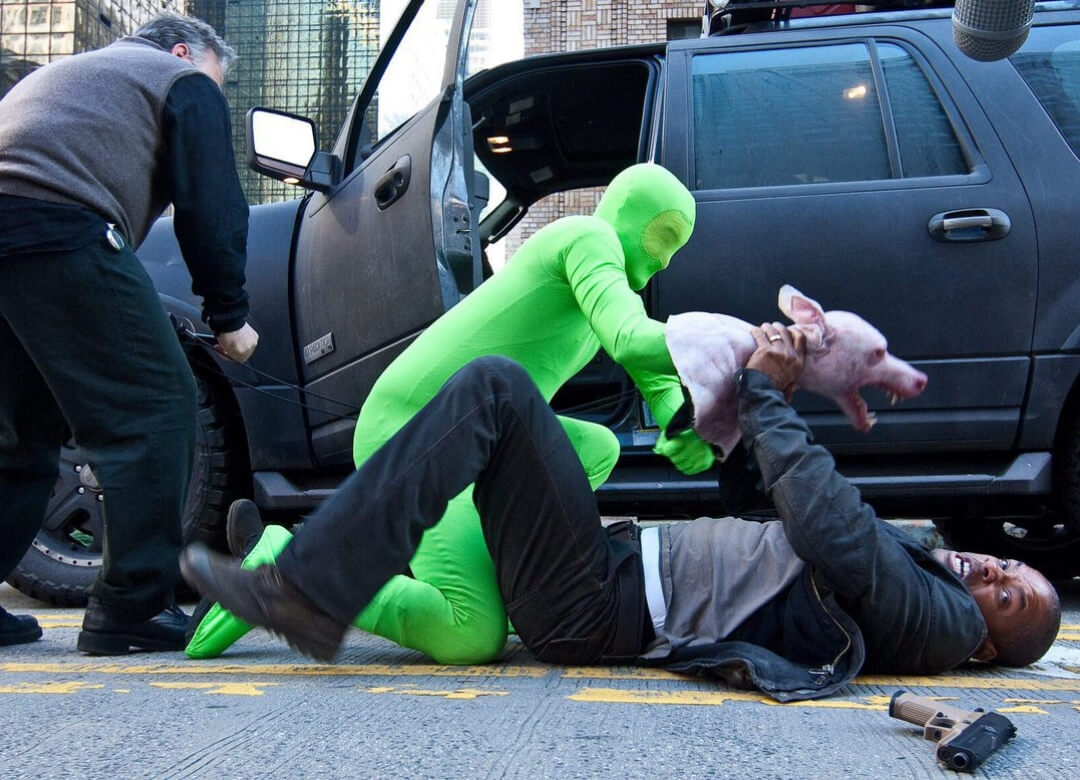 We agree that this is the most gut-wrenching scene in all of I Am Legend. Robert's dog couldn't help him any better when the mutant dog attacked him. His dog was even infected trying to protect him, that hurts; we even cried watching that scene. But seeing this man in a green morph suit as that demon dog makes us feel relieved. 
Guardians Of The Galaxy
I'm sorry to break this news to you if you are yet to know. Bradley Cooper takes the credit for playing the role of a Rocket in Guardians of the Galaxy. My little disappointment is not seeing Cooper in that green morph suit. Instead, we see Sean Gunn in the suit put up with a great effect. Sean posed low to the ground for a while to achieve that scene. 
Harry Potter And The Half-Blood Prince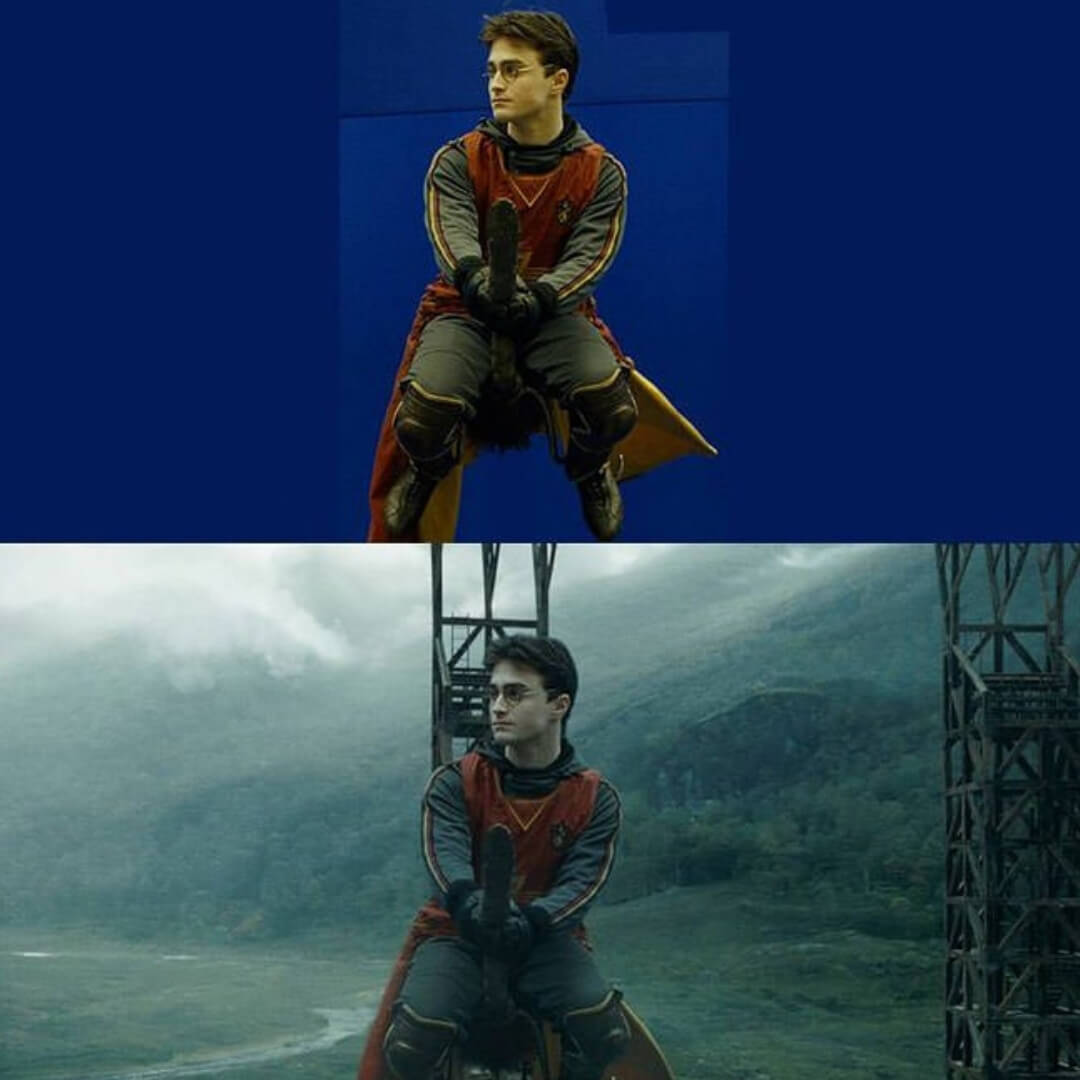 A real Hollywood behind the scene wouldn't be complete without featuring a flying scene. If you have been coveting the aerodynamic ability of Daniel Radcliffe swiping and gliding through the air, here is a picture of how you can achieve that. Get a coin-operated ride outside a nearby grocery store, and then you can fly like Daniel. But you need something more like the wind machine to get a perfect scene.
The Matrix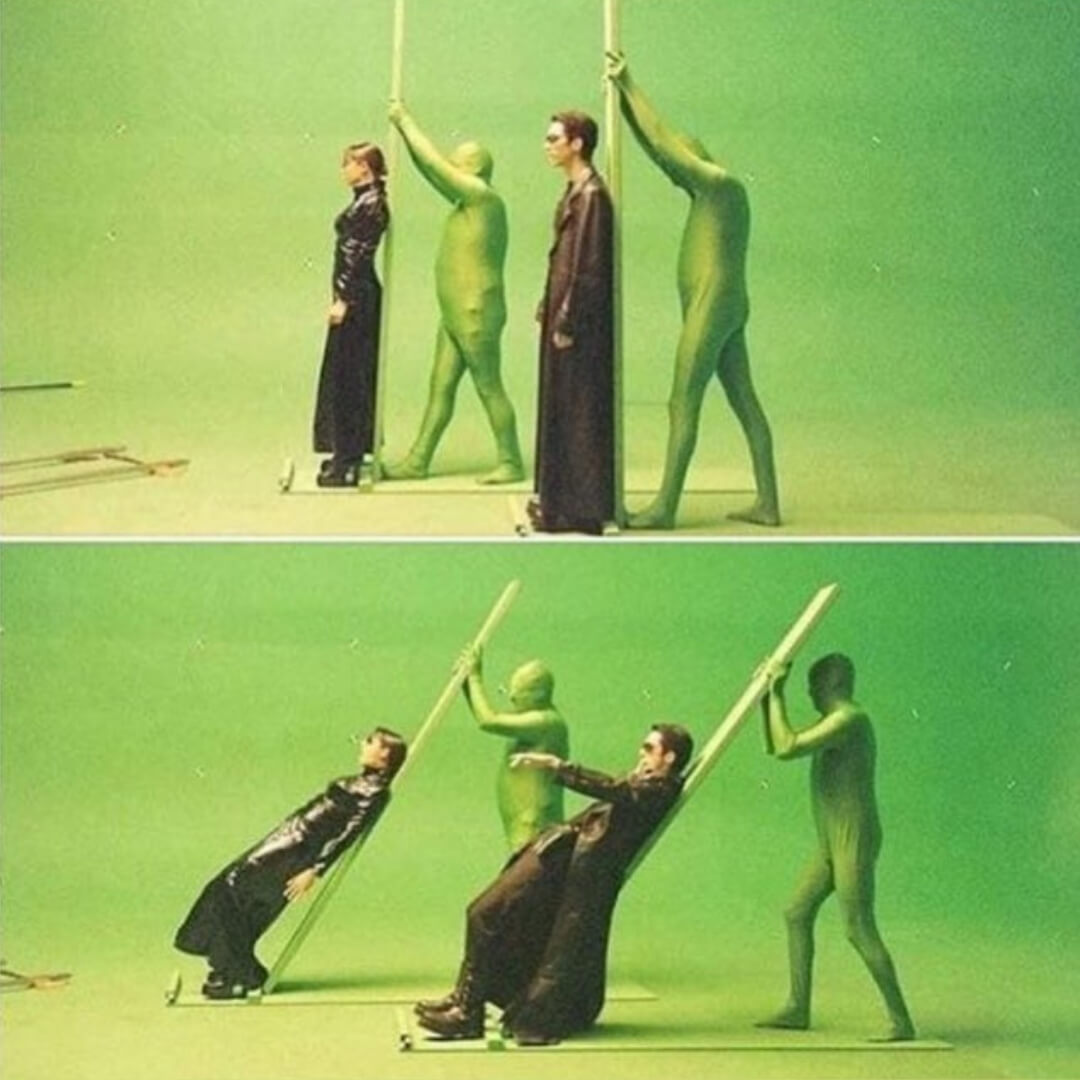 The stage here further confirms to us that the entire scene of The Matrix was set on a green screen soundstage. Remember this scene? Here is the behind the scene photo that shows how they managed to lean back in a slow-motion to dodge bullets. One of the Hollywood scene gimmicks that appeal to us is explained here! 
The Avengers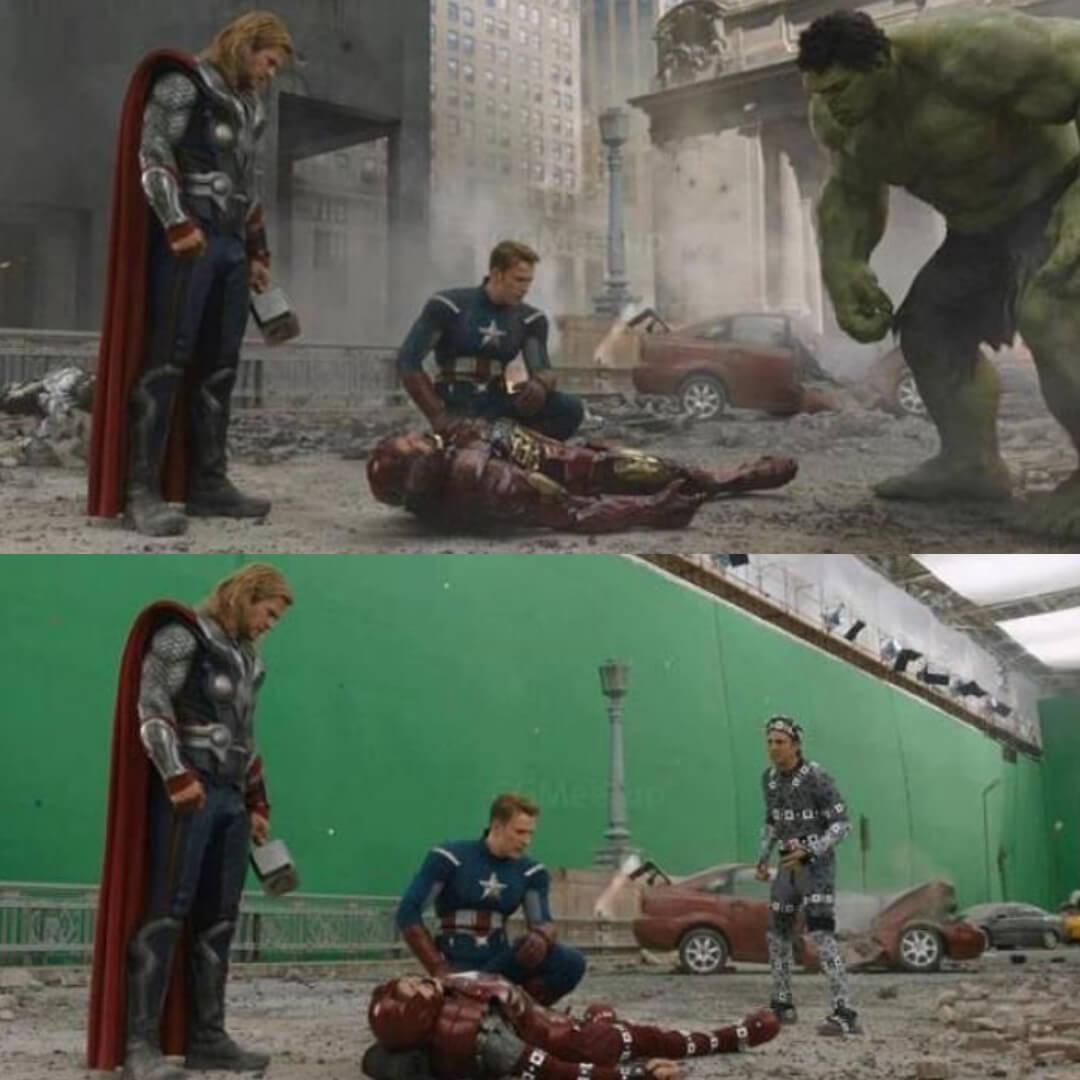 Here is Mark Ruffalo again, he's doing better than ever. There's not much difference in the appearance of Chris Evans and Chris Harmsworth; their outfit didn't change from their boring superhero costume. It's deserving if Mark gets an applaud for that performance. He's changed from being an awkward, shy scientist to an 8-foot tall, 1,400 pounds monster that doesn't need a shirt.
The Dark Knight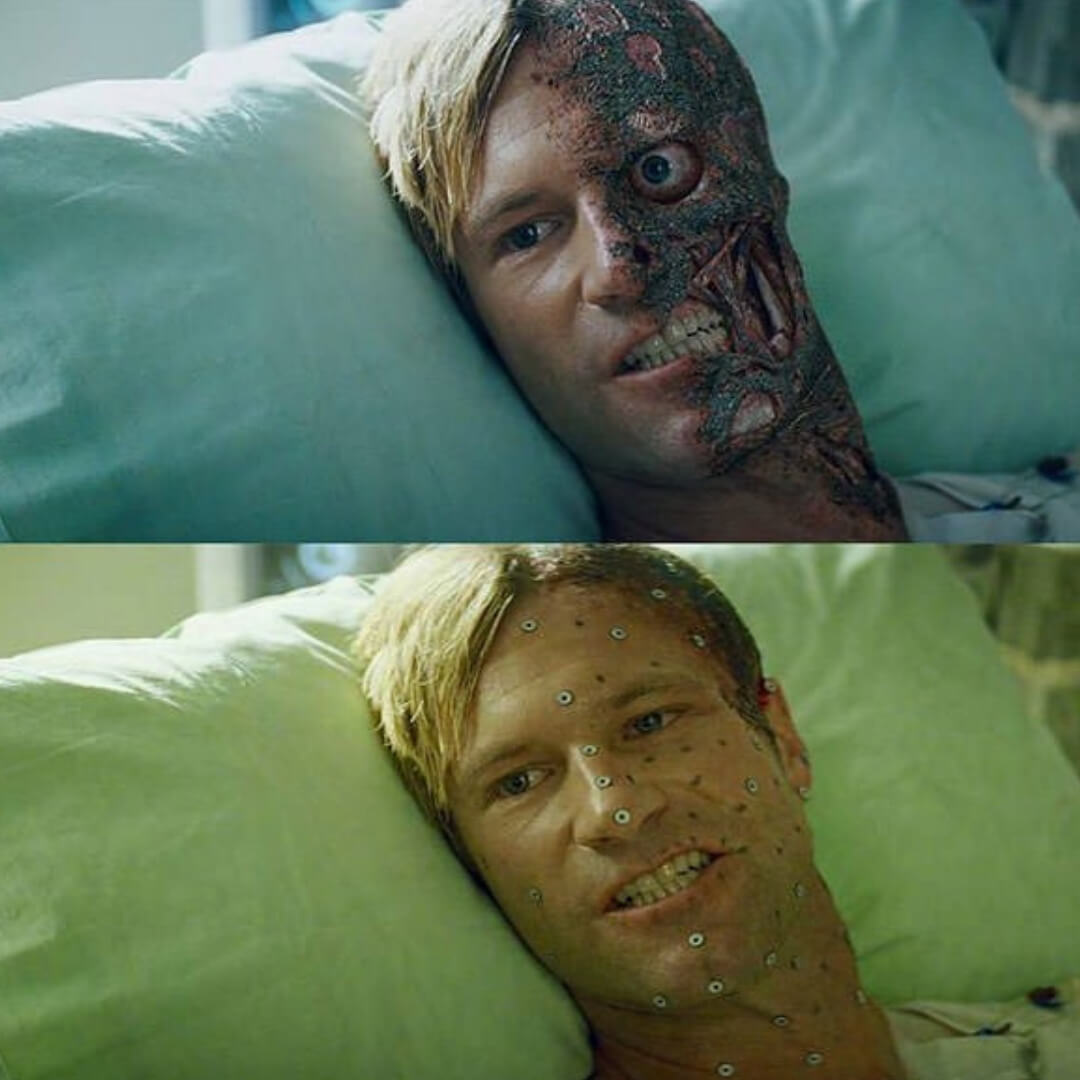 There's no confusion between the identity of Harvey Dent and Aaron Eckhart. Aaron is perfect like that in his acting, even though Harvey is facing an identity crisis. Although GCI effect would do the magic in this scene, Eckhart still managed to make half of his face more frightening than the other. With the help of some prosthetics, he wouldn't have needed a special effect to achieve this scene. 
Gravity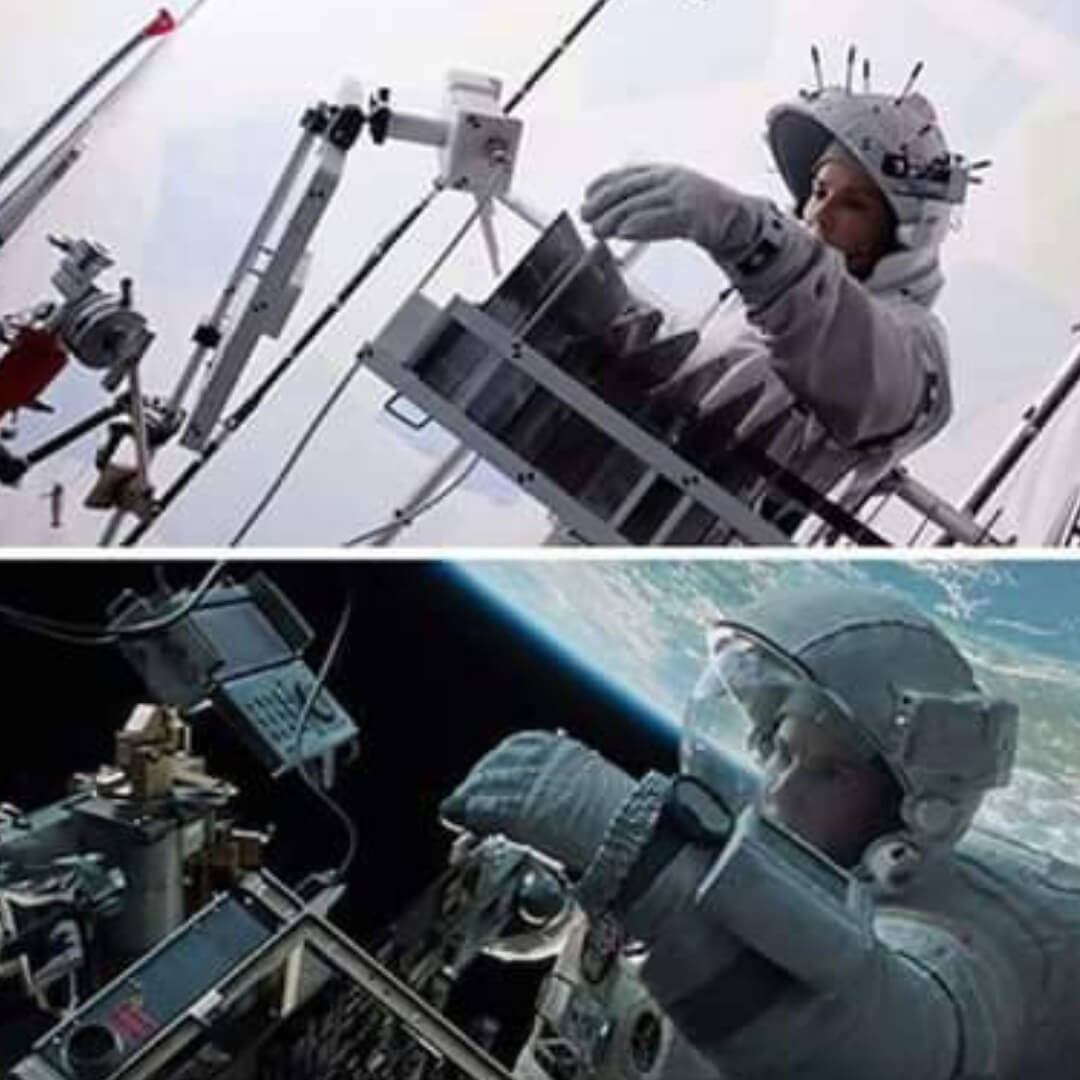 Movies that are based on outer space and aliens from above the earth will have lots of CGI and green screen footages. One of such scenes is the one above extracted from the movie Gravity. Sandra Bullock didn't have anything close to the actual equipment in the film studio, yet we all see it come out this way. Thanks to CGI; this proves how far it can help in space movies. 
The Matrix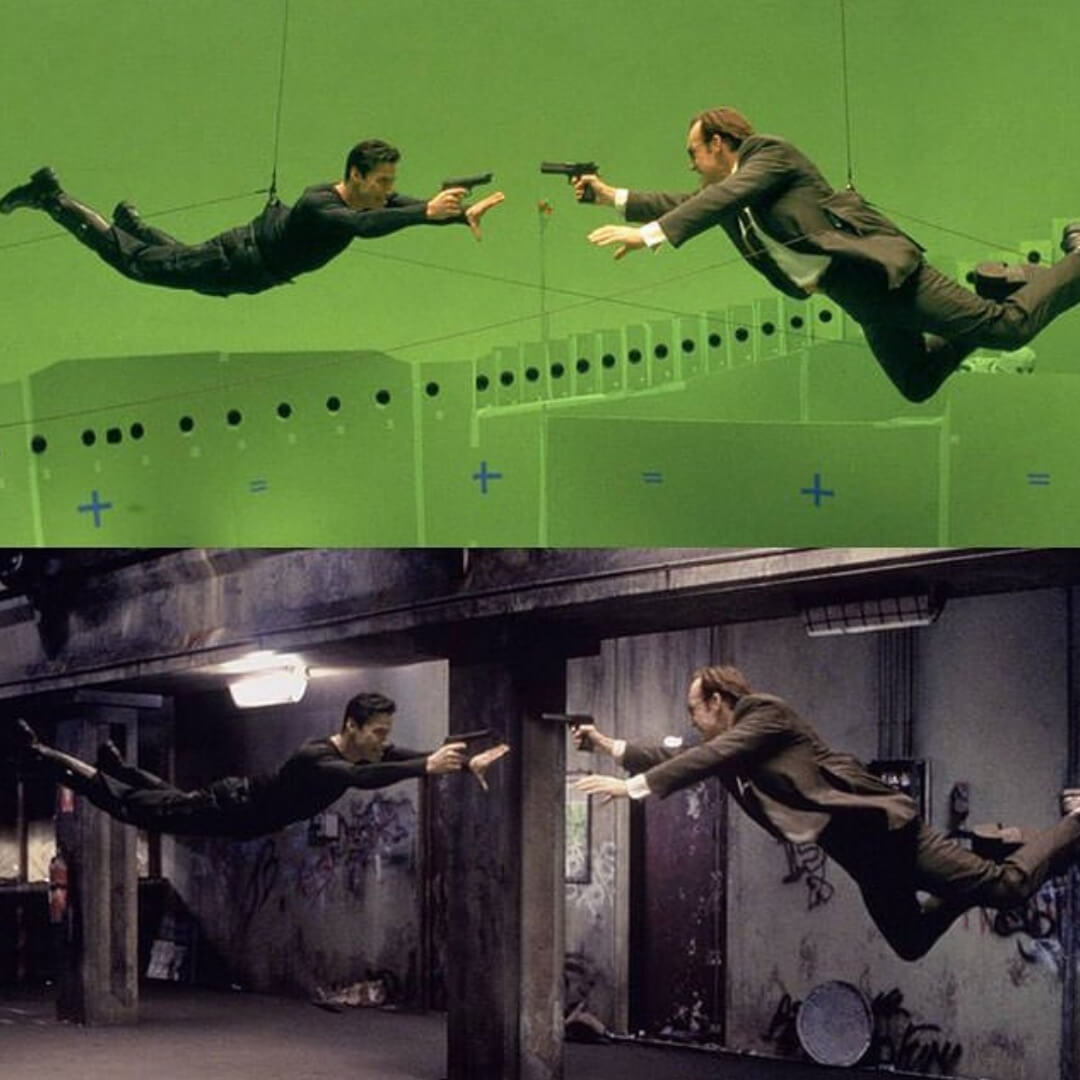 Since nearly half of The Matrix's plot centers on Neo being in the film Matrix, a lot of CGI and green footages had to be involved. The plot here was set in a warehouse, and it had to be in an entire green screenshot. It's safe for us to conclude that all the gliding in the air in this movie were just an imagination acting to Keanu Reeves. He would have wished it's real, though. 
Boardwalk Empire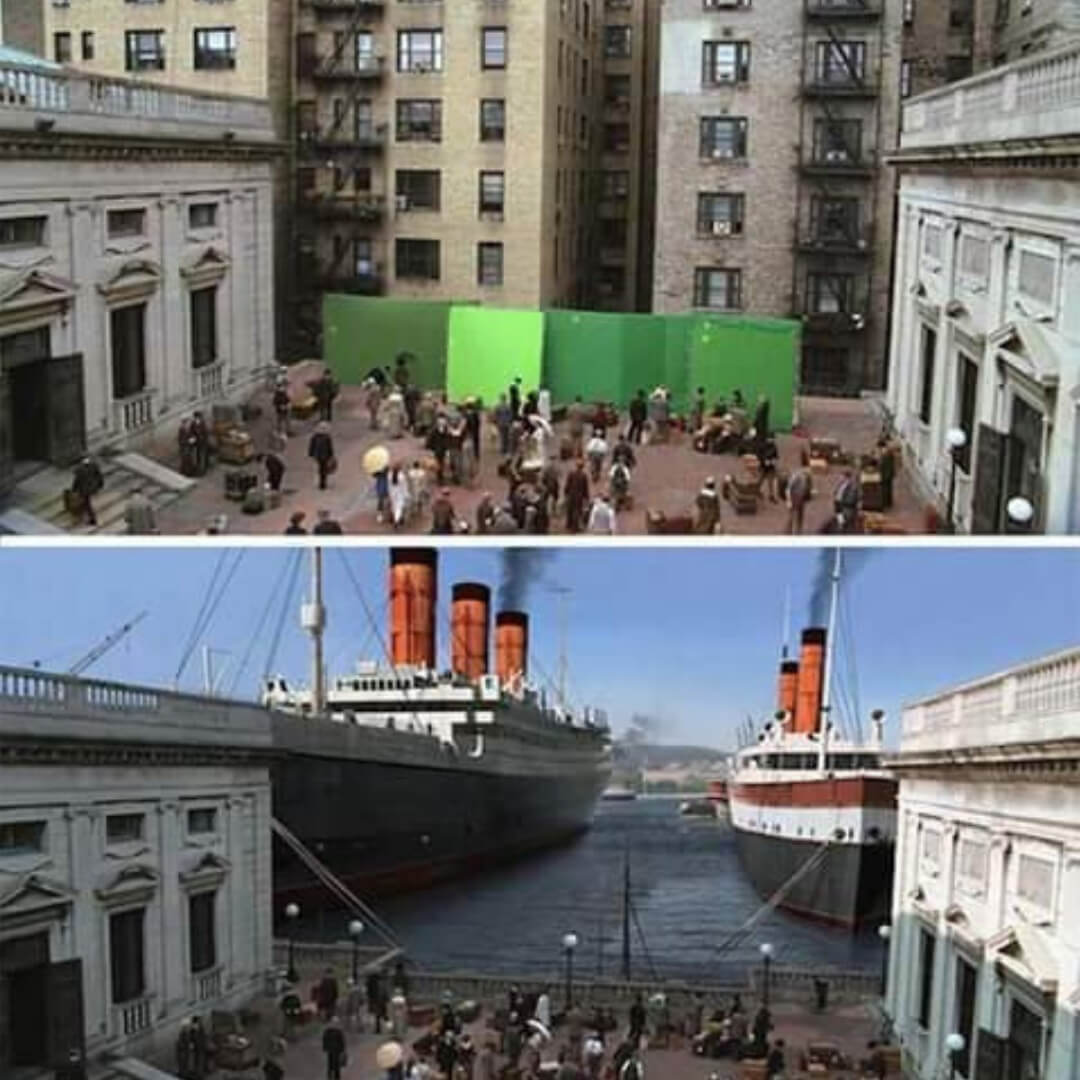 How do you feel seeing this few strips of green screen transform a background into an ocean view? For a movie scene to achieve this some decades back, the directors would have visited a body of water to pull this up. But here in Boardwalk Empire movie, only a few effects brought about this scene.
The Avengers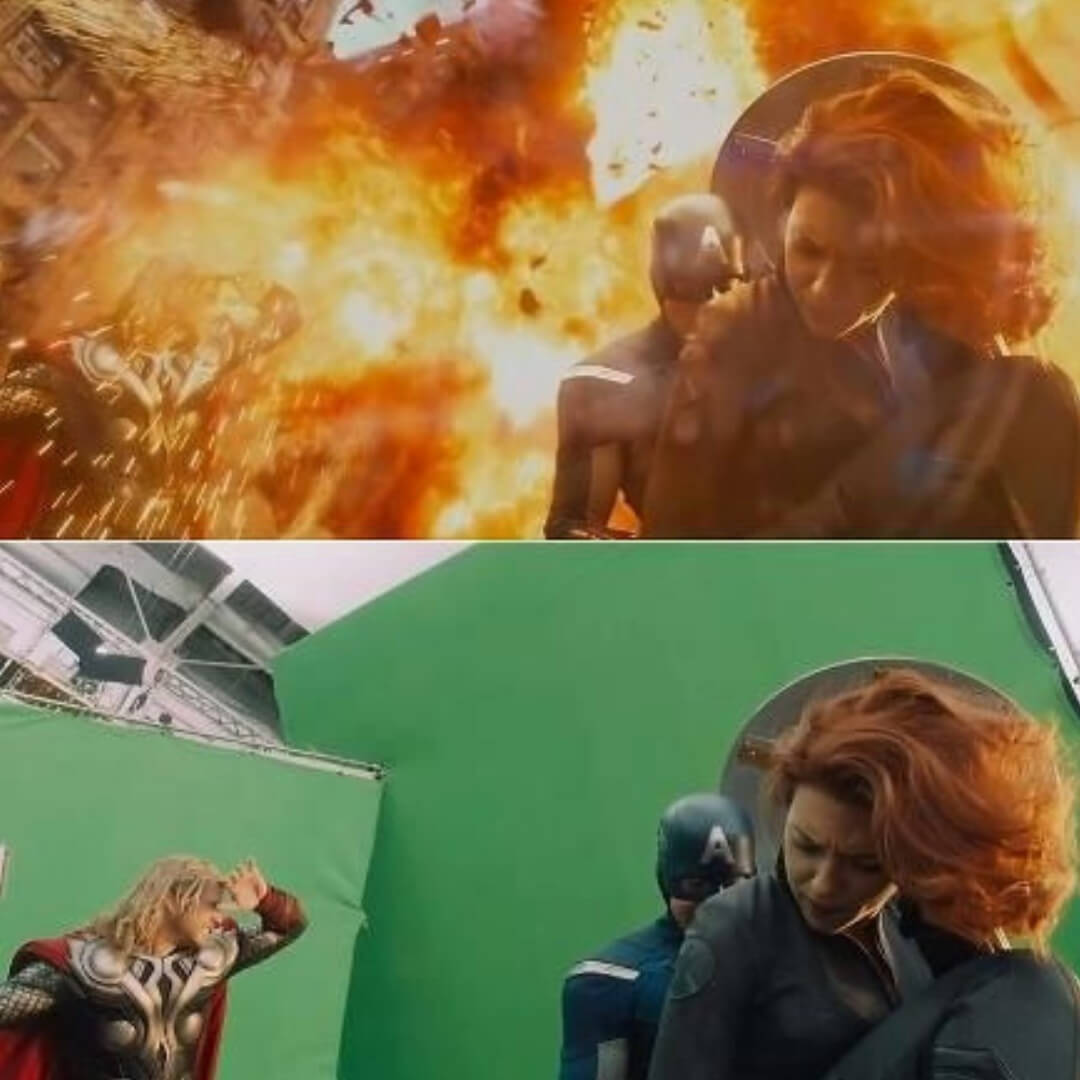 The Avengers is littered with explosions and actions scenes that require special effects like green screen and CGI. Although it's not a surprise that we have such scenes in the movie since Marvel (producer of The Avengers) is a powerhouse in the movie industry. If Marvel were to pull up this scene a few decades ago, they might have used real explosion, which isn't all safe.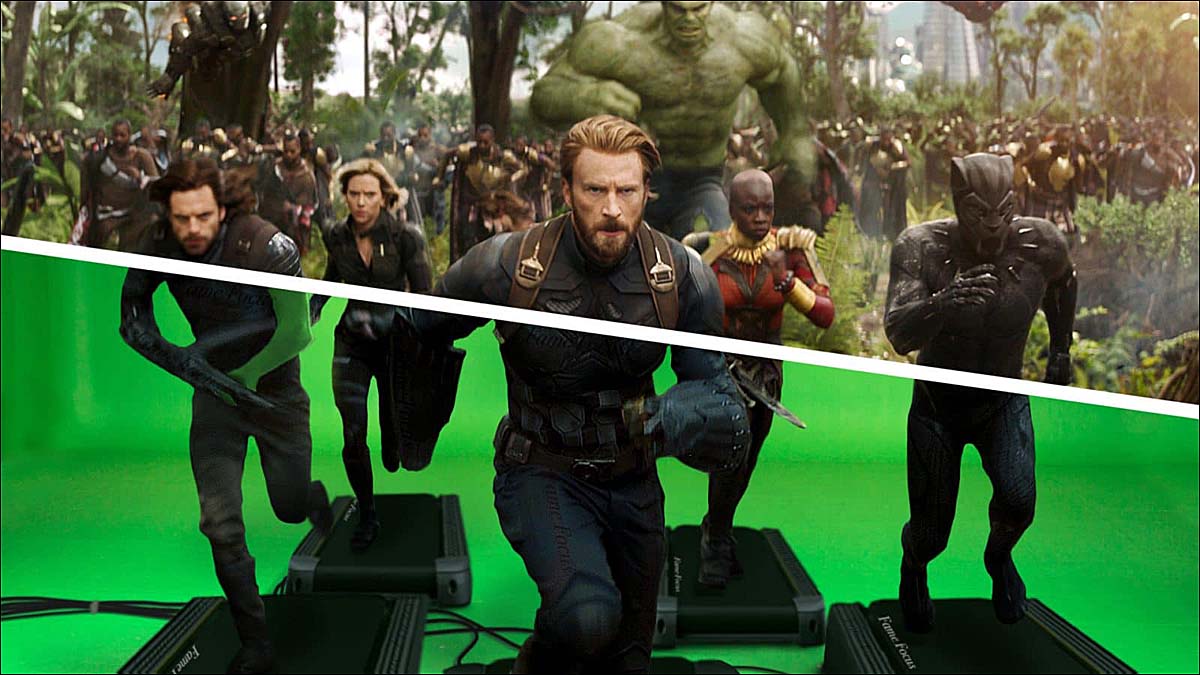 X-Men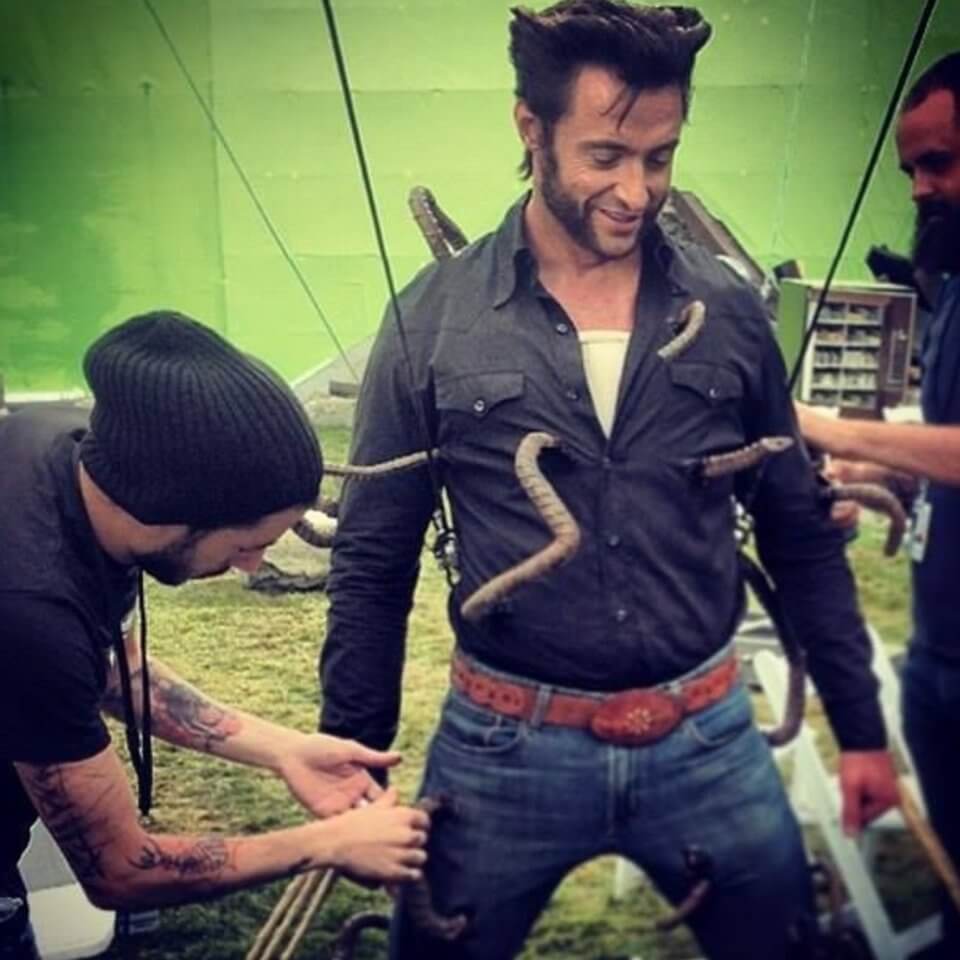 The Wolverine character left most people wondering how on earth he is able t do what he does. He could regenerate irrespective of the kind of damage done to him. He could come back from death even though he becomes angrier each time he does. The picture here is from a scene in X-Men: Days of Future Past. Hugh Jackman, who played the role of Wolverine, is being set up for success by the cast members. It is now clear that the snakes that crawled through him were only a matter of a surface attachment.
Godzilla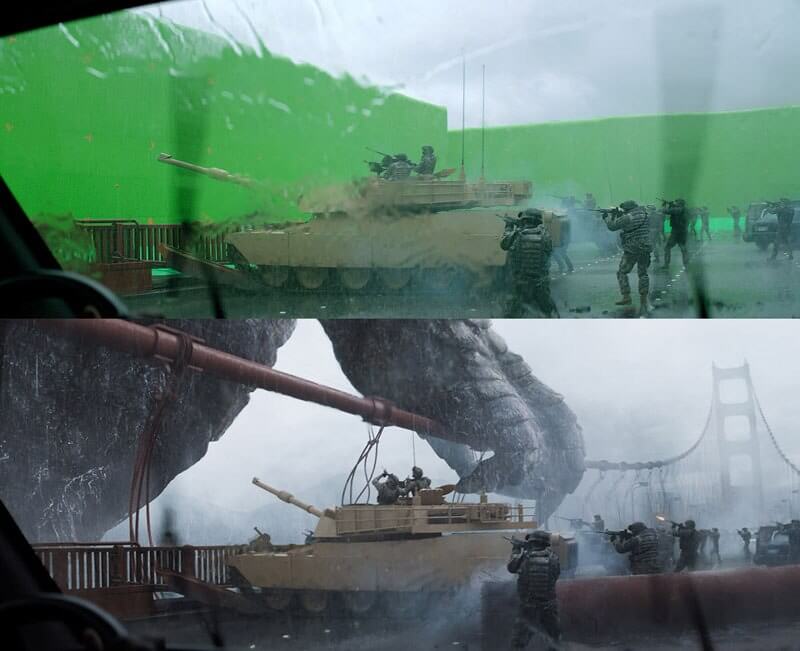 The producers of this movie made fans believe that a giant lizard laid ambush somewhere waiting for the attack trigger. Had it been so, probably the world would have been in disarray. Even if a nuke can stop the lizard, one is not sure of the fate of civilians. Looking at the photo, you will realize that they only placed a big green screen before the actual actors. That allowed them to add nice CGI effects.
Infinity War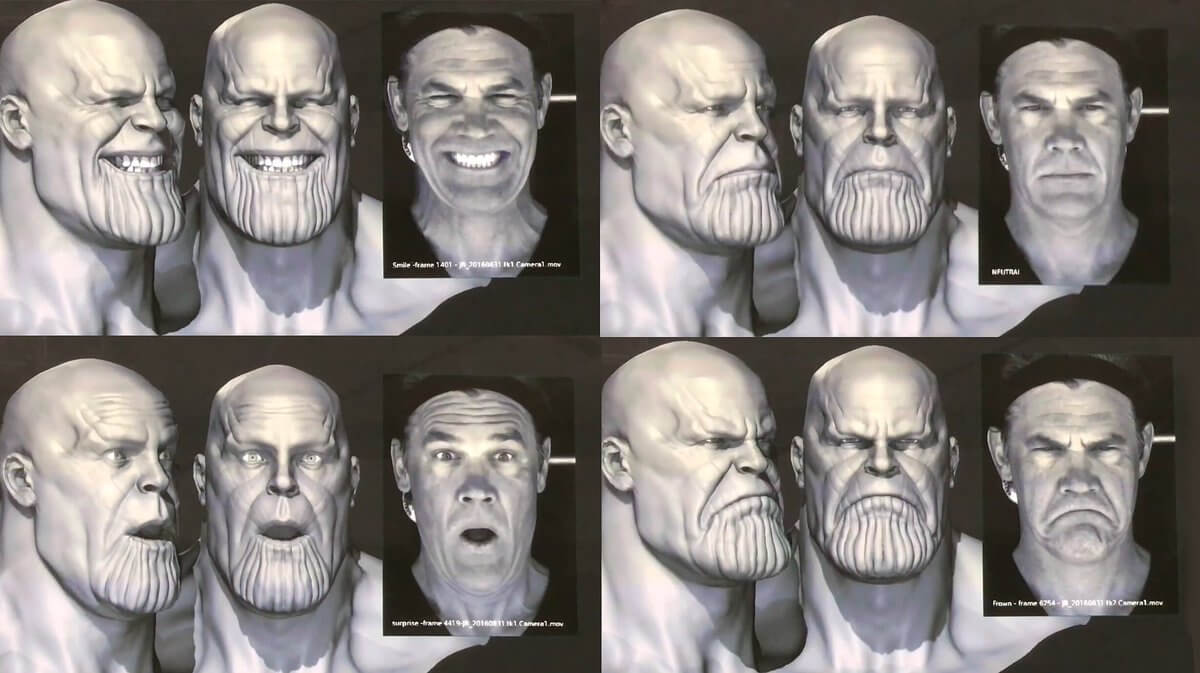 Fans are still about Thanos, the never-dying villain of the Marvel Cinematic Universe. His full-length movie appearance was in 2018 when he was featured in Avengers: Infinity War. He did really well in the movie. One question yet to be answered is how the Marvel was able to transform the actor. One could say it was a simple technique. They matched his extracted facial scans with the CGI. So, it was possible for Thanos to replicate on big screen everything that Josh Brolin did with a computer. It really was mindblowing to most fans.
Kill Bill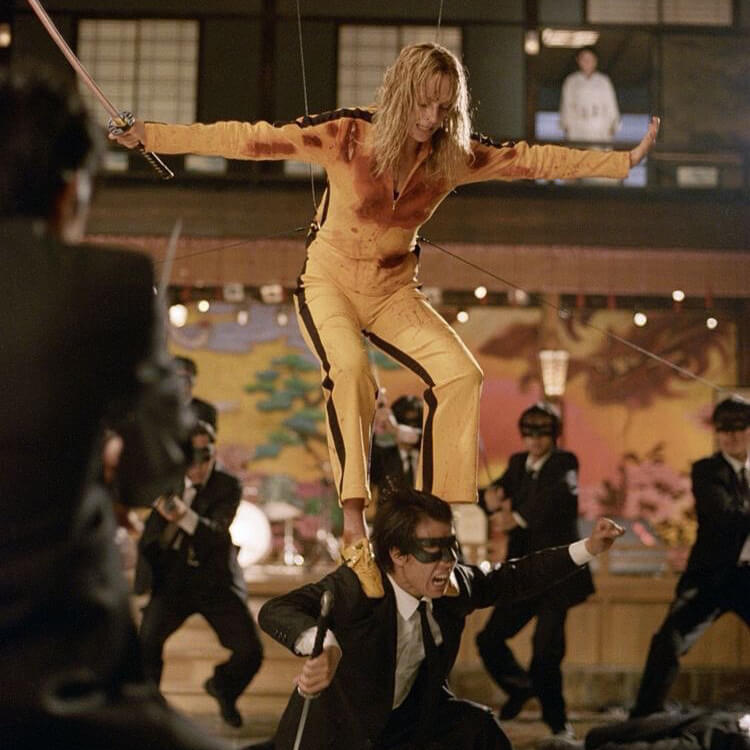 The movie made it look like Uma Thurman was an extraordinary being with all what she could do. But, it was only a movie; she cannot do any of those things in real life without support. She got the support of wires that were attached to her just to gain balance. Falling of this victim's back will not be injurious to her because she will be secured safely to the ground with the help of the rope. It will be nice to see a part three of this movie soon.
Infinity War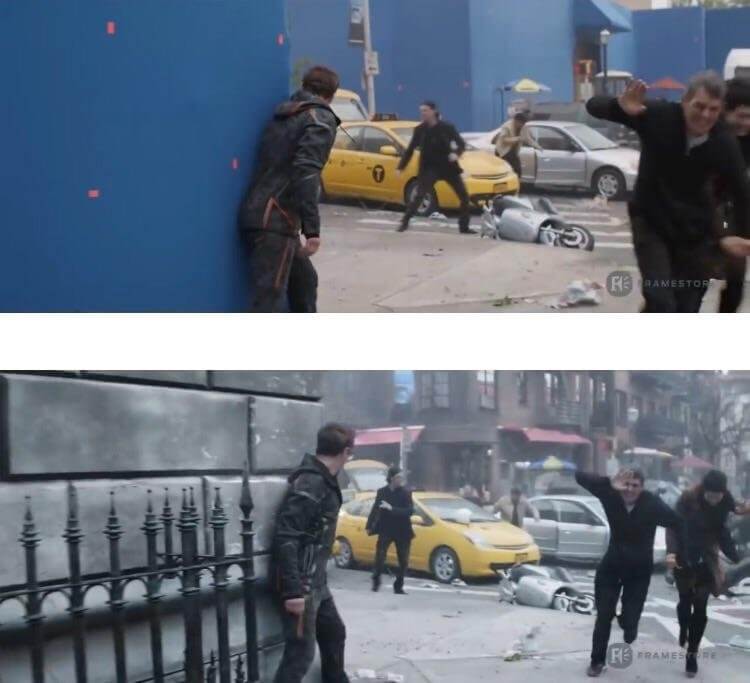 When you watch some of these movies, you are left wondering how they manage to make the buildings they destroy real. One would think they seek the consent of the cities' mayor so that they can use some old abandoned buildings. But, that is not the case most times. The movie, Infinity War, featured a lot of destruction. The scene in the photo shows Tony Stark preparing for battle. Here, they did not use a green screen. Instead, the buildings were covered with blue so that editing can be done.
Rise of the Planet of the Apes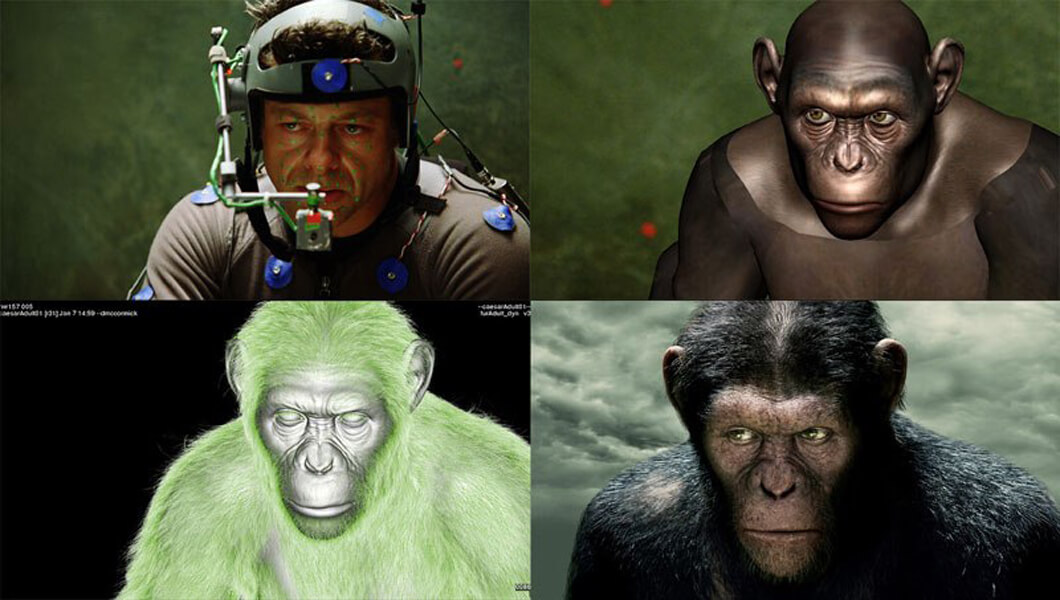 Believing that Ceasar could be real or that a monkey revolution might be looming looks logical. However, it is untrue. All one is left to do is to try to figure out how they managed to make it look so real. What was done here is similar to what was done for the Thanos role in the Marvels movies. They just had to throw some sort of things on his head and other CGI jobs were history.
300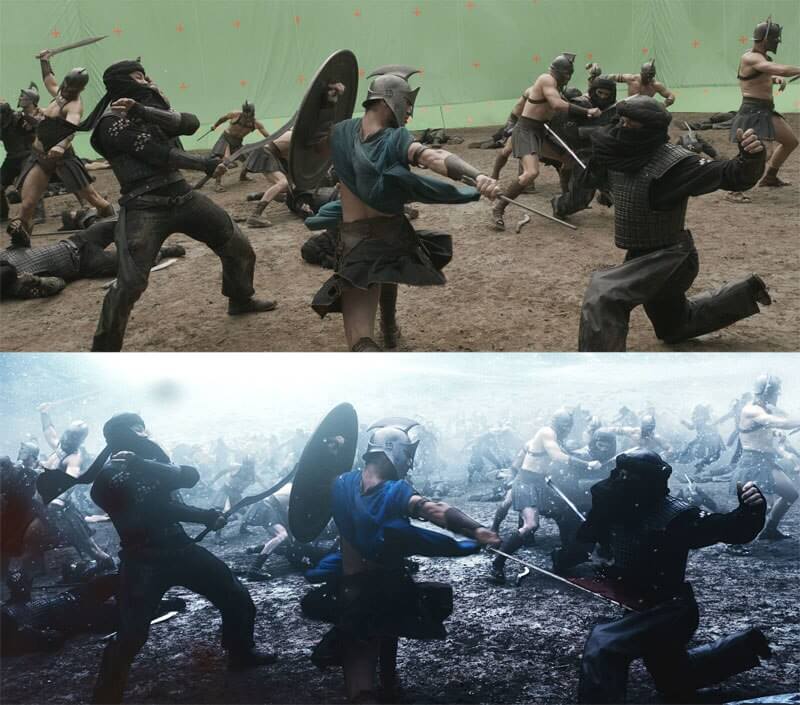 From the onset, the 300 movie had to be fake because it was about the past. A lot of the scenes are not in existence anymore. The producers had to come up with ways to portray the scenes. The fact that it did not take place in the open like the movie portrayed is not cool at all.
A Good Day to Die Hard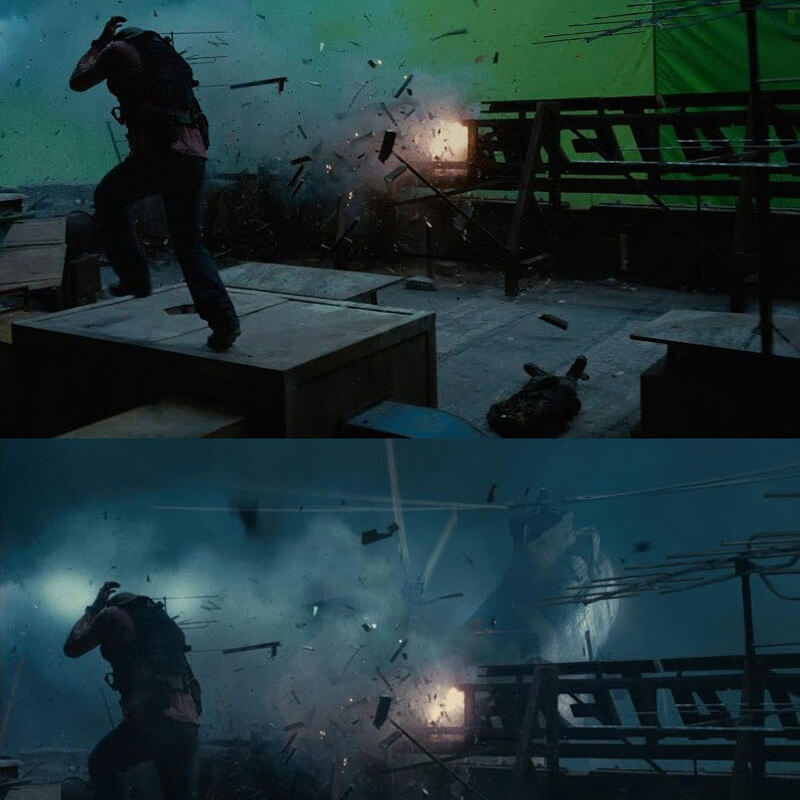 Agreed that Bruce Willis is a hard nut to crack, but it was absolutely impossible for him to defy death here without some form of computer work. In this photo, you will see Bruce escaping from the chopper which would have probably ended his life peradventure this whole thing was real. Of course, he deserves some accolades for some of the stunts he actually pulls off.
Tron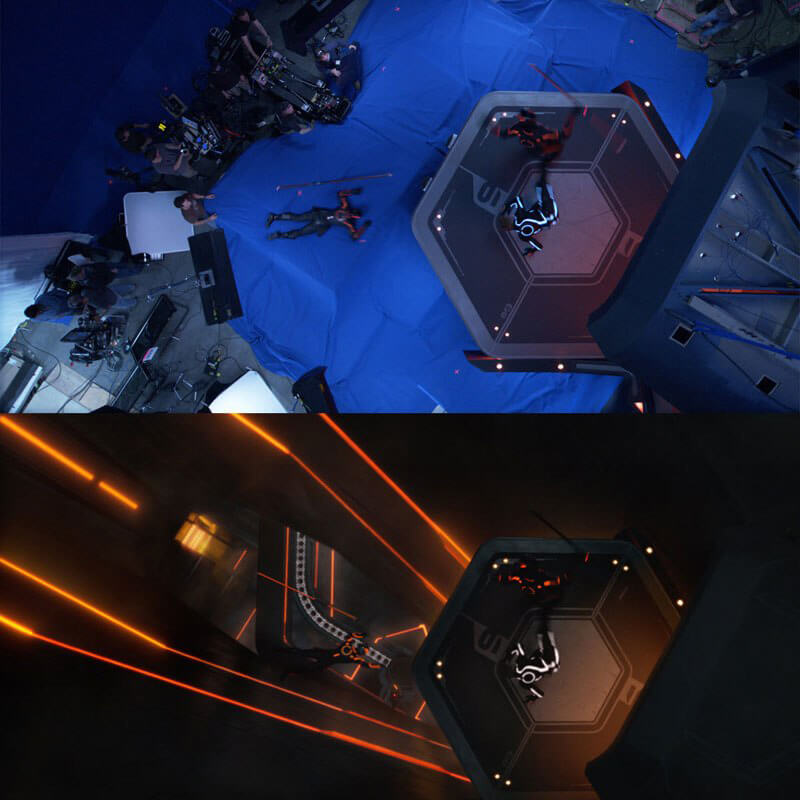 Isn't the world depicted in Tron just lovely? You can bet that no one will be left behind perhaps we could all go to a world like that. But, it was all just special effects. The amount of light and themes used in this movie were much. A lot of color screens were used as well.
The Wolverine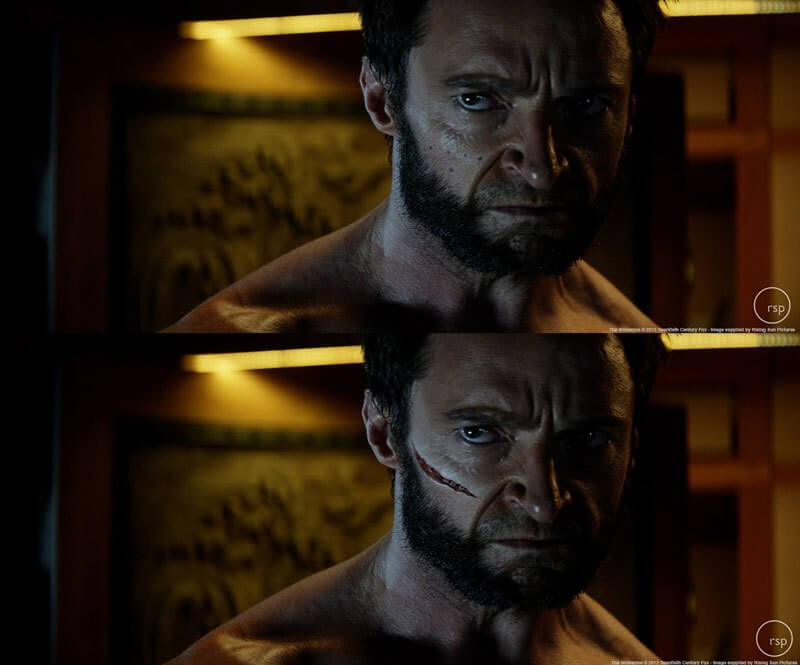 Who else would have played the role of Wolverine perfectly other than Hugh Jackman? Now that he quit doing so, not many fans are able to come to terms with it. Till date, many fans believe he could actually take a beating. Who would have thought that that big scar was worked on using CGI?
RoboCop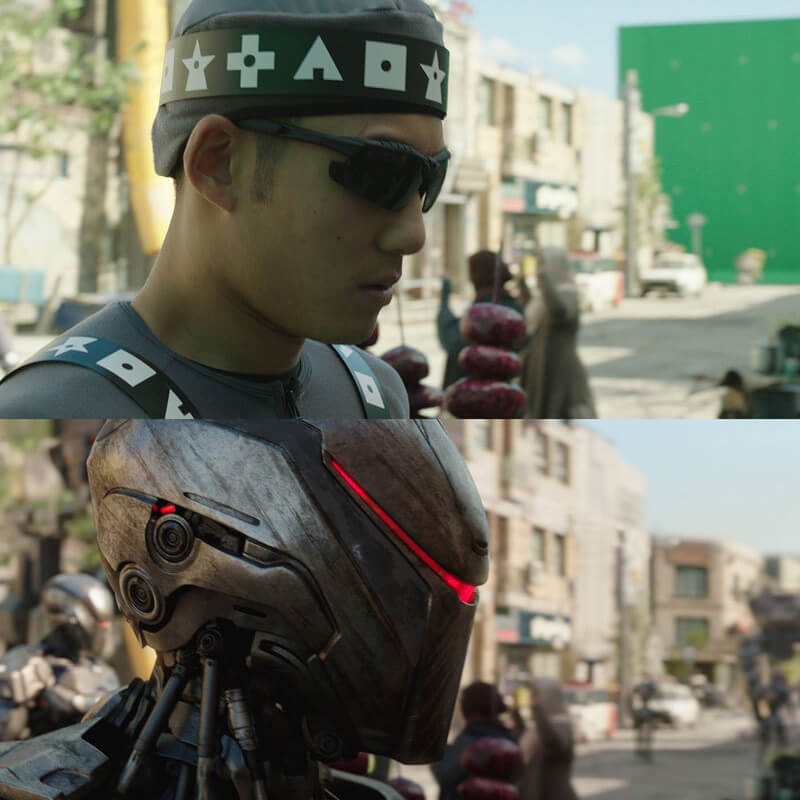 Would it not be scary to find giant robocops roaming the streets? Although, we might start seeing that soon with the progress in robotics and artificial intelligence. It was still not a reality as at the time of this movie. You can imagine how fans were fooled here. The giant robocop was only a handsome guy wearing a headgear.
Life of Pi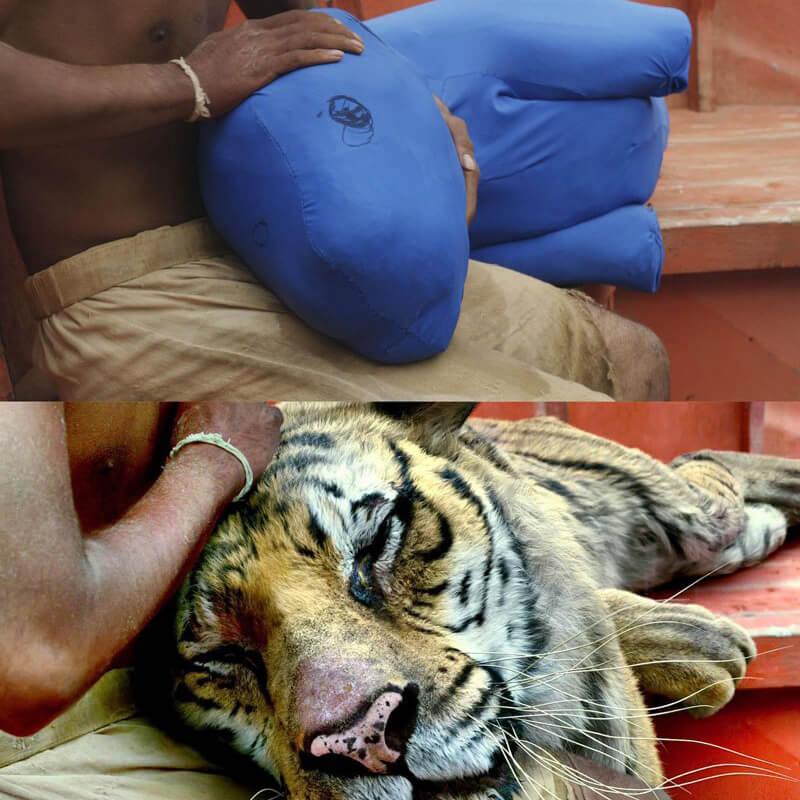 How different life would be if we could make tigers fall asleep on our laps? That would mean that they will either not be hungry to want to eat us or simply not find us as potential food. Imagine this photo; it was just a stuffed animal he was actually holding down. We cannot deny though that the tiger looks sweet on his lap.
Narnia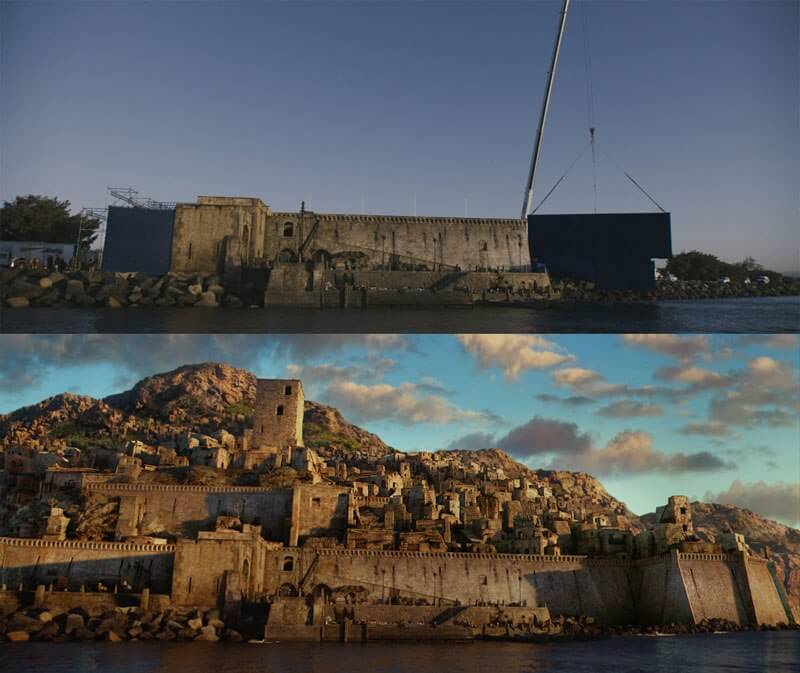 Those who have read Narnia would agree that there are lots of imagination that comes with it. Little wonder the movie portrayed the same thing. The only unfortunate thing about it all is that it does not actually exist. On the part of Narnia filmmakers, it will be nice to commend them for how they manage to pull it off. Narnia actually turned out to be a place many would love to go.
300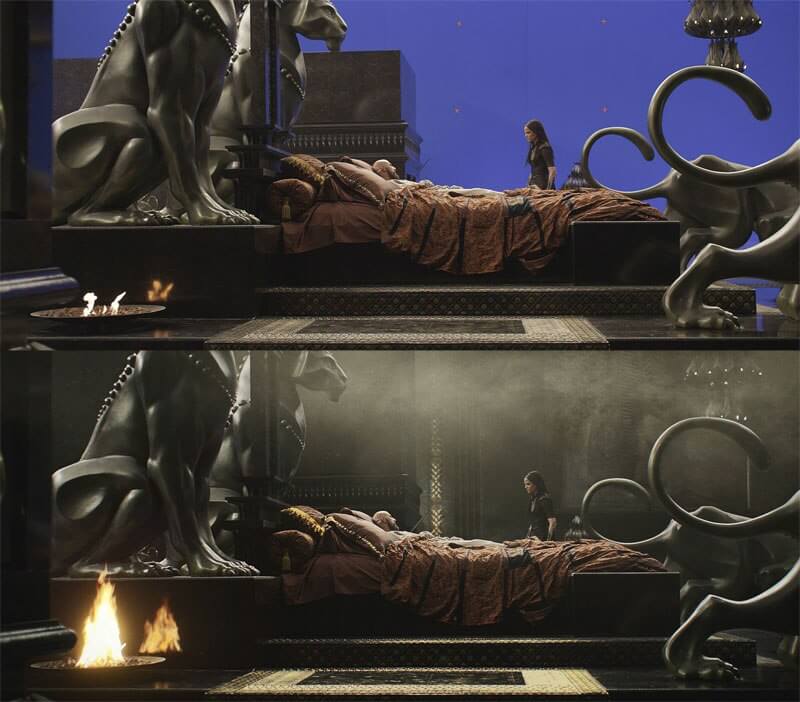 What you see in the photo gives an idea of how those who were in charge those days lived. The bed is quite big enough to be a king's bed and the statue makes everything looks royalty. Today, it is difficult to find mighty animal statues in palaces. If you want to find some, it would likely be at the museum.
Iron Man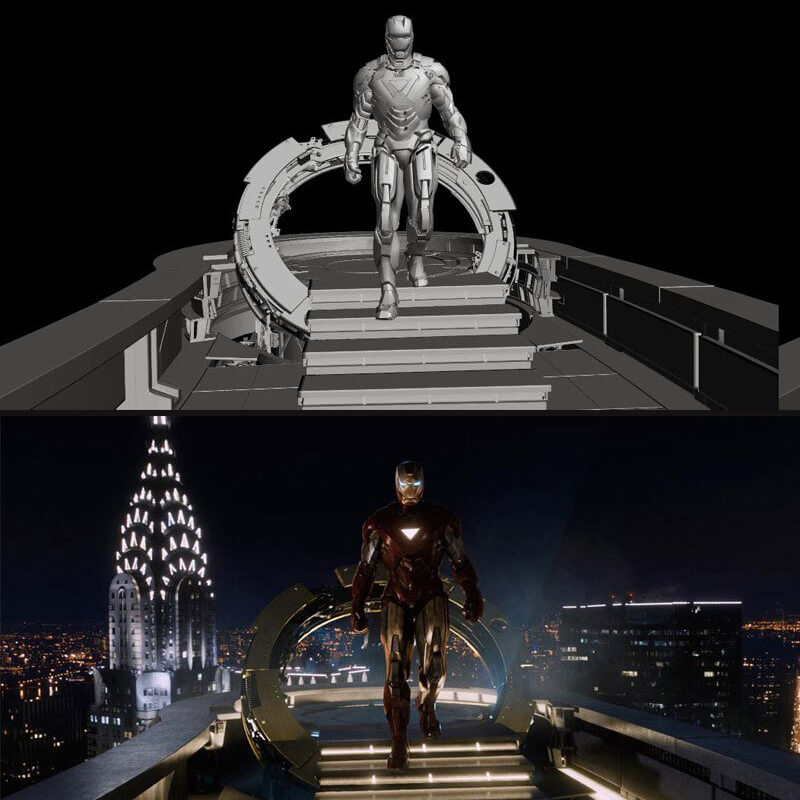 The Iron Man suit is just extraordinarily on point. Probably, such suits will be in circulation soon with advancements in technology. All we may just have now is the movie. Robert Downey J. has continued to play the Iron Man role for more than 10 years. It is tempting to say he most likely loves the role. Who knows, he might actually be trying to devise a technique to make the suit real.
Wolf of Wall Street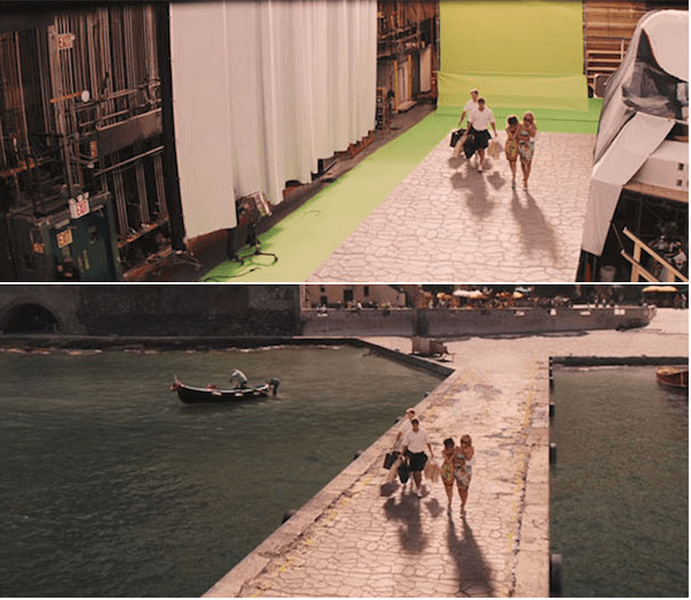 What happened here? It is as if the movie production budget was low. So, instead of taking the actors to the actual location, they had to do some editing. Only a few people would have believed this simple scene was made up. Well, maybe it was more time saving, stress-free, and cost-saving to have the guys in the studio work on this than to actually use the actual location.
Superman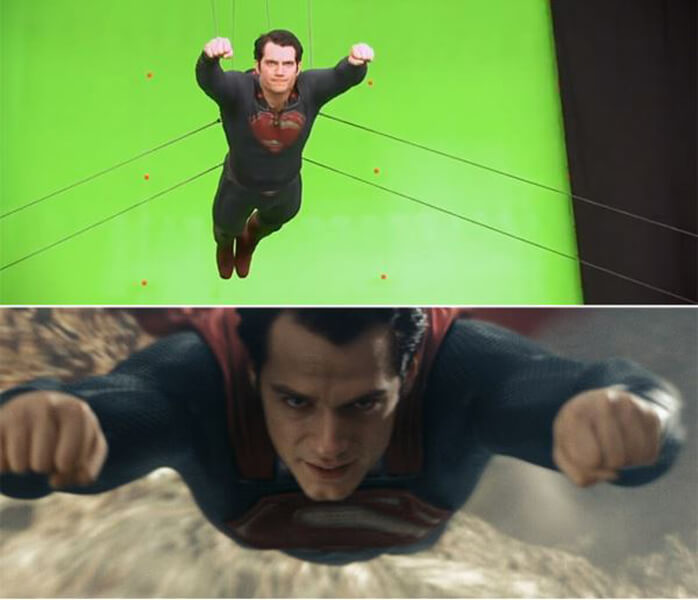 In our minds, we probably thought Superman could fly. Being able to fly when necessary would have made a lot of sense. At least, lots of breaching of security would have been recorded. Luckily for the actor Clark Kent, he was in a world of his own here. The producer had to suspend him in the air and place a screen behind him. That way, it is difficult to tell that he was not actually flying.
Hunger Games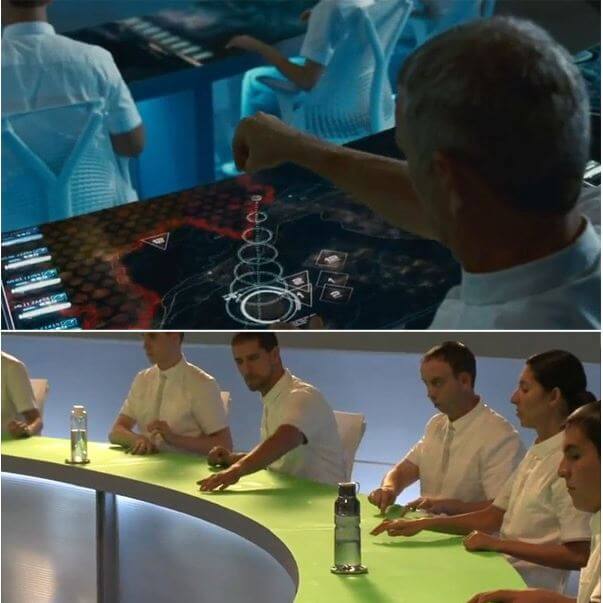 It is mindblowing to find out it was just a green long table after all. We never envisaged it. One would have thought of at least one screen on the table. Does it mean all these actors are paid to make us think they are doing something when in actual sense, they are not? The art form is out of this world.
Walking Dead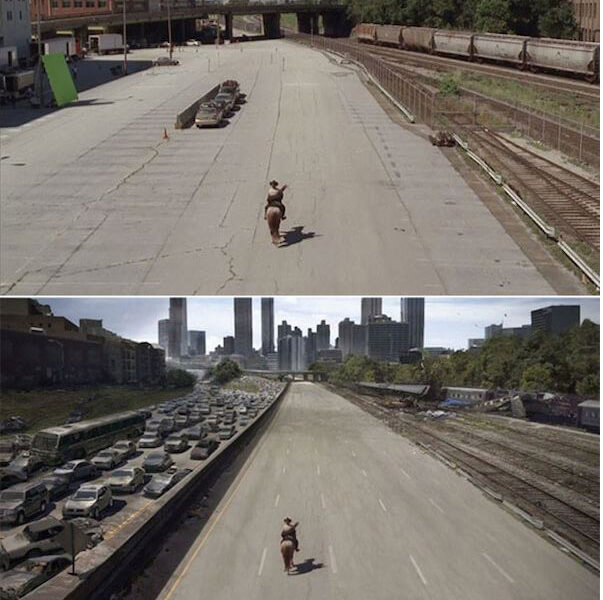 Zombies are not real and no one prays that they are. This famous TV show had several green screen effects. It is because not many abandoned cities are available for filming. The scene in the photo had to be done that way because of that. It is safe to think the filming was done in the back lot.
Iron Man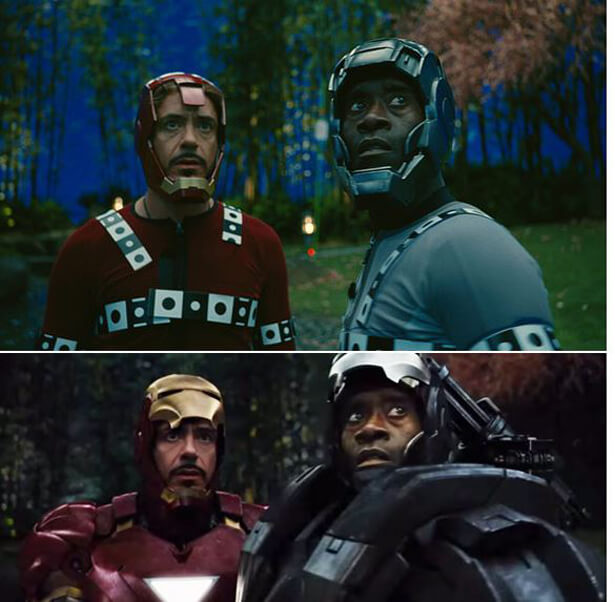 No doubt, Marvel Studios improved on the best way to showcase Iron Man on a big screen. It was almost a perfect work with War Machine. However, they could do more to ensure the superhero movies look better.
You have seen for yourself some of the fantastic works using CGI and green screens. The special effects, which could not have been possible without technology, is just mindblowing. Sometimes, it looks like we are in a different world altogether. As the advancements in technology continue, one cannot wait to see how the movie industry advances.  Am sure you laughed seeing the behind-the-scene- photo of some movie scenes that have got you wondering for some time now. If you enjoyed reading this article, don't hesitate to share it with your friends and you may leave us comments as well.