The Best Wrong Number Texts
Everyone has accidentally called or texted the wrong number, at least, once in their life, and it's not something to remember most of the time. The person will tell you, "Oh, sorry, wrong number. Bye." However, the following conversations prove that some people are way more hilarious than others as they decided to keep the texts going. Some even sent the best memes and pictures for the occasion. Let's discover more!
THE NEWBIE DOCTOR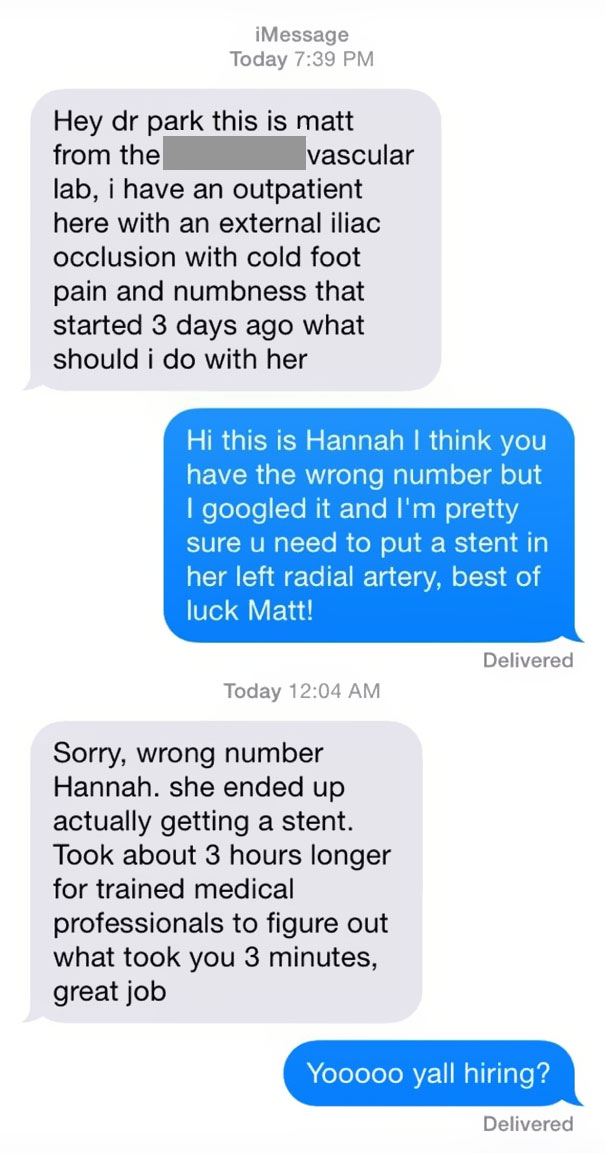 While none of us are medical experts, there is a high chance that the patient has the aortoiliac occlusive disease, which is the blockage of the aorta, the most important blood vessel in the human body. It could also be an obstruction of the iliac arteries, which are the branches that the aorta forms starting at the belly button to give blood to your legs as well as the organs in your lower body. What happens is that the buildup of plaque stops the blood from flowing. The aorta and iliac arteries are the 2nd most affected by the peripheral arterial disease, but the 1st blood vessels are those in the thigh. It even affects 12-20% of people over 65 years old.
THE WHOLESOME BIRTH ANNOUNCEMENT

This is an amazingly heartwarming moment that proves that not everything is bad in the world. More people should be like Dennis Williams, who received a group text from someone announcing that they were in labor. A baby was on the way! Naturally, the recipient replied with a congratulatory message and said that they must have texted the wrong number after his brother Deorick also read the text. However, the original senders didn't get the clarification, and Dennis and Deorick received a great picture of the brand new baby. After a while, the new parents realized their mistake, but both parties got to meet because the Williams brother appeared with gifts.
PAINTING THE ROOM

We agree with this person because gender roles and norms are changing all the time now. It's no longer necessary for boys to be in blue and girls in pink. However, how did humanity pick those colors in the first place? According to Smithsonian.com, it wasn't a quick choice. For many years, children wore white dresses that were practical for changing diapers, and the white fabric could be bleached if there was an accident. University of Maryland historian Jo B. Paoletti wrote a book about blue and pink, which originally wasn't gender-specific. "The generally accepted rule is pink for the boys, and blue for the girls. The reason is that pink, being a more decided and stronger color, is more suitable for the boy, while blue, which is more delicate and dainty, is prettier for the girl."
BROS HANGING OUT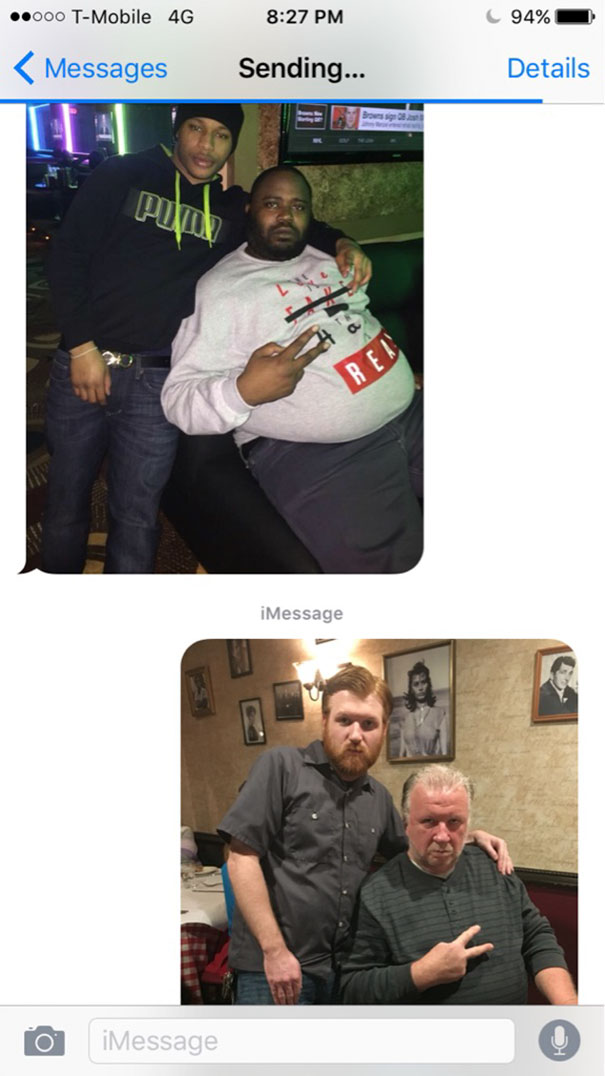 Many people have actually decided to send back pictures when a wrong number unexpectedly sent one. It's always pretty funny because strangers will try to imitate the original photo. Interestingly, the first selfie was captured in 1839 on a daguerreotype camera by Robert Cornelius from Philadelphia. He was a chemist, and photography was his hobby. He took the lens cap off the camera and sat in front of the frame for a minute. He covered the lens afterward, and the result was an image that looks very similar to current selfie. Therefore, the photograph seems to prove that people have always been obsessed with taking pictures of themselves. It's not a turn-of-the-century trend.
MEET YOU THERE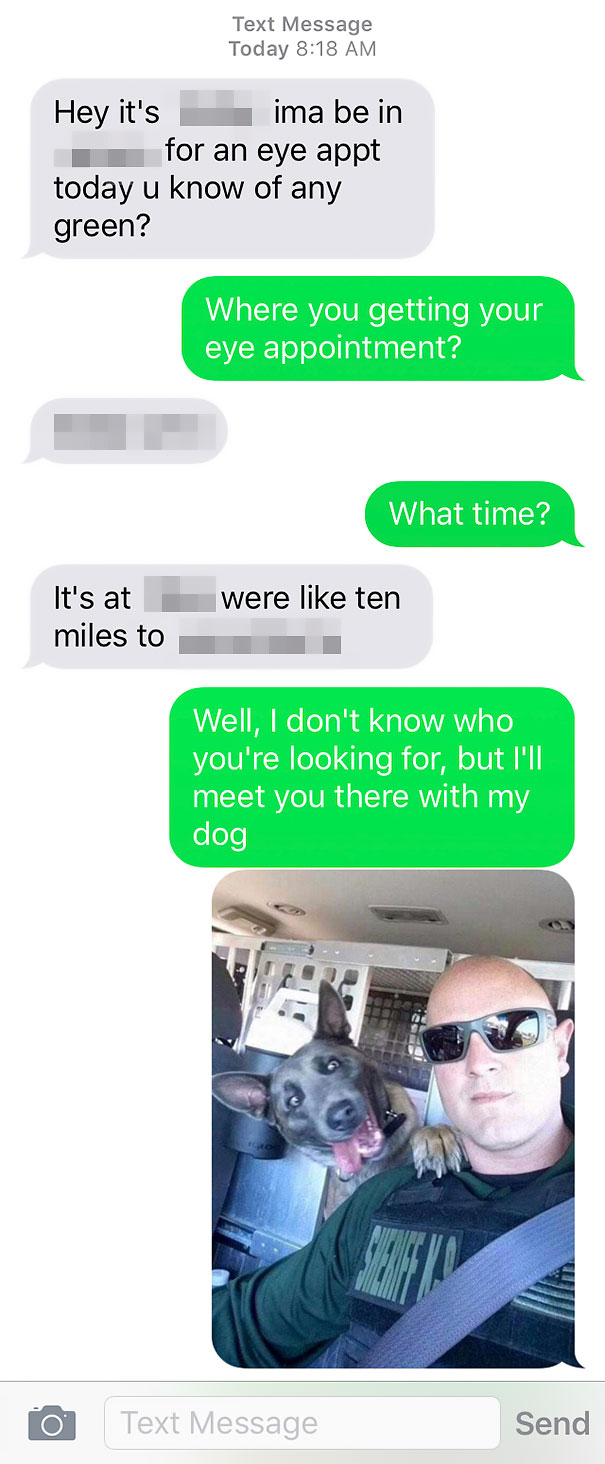 We would love to meet that man and his goofy dog that takes such awesome selfies. This is just hilarious, and we wonder why the original sender didn't reply. On another note, it's important to get eye appointments whenever you feel that something is wrong. Some people wait too long before seeing an eye doctor, and that can be worse for your health. These physicians have a large range of tests that will determine exactly what's going on with your eyesight. Furthermore, most people forget that everyone's eyesight gets damaged over time. That's why you see older folks with reading glasses all the time. There are tons of options for glasses, though. So, don't be embarrassed to get checked out.
THE BAD NEWS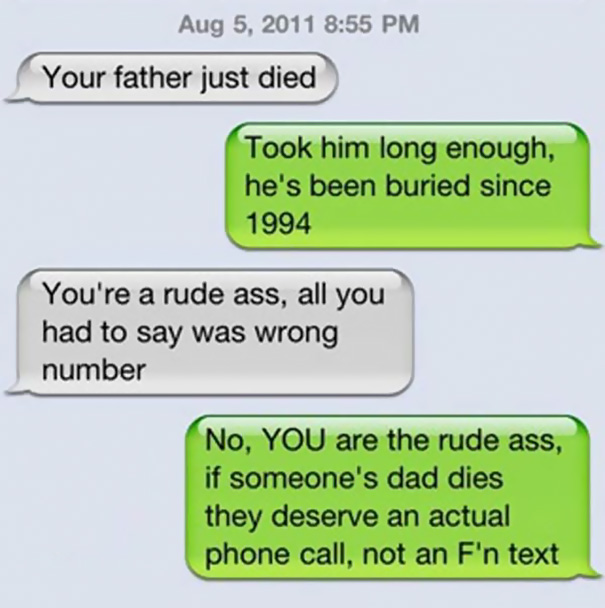 It's never easy to deliver bad news, but doing through text is probably not the best option, especially if it's as sensitive as a loved one's death. Of course, we sympathize with the original sender of the wrong number text because no one should joke about it either, but when you make a mistake as big as that, people are going to tease. Meanwhile, SMS are how we communicate every day currently; even more than phone calls. If the person wasn't as close to that intended recipient of this bad news, then a text would have been better. Also, the recipient might be easy and getting a text is just better than interrupting their day.
IS THAT A CAT?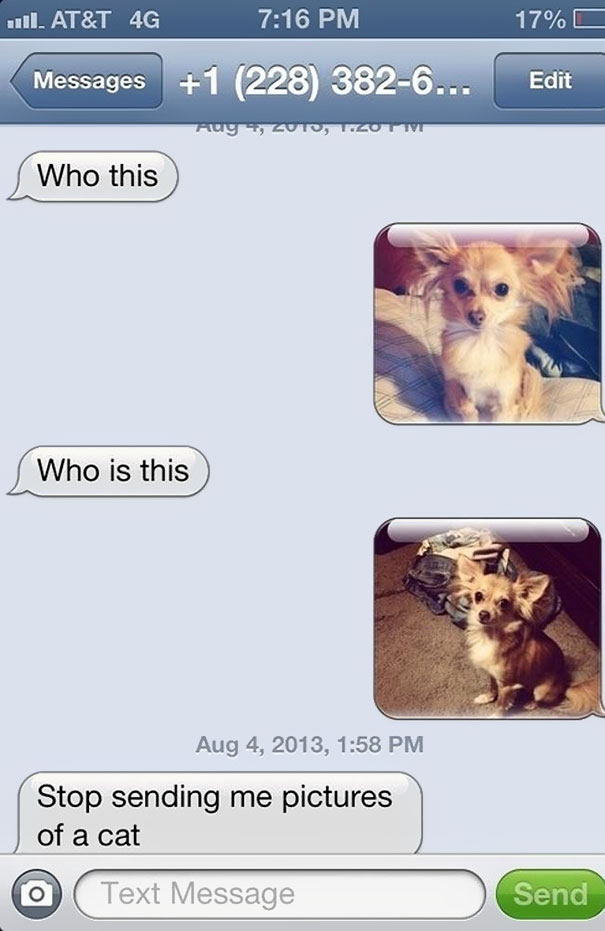 We love people who suddenly decide to send pictures of their dogs. They are some of the best conversations ever. However, we have to wonder who actually sent the first wrong number message because it's not that clear in this case. But, if we kept receiving photos of this weird but funny pet, we would have been glad. Animals have a way to making your day brighter and happier. They have been known to ease anxieties and just clear your mind. Therefore, if you ever receive a text from a wrong number and want to have some fun, send them a picture of your furry pet. Some might not appreciate it, but it's always hilarious.
IS THAT YOU, JESSICA?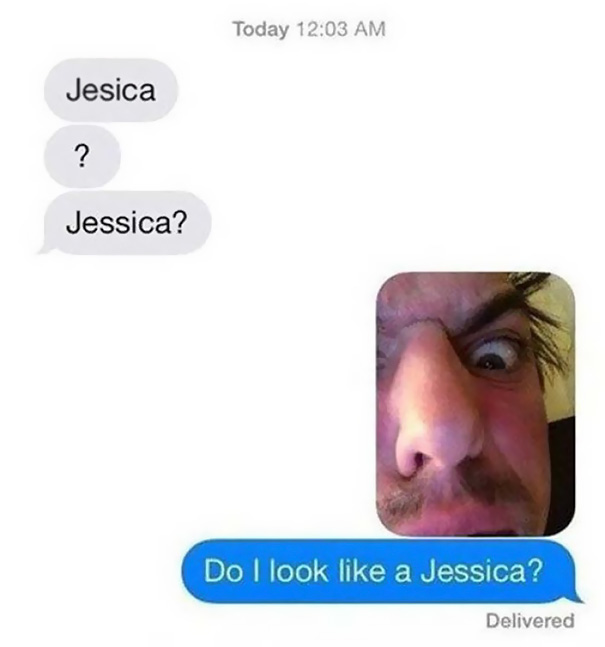 We don't know if the sender was worried about Jessica's wellbeing or if he was worried that she had given him a fake number. It actually happens a lot with when you meet someone new. Some people are not comfortable giving up their number to strangers. However, the sender must have laughed at a lot at the picture he received because the recipient made a pretty funny expression. It's pretty clear that he was not Jessica. We wonder if the original sender actually answered later on, and we have to know what happened to him and Jessica. Sadly, those are questions that might never be answered.
MY BAD, DUDE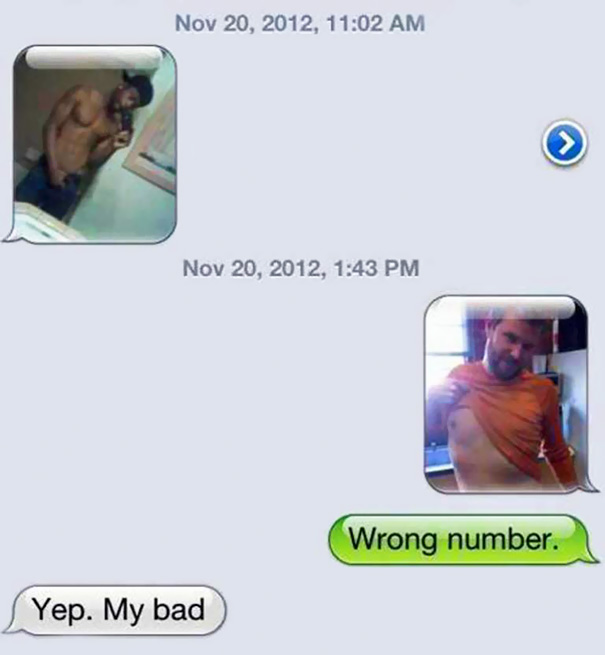 It seems that this might be another case of a girl giving out a fake number, or the original sender didn't write it correctly. Either way, he clearly didn't mean to send that sexy photo of him shirtless to another guy, but we love the reply. On another note, you might be wondering if this is what the kids call "sexting", and that is correct. The term refers to using your phone, computer, and camera to send suggestive messages or pictures to other people. Most of the time, it's the perfect way of flirting with someone new or even your current boyfriend/girlfriend. However, when it comes to interactions with strangers, it's best to not send pictures of your face.
THE STANDARD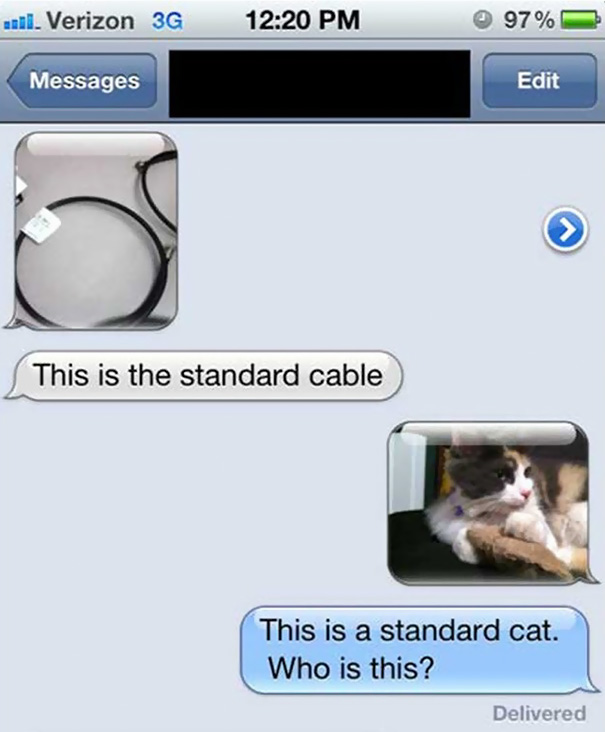 It seems that the original sender might have been selling cables for a living, and communicating with a possible customer. However, the recipient was not someone interested in a cable at all, but he wanted to show what a standard cat looked like. A lot of people are familiar with dog breeds, but not that many folks know that cats are separated in many breeds at well. Everyone needs to consider what kind of cat they desire before buying one. Although, we would recommend actually adopting a kitty from the local shelter because buying actually supports breeders, as they might not have the best intentions when it comes to animals.
THANKSGIVING DINNER

This is another one of those heartwarming moments. Wanda Dench accidentally texted Jamal Hinton, inviting him to her Thanksgiving dinner. She originally thought it was her grandson, and that could've been it, but the pair actually developed a great friendship after the incident. In fact, that Thanksgiving took place in 2016, and Hinton attended, tweeted a selfie with Dench, and was invited back in 2017 and 2018. On the other hand, Dench told the Arizona Republic that she doesn't even cook, "I'm sure he'll wonder what he's gotten himself into by accepting my invitation." Dench's grandson, Randall Burgoyne, said, "When I called my boyfriend he told me, 'Grandma is on the Internet. Now my grandma's everyone's grandma!"
THE GRILL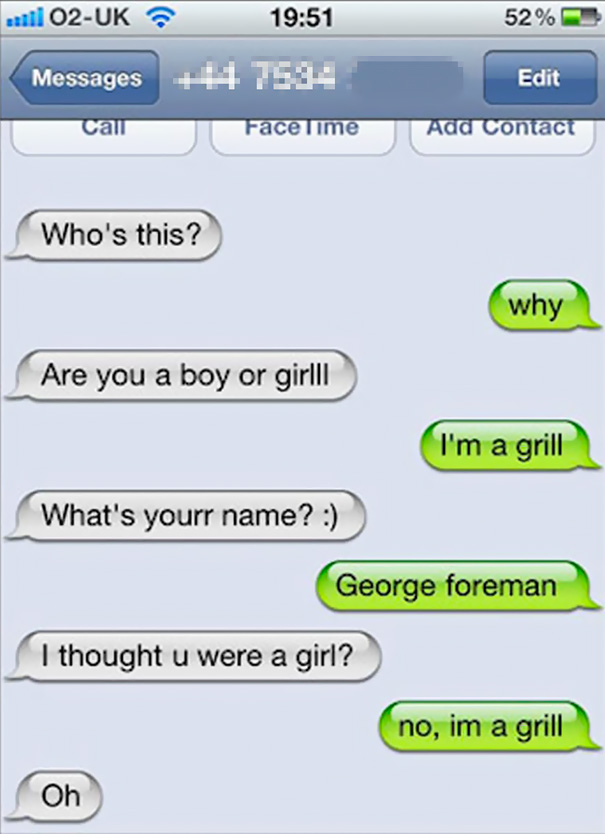 Well, this whole interaction was just a bit weird. Both parties were confused in the end because the recipient thought that the message said "boy or grill?" That's why he referenced George Foreman, which is a kind of electrical grill made by Spectrum Brands. It was even promoted by boxing champion George Foreman and launched in 1994. More than 100 million grills of the brand have been sold since then. However, the original sender wrote "girlll" with just a couple more "l"s than necessary, and the conversation was just odd from the beginning.
THE PREGNANT WOMAN

This is another wrong number conversation that definitely went viral, although it wasn't wholesome like some of the previous items on the list. First of all, it's not right to have intimate relations with someone who already has a girlfriend, and it's clear that the sender knew about it. Secondly, it's completely crazy to message the girlfriend informing her of the situation. Thirdly, she simply should have been more careful during those sexy times to avoid getting a bun in the oven. A man who is not even faithful to his girl is definitely not going to support the baby. However, this rude sender got more than she expected with this perfect trolling, and we applaud that recipient.
THANK YOU, ANDREA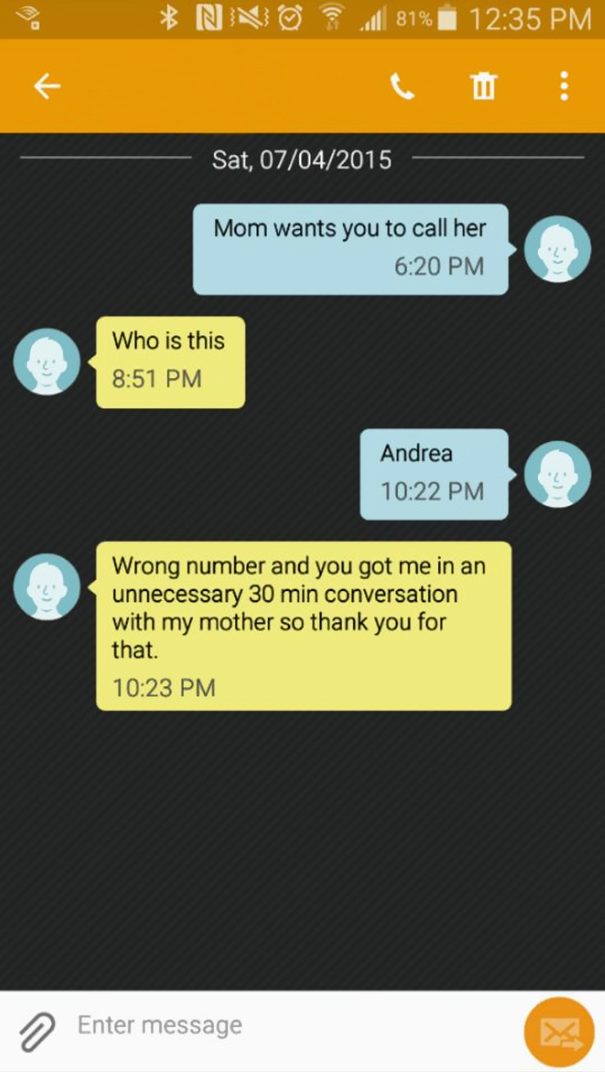 Most people avoid calling their parents at all costs after leaving their homes. It doesn't mean that they don't love them. It might just be that their parents are too dramatic or too problematic to deal with all the time. However, it looks like Andrea caused some serious trouble for someone because a 30-minute phone call is just too much. But, that person should have checked who sent the message in the first place, instead of trying to call their mother right away. Sometimes, being particularly careful can save you some headaches. Also, the recipient might have been better off ignoring the message altogether. Some wrong numbers might even be scammers; so, it's best to stay cautious.
JUST CHILLIN'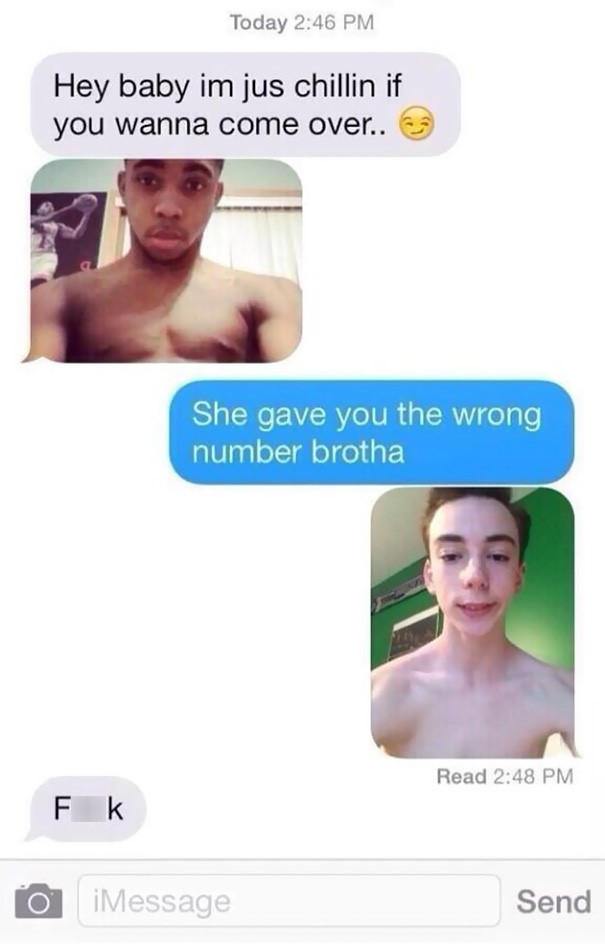 This is another situation where a guy was given the wrong number, but it's a pretty funny occurrence for the internet. We love people who make fun of strangers' selfies in times like this. Sadly, this dude won't be sexting with his "baby" anytime soon. There are many reasons why a woman might give out a fake phone number. That doesn't mean that she is evil or a liar, but it's the better option for some girls. There are many guys who cannot take rejection, and to avoid dangerous situations, women will just give them a fake number and keep acting polite to them. It might seem odd, but you never know what has happened to her before.
THE WEIRD OUTFIT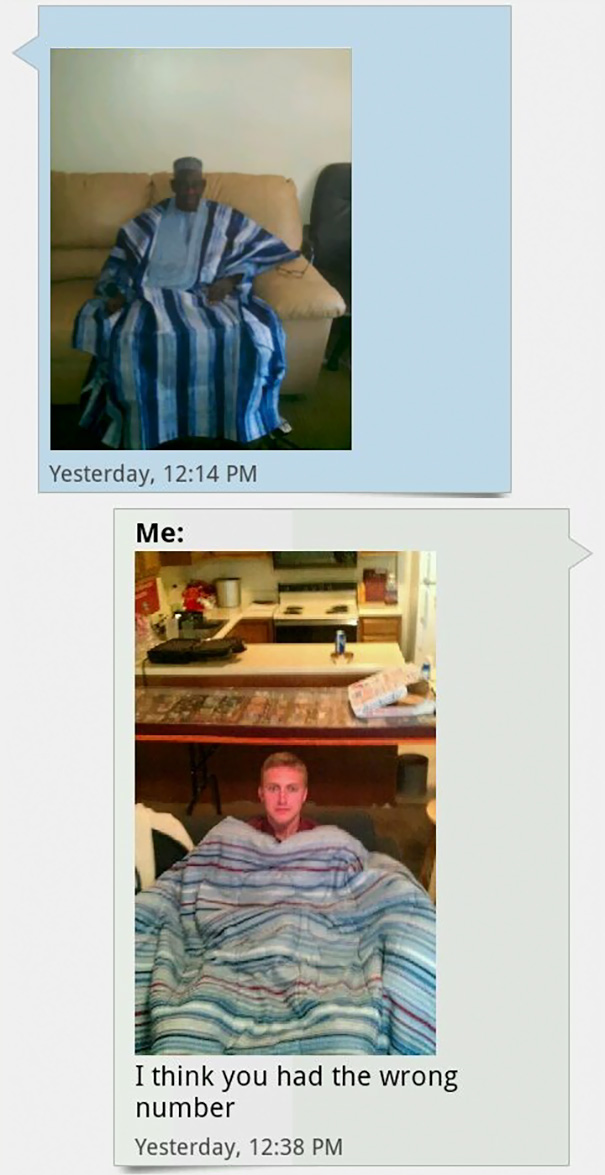 This is another similar situation, but it has nothing to do with a fake number from a "baby". At least, it doesn't look like it. It seems that the sender wanted to send a selfie to someone specific but since it's not "sexy", then it might have been a friend or a family member. However, people cannot help themselves, and they just want to imitate it. It looks like the sender is probably from Africa, where there are still many cultures that keep their traditions alive. Their original garments are still very much in style despite the modern outfits of the West.
THE PARTY

This is another conversation where things went too far, and the recipient simply continued trolling the sender to see just how long it would take for him to realize that he had texted a wrong number. It's hilarious that they basically planned a whole party, and not once they did mention names or addresses. At some point, the sender should have asked something a bit more personal, but the recipient would have tried to keep the joke going.
I JUST WANT THE CAR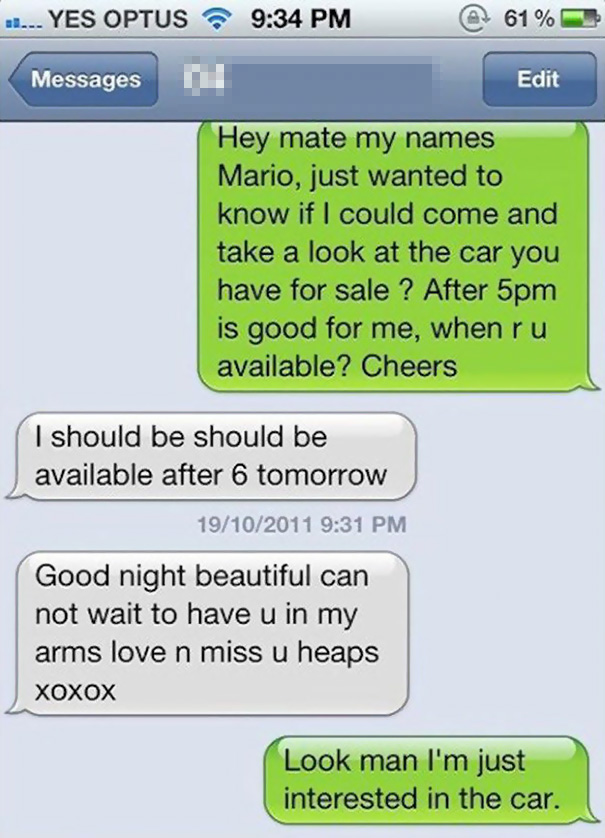 This is a weird situation, and it's not exactly a case of a wrong number. Of course, the sender texted someone that he wasn't supposed to, but through a past message, he could have known that it wasn't his "beautiful". This happens when there is a lot of communication between a seller and his clients. This person was selling his car, and someone was interested. The conversation thread gets saved on your phone, and he probably pressed it accidentally when texting his girl. Meanwhile, we love the client's sense of humor. The recipient should definitely get a discount on the car due to his understanding nature.
GIVE ME ONE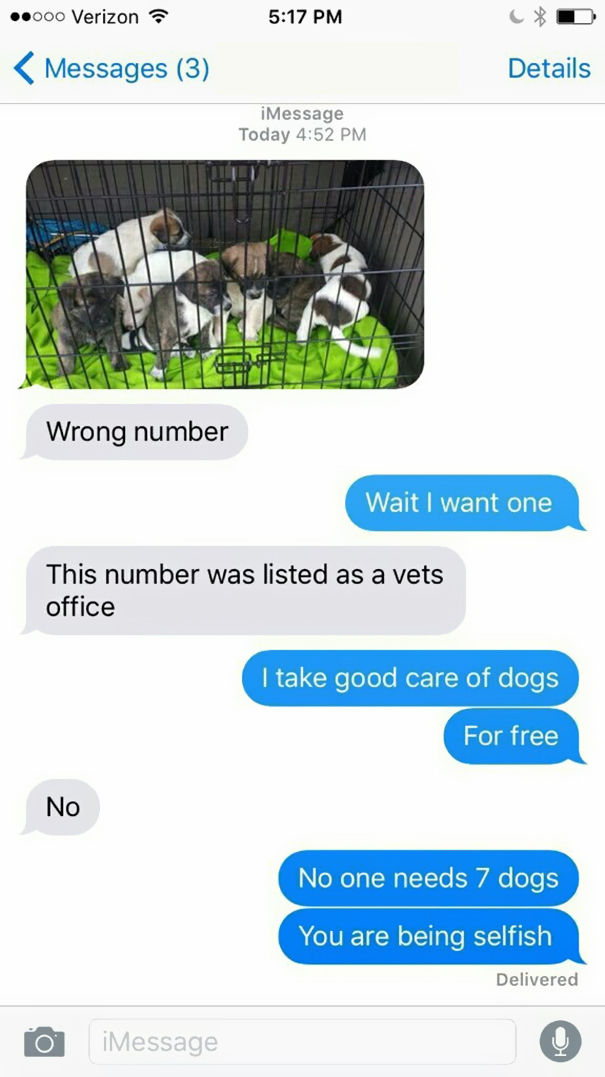 We feel a little sad for the recipient because we would all love to have one of those cute dogs. You cannot just send a picture like that without explanation. The number might have been listed as the vet, but we need more context. In any case, it's important to think thoroughly if you are prepared to take on a dog as a pet. It's not a toy or something you can get rid of when it's not small anymore. A pet becomes a huge part of your family, and it's a living creature that needs just as much love as a child.
GOOD TIMES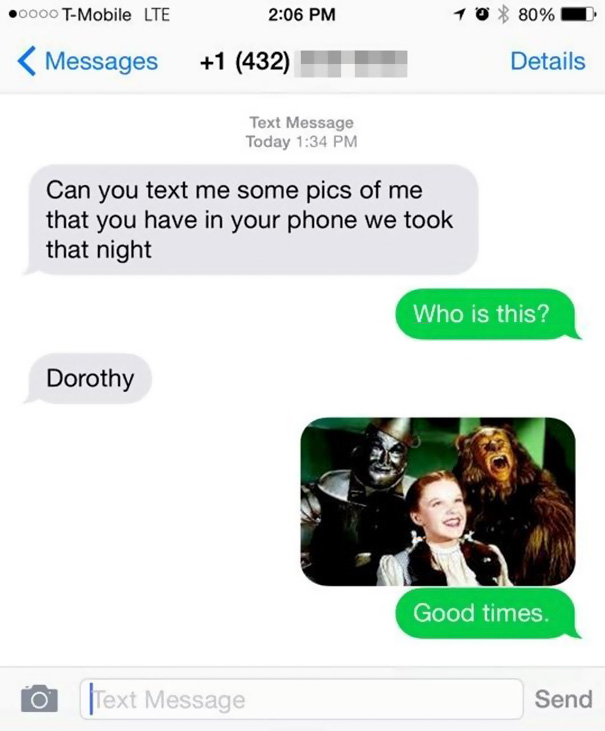 Dorothy might not be the most common name right now, but it probably was after the premiere of the classic film 'The Wizard of Oz', and the movie is actually celebrated its 80-year anniversary. The musical about a Kansas farm girl and her dog was penned by L. Frank Baum and directed by several people such as Victor Fleming. It came out on August 25, 1939, although it didn't do so well at the box office. Luckily, it received so much love years later when it was released in Technicolor on television in 1956, and of course, everyone loves Judy Garland.
MATCHED

Now, these girls at a party sent a wrong number a picture in their best outfits, and the guys that responded were hilarious by copying their poses. However, the ladies wanted to win at the game, and they decided to add even more girls to the picture for the strange dudes. But, the guys knew how to "match" their higher stakes, and let's just face it, anything with a dog is ten times better. They even dressed them up, and we have to laugh at the spoon of that one guy's face, which is similar to the girl with the decoration on her forehead.
COMPLETE TRANSACTION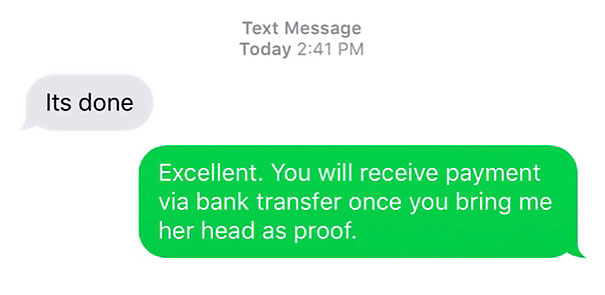 This doesn't sound like anything we want to get involved in, and the sender was clearly so spooked by the odd the message that he didn't even reply to ascertain that he had the wrong number. Sometimes, recipients of wrong numbers play darker pranks on people, and it's pretty funny but scary too. Meanwhile, bank transfers couldn't be easier these days. There are many apps out there specifically designed to make your life easier when it comes to sending money. Apps like Venmo are loved by millennials who receive payments online. A user can make quick transfers on their phone, and businesses can even apply it so that customers have self-checkouts on their bought items. Discover more here
LOVE ME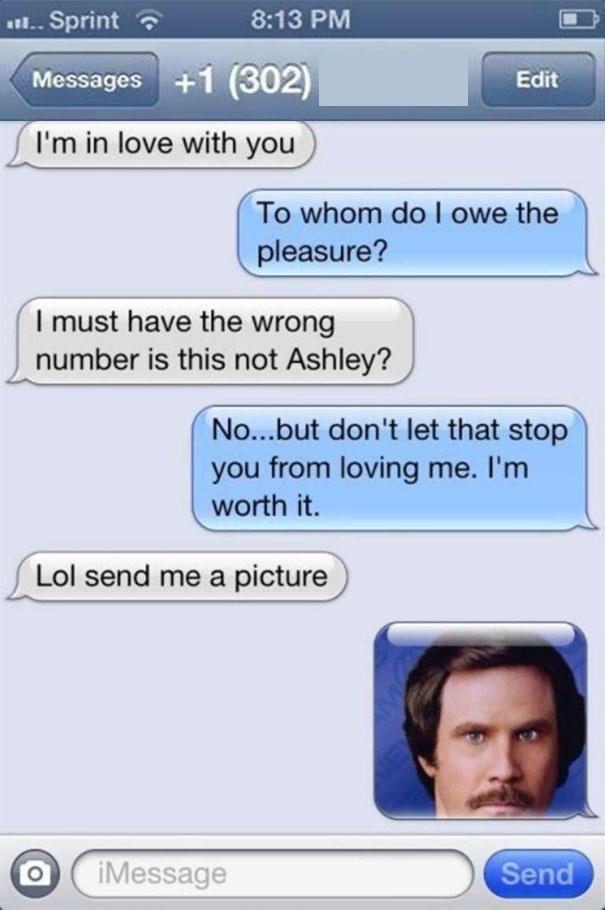 We love when people reference movies when they are making jokes and trolling strangers on the internet. Using an image of Will Ferrell's Ron Burgundy is just legendary. For anyone that doesn't know, that's from the movie 'Anchorman: The Legend of Ron Burgundy', where Ferrell plays the role of a famous television anchor along Christina Applegate as Veronica Corningstone. It's about the industry in the 70s, which was dominated by men until a woman upstaged Burgundy on the air. A feud ensues and a mistake ruins Burgundy's career. However, he manages to redeem himself later on.
NOT TINA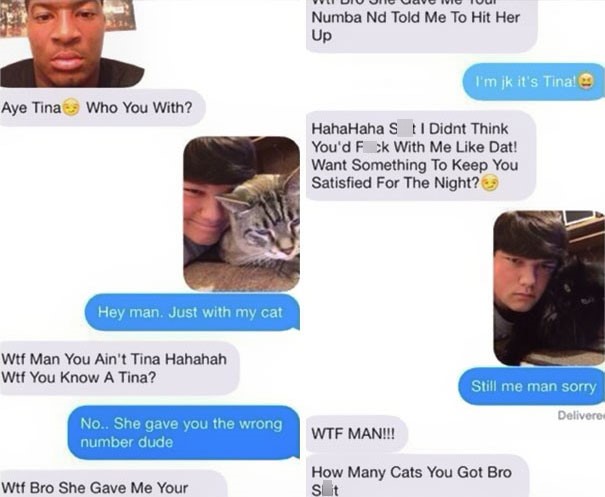 This is another example of someone who got a fake number from a woman, or he might have written Tina's number wrong. Meanwhile, it's interesting that the recipient has more than two cats, as most people think that cats are loners. However, that's not the case at all. In fact, they are not the solitary animals that everyone makes them out to be. If left alone for too long, they actually start acting out, as they are lonely and bored. Therefore, you might want to consider another kitty to keep him company, especially if most of your household is pretty busy.
NOT YOU, SIR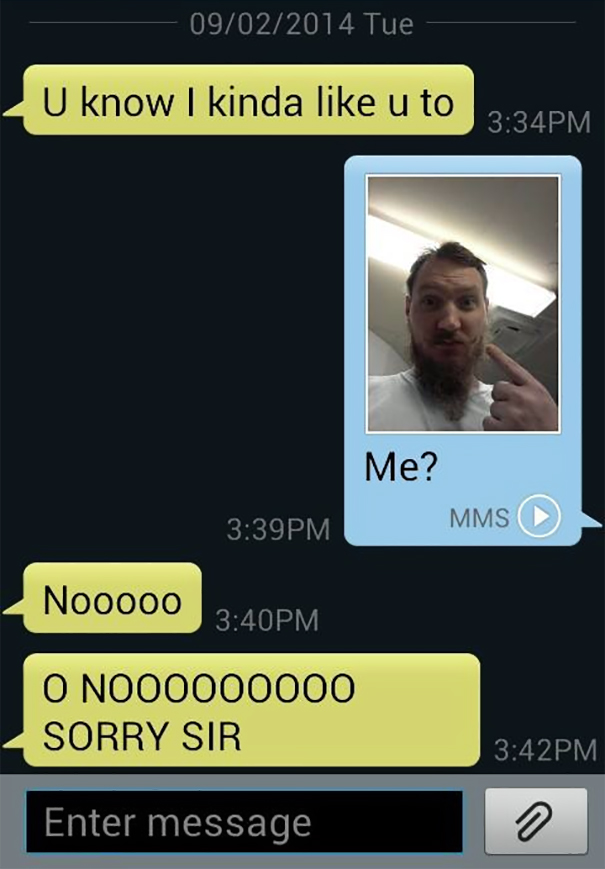 This is another person that was clearly sending a private message to the wrong number. We feel sad because actually admitting to liking someone takes a lot of courage on their part. Most people actually don't know how to tell if they like someone. Firstly, you probably stare at them all the time. If you have found yourself looking at someone for too long, you might have feelings for that person. In fact, some studies have shown that couples who lock eyes more than others have deeper connections. It even applies to strangers. If you look at someone for too long, you might be attracted to them, even if you don't realize it. Find out more signs here.
VIVA FIESTA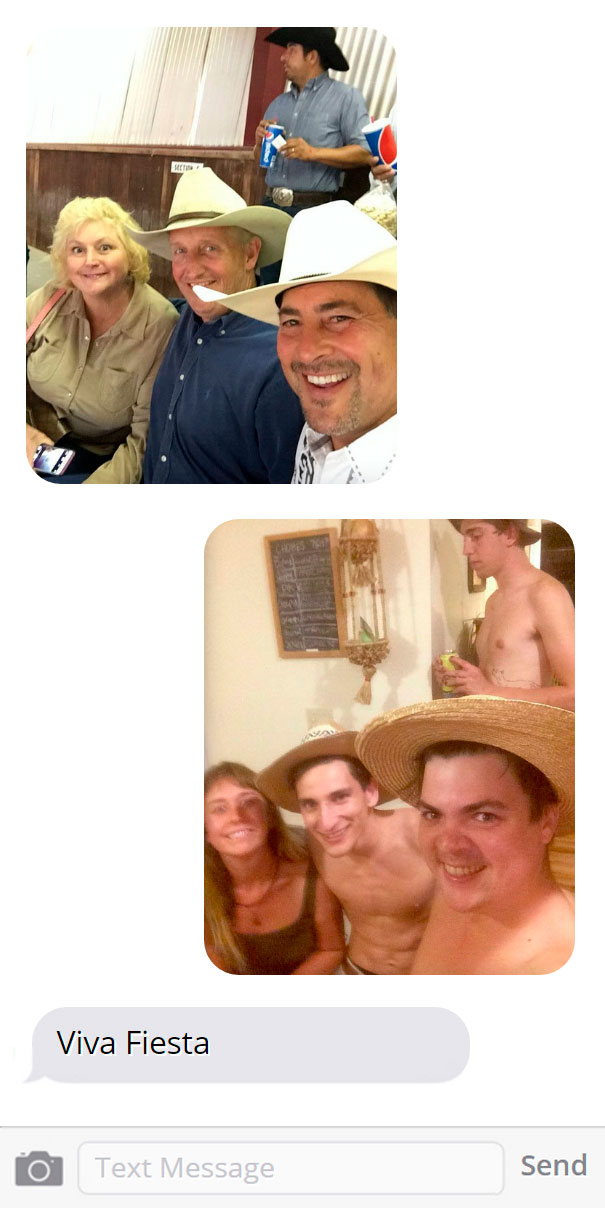 It seems that both people were partying pretty hard that day, but the second picture is clearly making fun of the first one. Luckily, it's still a whole situation because they looked for hats and copied the original photo quite nicely and in a funny way. It's not disrespectful, but we do wonder about the last message that says, "Viva La Fiesta." For the most part, it seems that Americans are obsessed with Mexico, and according to a Quora user, they are also into China. It might not always be positive because Americans love to celebrate Cinco de Mayo too, and many are actually learning Spanish to have more job opportunities.
TOO DESPERATE

This message took a wrong turn right away, and it's sad because it could have been a perfectly normal conversation between strangers. In fact, the sender might have made a friend. However, now he is clearly one of those "nice guys" that is featured on Reddit. In fact, the whole subreddit is dedicated to guys who say that they are nice but can change it around in two seconds. The description reads, "For all the self-proclaimed "nice guys" who are actually manchildren or douches, or who mistake being spineless and pathetic for being nice. This is primarily a subreddit for images of these "nice guys" demonstrating their unique charm."
YOU BETTER CALL MARY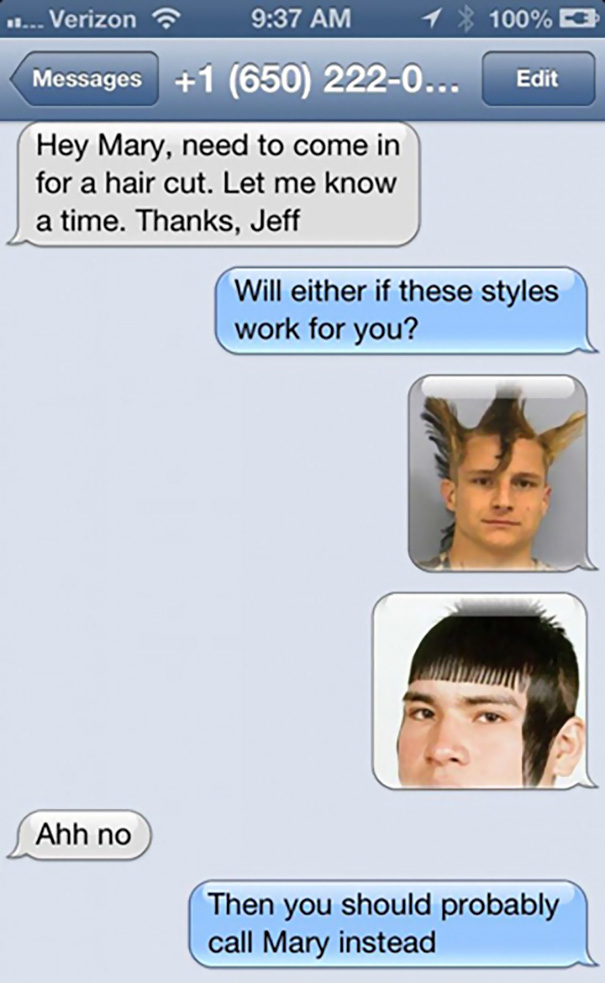 We don't recommend going to anyone to get a haircut because things might turn out very wrong. In fact, most men don't know that some hairstyles fit them better than others depending on their face structure. Categorizing the best haircuts in terms of a face is the best option because what looks great for an oval and long head probably doesn't fit someone with a round face. It's just logic. However, the pictures that person sent were clearly crazy, and we don't anyone in the world should ever have tried those styles.
PATRIOTIC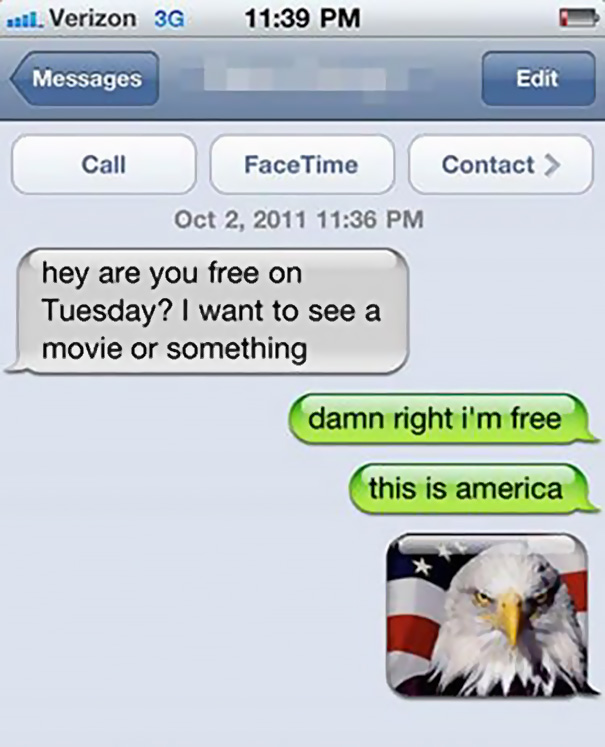 Almost everyone in the world knows that the ultimate patriotic symbol in the United States, besides the flag, is the bald eagle. It is the US National Emblem, and it was actually chosen on June 20, 1782, because of the animal's long life and intimidating but beautiful looks. Furthermore, back then, it was believed that it only existed in the American continent. You can find the eagle on the backs of gold coins, the quarter, and others. It also symbolizes freedom because an eagle lives on top of mountains with the expanse of nature at their talons.
YOUR QUEEN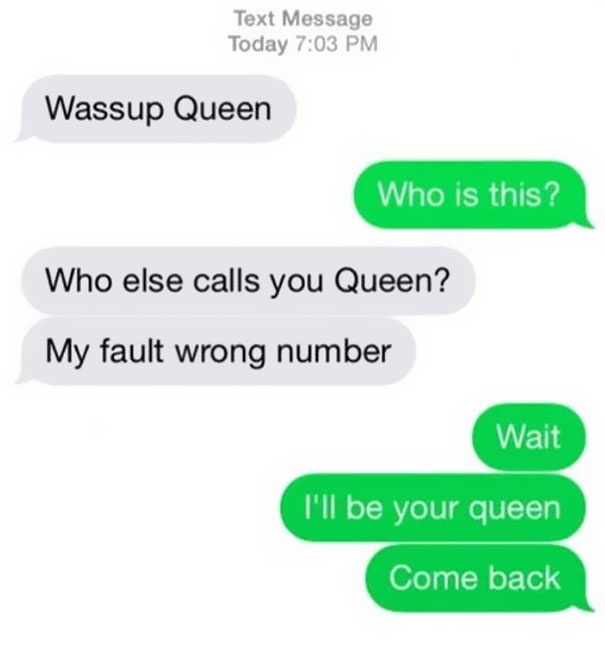 Everyone would love to have someone who calls them "queen". In fact, there is an interesting history regarding the use of the word as a compliment because it was originally utilized as a weapon. People said things like drama queen, ice queen, queen bee, and they are had negative connotations. However, things are different, and queen has become like armor for some women. How did this change happen? NYU linguistics professor Dr. Louis Vasvari said, "For this to happen with a word for a woman is a huge deal — normally words denoting women go through pejoration. I suspect that this transformation [of queen] came from African-American English, as in Queen Latifah, and then spread through social media to other artists. Duke Ellington, Count Basie … they were powerless in larger society, but they had tremendous artistic talent. They claimed their own honorifics."
DON'T EAT IT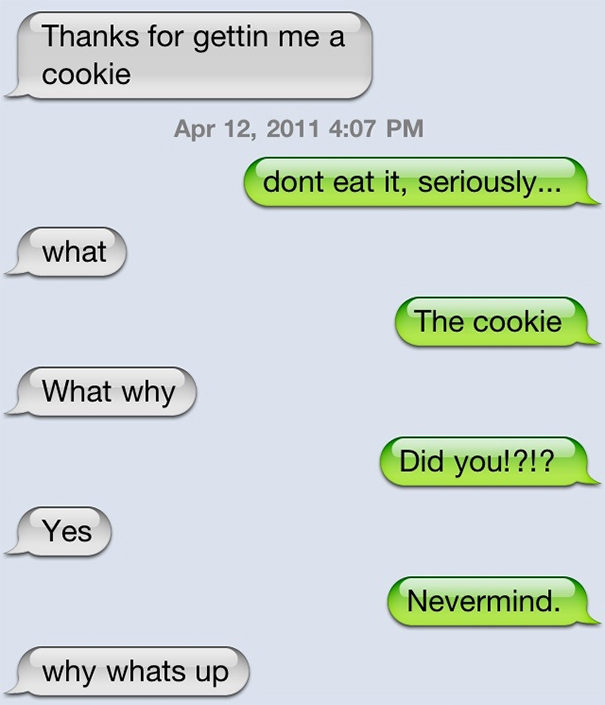 As mentioned earlier, some people go too far with their pranks on strangers who accidentally texted them. Luckily, it's normally nothing, but this person looked a bit freaked out with the message as we all would be, especially regarding food. However, it seems like the recipient got tired of the joke and stopped responding because the other persons didn't figure out what was happening. Meanwhile, we would all be worried if a friend told us not to eat the cookies, especially after that one 'Grey's Anatomy' episode where all the doctors got high after eating biscuits made with peanut butter infused with cannabis. That was hilarious!
MAKE IT WORK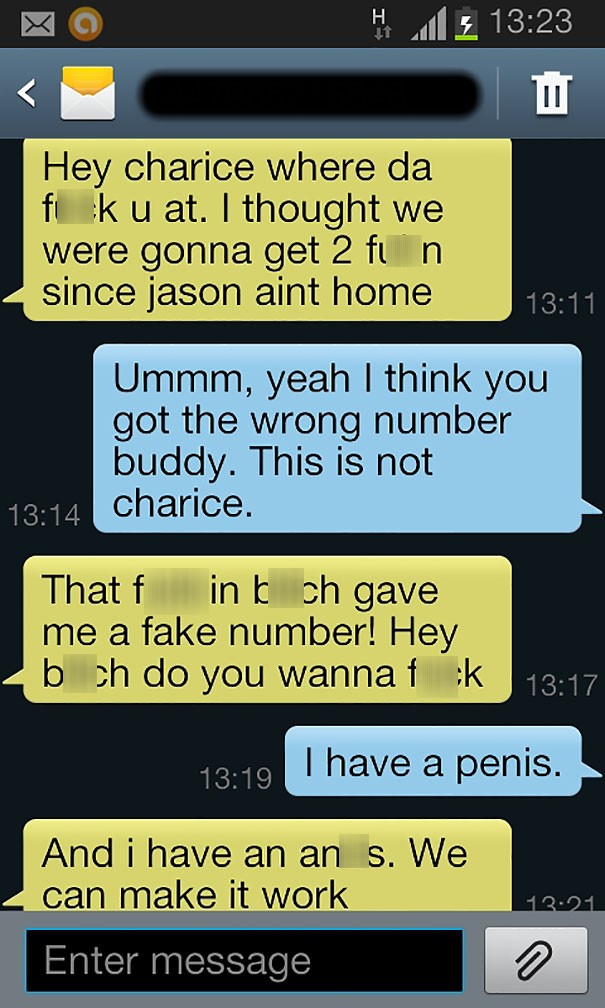 Well, if we were in Charice's situation, we definitely would not be dating this person. He calls her the b-word and talks about having intimate relations like it's nothing. Ladies, never let a man speak to you that way. No matter, how much you like him, this kind of texts exemplify that kind of person that he is inside. And obviously, he doesn't care about Charice at all. On the other hand, the sender is pretty funny and was down to playing with literally anyone in his path, even a man. At least, he is not narrow-minded, although the recipient might have been freaked by his suggestion.
TOO FAST
This is the weirdest situation for a conversation. They could have known each other but never found out if they didn't say anything more than "hi". Sometimes, you try to text a number you have on your phone but forgot to save correctly, and the person might not be forthcoming enough. Also, some people just like making friends with strangers, and there is nothing wrong with that. Furthermore, we would be interesting to get to know the recipient that clearly said that things were "moving too fast" after just a couple of greetings.
SORRY, ASHLEE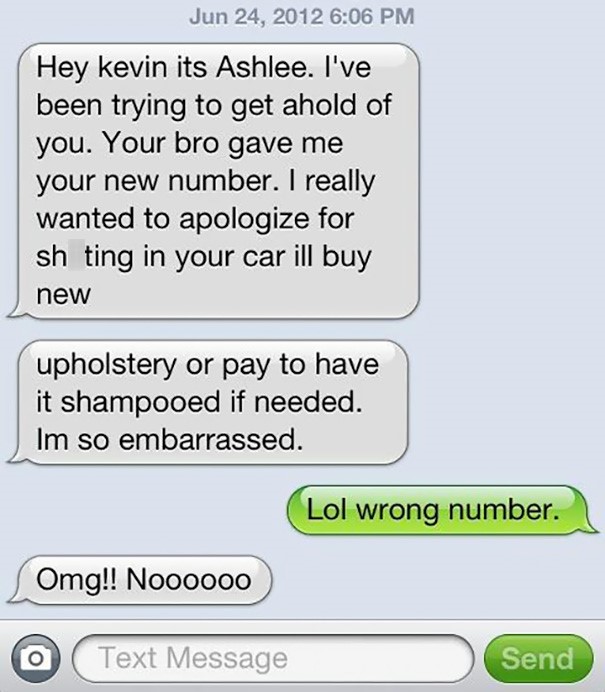 This is the most awkward situation ever. We all have had accidents at some point, especially in a car. However, when it's someone else's vehicle, it's even worse. Furthermore, it's not easy for girls to admit that they do have accidents like that, and we think Ashlee was pretty brave to apologize herself to Kevin. Kevin's brother probably borrowed the car, and the worst happened. Also, she was offering new upholstery, and that's pretty cool of her. Unfortunately, sending that embarrassing story to a stranger is even more shameful.
THE DUMB ONE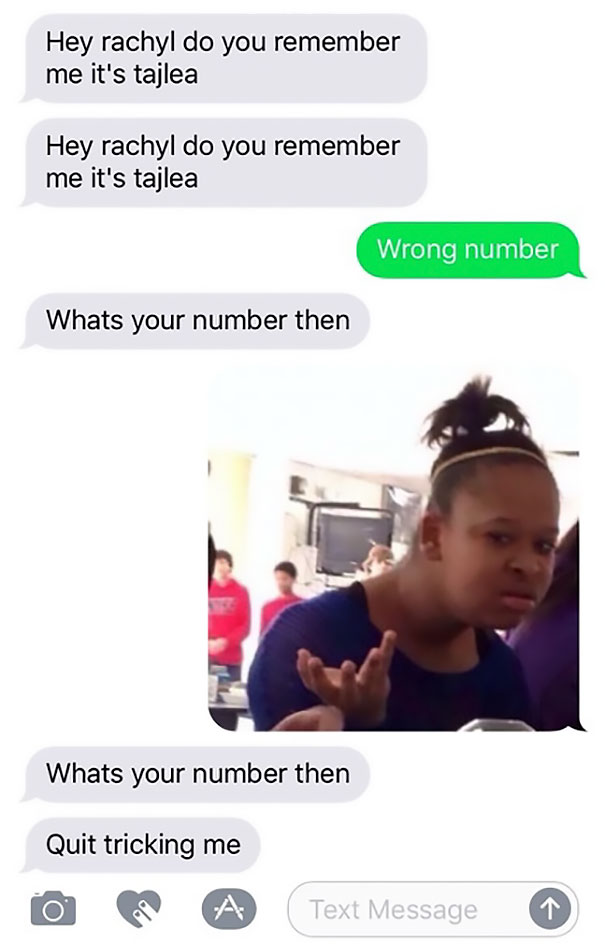 Some people forget to use their brains sometimes. The most logical things sometimes escape us in a moment, and we don't know what we have done wrong. This person was texting the wrong girl and didn't realize exactly what "wrong number" meant. As if the recipient could actually tell him Rachyl's real number. That's why that meme is perfect. However, the person kept going, and we wonder how long it actually took for the sender to get the idea. It's like those situations where someone loses their phones and you text that person to tell them they lost their phone. It's stupid but happens to the best of us.
BRING HOT DOGS AND MILK

This situation definitely went too far, and it looks like the sender took too long to realize that he was messaging someone else. His "homie" didn't know why he brought hot dogs and milk; so, that should have been his first clue. On another note, most people have no idea what the difference between Kosher and Non-Kosher Hot dogs is. First of all, the main thing is that Kosher hot dogs don't have pork. They are made from beef or poultry that was killed under Jewish law, and the quality of the meat used is much higher. That's why it might be a bit more expensive to purchase them.
HOMIE DON'T PLAY LIKE THAT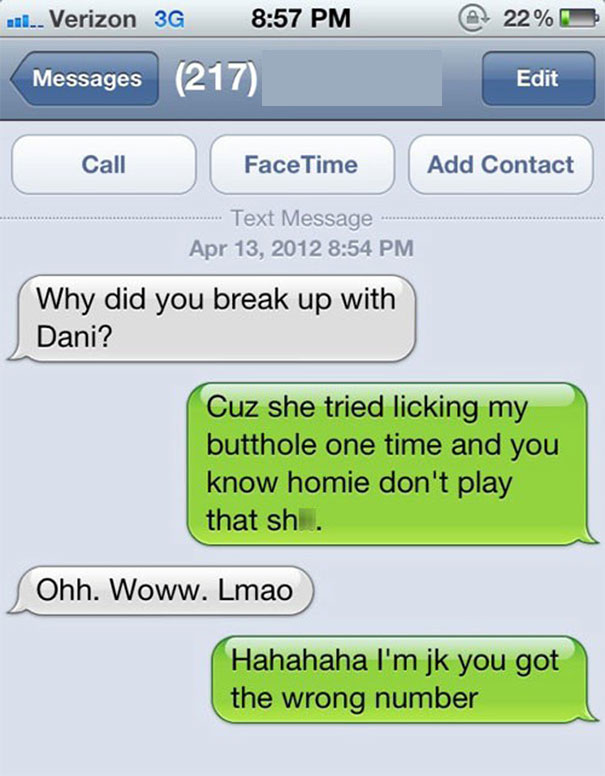 When it comes to sexual preferences, there are all kinds of tastes out there. You just have to consult with your partner about their likes and dislikes in the bedroom. Some people are not comfortable with anything sexual in their bottom, and it's normal. Not many people were raised open-minded enough to accept something like that, although most folks have seen it acted out in erotic movies. However, there are some straight men that are even more opposed to the idea of that sexual act because it is viewed as "gay", which is not the case at all. There is nothing wrong with a little curiosity, and if your partner agrees, do it!
RATES GOING UP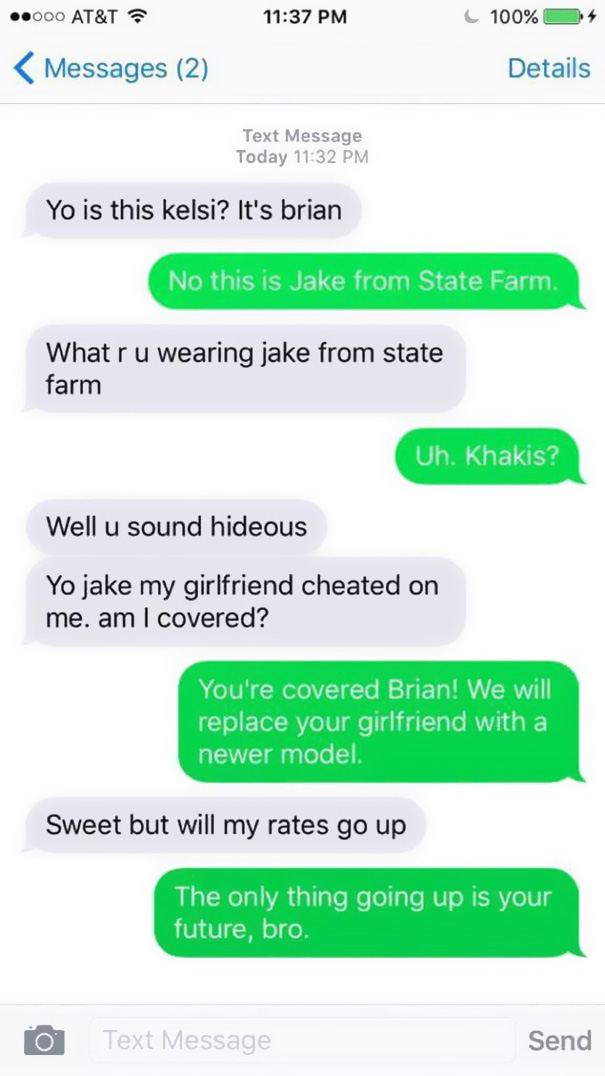 For anyone that doesn't know, State Farm is actually an insurance company in the United States, and this exchange is pretty hilarious. First, this man tried to contact Kelsi, but when he got Jake from State Farm, he decided to keep the ball rolling with the typical sexy message of "what are you wearing?" That's pretty hilarious. However, he actually continued with a question about coverage for breakups, and Jake was pretty cool about it, although we all know that insurance doesn't cover a broken heart. What a wonderful world it would be if insurance did cover that kind of hurt.
THE WHORE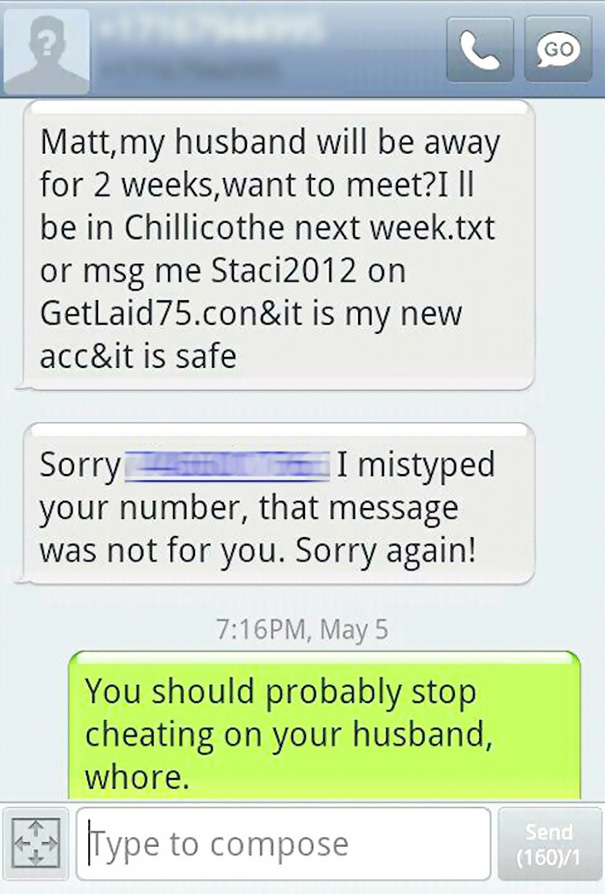 This is a weird situation, and we have to applaud the recipient reply because cheating is not alright. Furthermore, this person was so blatant about her affair, and that's just outrageous. We feel sad for her husband. According to studies in the United States, men are actually more capable of cheating on their spouse than women. General Social Survey (GSS) said that 20% of men asked said that they had cheated on a spouse, while only 12% of the women asked had had affairs. However, the study goes on to say that the difference varies in regards to age. Find out more here.
CONCERNED NIPPLES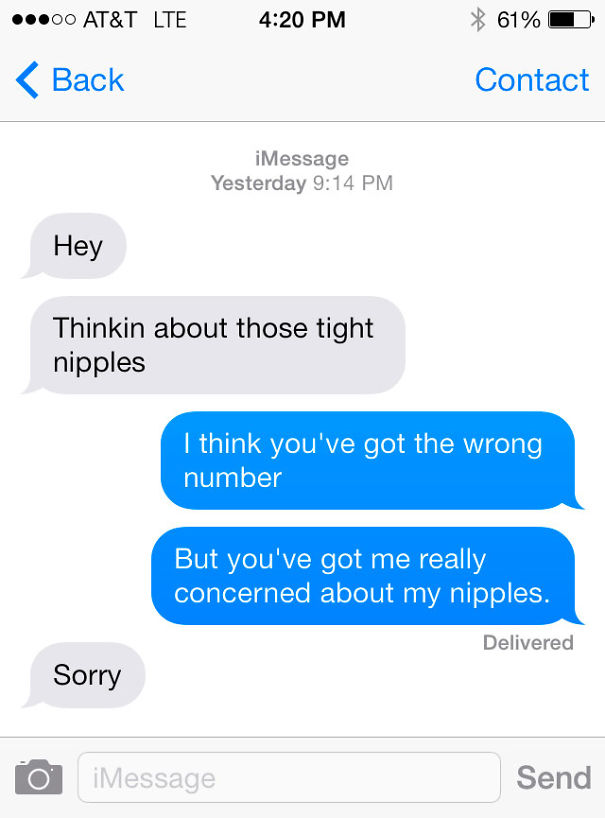 This is another situation where someone tried to start "sexting" and sent the message to another number. It's not the most common situation because our modern phones have made it possible to avoid such mistakes. We have the name of the recipient right on top of the conversation, and some messaging apps actually have the option of deleting a message once it was sent. Meanwhile, the recipient was pretty funny regarding their nipples, and he/she shouldn't be worried at all because nipples come in all shapes and sizes.
STOP LYING, ALEX

This particular sender refused to believe that the phone number he had texted wasn't his buddy, Alex. Now, we don't condone copying anyone else's homework, but most of us had had to do it, at least, once during high school or college. We would guess that the sender is actually in high school, and not in college like the recipient assumed, especially given how he didn't believe that he could possibly have gotten the number wrong. The only other explanation is that Alex is a prankster that no one ever trusts, although if so, then why would you copy is homework?
KEEP THE CHICKENS QUIET

Finding a decent job is hard, and we imagine that some bosses make the most outrageous demands out of their employees at certain places. However, you should never work at an establishment that makes you lie to the authorities, especially if you are a part-time employee. However, the recipient here was clearly making fun of Laura's mistake, but still, it's pretty concerning that Laura almost agreed to it. She might have been desperate for the job, and we feel a big sorry for her that she wasted all the time thinking that she might be working soon.
LOVE ME BACK

This is another situation where people have said the phrase "l love you" to a wrong number. It clearly happens more than we expect, and it's the perfect moment for recipients of these random messages to keep the conversation going. We all love to tease others sometimes, especially if both parties are cool enough to laugh even at their expense. Some people don't take jokes too well, but this one was pretty funny because animals make everything better. It's pretty cute that Emily used her cat to be even weirder and ask for love. It feels like we can relate to this girl in a deeper level. Please, love us too!
I FEEL THAT BRO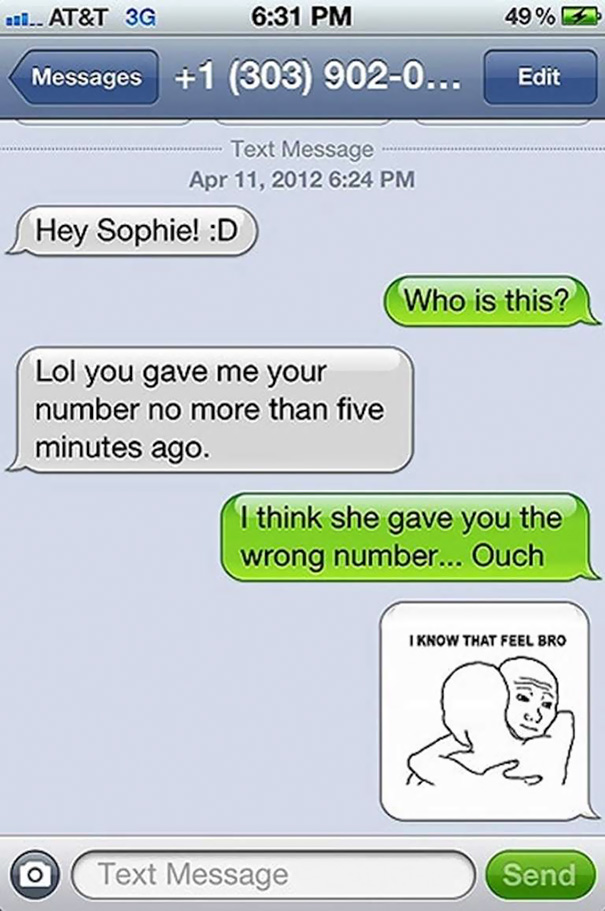 This is another example of a guy receiving a fake number from a girl, but the recipient of this message was completely sympathetic. As mentioned earlier, there are several reasons why a woman will give out a fake number, and they are mostly to protect themselves from aggressive strangers. However, they might not know that if you truly are a nice guy, and just brush you off with fake digits because they are interested in someone else. It seems that this situation happens to a lot of guys, and they can empathize with each other, and use memes to cheer one another up.
I'LL BE THERE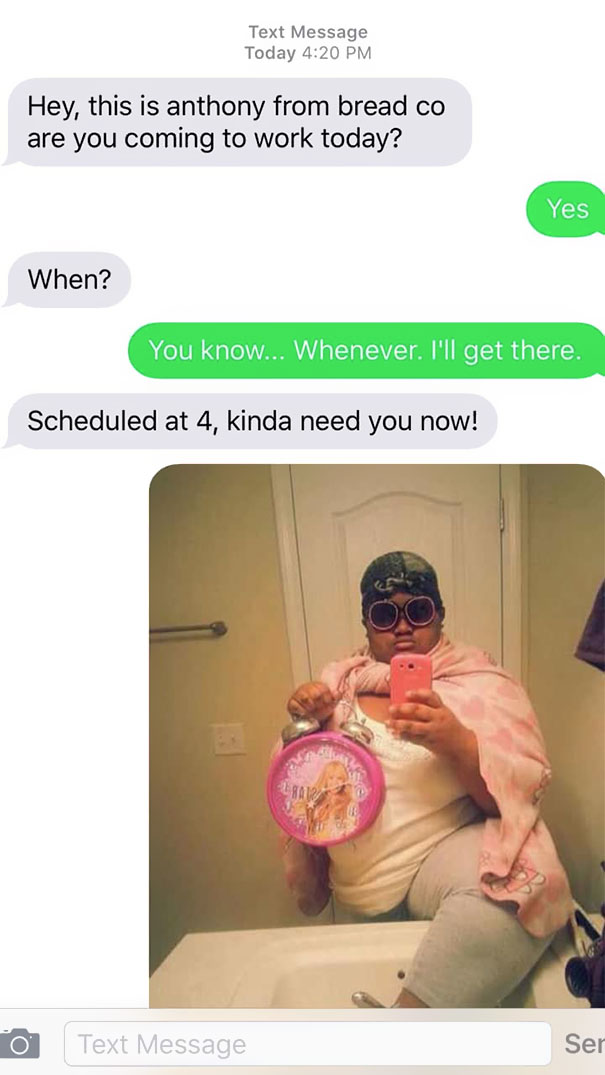 Trolling your employers can go two different ways. He/she might enjoy it and laugh about it with you if you have a great relationship, or it might cause trouble for you at the job. However, there is no reason why a complete stranger cannot troll someone else's boss, especially by sending them one of the funniest pictures ever. We don't think she might be ready to work anytime soon. Meanwhile, for anyone that doesn't know, Bread Co. is Panera Bread Company a chain store of bakery-cafes that has more than 2,000 locations in Canada and the United States. Its head office is located in Sunset Hills, Missouri.
YOU TOO, ANDREW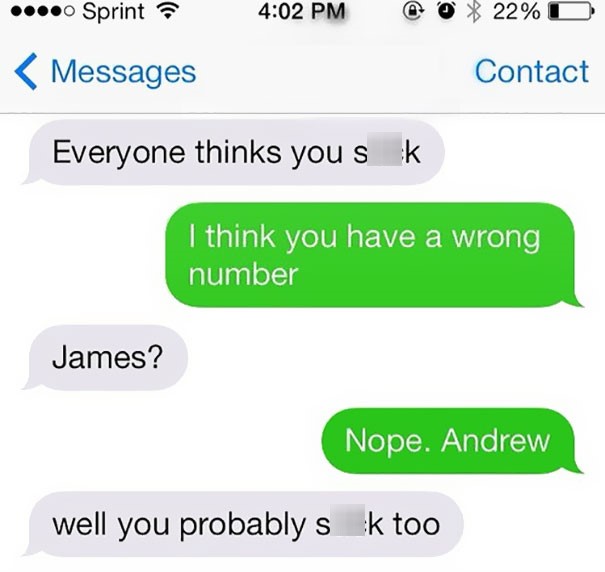 Well, it's not polite to insult anyone over the phone or through a text message. It's not really alright to say things like in any kind of situation, but it happens. Sometimes, we won't like a certain person, and he/she might not be liked by anyone else either. However, saying it bluntly like that is completely crazy, and makes the original sender look pretty bad too. We feel sorry for James, and even poor Andrew, who was minding his business when someone decided to tell him that message. Don't ever say those things to strangers because you don't their story or where their mental situation.
THIS PICTURE?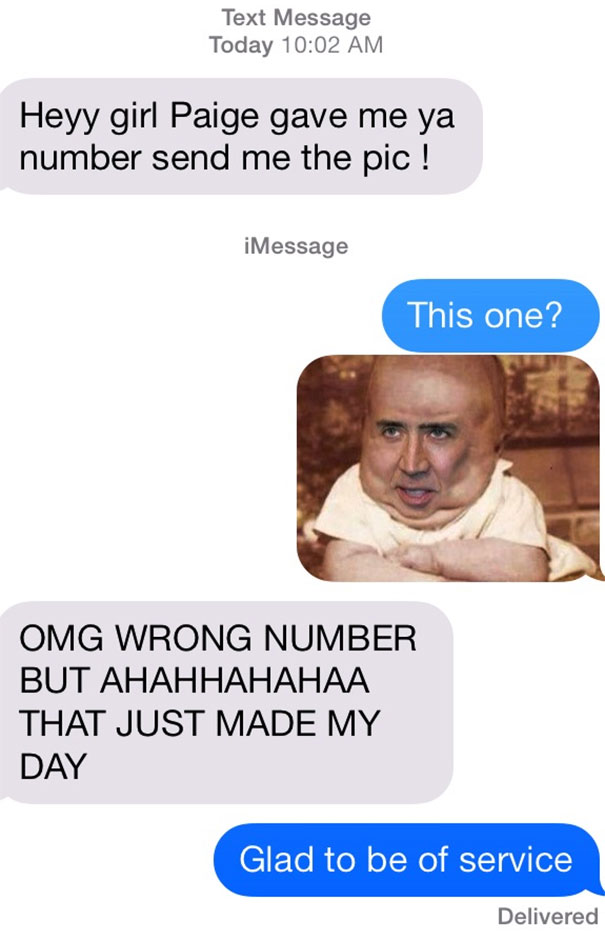 Clearly, this person was expecting a specific picture and received something completely different. However, it was so surprising and funny that she loved it. People on the internet love placing celebrities faces on all kinds of things to create memes, and poor actor Nicolas Cage is often used as a joke online. Cage has acted in many films like 'Valley Girl' (1983), 'Racing with the Moon' (1984), 'Birdy' (1984), 'Peggy Sue Got Married' (1986), 'Raising Arizona' (1987), 'Moonstruck' (1987), 'Vampire's Kiss' (1989), 'Wild at Heart' (1990), 'Fire Birds' (1990), 'Honeymoon in Vegas' (1992), and 'Red Rock West' (1993).
CONGRATS!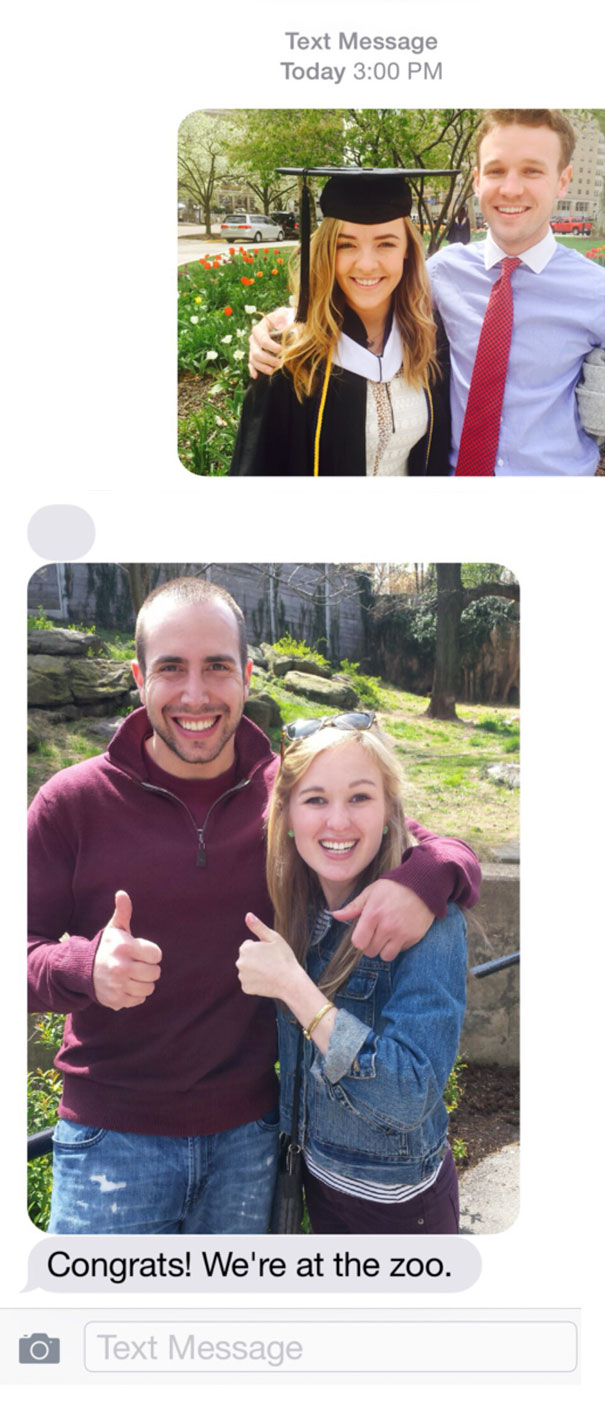 There is nothing better than celebrating your graduation by taking pictures with your whole family, and many of your relatives will definitely ask you to send them some of the best photos captured that day. It's a joyous occasion that many people can rejoice in because these strangers decided to take a similar selfie with smiles on their faces and messaged the original sender with their congratulations. It's a wholesome and innocent situation that we all love to see on the internet. There are so many horrible news out there, that these kinds of silly things often brighten people's entire day.
WRONG PERSON, BRO

We don't know why there was such a huge concern regarding someone's close door. While the front door has to be locked most of the time for everyone's protection, it seems like this person was talking about Cameron's room door. Why does he need to lock his own door? Honestly, if a burglar gets into a house, the chances that a locked door will deter him are not that great. The best you can do is buy a dog, as they will make noise and scare the thieves away. Meanwhile, the recipient of this wrong number text was a bit obnoxious. He went so far that it wasn't even funny, and it seems like the sender was truly upset.
SUCH DOGE

Anyone that spends time on the internet knows that Doge is a huge meme, and we would definitely be up to subscribe to a service that provided daily memes. However, that was probably a huge joke or even a scam. So, we have to be careful regarding anything that involves money. Interestingly, Doge became huge in 2013 but appeared once again in 2019. It's just a picture of a Shiba Inu with a lot of texts around it written in Comic Sans. The text is the dog's thought on any given situation, and they are characterized by being incorrectly written.
TAKE THAT, BATMAN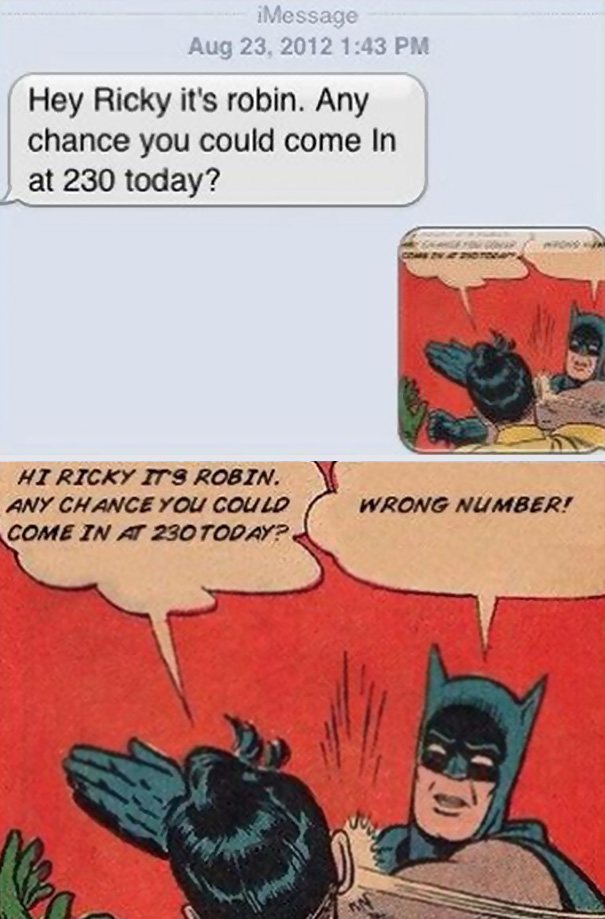 This recipient is clearly hilarious and has enough time to make a meme about the situation. Although, it seems that there are even some websites to makes your memes automatically. Still, it was still pretty funny that the recipient decided to use this particular one because the sender's name is Robin. Meanwhile, this image is also known as the "My Parents Are Dead". It comes from a 1965 issue called 'World's Finest #153', and it depicts an alternative reality where Batman believes that Superboy and Superman killed his parents.
SMILEY GUYS

This is another example of someone who got the wrong number, but Tony got a pretty funny response to his selfie. We are sad that he didn't get to talk to the girl he was hoping to, but responses like this one make our day. Sometimes, it's hard to for adults to meet people, especially now that everything is virtual and even intimate relations can be quick transactions. We should all slow down and get to know each other as if there were no apps, no fast deals, no shady intentions, and no agendas.
I AM A MAN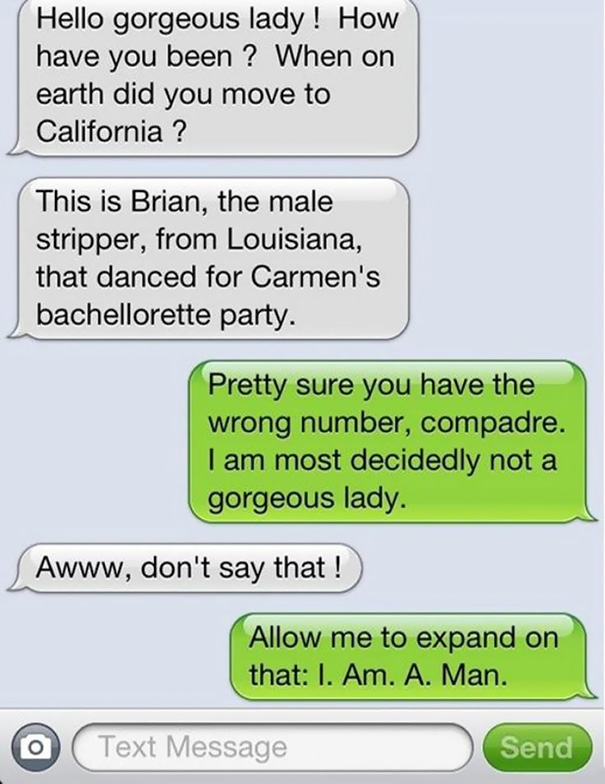 Well, this male stripper has definitely got game, but we feel sad that he actually liked someone at a bachelorette party enough to ask for her number. Sadly, not many women would be open to having a relationship with a stripper. Their job is to get naked in front of others, and women can often treat them as bad as men do to female strippers. It's not fair to either gender because it's just a job, but some people have too many prejudices still.
NOT FAMILIAR WITH MEMES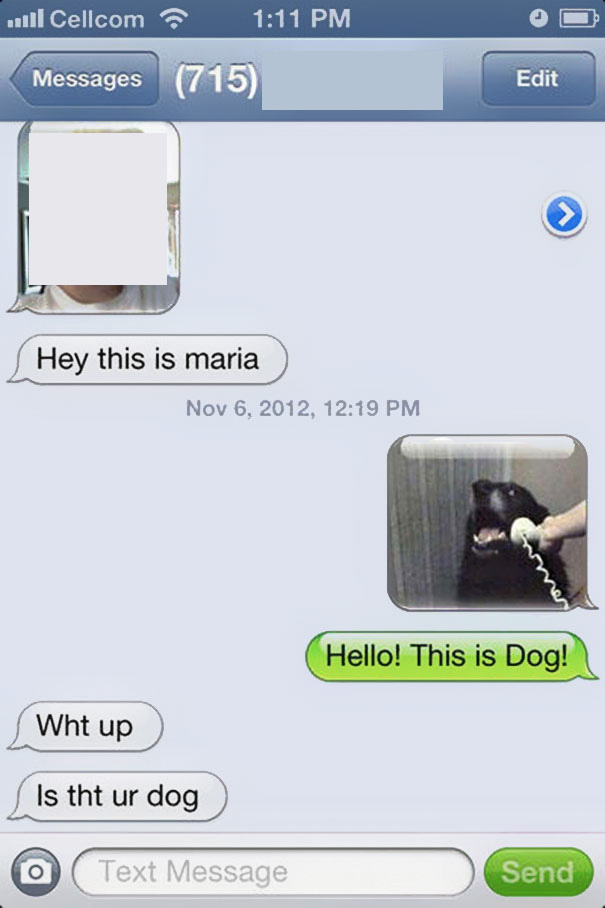 Well, this is the kind of situation that was made better with a meme, but then, it was ruined because the sender didn't know about that meme. People who spend a lot of time online think that others know their references and all the memes out there. It's truly sad when an image fits the moment perfectly, but you cannot use it because no one else will get it. This meme was created by Redditor ShampooBeer, who posted the image to the Aww subreddit. It was captioned, "My boss brought her 100+ Pound Lab to work and he's trying to take my job."
GURL!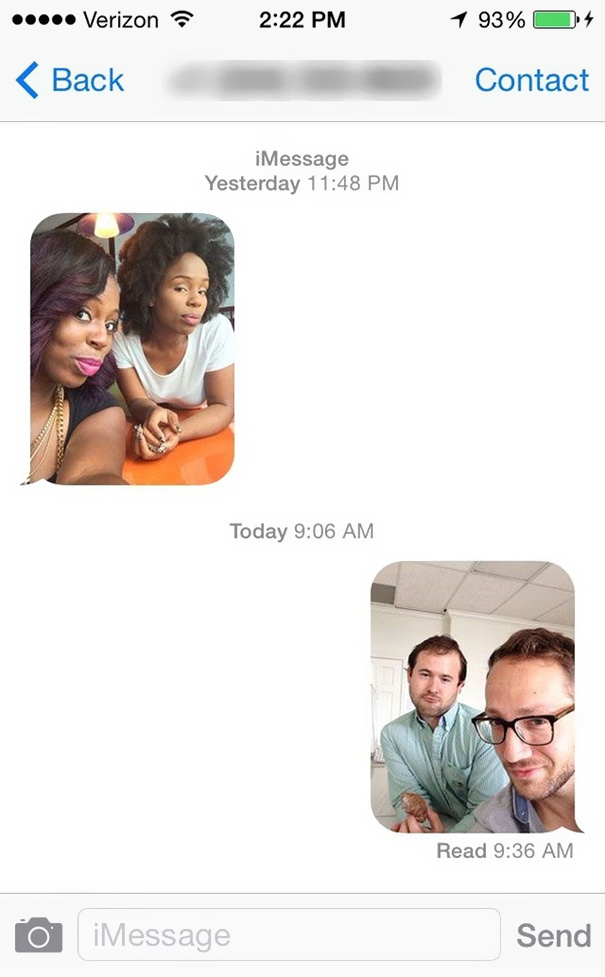 This is another example of the recipient trolling the sender's selfie with a similar picture. We love it because it seems like all four people might be in the same room, looking at each other with that cheeky expression. It completely fits, and we have to wonder if the sender continued talking to the sender. We definitely would have answered with another picture to see what the recipient would do.
TWO PICTURES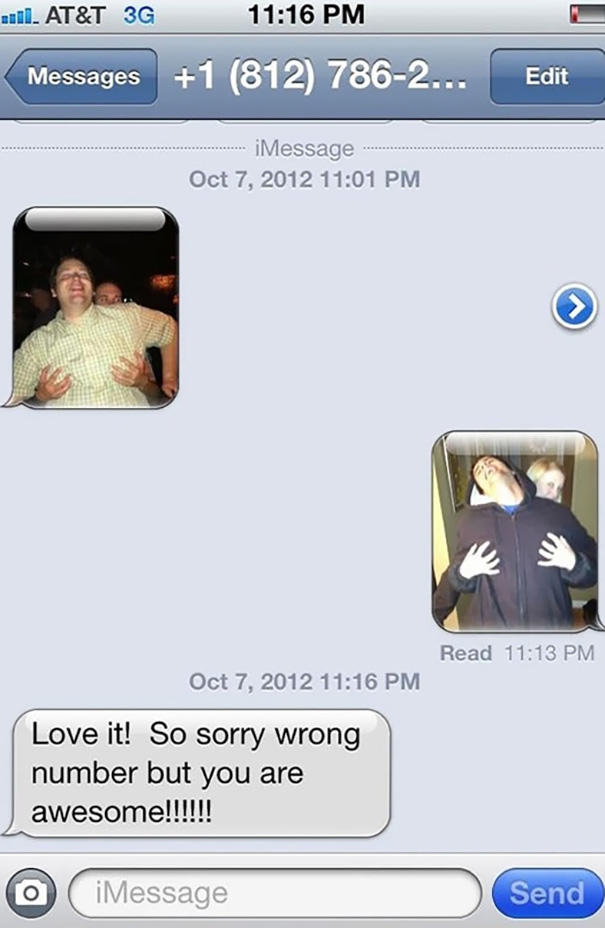 This is a similar situation to the last item, and we will definitely try doing something like that the next time we get a message from a wrong number. In this case, however, we can tell the original sender loved that the recipient teased him/her for sending an image to someone they didn't know by mistake. It's completely hilarious, and they have made our day too!
HAPPY EASTER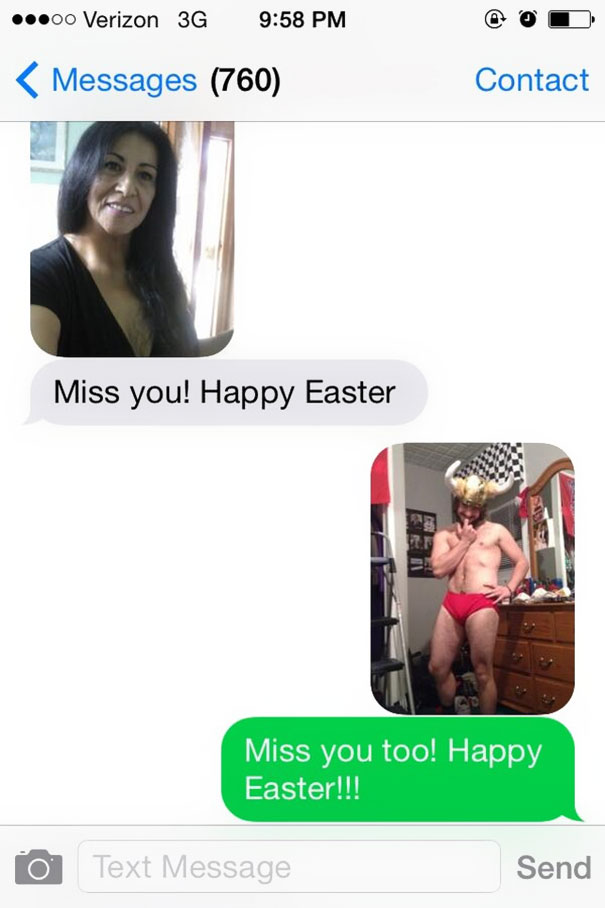 This is another teasing back and forth of images, but with a holiday theme. However, the recipient decided not to recreate a similar image sent by the mistaken person. Instead, he went to a whole new level of craziness that might have scared the sender away. That might be why there was no further response. We would have sent another crazy picture just to keep the weirdness going forever.
SEND ME NUDES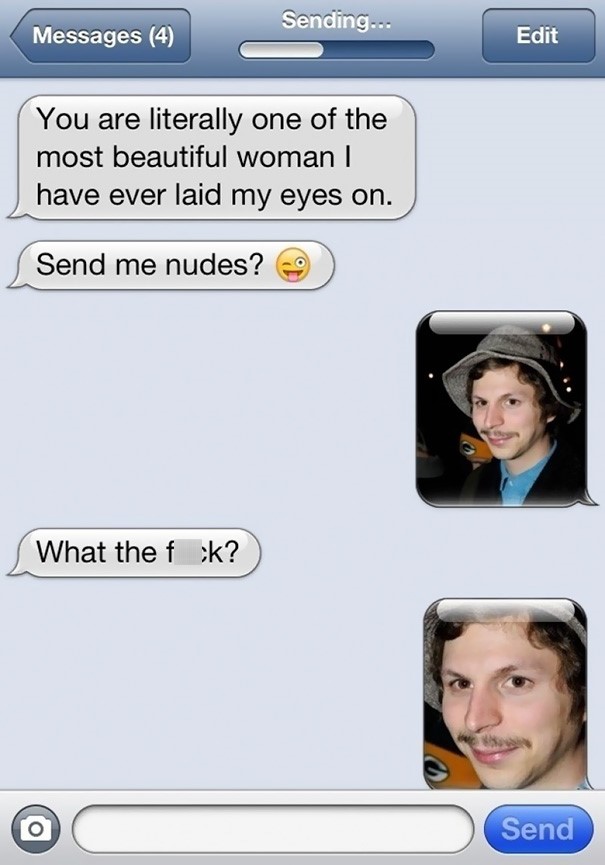 Unfortunately, with the invention of camera phones, men have been asking women for nudes through text messages for some time. Honestly, it's very annoying. Not every woman is open to that kind of thing, and it shows that the only thing you want is sexy times as opposed to a real connection. However, this recipient's reply had us rolling on the floor. Michael Cera is such a funny-looking actor, and his role on 'Superbad', 'Scott Pilgrim vs. the World', and 'Juno' have cemented him as a comedic character to most people around the world.
NO PRINCESS CAMP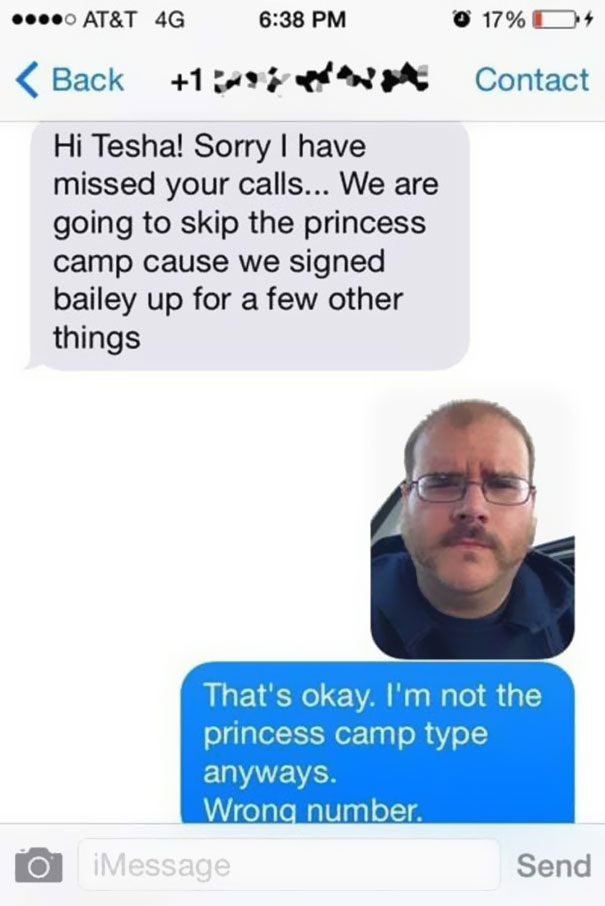 We really don't think the recipient is the kind of person to be in princess camp, and clearly, he needed to emphasize the point with a picture of himself. For those that don't know, a princess camp is a program where girls get to learn about self-confidence and more. According to Miss Outstanding Teen's website: "Princess Camp is the fastest growing mentoring program in the nation! This program is designed for girls, ages 5 to 12, who are looking to improve upon skills that promote self-confidence and poise and find mentoring from today's young teen leaders"
NO BIEBER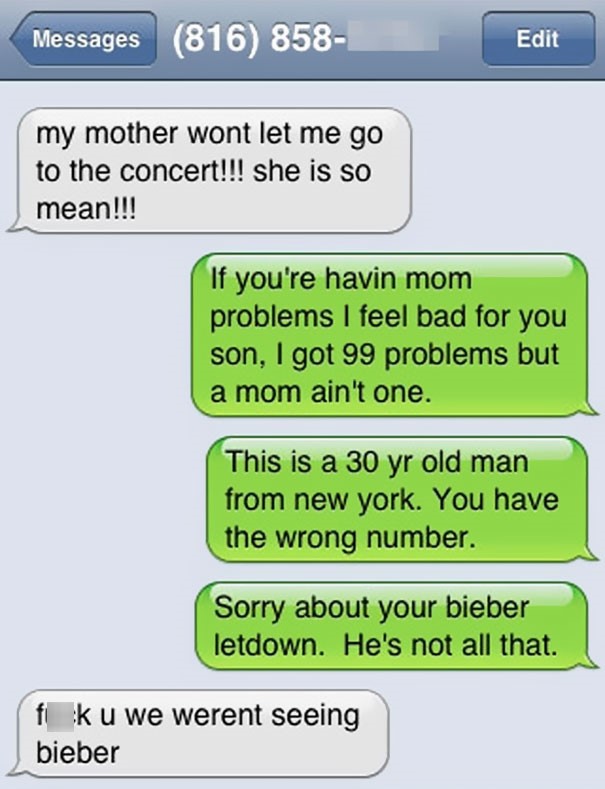 We have all gone through a situation where our parents didn't let us go somewhere, especially a concert. It's a public place with a lot of people, and dangerous for some, especially girls. We feel a bit sad for her, but this recipient was pretty funny because most people would assume that the girl was complaining about a Justin Bieber concert.
We cannot believe how funny some of these texts were. Let us know which one was your favorite. if you liked this article, share it with your friends who need a good laugh today. See you next time! 
Source: Bored Panda