Inside Oprah's Montecito Mansion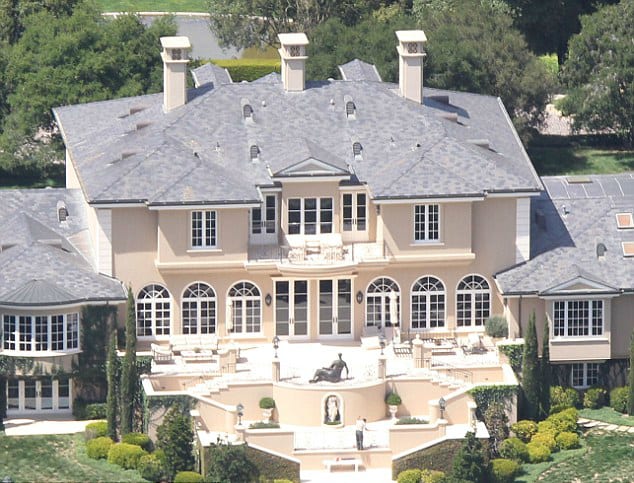 Move over, Martha Stewart! Oprah Winfrey is such a major figure in Western popular culture that no one would blame you if you didn't know her last name. Most people hear or see her name at least once a week, so we generally know what she's all about. Or do we? It turns out that Oprah is a pretty private person, and even though we see a lot of her in the news media, we don't actually know that much about her life. What we do know, however, is that she has a gorgeous mansion in Southern California. Want to see inside? 
The Woman, The Legend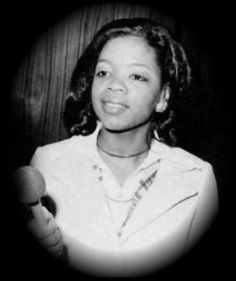 Oprah is one of the most notable figures of our time, and what's more, is that Oprah didn't make her billions (yes, billions!) easily. Her mother was a single teenager in rural Mississippi, and when the talk show host herself was only 14, she too became pregnant. Her son was born prematurely and died very early on. Thankfully, she was sent to live with Vernon Winfrey and ended up with a radio job while she was in school. By the time she was 19, Oprah had made it as an anchor on the local news. What a woman! Her incredible success makes us want to know more about this iconic woman, so let's take a peek inside her house!
Montecito, Southern California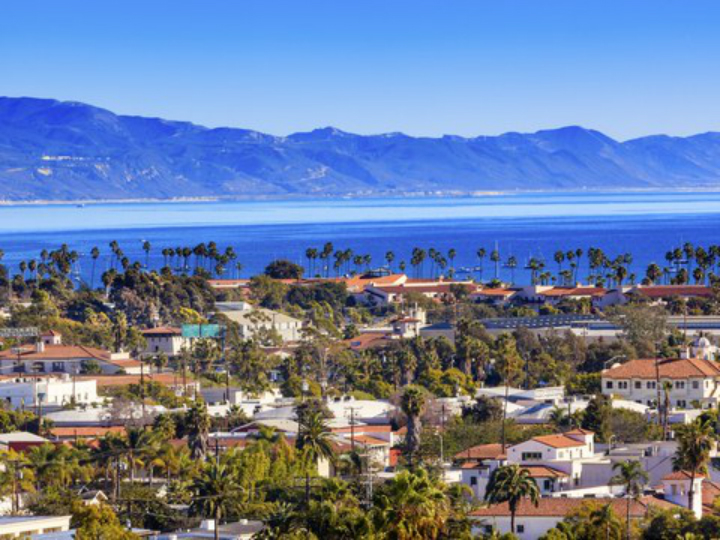 The neighborhood of Montecito in Southern California boasts some of the biggest property values in the world. Julia Louis-Dreyfus, Gwenyth Paltrow, James Cameron, and Patrick Stewart all live in the same area, so you know it's no place for small fry. It's a gorgeous spot, and even the cheapest house in the area will set you back around a million dollars. And you can understand why it's such an exclusive spot - surely celebrities don't want fans following them around while they're trying to walk their dogs! So how did our favorite philanthropist and celebrity come to choose Montecito?
A Fateful Party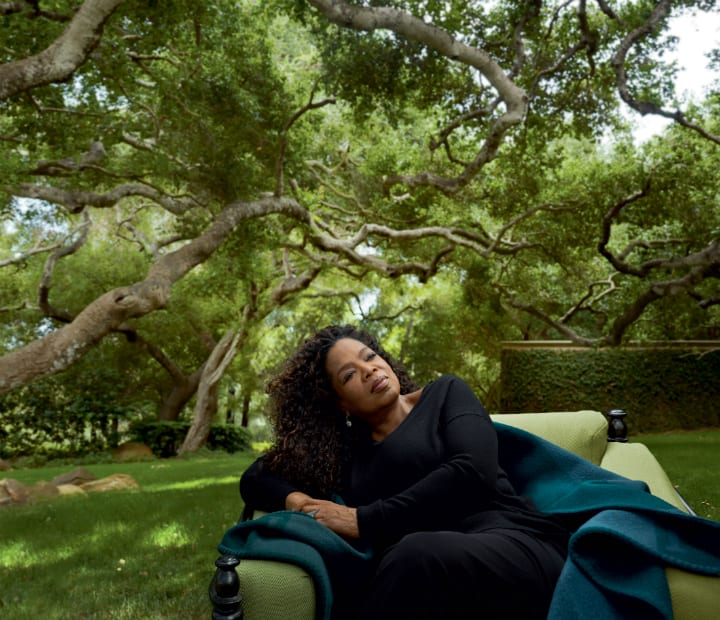 Oprah attended what would be a very fateful party one evening in 2001. The event was to be held on the grounds of a mansion, which totally enchanted the superstar. She was already an established public figure at this point and had come a long way since growing up in poverty in Mississippi. And while she had a few of her own properties already, she hadn't ever come across a house quite like this one. But it wasn't for sale. What do you think happened next?
Oprah Was Determined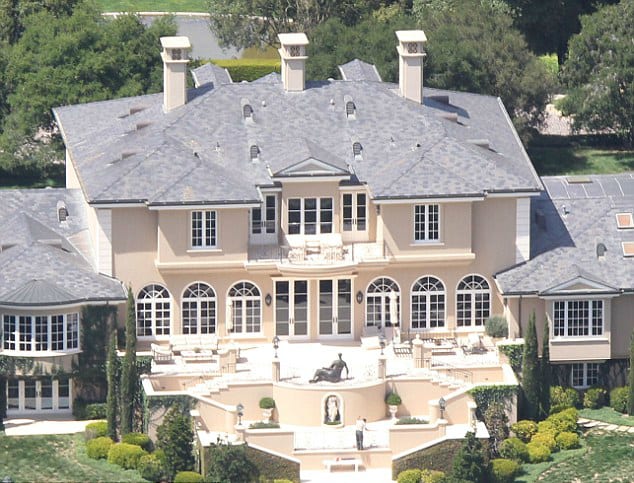 Robert and Marlene Veloz owned the house and had made their millions manufacturing aeronautical equipment. The house that they owned, and were hosting the party at, was a 2,000 square-foot stone gatehouse that had only been rebuilt in the recent past. But Oprah isn't one to pass up a challenge. She wasn't going to let anything change her mind and made the Veloz family an offer they couldn't refuse. The number she offered them was so big, in fact, that it was one of the biggest private sales in American history. So how much was it?
An Offer They Couldn't Refuse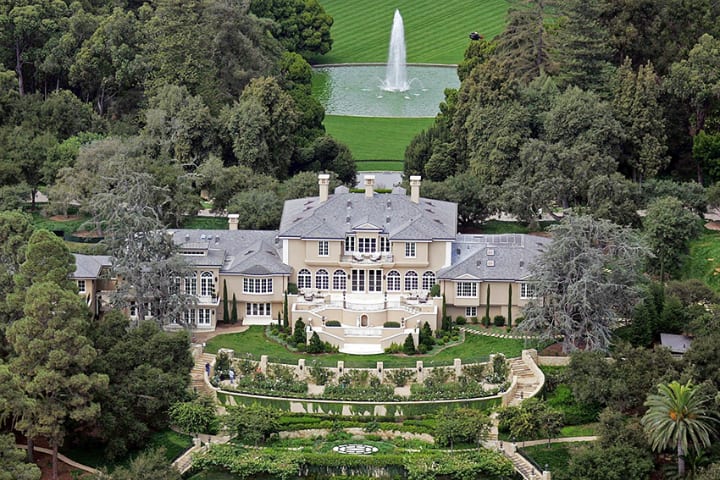 Hold onto your hats. Oprah wrote a check to the Veloz family for a mind-boggling $52 million dollars. That's more than most people ever dream about earning in a lifetime! Naturally, they accepted Oprah's offer. I mean, who says no to Oprah? Especially when she's waving a check with that many zeroes in front of your face! Our favorite celebrity couldn't believe it. The house she had fallen in love with was now hers to do what she wanted with!
Oprah's New Home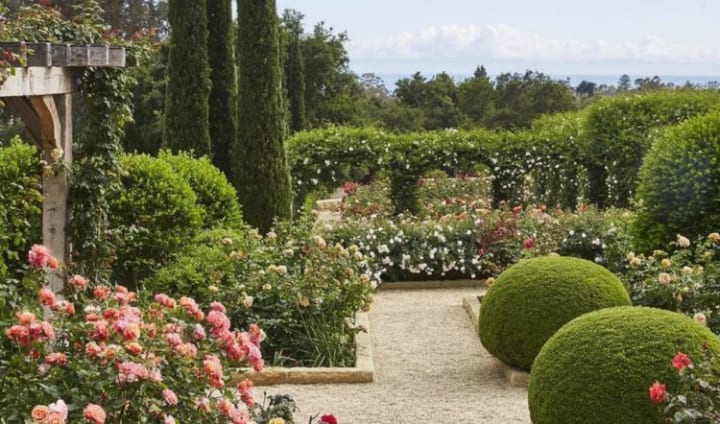 Crack the champagne! When anyone moves into a new house, they usually get stuck right in adorning their home with furniture and decorations to suit their tastes. In many ways, Oprah is just like you and me, and so this is obviously what she did too!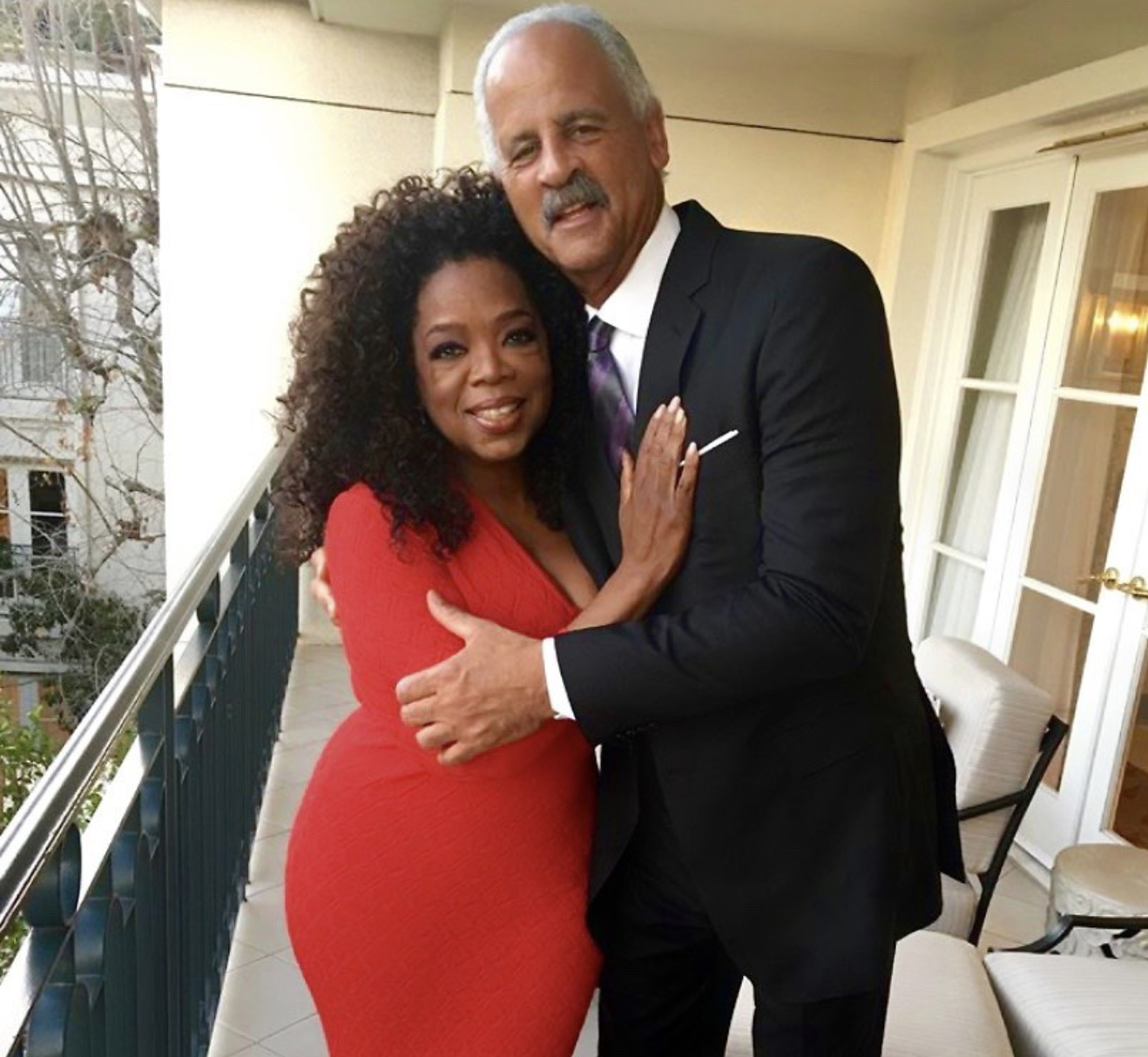 But every great home needs a great title, and so she wandered the grounds of the new property with her pal Bob Greene. Oprah thought 'Tara II' would be a good name for the house, because it reminded her of 'Gone With the Wind,' but Bob steered her in a better direction.
Frankly, My Dear, it Wasn't the Right Name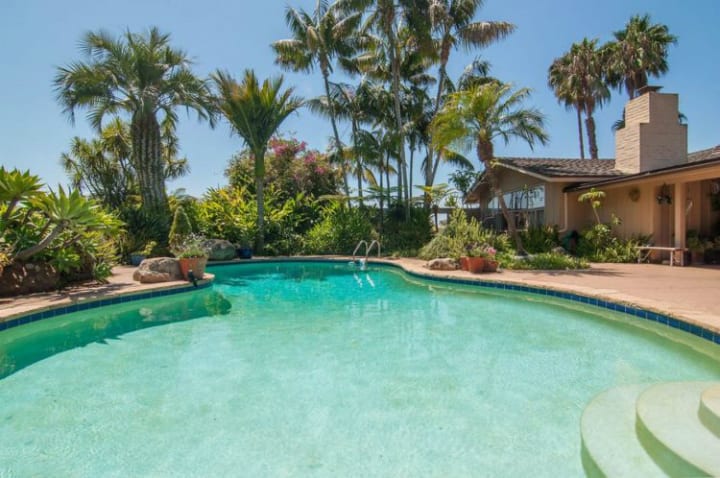 Bob Greene thought that she could do better, and told her exactly what he thought! His friend had grown up in poverty and was raised by her grandmother before being sent to live with Vernon Winfrey. Oprah's family had been so poor, that she had at times, worn potato sacks as dresses. When you think about where she started, Oprah's transformation is breathtaking. Bob Greene had this in mind when he suggested a moniker for her new home. He appreciated his friend's hardships and wanted her home to reflect the journey that she had been on, and the new beginnings that the home symbolized.
Inspired by God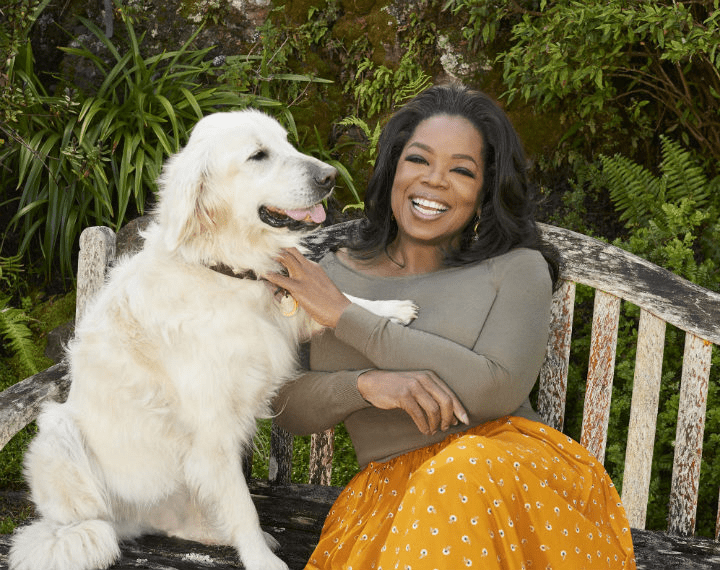 Some of history's greatest moments have been inspired by the bible and other religious texts, so it's not surprising that Bob Greene also turned to his holy book to find a name for his friend's new home. Now, Oprah's house wasn't just your average home and garden: no! It was a sprawling, palace-like mansion with the same unlimited potential as its new owner. So when Bob suggested 'Promised Land' as the title for her new abode, Oprah knew it was the right choice. Now the house had a name, it was truly becoming her own. Now that we know the story of how it came to be, let's take a look around!
First Things First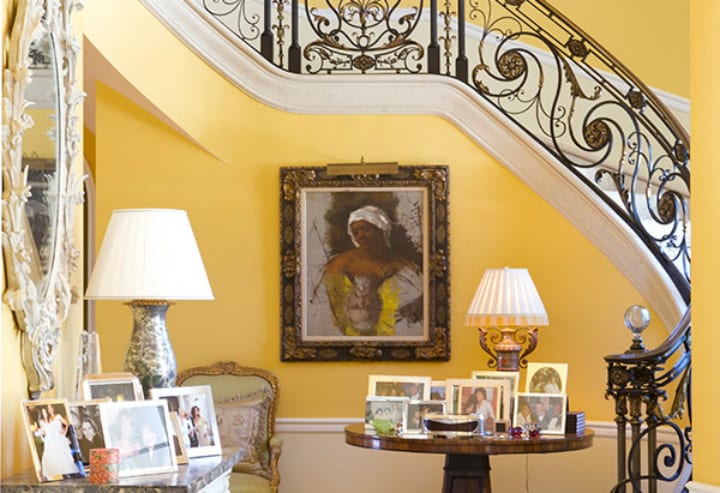 First impressions are important. Anyone who's ever gone to dinner with the parents knows that! Oprah's home has a very impressive foyer, and it's the first room you see when you walk into the star's sleeping abode. And while the carefully selected furniture and color scheme are enough to make anyone green with envy, the tables of her entranceway are adorned with something very personal indeed. These photos of family and friends tell us that Oprah is just as human as you and I. Maybe this is why she has risen to such enormous success: despite her wealth and fame, Oprah stays true to herself.
Cooking Up Something Good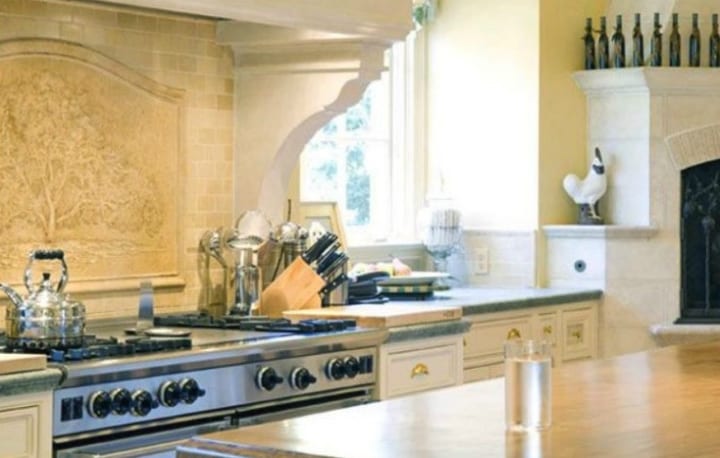 When you think of Oprah Winfrey's kitchen, you obviously think of an immaculately organized, spacious room with plenty of space for entertaining loved ones. The kitchen of the Promised Land is nothing short of spectacular. Before she moved in, this space had its own fireplace. However, she thought about the way her guests tended to gravitate towards the kitchen and had it removed so that she could fit more of her pals in. But at the same time, it's not like her house is short on space! Don't you just love those benchtops? 
Room for the Whole Club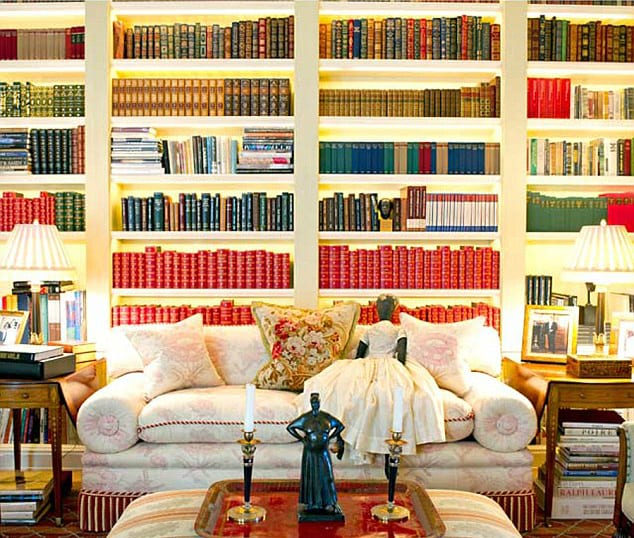 Big fans of the celebrity talk show host know about Oprah's Book Club. Everyone can read what Oprah's reading! We know her current pick is 'The Water Dancer' by Ta-Nehisi Coates, so we bet that the book is in there somewhere. Another important part of the room is the large doll which you can see hanging out on the sofa. When Oprah was a little girl, it was hard to find Barbie dolls, or any kind of dolls really, that looked like her. It can be difficult to grow up in a society where even your toys don't represent you, so Oprah has chosen this doll to remind people of the progress that we have made as a society. 
Come Stay at Oprah's House!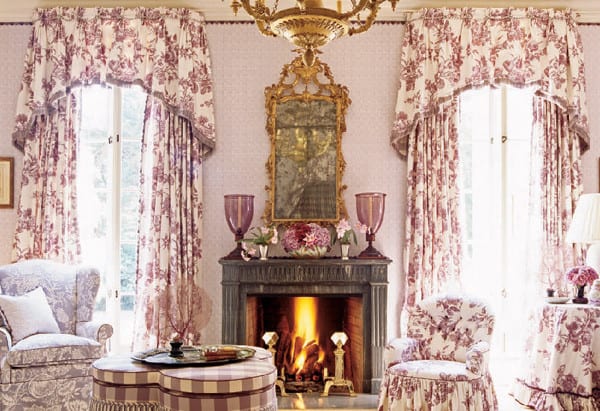 When you have a mansion as big as Oprah's, you're naturally going to want to have your friends to stay. What else are you gonna do with all that space? Well, if you're lucky enough to be invited to stay by this incredible woman, we can almost guarantee that you will have an enjoyable and comfortable experience. The flowers all over the room brighten everything right up, and the whole space is totally color-coded. We love these floral tones! This beautiful guest suite even has its own fireplace, just in case you get chilly. But that seems unlikely, considering how Santa Barbara still reaches temperatures higher than 85 degrees, even in Autumn. 
Time for Tea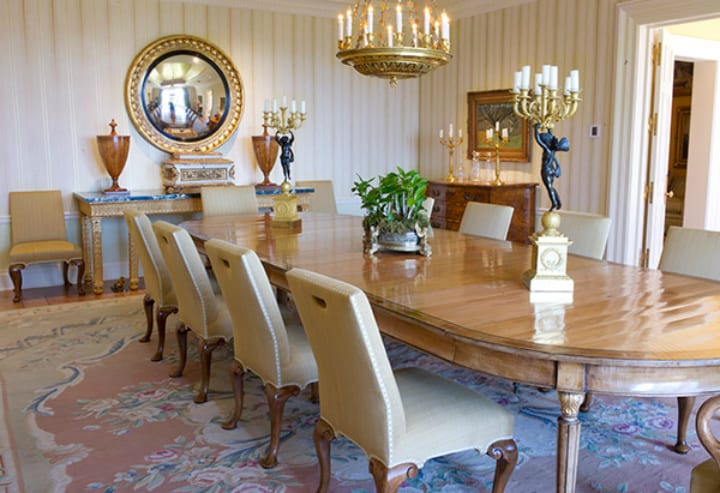 If the previous room wasn't enough to get you daydreaming, this next one will. The small-screen Queen's dining room is nothing short of magnificent, even though it might be more simple than some of the other rooms in her home. Of course, before Oprah moved into the Promised Land, she had it redecorated. And redecorating usually means letting go of some of your prized possessions to make way for new ones. So what did this celebrity say goodbye to? Well, she had a poster from the heartbreaking 1985 film The Color Purple, which sold for $4,000 alone! All $600,000 of the proceeds from selling her things went to the Oprah Winfrey Leadership Academy Foundation College Fund.
Check It Out!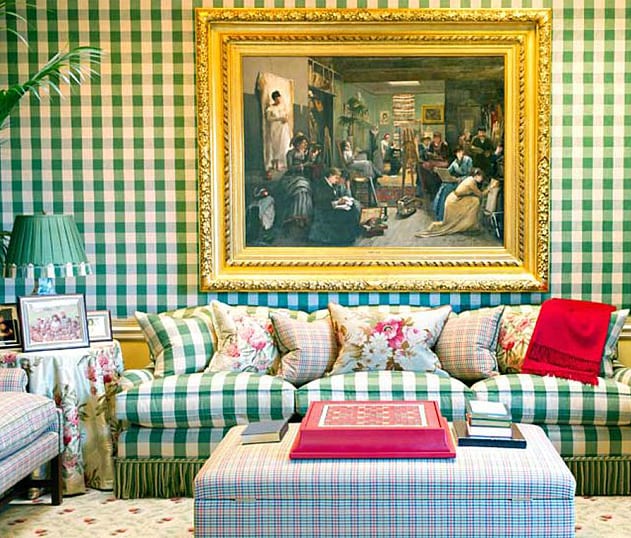 It's pretty amazing how different each of these rooms is from each other. You'd never get bored living in a home this vast, but even if you did, you could just walk into another room and be totally wowed all over again! The green striped couch set you see in this room is no longer there, as it was sold at auction for $3,000. Not bad for a second-hand sofa! We wonder if she ever spilled anything on it? It would be quite a story to tell guests if you had Oprah's tea-stain on your couch!
Speaking of Tea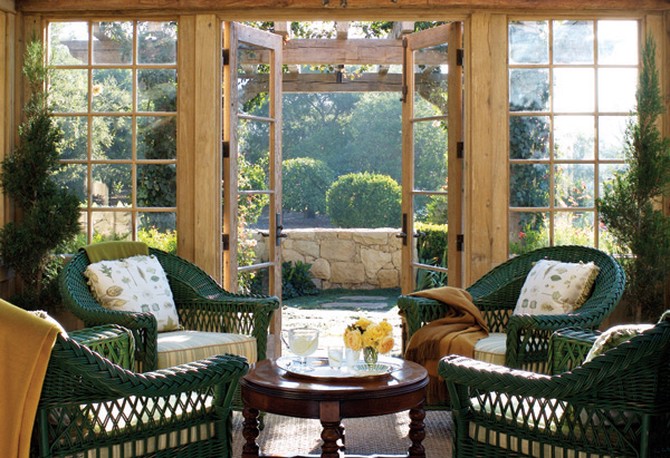 It's time to spill the tea on Oprah's gorgeous garden. Naturally, this property is so big that it had a room especially for garden staff to arrange flowers in. If you think that seems a little excessive, well, it may be the case that Oprah agrees. She had it transformed into a teahouse instead, and uses it as a space to relax and unwind. No televisions, iPads or laptops here, please! It is a special spot just to sit and watch the world go by over a cup of English Breakfast!
A Lively Living Room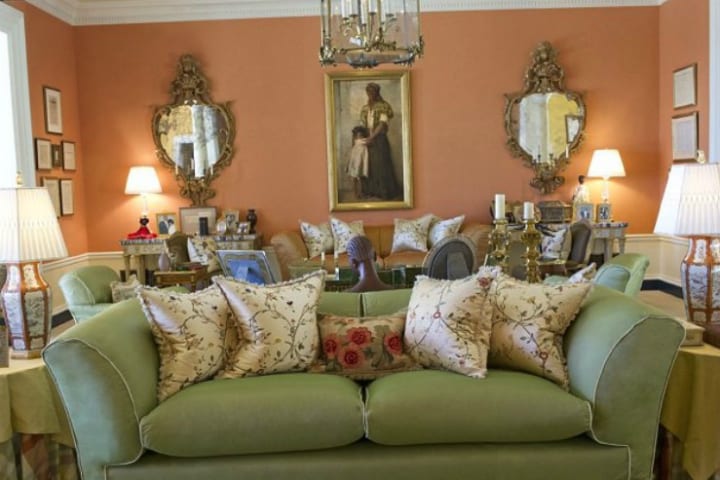 Oprah's massive Montecito mansion has more than one living room. Because of course it does. But this room is the complete opposite of the tearoom! Some rooms in the house are reasonably minimal, and this is not one of those rooms. There are candelabras, pictures, and trinkets everywhere. While Oprah likes to mix things up, she also felt like this room was a little too much, so it has since been renovated. Whew! It's not exactly a calming space, is it? But the next part of the house will really chill you out…
How Does Her Garden Grow?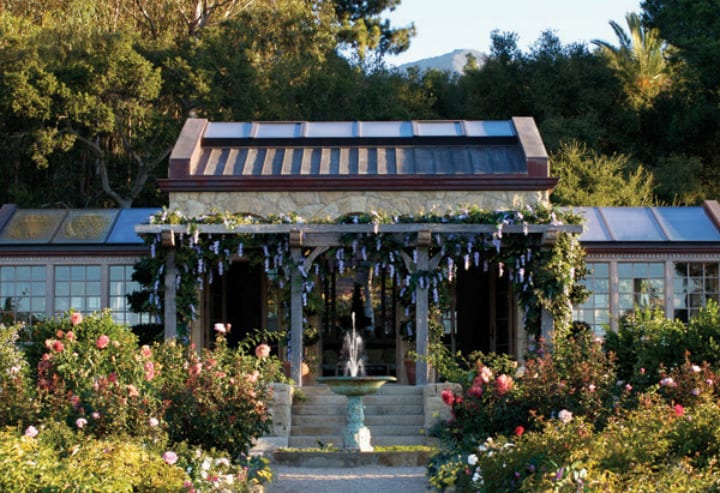 Just a few meters from the tearoom is the entrance to the garden. Off you go down the stairs, and as you walk you will come across wisteria, roses, lilies, daffodils, dahlias, and other kinds of beautiful flowers and plants. There's even a little copper fountain! Just as any homeowner is proud of their house, Oprah takes great pride in her mansion. She says that she thinks of the Wizard of Oz every time she leaves her house when Dorothy figures out that she could have just stayed in her backyard all along!
Oprah's Dream Closet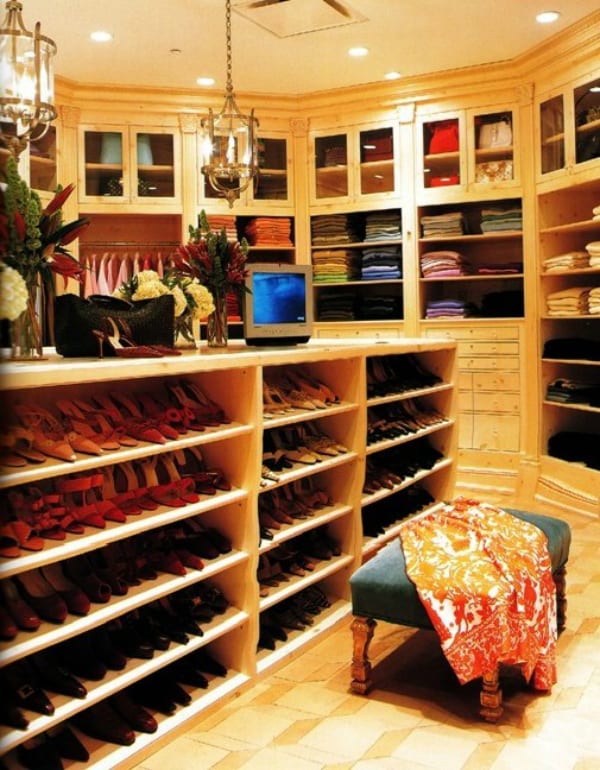 Have you seen MTV Cribs and watched in awe as the cameras took you on a journey through the wardrobes of the biggest celebs of the 2000s? Funnily enough, Missy Elliott showed off her own crib in one of the earliest episodes, and she had a signed Oprah photo in her house! Nonetheless, most of the celeb wardrobes featured on Cribs have got nothing on Oprah's. Yes, even the legendary Missy Elliot's. And that color-coding? She is definitely giving the Kardashians a run for their money! So who did Oprah bring in to help her with this impressive redesign?
A Pretty Penny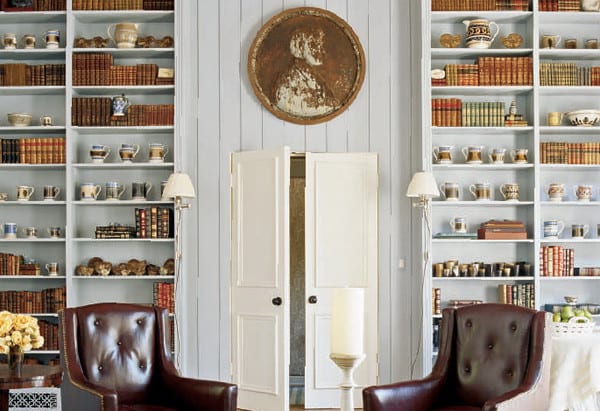 Andrew Walker and David Simmons were the designers responsible for a great deal of the decoration throughout the house, and this wall-mounted penny is their brainchild. The whole room is coordinated around the penny. They found this relief close to Oprah's hometown in Milwaukee, which only adds to the sentimental value. But the outside of the house is just as gorgeous as the interior, so let's have a look outback!
Praise the Lord for Hallelujah Lane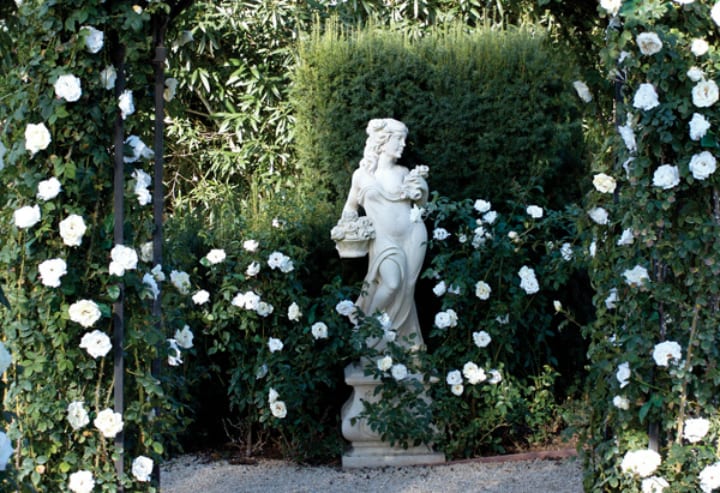 If you haven't figured it out already, Oprah is a woman of God, which is why the name 'Promised Land' appealed so much to her. Continuing with the biblical theme, this public figure chose to name one of the paths around her garden 'Hallelujah Lane.' But there's something even more touching about this particular space. All over the garden, there are white hydrangeas, which Oprah chose as a way to commemorate her grandmother. Her granny had similar flowers outside the home in Mississippi where Oprah spent the earlier years of her childhood. But there is another celebration of admirable women in this garden too!
Cuatro Mujeres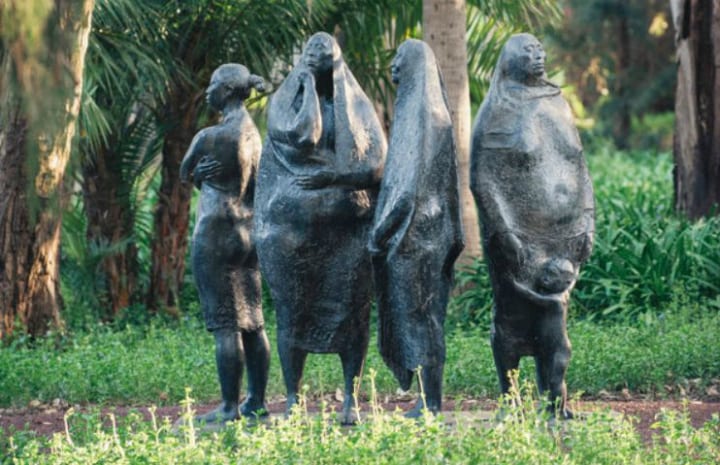 This impressive sculpture rests under eucalyptus and pine trees in Oprah's garden. It was made in the mid-70s by a Costa Rican artist named Francisco Zúñiga, who rose to fame in Mexico for his artwork. Each woman depicts a different phase of femininity: teenage life, pregnancy, middle age and lastly, the final years. It was purchased at Christie's via auction and set Oprah back $3 million dollars. Isn't it beautiful?
The Twelve Apostles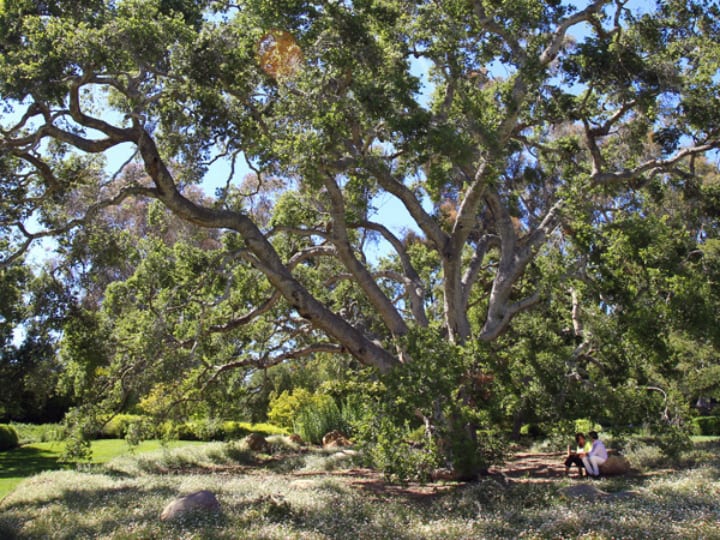 Californian oak trees have a reputation for growing as massive as the state itself. Kind of like Oprah! Their branches reach up to the heavens above, and it's not just a coincidence that there are twelve of these beauties. While having twelve oaks may seem pretty Gone-with-the-wind, it's actually a reference to the twelve apostles. Oprah frequently shares her love for the trees on her Instagram, because they bring her a sense of peace. But that's not the end of her vast garden paradise…
Seamair Farm
Even though Oprah's neighbors may be pretty far away given how enormous her property is, she still values the community connection and gets to know the people living next door. When she moved into Promised Land, she got to know a woman who lived only a stone's throw away at Seamair Farm. Sadly, the neighbor passed away in 2016, and Oprah purchased the property for $28.9 million. It might sound like a bargain compared to the $50 million she paid for her own property, but that doesn't mean it's a small place…
Another 23 Acres of Property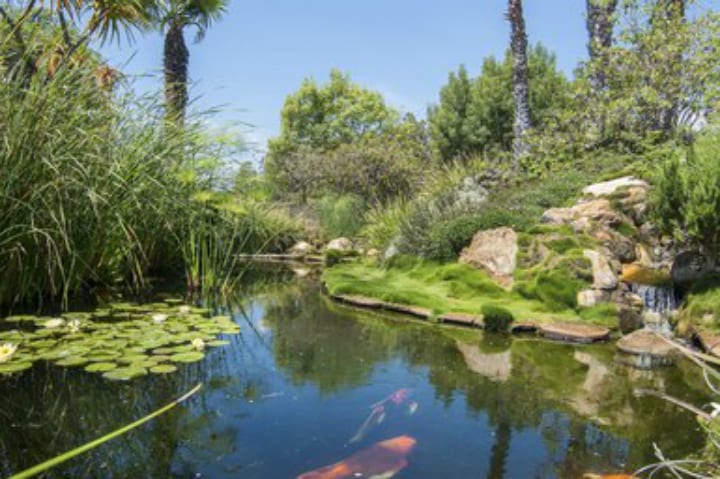 When you get used to owning a mansion, it probably seems pretty low-key to purchase an additional 23 acres of land, especially when that land is next to your house. Seamair Farm hadn't been for sale for over 40 years, so Oprah really jumped at the opportunity. Cliff May was the Seamair Farm's architect, and he was also famous for his Californian Dream Homes. The farm isn't just land for agriculture, but a whole five-bedroom mansion, which backs onto an avocado grove, a fish pond, and a huge orchard of fruit trees. But it also had something that Oprah had never owned before...
Home on the Ranch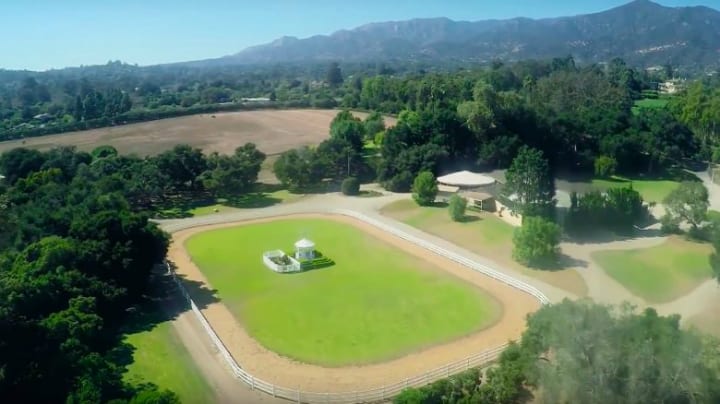 Yep, that's right - this huge property once boasted a track for horses. Oprah maintained the equestrian area of the property, so if she wants to go for a little trot she can do so at her own leisure. And with 23 acres to spare, she's unlikely to ever see a neighbor. The Seamair Farm also has two wells, which have proved to be a little contentious given the politics around water in California in the age of global warming. But does Oprah really use THAT much water?
Homegrown Produce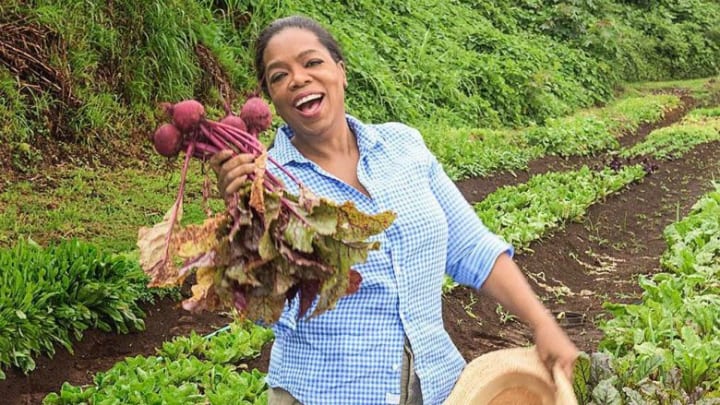 Promised Land is around 40 acres, so the acquisition of another twenty-odd acres on top of this makes Oprah the largest landowner in Montecito. Unfortunately, 60 acres of land takes a lot of water, and water is a scarce commodity during hot Californian summers. So you can imagine that her neighbors aren't particularly pleased with the amount of water that Oprah's sprawling property requires. Another one of her neighbors is the Academy-Award winning actor Jeff Bridges, and he and Dick Wolf have expressed concerns about her water usage. Bridges' wife, Susan Geston, told the press: "At first, our dealings with her were lovely and charming, and it has been really sad to think that they may not be so."
Montecito Mudslides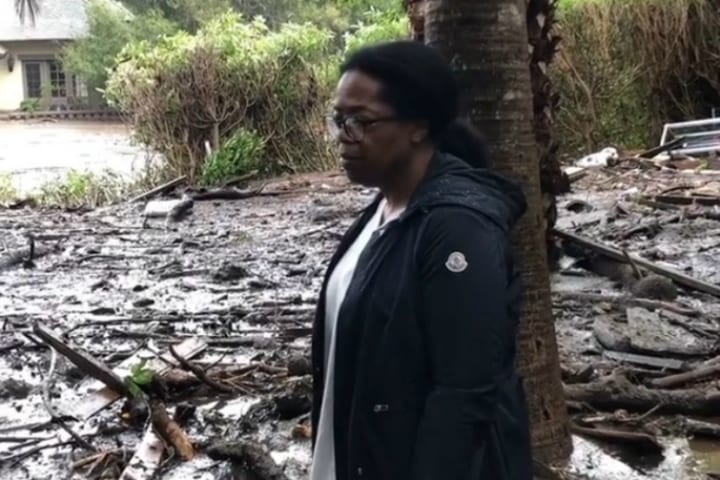 In 2018, disaster struck. Oprah woke up at around a quarter to four in the morning, hearing her dogs barking. The sky appeared as though it was on fire, and mudslides had begun to ravage the entire area. While her own property was affected, some of Oprah's neighbors had a much worse time of things. Nonetheless, Oprah was surrounded by mud and couldn't get out of her property. So she called upon someone she knew well...
Neighborly Love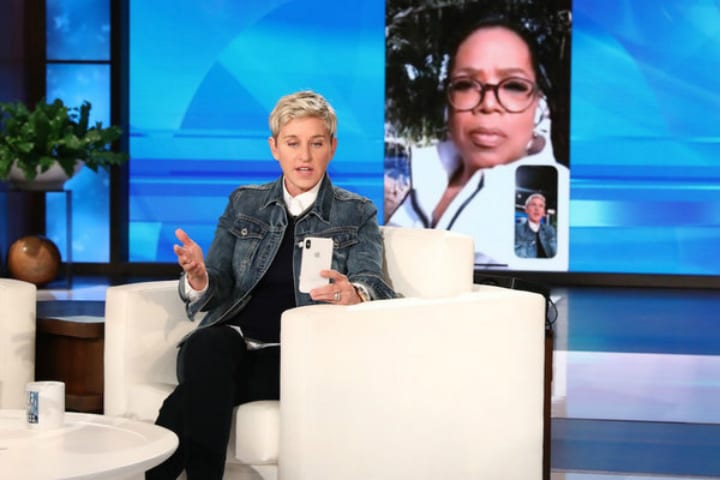 It just so happens that Ellen DeGeneres also lives in Montecito. Oprah FaceTimed Ellen while the talk show host and comedian was live on air. She wanted to show viewers just how bad the mudslide damage was, and thought it would be a good opportunity to champion the brave folks from the civil emergency services who had come to their rescue. There was even a search and rescue team from Ventura City! The gas and water mains were shut off after the mudslides, so Oprah had to find a new spot for a little while. But it's not like the 60 acres she has in Montecito is the only property that Oprah owns...
Telluride, Colorado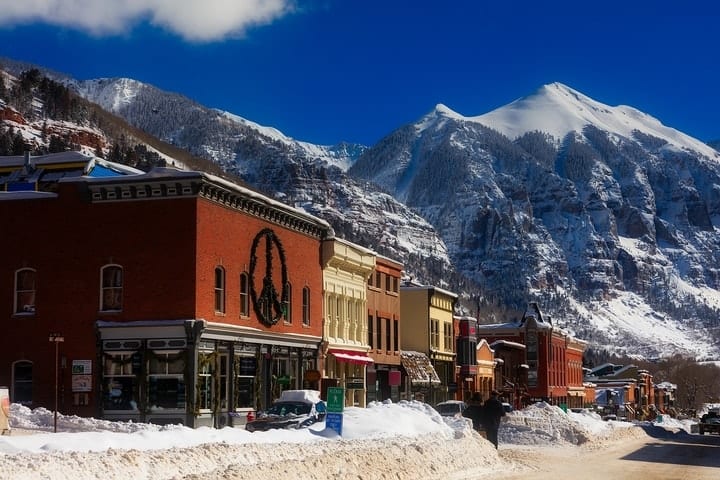 Like many other people who live a lifestyle of riches and fame, Oprah owns more than one house. She has a few other holiday homes, including this gorgeous residence in Telluride, Colorado. It overlooks the Mountain Village area and is a whole nother 60 acres of privacy and seclusion for the celebrity. And while it may have cost her a pretty penny, this 60 acres wasn't quite as pricy as the 60 acres she has in Montecito. Oprah's Colorado property has five bedrooms, a home theatre, and a guest house, and cost her $11 million. It doesn't sound so bad when you think about the $70 odd million she spent on Promised Land!
Maui, Hawaii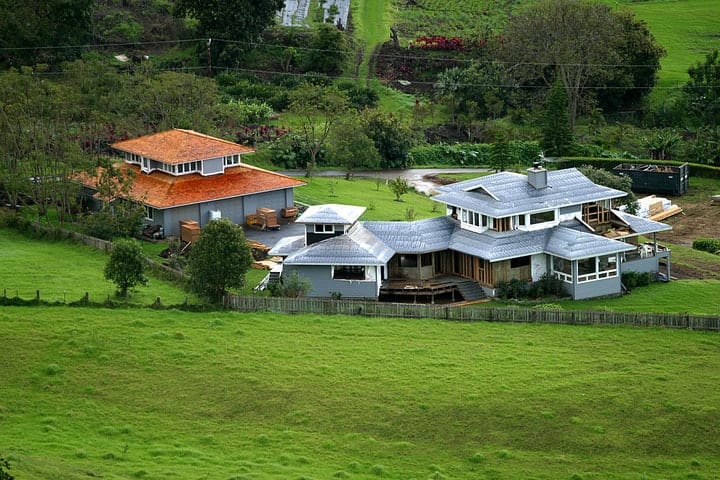 Do you remember Bob Greene, Oprah's friend, and fitness guru? Well, Greene not only inspired the Promised Land, but he also encouraged his wealthy friend to buy a place in Hawaii too. She hired engineers, architects, and designers, who all worked together to create this gorgeous farmhouse in paradise. They had to strip the property back to its basic structure, then it was rebuilt again from the ground up. It doesn't matter what the season is, Oprah has a gorgeous property to enjoy regardless of whether it's sunny or snowing!
Orcas Island, Washington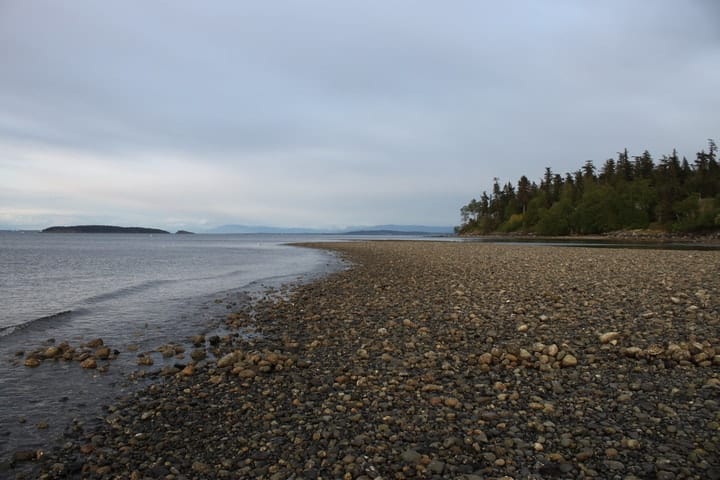 But wait - there's more. In 2007, this gorgeous three-story home was constructed on the massive 40 acres of land on Orcas Island in the Pacific Northwest. The kitchen in this house rivals those in any of her other homes and even has a built-in pizza oven. There's a shuffleboard table, pool tables, a powder room, and four bedrooms. It sounds like a great recipe for a party if you ask us! This fabulous property also faces the shoreline, so Oprah can watch the sunset at the end of the day. What a dream!
Chicago, Chicago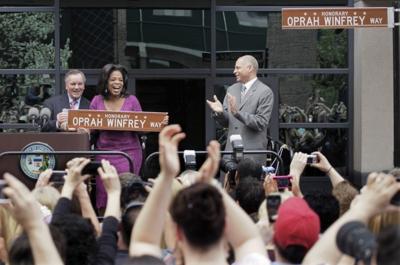 Something that not everyone knows about Oprah Winfrey is that she used to be based out of Chicago. But in 2018, she sold her very last piece of real estate there. This was a massive Colonial home in Elmwood Park, and unlike her other million-dollar homes, this property sold for only $375,000. This may have been her least expensive property sale to date because she also sold a duplex for $4 million, and a unit for nearly $3 million in and around Chicago. Truly, the mind boggles. It's so strange to think that there are all these homes sitting empty while Oprah is living at Promised Land! We wonder if anyone lives in them while she's gone?
Fisher Island, Florida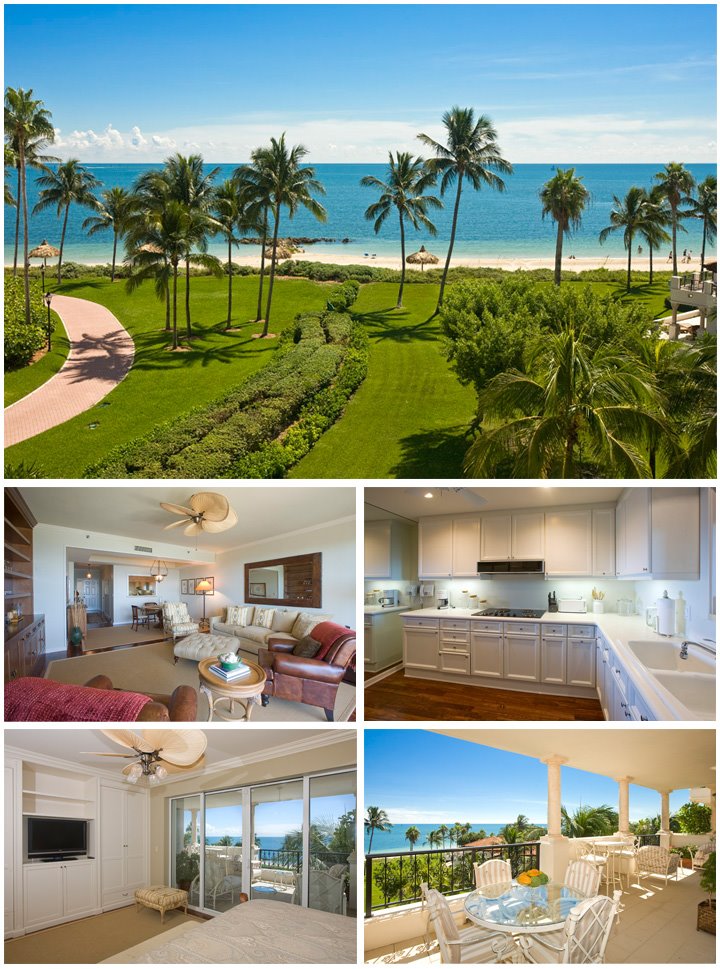 Before Oprah moved to Montecito, she had a condo in Florida. The Sun-Sentinel once said of Fisher Island: 'Peacocks roam free here. So do millionaires, movie stars and moguls.' You can definitely understand why celebrities would want to buy property amongst other celebs - surely they would get sick of being asked for autographs on the street! Nonetheless, Oprah sold the Fisher Island condo for $2 million. But that's not it! 
LaPorte County, Indiana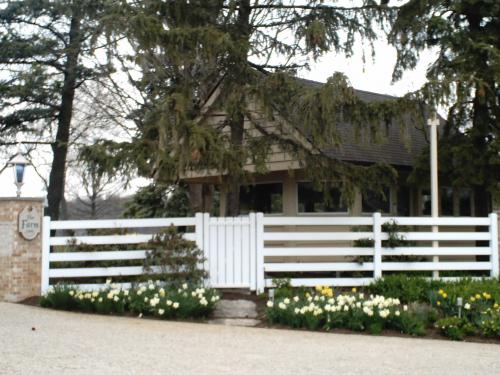 Yep - that's right, there was yet another impressive property that Oprah used to own. Nestled in LaPorte County, Indiana, this massive farm was once a weekend getaway for the billionaire. And if you thought Promised Land was big, it turns out that it's actually a downgrade from her Indiana property, which spanned over 90 acres. The Indiana Farm had a swimming pool, stables, tennis court, an orchard, and many other ostentatious features. In 2003, Oprah said goodbye to the farm, putting it on the market for $8.5 million.
There's No Place Like Home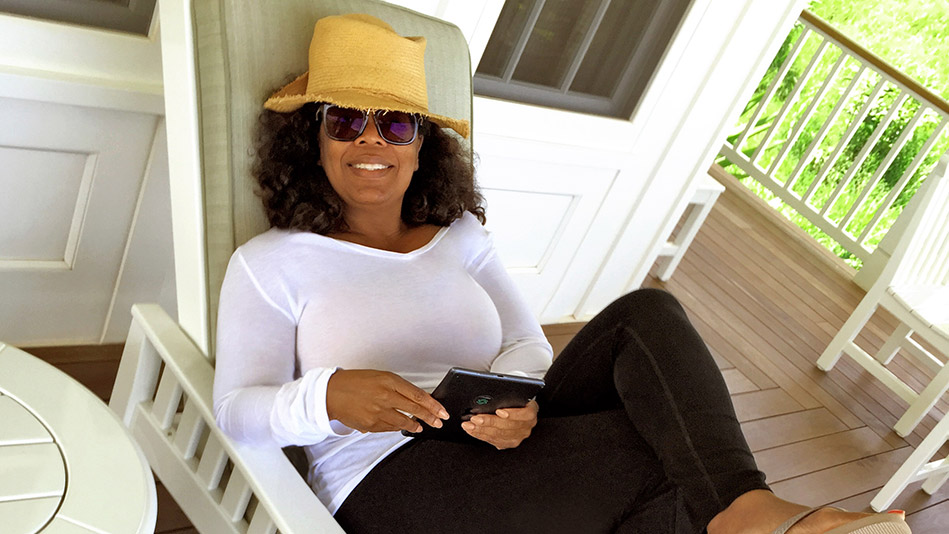 The list of Oprah's homes doesn't end there. Since the 1980s, this enormous celebrity has sold an apartment in Chicago for $7 million, a New Jersey property with a valuation of $68 million, and vacation houses in both Maui and Antigua. And don't forget about the $8.2 million-dollar wood cabin on Orcas Island. Nonetheless, Oprah remains to be one of the most giving billionaires on the planet, having given away over $40 million via the Oprah Winfrey Foundation. How impressive is that? 
Believe it or not, this brings us to the end of our tour through small-screen Queen Oprah Winfrey's numerous luxury homes. While we enjoyed hearing about her holiday homes and previous residences, we can't deny that we think the Promised Land seems like the best place for our favorite talk show host. If you have a friend who is just as obsessed with the lifestyles of the rich and famous, be sure to share this article with them so they too can guffaw at Oprah's riches!
Source: Finance 101