30 Of The Most Expensive Celebrity-Owned Yachts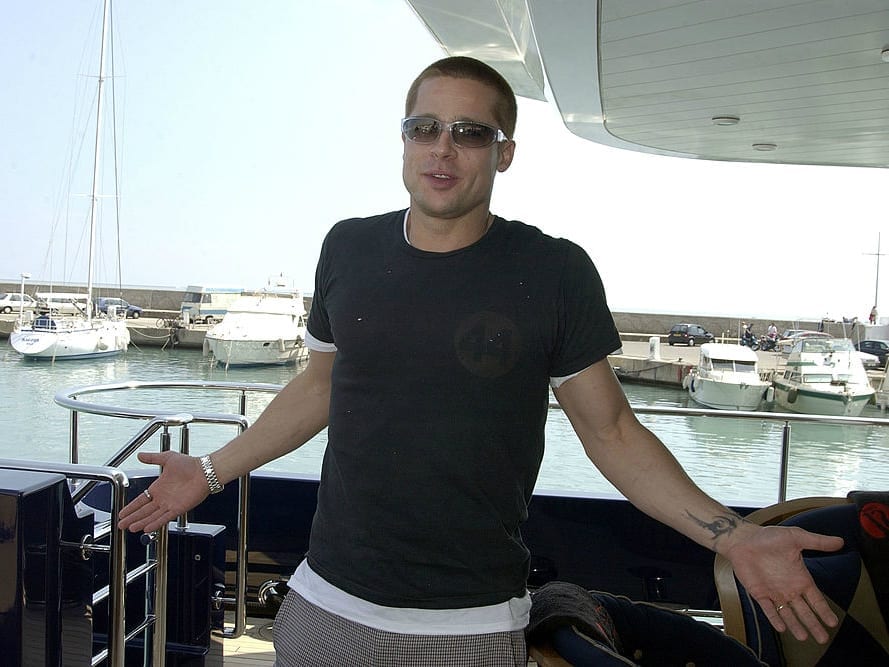 What else do you expect from celebrities if not a life of luxury and affluence? That is one of the first things you'd notice about stardoms. But with all the attention they get and the paparazzi after them wherever they go, where else can they get away from it all? Well, most of these stars cool off in their mega-yachts on the sea. Here are some of the most prominent business mogul, musicians, and Holywood celebrities with superyachts that take them around the world through sea.
Leonardo DiCaprio's Topaz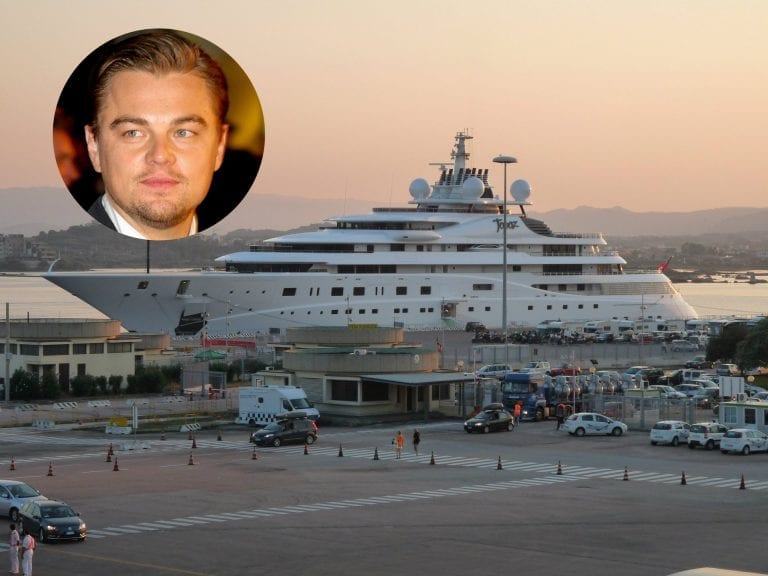 Topaz is arguably one of the biggest yachts in the world. Although Leonardo does not own the super-yacht, he is a premium user. He usually charters it for his events, and according to reports, it costs 3,750,000 million Euros to charter for a week. Topaz, built by a specialized luxury company, Lürssen Yachts, stands at an astounding 483 feet, with conference rooms, water sports center, world-class gyms, and guess what? It also has two helipads. Leonardo reportedly hosted A-list celebrities for an 80s themed party, an attestation to the movie, The Great Gatsby.
J.K. Rowling and Johnny Depp's Amphitrite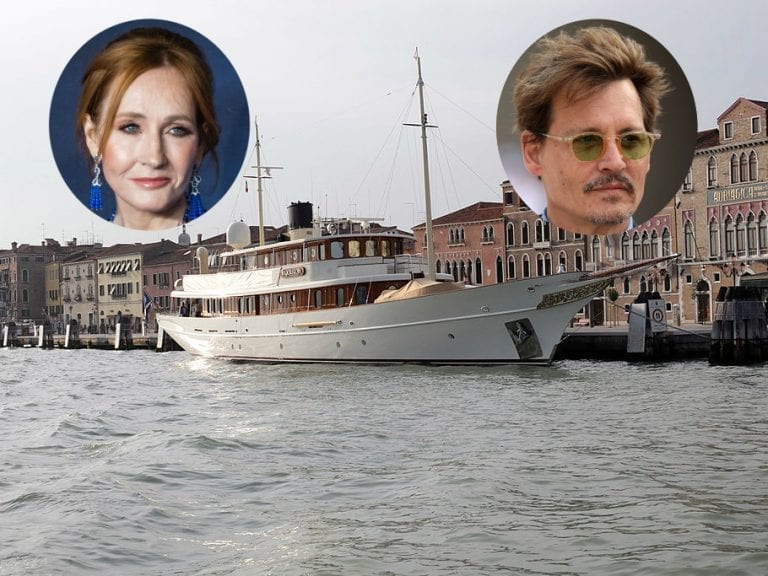 Rowling's story is very much publicized, from her ascension from a mere secretary to one of the first names you'd mention in modern literature. Rowling is famous for her "Harry Potter," franchise, and that has, in turn, has made her very rich. Her wealth was more than enough to purchase John Depp's 20 million Pound yacht, and no, it wasn't named "The Black Pearl." With 156 feet length, the ship has room for a lot of facilities, including jet skis, kayaks, saloons, and wind bars. Rowling got tired of the yacht later, and there were reports she sold it for less than the price she bought it, reportedly seven million pounds less. Oh, come on! She is doing pretty well.
The Edge's (not Bono's) Cyan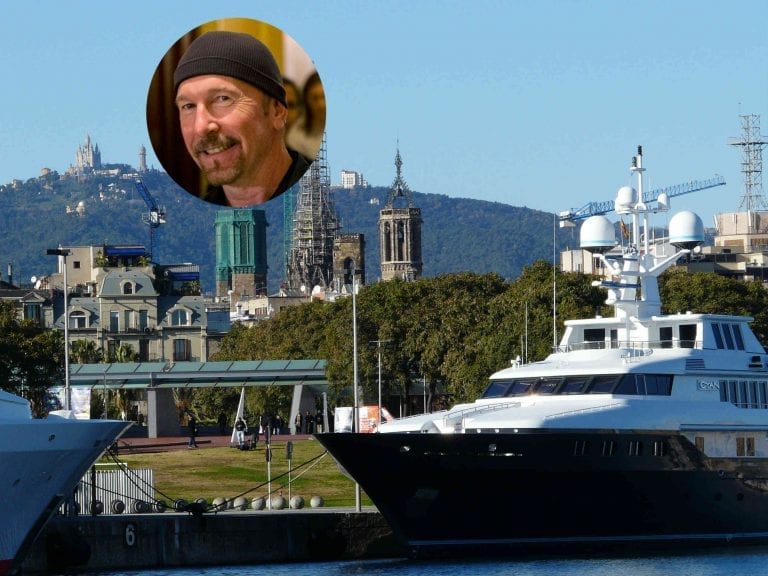 Some rumors flew around that Bono owned this yacht until  Bono's bandmate, The Edge, showed up to silence the story about the ownership of the 12 million pound yacht. The Edge claimed, "It's mine," said the guitar player, "Bono doesn't know anything about boats." In truth, the yacht wasn't in the price range of Edge; it was a bit higher, so he had to seek for finances from his friends to purchase the Cyan. The 160-foot wide yacht has a luxury bar, a jacuzzi, and several luxurious facilities.
Giorgio Armani's Mariù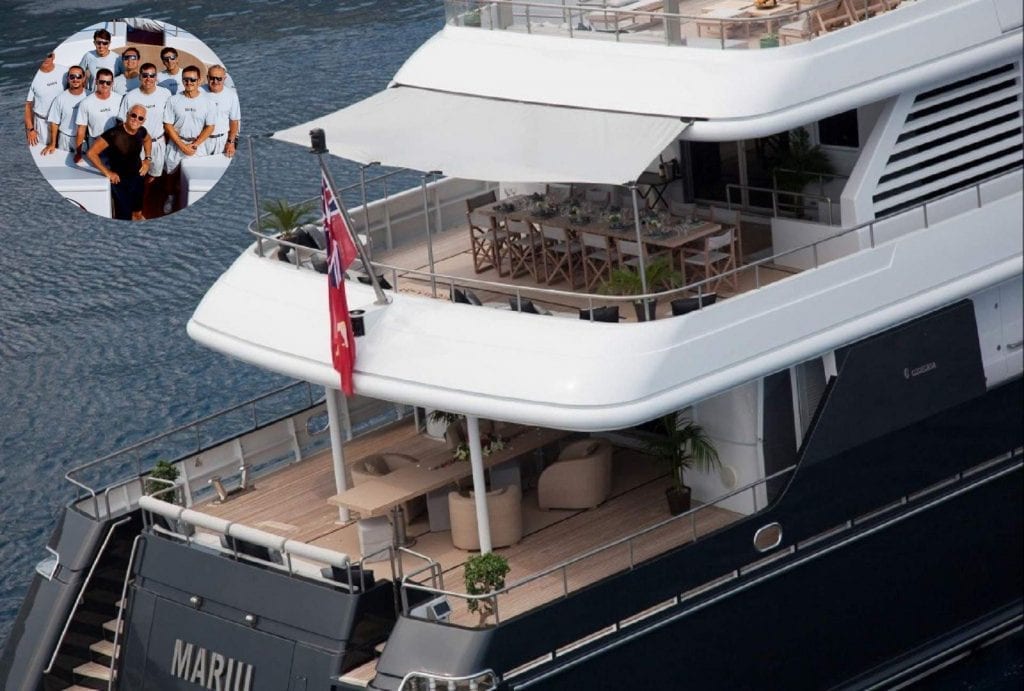 Being a billionaire worth $9.1 billion comes with its perks. So, you can never put it beyond Giorgio to own a yacht customized to his specifications. Armani's first yacht was designed by himself, making rooms to put up 12 persons in luxury. In the ship, an elevator can take you between the decks to explore the luxury embedded in the boat. The man designed the yacht with elegance in mind; it was painted in regal colors: grey and white. Armani sold the elegant ship for 19.95 million Euros in  2010, but if you happen to be in the Mediterranean region, you can hire it for a week at the rate of 185,000 Euros.
Giorgio Armani's Maìn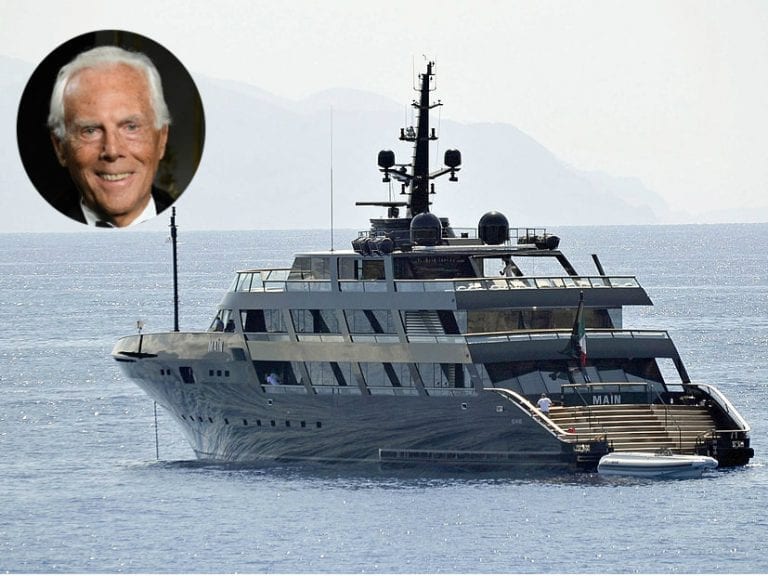 There is this liberty you'd have if you are one of the richest men on earth; you may want to own all to yourself. Having one yacht, when you can have more? Nah! At least Giorgio seems to agree with us. The second yacht was explicitly designed to suit his taste too. Armani's taste is anything but elegance and luxurious, and his clothing line says it all. Inside the 150-foot long yacht is a cinema, indoor gym, stateroom, and hot tub just in case it gets cold outside. Armani didn't want his boat to be flashy, contrary to his fashion statement, so he painted it in a deep green color.
David Gilmour's Astoria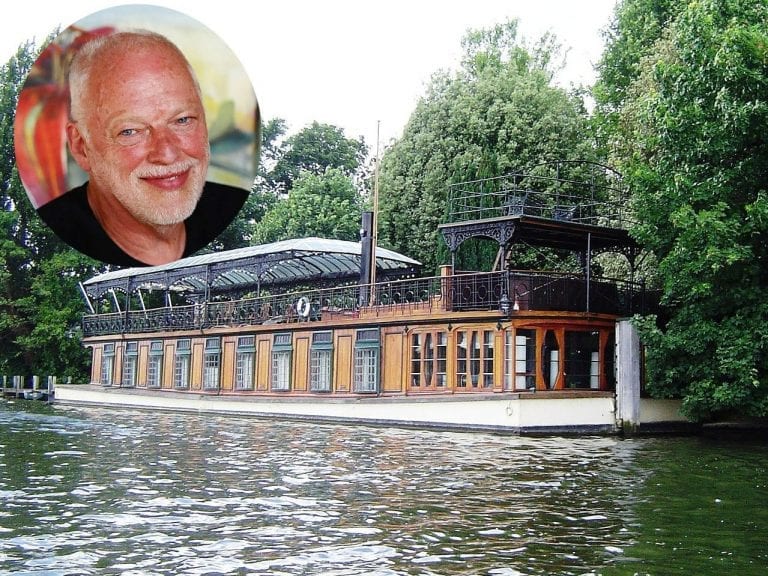 It is not easy being one of the greatest and creative guitarists of his time; David has lived up to this tag, releasing hits upon hits. If you are still skeptical of this fact, check out his 27-meter longboat, which he had to convert into a recording studio that has become an iconic studio. Astoria was bought from one Fred Karno, who said the yacht was built for around 20,000 pounds. That amount would be equivalent to 2.2 million pounds today, and now, the boat would value far more currently.
Rafael Nadal's Beethoven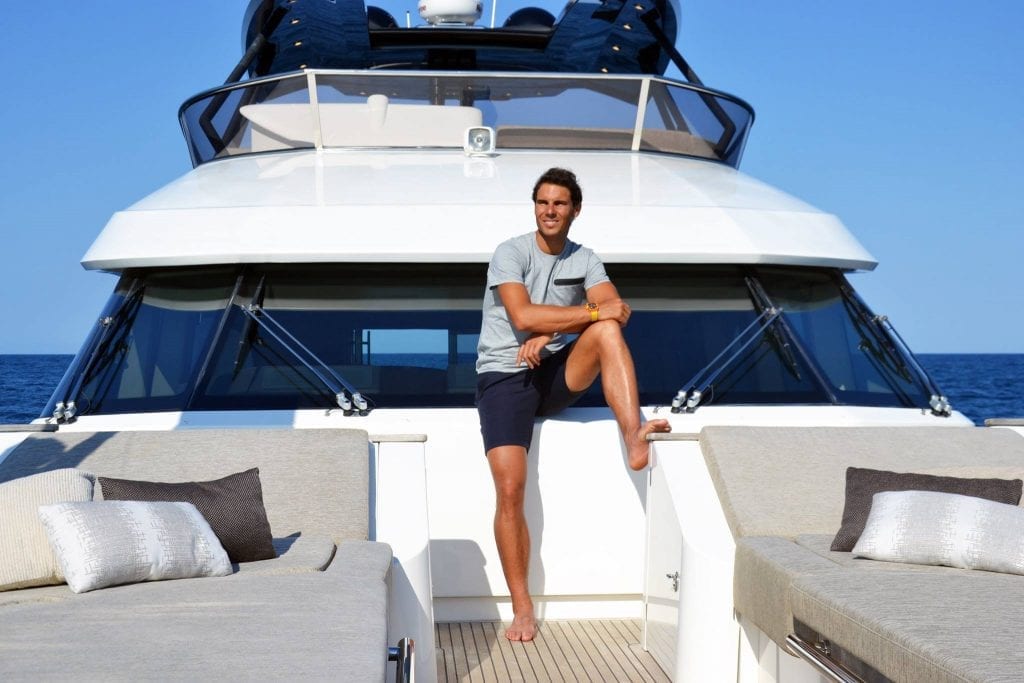 If you want to mention some of the greatest Tennis stars, hardly would you miss listing Nadal among them. The iconic tennis star has an astounding net worth of $80 million, an amount only befitting of an A-list tennis player. As someone who grew up in the Balearic Islands, his passion for sailing has never seen a decline. He translated this passion into purchasing a yacht that would enhance his sailing fantasies; hence, the purchase of Beethoven for $2.5 million. Naval says his 24-meter ship is one in which he loves to entertain his guests.
Steve Jobs' Venus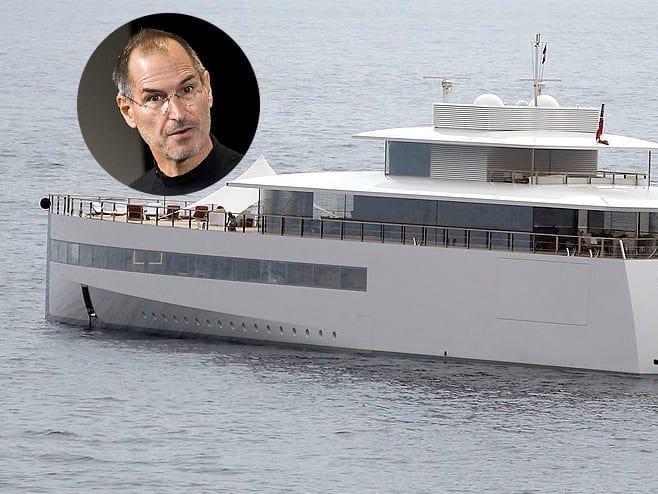 Unfortunately, the late Apple boss didn't get to see his multi-million dollar yacht, before he died. The boat is in the custody of his family now after completion. There has been little or nothing known about the ship, save for the exterior picture. One thing that we know for sure is, Mac computers would adorn the bridge of the yacht. Impounded by the designer, Phillipe Starck, for not being paid his designing fees, the problem would later be resolved between Phillipe and Job's family. The 256-foot long boat is definitely a beauty from a distance. 
Steven Spielberg's Seven Seas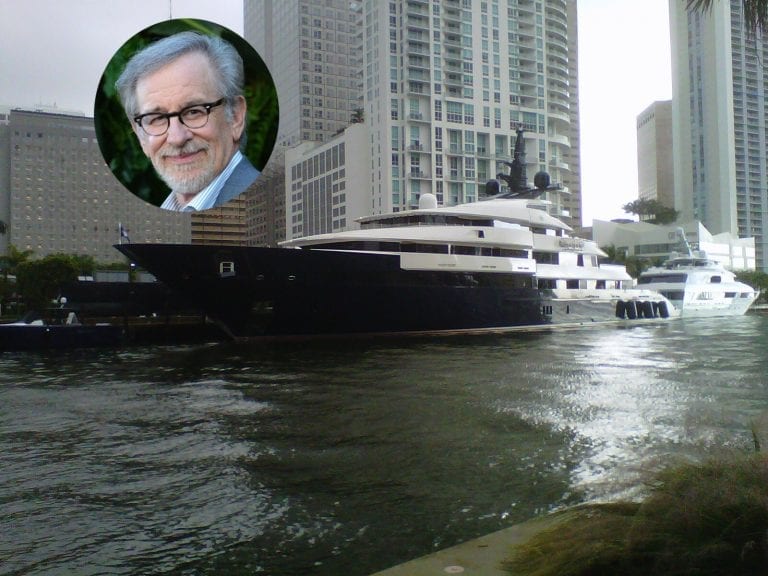 Here is a staggering  282 feet long massive yacht. The boat is valued at $200 million, with features that are befitting of a small state in Cuba. Obviously, Steven's directing of "Jaws" didn't stop him from owning a boat. The boat has a jacuzzi, a movie theatre, a gym, jet skis, and enormous windows that lined from top to bottom. Spielberg didn't realize how much he would enjoy sailing when he bought the massive vessel before he put it up for sale in 2015. His reason? He wanted more space. Wonderful!
Billy Joel's Vendetta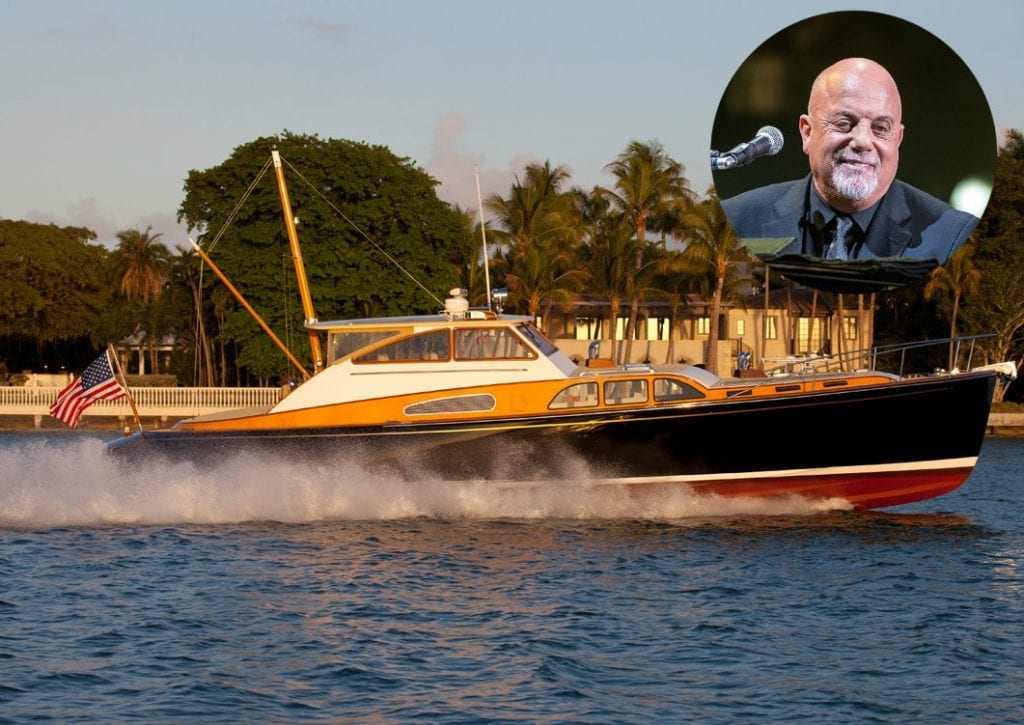 Billy Joel is regarded as one of the best selling musicians of all time. Do you know what this means? He is wealthy! So don't be put off when you hear he doesn't have only one or two, but five substantial yachts, that's right! He loves to be seen with the Vendetta, which happens to be the fastest of the five. As a yacht enthusiast that he is, the "Piano Man" has proved himself a skilled yacht designer, having sold 50 boats he designed for around $500,000 each. If Joel decides to quit music today, his "side hustle" would speak for him.
Richard Branson's Necker Belle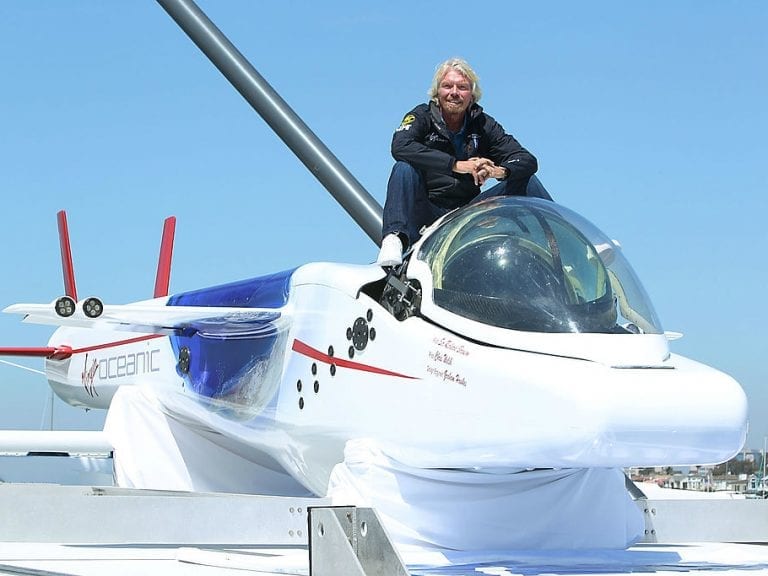 For Richard, who is a well-known billionaire investor, a much-publicized philanthropist, and founder of the Virgin Group, having a yacht to navigate around his owned island isn't much of a fuss. The 105- foot yacht is designed for partying, according to Richard. Valued at 5.3 million pounds, the sea vessel is renowned for having a submarine shelter.  Branson would later sell this beauty to an undisclosed person in 2018.
Nicole Kidman and Keith Urban's Hokulani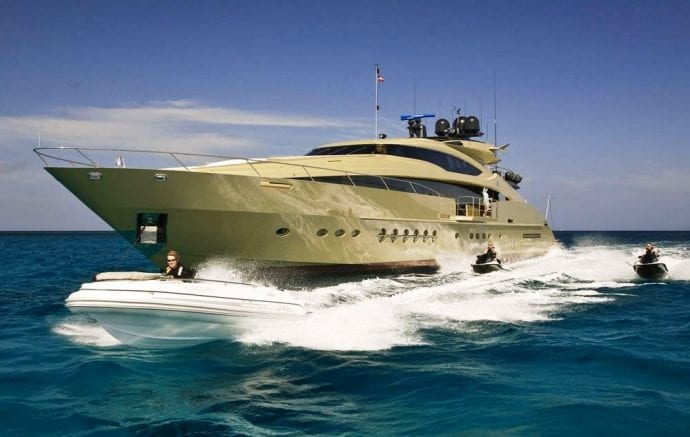 This yacht is named after the actress herself; the sea vessel bears the Hawaiian name of Nicole, which is Hokulani. Hokulani is a 3-story yacht with almost all the facilities of a modern ship. From having a jacuzzi, televisions, snorkeling equipment, water skis, and a glass atrium roof, the sea vessel would match any modern design. This giant yacht can play host to 10 guest members and eight crewmembers. But the boat is worth a mere $4.5 million compared to the combined wealth of Kidman and Urban's $195 million.
Diddy's Oasis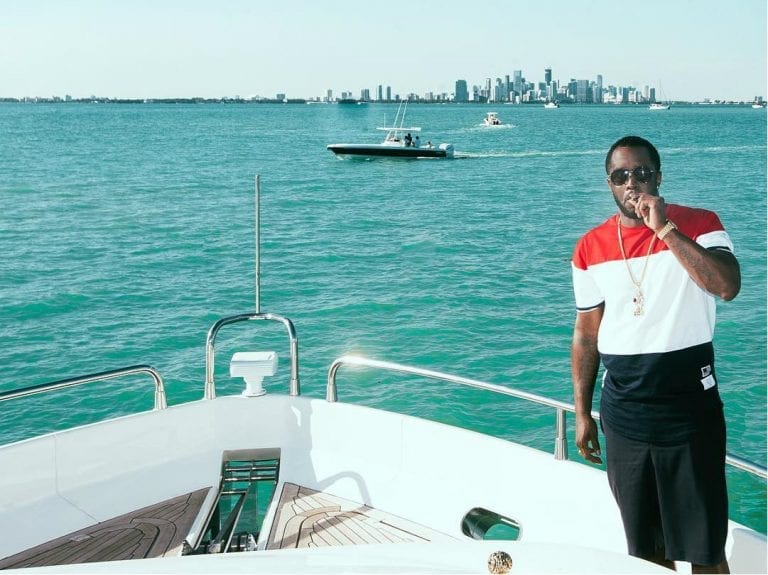 Sean Coombs has been called many names in his music career, but one name he can never be called is - broke ass. He is a rapper, musician, and a business mogul. Sean bought this $72 million sea vessel from Google executive chairman because, of course, there is money to flex around. As a party guy, Diddy's yacht comes with a night club! It may interest you to know that the vessel has an AquaGlide waterslide worth a whopping $1,669.
Jay-Z and Beyoncé's Galactica Star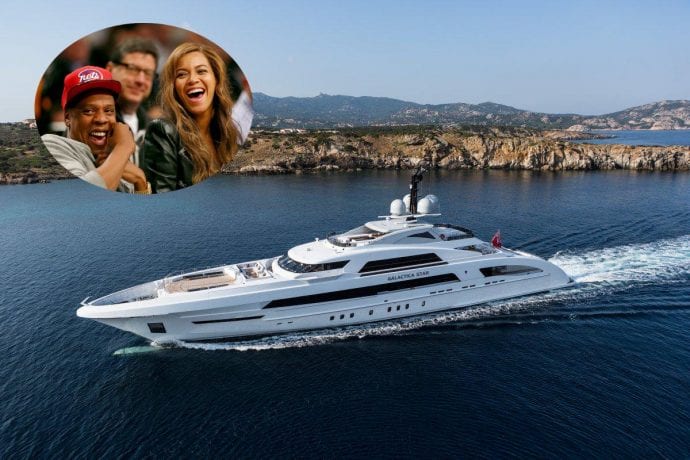 Jay-Z and Beyoncé are arguably RnB and HipHop's most prominent couple. Of course, you know this comes with some wads of cash to spend around. So what happens when the duo are on a break after their tours? They enjoy cruises on $42 million worth yacht. Actually, the Galactica isn't owned by Beyonce and Jay-Z, but by Nigerian billionaire, Kola Aluko, who rents this big vessel for $900 million a week. The boat has all the relaxation equipment to facilitate perfect relaxation. Despite its huge size, the ship is one of the fastest yachts around.
Rihanna's Latitude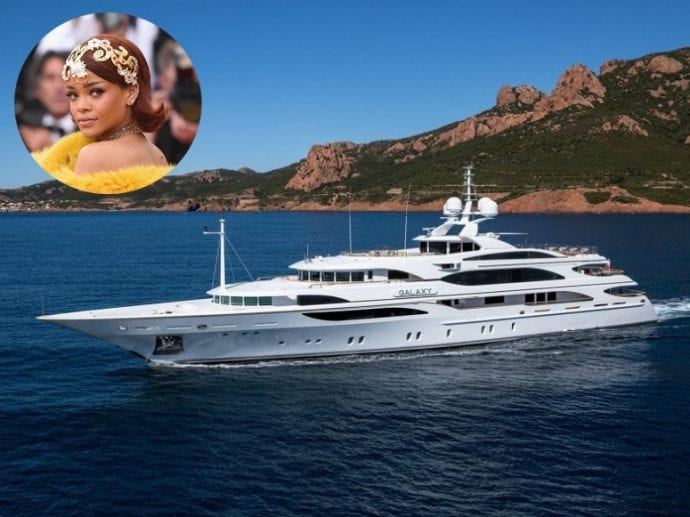 As an indigene of Barbados island, Rihanna shouldn't be new to sailing. The popular singer who has now taken up a fashion mogul status spending her leisure time in the French Riviera aboard her 172-foot superyacht. The vessel has six double staterooms, beach club, sky lounge, five decks, and goes for charter at around $300,000 per week. Rihanna's net worth has only skyrocketed without her releasing music, with her taking $70 million a year. Her company, Fenty, is reported to have made $100 million within its first 40 days of setting out.
Gwyneth Paltrow's Silolona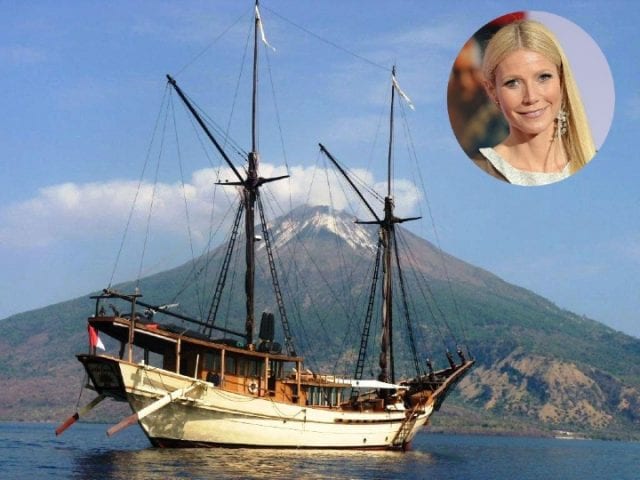 You can't mention A-list actors without including Gwyneth Paltrow on your list. The actor is famous for always taking a weird strategy to health. However, her idea of luxury is acceptable to all, and you would agree with that seeing her yacht. Silolona has an elegant design, and it is furnished with everything the actress cum entrepreneur needs to enjoy a vacation with her family. There are five rooms in the vessel, including an outstanding master suite and four triple cabins — enough to accommodate 12 guests and 16 crew members. To charter, the Silolona, get ready to pay $108,500 per week.
 Simon Cowell's Slipstream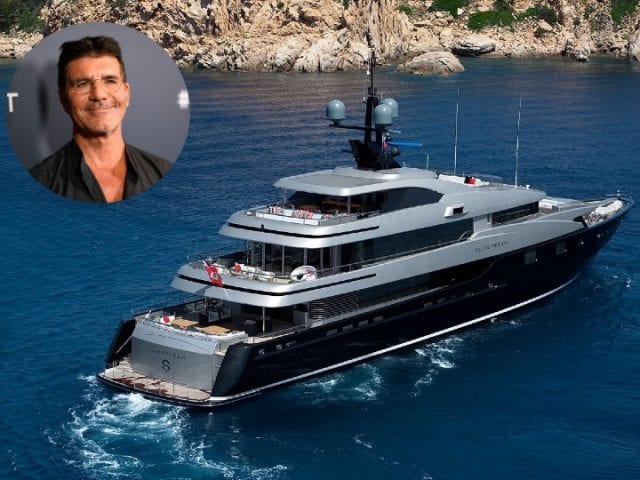 The controversial judge isn't that controversial with luxury. Everyone well receives his taste for luxury without batting an eyelid. The Slipstream is his number one choice when he goes on vacation with his family around Ibiza. At 196-ft, the Slipstream has everything to make Simon and his family comfortable. Featuring a barbecue grill, a spa, a dining area, seven guest rooms, and a sky lounge that transforms into a cinema. The ship is just the perfect boat for relaxation. It goes for charter at around 330,000 euros per week.
David and Victoria Beckham's Horizon E88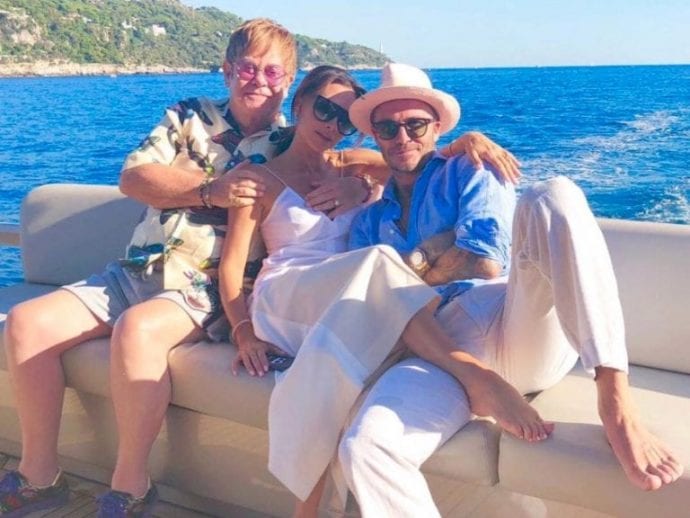 Easily one of Britain's most affluent celebrity couples, the Beckhams relish spending their leisure on their luxurious super-yacht worth an estimated 3.8 million pounds. The super-yacht can accommodate 12 guests and has a nickname, "The Sophisticated Lady," a name that seems all befitting for the beauty. This 94-foot yacht has enough space for a state-of-the-art gym. Together, the Beckhams are worth an estimated $1 billion.
Tiger Woods' Privacy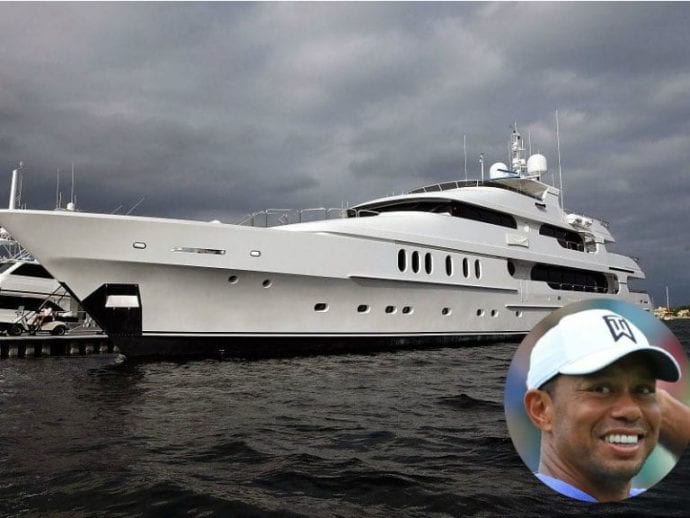 Does this man need any introduction? We don't think so. Arguably the greatest golfer to have walked the earth. Tiger had issues with his life, got into some serious mess with his divorced wife, had some nasty injuries. But, he still came back to win the prestigious green jacket at East Lake Golf Club, a record fifth time in his career.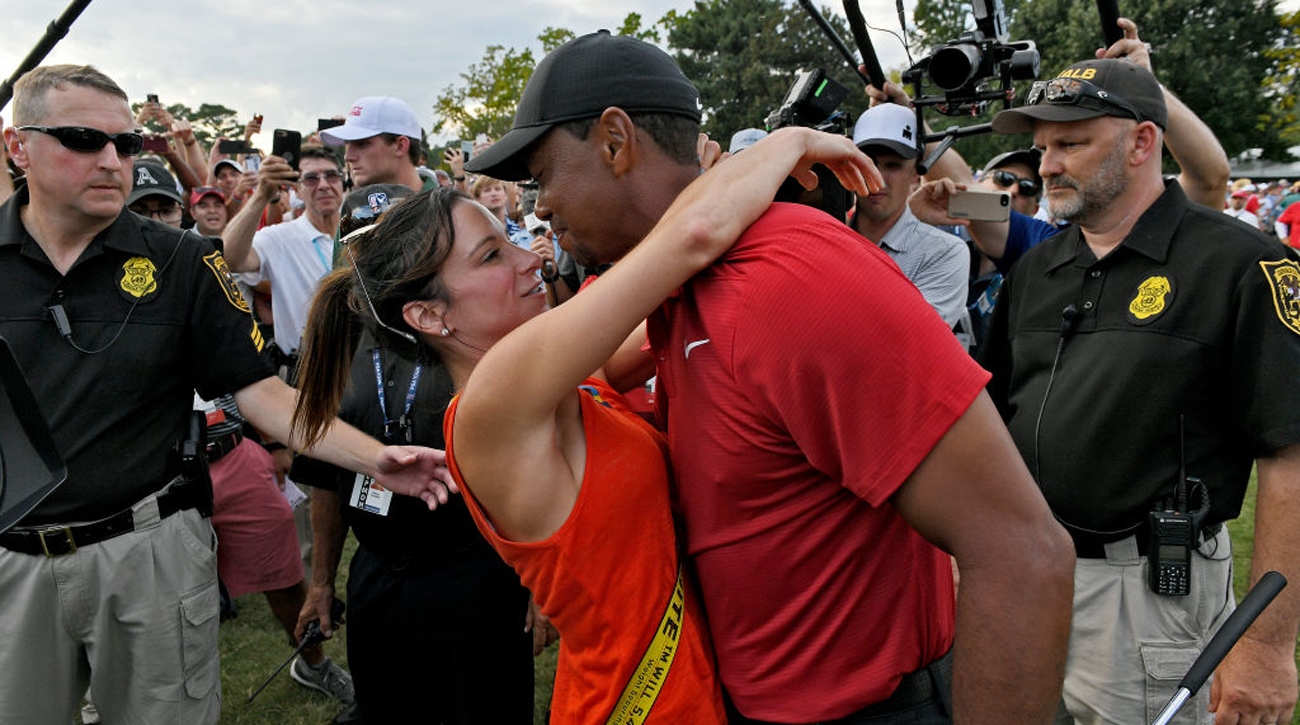 For any golf course he attends, there is a chance that you get to see his yacht. Privacy costs over $20 million and has all the amenities you can imagine, including a gym, bar, five guest rooms, two built-in wall safes, and some other luxury equipment in a modern sea vessel.
Justin Bieber's Ecstasea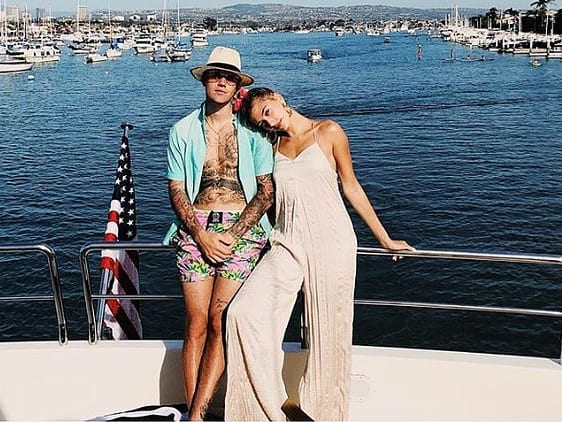 This massive super-yacht was initially built for multi-billionaire Roman Abramovich, but he decided to sell the gigantic 282-foot boat in 2009 to an unknown buyer. The super-yacht is not made available for charter, but there are perks of being Justin Bieber.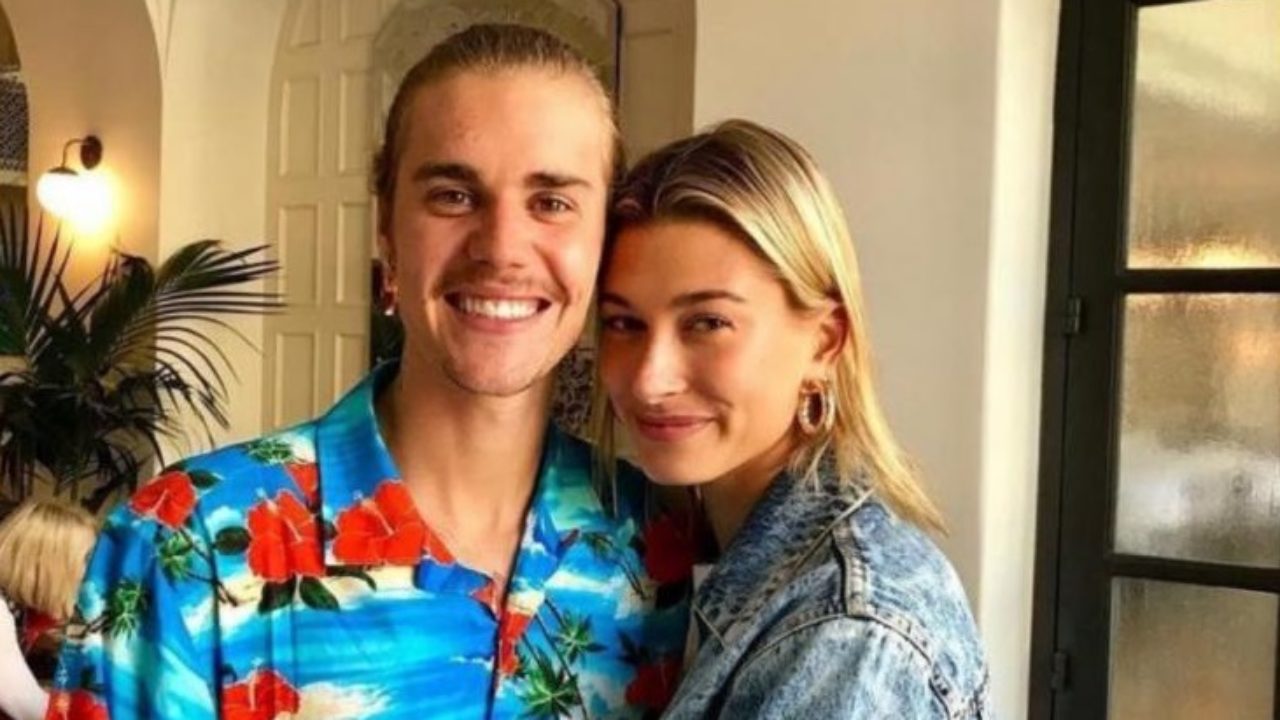 Yeah, only the singer has been allowed to rent the sea beauty. This super-yacht is estimated at around $75 million and has an air conditioning system, a Flyboard, jacuzzi, a gym, and a helicopter hangar, everything luxurious.
Eric Clapton's Va Bene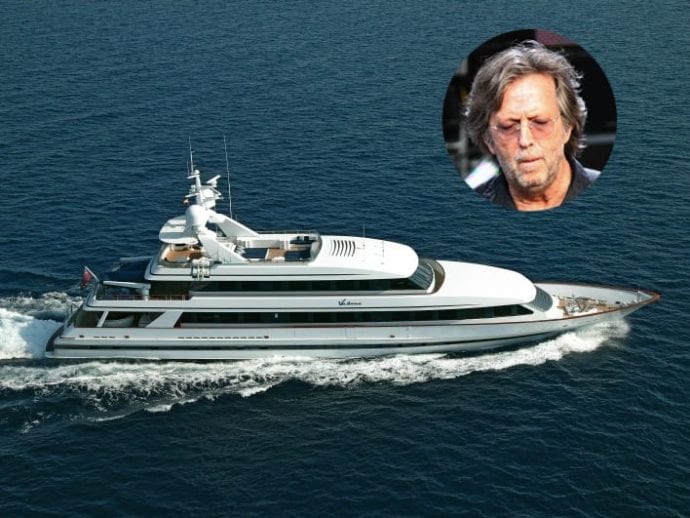 Clapton is one of Rock n Roll's legends, and rightly so, after churning out hits after hits. It is only reasonable that he gets the wealth that comes with it.  Just as he is passionate about his music, so is he passionate about sailing. Eric's yacht "Va Bene," is Italian for "goes well," is a 156-foot yacht, costing 9 million pounds. The luxury vessel has room for 12 guests and 12 crew members. It also has a barbecue grill, two dining centers, and karaoke. Clapton did put up the yacht up for sale in 2016, of course, he has another.
Elon Musk's  Steven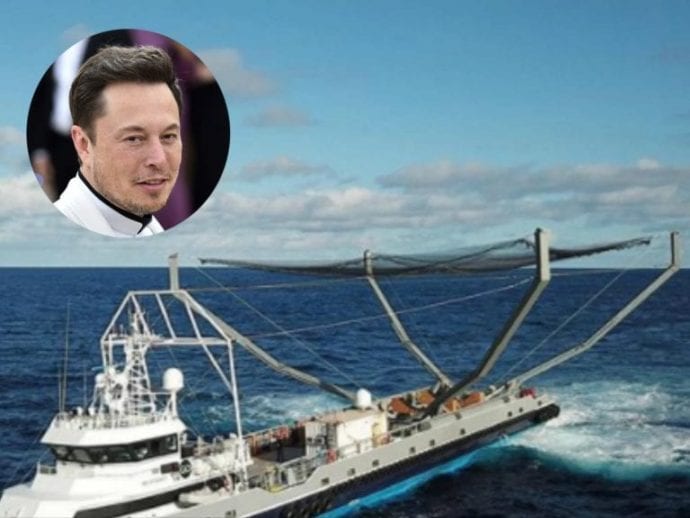 If you know Elon Musk, you would know he is not one known for too many frivolities. His yacht Mr. Steven, 203-foot superyacht, was not built for partying but for rocket recovery. The sea vessel is built in such a way that it can redeem any broken parts of SpaceX rocket fairings. Just before you ask, fairings protect rockets from heating up while launching. The SpaceX project has seen successes and failures. One of the notable ones is being the first privately owned rocket to go into orbit. Elon is worth over $18.1 billion.
Roman Abramovich's Eclipse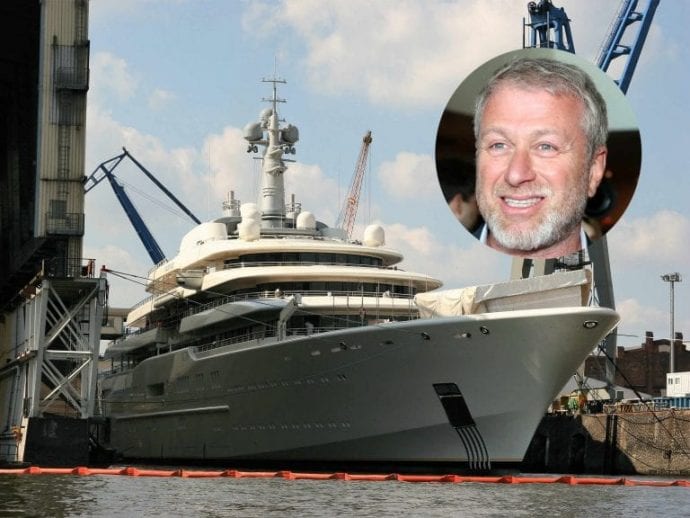 Roman is an extremely wealthy Russian with his tentacles spread across the steel and nickel industry coupled football. He is the owner of Chelsea football club, one of Europe's biggest football club. Added to his massive accrue of properties, he also owns an outlandish yacht worth 340 million Euros. The unique thing about this yacht is that it has a missile detection system and a mini-submarine, and the super-yacht needs 70 crew members to operate it. Abramovich is worth an estimated $12.7 billion, easily one of the wealthiest persons in the world.
Elton John's Wabi-Sabi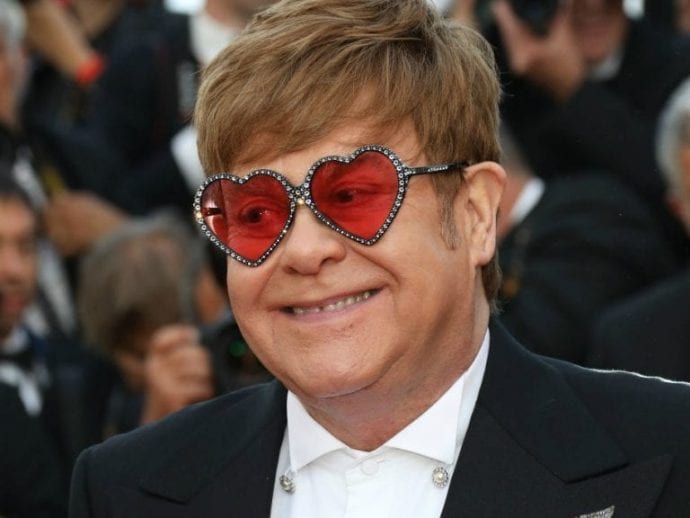 Rumour had it that Elton was the owner of this elegant yacht, and judging from its luxurious outlook, we might have to give the benefit of the doubt to these rumors. With cabins that can comfortably accommodate 12 people at a go, this is definitely Elton's. Furnished with Plasma TVs, barbecue grill, dining table for 12, swimming platform, jacuzzi, this yacht cannot get more comfortable than this. It is available for charter, and the super-yacht now goes for $195,000 per week.
Cristiano Ronaldo's Aya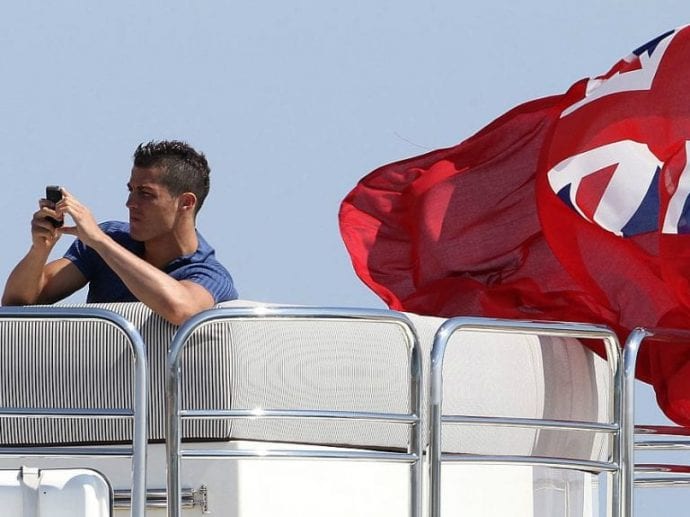 In 2017, the famous football superstar made the news for the wrong reasons. While on a cruise with his family on a 45,000-euros-per-week yacht he chartered, Ronaldo was accosted by police for investigations on tax evasion leveled against him. They came looking for any form of evidence against the footballer. The warranted search took about 90 minutes before the police left with a few papers. In 2018, he came to terms with the authorities for an 18.8-million-euro fine and a short prison sentence (which was reduced to probation).
David Geffen's Rising Sun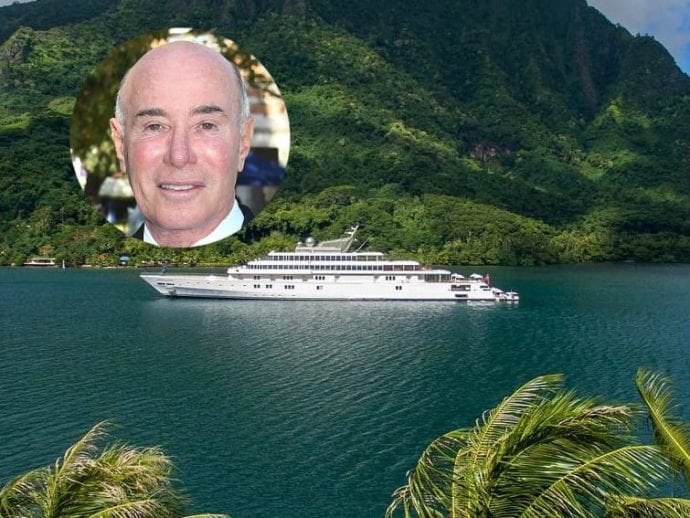 The owner of Dreamworks studio has made a name for himself in the entertainment industry and even in business. He owns a yacht he called The Rising Sun. The 138-meter super-yacht has a catalog of indulgences, including a full gym, cinema with a private screen, sauna, spa, and wine cellar. The Rising Sun can reach speeds of up to 28 knots, and it did cost an estimated $200 million to build.  Right now, the boat is expected to value double that amount. 
Bill Gates' Serene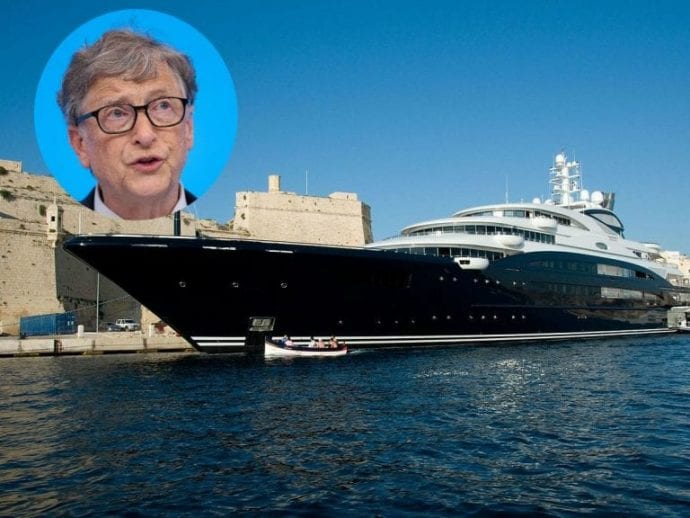 Maybe not the richest man in the world right now, Bill Gates has always been the under the cover type of man, with little tolerance for extravagance. In that little extravagance, there is a super-model yacht he owns. He was rumored to have leased this 439-foot super-yacht for $5 million per week in the summer of 2014. Sometime in 2015, the yacht was acquired by Prince Mohammed bin Salman of Saudi Arabia for a whopping amount of 500 million euros. If this isn't huge, we don't know what it is.
Dolce and Gabbana's Regina d' Italia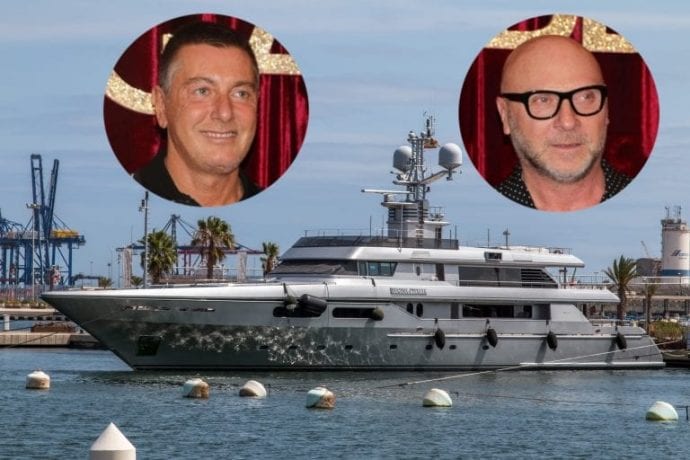 Dolce & Gabbana are representative of an upscale fashion house, so it will make plenty of sense if the pair combine to purchase a yacht. Regina d' Italia is a huge boat that boasts of celebrities turning up in it. Having an array of facilities like a 167-foot custom waterslide, a jacuzzi, and a swimming pool, we see why it a rush by music stars. In the Regina d' Italia, each room has themes of different animals, such as elephant, rhinoceros, leopard, crocodile, etc. The yacht is currently up for sale for $17.26 million.
Calvin Klein's Vantage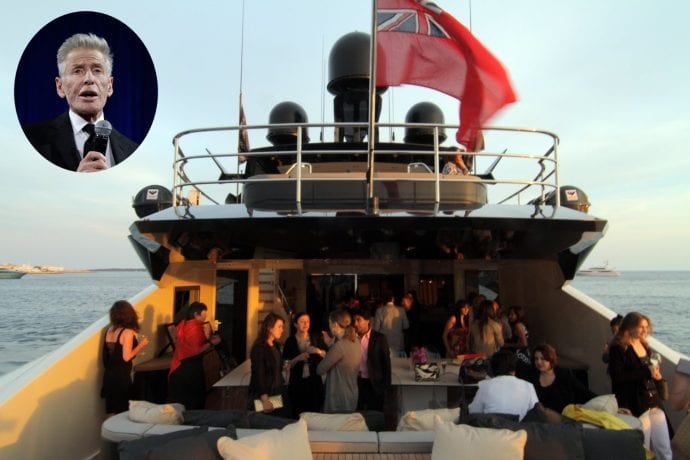 Calvin Klein is a household name. He is considered one of the wealthiest people in the world. If you factor in how his products are seen everywhere in the world, you can't argue with the validity of his affluence. The Vantage is designed with Klein's classy charm in mind. The yacht can accommodate 12 guests and nine crew members at a go. You may need to part with a sum of $180,000 to charter the 150-foot sea vessel for a week.
Sir Philip Green's Lionheart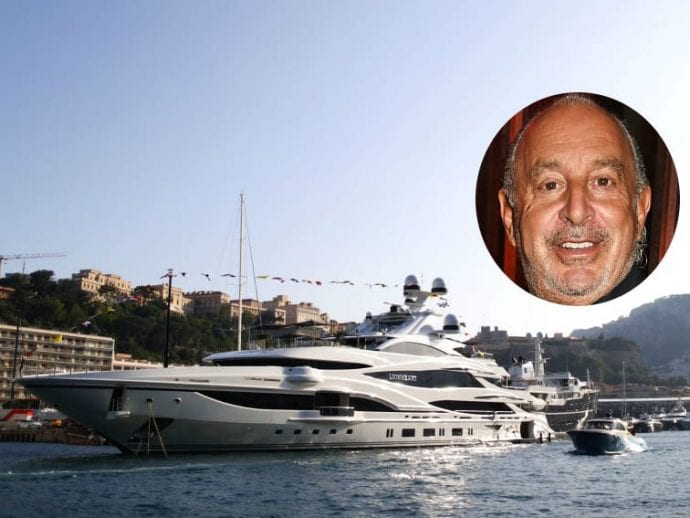 As a retail magnate, Green is worth close to $5 billion. A man with this wealth can afford to live and cruise in luxury. Lionheart would be Green's third yacht that he's built. This particular one at an incredible length of 308 feet is the biggest of the three. It is estimated to be worth $150 million. The yacht came into the spotlight for all the wrong reasons. Green, despite the challenges his retail empire was facing, still planned to host a lavish party on his boat.
Mariah Carey's Capri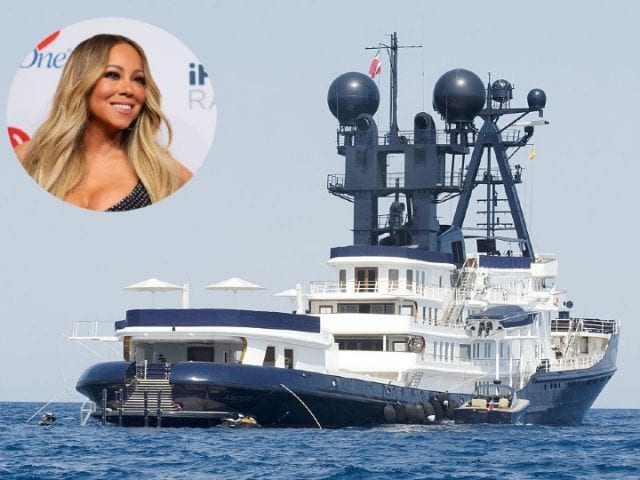 If you have sold many records and gotten many endorsements like Mariah, it is only natural that you want to live in luxury as a way of compensating your hard work. This was the case for Mariah Carey, who, out of the blues, in 2016, decided that she wants to spend her summer in a boat. The Capri was the one she chose to spend her holiday. The luxury yacht has five decks, a gymnasium, many dining areas, two bars, jacuzzi, and a library making it a perfect place for Mariah. If you'd want to hire, be ready to spend 265,000 Euros for a week.
Kendall Jenner's Axioma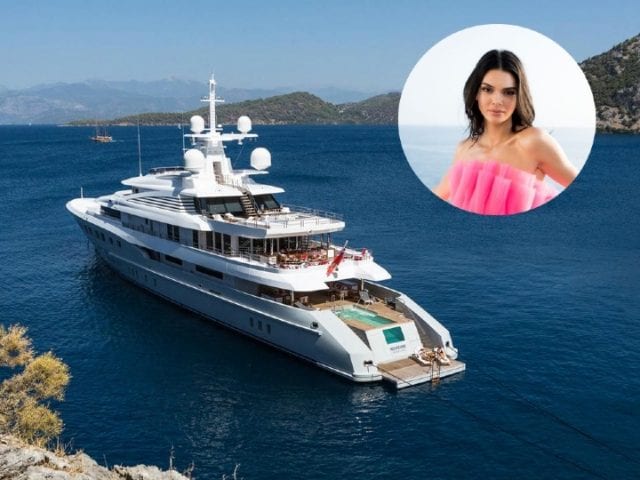 Model, millionaire, and upcoming entrepreneur, Kendall is at her peak, and how else would she want to spend her party hours than on a luxury boat. Pictures have caught her jumping from the 236-ft yacht into the Mediterranean sea. We are sure that this is not her real joy. The super luxurious ship with every facility intact is the real joy. Axioma has a giant, two-story living room, helicopter landing pad, scuba gear, and a large swimming pool for recreation. Wanna you rent? Get your 500,000 Euros ready for a week.
Michael Jordan's Catch 23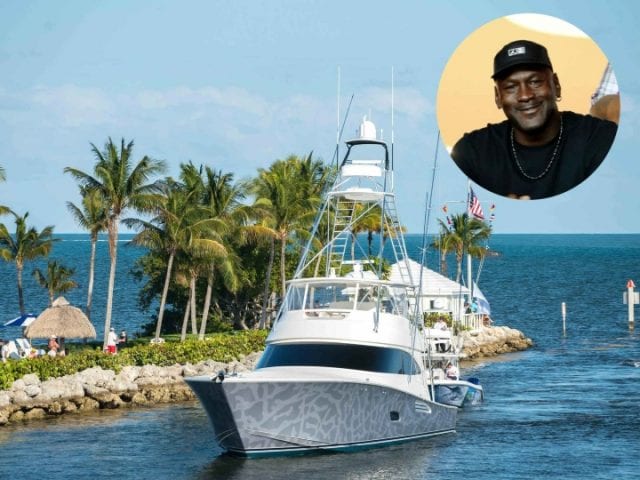 Till today, some would still tell you that Michael Jordan is the greatest basketball player to have graced the earth. Michael is regarded as a diligent businessman and a principal owner of the Charlotte Hornets. He is described as being very competitive. The superstar likes sailing in his $80 million mega yachts. If you paid attention, you would realize that this boat was named after his famous jersey number, 23. As expected, he has a basketball court in his yacht.
 Nicolas Cage's Sarita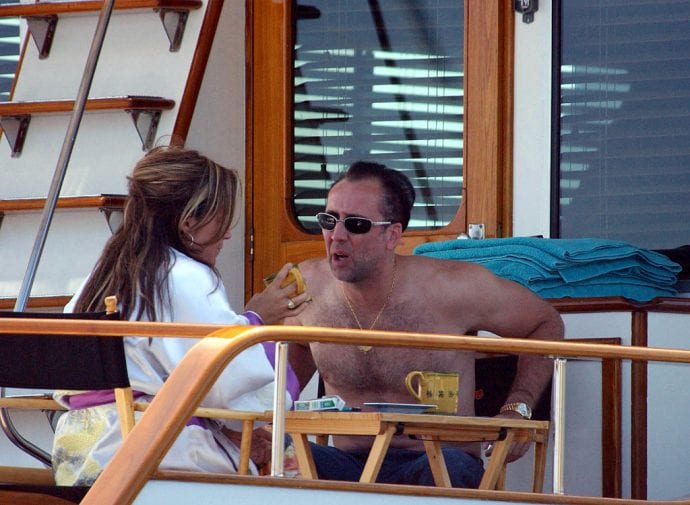 The Renowned actor once lavished $150 million on things many consider unnecessary: dinosaur's skull and pygmy heads; perhaps, he loved the monuments with passion. We are, however, grateful that he got something else with his weird collection. Nicolas bought four different yachts, because why should he rent when he can own them? The Sarita at 126-foot long was his personal favorite. Cage would later put the 227-ton vessel up for sale in 2008. After he was served with a hefty $6.2 million fine from the IRS in 2009, he also sold several properties. He attributed his financial problems to his accountants for his loss exonerating his weird inclination to buy artifacts.
Brad Pitt and Angelina Jolie's Ghost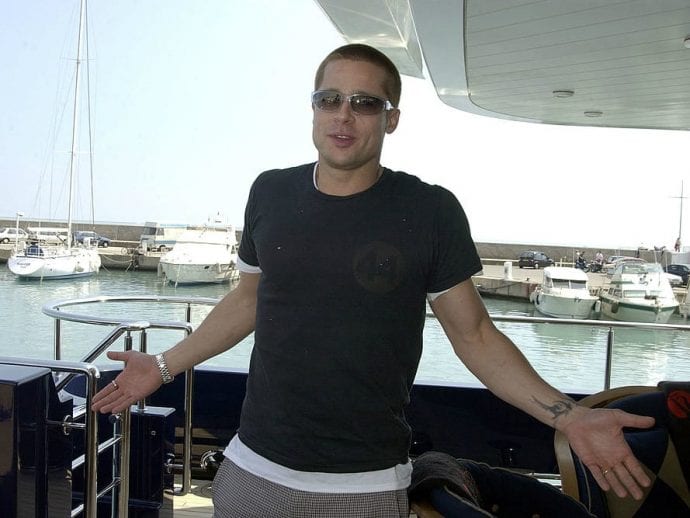 Brad Pitt and Angelina Jolie love to spend their vacation in style. The 122-foot super-yacht is one made for the luxurious lifestyle, owned by an Australian accountant, Anthony Bell. The couple was spotted cruising with the sea vessel on the Sydney harbor with their children aboard. The yacht is currently up for sale with an asking price of $8.91 million, just in case you want to purchase it. The boat is known for its award-winning design. Don't be carried away by its size, but it is actually one of the fastest yachts around.