The Most Beautiful Jewels of the British Royal Family
Any royal family has amazing jewels in their collection, but girls all over the world have coveted the crowns and necklaces of the British aristocrats. Some of their pieces even go back hundreds of years, and others have been altered to accommodate newer generations. There are tiaras, brooches, and incredible earrings that were worn by princesses from all over Europe, and of course, we all love Princess Diana's jewelry! These shiny stones will make you green with envy; so, let's discover them all!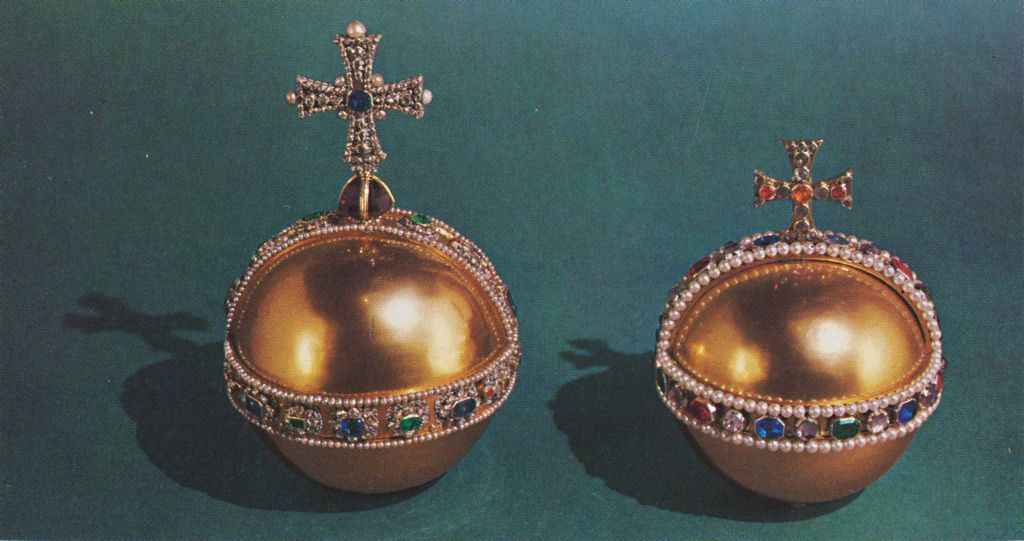 THE RECYCLED JEWELS OF QUEEN MARY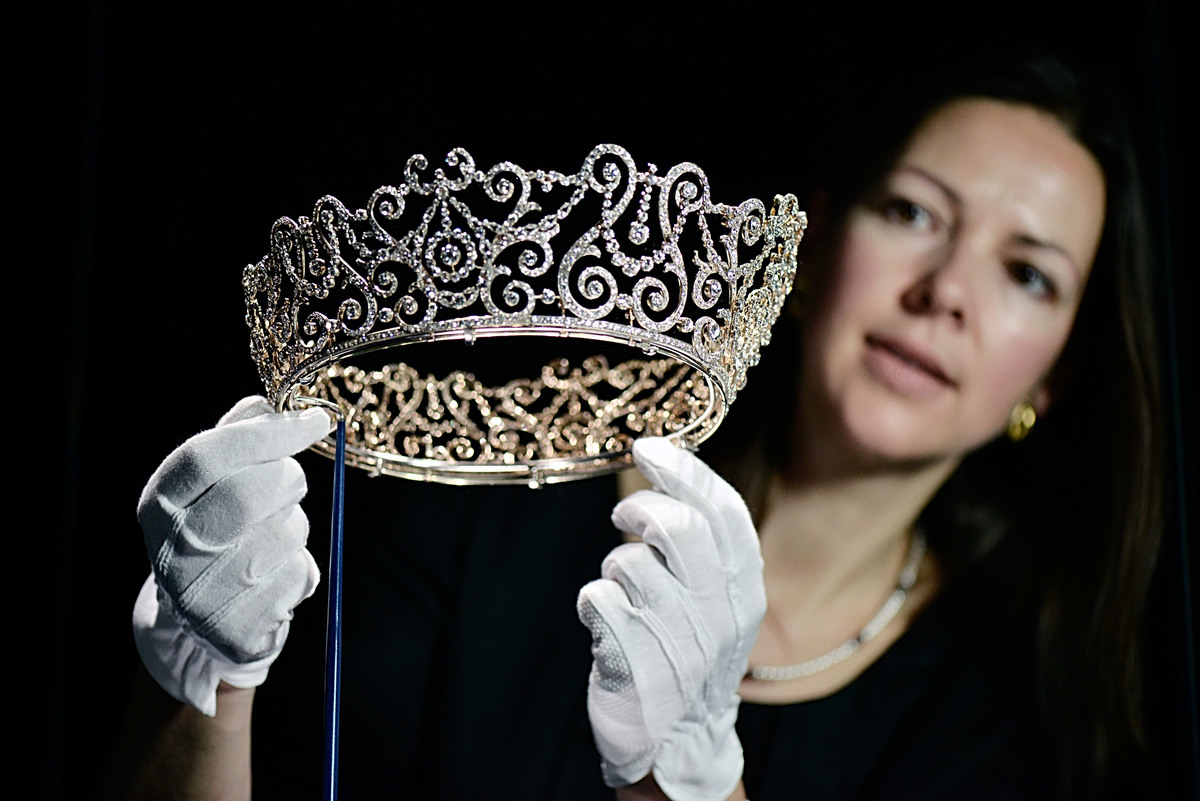 This beautiful piece is the Delhi Durbar Tiara, which was commissioned to Garrard in 1911 for Queen Mary. Additionally, it was specially created for an event Delhi celebrating the coronation of King George V and Queen Mary as the Emperor and Empress of India. Interestingly, the monarch used the remains of another tiara that was made with platinum and gold. The original version had 10 cabochon emeralds rocks, but those were used in another diadem. Meanwhile, Queen Mary's tiara was most recently used by Camilla Parker Bowles, Duchess of Cornwall, for her first banquet as part of the family.
DIANA'S ENGAGEMENT RING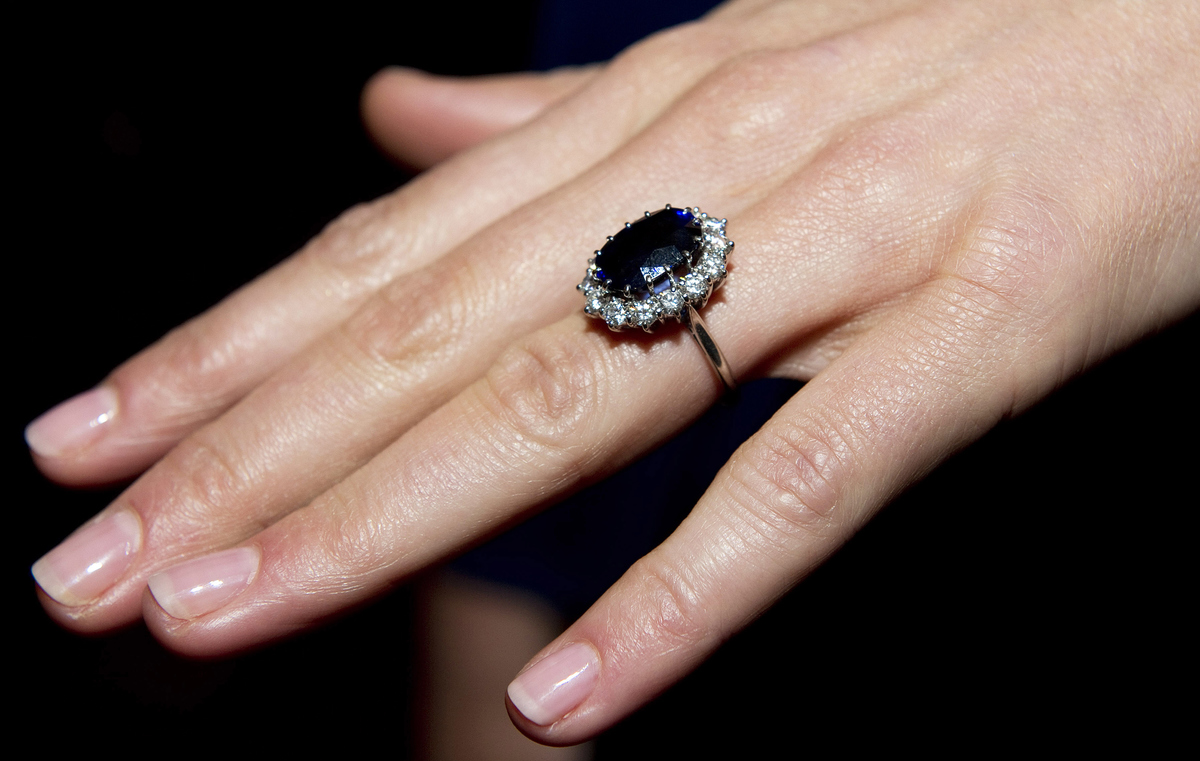 Every royal fan knows that the Duchess of Cambridge has Princess Diana's engagement ring on her finger. However, there is a bit of a scandal surrounding that piece of jewelry. The late princess chose it from the Garrard catalog, but there were some royals that didn't want it because it wasn't specifically made for the family. This means that anyone could buy the ring from the store if they had the money. This piece includes a 12-carat over Ceylon sapphire with 14 solitaire diamonds in an 18-carat white gold band.
A DIFFERENT KIND OF BROOCH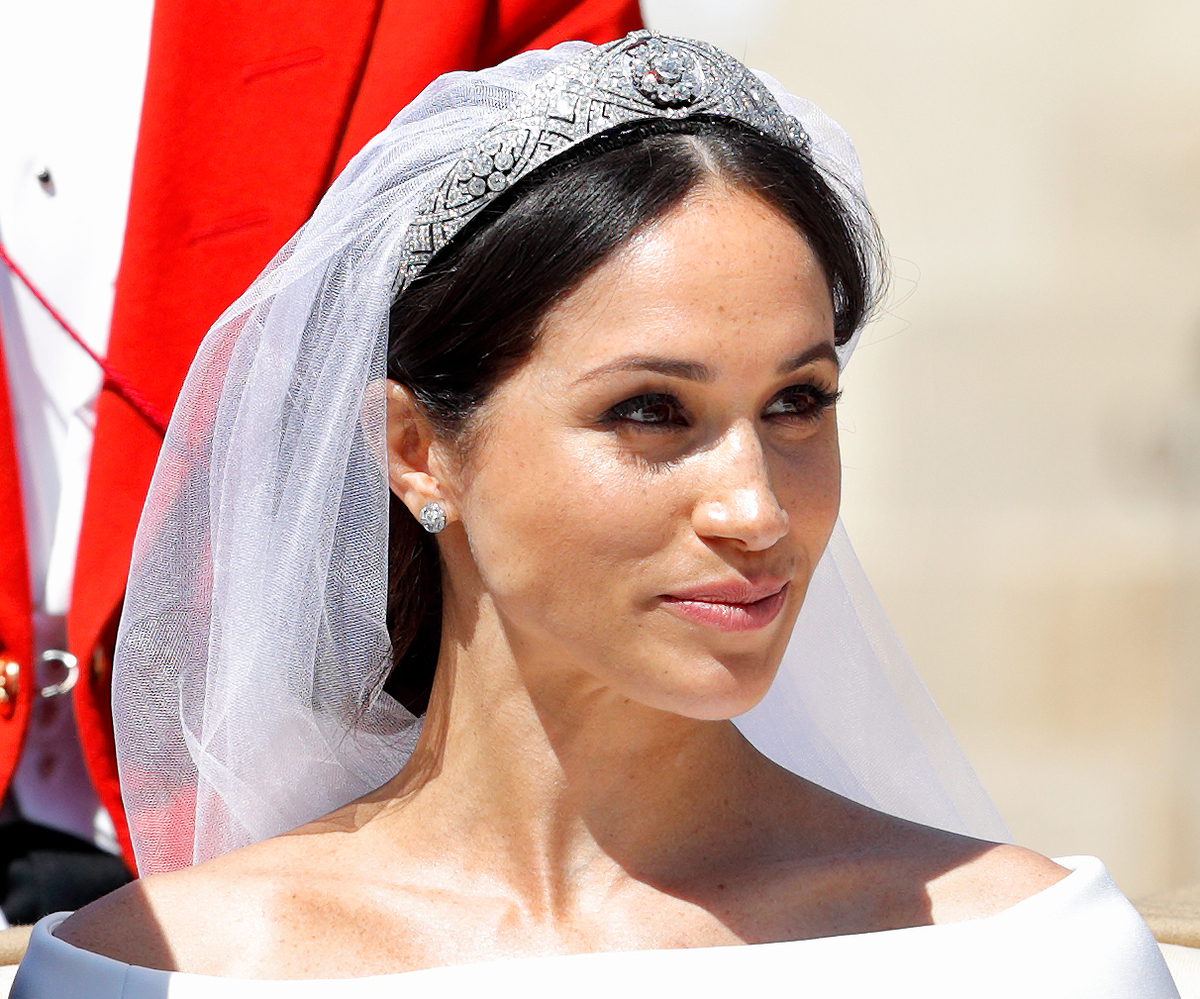 In 2018, when Meghan Markle walked down the aisle to Prince Harry, she was rocking Queen Mary's Bandeau Tiara. The Queen let the former actress enter the royal vault and choose the one she liked. In 1932, Queen Mary commissioned the tiara so that it could have the center stone, which is actually a brooch. This jewel was given to Mary of Teck in 1893 by the Country of Lincoln when she was about to marry Prince George, the Duke of York at the time.
RING THAT DID NOT FIT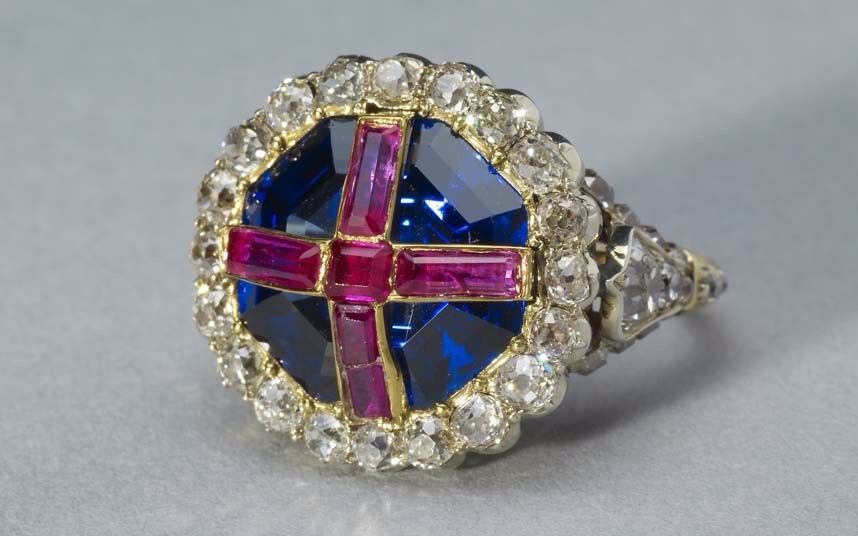 In 1838, goldsmiths Rundell & Bridge made this ring filled with sapphires, rubies, and gold, but they also made a mistake. Apparently, they didn't understand the rubric given to them at the time and created the piece for Queen Victoria's little finger, instead of her ring finger. During her coronation, the Archbishop had to force the tiny jewel onto the Queen's finger. Later, she had to ice water to remove it.
3.5-CARAT DIAMONDS FOR PRINCESS BEATRICE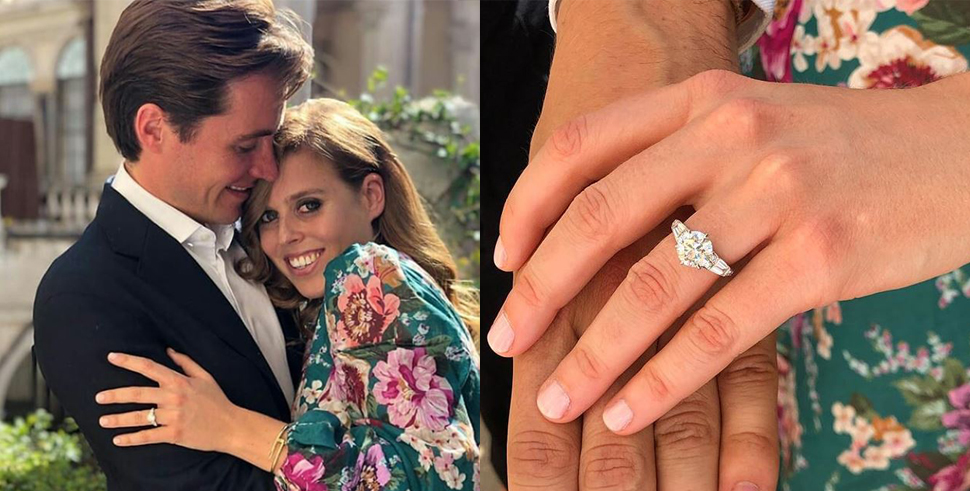 Joining the royal family is not easy, even if you marry outside the direct line to the throne. Therefore, you have to pick engagement rings wisely, and that's what Princess Beatrice's boyfriend, Edoardo Mapellu Mozzi, did. He popped the question in September 2019 with a 3-diamond ring. The Daily Mail said that the diamonds were 3.5 carats, and the style was similar to Queen Elizabeth II's own engagement ring. It even included stones from Princess Alice of Battenburg's tiara. The ring allegedly costs $122,000.
REPURPOSING FOR A NEW CROWN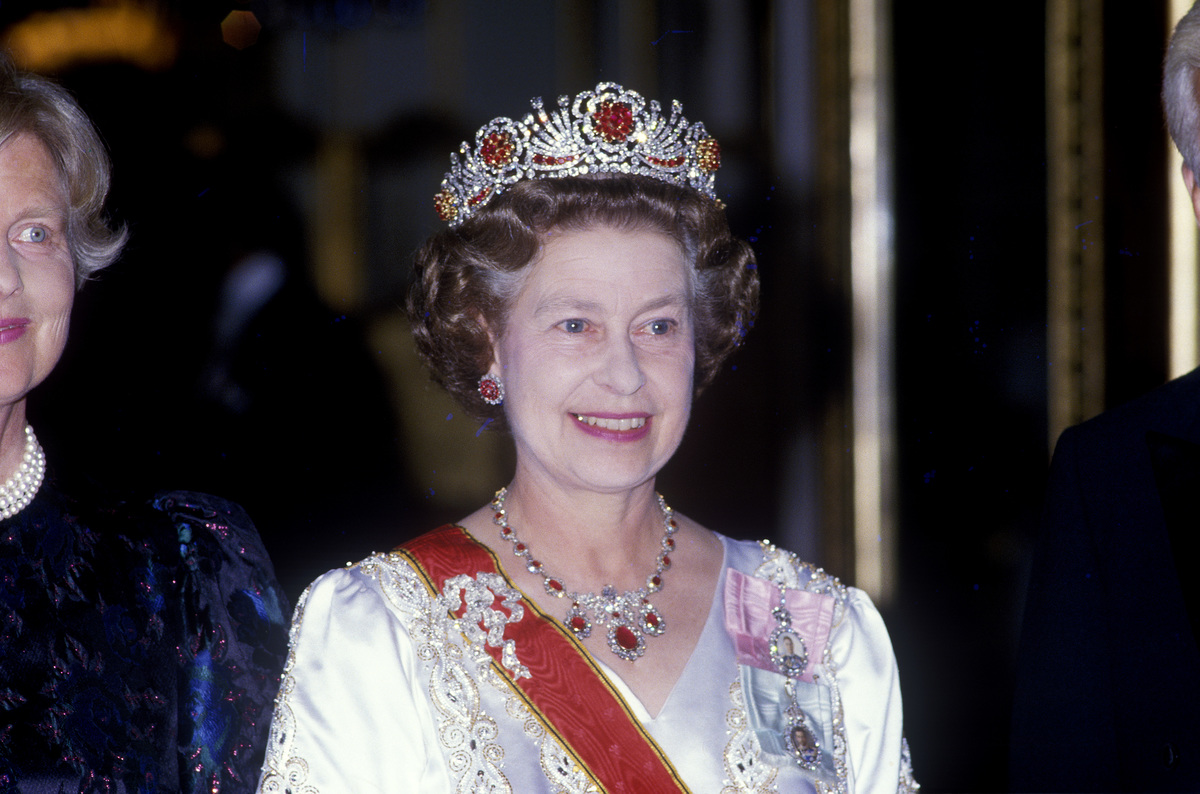 Just like Queen Mary, Queen Elizabeth II has also repurposed old jewels for newer designs. In 1973, she had the House of Garrard make the Burmese Ruby Tiara from rubies and diamonds that were originally in a diadem gifted to her by the Nizam of Hyderabad. This new creation has several Tudor rose designs and 96 rubies. According to Burmese beliefs, rubies protect those who wear them from the 96 diseases that humans can catch.
THE HONEYCOMB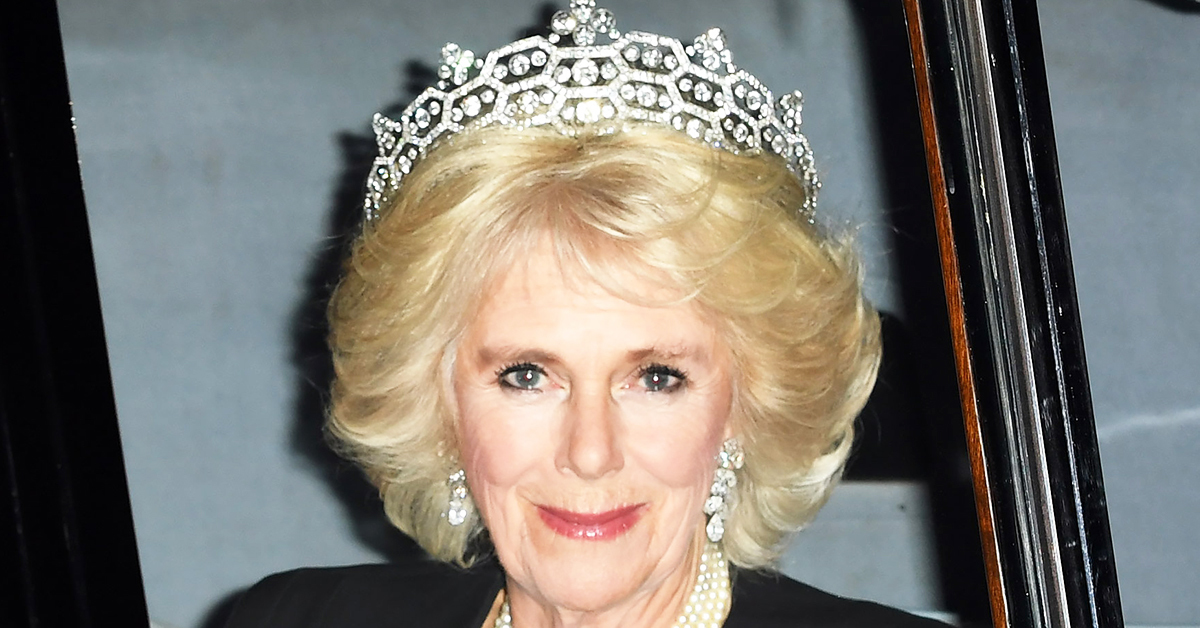 The late Queen Mother loved this tiara, and these days, it's the chosen crown of Camilla, Duchess of Cornwall. Socialite and heiress Margaret Greville gave this diadem to the Queen Mother, as well all her other unique pieces because she had no family left. It was originally made by Boucheron, and it's considering the shiniest in the royal collection, especially after the Queen Mother added even more jewels and enlarged it. Furthermore, Cartier was asked to add the center diamond.
MEGHAN MARKLE'S ENGAGEMENT RING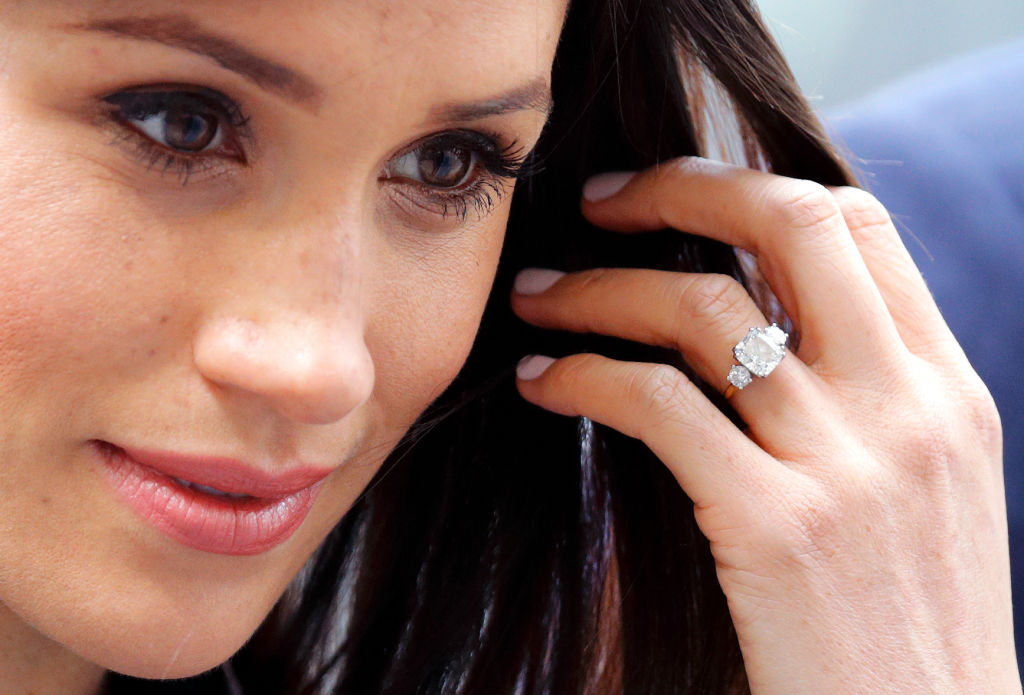 When Prince William gave Kate, Princess Diana's ring, people wondered what Prince Harry would give his future wife. But rest assured, that Meghan's ring is just as significant to the young prince. The jewel was made by British Cleave & Co. especially at Harry's request. It has a 3-carat cushion-cut diamond imported from Botswana, a country both Harry and Meghan love. Meanwhile, the tiny diamonds on the side were given to him by Princess Diana. Therefore, both sons have a piece of their mother.
THE GORGEOUS PRINCESS OF WALES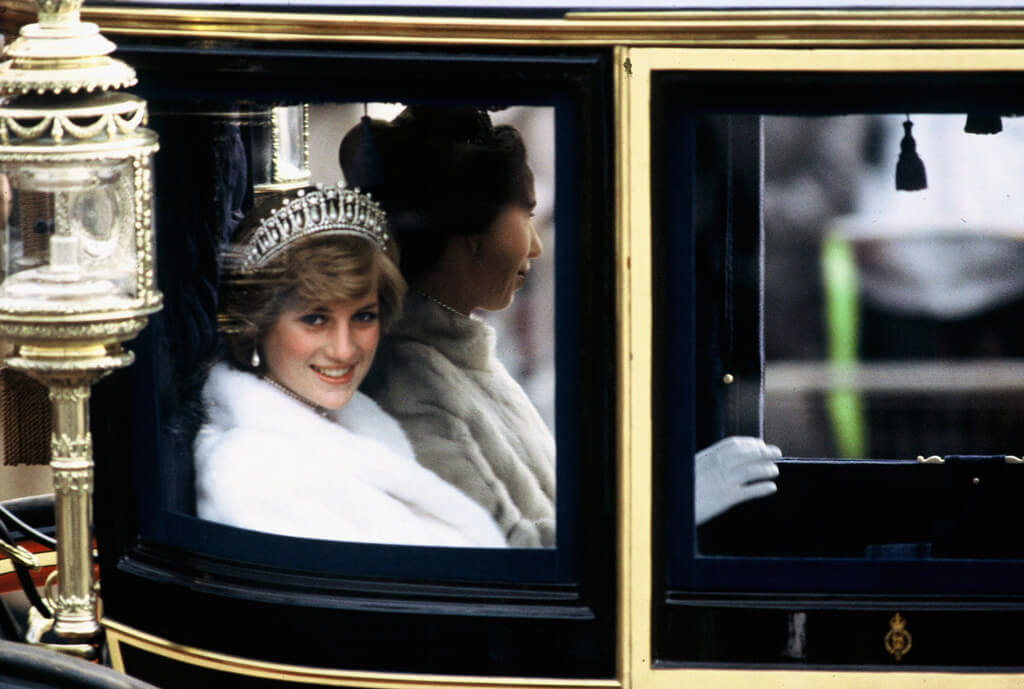 It's incredible how no piece of jewelry could upstage Princess Diana, but together, it was a stunning image. This picture is from November 1981, when the Princess of Wales and Princess Anne were on their way to the State Opening of Parliament. They were also in the glass coach that Diana rode on her wedding day to Princess Charles a few months before then.
A NECKLACE FOR ALL THE ROYAL LADIES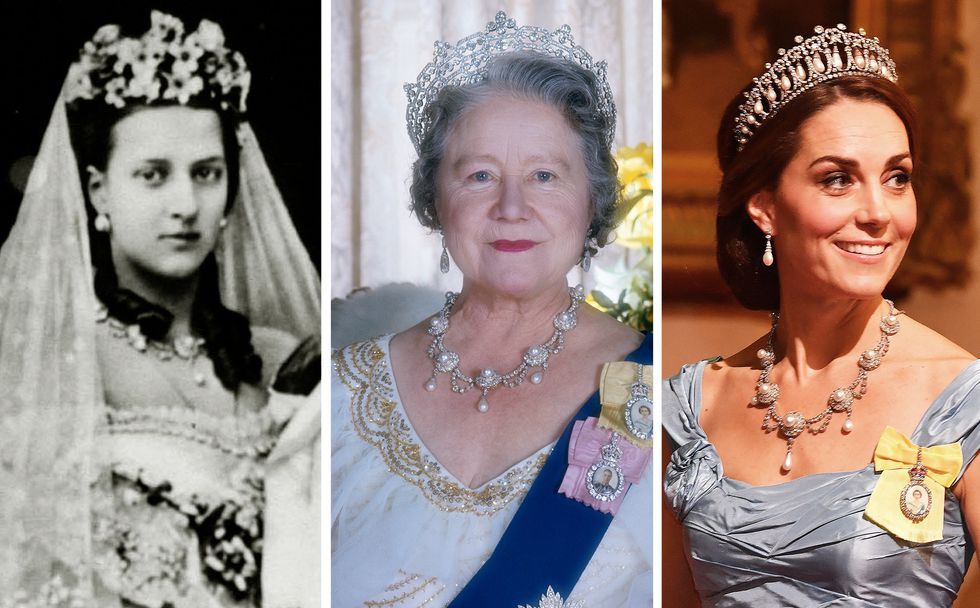 This necklace belonged to Princess Alexandra of Denmark, who got it on her wedding day in 1863. It's now referred to as Queen Alexandra's Wedding Necklace. The Queen Mother used it often when she inherited it. When she died in 2002, the necklace was passed down to Queen Elizabeth II, who is very generous with the royal collection. Kate Middleton used it for an event in 2018.
 FROM A NECKLACE TO A TIARA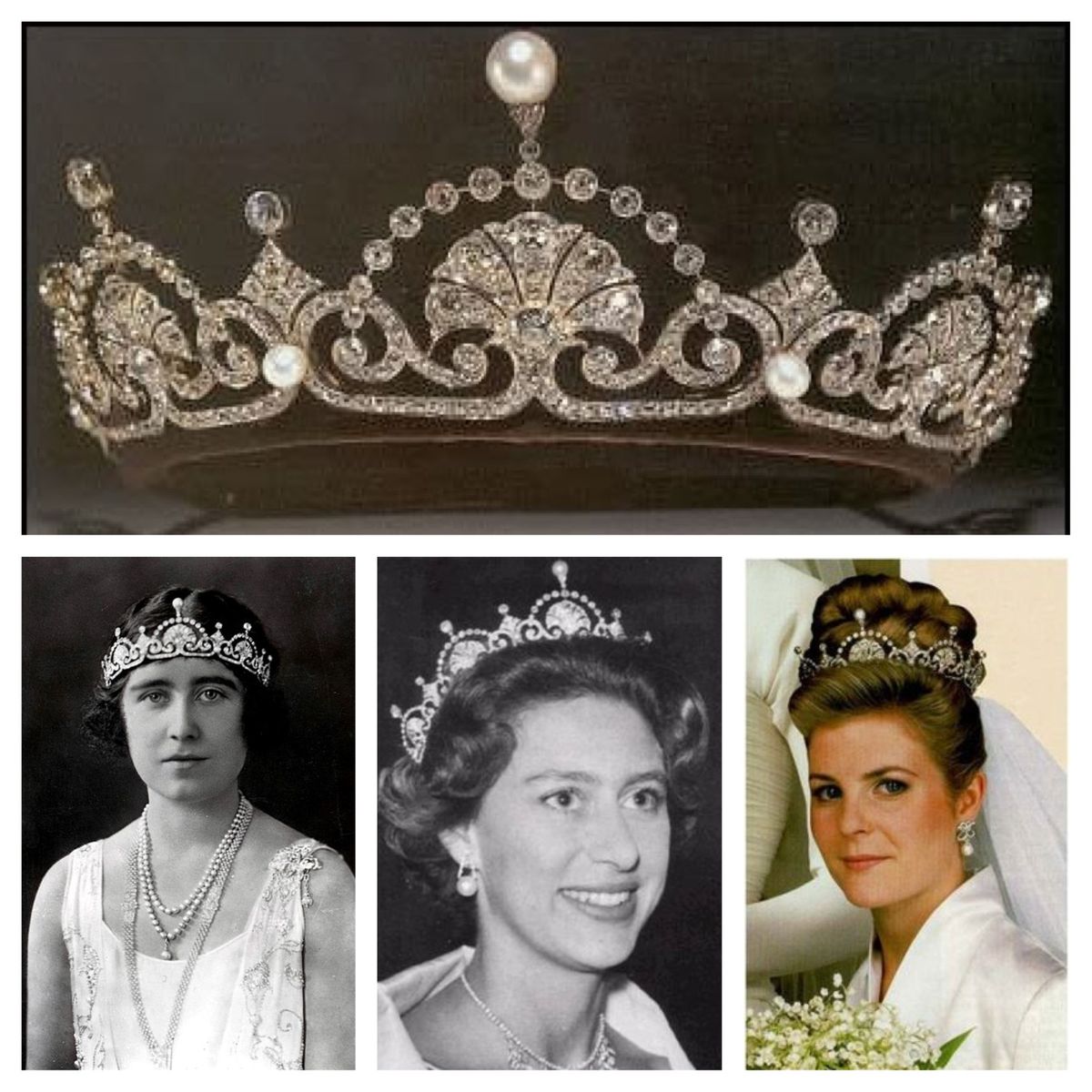 The entire royal family loves recycling old pieces for new ones, and the Queen Mother used an old necklace from Garrard, which was a gift from King George VI in 1923, to make a new tiara. The neckpiece was pulled apart to keep the diamonds and pearls for the new diadem. The result was an art deco Lotus Flower Tiara, and it was later given to Princess Margaret when she married the Early of Snowdon in 1959. Kate Middleton and Princess Margaret's daughter-in-law Serena Stanhope have been seen using it.
THE SILVER ANNIVERSARY PRESENT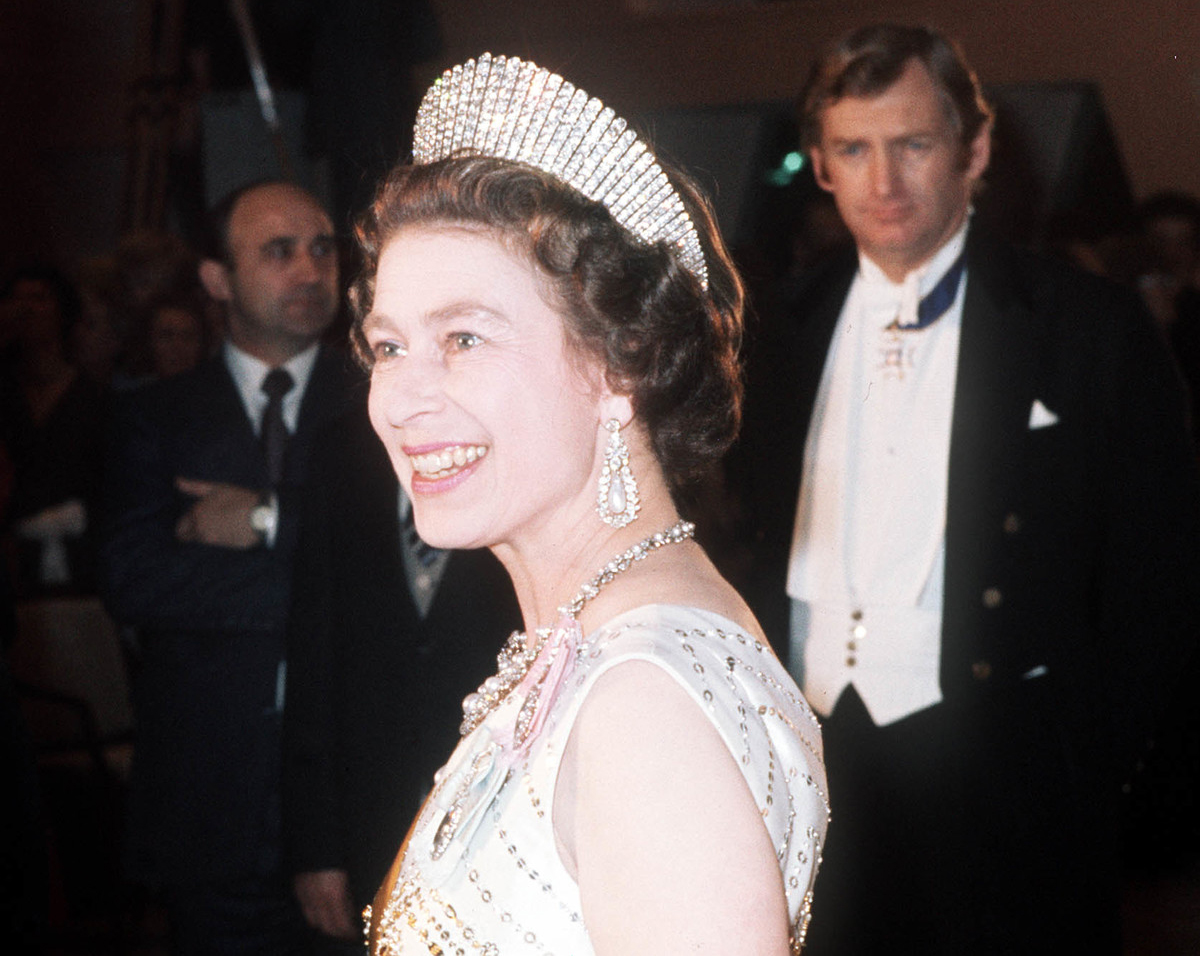 Some people might remember Queen Alexandra's kokoshnik tiara, which had a halo-shaped headpiece typically used by Russian women. It was a gift for the Prince and Princess of Wales back in 1888 during their silver anniversary. The crown had 488 diamonds encrusted in white and yellow gold. It was commissioned by some aristocrats well-known as the Ladies of Society, as they wanted to create a "blaze of diamonds". Clearly, their money was well spent, as this piece is actually versatile. It can be used as a tiara, but when taken out of the frame, it becomes a fringe necklace. Queen Elizabeth II uses it a lot.
THE 21ST BIRTHDAY GIFT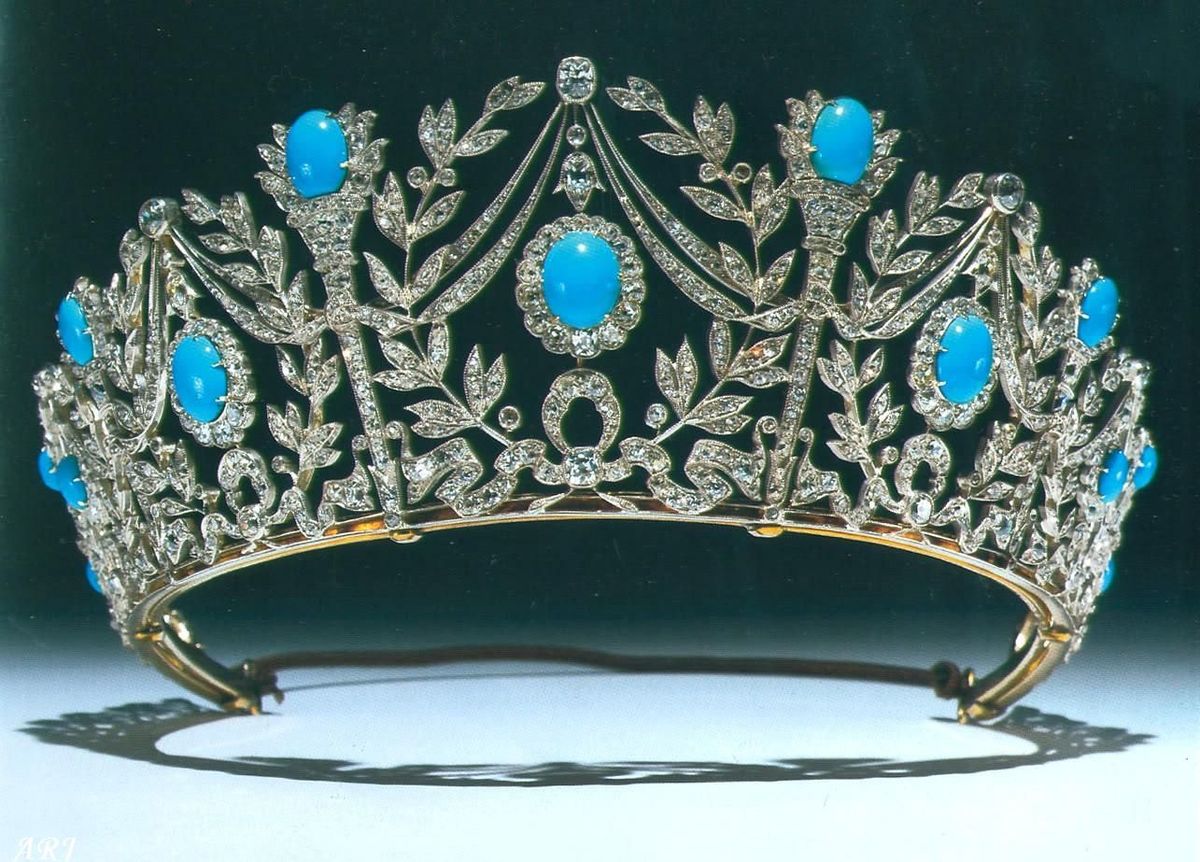 Any girl would kill to get this present on their 21st birthday, but Princess Margaret was the lucky recipient. It's known as the Persian Turquoise Tiara, and a gift from her mother. It also comes with a similar neckpiece, earrings, a brooch, and even hair accessories. Of course, this jewel was designed by the Garrard as well in the early 1900s. Unfortunately, no one has seen this piece since 2002 when the princess passed away. Some believe that one of her children inherited, but others think it's part of the royal collection.
THE LOVER'S KNOT TIARA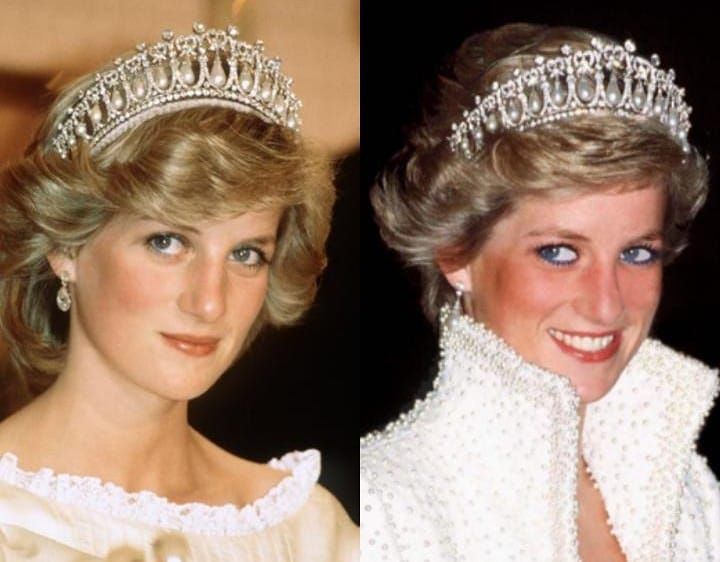 This diadem is also known as the Cambridge Lover's Knot, and Princess Diana was particularly fond of it. The Duchess of Cambridge has been seen wearing it several times too. Princess Diana used it on her wedding day as a loan from Queen Elizabeth II. The piece was originally made for Queen Mary in 1914 by Garrard, and it includes pearls as well as diamonds that the royal family already owned. Princess Augusta of Hesse's personal diadem, which Queen Mary loved, was the inspiration for this new design.
THE QUEEN'S CROWN
This impressive piece is known as the King George IV State Diadem, and only queens can use it although it was initially created for the king. King George IV had it commissioned to Rundell & Bridge back in 1820, and he used it on the day of his coronation. Queen Elizabeth II also had it on that same day and uses it on special trips as well as the State Opening of Parliament at Westminster. It was made with gold, silver, diamonds, and pearls.
THE EMERALD TIARA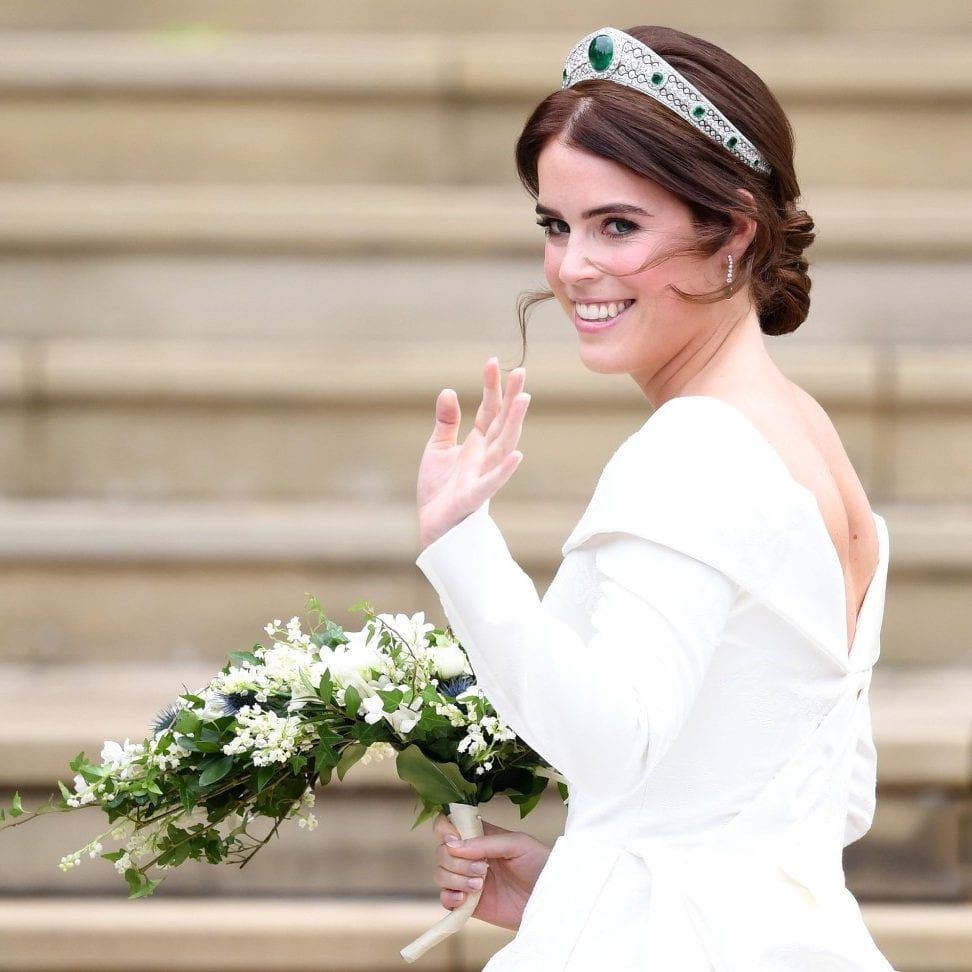 This is the Greville Emerald Kokoshnik Tiara, which also belonged to the Queen Mother. No other royal had used it in decades until Queen Elizabeth II gave it to Princess Eugenie for her wedding in 2018 to longtime boyfriend Jack Brooksbank. It was also made by Boucheron, a jewelry fashion in Paris, in 1919 and features rose-cut diamonds on a platinum bang surrounded by six emeralds. The largest gemstone is 93.7 carats. It also uses the kokoshnik style inspired by the Russian Imperial Court.
22-CARATS ON HER NECK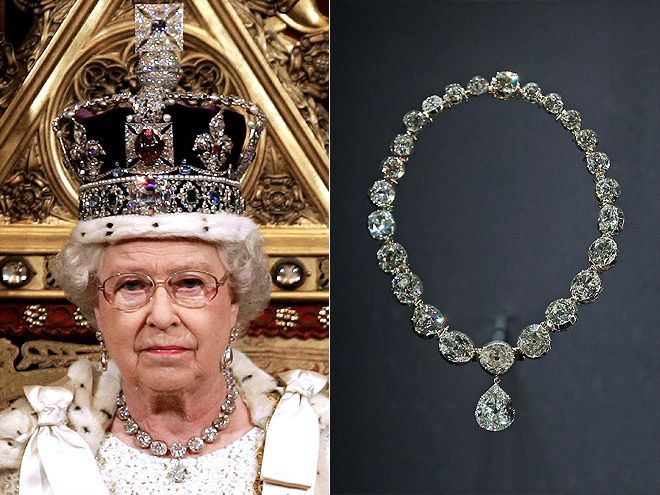 Although we associated royalty with mostly tiaras, necklaces are also extremely elegant. This piece is the Coronation Necklace, which comes with matching diamond earrings. Every queen since Queen Victoria has used it. It has 25 huge diamonds, and the teardrop one in the middle is 22.48 carats. It's known as the Lahore Diamond. Queen Victoria took the Lahore Diamond from a ruby tiara and had Garrard make a necklace with it. The matching earrings also came from Queen Victoria's old diadem.
THE AQUAMARINE DREAM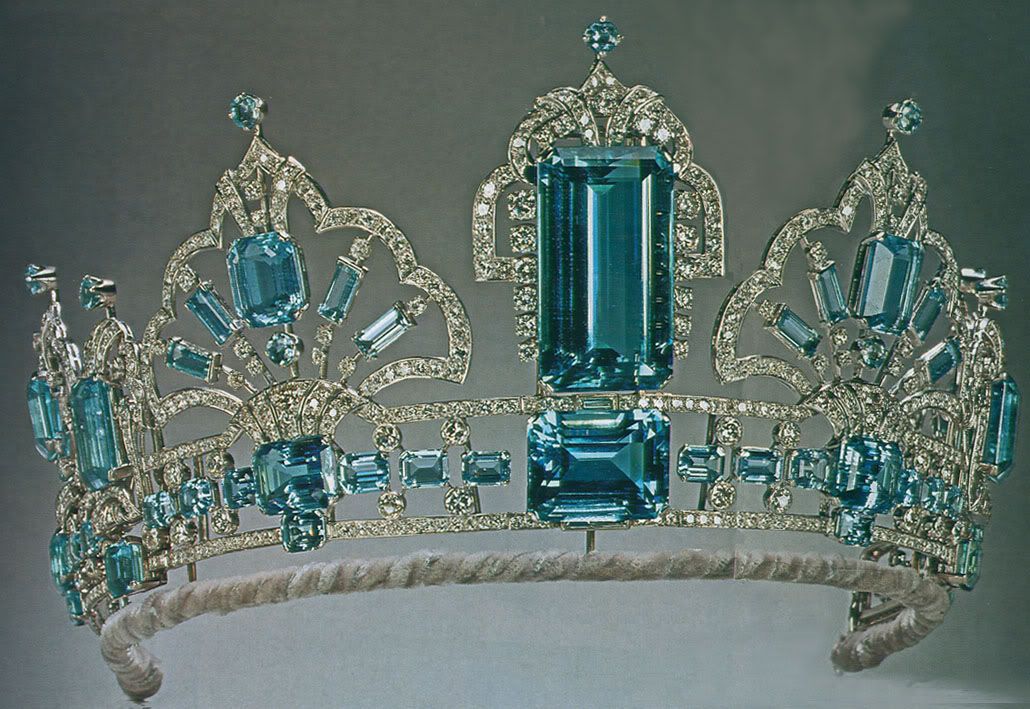 Queen Elizabeth II received this Garrard creation called the Brazilian Aquamarine Tiara, which comes with a pair of earrings and a necklace. It was a gift from Brazil for the monarch's coronation. The country kept sending aquamarine gems to the royal family, and Queen Elizabeth would sometimes dismantle some of those jewels to add more to the tiara. It's considered the one the monarch likes to wear all the time.  
ONE OF THE BIGGEST DIAMONDS IN THE WORLD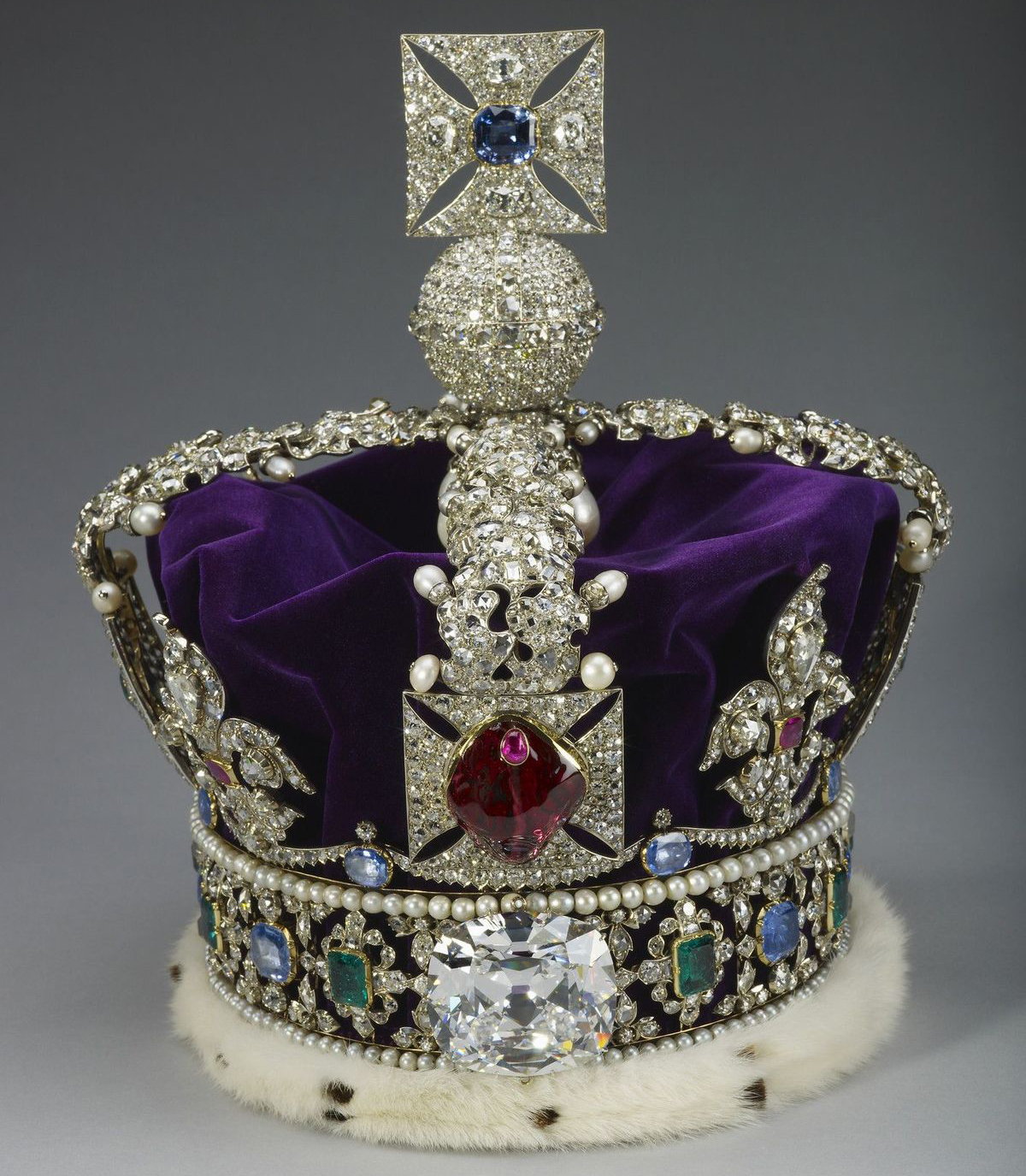 This is the Imperial State Crown, which was made in 1937 for King George VI's coronation. It features 2,868 diamonds, 17 sapphires (the biggest is 104 carats), 11 emeralds, and 269 pearls on a purple cap with an ermine band. The largest diamond is set in the middle and known as the Cullinan II, or the Second Star of Africa. It is 317.4 carats. The piece itself is only used for coronations, and Queen Elizabeth II used it for her own back in 1953.
THE JAPANESE PEARL CHOKER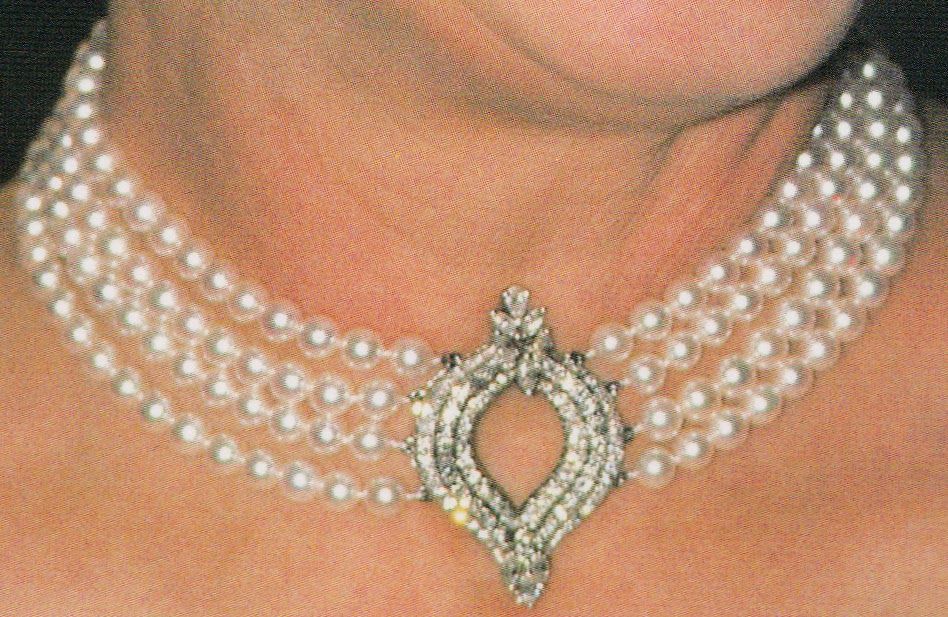 This is another piece commissioned by Queen Elizabeth II back in the 1980s. It features cultured pearls given to the crown by Japan. Princess Diana once used it for a banquet, and Kate Middleton also borrowed it. She matched it with Princess Diana's pearl and diamond earrings. It features a center diamond pendant with four strands of pearls attached. Interestingly, pearls are unique, which means that there are no two alike similar to snowflakes.
THE QUEEN'S FAVORITE BROOCH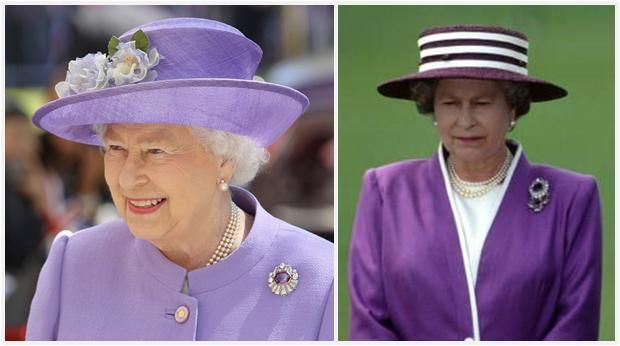 Queen Elizabeth II loves to use brooches with her colorful outfits, and one of her favorites is the Kent Amethyst Brooch, which is part of an amethyst set in the royal collection. It originally belonged to Queen Victoria's mother, the Duchess of Kent. It comes with a necklace, hair combs, earrings, and other 3 brooches. These last pieces have been seen many times, but the rest of the accessories were only worn on in a banquet back in 1984.
MORE GIFTS FROM GREVILLE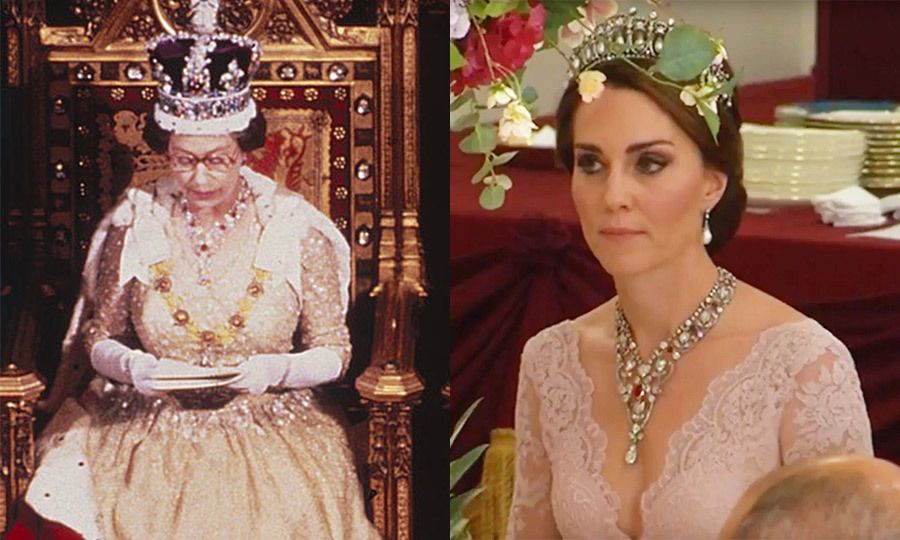 This the Greville Ruby Necklace, another royal collection addition that belonged to Margaret Greville, and it was also made by Boucheron in 1907. King George VI and the Queen Mother gave it to their daughter, Queen Elizabeth II, on her wedding day to Prince Philip. This is another piece that was not seen since the 80s, but the monarch lent to Kate Middleton for the Spanish State Banquet at Buckingham Palace in 2017.
THE POPULAR SCROLL DIAMOND DIADEM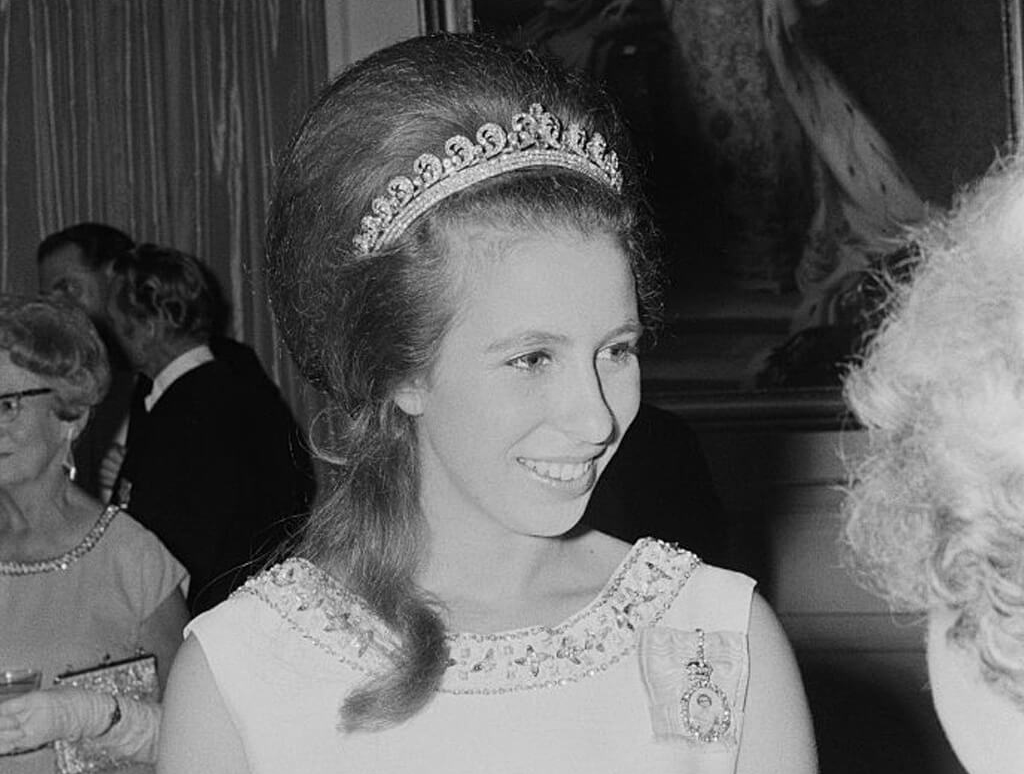 This image shows Princess Anne, Prince Charles' sister, rocking the Scroll Diamond Tiara, also known as the Cartier Halo Tiara. She stopped using back in the 1970s, but the Duchess of Cambridge wore it on her wedding to Prince William in 2011. This picture of Princess Anne was taken in March 1970 during her official visit to New Zealand.
THE ROYALS LOVE SAPPHIRES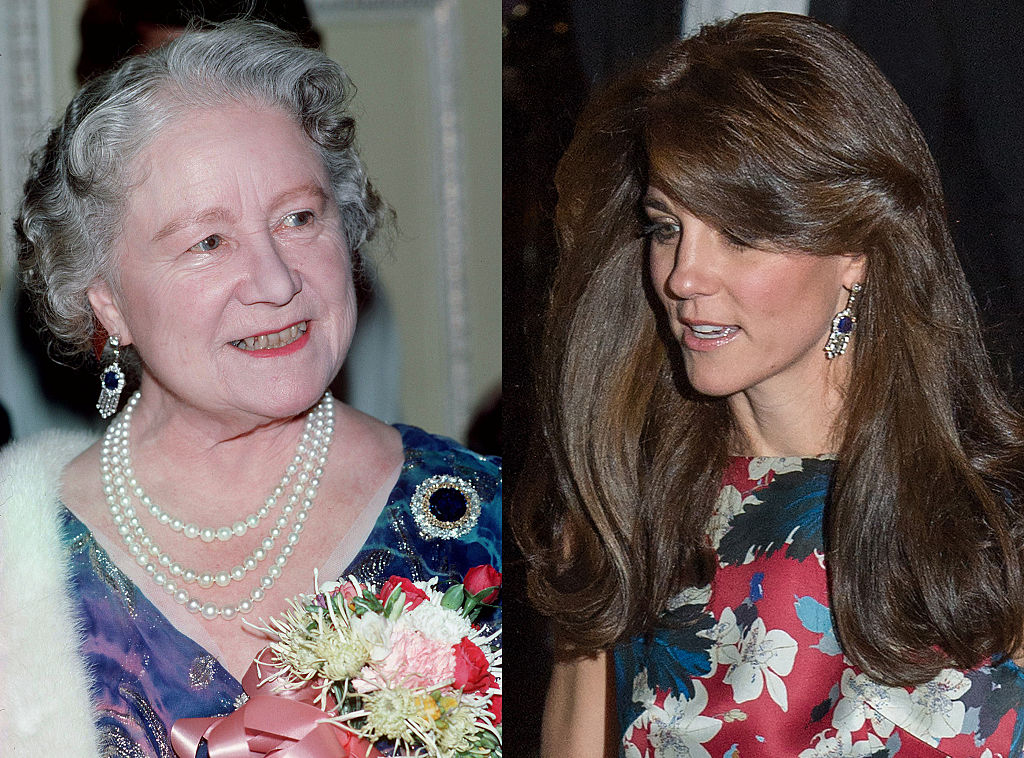 These earrings were the Queen Mother's favorite accessories, and she wore them all the time. This image is from 1986 during a birthday party. Meanwhile, years later, Kate Middleton can be seen rocking the same jewels for a gala at the Victoria and Albert Museum in London back in 2015. It's crazy to think that these gemstones will transcend many generations.
QUEEN MARY'S DIAMOND BRACELET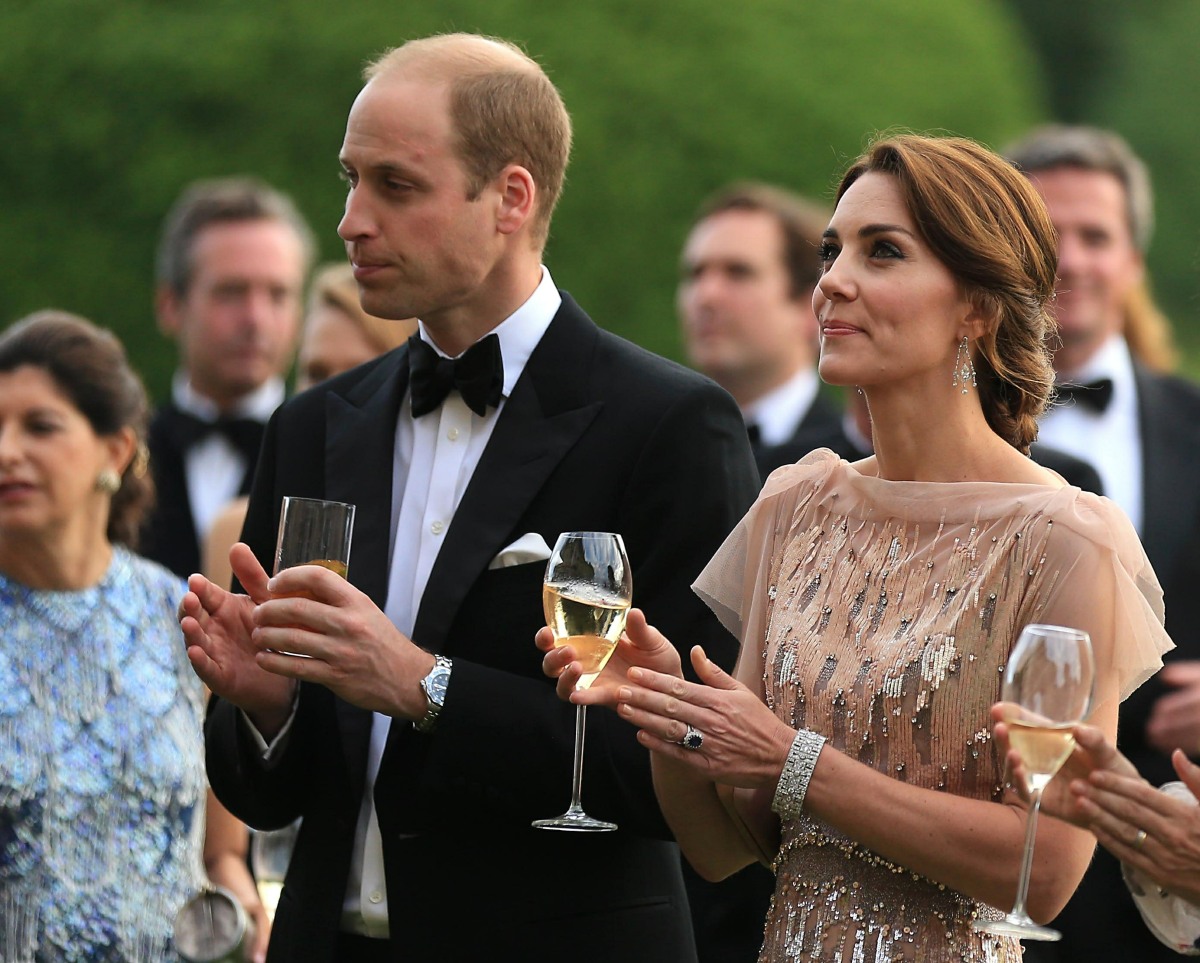 This piece was also owned by Queen Mary. When she died in 1953, it remained hidden in the royal vault until the Queen Mother used it on her 75th birthday portrait. Of course, Queen Elizabeth II is now the owner. Throughout this past decade, the Duchess of Cambridge has been seen with the bracelet on several occasions. This image is from June 2016, when Prince William and Kate attended a benefit for East Anglia's Children's Hospices.
QUEEN VICTORIA'S WEDDING GIFT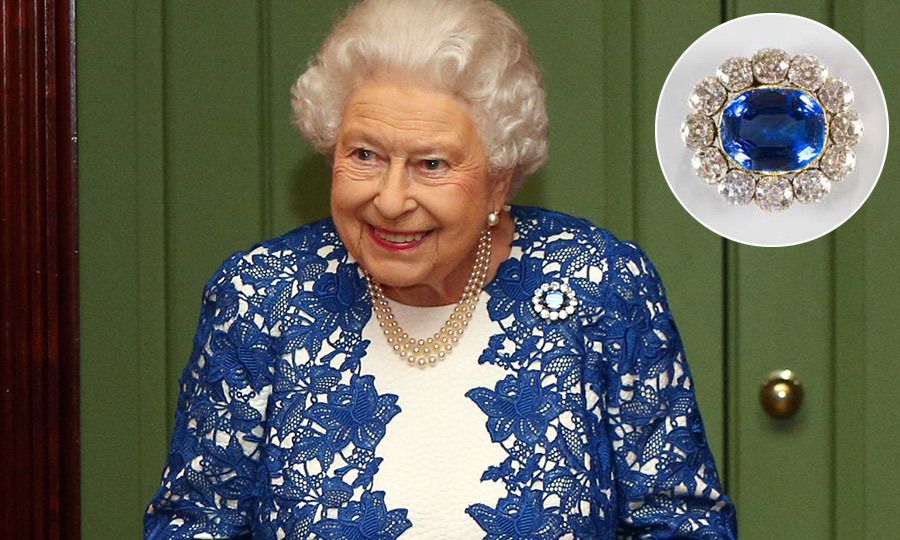 As mentioned earlier, Queen Elizabeth II loves brooches, and this one belonged to Queen Victoria. It's actually one of the monarch's favorite pieces. Prince Albert her great-great-grandmother the day they got married. Victoria loved the jewel immensely, and she used it on many occasions after her wedding. The current queen also dons it frequently. Here she is at a reception for secretaries at The Queen's Gallery in 2017.
A CANADIAN PRESENT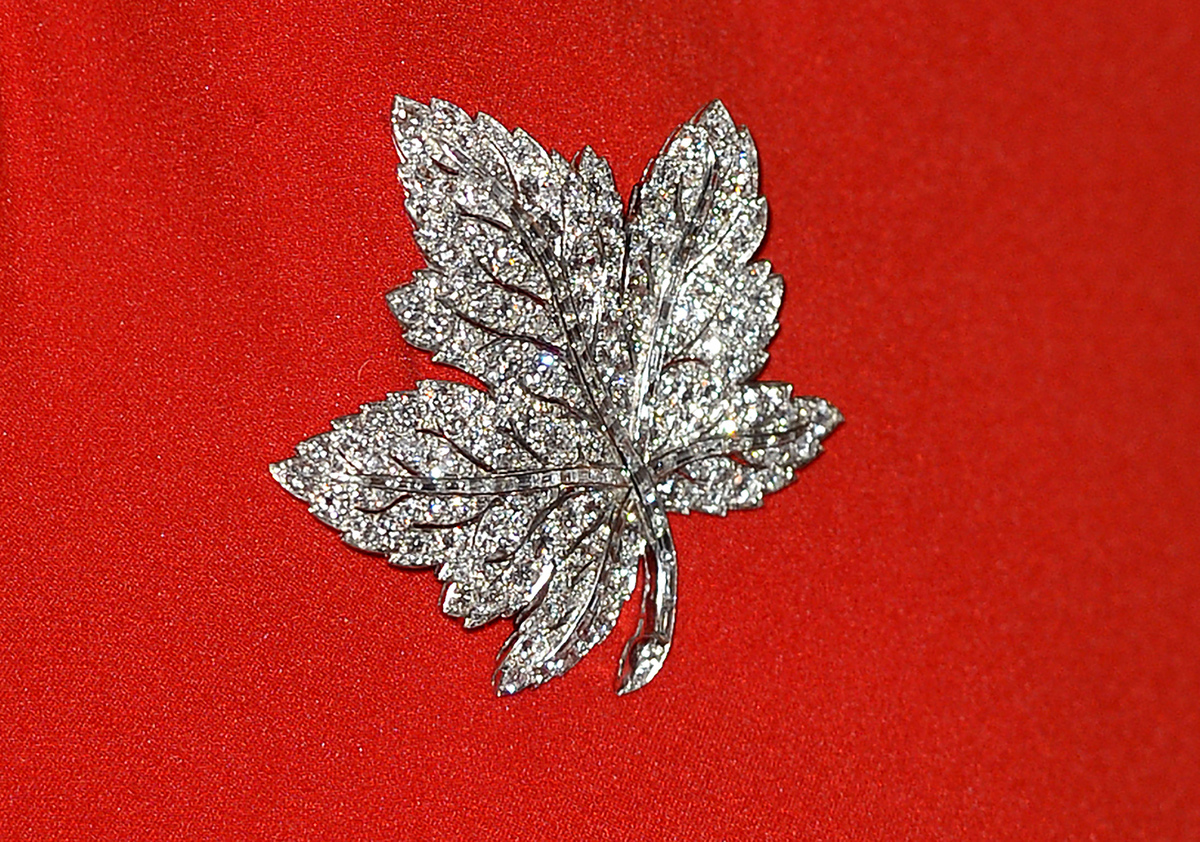 King George VI purchased this brooch for Queen Elizabeth on their state visit to Canada in 1939. It was later given to Queen Elizabeth II in 2002 when the original owner passed away. Interestingly, this piece is the most-borrowed jewelry in the royal collection. It has been worn by the Duchess of Cornwall, the Duchess of Cambridge, and even the Queen herself on several occasions.
THE TIARA THAT PRINCESS VICTORIA THREW AWAY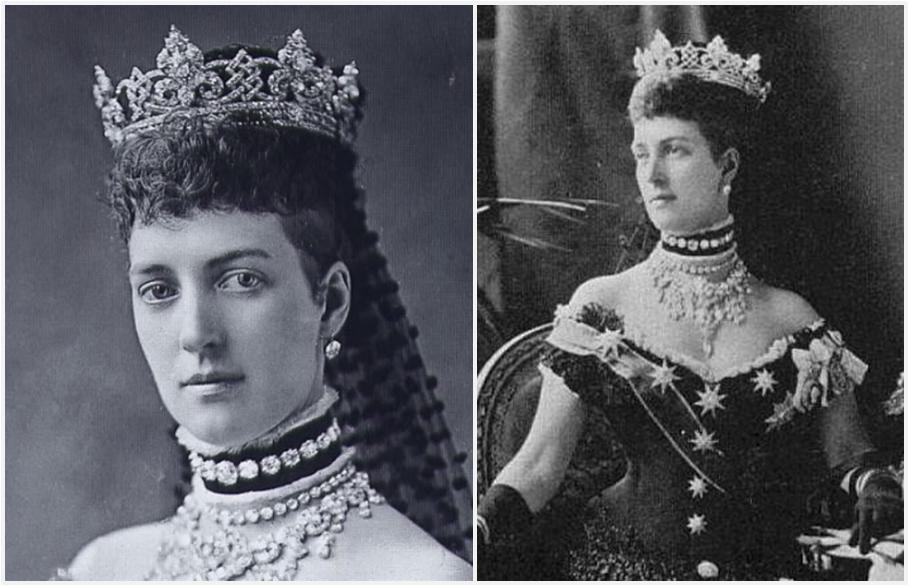 This image shows Queen Alexandra with a tiara that has not been seen in more than a hundred years. It's referred to as the Rundell Tiara, as it was believed to be made by Rundell & Bridge, but it was actually designed by Garrard. The diadem came with earrings, a necklace, and a brooch. Author Hugh Roberts wrote a book called 'The Queen's Diamonds', where he revealed that Alexandra gave the tiara to her daughter, Princess Victoria, who apparently threw it away.
THE SOVEREIGN'S ORB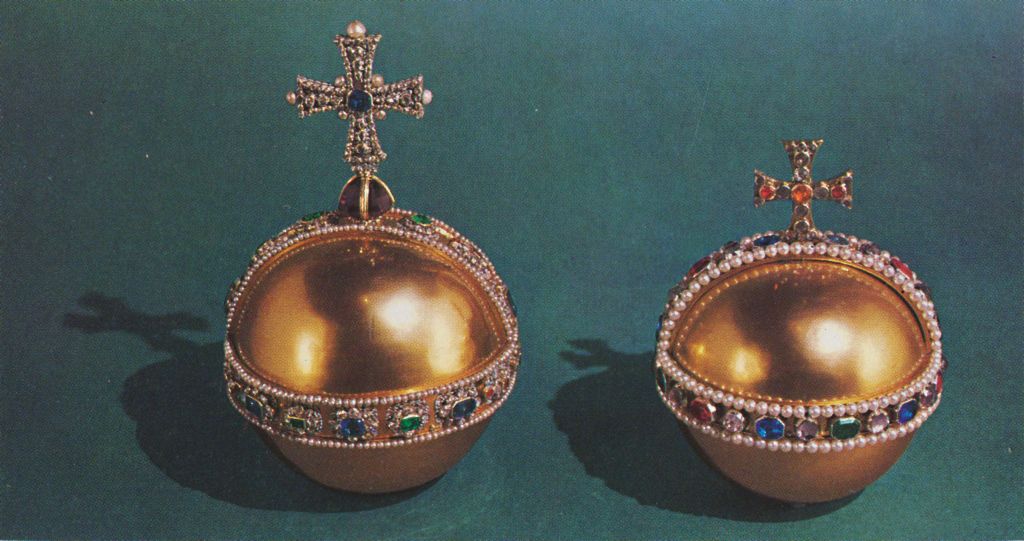 This is a solid piece made out of gold and known as the Sovereign's Orb. It is used by the royal family for the coronation regalia. The orb was created in 1661 for Charles II's coronation in 1661, and every other monarch since then has also had it. It has more than 600 gems such as diamonds, rubies, sapphires, emeralds, and amethysts. When William and Mary were crowned in 1689, she was given her own orb, which is the one on the right. The orbs were placed on Queen Victoria's coffin during the funeral ceremony.
THE DIAMOND FRINGE TIARA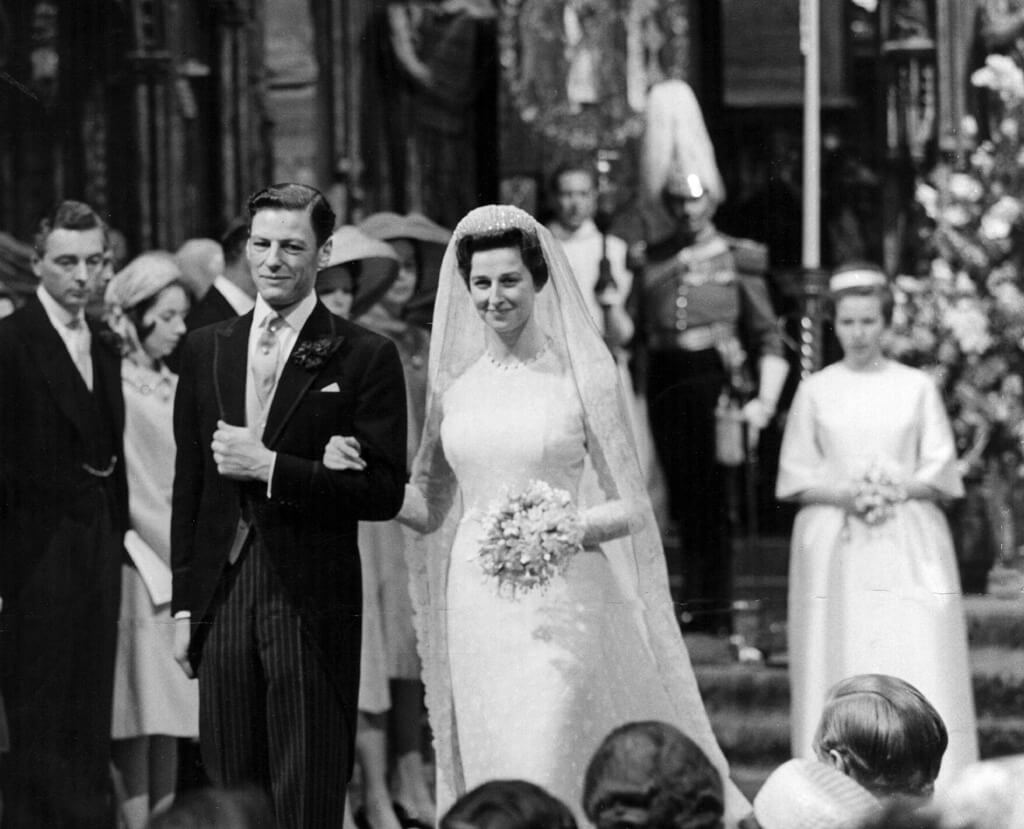 Princess Alexandra of Kent, Queen Elizabeth II's cousin, married Angus James Ogilvy at Westminster Abbey on April 24, 1963. She wore this piece which is known as the City of London Diamond Fringe Tiara. It originally belonged to her mother, Princess Marina, who used a similar diadem for her own wedding.
THE BIGGEST TIARA COLLECTION IN EXISTENCE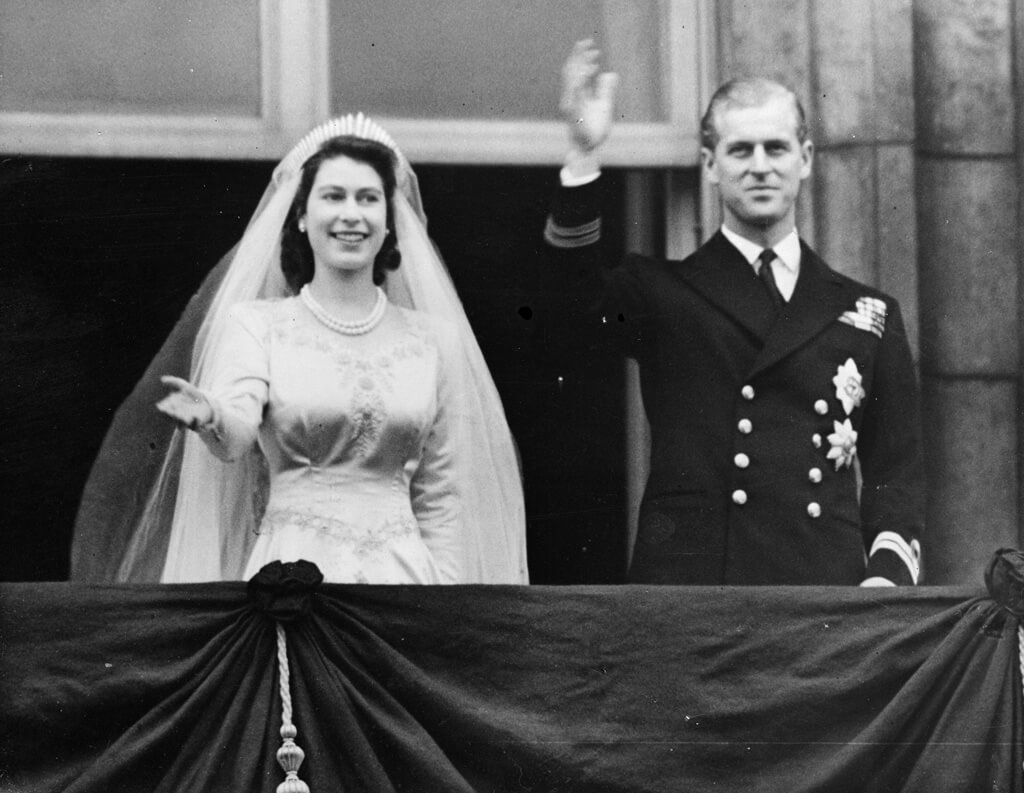 When Queen Elizabeth II ascended the throne in 1952 after the death of her father, King George VI, she also became the Head of the Commonwealth and inherited the royal collection. The vault already had amazing pieces, but she has added to it since her coronation. It's said to be the biggest in the world. This is an image of Elizabeth and Philip on their wedding in 1947. The tiara on the picture belonged to Queen Mary, her grandmother.
NEW JEWELS AFTER ARCHIE'S BIRTH

After Archie Harrison Mountbatten-Windsor was born, Meghan took a much-deserved time away from the public. However, she started attending events in June 2019, and people noticed that something was different about her engagement ring. She also had another ring that most fans thought was a gift from Prince Harry on their anniversary. Her engagement ring was apparently redesigned to become simpler, which makes Diana's diamonds look bigger. Everything else remained just like Harry originally wanted.
THE KENT FESTOON TIARA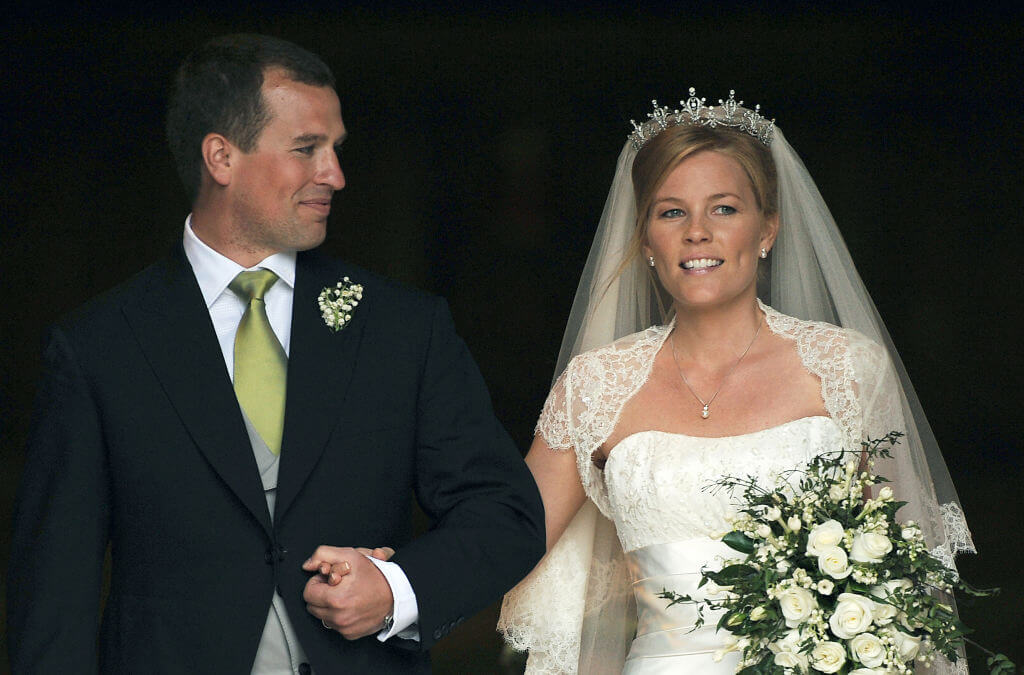 This image shows Autumn Patricia Kelly on her wedding day to Princess Anne's son, Peter Philips. It happened on May 17, 2008, and Anne let her soon-to-be daughter-in-law borrow the special diadem. Furthermore, Anne also used it on the day of her own nuptials to Mark Phillips, but it was not a wedding gift. The World Wide Shipping Group finally presented it to her in 1973 when she christened one of their ships. It's still one of the princess' favorite pieces.
THE WEDDING TIARA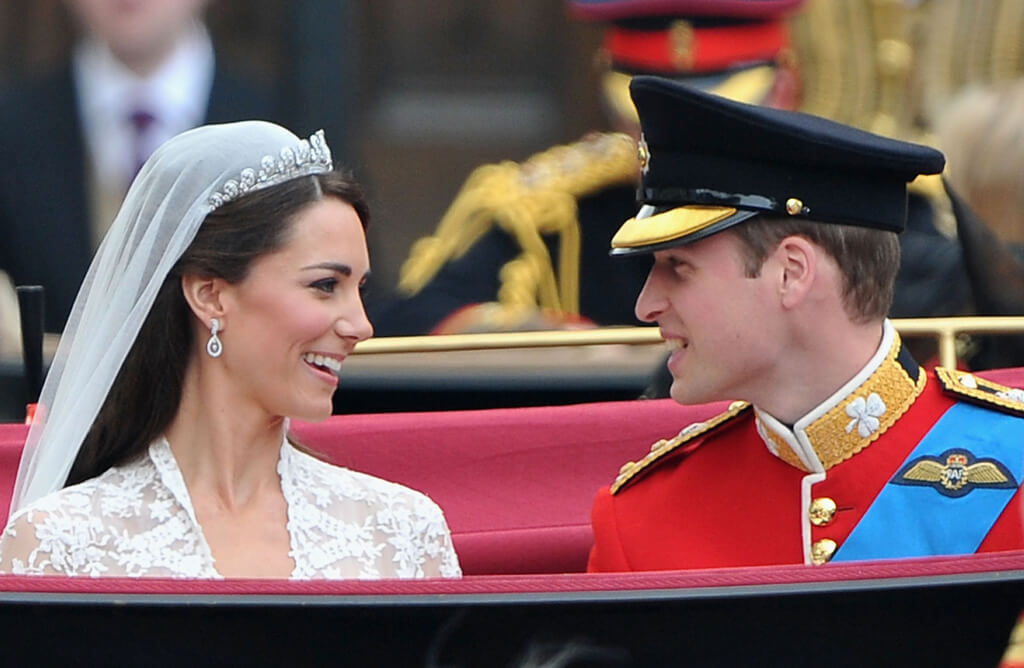 The whole world watched riveted as Prince William and Kate Middleton got married on April 29, 2011. It was just like a Disney fairytale, and Kate's jewelry was the envy of everyone. She used the Cartier Halo Tiara, mentioned before as the Scroll Diamond Tiara. It was commissioned in 1936 by King George VI as a gift for the Queen Mother.
SARAH FERGUSON'S WEDDING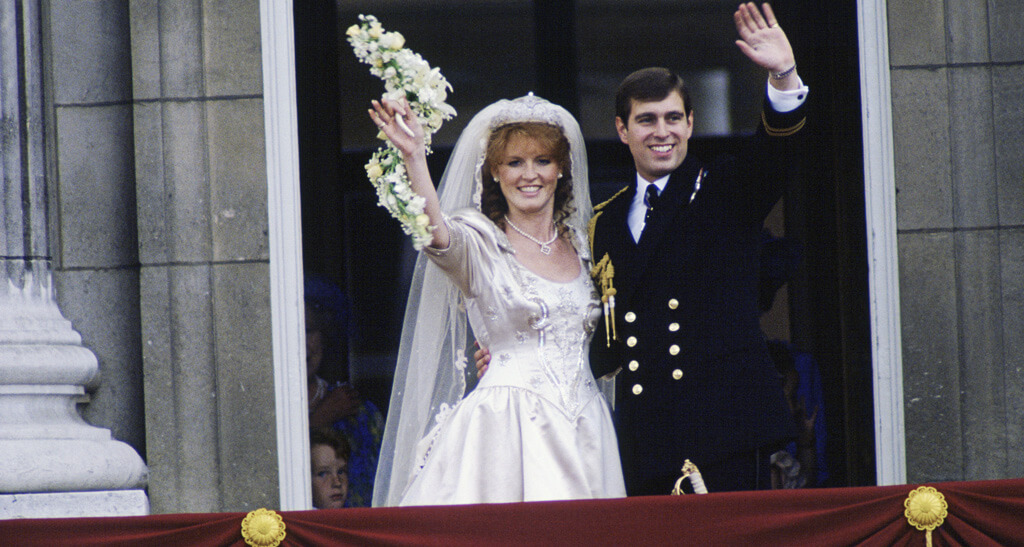 Fergie walked down the aisle to Prince Andrew, Queen Elizabeth II's third child, at Westminster Abbey in 1986. She used the York Diamond Tiara, which was commissioned by the Queen, especially for Sarah. The Duchess of York got to keep to the headpiece, even after her divorce from Prince Andrew in 1996. She was last seen with it, though, in 2001 at Elton John's White Tie and Tiara Ball. Some people thought that Princess Eugenie would wear it for her wedding, but she chose the emerald mentioned earlier.
THE COUNTESS OF WESSEX'S WEDDING JEWELS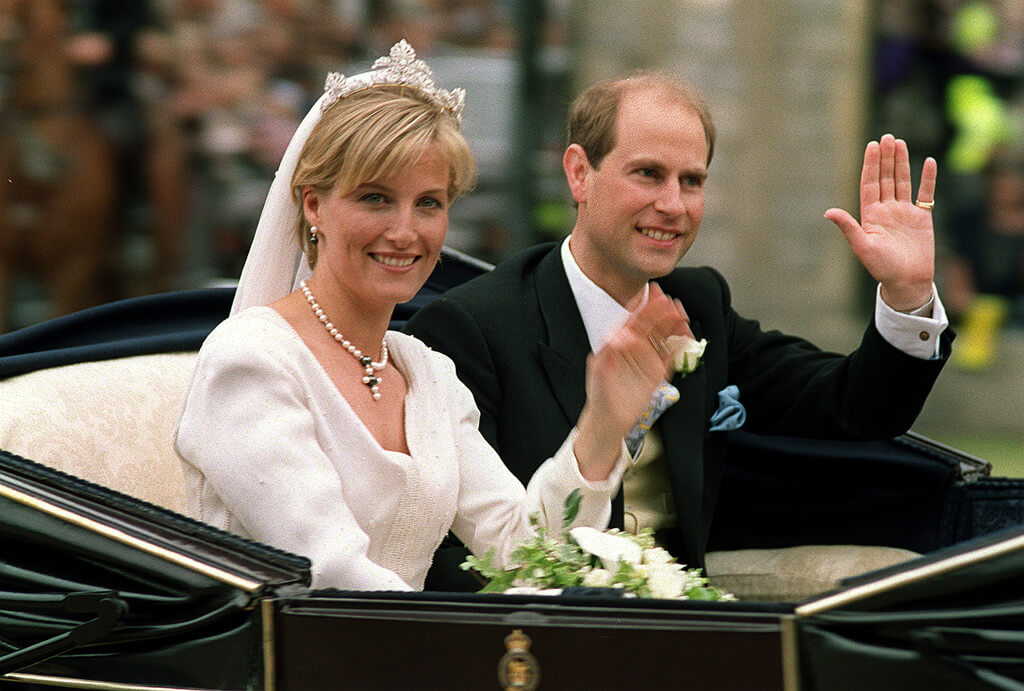 Sophie Rhys-Jones married Prince Edward, the Queen's fourth child and Earl of Wessex, in 1999. Her wedding gown had 325,000 crystals and pearls. Meanwhile, her jewelry consisted of a tiara that no one had ever seen before. Some people think it was made from jewels from Queen Elizabeth II's personal gems, but others think the stones belonged to Queen Victoria.
SERENA STANHOPE'S JEWELS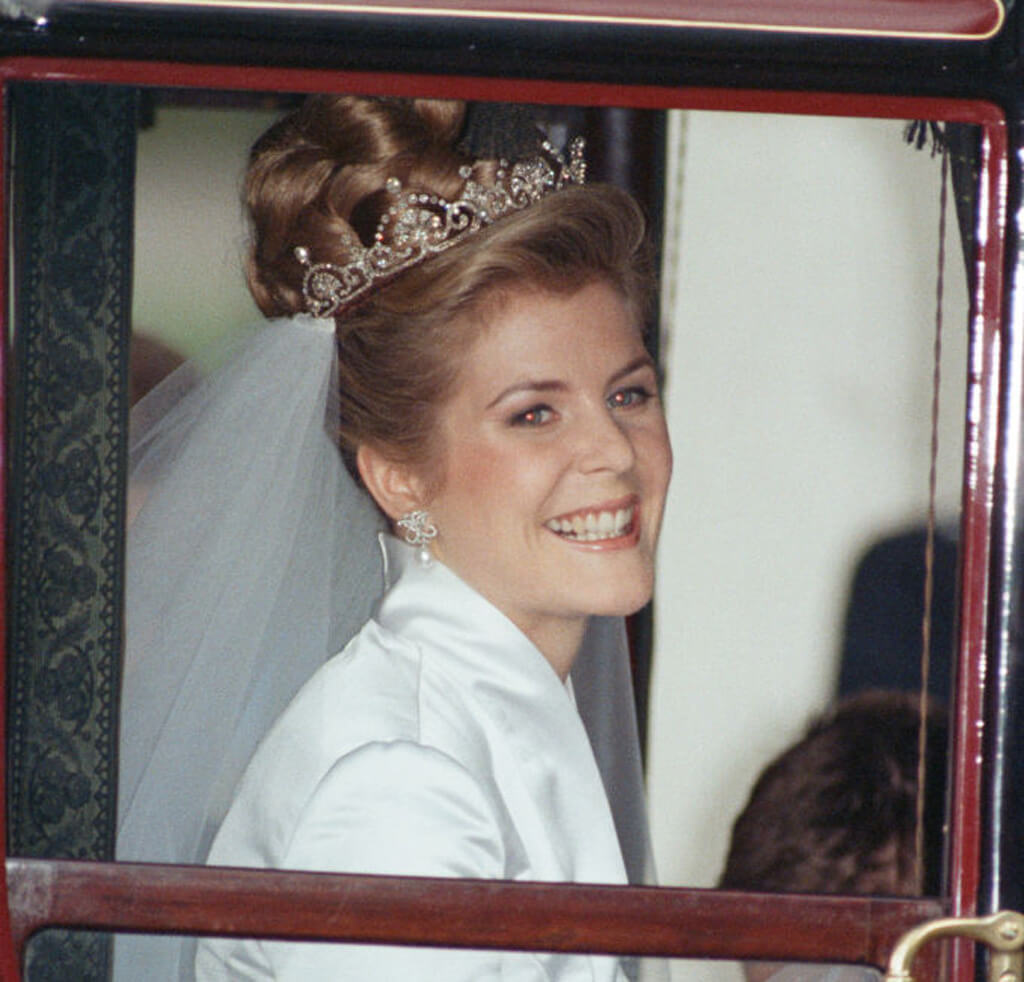 Princess Margaret and Lord Snowdon's son, Lord Linley, married Serena Stanhope, the daughter of the Earl of Harrington, in 1993. She was given the title of Viscountess Linley. Her dress was specially made and inspired by Princess Margaret's own wedding gown. Additionally, she was using the Lotus Flower Tiara, which is one of her mother-in-law's favorites. Kate Middleton also used this diadem in 2015 for a state banquet.
THE HISTORY OF A DIADEM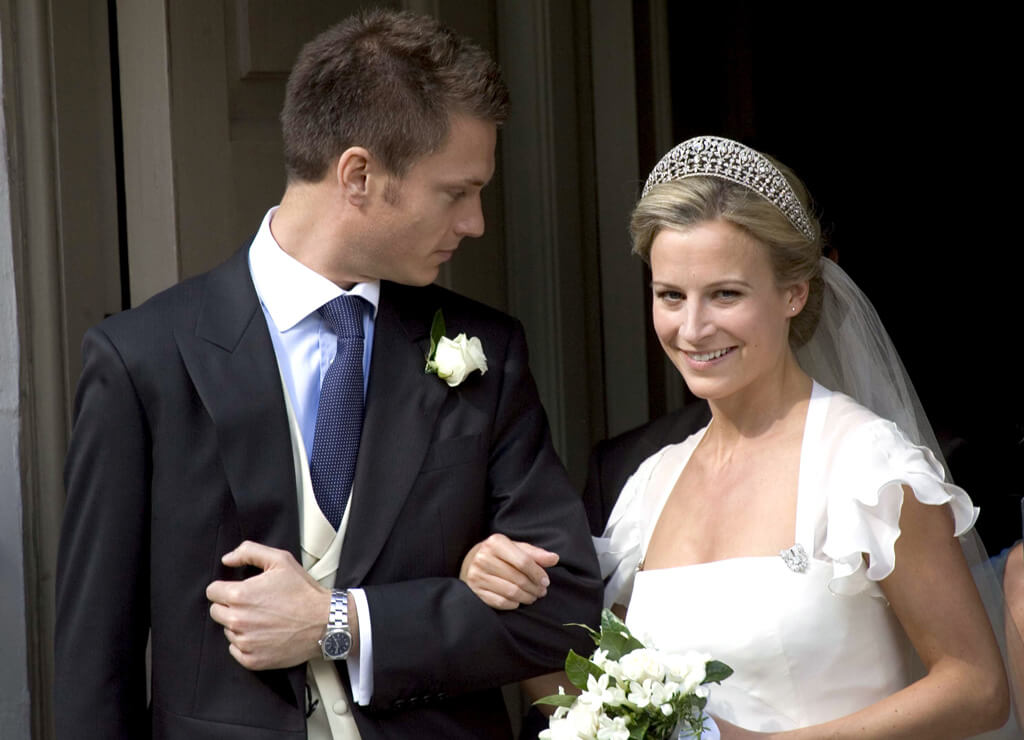 This image shows Lady Rose Gilman, who was born Lady Rose Victoria Birgitte Louise Windsor. She is the daughter of the Duke and Duchess of Gloucester and married George Gilman in 2007. During her wedding, Rose used a white couture dress along with a tiara that has a long history. It's called the Iveagh Tiara, which was given to Queen Mary on her nuptials. The two Duchess of Gloucester, Alice and Brigitte, have also used it.
THE TRIBUTE TO HER PARENTS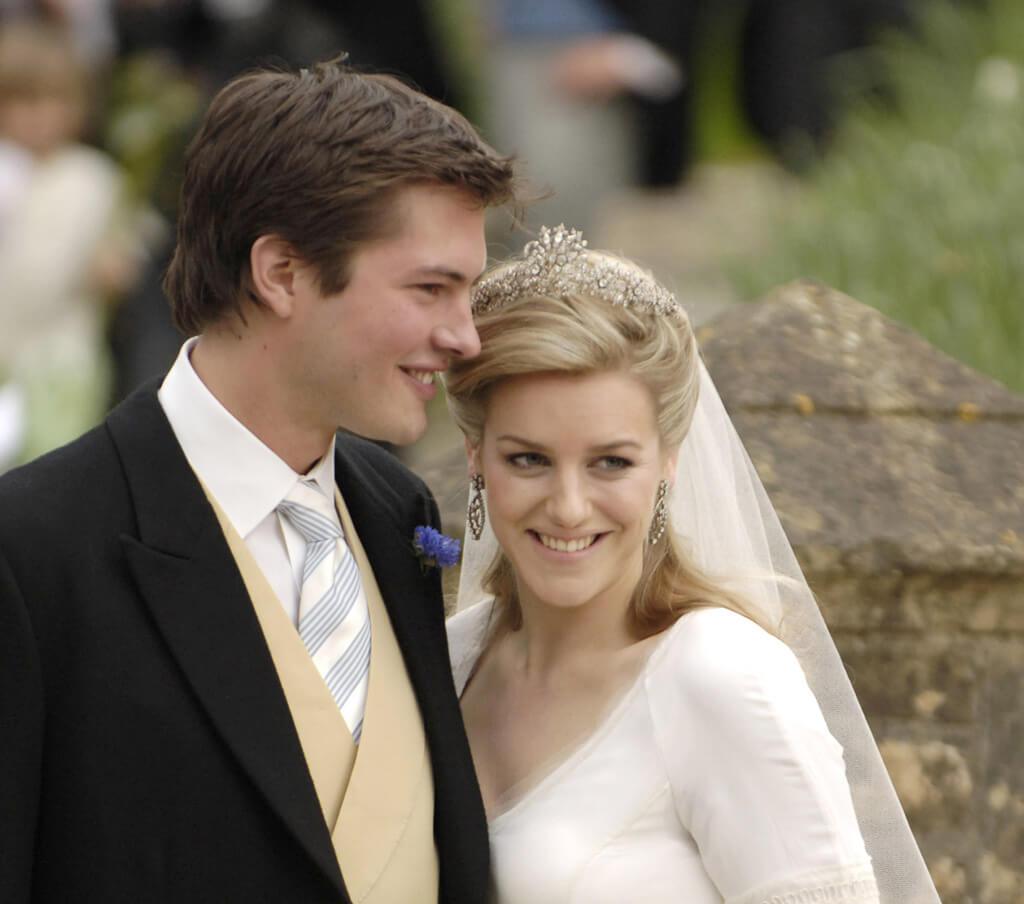 This image shows Laura Lopes on her wedding day to Harry Lopes in 2006. She is the daughter of Camilla Parker Bowles, the Duchess of Cornwall, and her former husband Andrew Parker Bowles. During her nuptials, she used the Cubbit-Shand Tiara which belongs to Camilla, who used it when she married Andrew. It originally belonged to Camilla's grandmother, Sonia Keppel, and it was then inherited by Rosalind, the duchess' mother.
DIAMONDS AND PEARLS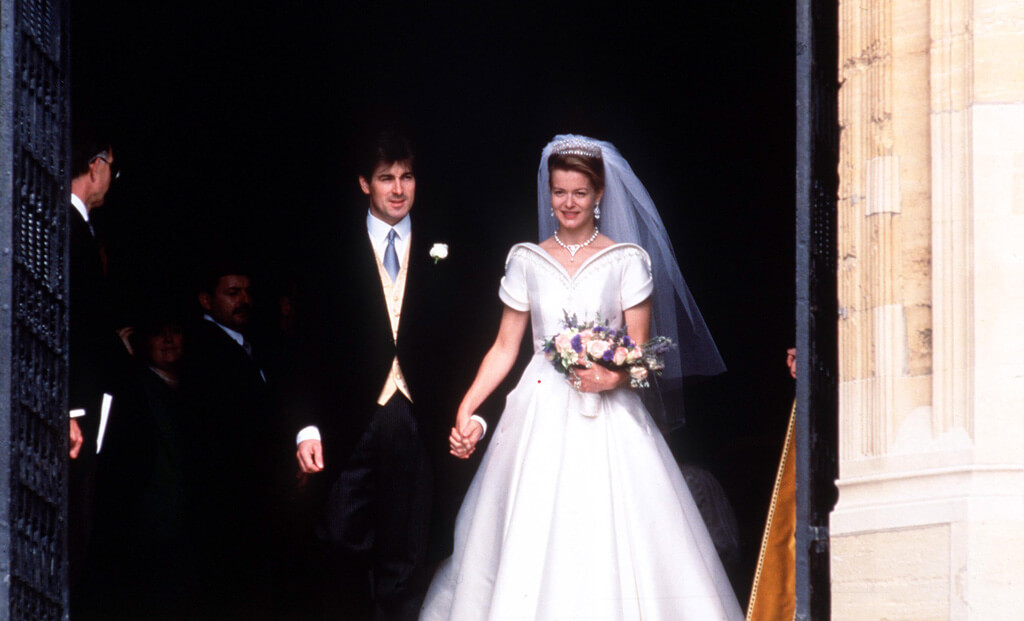 Lady Helen Taylor, maiden name Windsor, is the daughter of the Duke and Duchess of Kent, and 42th in line to the British throne. She was the muse of Giorgio Armani for some time. In 1992, she walked down the aisle to Timothy Taylor, and art dealer. During the nuptials, she used the Kent Diamond and Pearl Fringe Tiara, which has been seen in public several times as other ladies have used it.
CHANGING TIARA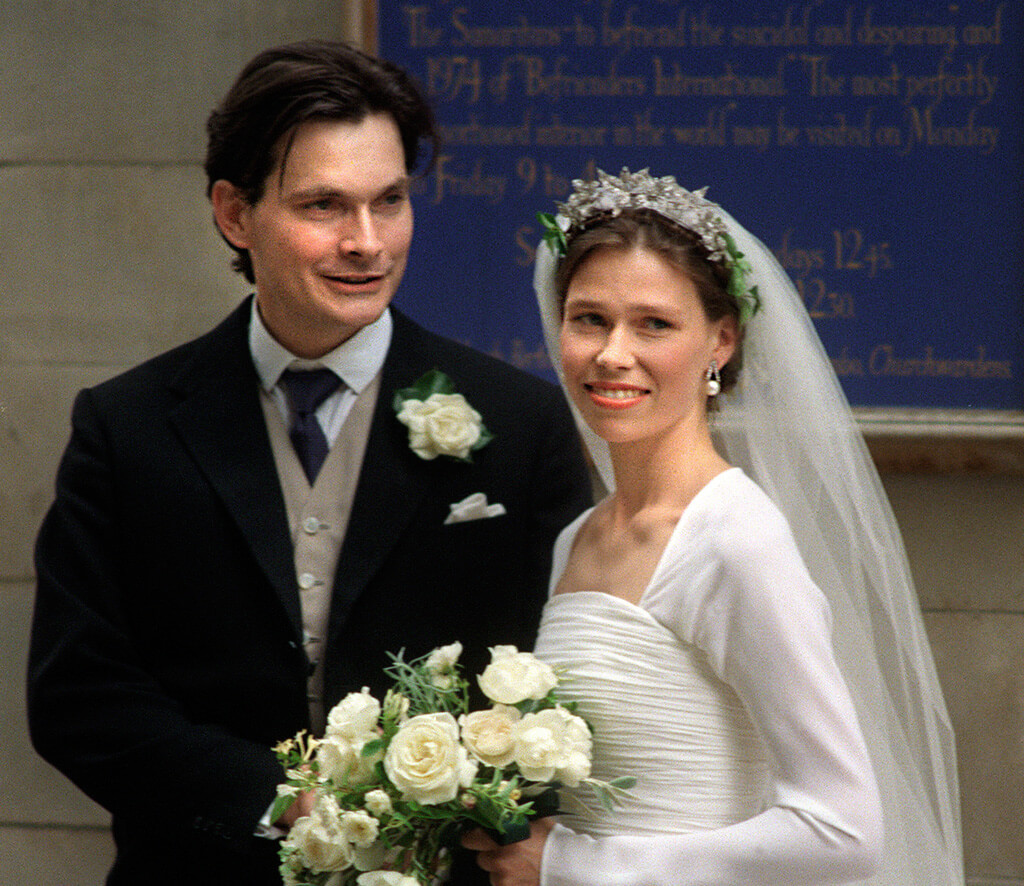 This image shows Lady Sarah Chatto, Princess Margaret's daughter. When she was born, Sarah was the seventh in line to the British throne, but now, she is 23rd. Regardless, she inherited her mother's grace and fashion style. During her 1994 wedding to Daniel Chatto, she was seen with the Snowdon Floral Tiara, which featured three brooches that belonged to Princess Margaret. However, they were only seen in the tiara that day.
PRINCESS MARINA'S WEDDING TIARA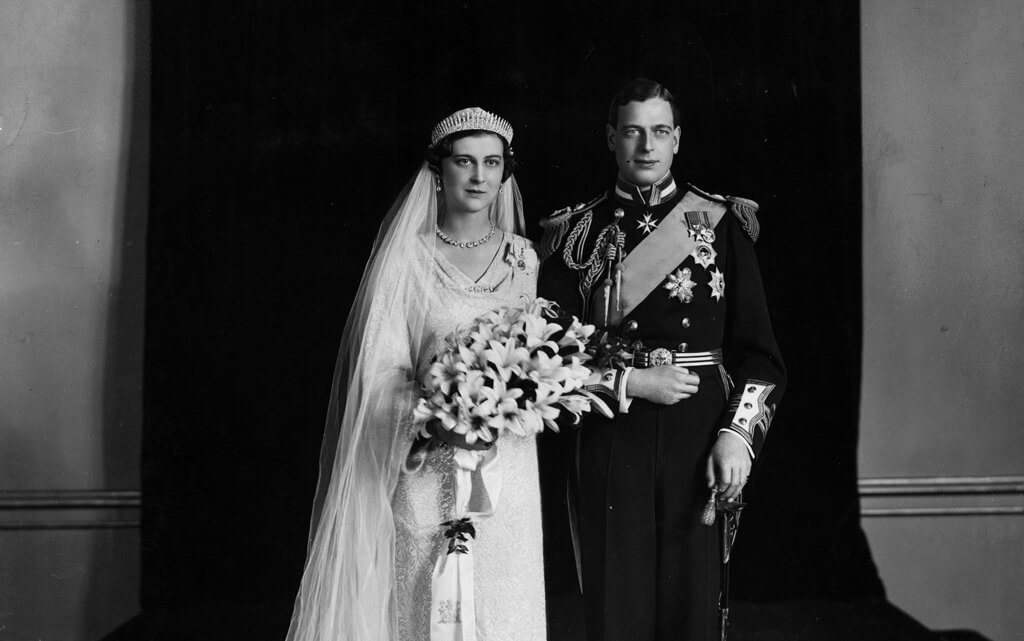 This image shows Princess Marina of Greece and Denmark on her wedding day to Prince George on November 29, 1934. They became Duke and Duchess of Kent of that day. Marina is spotted with a diadem that's very similar to the City of London Diamond Fringe Tiara. It was given to Marina as a gift from the city on her nuptials. She lent it to Princess Alexandra.
These jewels are incredible, but they are probably worth more money than average people earn in a lifetime. Let us know which one was your favorite. If you liked this article, share it with your friends who have always loved the British royal family. See you next time!
Source: Money Pop