30 of the Most Expensive Celebrity-Owned Superyachts
We all know that celebrities live luxurious lives that we wish we had. With all of the attention they get, being recognized almost everywhere they go, how do they get away from it all? Well, they hop on their megayachts, of course! The most famous Hollywood celebrities, musicians, and business people have incredible yachts that will make you gasp. Let's get right to it!
Leonardo DiCaprio's Topaz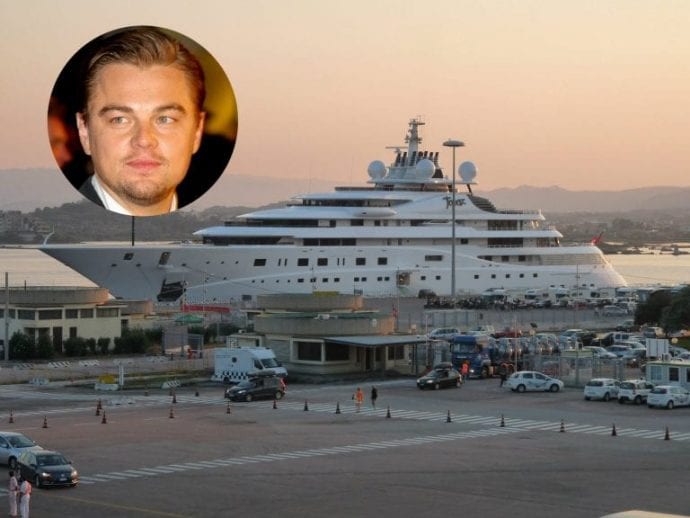 Although Leo DiCaprio doesn't own this superyacht, it is the boat he likes to party in, and he pays a lot for this privilege. Apparently, the yacht costs 3,750,000 euros to charter for a week. In 2014, the actor famously threw an 80s themed party aboard, which may have been inspired by his work on the "Wolf of Wall Street." Famous guests included Orlando Bloom, Jamie Foxx, and many others.
J.K. Rowling and Johnny Depp's Amphitrite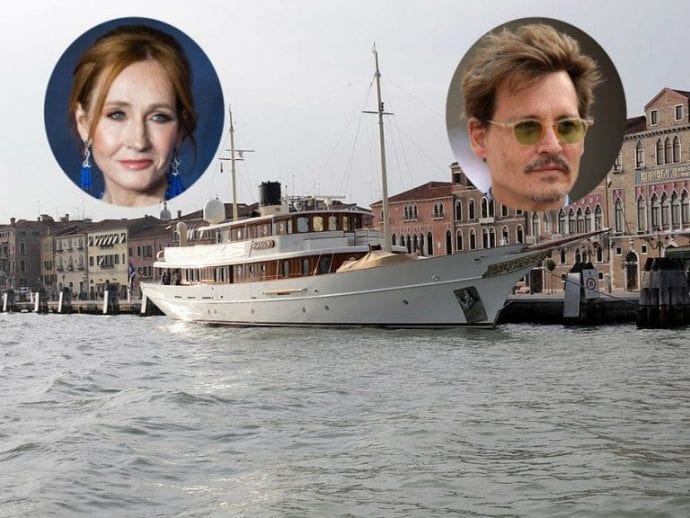 J.K. Rowling famously went from being a secretary to one of literature's biggest names. The "Harry Potter" franchise has made her a very wealthy woman, rich enough to buy Johnny Depp's 20 million pound yacht. The massive boat is 156 feet long, with features such as saloons, jet skis, kayaks, and five cabins with their own skylight and bar.
The Edge's (not Bono's) Cyan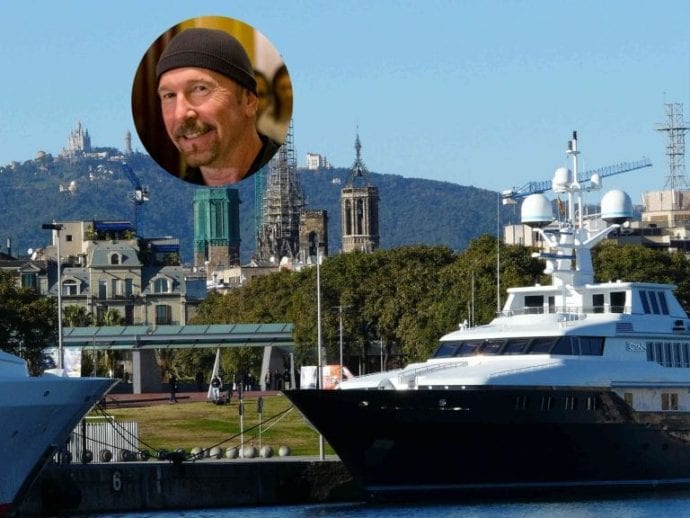 It was originally reported that Bono bought this £12 million yacht, but it was actually his U2 Bandmate Edge's boat. "It's mine," said the guitar player, "Bono doesn't know anything about boats." The truth is, as Cyan was a little too expensive for The Edge, he got the help of a few friends to chip in for the redesign and purchase of the superyacht. The boat includes a jacuzzi, a luxury bar, and an incredible sound system.
Giorgio Armani's Mariù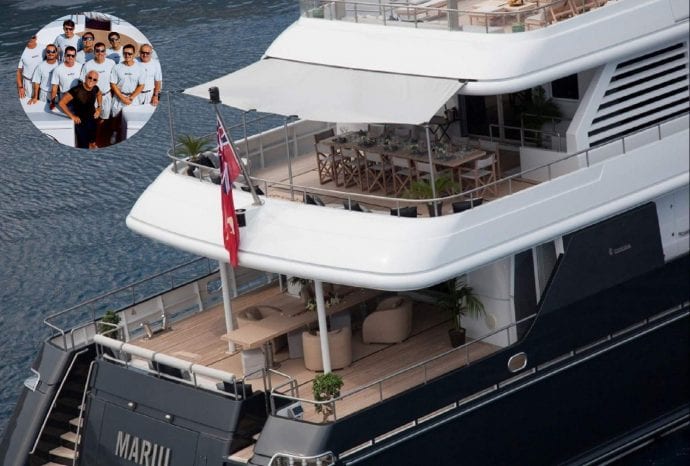 It must be pretty amazing to be worth $9.1 billion. If you were, wouldn't you want to sail on a fully-customized superyacht? Fashion mogul Giorgio Armani's first yacht was partly designed by himself, especially the luxury interior. In 2010, Armani sold the yacht for €19.95 million. If you would like to take it for a spin on the Mediterranean, you can charter it for €185,000 a week.
Giorgio Armani's Maìn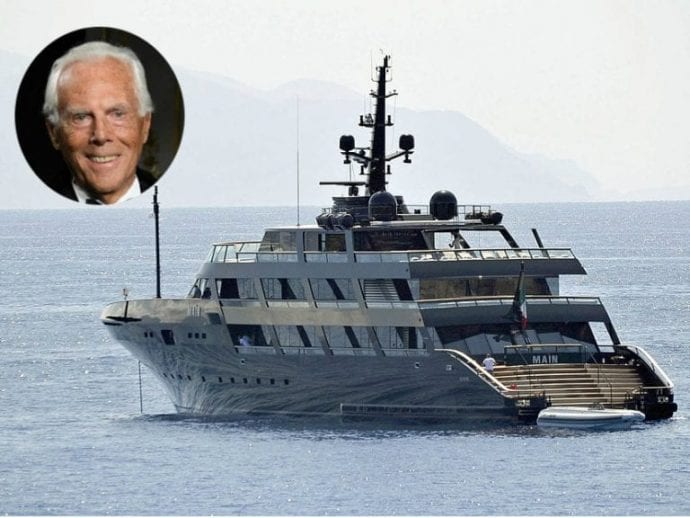 When you're one of the world's greatest and wealthiest fashion designers, why settle for just one yacht? Armani's second boat was also designed by himself in his signature sleek, elegant style. The 150-foot superyacht has 14 cabins, a cinema, an indoor gym, and a hot tub.  The coolest and most unique things about this yacht are the blinds and windows that continuously wrap around the vessel, making it look like it has no walls.
David Gilmour's Astoria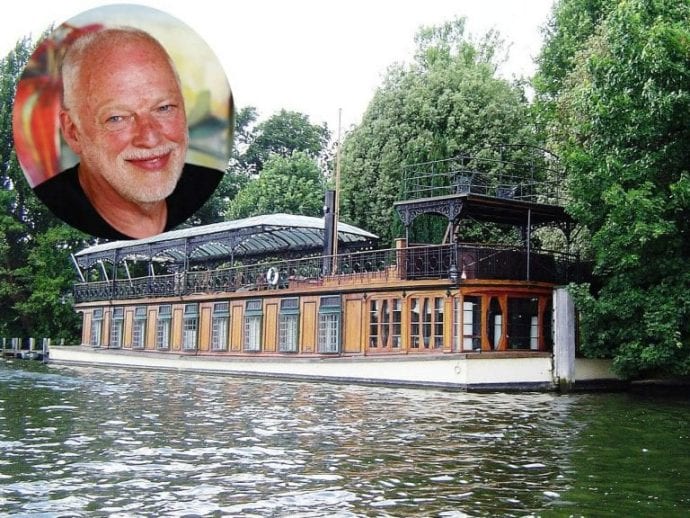 Pink Floyd is one of the most iconic and creative guitarists in contemporary music, and the man has certainly done well for himself. David Gilmour owns a 27-meter houseboat, which he has converted into a music studio. The last three Pink Floyd albums were recorded on this boat, as well as Gilmour's solo albums. Interestingly, the previous owner of this boat, Fred Karno, had built it in 1911 to accommodate a 90-person orchestra.
Rafael Nadal's Beethoven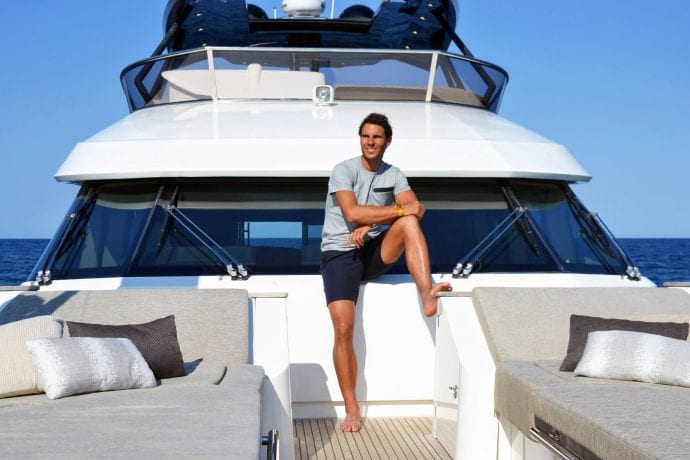 Rafael Nadal, one of the greatest tennis players of all time, is worth approximately $180 million. As he grew up in the Balearic Islands, Nadal is passionate about sailing. So, in 2016, he bought Beethoven for $2.5 million. The superyacht can reach speeds of up to 31 knots, which is fast for a 24-meter yacht.
Steve Jobs' Venus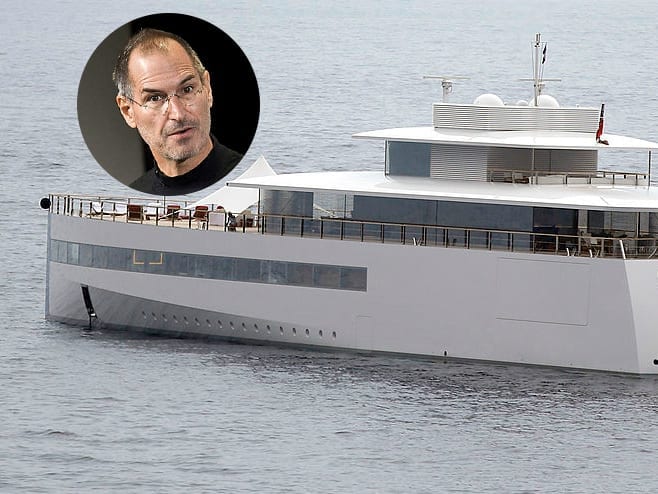 Sadly, Steve Jobs died before his custom superyacht was complete. Today, the boat belongs to his family. Not much is known about this mysterious luxury vessel, as there are no photos of the inside of the boat. One thing's for sure, though - the yacht's bridge is surely equipped with Mac computers.
Steven Spielberg's Seven Seas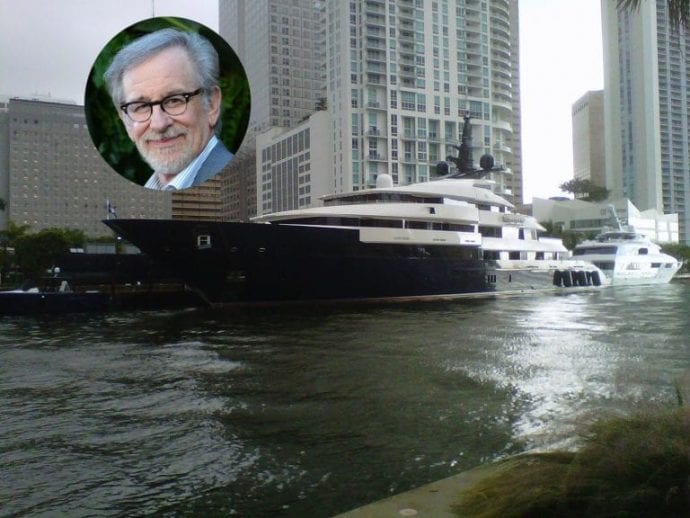 It seems like directing "Jaws" didn't scare Spielberg out of the water for good, but he may have taken one of the film's legendary lines to heart: "You're gonna need a bigger boat." The $200 million superyacht includes its own movie theater, a gym, a jacuzzi, jet skis, and a dining room. In 2015, Spielberg put it up for sale, as he apparently wanted to get one with "more space."
Billy Joel's Vendetta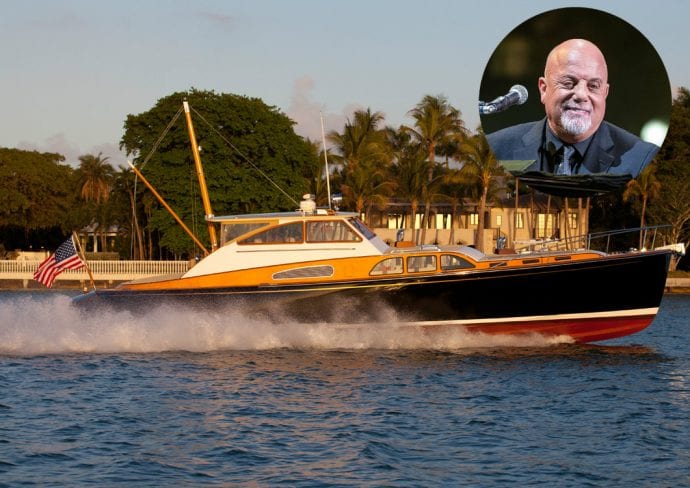 Billy Joel, one of the best-selling musicians of all time, has earned enough in his career to afford not just one or two yachts, but five. The fastest one is the Vendetta, which Joel helped design. Billy Joel is a true yacht fanatic, having sold 50 boats he designed for around half a million dollars each. It seems like even if the whole music thing stops working out, Billy Joel will be just fine.
Richard Branson's Necker Belle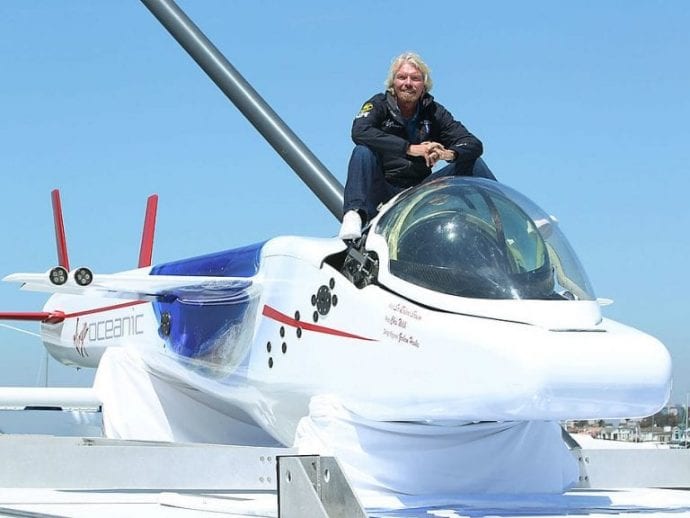 When you have your own private island, what's the best way to get around? The billionaire founder of the Virgin group obviously owns a superyacht, and the 105-foot vessel cost him a whopping £5.3 million. The boat is designed for partying, sunbathing, and housing. Admirably, the vessel was used in relief efforts after Hurricane Irma and Maria.
Nicole Kidman and Keith Urban's Hokulani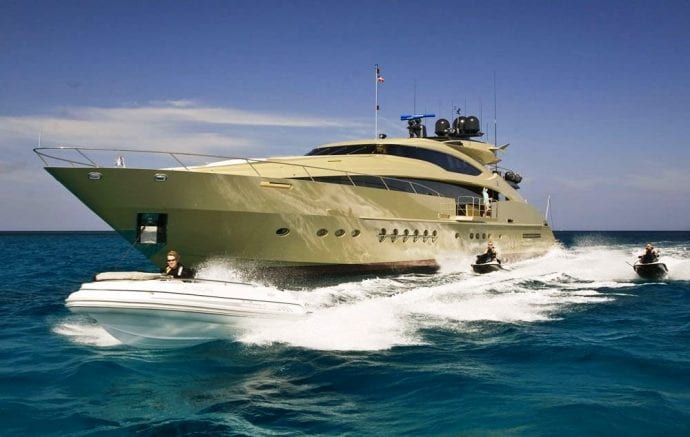 Nicole Kidman and her country-superstar husband own this amazing 3-story superyacht, which includes a jacuzzi, several TVs, water skis, wakeboards, snorkeling equipment, as well as a glass atrium roof. The 150-foot monster can host 10 guests and eight crew members at once. The boat, which is estimated to cost around $4.5 million, is called Hokulani as it is Nicole Kidman's Hawaiian name.
Diddy's Oasis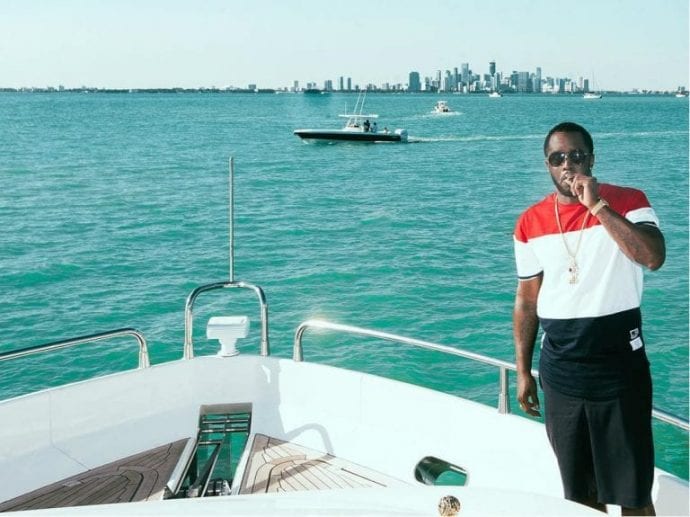 Sean Combs has gone by many different names over the course of his carer, but there's one thing nobody can ever call him - broke. The millionaire music mogul bought this $72 million superyacht from the executive chairman of Google. It includes a nightclub, an Aquaglide waterslide, and it has plenty of room to host famous guests such as Kanye West, Jay-Z, Kim Kardashian, etc.
Jay-Z and Beyoncé's Galactica Star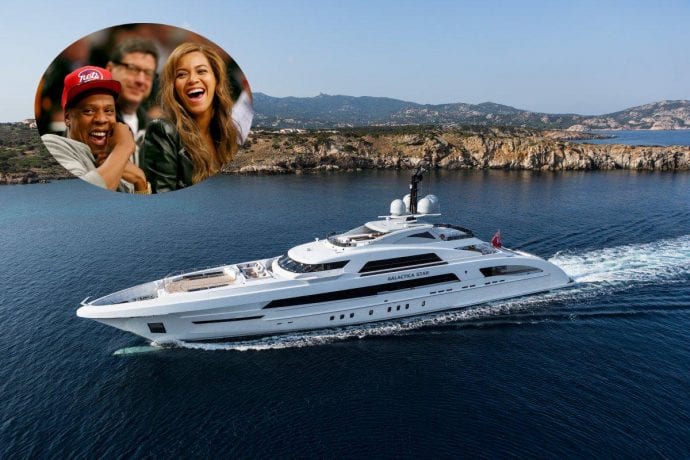 What do you think Jay-Z and Beyoncé do between tour dates? Well, sometimes, they take their kids out on their $42 million yacht. The boat actually belongs to Nigerian billionaire Kola Aluko who rents it out for a ton of money. The vessel is equipped with a hot tub, pool, and even an outdoor cinema.
Rihanna's Latitude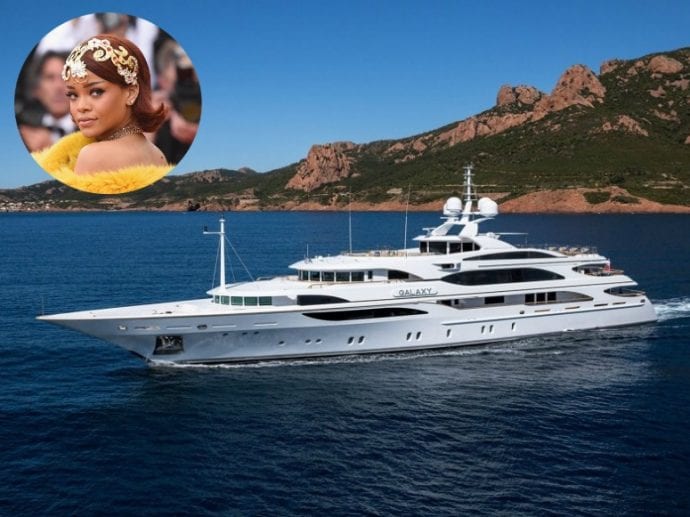 Rihanna, who is born and raised in Barbados, is familiar with sailing. The singer enjoys spending time on the 172-foot superyacht, soaking up the sun in the French Riviera. The 812-ton vessel charters for around $300,00 a week, and it has five decks, six double staterooms, a beach club, and a sky lounge.
Nicolas Cage's Sarita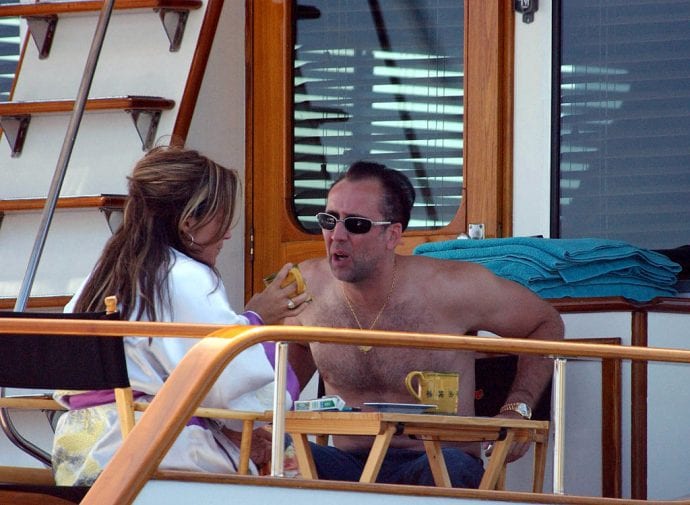 Between 1996 and 2011, Nicholas Cage reportedly spent over $150 million on a crazy spending spree that included, among many other things, a dinosaur skull and shrunken pygmy heads. A big part of the money was spent on four luxury yachts, with his favorite being this one, the 126-foot Sarita, which can host 12 guests at a time.
Brad Pitt and Angelina Jolie's Ghost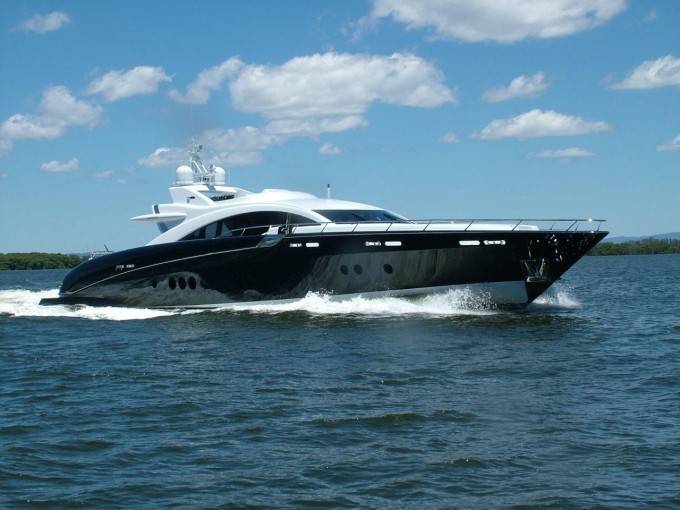 Brad Pitt and Angelina Jolie sure know how to vacation in style. The two have been seen spending time on Australian accountant Anthony Bells' luxury yacht with their children on board. Today, the yacht is for sale with an asking price of $8.91 million, if you're interested. Despite its size, the yacht is quick and has even competed in major super-yacht regattas.
Elton John's Wabi Sabi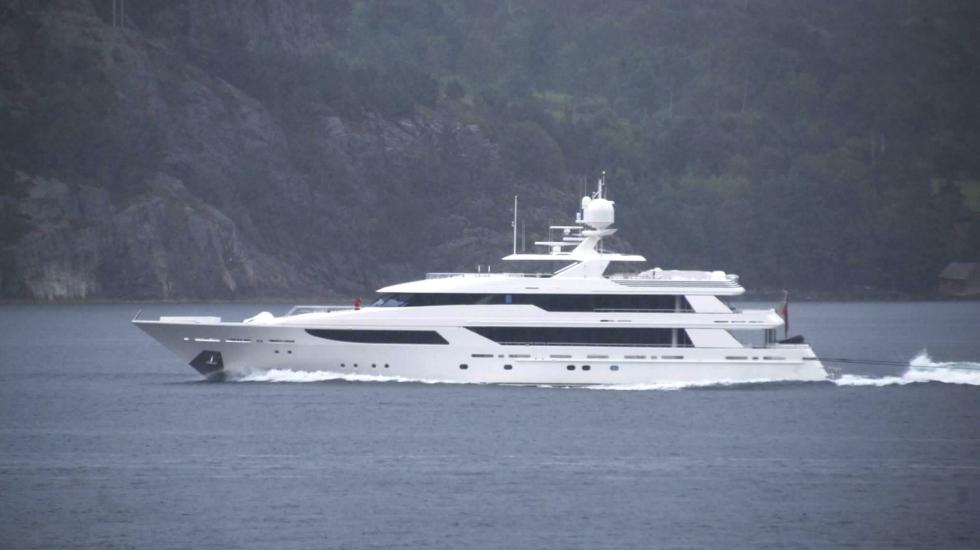 Elton John's Wabi Sabi, which he bought for $25.9 million, has got a large plasma screen TV, sofas, a barbecue grill, and a big dining room that can host 12 guests at a time. Also, there's a jacuzzi, air conditioning, and room for 11 crew members to make everything as comfortable as possible for guests onboard. As it was now bought by Moran Yacht & Ship, it can be chartered for $195,000 a week.
Tiger Woods' Privacy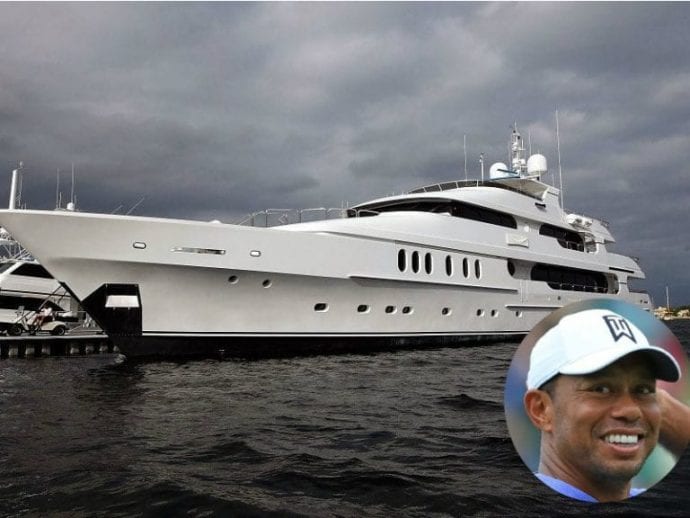 Tiger Woods needs no introduction. After a rough career blighted by injury and a publicized cheating scandal, the legendary golfer has recently proved doubters wrong by winning his fifth green jacket at East Lake Golf Club. The golfer's yacht can often be seen docked near golf courses that Tiger is competing in. As it is his home away from home, it is equipped with everything the star needs to live comfortably.
Cristiano Ronaldo's Aya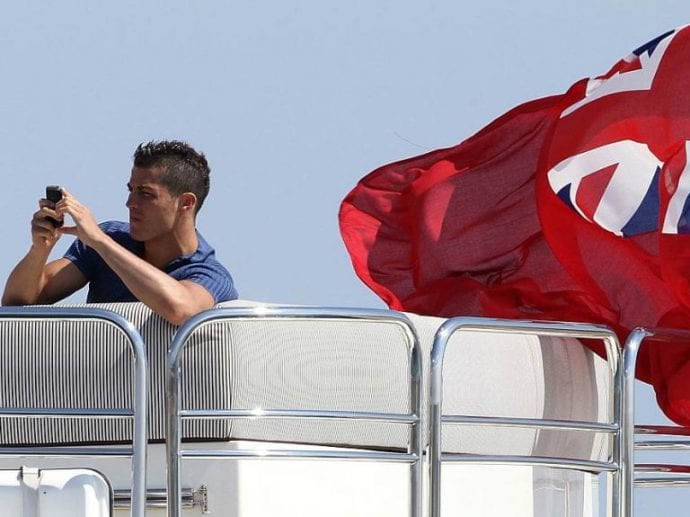 In 2015, Cristiano Ronaldo made headlines for all the wrong reasons when his yacht was raided by authorities in Ibiza. The footballer was enjoying the Spanish sunshine with his family when police got on the boat to investigate tax fraud as part of their investigation against him that began earlier in the year. In 2018, he settled with an $18.8 million euro fine and probation.
Eric Clapton's Va Bene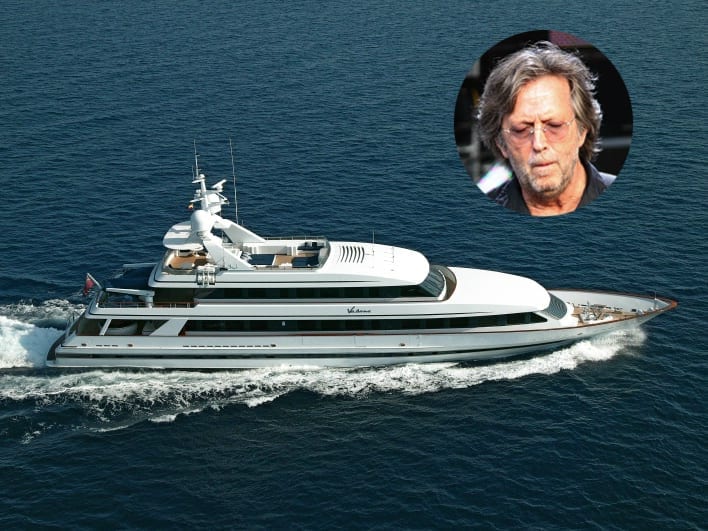 Eric Clapton, one of the most recognizable names in rock and roll, is passionate about sailing, especially when it's on "Va Bene," his 156-foot superyacht. The name of the boat means "goes well" in Italian, and things sure look like they're going well in the legendary artist's life. The £9 million yacht went up for sale in 2016, but he also has another one.
Elon Musk's Mr. Steven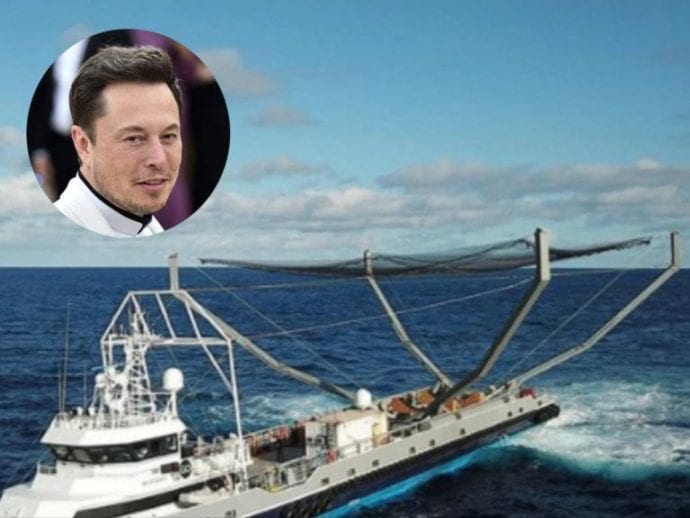 This boat, unlike many others on this list, is not for partying, as the 203-foot megayacht is primarily used for rocket recovery. When positioned properly, Musk believes that it will catch and recover pieces of SpaceX rocket fairings, which are very expensive. So, the idea is to capture them and rebuild new ones out of the old.
Roman Abramovich's Eclipse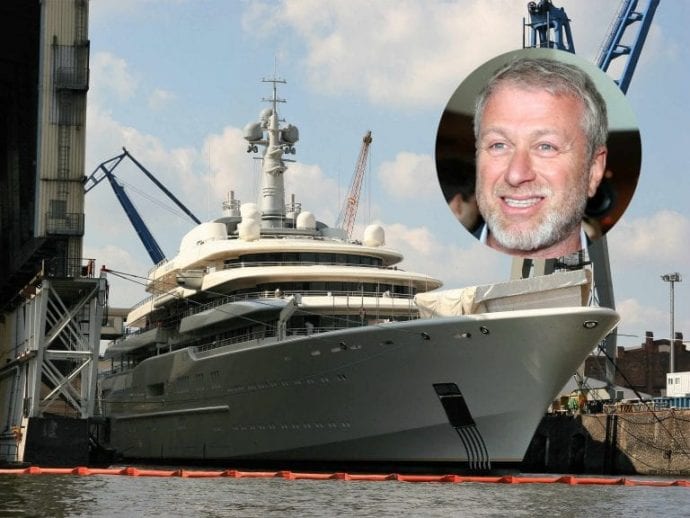 Owner of Chelsea Football Club and billionaire Russian oligarch Roman Abramovich owns a truly mesmerizing yacht. It is actually the second-largest private yacht in the world, and it has hosted parties with celebrity guests like Katy Perry, Gwen Stefani, Salma Hayek, and many more. The €340 million yacht is equipped with its own mini-submarine and even a missile detection system. 
David and Victoria Beckham's Horizon E88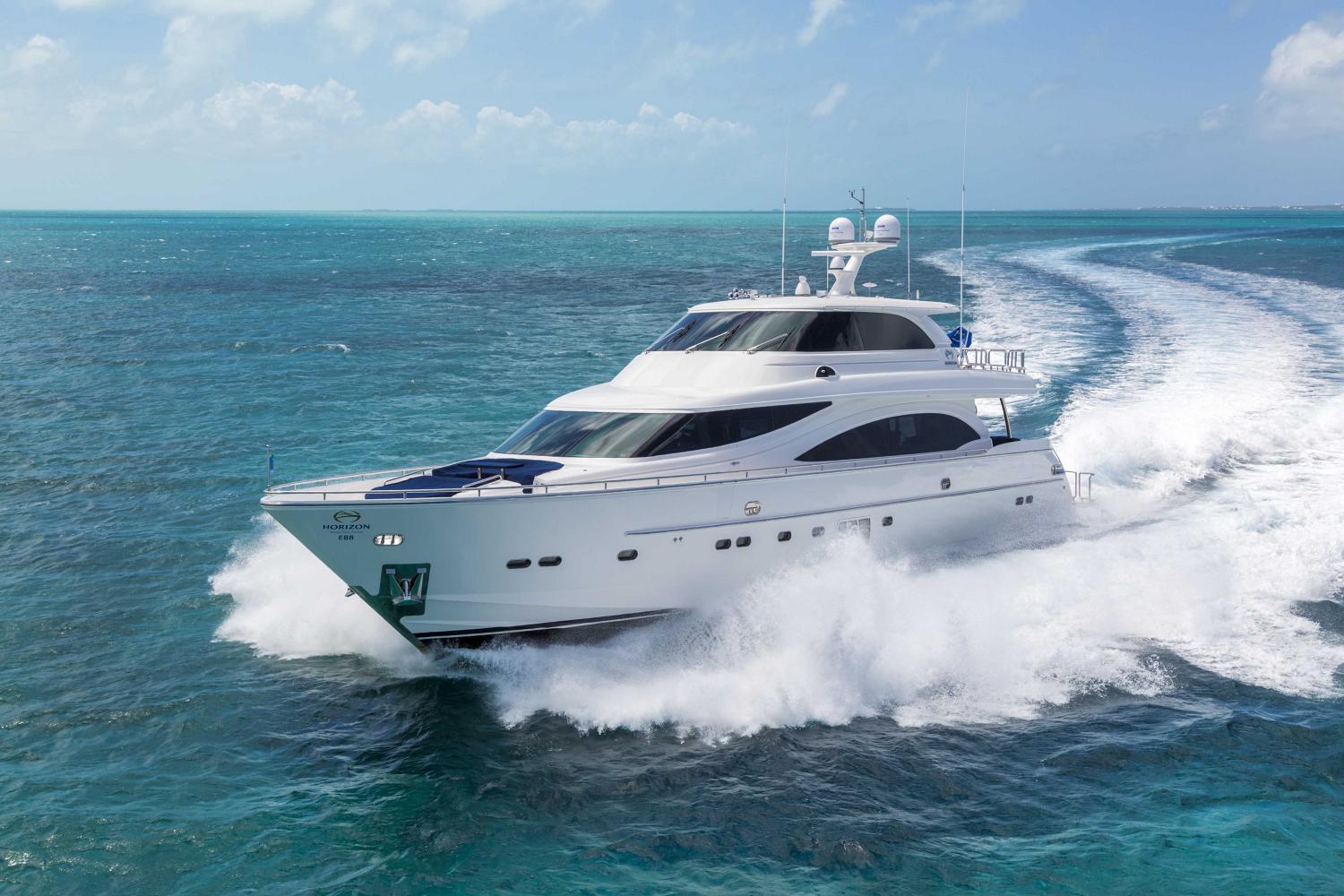 The Beckhams, one of Britain's best-looking celebrity couples, own this luxurious superyacht worth an estimated £3.8 million. The superyacht can host 12 guests at a time, and it is nicknamed "The Sophisticated Lady," which is very fitting for Victoria Beckham. The 94-foot boat is equipped with a state-of-the-art gym so that they can stay fit while vacationing. Of course it does.
Justin Bieber's Ecstasea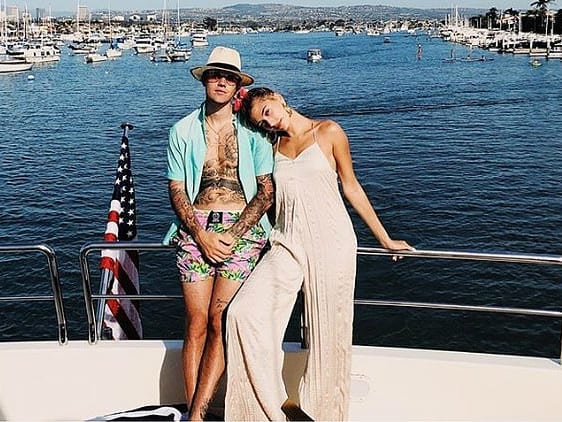 This massive superyacht was initially built for Roman Abramovich, but he sold the 282-foot vessel to an unknown buyer in 2009. Nowadays, Justin Bieber likes to spend time on this charter boat that is valued at around $75 million. It is equipped with a Flyboard, a gym, jacuzzi, and helicopter hangar. 
David Geffen's Rising Sun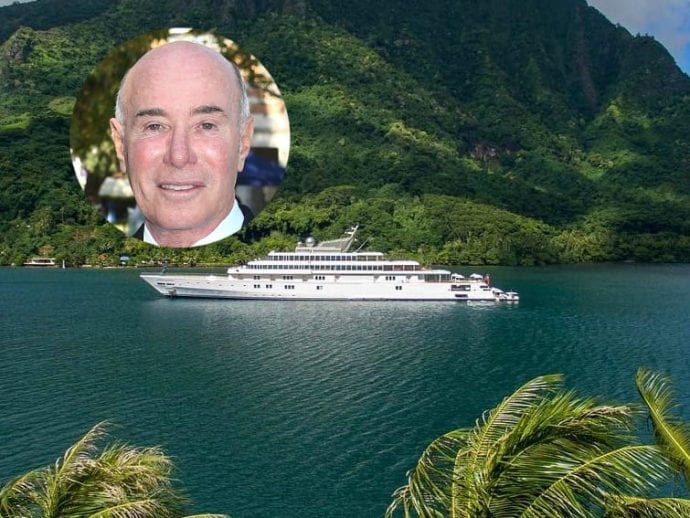 David Geffen's Rising Sun is a 138-meter superyacht with a long list of features, like a gym, a cinema with a private screen, a wine cellar, a spa, and a sauna. Also, there is a basketball court on the top that doubles as a helipad. It reportedly cost $200 million to build, and today, it is worth double that.
Bill Gates' Serene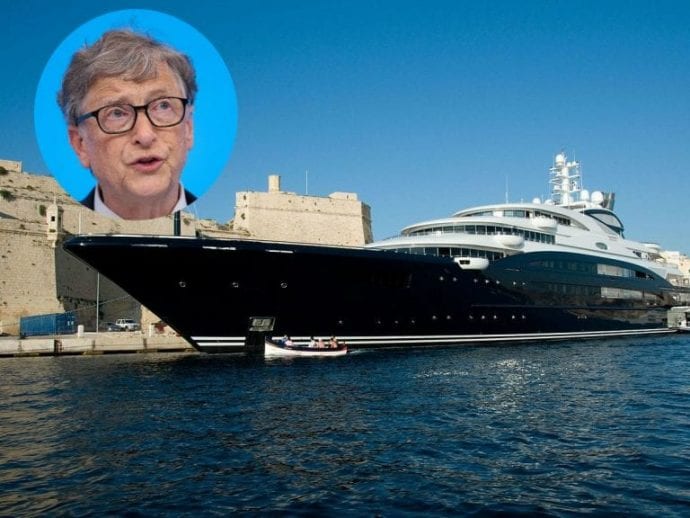 Although he is the second richest man in the world, Bill Gates was never very flashy. However, his yacht might be an exception. In the summer of 2014, he apparently leased it for $5 million a week. It is equipped with a helicopter hangar, saltwater swimming pool, two helipads, and it can host 24 guests at a time. In 2015, it was bought by Prince Mohammed Bin Salman of Saudi Arabia for around €500 million.
Dolce and Gabbana's Regina d' Italia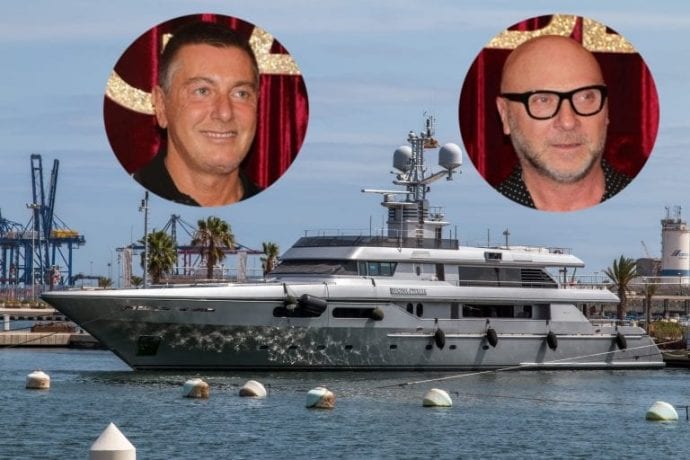 Dolce & Gabanna are two of the biggest fashion moguls in the world, so it makes sense that the two would own such a majestic yacht. The glamorous, titan of a boat, which comes equipped with a swimming pool, jacuzzi, and 167-foot custom waterslide, has hosted parties full of models and celebrities. Today, the yacht is on sale for an asking price of $17.26 million.
Calvin Klein's Vantage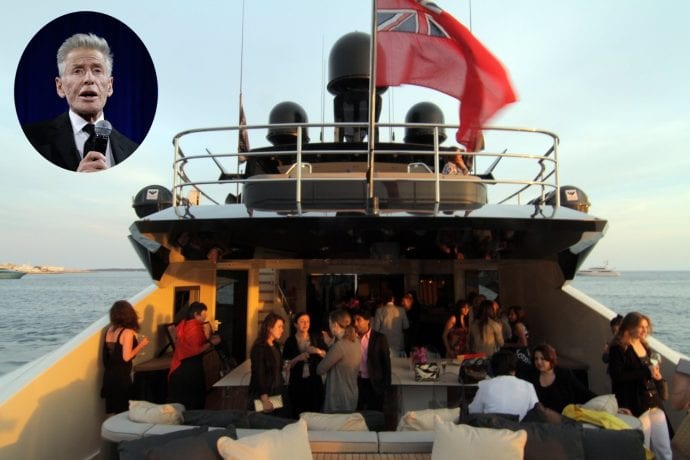 Calvin Klein, one of the wealthiest people in the fashion industry, owns Vantage, a boat designed with sleek elegance. The interior is adorned with plush carpeting and warm colors, while the exterior has several luxurious amenities such as a jacuzzi, a bar, and a barbecue grill. If you're interested, it charters at $180,000 a week.
Sir Philip Green's Lionheart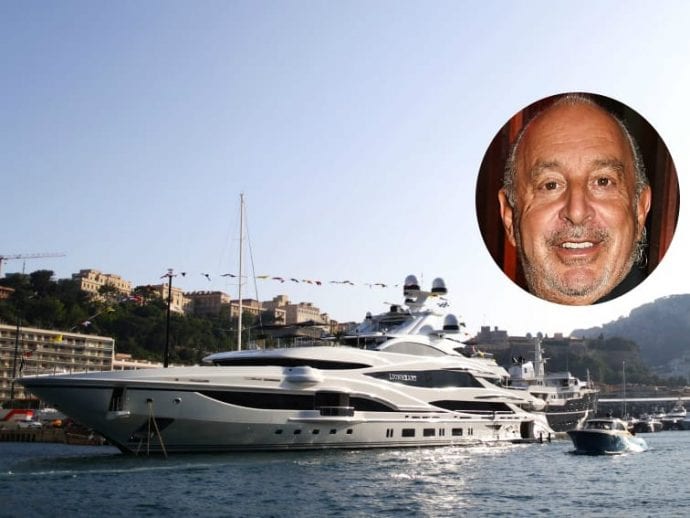 Retail magnate Sir Phillip Green, who is worth almost $5 billion, can truly afford to live and sail in luxury. Lionheart is the third yacht that he has built, and at 308 feet, it is the largest. The monster yacht worth a whopping $150 million can host 12 guests overnight in luxury. 
Those were some pretty impressive boats, don't you think? Perhaps one day you could charter one, or if you make it big (you never know!), you could maybe even own of these bad boys! If you enjoyed the article, make sure to share it with your friends!
Source: Finance101