Amazingly Valuable Baseball Cards That Go For Big Money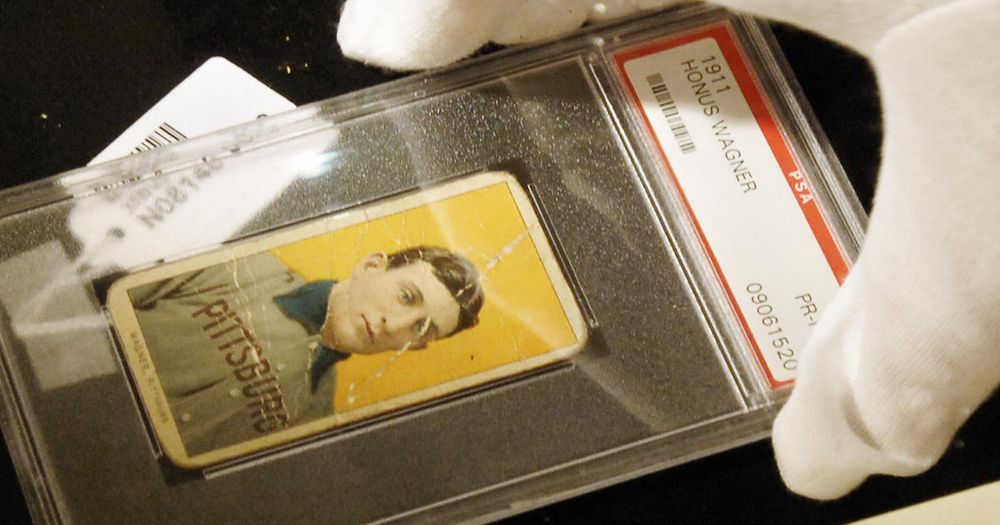 It might not be the most popular trend nowadays, but we know that many of our parents collected baseball cards. Some of these will fetch a hefty price online if they are in great condition, and you might have them in your own house. Naturally some of the most valuable include the big names in American baseball history like Lou Gehrig, Ted Williams, Babe Ruth, but others are worth a lot for the weirdest reasons. There's also sentimental worth to these pieces of history. Even Alex Rodriguez wished for his own card, "You always dream about being on a baseball card. It's kind of funny when you finally see it." Let's discover them!
MICKEY MANTLE – 1952 TOPPS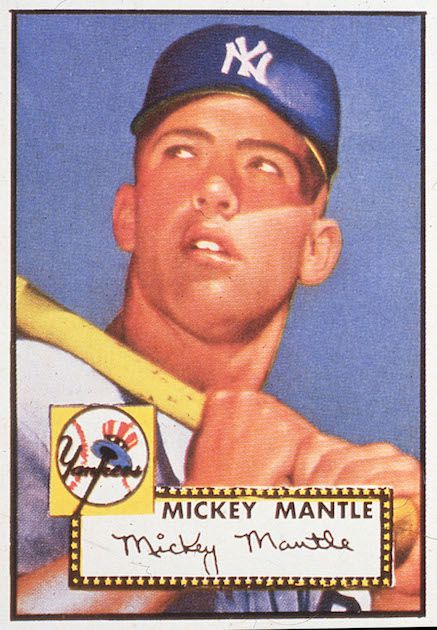 Mantle was perhaps the favorite player of every Baby Boomer interested in baseball. His card on 1952 Topps was the one everyone had to have. Younger generations might not know that these pieces came with chewing gum, and Topps was an important gum and candy manufacturer. The company is still active today and is the only one to have a contract with Major League Baseball. In 2018, the 1952 Mickey Mantle, graded 9, was sold for almost $3 million, which surpassed the Honus Wagner T206 baseball card. Even those graded 6 or 7 could fetch around $700,000.
DEREK JETER – 1993 UPPER DECK SP FOIL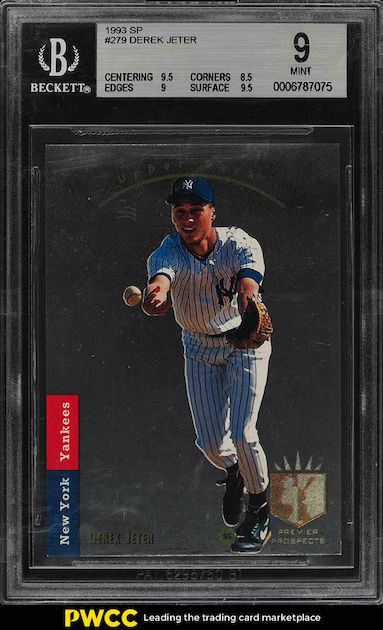 Jeter was a shortstop, as well as captain, of the New York Yankees, and he might be one of the best baseball players of the last three decades. He has many baseball cards that will make sure to preserve his memory, but the most valuable represents his time in the minors. When it comes to a specific price, it all depends on the condition as well as the number rating. A mid-graded card like this can go for somewhere between $200 and $400. However, a card in its best state could fetch $1,000.
DWIGHT GOODEN – 1984 FLEER UPDATE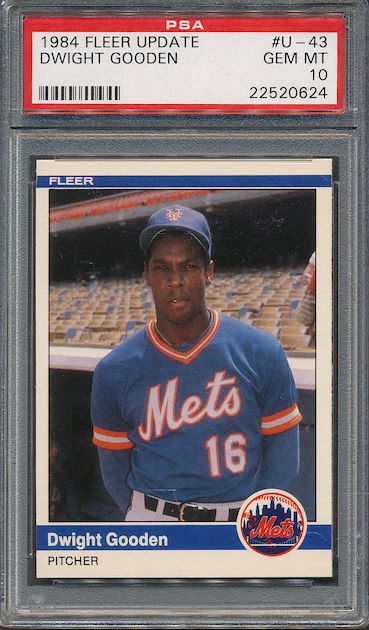 Gooden starting breaking records in the 1980s during his rookie season. He had a fastball that could render the other team speechless. The baseball player was fondly nicknamed "Dr. K", and 1984 witnessed him winning 17 matches and strike out 276 guys up for batting. Therefore, the 1985 Fleer Update set needed to include him. Again, it all comes down to condition, but this card with his blue-and-orange uniform can sell for $200.
ROBERT CLEMENTE – 1955 TOPPS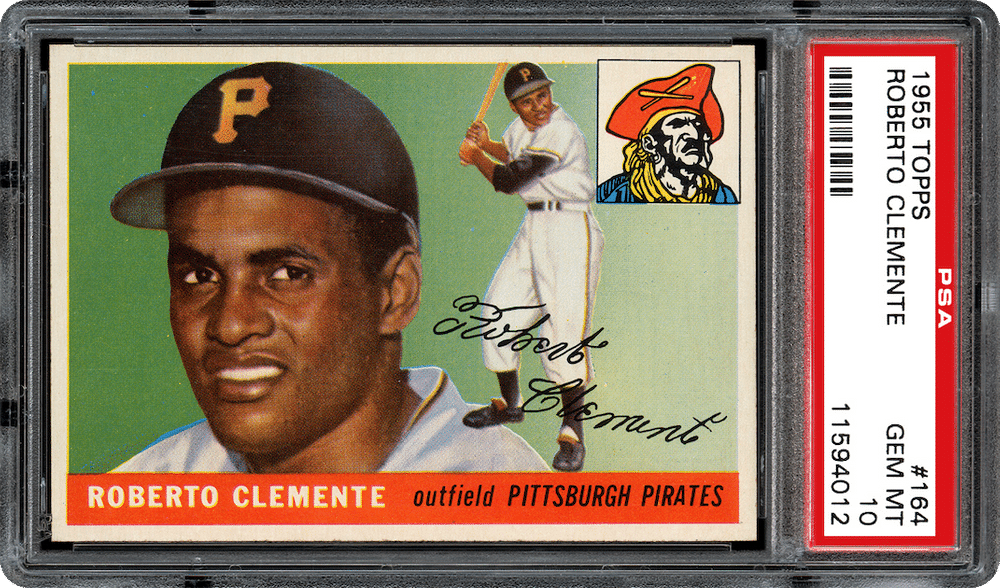 Clemente went on to become a Hall of Fame Pittsburgh Pirates outfield, and sadly, he passed away after a plane crash after making his 3,000th career hit. Just like other famous people who leave this world too early, Clemente collectibles became more valuable when he was gone. In 2012, this grade 10 rookie card was sold for $432,690. In 2016, the same card with a 9 grade fetched $478,000. We can't imagine something so small being so valuable.
STAN MUSIAL – 1948 BOWMAN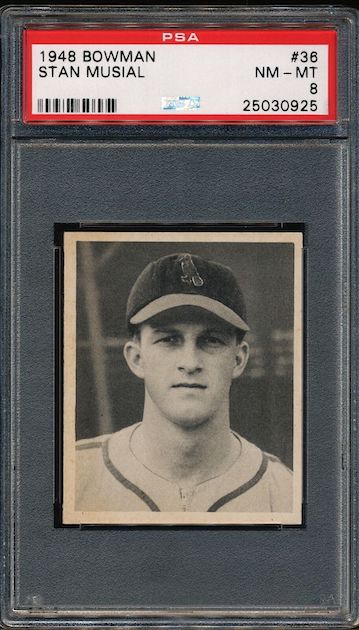 This might be the most "affordable" card on the list, and it features Stan Musial from the St. Louis Cardinals. It would be crazy to discover a baseball card from the 40s just lying around your house, but it could happen. This memorabilia might actually fetch you around $1,000 on the market. So, it's best to look around on the off chance that your grandfather was a fan.
BABE RUTH – 1914 BALTIMORE NEWS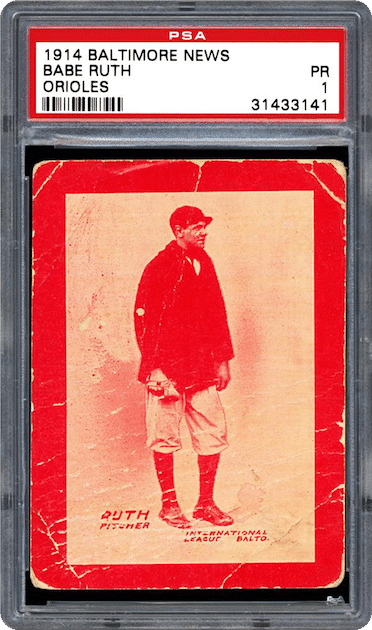 In 2012, this version of the 1914 Babe card was sold for the whopping sum of $575,000, but the astonishing thing is that it was only graded a 2. The reason it sold for such an amount is that there were only 10 of them ever created. Aside from that, Babe Ruth is a legend in Major League Baseball. He played for 22 seasons from 1914 to 1935.
ROGER CLEMENS – 1984 FLEER UPDATE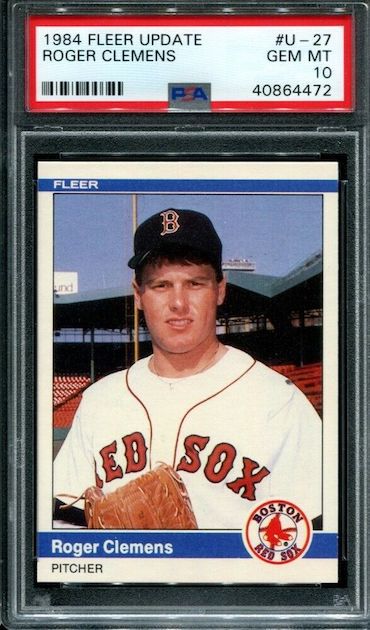 This is another Fleer Update from 1984 that has become very valuable on the market. It's the rookie card of Clemens, aka "The Rocket". He was one of the best pitchers of the 80s, 90s, and even the 2000s. Unfortunately, his involvement with steroids has kept him out of the Hall of Fame – as of this writing – but his memorabilia is worth a considerable amount of money. In good condition, it would fetch between $200 and $400.
PETE ROSE, PEDRO GONZALEZ, KEN MCMULLEN, AND AL WEIS – 1963 TOPPS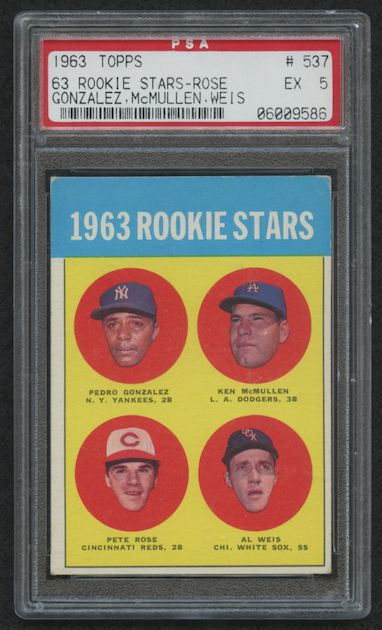 This four on one rookie card has actually been sold for $70,000, particularly for having Pete Rose, the current number one hits leader. However, in 2016, the card was able to go for a price of $717,000 because it was in the best condition possible and graded a 10. It's extremely hard to find a card in such a perfect state, especially one from so long ago. Can you imagine discovering such a card in your house?
ALBERT PUJOLS – 2001 BOWMAN AUTOGRAPHED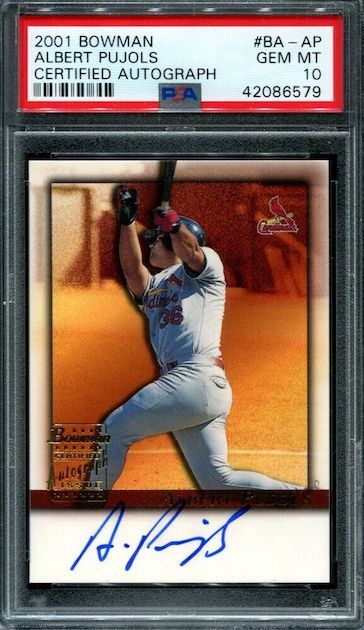 It's rare to think that a card from the 2000s can be considered valuable right now. In fact, in the early millennium, they were so common that something remarkable had to happen for one to go up in worth. They also had a feature something special like variants or signatures from the players. This is the case of Pujols' Bowman card from 2001, which came out with his autograph. You might be able to sell this one for over $1,000.
CAL RIPKEN JR. – 1982 TOPPS TRADED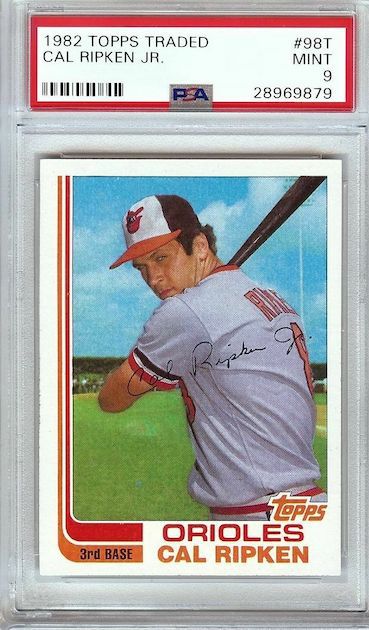 There might be many 1982 rookie cards worth a lot of money, but none would be as valuable as Ripken Jr.'s. It was part of the Topps Traded expansion set. In mint condition, this "Ironman" memorabilia could sell for $200. However, it's possible that the card of this piece has chipped or flaked over the years, which would affect its grading and turnover prices. Cal was part of the Major League for 21 seasons and played in the Baltimore Orioles.
NOLAN RYAN AND JERRY KOOSMAN – 1968 TOPPS ROOKIE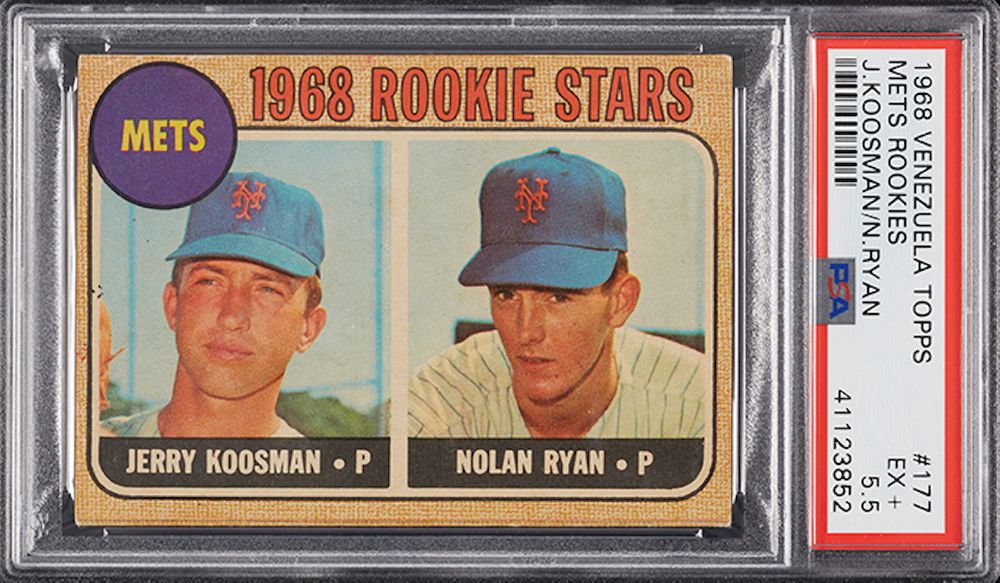 Similarly to Pete Rose's rookie card that we already mentioned, this particular version from 1968 featured two breakout players from the New York Mets. It was even graded a 10 when it was put up for auction. The reason it's so rare is that more than 8,000 Ryan/Koosman rookie cards were entered to be professionally graded, and only this one got the perfect score. It was sold for $612,359, and a 9 grade would sell for $20,000 or even $30,000.
FRANK THOMAS – 1990 TOPPS ERROR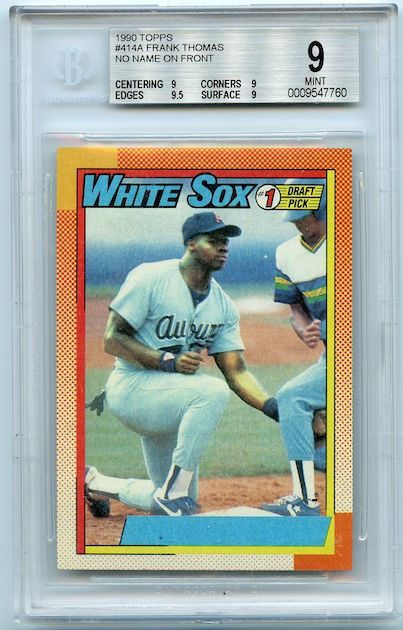 There is no question that this Thomas card is the most valuable of the 90s. However, it's not exactly because of the baseball player, although he became a legend on his own. This particular memorabilia had a printing error. The name of the Hall of Farmer was not included in the front, and the mistake makes it even more expensive. Depending on the condition of the card, you might be able to get almost five figures for it. Therefore, blunders can actually be worth something.
HONUS WAGNER – T206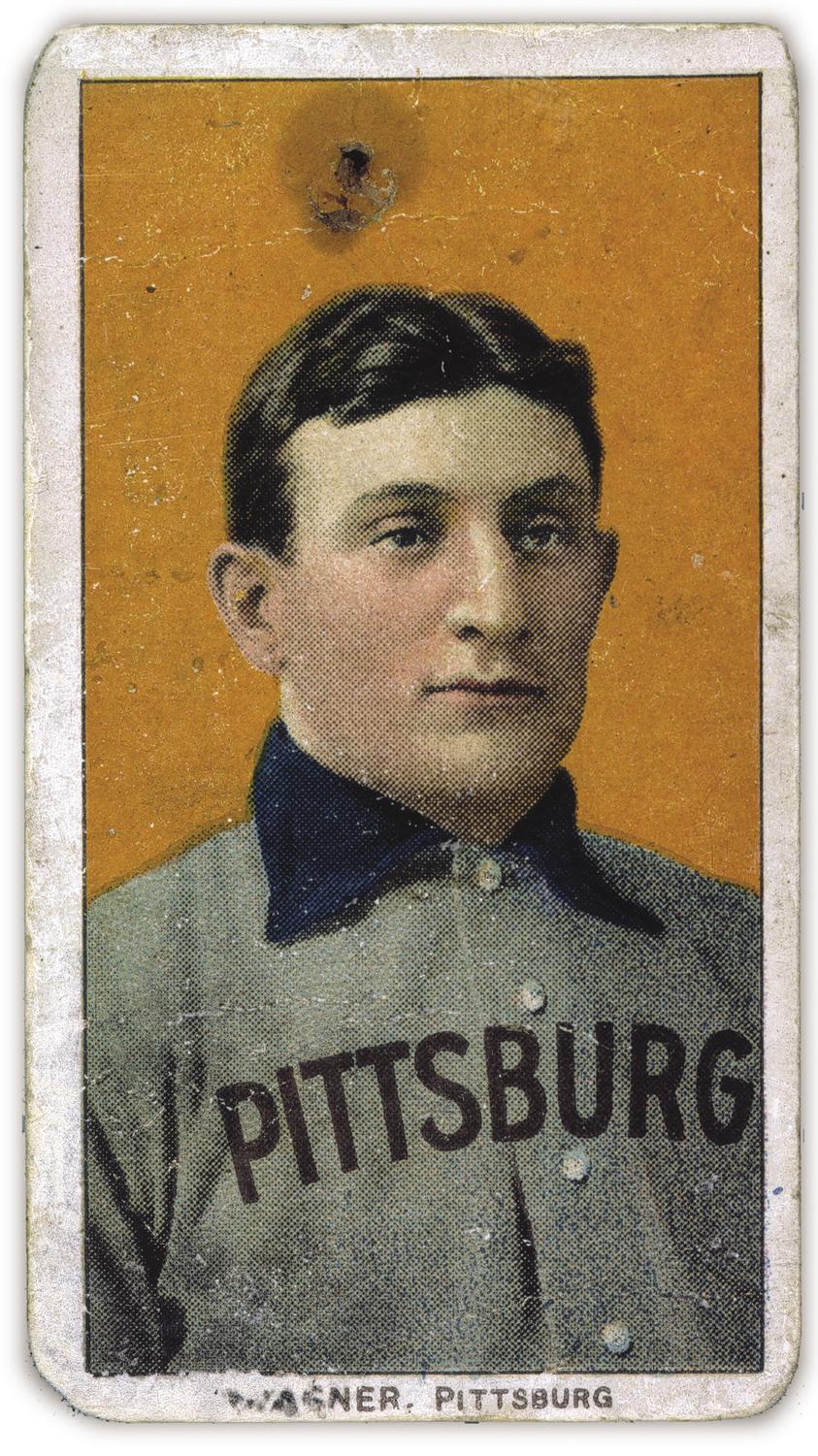 This is considered the most valuable baseball card in history. It's almost a myth due to how expensive it can be. Many cards of the 1910s were made by the American Tobacco Company, and the 1911 Wagner was no exception. The manufacturer was to increase their sales, but the baseball player demanded to have the card off production. No one knows exactly why, although some think that it was to discourage kids from buying cigarettes. Others believe that it was due to royalties. Either way, Wagner's were removed from the market, and finding one is equivalent to finding "El Dorado". In 2016, one sold for $3.3 million.
CHIPPER JONES – 1991 DESERT SHIELD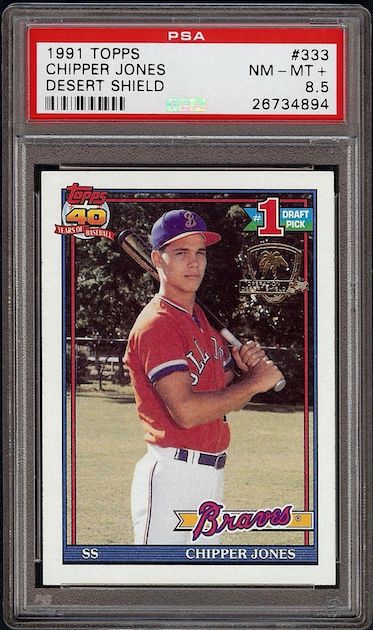 Jones was another huge star of the 1990s for the Atlanta Braves, and his card is actually associated with something huge that happened in that decade. In 1991, Topps launched a special set aside from the normal ones of the season. It featured "Desert Shield" holograms and was sold exclusively to soldiers from Operation Desert Storm. The set had a Chipper Jones rookie card that could go for six figures depending on the condition and grade.
BABE RUTH – 1916 SPORTING NEWS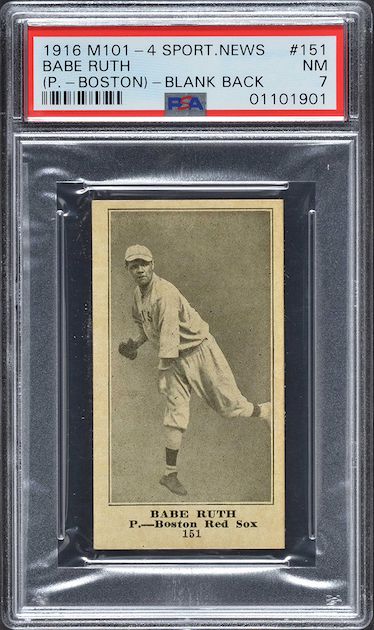 This is another Babe Ruth card. It's not hard to imagine why many of his memorabilia are some of the most valuable items in baseball history. His name was one of the most famous in America, and the prices that this card fetched prove that people still remember him. In 2016, this one was sold for $717,000, and in 2017, another one was purchased for $550,000. "The way a team plays as a whole determines its success. You may have the greatest bunch of individual stars in the world, but if they don't play together, the club won't be worth a dime." – Babe Ruth
KEN GRIFFEY JR. – 1989 UPPER DECK ROOKIE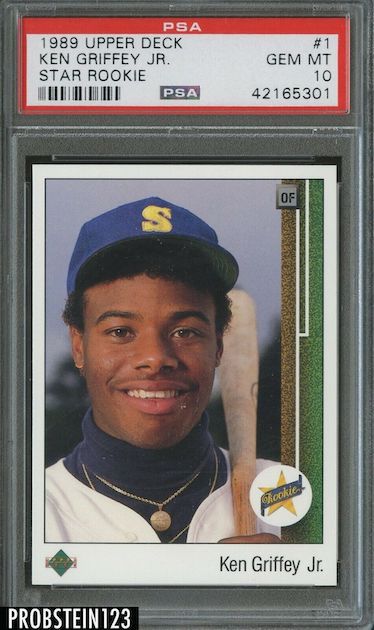 Griffey Jr. played for the MLB for 22 years in teams like the Seattle Mariners and the Cincinnati Reds, but he spent a short time with the Chicago White Sox. For much of the 1990s, it was clear that Griffey Jr., also known as "The Kid" had amazing talent, and fans thought his Upper Deck rookie card from 89 would become extremely valuable in the future. Now, that's not exactly what happened, but you might be able to fetch around $400 for a mint condition version.
WILLIE MAYS – 1952 TOPPS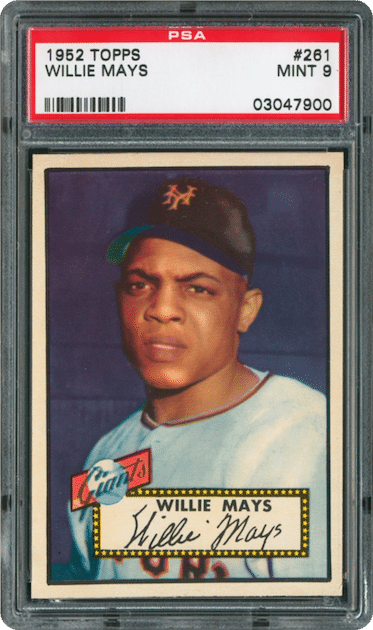 His nickname was "The Say Hey Kid" and played for the MLB for 22 seasons. He was part of the New York/San Francisco Giants but ended his career with the New York Mets. He was inducted into the Baseball Hall of Fame in 1979. Aside from the Mantle card, the 1952 Topps set included Mays, and in 2016, it was sold for $478,000 at an auction. It's not as valuable as Mickey's card but that's still a lot of money.
KIRBY PUCKETT – 1984 FLEER UPDATE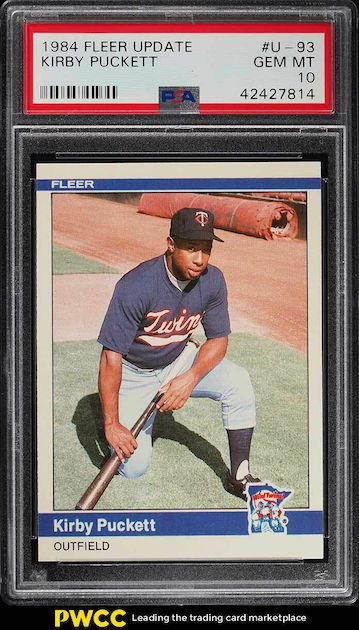 Puckett played in the MLB for 12 years as a center fielder for the Minnesota Twins. He was the team's all-time leader in hits, runs, and bases. By the time he retired, his career batting average was .318 and higher than any other right-handed player in the US since Joe DiMaggio. His Fleer Update card from 1984 can vary in prices depending on the condition, but a great one can go for somewhere between $200 and $500.
SHOELESS JOE JACKSON – 1909 AMERICAN CARAMEL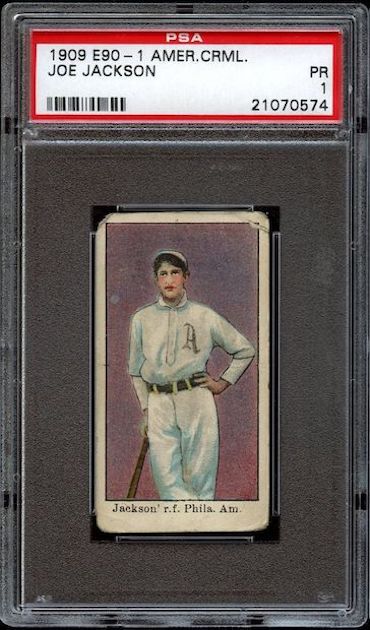 Joe Jackson was an outfielder for the MLB in the 1900s-1910s, but he is mostly remembered for the 1919 Chicago White Sox Scandal, which involved players trying to fix the World Series. He was banned from the baseball league despite his amazing performance in the 1919 World Series. This is another card that was made by a tobacco company of the time just like Honus Wagner's. Despite being booted from professional baseball, this memorabilia fetched $660,000 in a 2016 auction. It was in perfect condition, of course.
JOE DOYLE – 1911 ATC T206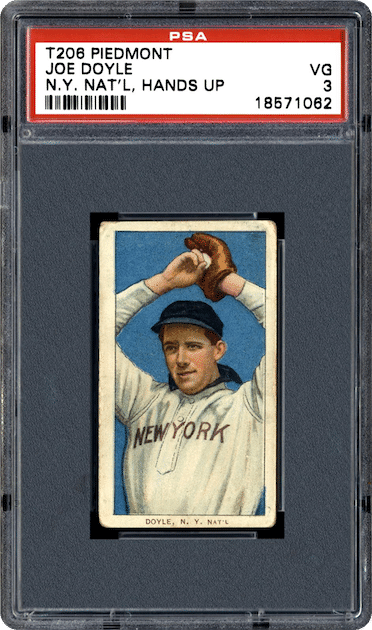 Most of the players we have mentioned already are Hall of Famers, but Doyle is the exception. In fact, his nickname was "Slow Joe" because he would take a long time to actually throw the ball, although his career started pretty well. However, the reason this card is so valuable is the same as Frank Thomas' card: a mistake. The first print of the card said that Doyle played for NY's National League team, but he was in the New York Yankees.
TY COBB – 1909 T206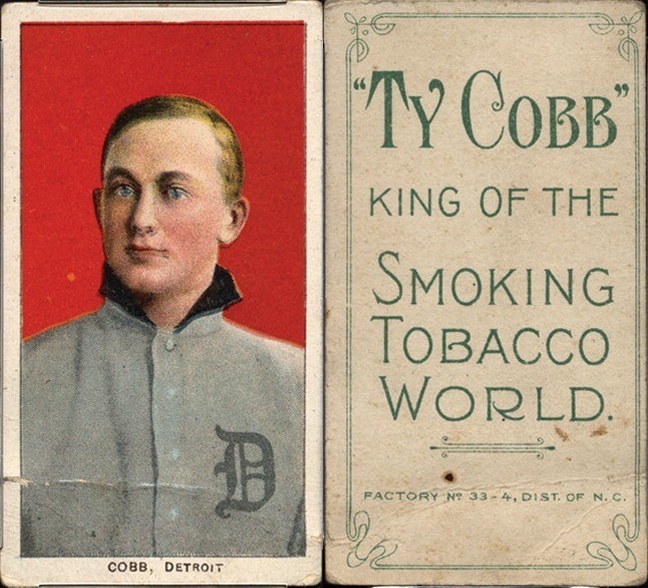 The cards in the T206 are extremely important, especially due to the brands featured on the back. There were 16 in total. It's said that the combination of front and back signified that there were 5,500 cards in the collection, which people have named "The Monster". However, there are only 22 in existence – that we know of – and most are low grades. Furthermore, Ty Cobbs' cards are the scarcest. In 2016, seven Ty Cobb issues were found in a paper bag, including this one. It was 4.5 grade, and therefore, would sell for more than $1 million.
MICKEY MANTLE – 1951 BOWMAN #253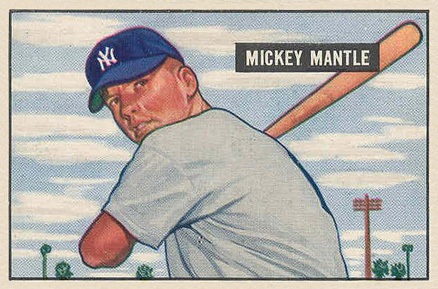 The 1952 Topps card we already mentioned is way more popular and valuable, but this one is the only recognized Mantle rookie card. A lot of American baseball memorabilia in history has to do with Mantle because he was very important, and this card is one of the best ever created. Similarly to other high-numbered cards, Mantle's card often had print lines, bad centering, and other issues. However, a high-grade version can fetch around $1 million.
EDDIE PLANK – 1909-1911 T206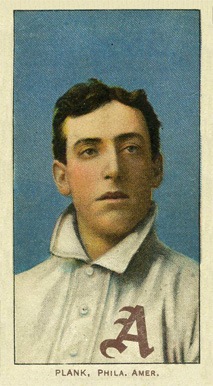 This is considered the second most wanted card from the T206, and it was Plank's only pose. Unlike the Honus Wagner card, there is no real reason why it's so rare, but it's very hard to find. One theory believes that because of low-quality printing plates, most of these cards were destroyed before being sold. Additionally, there is horrible centering overall, and sometimes, it even cut to the text at the bottom.
BABE RUTH – 1933 GOUDEY #53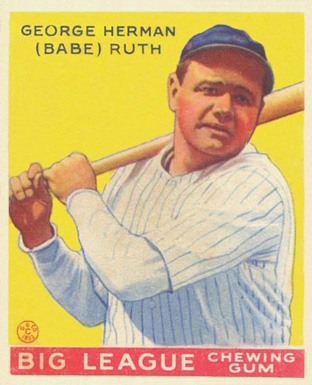 There are four Ruth cards in the Goudey set from that year: 53, 144, 149, and 181. They all have featured on several lists of most valuable baseball cards. This one is also known as the "Yellow Ruth", and it's tough to find, but certainly not as hard as the #144 "Full Body Ruth". Additionally, it's not the priciest of the bunch either, but still worth around $120,000 in great condition.  
WILLIE MAYS – 1951 BOWMAN #305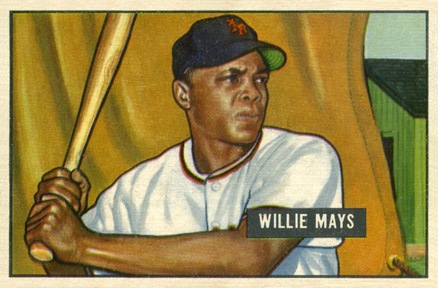 This is another card from "The Say Hey Kid", and this issue is the only recognized rookie card of one of the tops players of all time. Along with the Mantle rookie card, it's the most important in the set. Mays has the record for most All-Star Game appearances with 24 along with Hank Aaron and Stan Musial. His card is valued over $3 million by PSA, and his memorabilia has also been greatly desired by fans through the years. This is Mays' most important card.
HANK AARON – 1954 TOPPS #128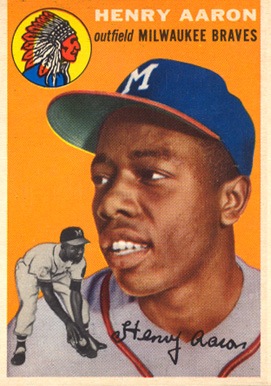 His nickname was "Hammerin' Hank", and he became one of the most important baseball players in history, inducted into the Hall of Fame in 1982. He has the career mark for home runs with 755 due to his impressive arms and hands which could swing a bat quicker than anyone else. This is his only official rookie card, and you can tell that printing quality improved in 1954. It's not the toughest one to find, though, but it was sold for $357,594 in 2012. That means, that it could go for much more these days.
JACKIE ROBINSON – 1948 LEAF #79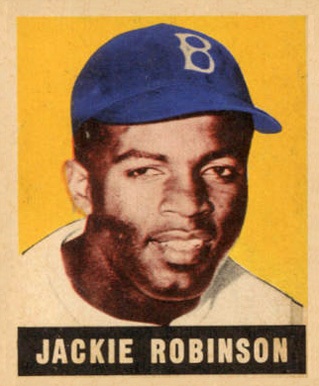 Jackie Robinson is another legend of American baseball, especially due to breaking the colored restriction back in 1947. Therefore, his rookie card is a valuable piece of baseball memorabilia but also for history. Aside from the Satchel Paige and Stan Musial cards, this one is the best in the set. It's also hard to find a great version because of print quality. PSA has valued this card at 45,000 for a grade 8.
SATCHEL PAIGE – 1948 LEAF #8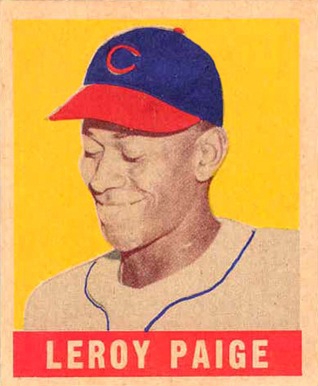 This is considered the hardest card of the post-war collectibles. As mentioned before, it's one of the key issues on the Leaf set. Paige was a legend, although he spent most of his professional career in the Negro Leagues. He finally got to the Majors at 42 years old with the Cleveland Indians. Despite his age, the player was awesome and made All-Star twice. He inducted into the Hall of Fame in 1971. There are only a few Paige cards ever made, and there are only five in existence that only graded as 8.
JOE DIMAGGIO – 1938 GOUDEY #274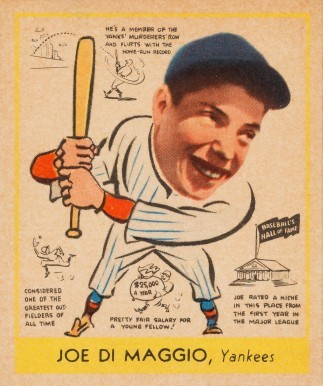 DiMaggio was featured twice in this set, but this one is worth more than the other issue. It's definitely not the nicest card to collect, but it's still pretty cool to own. Both cards in Goudey had a caricature of the Yankee legendary player, but this one has tiny cartoons as well as information in the background. If you can find it with a grade 9, it's valued at $200,000.
CHRISTY MATHEWSON – 1914 CRACKER JACK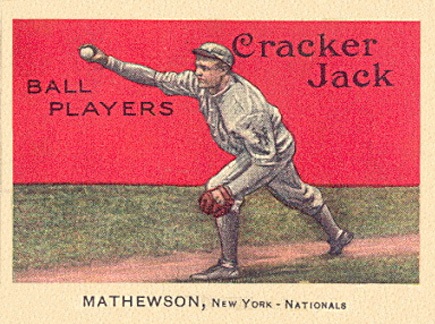 This is one of the toughest cards to find in the game, and Mathewson is definitely the best one in the set. The 1914 and the 1915 Crack Jack sets are very similar, although those from 1915 are better preserved because they were a redemption set. However, Mathewson is the only player with different poses between 1914 and 1915. Also, he is the only important player from the 1914 set that has a horizontal arrangement. Therefore, this one is worth more money. Graded 8, it could fetch $250,000.
STAN MUSIAL – 1948 LEAF #4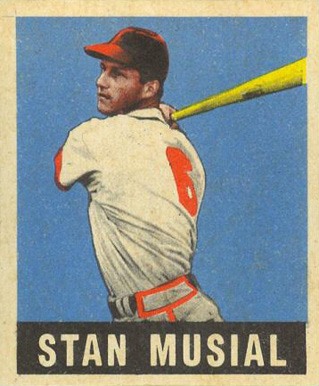 While other players on the list have one official rookie card, Musial has two. This one might not be as important as the 1948 Bowman, but it's a lot tougher to find. The issue might seem a lot prettier than the other car, but there are weird print lines on it that don't allow it to have higher grades. Musial was a consistent play, who won seven batting titles and the MVP award three times. Furthermore, he had a total of 3,630 hits in his career and popular with serious collectors. This is also worth $250,000 if found in grade 9.
TED WILLIAMS – 1939 PLAY BALL #92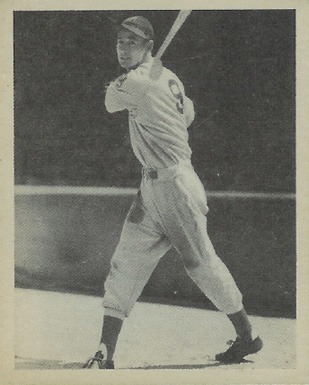 Williams got have reached much higher stats if he didn't have to enlist for five years. He was perhaps one of the best hitters in history and has some of the best numbers in baseball: a .344 batting average, a .483 on-base average and a .634 slugging average. If he could have had those five years of war back, Williams might have beaten Ruth's record of home runs before Hank Aaron. This issue is his only recognized rookie card, and in grade 9, it's worth $175,000.
DUKE SNIDER – 1949 BOWMAN #226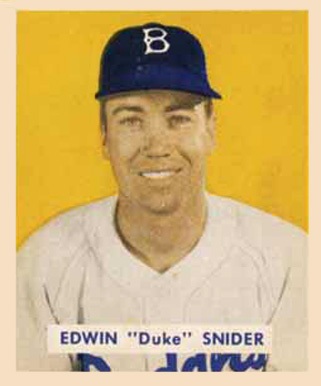 His nicknames were "The Silver Fox" and "The Duke of Flatbush", and he played in the MLB for 18 seasons, 16 with the Dodgers. Most of the 1949 Bowman cards are very simple, but this one, in particular, stands out thanks to the yellow background. Snider is known as one of the best players of the Dodgers, and his rookie card can actually fetch a pretty high price. In 2016, a rare PSA grade 10 issue was sold $232,750.
YOGI BERRA – 1048 BOWMAN #6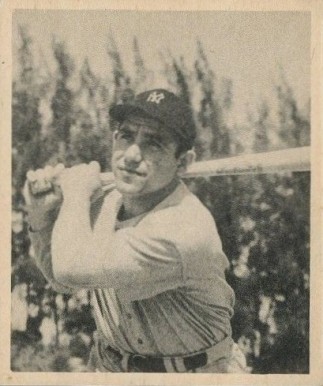 The 1948 Bowman set is not the best of the time because they still used black and white images, but this Yogi Berra issue is definitely awesome. Berra became a New York Yankee legend, and this card shows him looking into the distance. No one could catch as this pro did, and he was part of the most beloved baseball team in the country. Therefore, this card is highly sought after. PSA values a grade 9 version at $22,000.
NAPOLEON LAJOIE – 1933 GOUDEY #106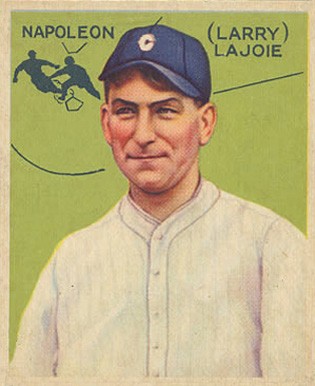 You might be interested to know that this card wasn't supposed to be in the 1933 set. This might one of the rarest cards ever made. In 1934, avid collectors had to contact Goudey if they wanted to buy this card to get the whole set. Sadly, the company would send the issues with a clip that damaged the item. Lajoie is known as one of the best second-base players of the time. He also won 3 batting titles, had 3,242 hits, and a .338 average. A grade 9 could go for $200,000.
ANDY PAFKO – 1952 TOPPS #1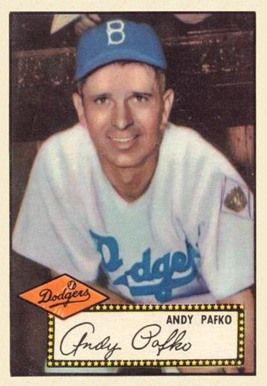 Interestingly, this card is rare and expensive, but not because of the player or a mistake as we have learned from earlier items on the list. It's valuable because it has the #1 place in the best card set after the war. Additionally, kids would often wrap their cards with rubber bands that damaged the sides of this issue because it was the first one. Therefore, finding a mint condition one is rather tough. Fascinatingly, a collector bought five-card pack one time and found the only mind condition Pafko in the world. It was worth $250,000 in 2007.
CAP ANSON – 1887 N172 OLD JUDGE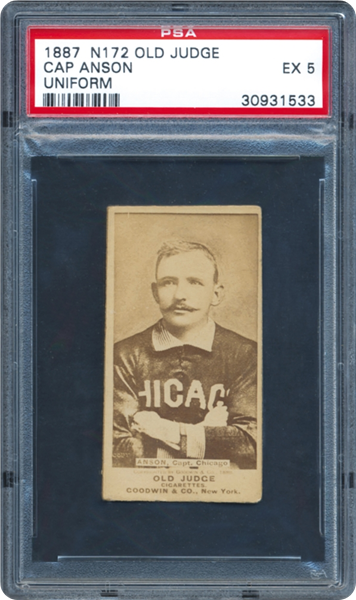 Collectors and avid fans know that this set is considered the most significant of the 19th century. There were several variations with major players, and some even went so far as to have 12. There are more than 3,000 different cards in the collection, and Cap Anson had two in this set. This one with his uniform is the rarest, though. There is only a handful of them in existence and almost no collectors have ever seen them. A grade 9 version is valued at $150,000.
LOU GEHRIG – 1933 GOUDEY #92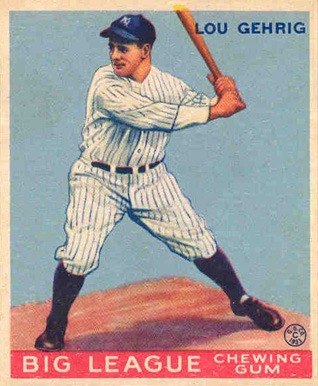 This card might similar to the 1933 Goudey #160, but it has better coloring than that one. Gehrig is another New York Yankee legend that couldn't be missed on this list. He had one of the best statistics of all time and had the record for most games played in one season. Ripken Jr. beat his record in 1995. A grade 9 version is worth $175,000.  
ERNIE BANKS – 1954 TOPPS #94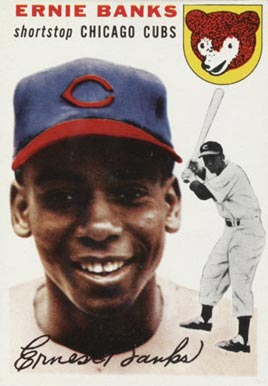 Just like other players on the list, Banks has only one recognized rookie card, and similarly to Hank Aaron and Al Kaline, he was one of the key pros on the 1954 Topps collection. The design is gorgeous and is more noticeable than any other card from the 1950s. Sadly, both images of Banks on top of a white background have been known for enhancing its printing problems. A grade 9 version can go for $65,000.
REGGIE JACKSON – 1969 TOPPS #260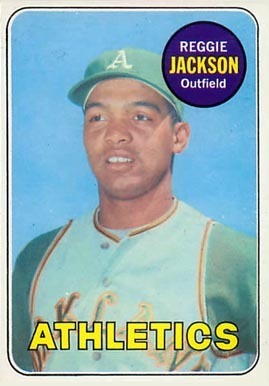 Of course, Reggie's rookie card was the most important one in the 1969 Topps collection and the best rookie issue of the 60s. One of the problems with it, though, is the centering. However, if you can find a grade 10, there is a lot of money for you. In 2012, a mint condition issue sold for $115,000. Therefore, it would be worth a lot more today.
We never imagined that such a simple image that came with gum or other products could be worth so much. Let us know which player on this list has always been your favorite. If you liked this article, share it with your friends who have always enjoyed collecting things. See you next time!
Source: Definition, Old Sports Cards