40+ Most Eye-Pleasing Photos On The Internet
When it comes to beauty, it is in the eye of the beholder, and perfection means different things to different people. However, there is no denying that the following photos are undeniably pleasing to the eye due to their scrupulous attention to detail. Many are related to nature, and we guarantee you won't want to take your eyes off them. Let's get right to it!
Nintendo Avocado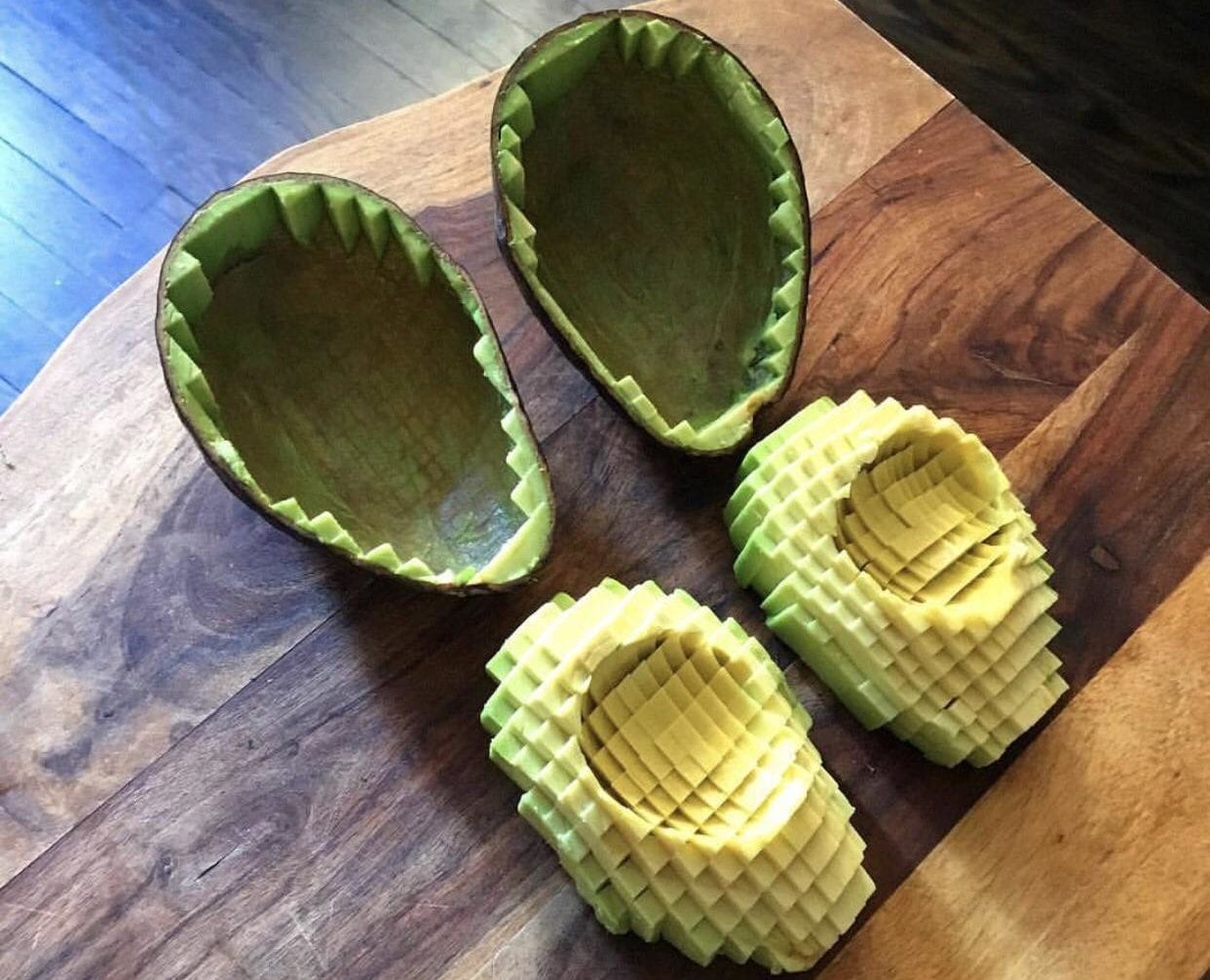 It's difficult to understand why somebody thought about carving an avocado so intricately that it looks like it came straight out of Nintendo. However, you have to respect the mastery, time, and effort that it took to complete this culinary work of art. 
Blossoming Beauty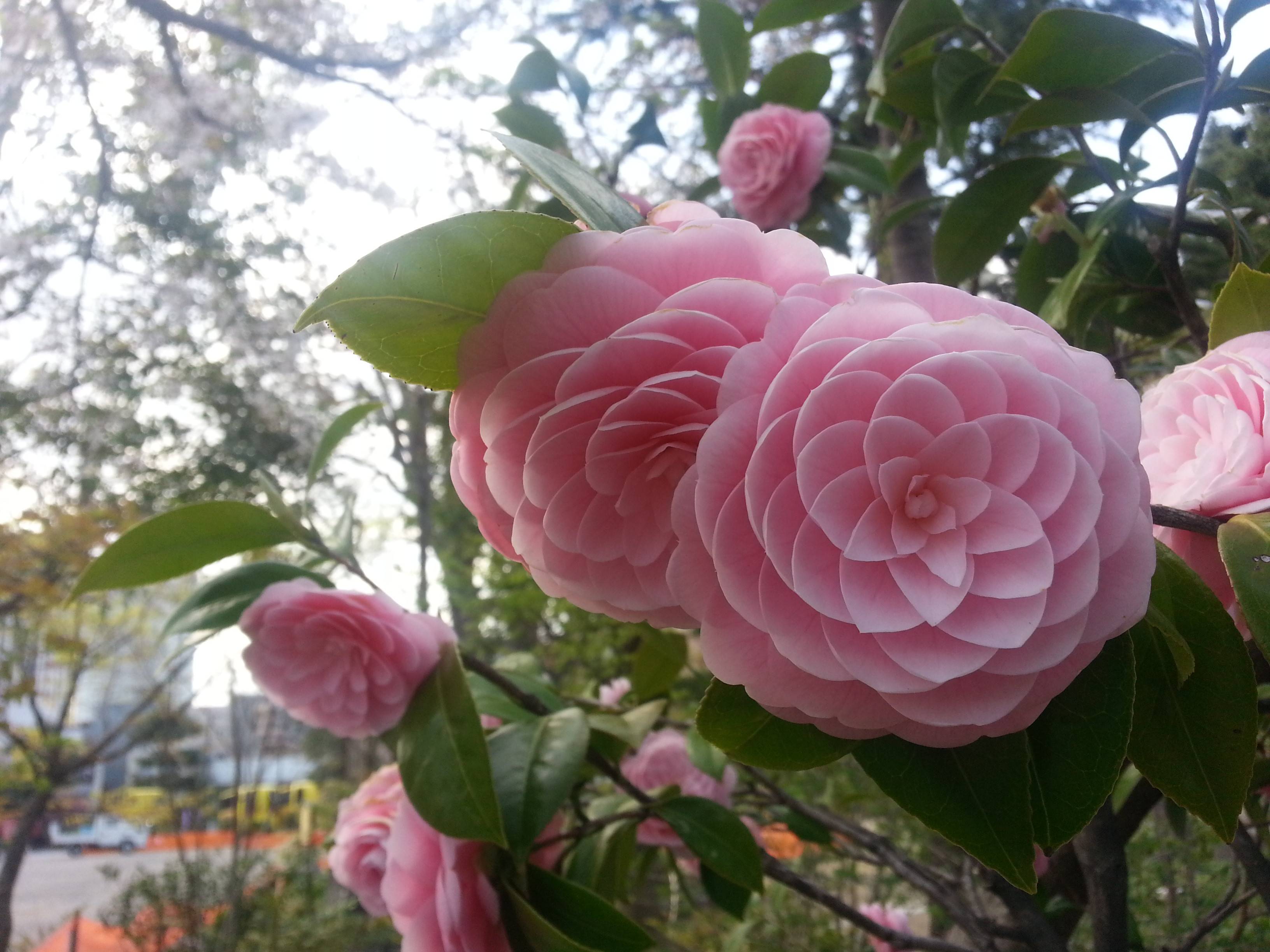 While the most popular flowers in Japan are cherry blossoms, which attract thousands of tourists every year, there are other flowers from this country that are absolutely astonishing. Calling the Camellia japonica visually pleasing is not incorrect, but it's the understatement of the year! If you are surprised a flower could have such a mesmerizing pattern, and you wonder how it is possible, the correct technical term for it is a fractal arrangement. Basically, this is how it looks when shapes of the same size have the same statistical figure as its whole. Awesome, right?
The Tree Of Light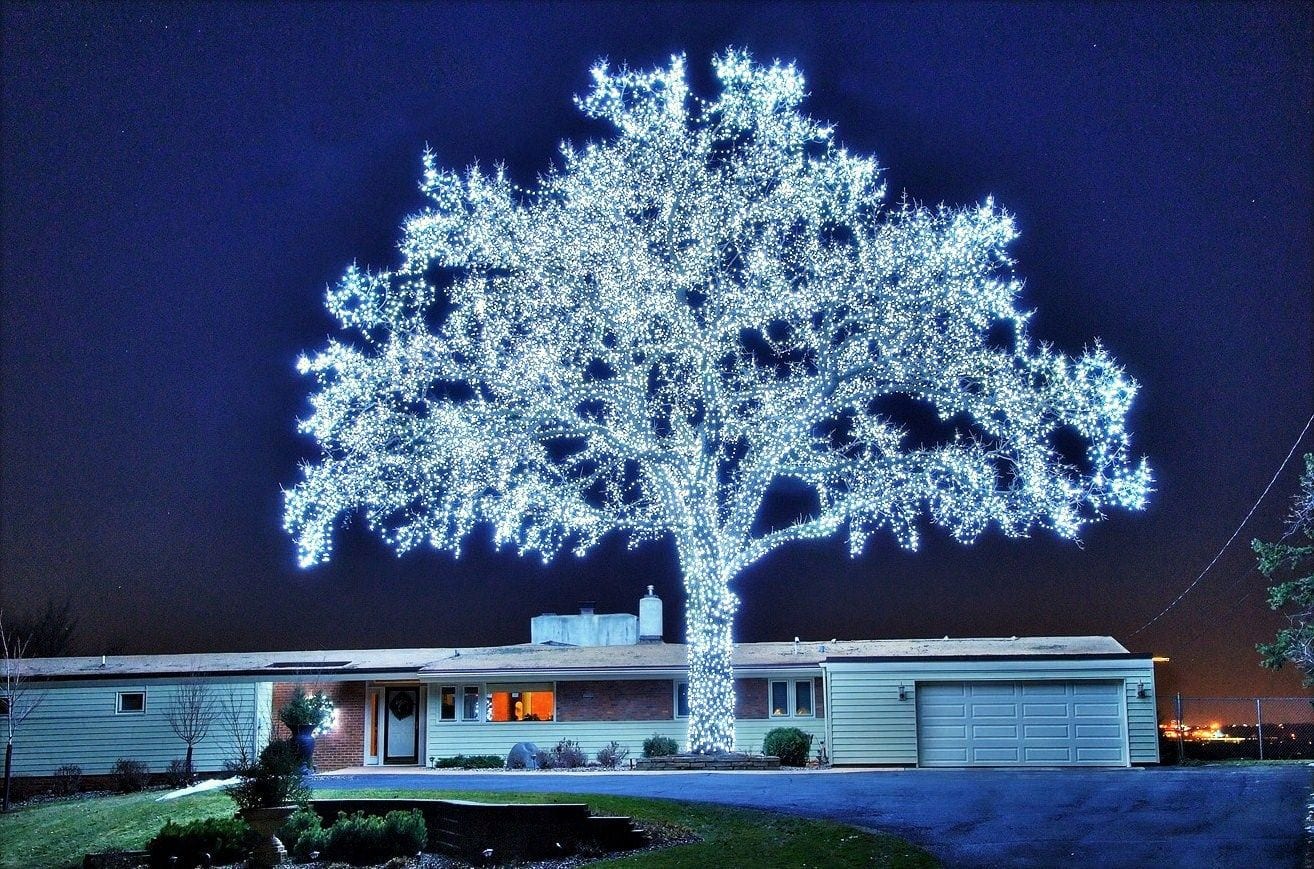 Many people are highly passionate about Christmas, so during the season, hanging basic lights in front of their house is not enough. This family is exactly the type, as they decorated the tree in front of their home with 40,000 LED lights. The result is simply stunning. With the dark sky in the background, the contrast created by the LED lights makes it look like something out of Lord of the Rings. However, the only problem one might have with this is that it could be a safety hazard.
Perfect Converse-ation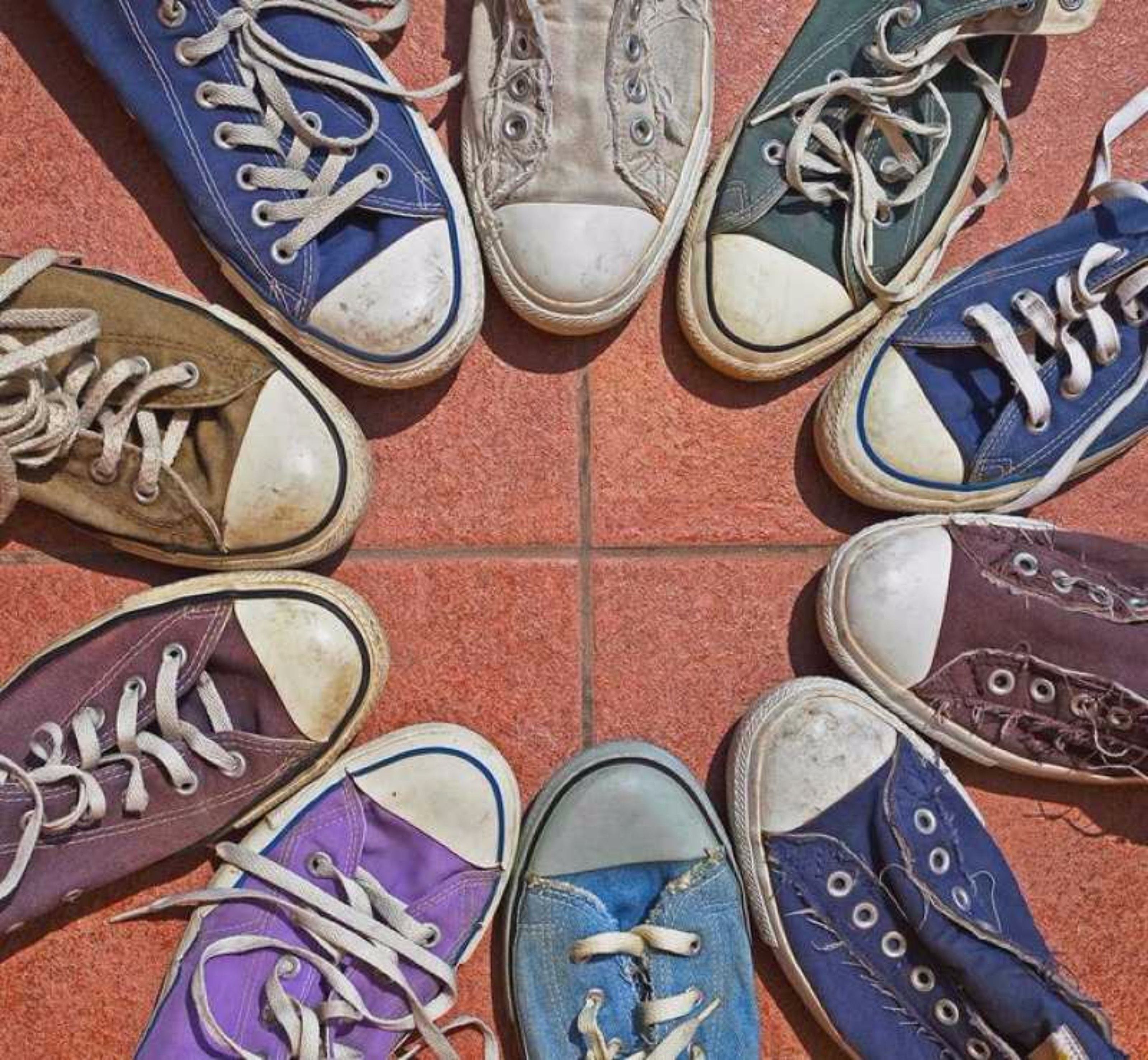 Converse is easily one of the most iconic sneakers of all time. Chuck Taylors, as they're often called, have been trendy for over a century now. However, did anyone ever think to make a full circle out of Chuck Taylors? Well, the person who took the photo above did, and surprisingly, it is visually pleasing. Chuck Taylors have always been iconic, and the image they created above is the definition of eye candy.
Perfectly Balanced Diet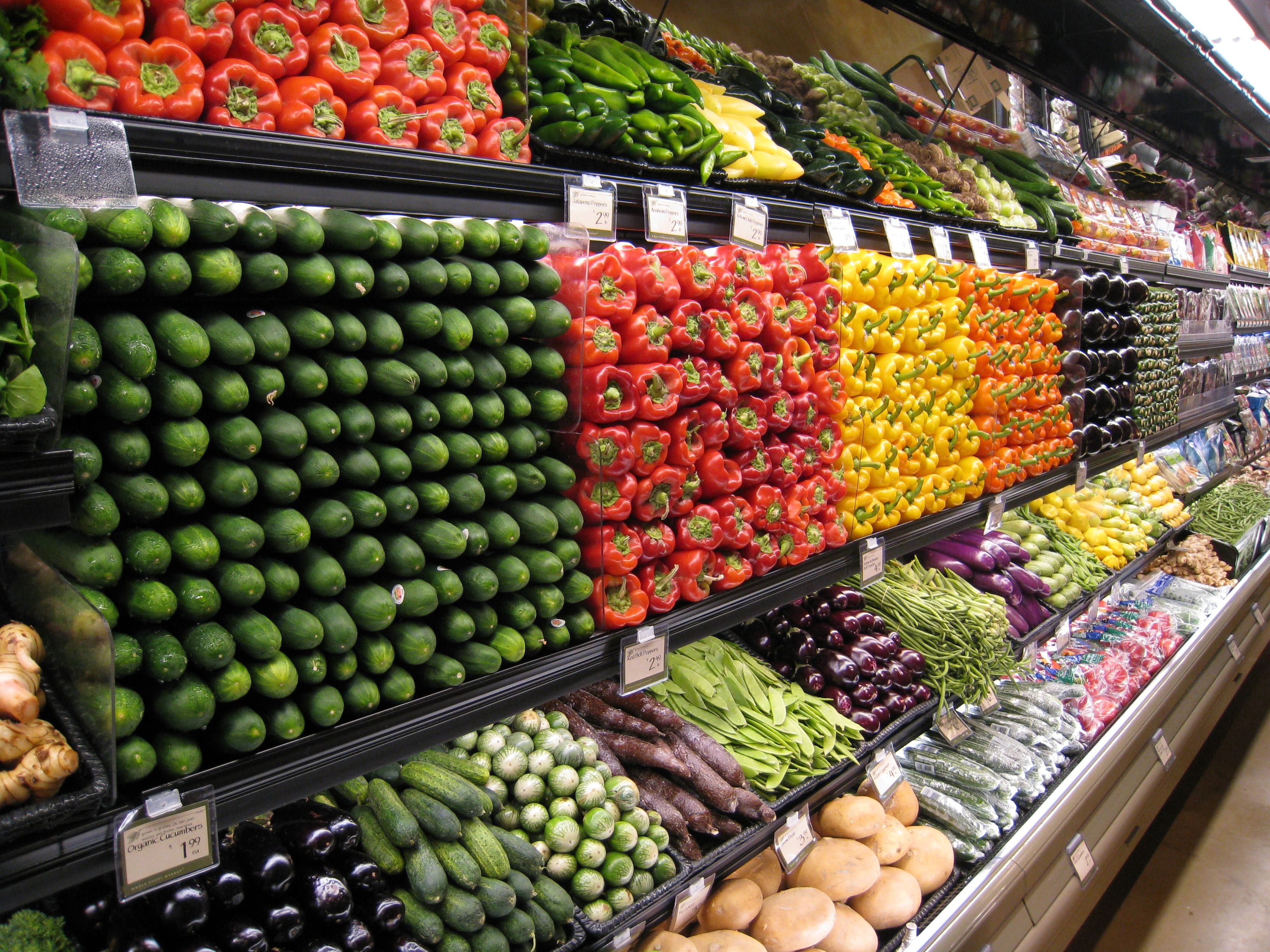 When you take a trip to the grocery store to buy some essentials, you don't always expect a five-star experience. You simply want to get in, find the products you need, pay for them, and go home. However, how are we supposed to do any shopping in this grocery if we're stuck staring at the grocery aisle for hours? It looks like some members of staff have a very intricate way of arranging the vegetable aisle, and we love it.
The Mirror Lake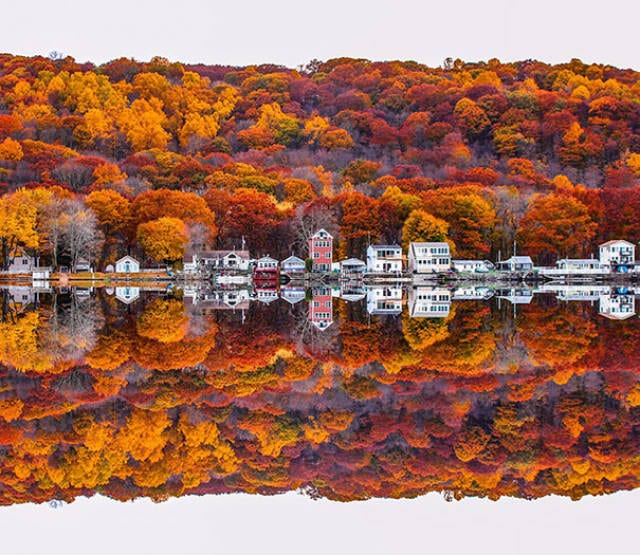 In some photos, everything is lined up so perfectly that it makes it hard to tell what's real and what's a reflection. In this case, the reflection of the village on the lake is lined up so perfectly that it creates the illusion that one forest is stacked on top of the other. This photo was taken at the exact perfect moment; if it was taken a little earlier or later, you'd be able to tell the difference between what's real and what's not.
You've Been Framed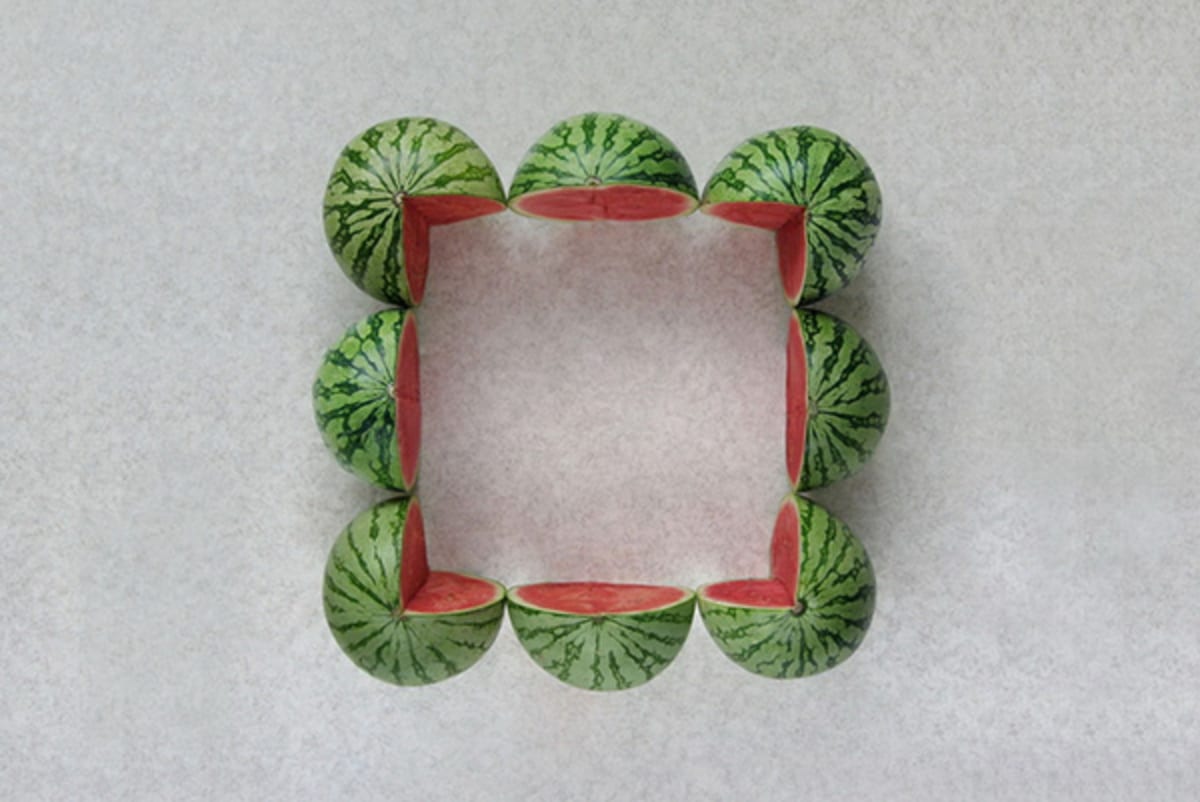 If this person just cut out watermelons for Instagram likes, who are we to judge? However, if this person intended to use this as an actual picture frame, we wouldn't advise it. It will stink up the place really quickly! Also, if you look at the corners, it looks like Pac Man dressed up as watermelons. Pretty cool, right?
Spiral Bookcase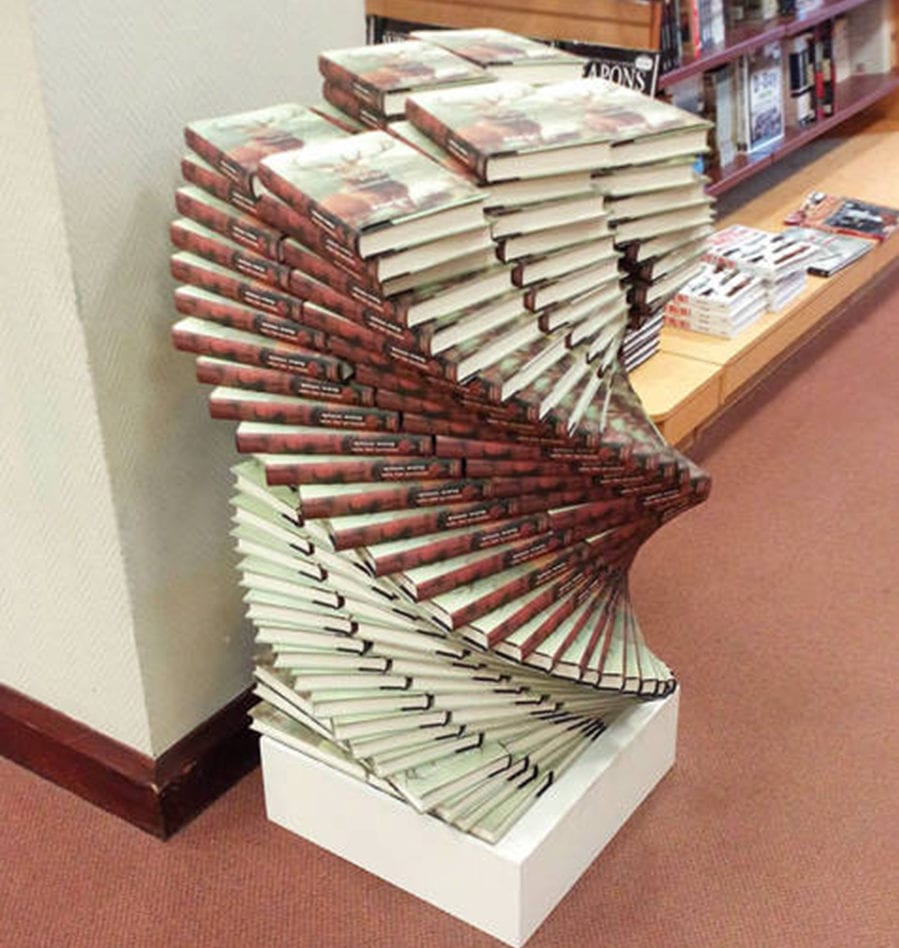 Fair enough, it's not a bookcase, but we thought it sounded like a cool title. Anyway, it looks like someone has plenty of time on their hands at the book store, but we're not complaining. It looks really cool. To anyone who wants to pick up this book, we highly advise taking one from the top. You may be tempted to play Jenga with the books, but that's not a good idea.
Rainbow Chilli Pepper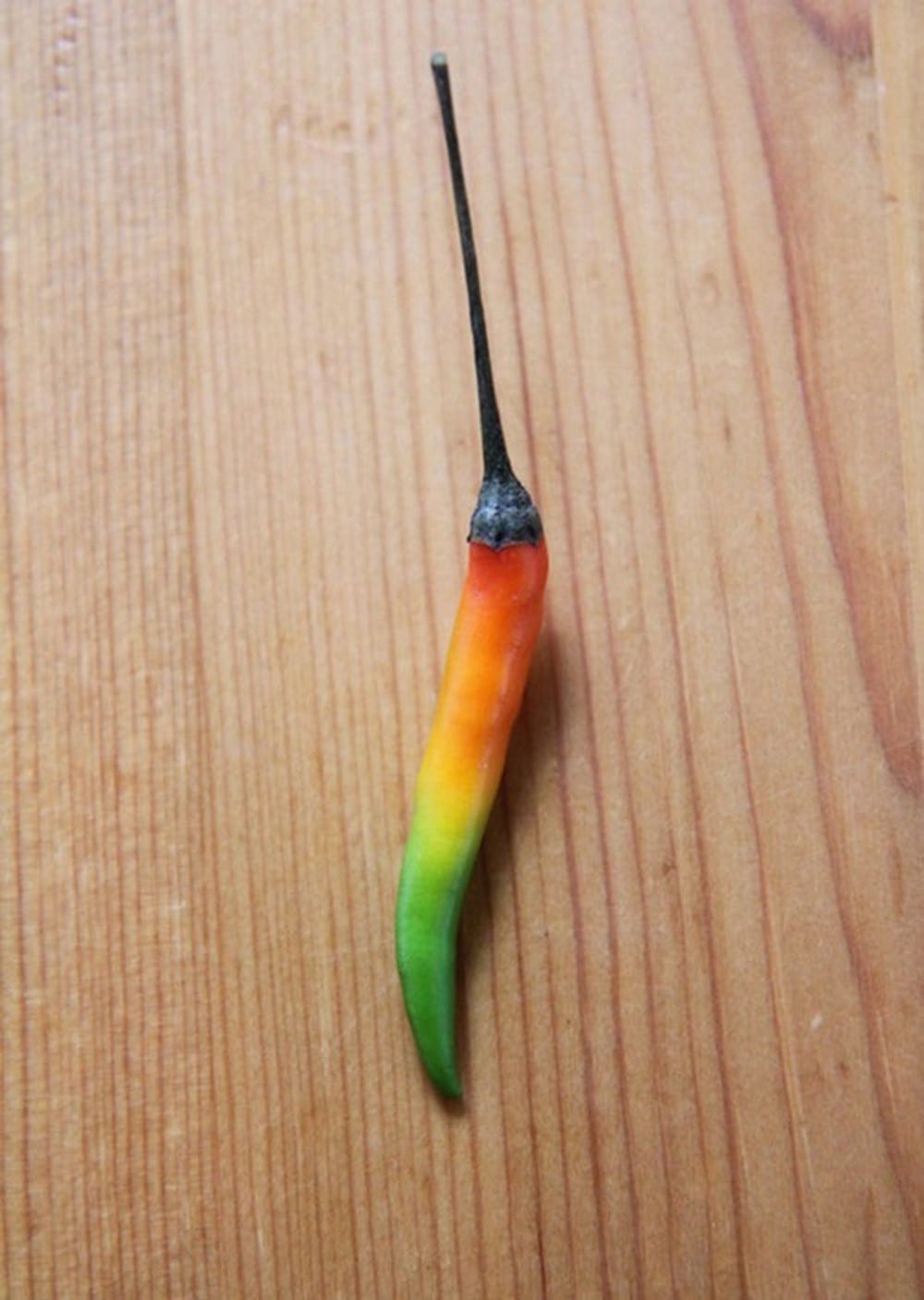 Although you thought you had seen it all when it comes to food, this bad boy decided to make an appearance. So, is this chili spicy? Are certain parts of the chili more spicy than others, depending on the color? Also, if this can happen to fruit and vegetables, how come it can't happen to humans? Why does no one look like the colors of a rainbow? We have so many questions.
Time To Say Grace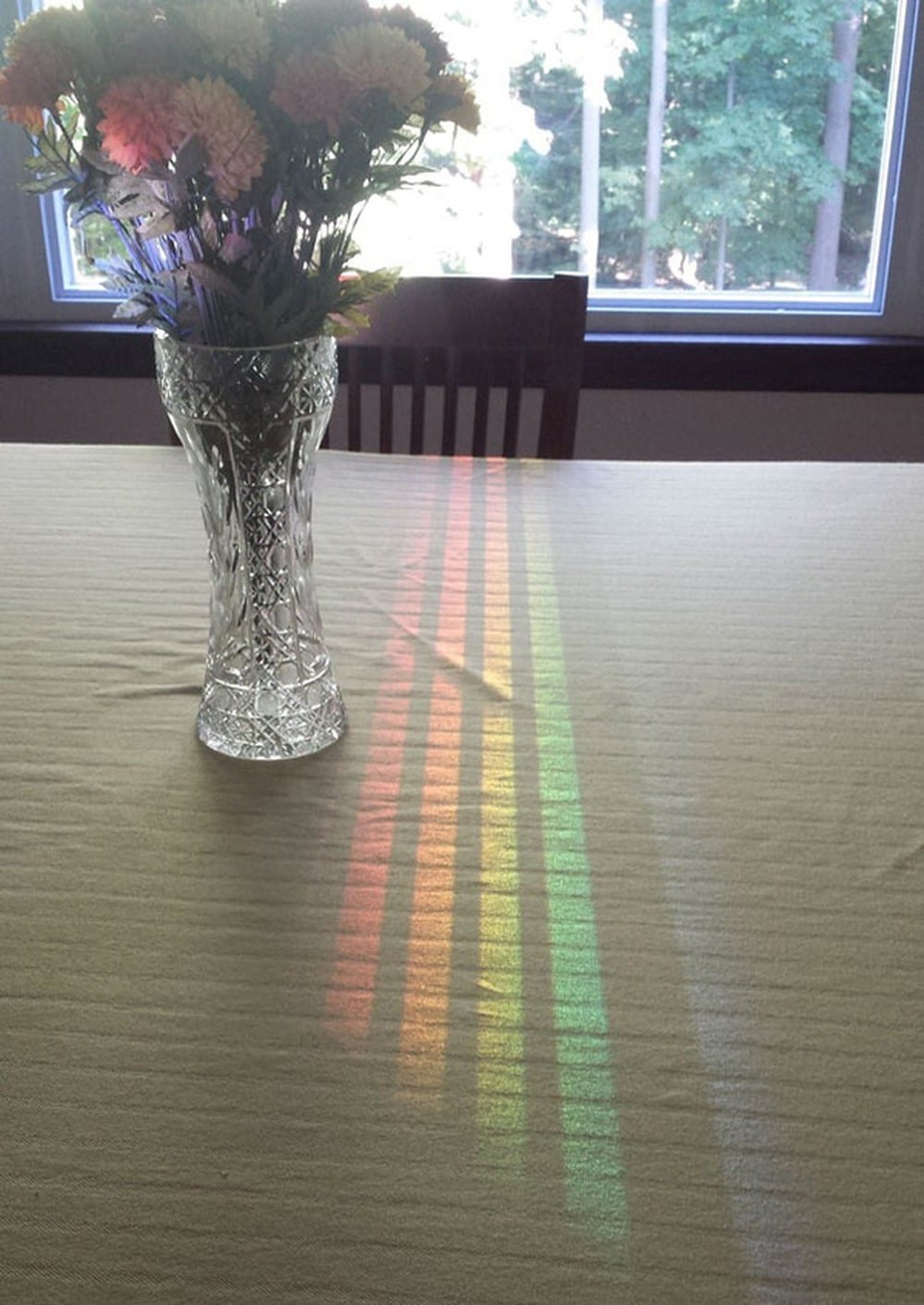 If a rainbow that was placed in the perfect position was divided by the gaps created by your chair, wouldn't you find that amazing? According to scripture, God sent Noah a rainbow when the flood ended. Now, here we are, just minding our own business, and these divine beams of light hit the table in this way. We never said grace before a meal before, but maybe we should start now.
So Tired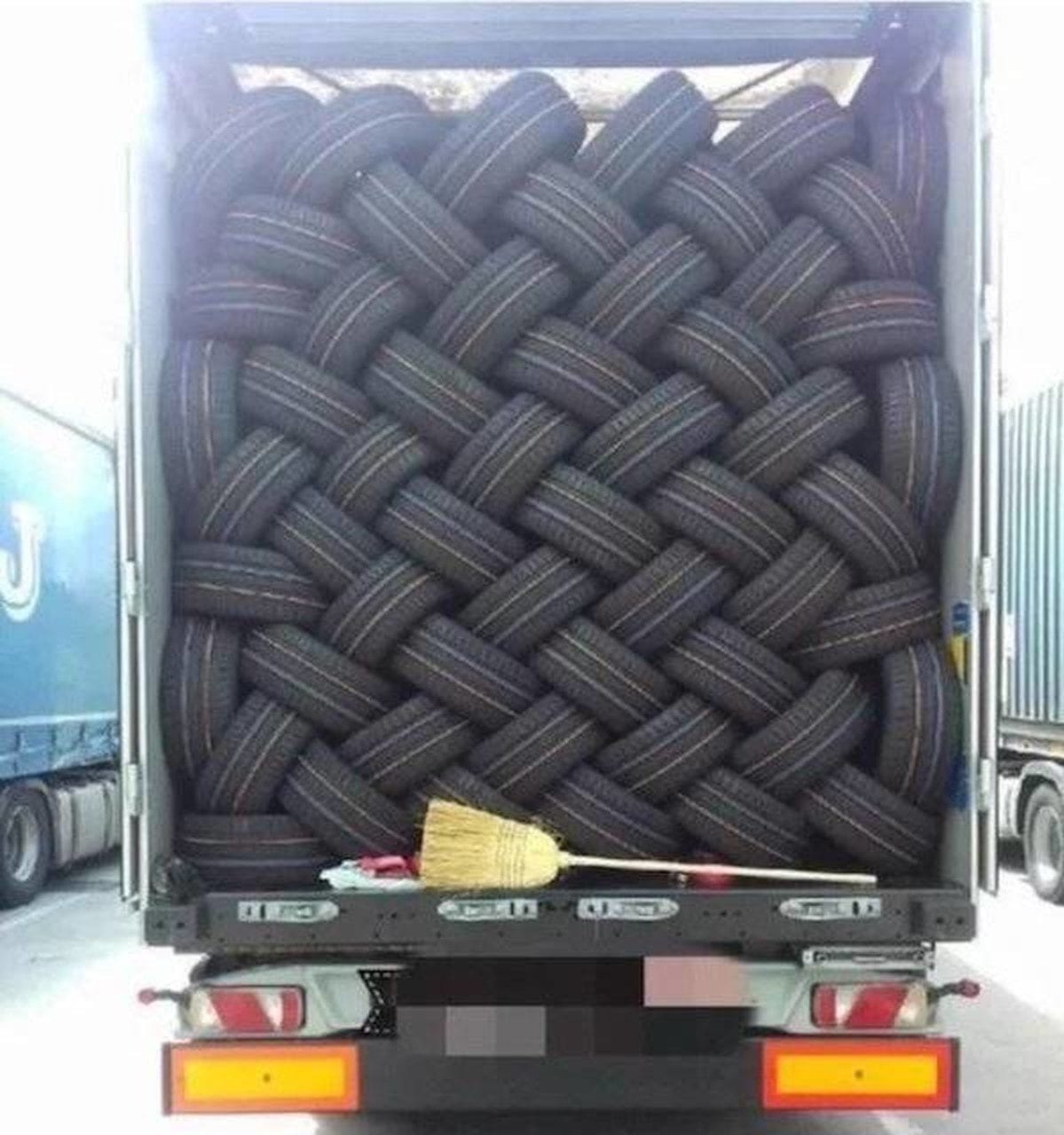 Whoever thought that a display of tires could look exactly like woven fabric? At the end of the day, money is money, so stacking a maximum of tires is mainly for efficiency rather than looks. Here, they managed to tick both boxes. Maybe someone thought: "I wonder if I can beat the record for the most tires stored in the back of a truck." It looks like he may have done it, and at the same time, it looks absolutely glorious.
This One Takes The Cake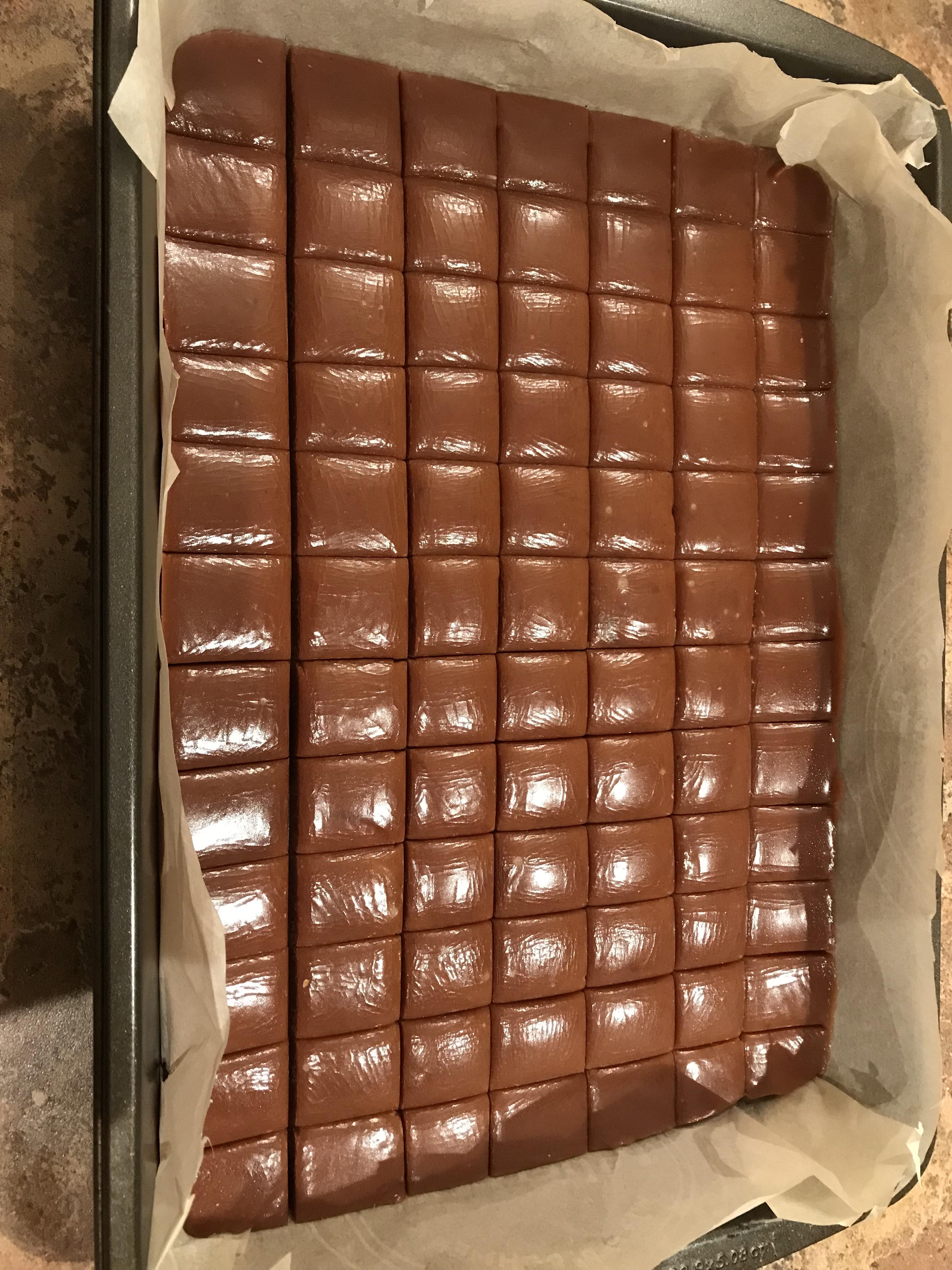 We never believed that a brownie divided so perfectly could be so pleasing to the human eye. It just makes you want to put your face in it! Is it because the brownies are divided into such equal pieces? We need a taste! It seems like we can tell how soft and fluffy they are simply by looking at the surface texture.
Life Imitating Art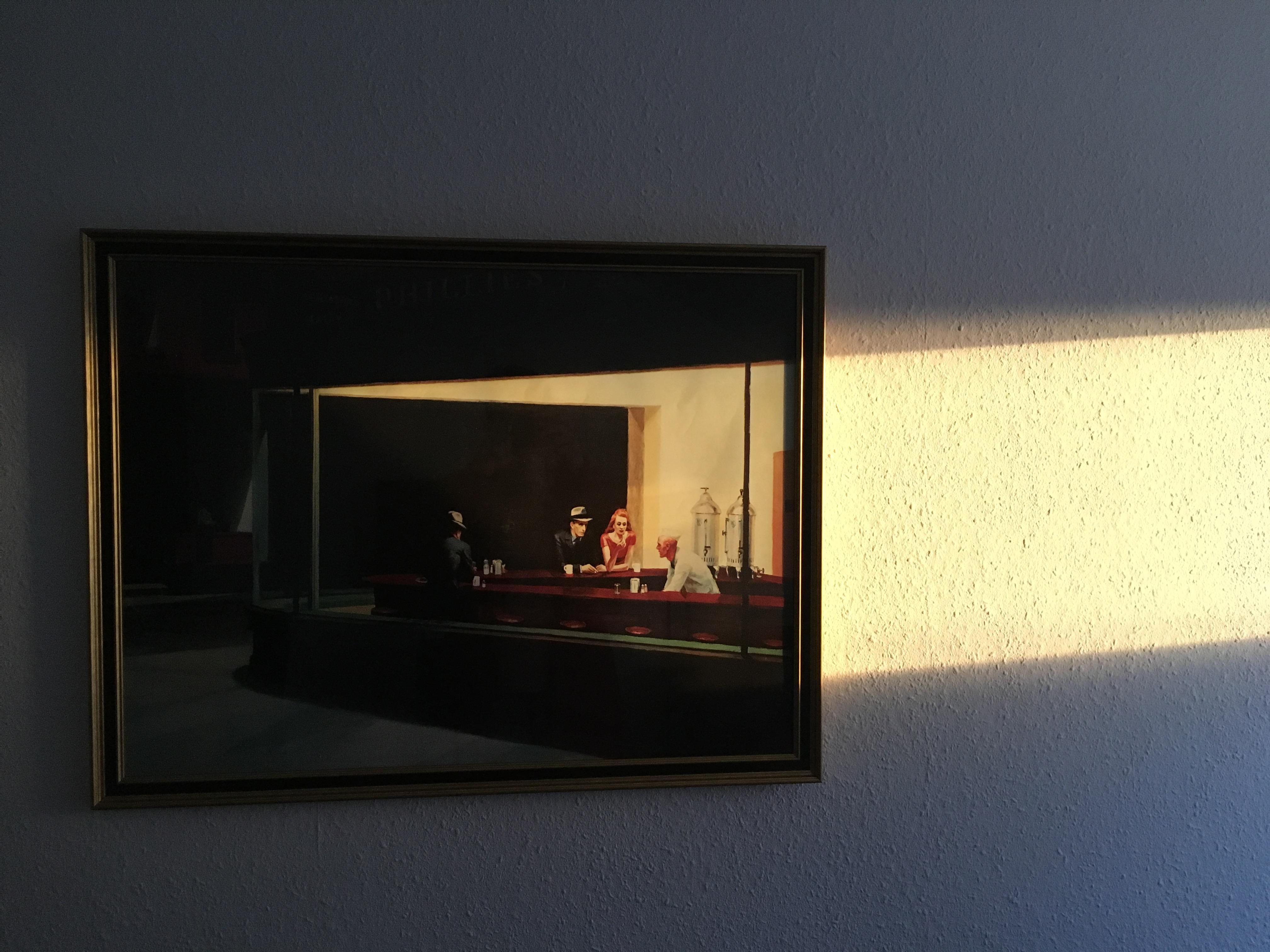 Anybody who is into art knows that the painting above is "Nighthawks" by Edward Hopper. The painting shows a bunch of people hanging out at a diner late at night. What were the odds that the sun shining from the window would aline so perfectly with the light in the painting? It is one of the most accurate illusions we have ever seen. Perhaps the person who took this photo waited for hours to get this perfect Kodak moment? If they did, hats off to them.
Everything's Fitting Into Place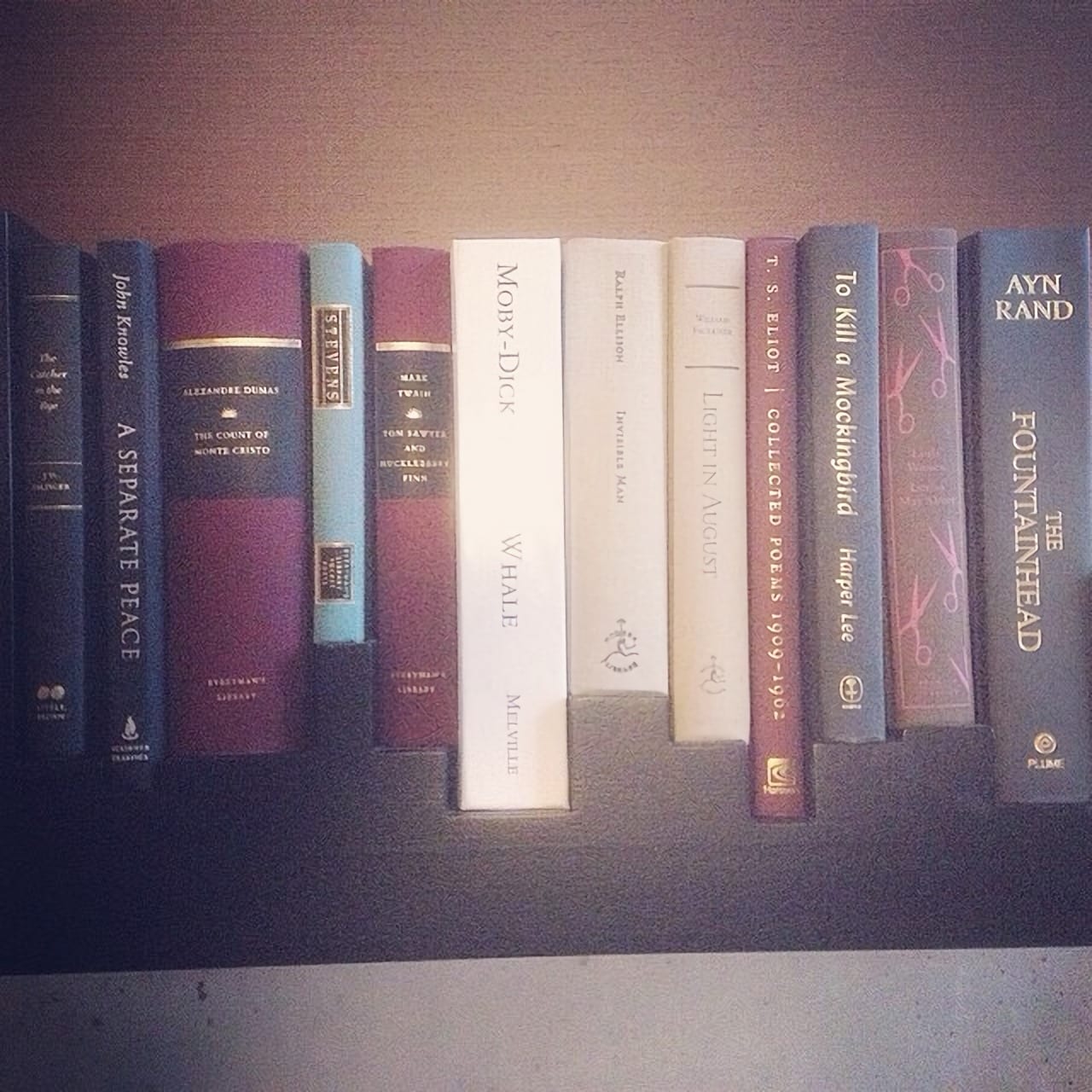 The title above is an expression we'd love to tell ourselves every day. Unfortunately, life is hard, and it doesn't always go that way. However, if you're into DIY, like this person, you can apply that expression to your home. Interestingly, this person created the bookshelf so that every book stands at the same height, no matter how tall it is. The result is visually highly pleasing.
Now That's A Coin Collection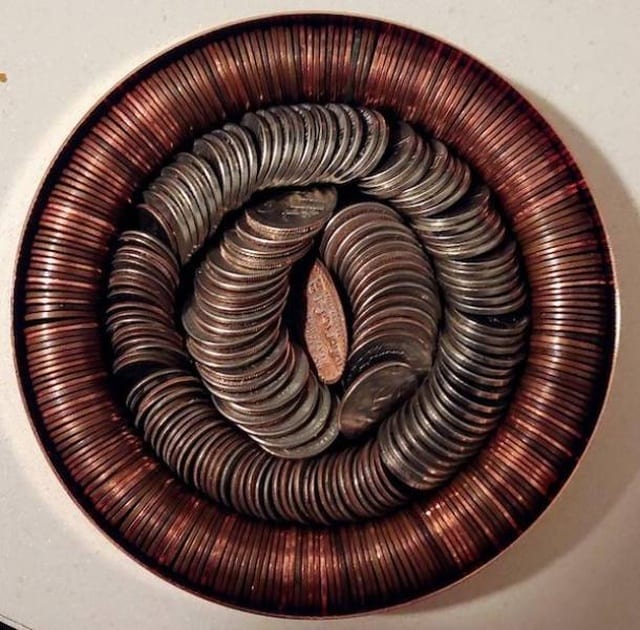 Have you ever collected so many coins that you didn't know what to do with them? Well, there are a bunch of things that you can do with these pieces of copper. You can separate the valuable ones from the tiny ones, and then exchange them for notes Or, like this guy, you can stack them perfectly into an empty tin. Why not? 
Bottomless Pit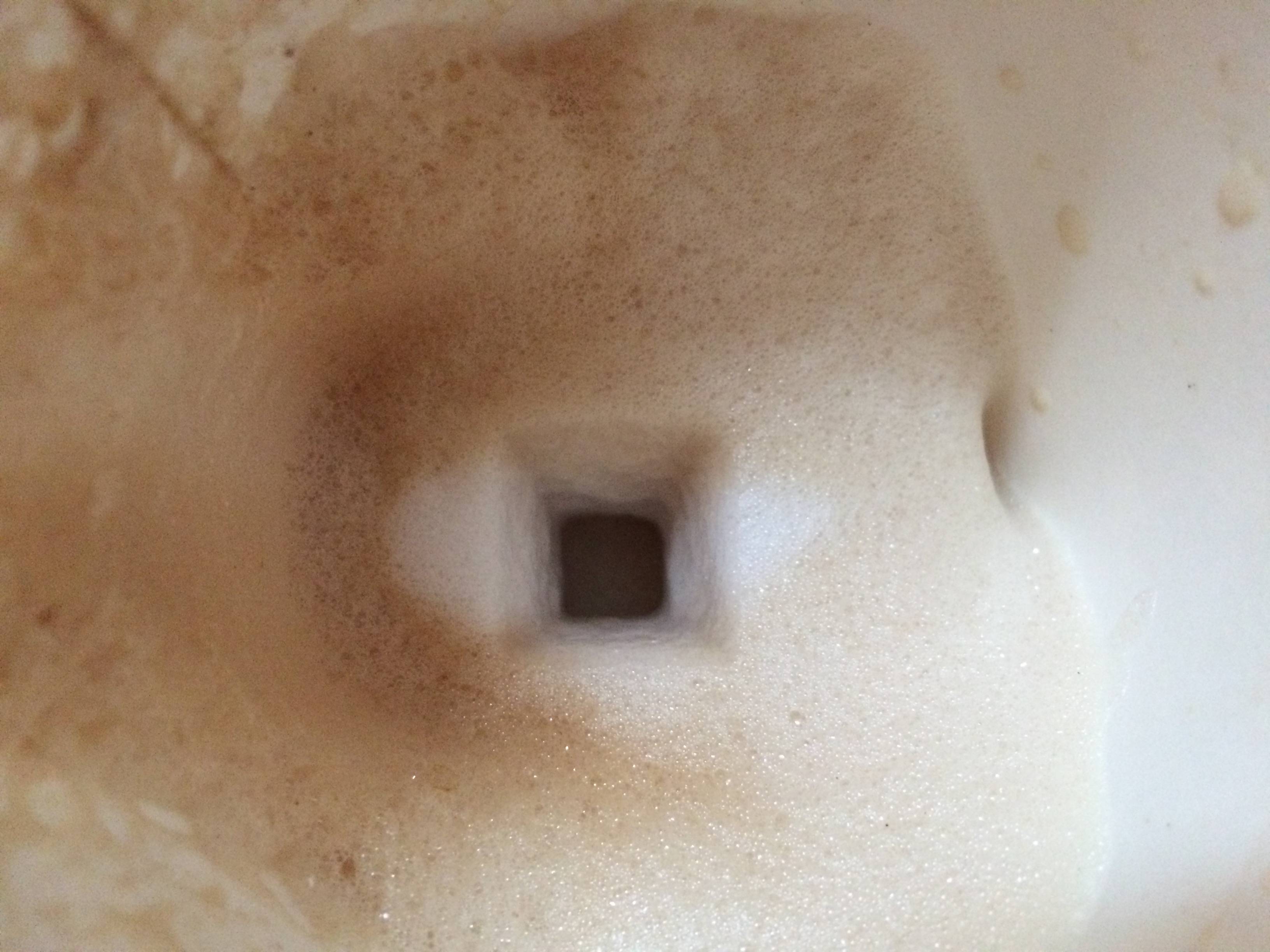 Anybody who likes to have a cappuccino from time to time loves how the sugar sits on the surface before sinking deep inside the coffee. However, have you ever done this with a sugar cube? That's what's going on in the photo above. Ultimately, it looks like the cappucino has a bottomless pit. If you had seen this photo without any context, would you have known what it was?
Rainbow Fields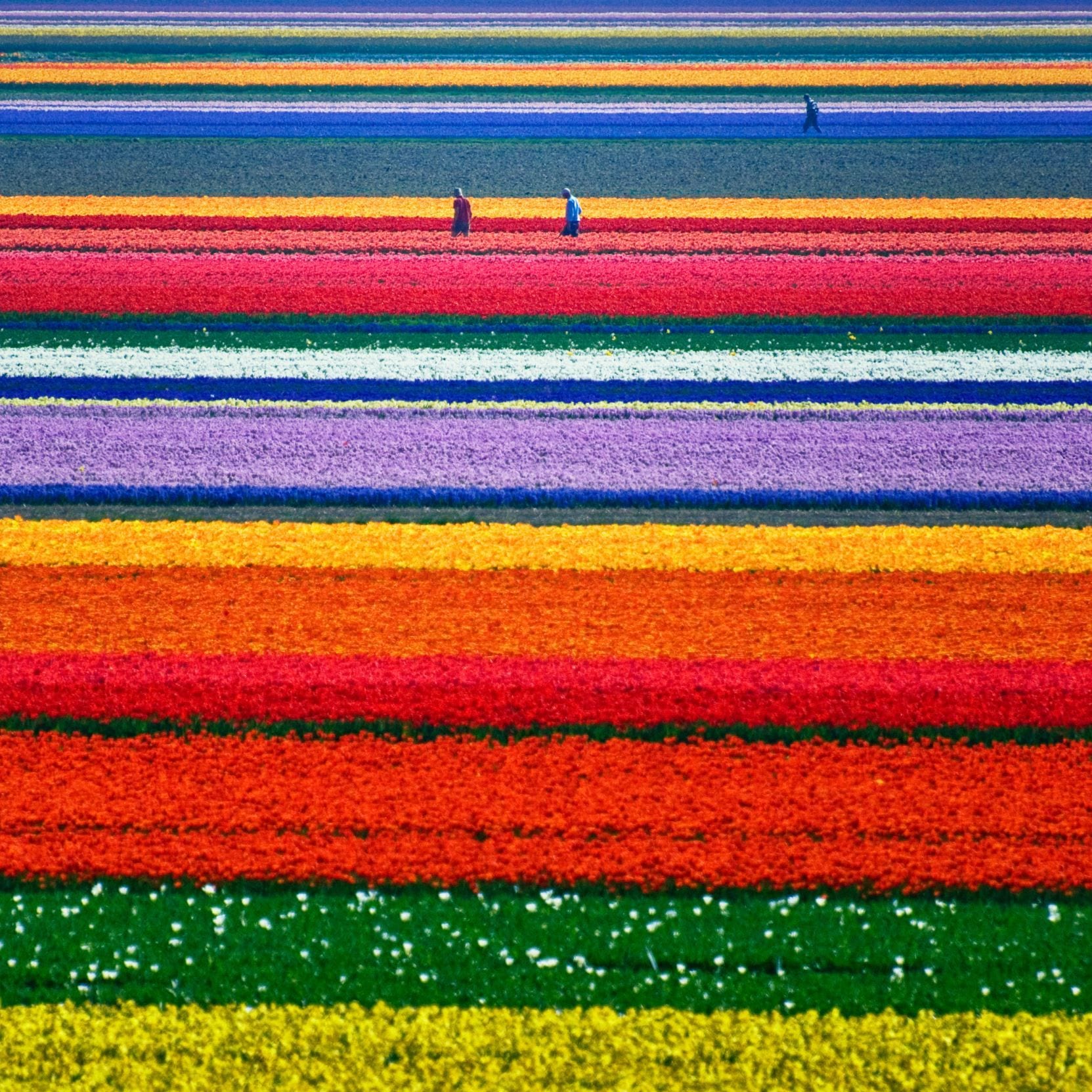 How could the colors in this field be so bright, and of such variety? If you walked through this field, stopping, taking in all the beautiful colors, you would probably look around and capture a picture "for the gram". It's absolutely stunning, with a ton of different colors like red, pink, yellow, blue, green, orange, purple, and everything in between! Also, look at how everything lines up so perfectly! 
Symme-Tree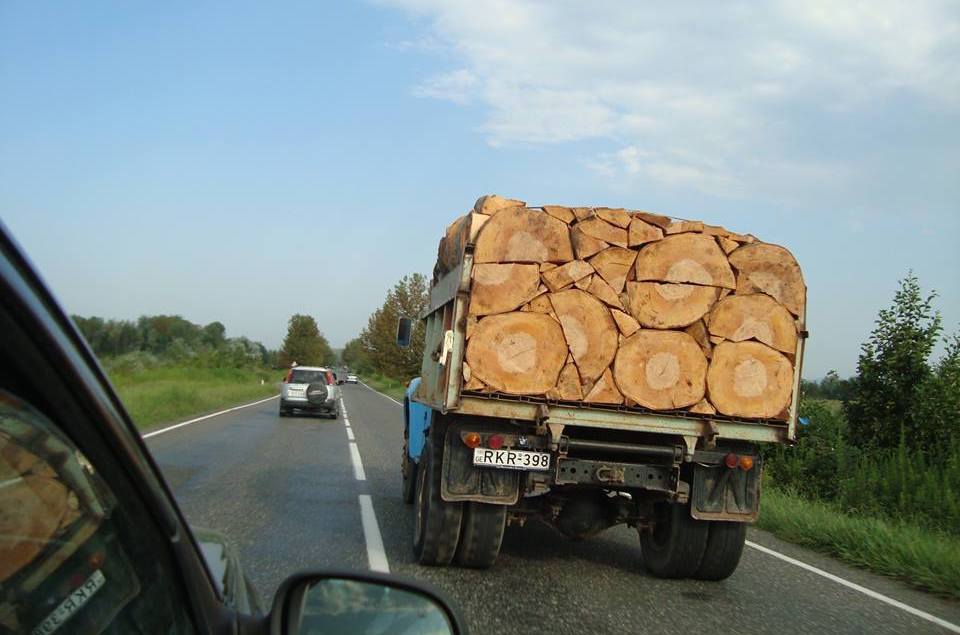 You're driving down the highway pretty quickly when suddenly, a truck comes out of nowhere with logs in the back. We've all been there. The logs keep rolling in the back of the truck, back and forth, while you are praying that they don't fall out. However, imagine they were all stacked up like the truck in this photo. Not only would anybody driving behind them feel much safer, but it also looks so much more beautiful, too!
Spiraling Out Of Control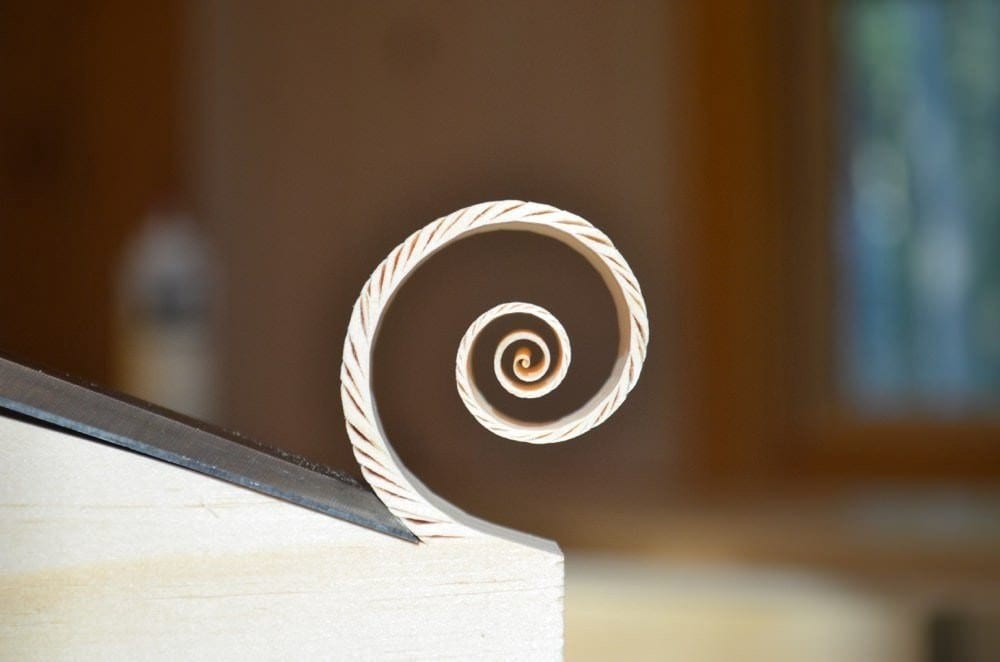 It looks like things have a beautiful way of playing out if you just leave them be. Look at this piece of woodwork, for instance. After a carpenter mistakenly left a tiny piece of wood on the edge of this piece of furniture, with time, it curled up into a perfectly shaped spiral. The result is a dream for any photographer. With the light wood and the dark background, it is an image that is highly pleasing to the eye.
Side By Side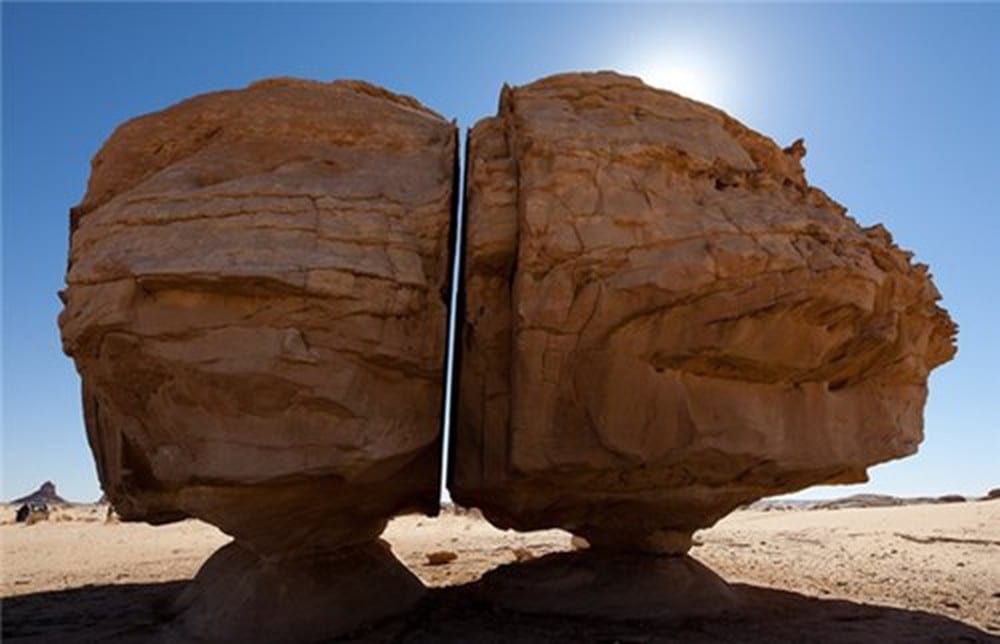 When left untouched for millions of years, rocks can take up positions that look absolutely stunning. In this case, it seems like this pair of rocks were once one huge rock. Perhaps at some point in history, it was separated by the elements. However, even though they are no longer one single rock, they still stand perfectly next to each other, creating a tiny yet visible gap that is pleasing to the eye.
Balance In Nature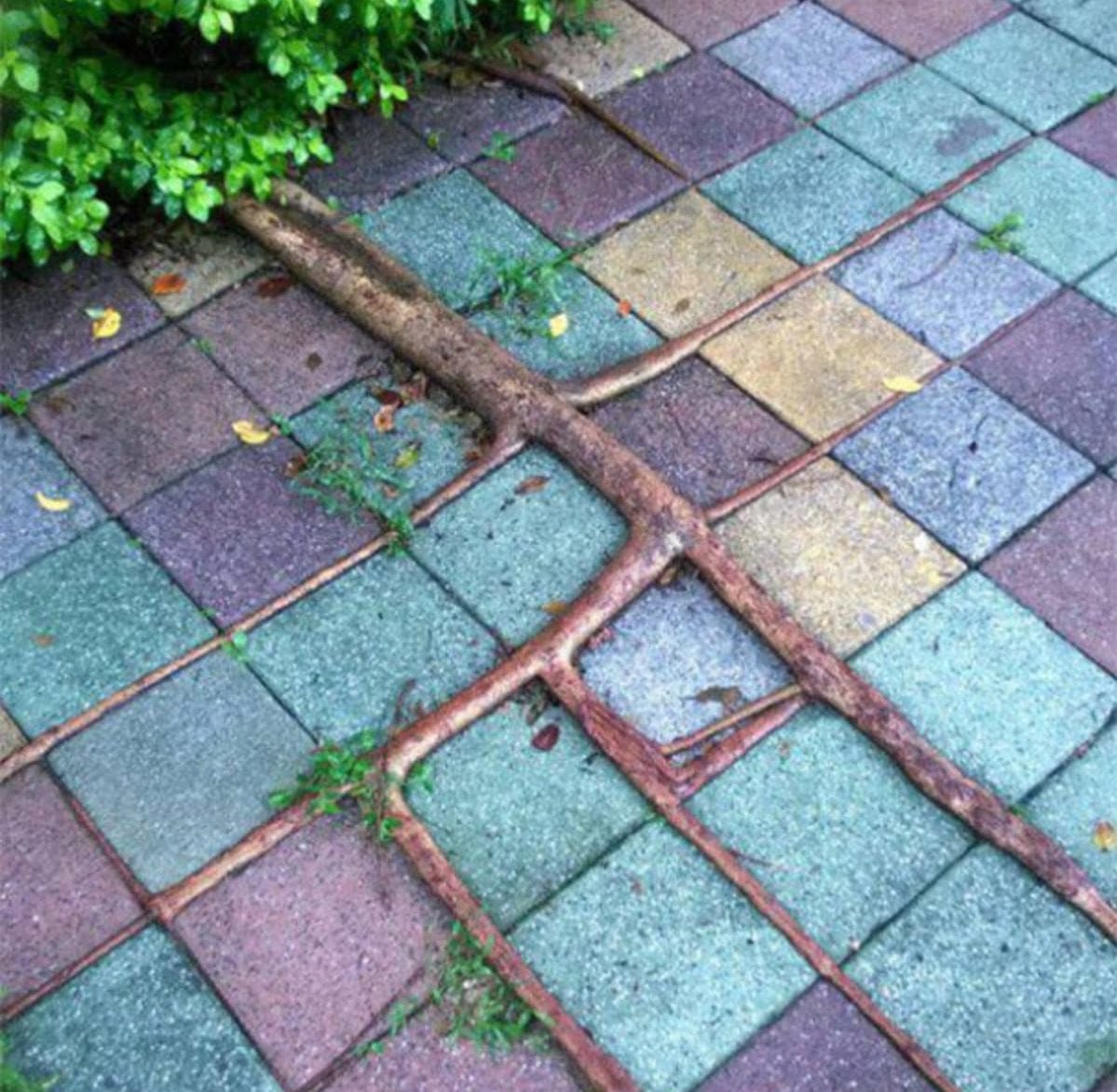 One of the world's marvels is when man-made structures and nature connect. For instance, look at these roots that "decided" to grow in between these square tiles. This is quite rare; look at how the roots seem to be paying respect to the square patterns created by the tiles. Sometimes, nature and man work perfectly in harmony with one another.
Beautiful? Noted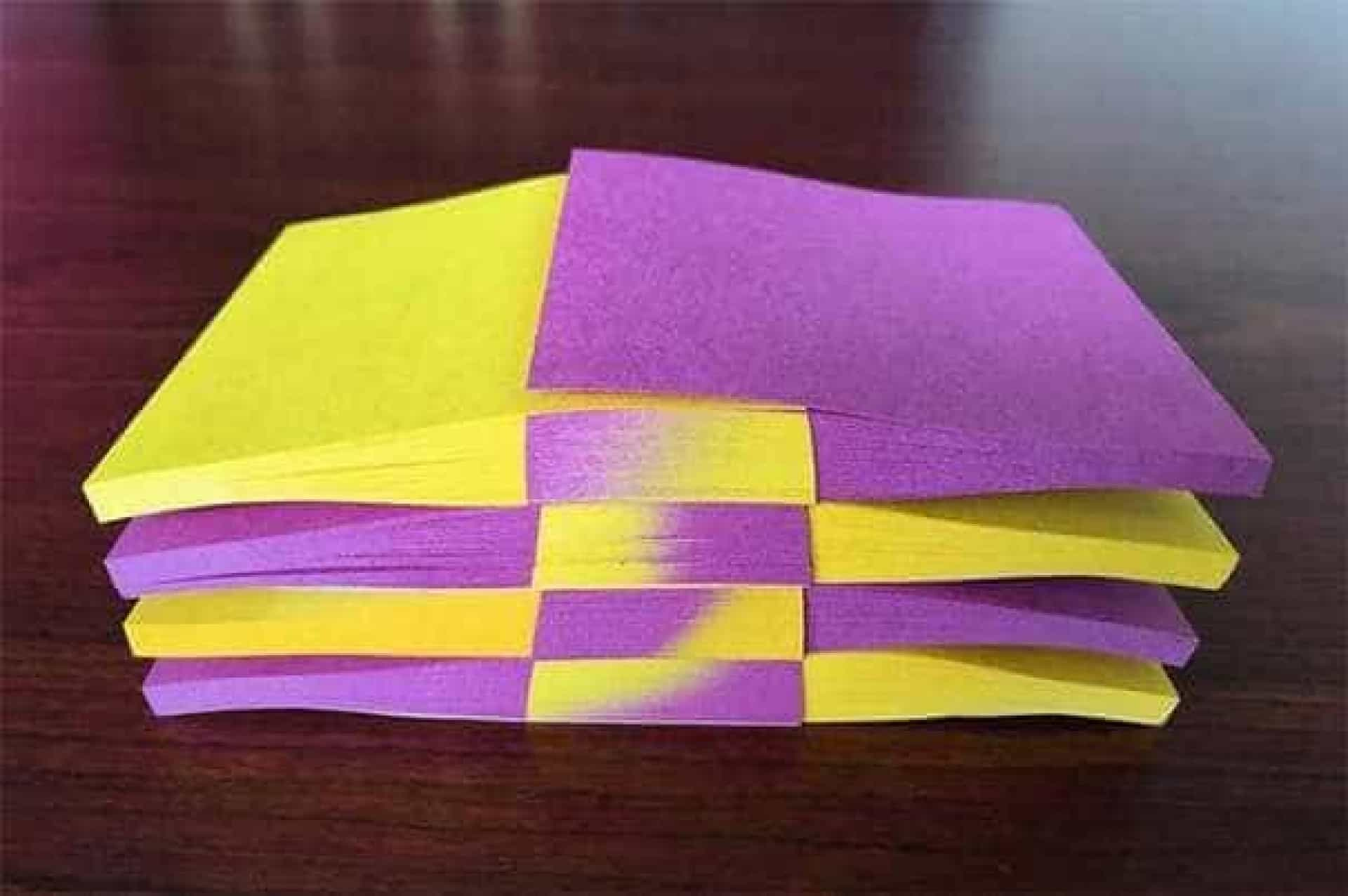 We all know that sticky notes are highly useful when doing anything that requires lots of concentration. For example, they're great for preparing for tests or presentations. Also, they're an excellent way to remind your forgetful roommate to take out the trash or clean the dishes. But when they are used in a particular way, like in the picture above, the notes can create very pleasing illusions.
Whirlpool Of Ice?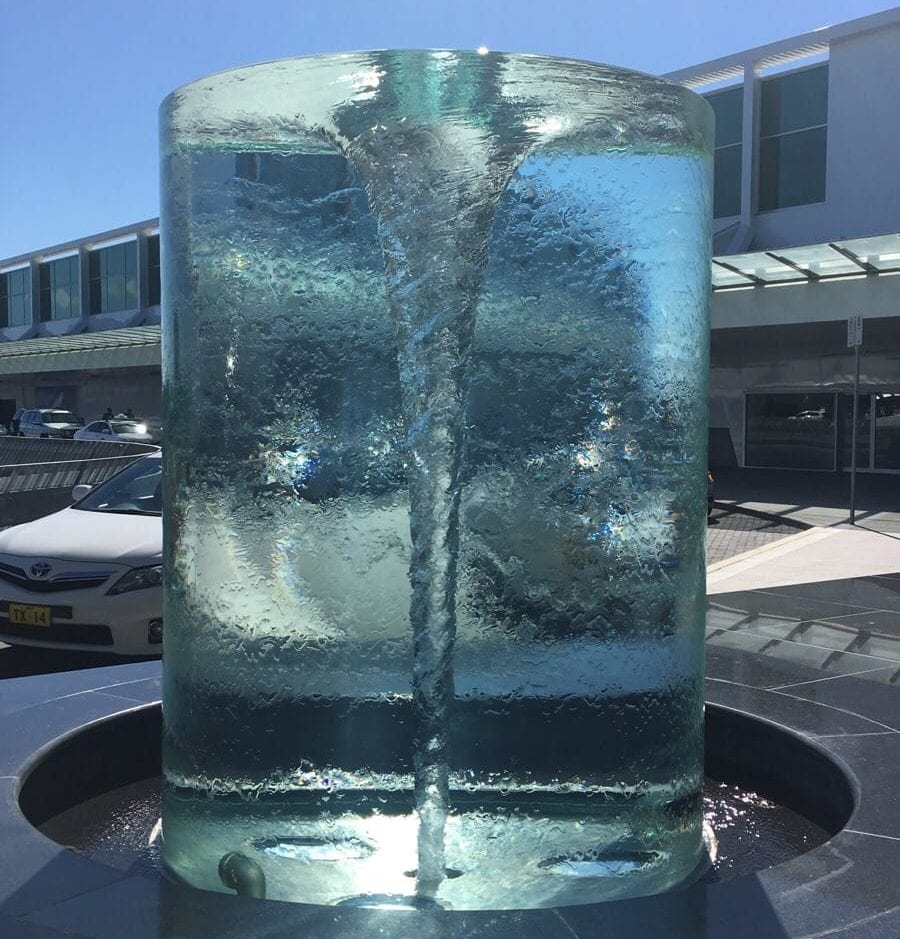 Usually, a block of ice isn't exactly pleasing to the eye. Fair enough; the shining surface can be nice to look at, but it is not always something special. In this case, this cylindrical block of ice looks like it has created a vortex in the middle of it, and it has subverted our expectations. Just kidding. This is actually a fountain. If you look closely, you can tell.
Refreshingly Fitting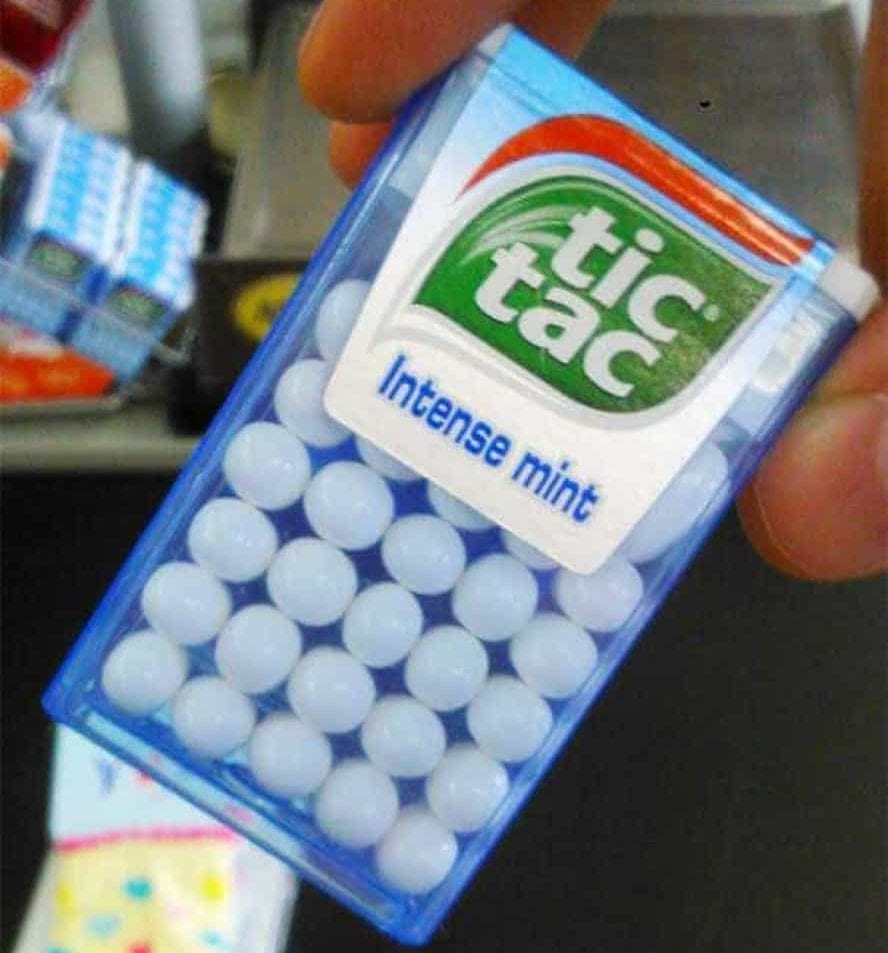 Usually, there isn't anything exciting about a pack of Tic Tacs. Before today, we never really considered the box visually pleasing. When a person bought this pack, they couldn't help but take a photo due to how perfectly every mint was stacked on top of the other. Doesn't it look wonderful? 
Coming Full Circle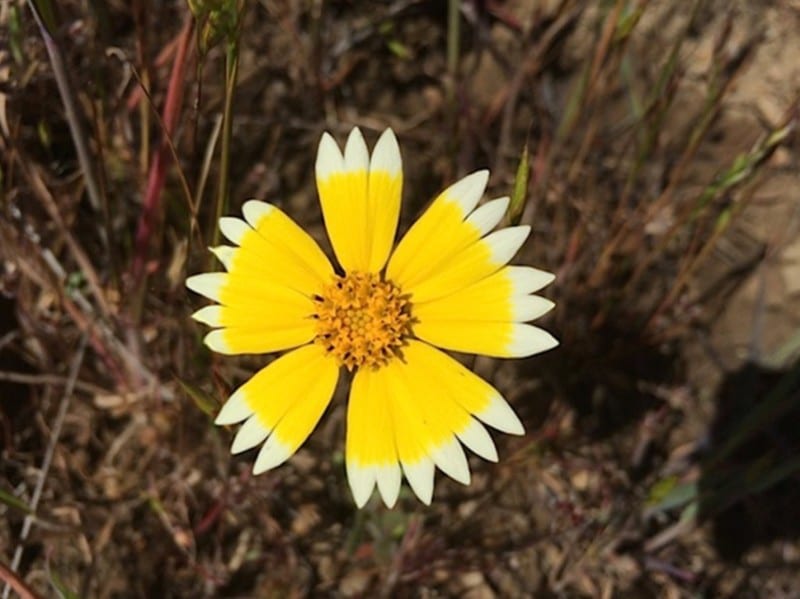 The majority of daisies have petals, but as you can see, not this one. At first sight, with its bright yellow circle, it looks like this flower has imitated the sun that shines over it. With this nearly perfect pattern, the petals give off the illusion that they were designed with a bright yellow circle. This pattern is visually stunning to the eye, and this is only one example of this beautiful phenomenon.
Square Cloud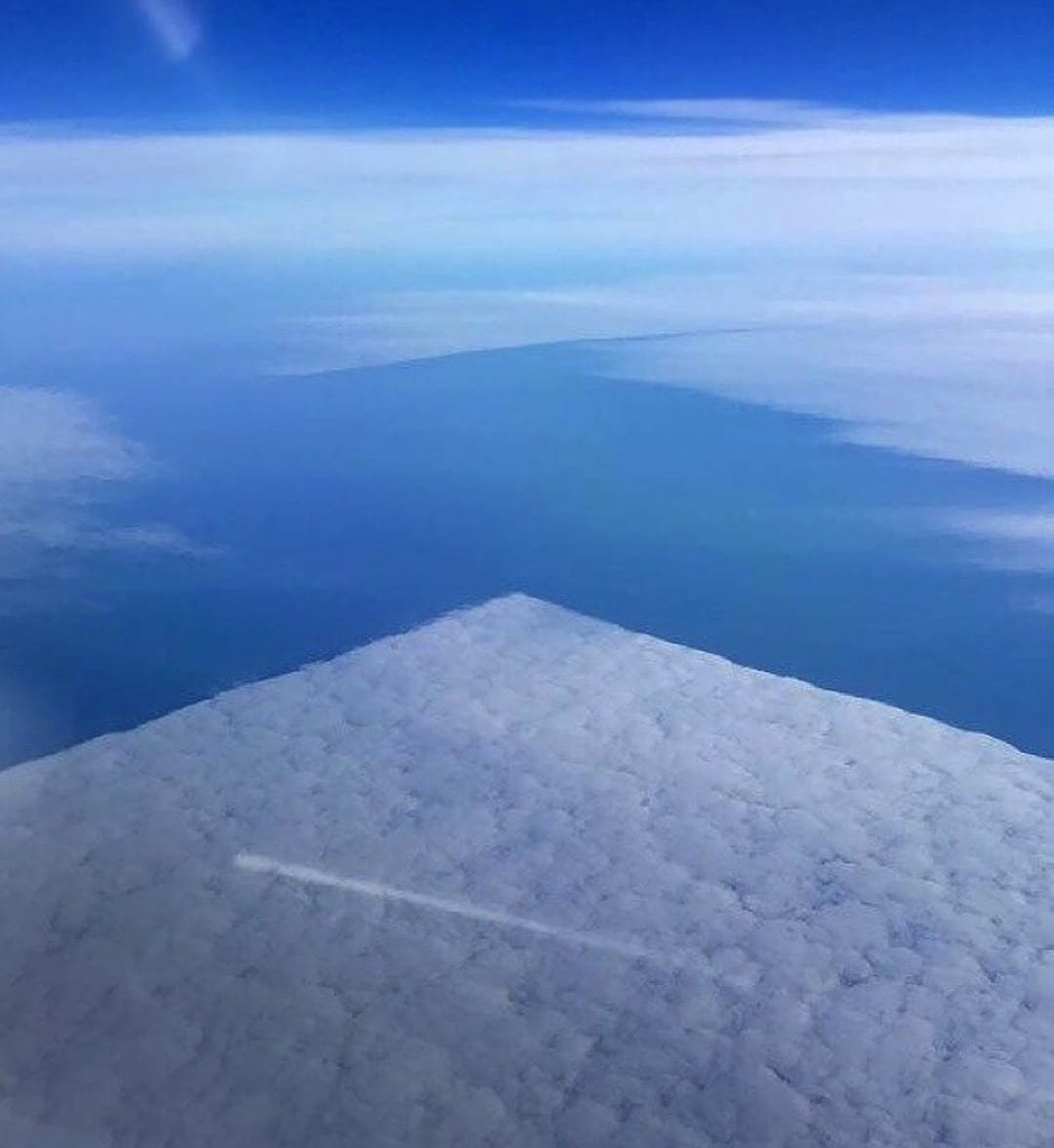 When someone was on the plane, and they were above the Atlantic, they looked out the window and spotted something remarkable. Many times, the simple sight of a cloud is enough to create a mesmerizing image. However, this cloud is unique. While most clouds take irregular forms, this one had a perfect right angle, which is very rare to see. What are the odds of this happening?
Perfecting Handwriting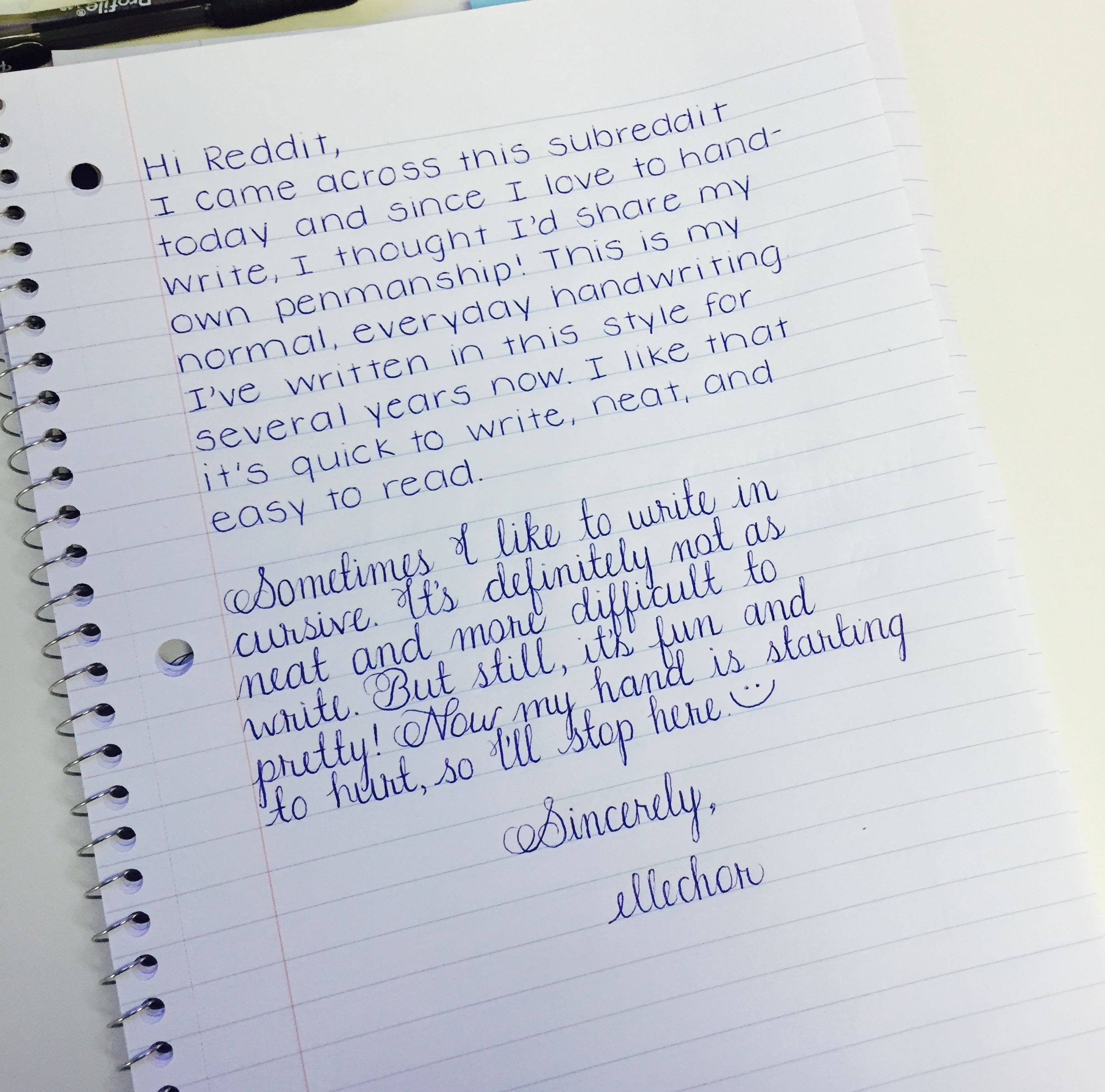 Nowadays, in this digital age, handwriting has become less appreciated, as we spend most of our days writing on laptops/computers and smartphones. We live in a typing culture, and unfortunately, handwriting is dying. However, many people out there can still write sentences with pure class. Take this person, for instance, who writes amazingly both in cursive and in block. They are definitely a dying breed.
Cool St-Oreo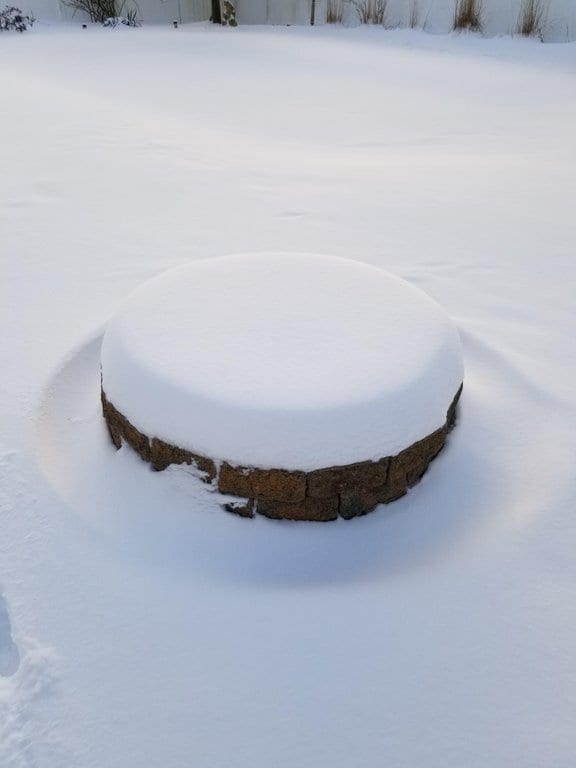 Isn't it awesome when it begins to snow, and when it's over, everything looks like it's been covered with a layer of icing? Take this well, for instance, which has been covered by snow in such a perfect pattern that it looks like a massive Oreo. Also, the snow layer on top looks so visually pleasing that it's tempting to sit on it and treat it like a huge pillow. We wouldn't advise it, though.
The Force Is Strong With This One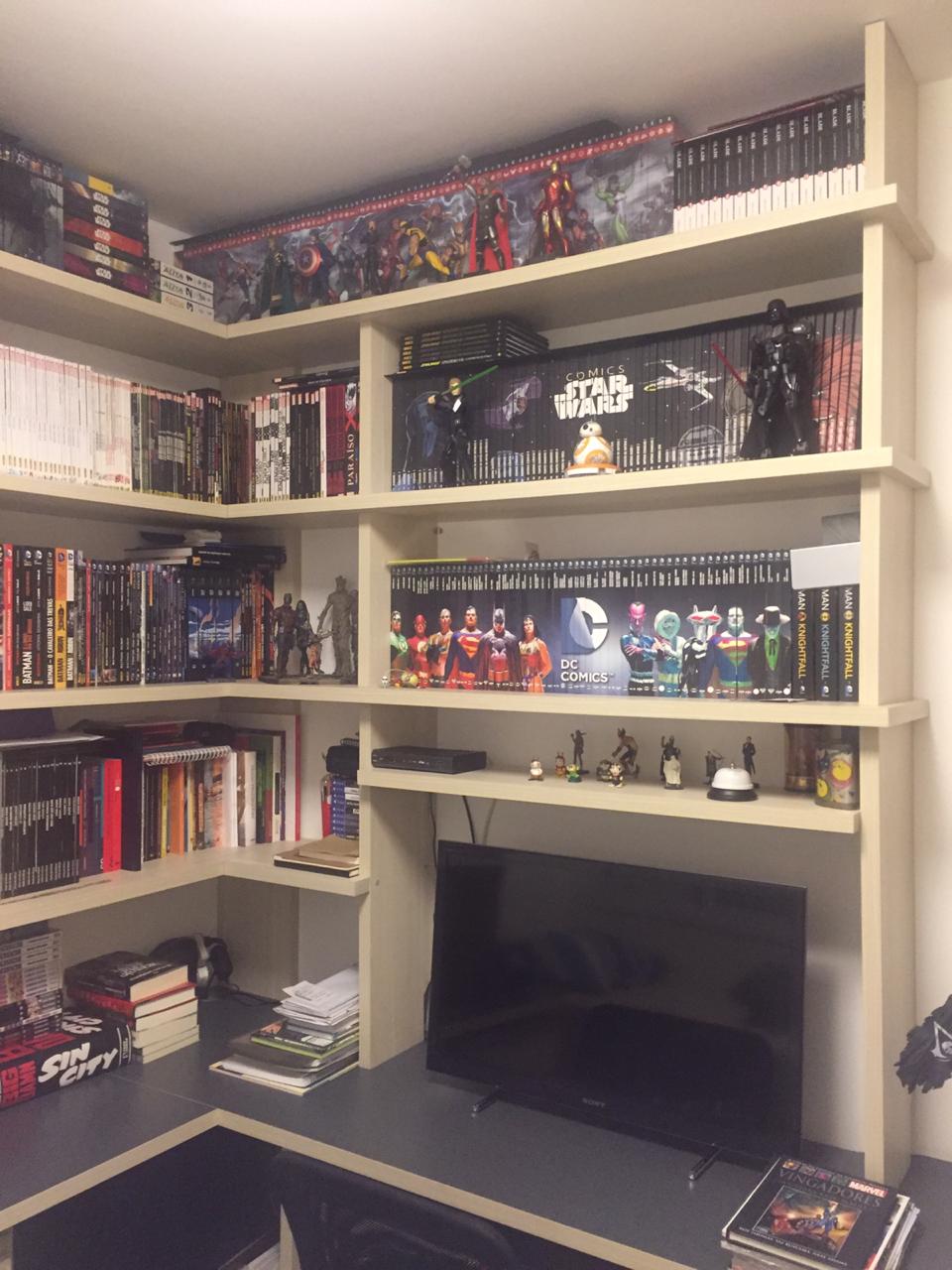 Yes, we agree, a nerd's cave can sometimes be a scary place to enter. As they usually have so many different things like comic-book figurines and Star Trek memorabilia, where does one start? However, this sci-fi shrine is different. Everything is so tidy that it makes one want to become a nerd. Not only is everything in order, but the book collections are also all stacked perfectly, creating beautiful illustrations on his stacked shelves. This person is definitely not your everyday nerd.
The Latest Scoop
Snow-fighting is a practice that has been around ever since humans first saw snow landing from the heavens. It is not difficult to pick up some snow, rub it in your hands, and create something that resembles a snowball. However, can you create one as visually pleasing as the one in the photo above? It seems like it would fit brilliantly in an ice cream cone. Add some chocolate topping and you've got yourself a beautiful dessert!
Got The Whole Sun In His Hand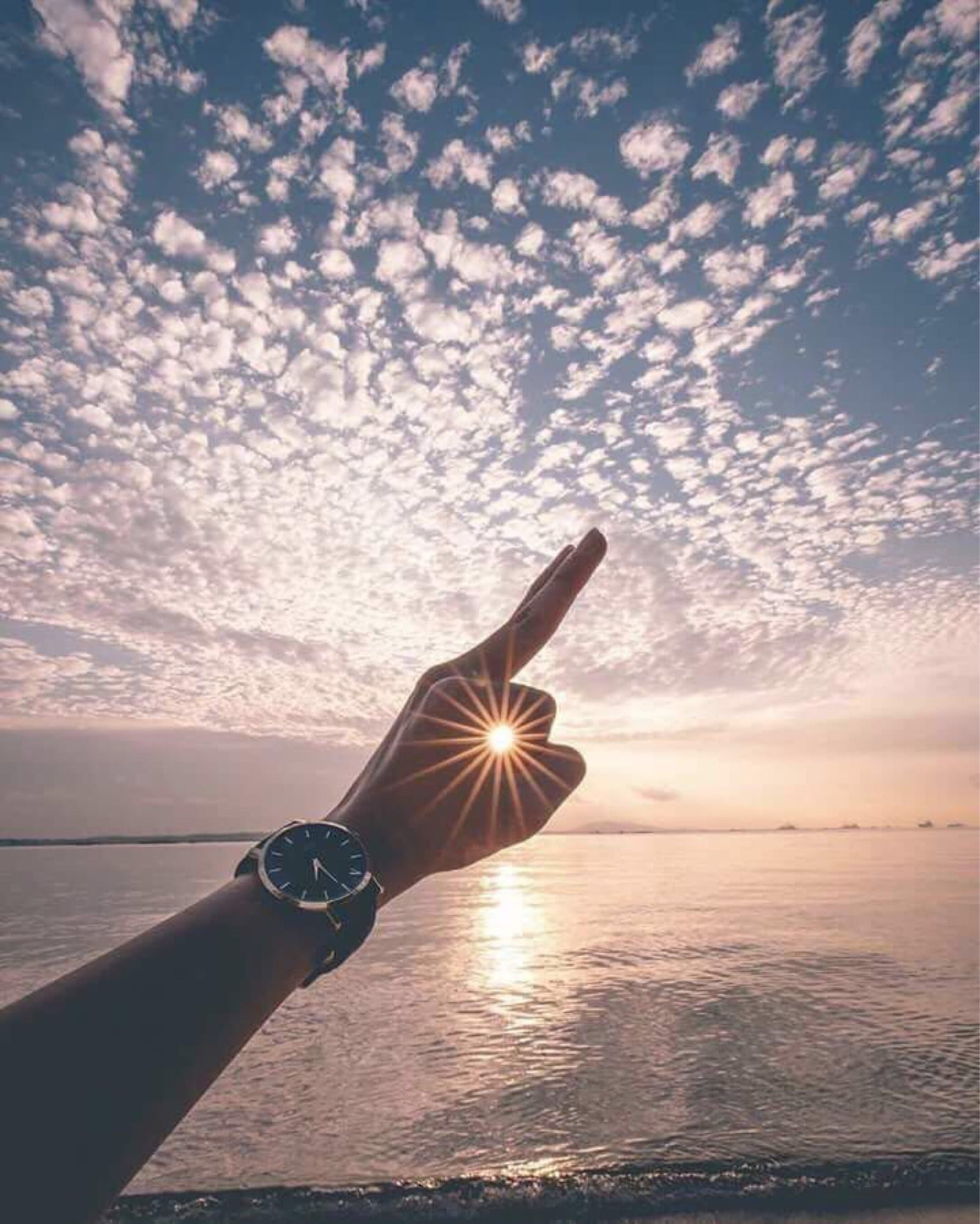 When you spend a lot of time with a camera, you can find some pretty nice ways to create illusions with your hands. We've all been there; you put your hands up and create a shadow with the light, and you can create cool illusions, like the outline of a bunny. However, this guy took things to a whole new level, managing to fit the entire sun perfectly in between his fingers. Instagram is going to love this!
Absolute Masterpiece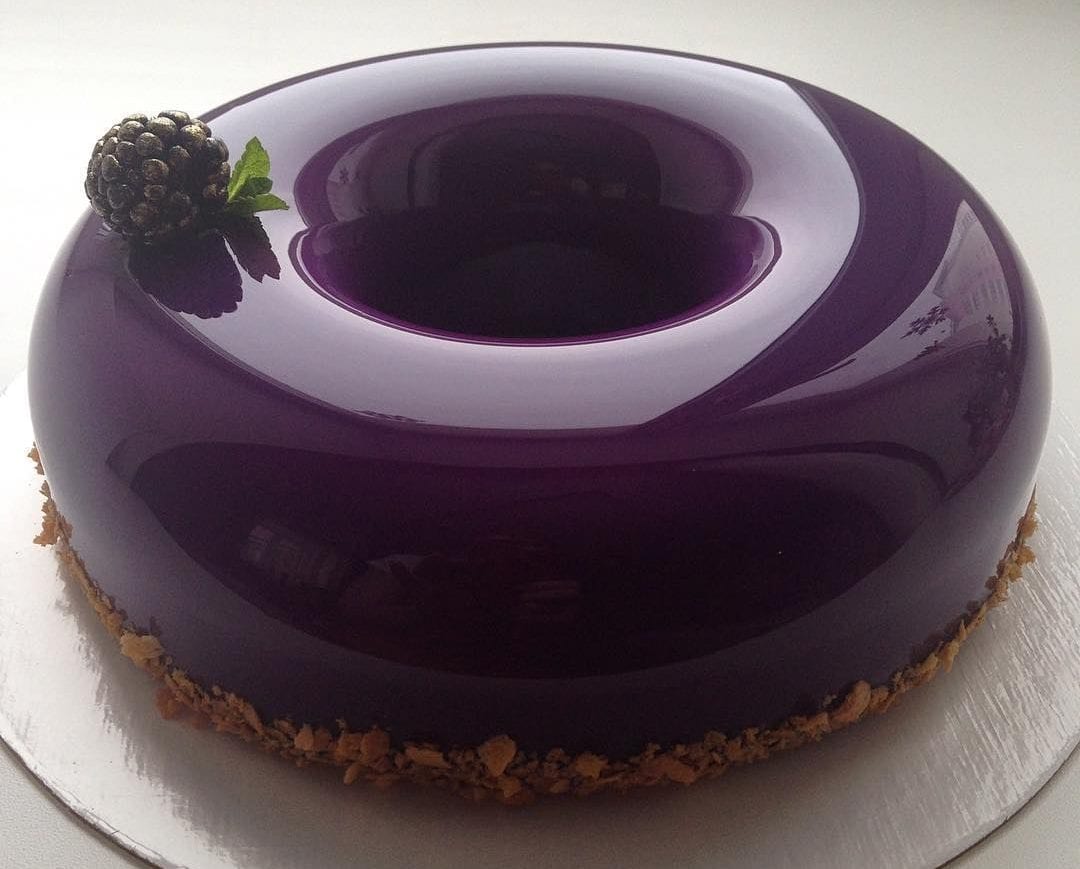 You know what they say - you eat with your eyes first. A donut may not always be associated with art, but when you look at the one above, with its remarkable ring of dough and shiny icing, you can't help but think that it's a piece of art. We never believed that a raspberry-glazed donut could be so visually beautiful. Although we are dying to sink our teeth into it, it looks so beautiful that it feels like it would be a shame to ruin this piece of art.
The Frozen Fortress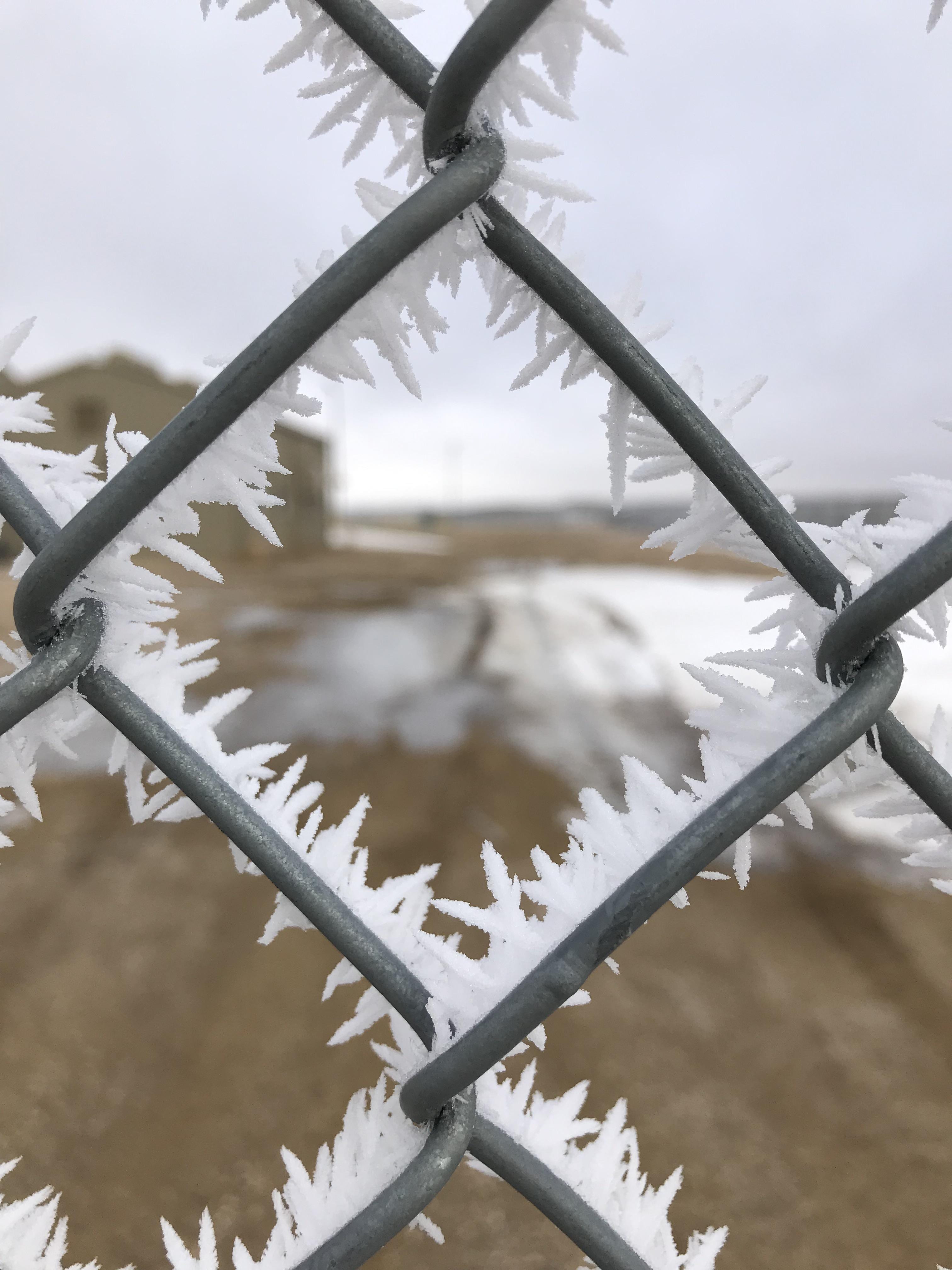 Usually, a gate is enough to prevent people from breaking in. However, in the winter season, these tiny little ice picks formed on the gate, making it even more challenging to break in. Just kidding. These formations are actually very soft, even though they look like they could cut your skin. Who knew that something as mundane as a security gate could go through such a wonderful winter transformation?
House Of Leaves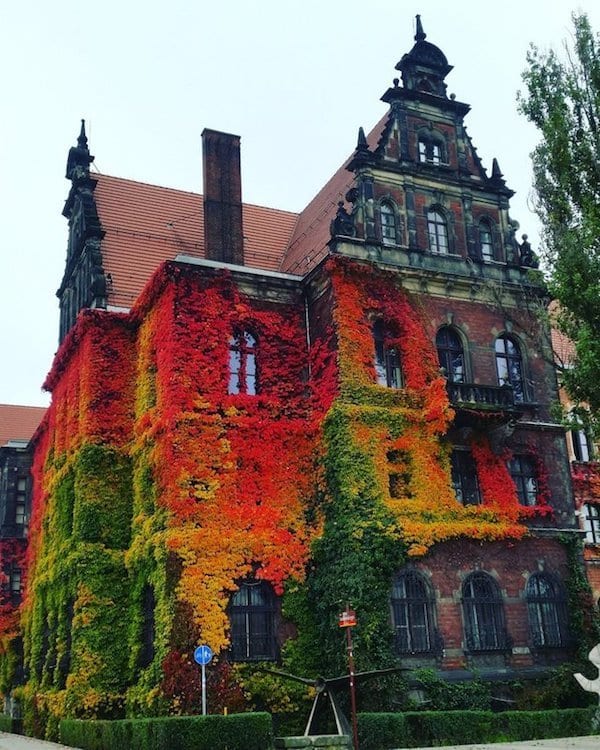 Isn't it amazing when nature and man-made structures end up in such a unified state of beauty? This house looks fantastic not just because it has been engulfed in leaves, but also due to the beautiful color blend, from red, to orange, to green. Just when you were thinking about calling a decorator, nature decided to do the job for you instead.
Pencil Spiral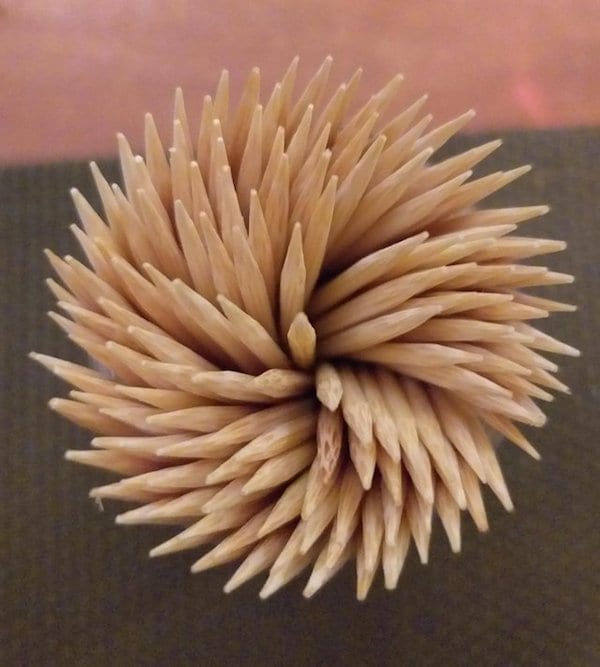 You know what they say - the pen is mightier than the sword. Well, the pencil in this photo above is more beautiful than any sword we've ever seen, especially when it creates such an illusion. While we don't know if these carved pieces of wood will ever actually become pencils, the spiral effect created here is undeniably a beautiful sight. Let's hope that each pencil gets the chance to create its own piece of art.
Inception Window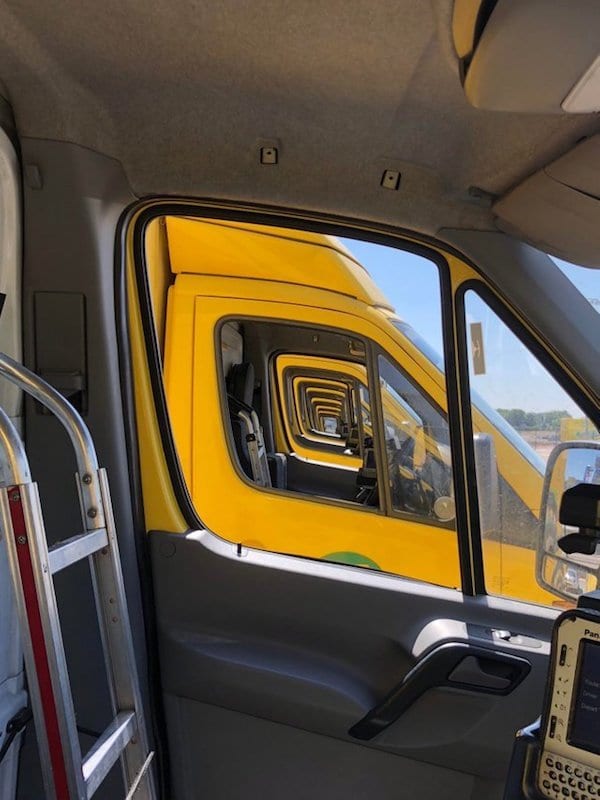 Have you ever seen the movie Inception? If you're not familiar with it, it's the story of a team of espionage agents who enter dreams, within dreams, within other dreams. It's basically like taking a Russian doll and bringing it to life. However, you can apply the inception rule to anything, and not just dreams. For example, look at how these windows line up so perfectly with each other. The end result is a window, within a window, within a window. What a beautiful sight.
Scratching The Surface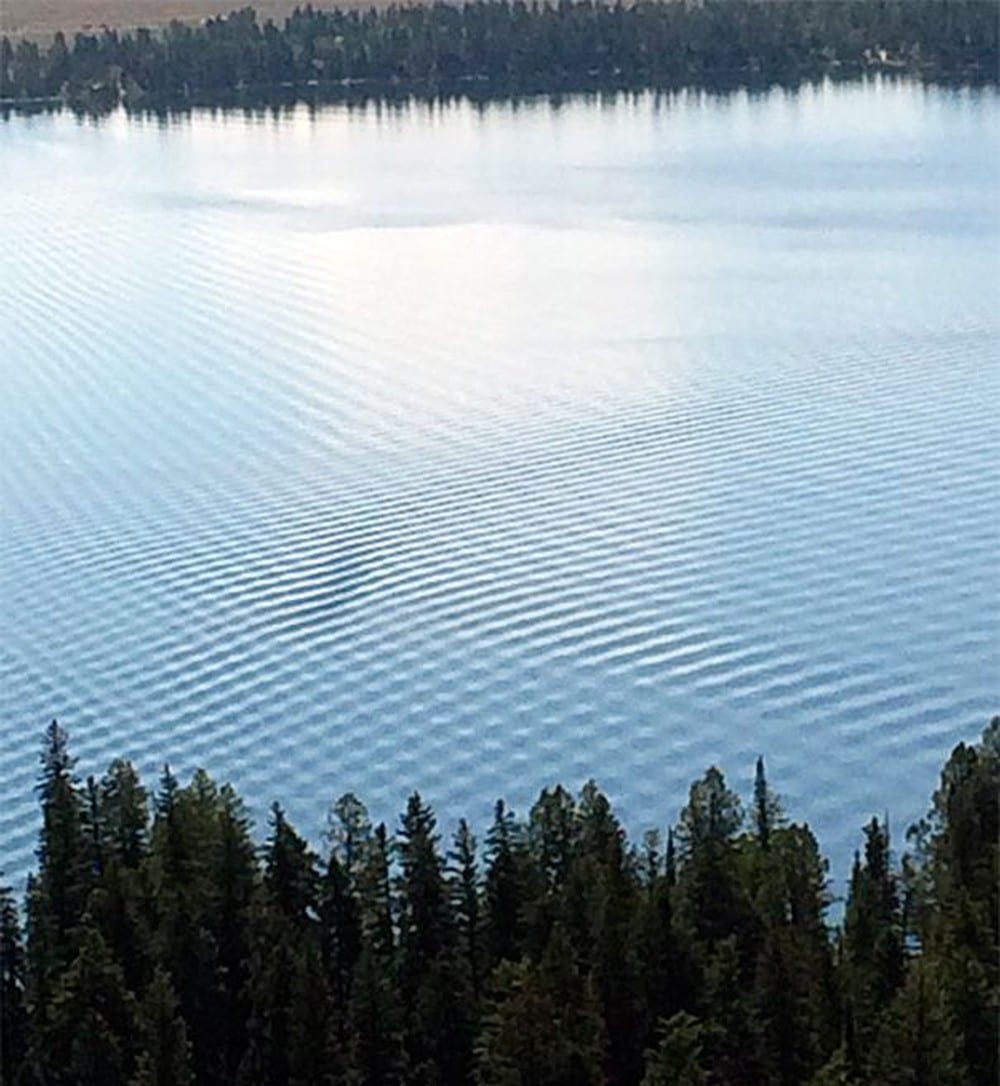 A ripple effect is an excellent example of nature showing off for the world to see. While a devastating wave shows the power of nature, a ripple is just a small hint of what its waters are capable of doing. So, when this person took a photo of a lake mid-ripple, they thought it was awesome how the ripples come up from every direction, creating a beautiful effect on the surface of the water. Also, as the photo was taken from above, the result was even nicer.
He's Got The Whole Swirl In His Hand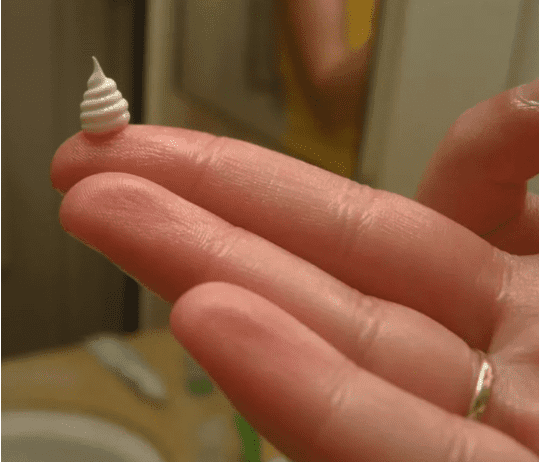 Have you ever squeezed a bottle of cream, only to end up with a perfect swirl on your fingertips? Well, neither have we. It is much harder to achieve than you might think! However, this person managed to do it without even attempting to. After realizing how perfect the swirl was, he quickly snapped a photo to share with the sworld. Sorry, we mean the world.
Steps To Greatness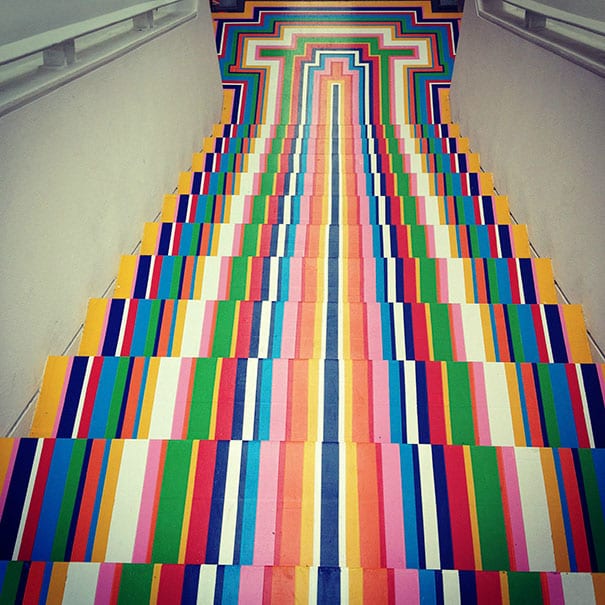 To get anywhere in life, one must take the appropriate steps to be on the road to success. Undoubtedly, if those steps were full of color, with many exciting things happening, the journey would be a lot more fun. Look at this flight of stairs, for instance, which has been designed stunningly. It's difficult to tell where they start and where they end!
Winter Wonderland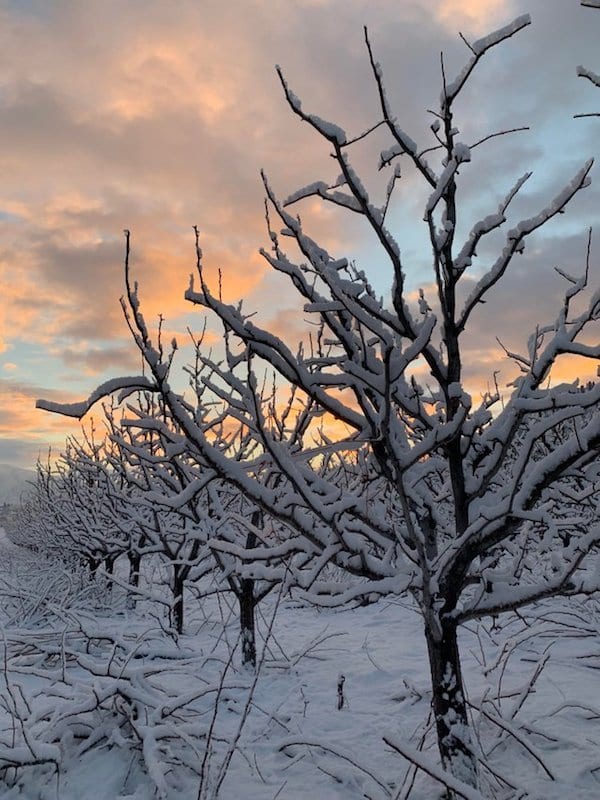 Life can't only consist of sun and green grass. Sometimes, those days need to be traded for something both a bit darker and a bit whiter. Yes, we mean snow, and a lot of it! After it snows, when it sets perfectly, it can create an effect that is a dream for any photographer. All it takes is to be in the right place at that time of the year, and you've got yourself a fantastic photo for Instagram.
Got Buns?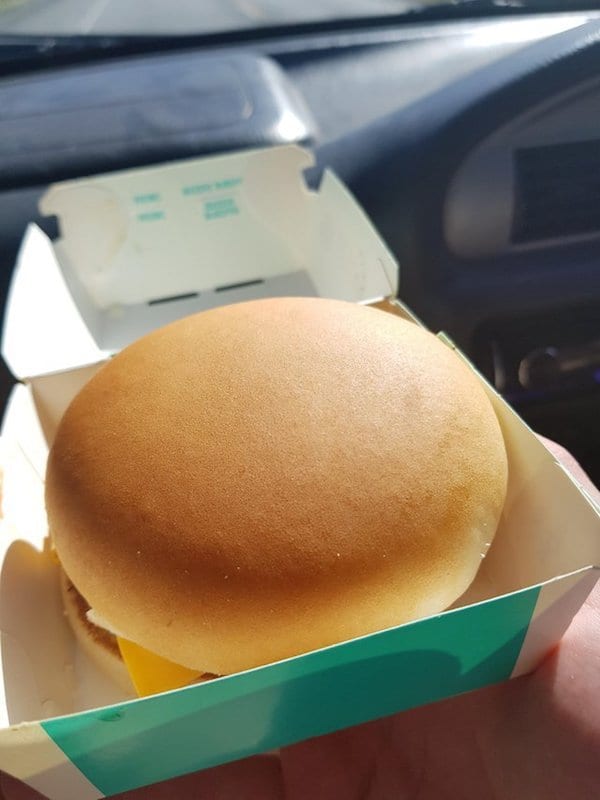 Nothing can compare to a quarter pounder with cheese from Mcdonald's. Or a Royal with cheese, for you Europeans. If you don't enjoy going to McDonald's every once in a while, can you consider yourself normal? No, obviously! Burger buns are always soft and fluffy, but this one in particular is so shiny and smooth that it just makes us want to head to McDonald's right this second.
Light & Shade In Harmony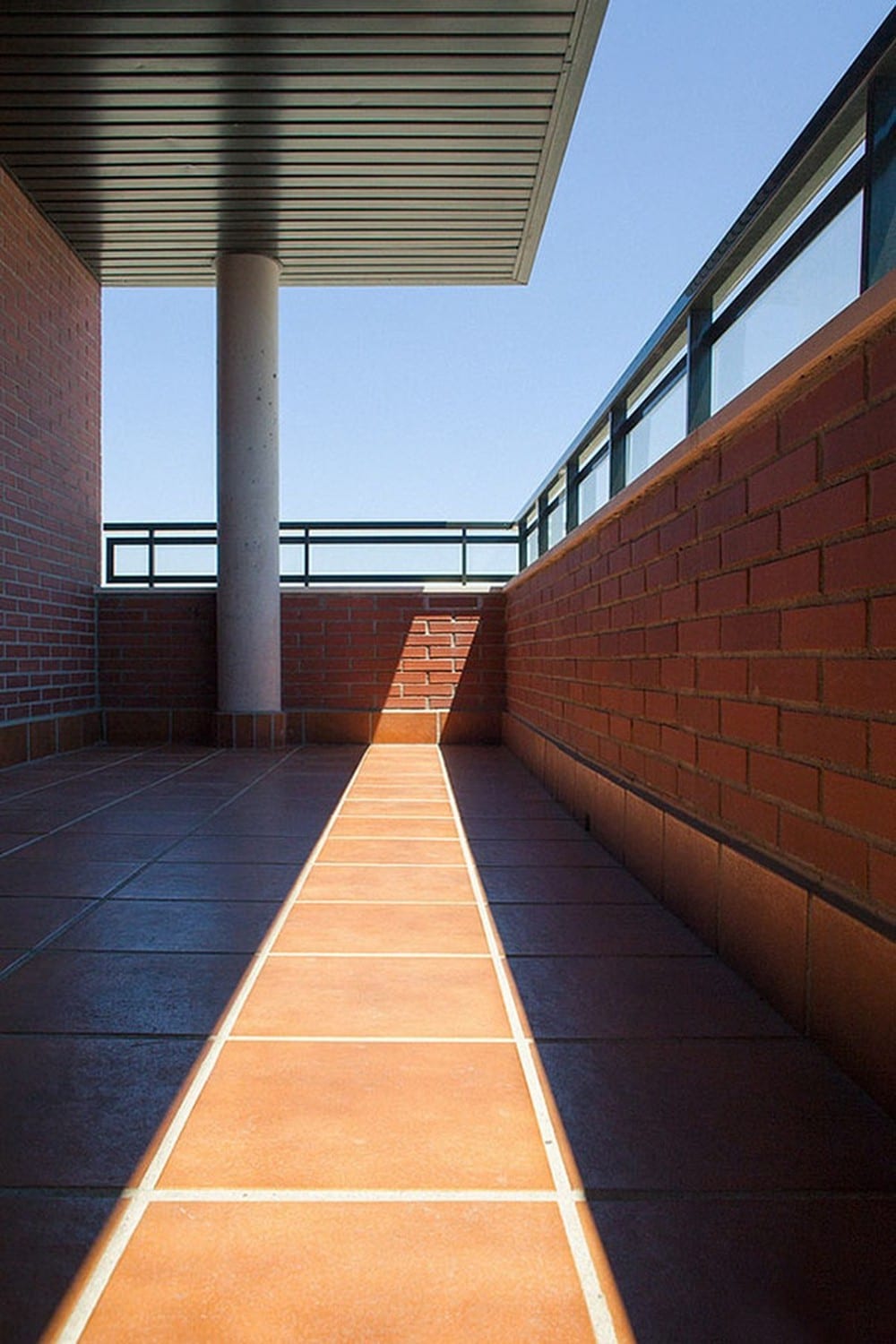 Isn't it awesome when rays of light line up so perfectly with man-made lines, such as tiles? If you're OCD, this picture is probably highly satisfying. If it was any other time of the day, the light from the sun would not line up in such a way. The picture was taken at the appropriate time of day, so if you want to take a photo like this, make sure that you're not late.
Tip Of The Iceberg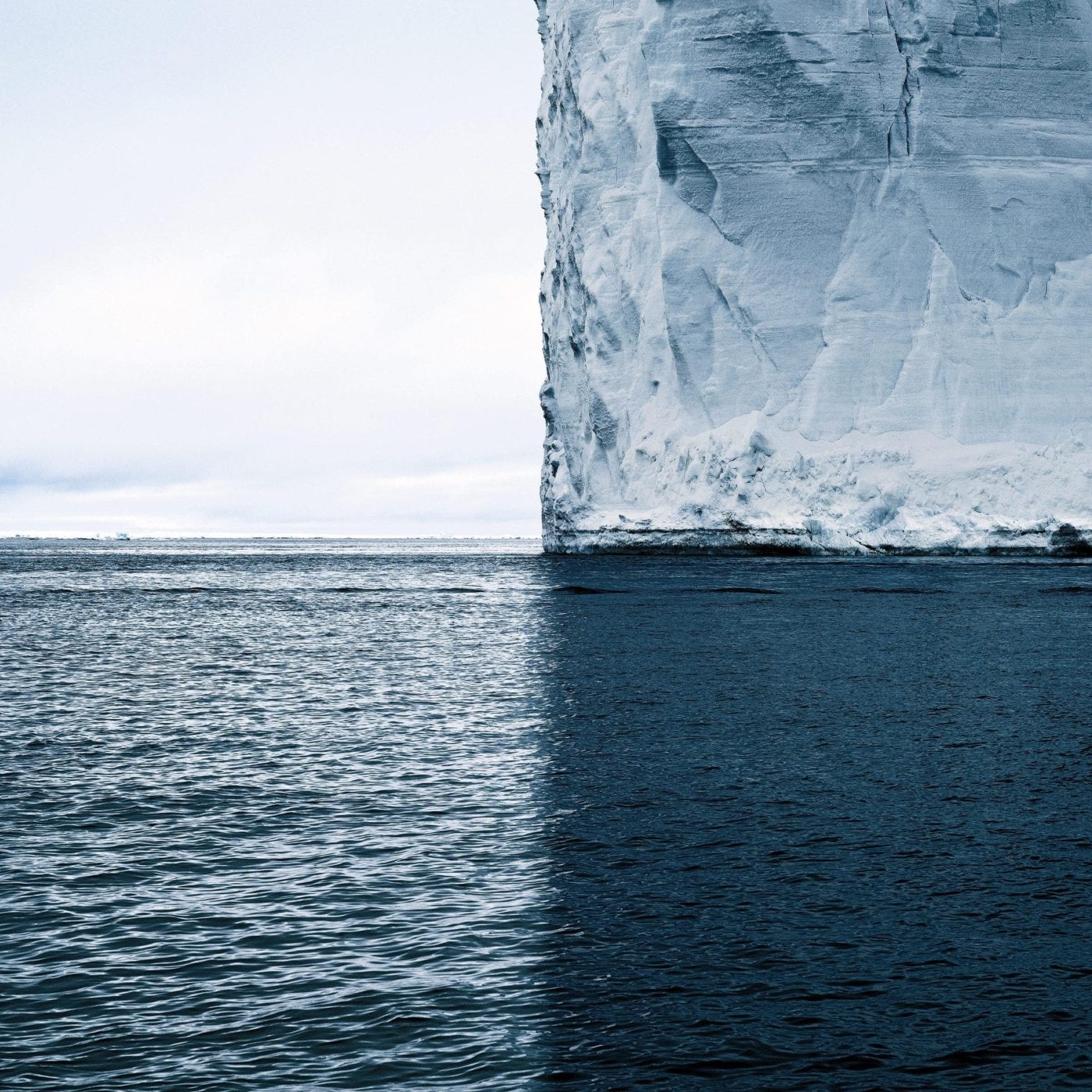 Again, here, we have the effect that happens when things line up perfectly. Here, it is not just the way things come together so well, but also the way the photo is framed, which creates another such effect. Also, the iceberg's shadow shows a perfect balance where ice, water, and air meet. As this photo is square, it creates a cross-like effect where all lines meet as if a cube has opened up.
Perfectly Round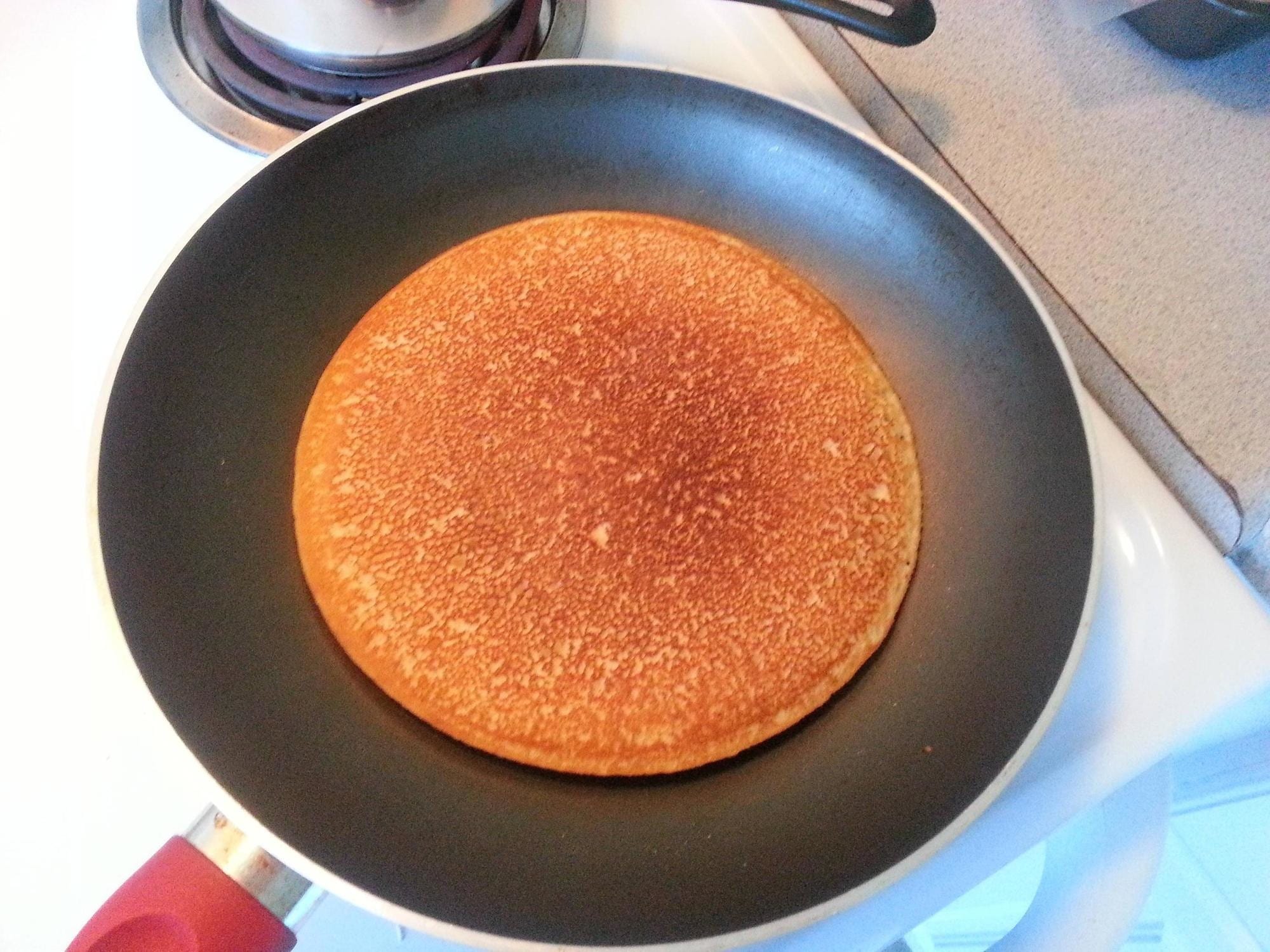 Surprisingly, a pancake can be much more challenging to make than you think. The pancake mix has to be perfectly executed, and the amount of time that you cook it, as well as the heat, have to be perfect. Take this one, for example. Not only does it look golden, but it also fits perfectly in the middle of this pan. This one ticks all the boxes. Pass the maple syrup!
Wrapper's Delight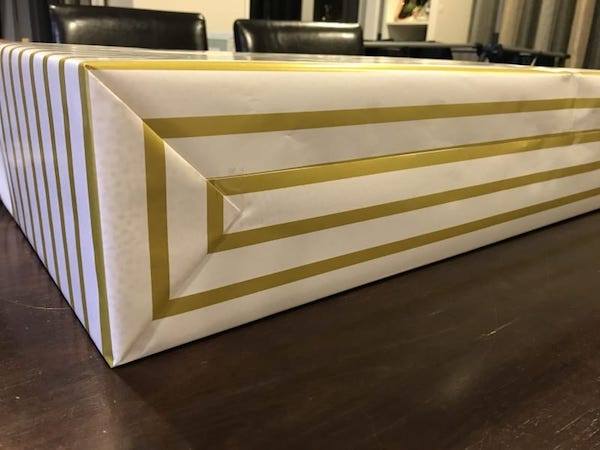 When you buy a gift for somebody, wrapping it is probably the most annoying part. Many times, we just leave that to the store. However, this person doesn't have such trouble; he's wrapped it up so well that even the lines on the paper line up perfectly. Wrapping paper has never looked so visually appealing.
The New Yin & Yang
In some philosophies, like Buddhism, balance is the ideal thing to be achieved. The belief is that life is always in chaos, so it is your duty to bring back a little balance and put things in order. We're not telling you that you have to believe it! However, isn't it adorable when a cat curls up into such a position, making it look like the Ying and Yang symbol? 
Spice Up Your Life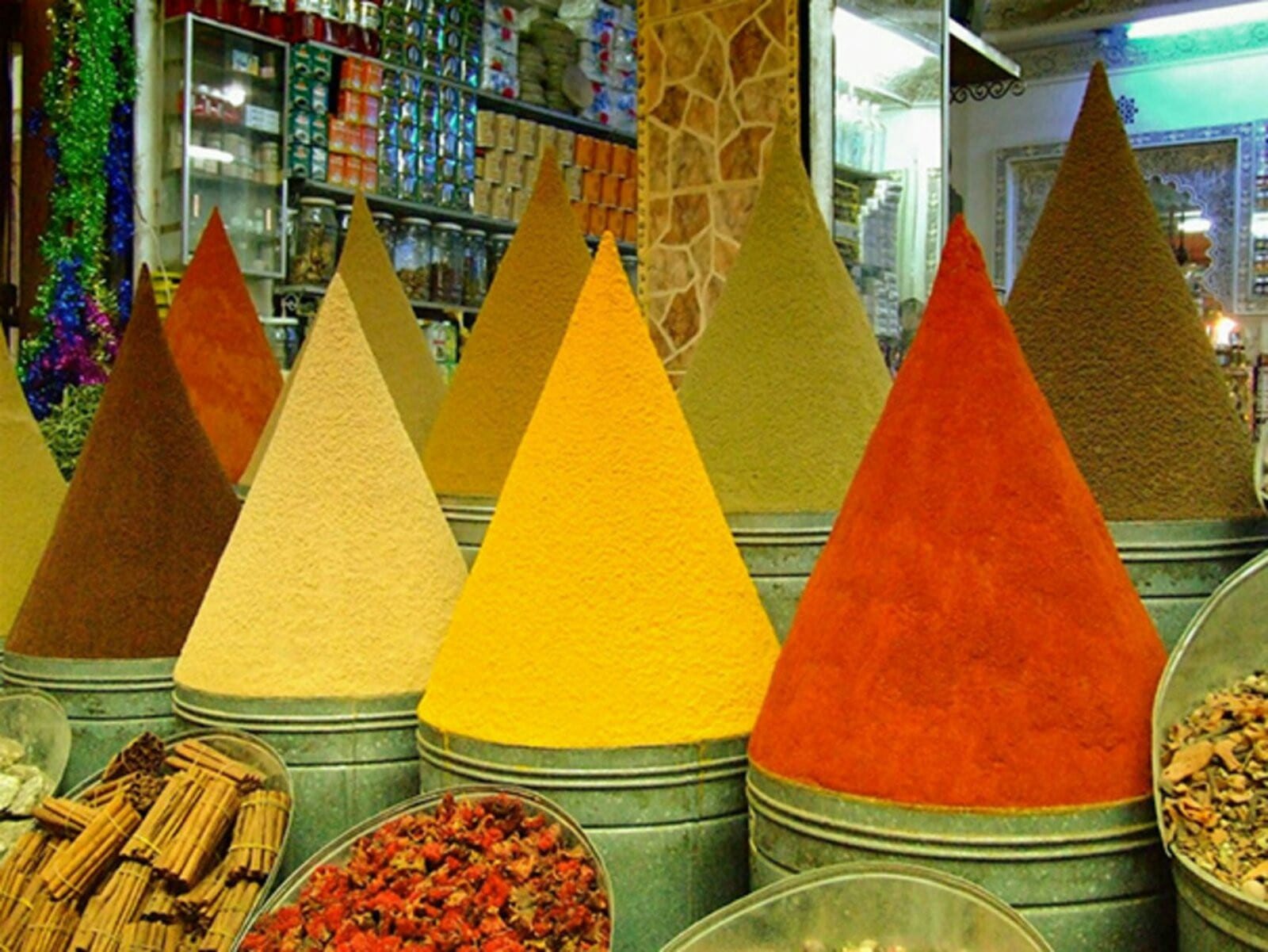 If there is anyone who knows how to set things up in a visually pleasing way, it is the Moroccans. This photo was taken in a souq in Marrakesh, where a vendor created pyramid shapes with his spices. While it may seem like a waste of time, it is pleasing to the eye, and it may even attract customers for that reason. If anyone ruins this display, they deserve jail time.
Technicolor Vine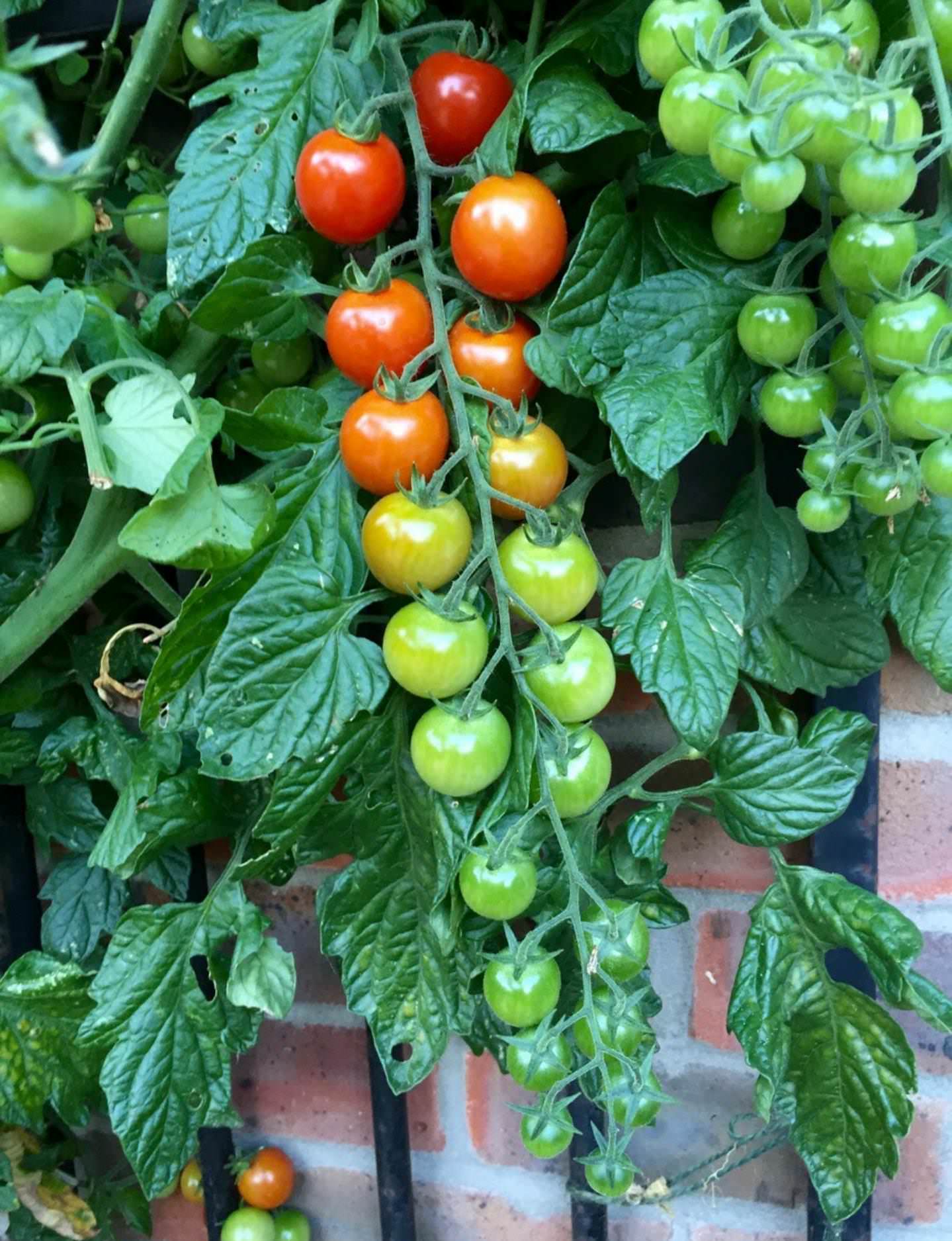 We all know that we can get tomatoes of different colors at the grocery store. Yes, some may be more rare, such as yellow tomatoes, but they do exist. However, we never believed that we would ever find all three varieties of tomatoes; orange, yellow, and green, on one single vine. Let's face it - the world would be a much duller place if everything was the same color.
Source: Noteabley