Old And Weird Hygiene Methods From The Past
We live in an era of amazing technology and information. When it comes to hygiene and beauty, there are so many things available that none of us think of a time when they weren't. However, men and women throughout history have had to come up with insane ideas to do the simplest tasks such as removing a stain, cleaning your teeth, repelling insects, and more. We have gathered some of the most insane and interesting methods used over time, and you might be surprised to learn that urine was utilized a lot. Let's find out more!
SHARING IS BEST
Families love to share things, but this one might seem a little disgusting. Once upon a time, sharing bath water was common. You might not know that people didn't bath as often as we did today, especially because it was troublesome getting water heated and filling a tub. Therefore, at one point in history, it was easier to share.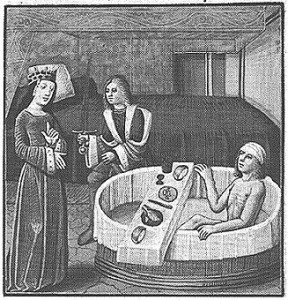 However, it wasn't just families sharing bathwater. You would share it with a whole town sometimes. Additionally, within families, people would clean themselves in order, from oldest to youngest in the family. So, the smallest person in the family was probably taking a bath in some disgusting water. Interestingly, back in the 14th century, they thought that the Black Death (The Plague) spread because people's pores opened up when bathing. Apparently, they believed that being dirty was a great way to prevent the disease.
Click 'Next Page' to discover more old-fashioned hygiene tips